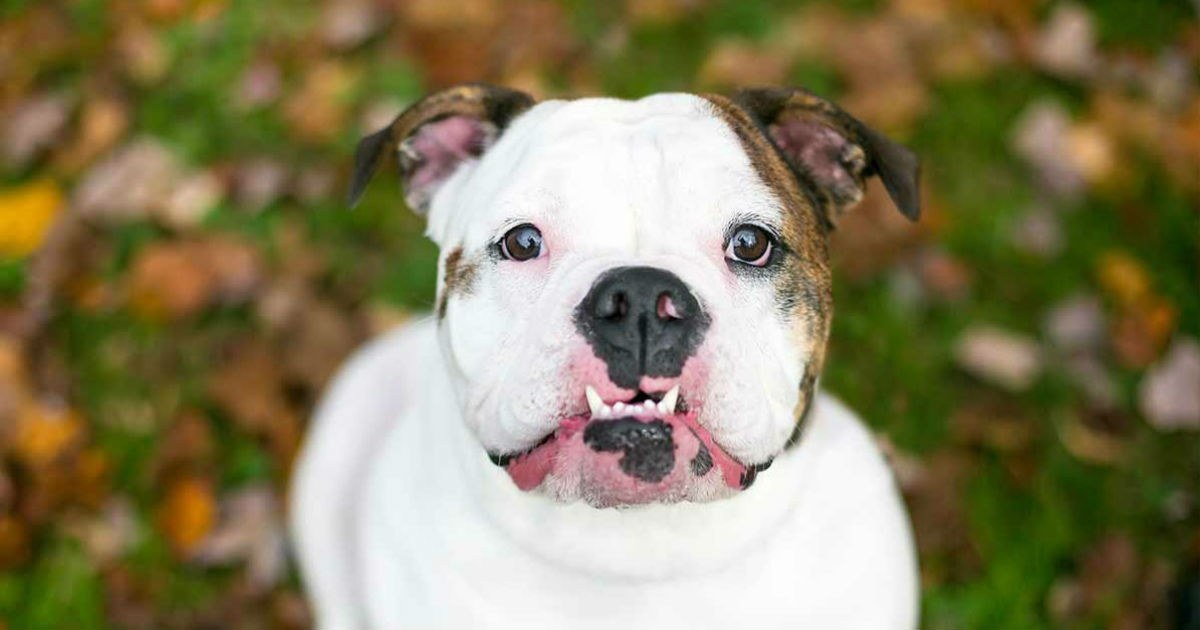 Are you worried that you might have an underbite dog? For many dog breeds, underbites are relatively common. In some dogs they cause problems, in others they live quite happily never suffering as a result. This depends on the severity of the underbite, and some other factors too. Today I'm going to share the most popular underbite dog breeds. I'll help you decide if your dog has an underbite, let and if it might cause an issue for them at some point.
Contents
What is an Underbite Dog?
When dogs have underbites, some people may find it cute or attractive. Unfortunately, there can be some trouble caused by canine malocclusion, the technical term for dog underbite conditions. Underbites are common in some breeds of dog. An underbite is when teeth are not aligned properly, causing the lower row to jut further out than the upper row.
Common examples of this include the bulldog, who appears to have teeth protruding over his top lip. This will often result in the lower row of teeth being visible even when the dog's mouth is closed. Underbites in dogs can range from very mild, requiring no action, to very severe, potentially requiring surgery.
Do I Have an Underbite dog?
In humans, identifying a clear underbite is quite simple, as we all have relatively similar jaw structures. There is a clear definition and appearance for what is "normal" when it comes to dental health. However, when it comes to canines, there is a less clear definition of "normal."
There are a lot of variations from breed to breed and even litter to litter in some cases regarding the look of a dog's teeth. Thus, identifying whether or not there will be dog underbite problems is not a question of what is "normal," but rather what is comfortable and functional. If a dog has underbite visually, but they can functionally and comfortably chew food, there's no need to worry.
On the other hand, if your dog has tooth-to-tooth or tooth-to-tissue contact that shouldn't be there, it can cause pain and discomfort for your furry friend. True canine malocclusion must be diagnosed by a veterinarian or veterinary dental expert. In some cases, malocclusion can lead to other health issues. so it's important to address it and discuss treatment options with a veterinarian.
Common Dog Breeds with Underbites
It's possible for any breed of dog to develop an underbite, but it's much more common in certain breeds. Small dog breeds with underbites are most common, although some larger breeds like the boxer are also at risk. Small breeds such as the Boston terrier, Pekingese, French bulldog, English bulldog, King Charles Spaniel, Pug, Lhasa Apso and Shih Tzu are commonly observed developing underbites. These are the most common underbite dog breeds, but the condition is possible in most dogs. Also, keep in mind that mixed breed dogs with one or more parent breed from the list above will also be at risk for developing malocclusion.
Potential Health Problems
A dog with an underbite may be at increased risk for various health problems. In cases of slight underbite due to a hereditary skeletal malocclusion, serious health issues are unlikely. As long as the dog is able to eat, drink and self-groom without issue, there is no cause for concern.
More serious cases of skeletal malocclusion can cause problems, however, as can dental malocclusions. Dogs with serious underbites can have difficulty chewing and swallowing food. This will usually be pretty easy to spot.
Misaligned Teeth
Misaligned teeth can also cause damage to gums and the soft tissues of the mouth. If unaddressed, this can result in discomfort for your dog and an increased risk of infection.
In severe cases, underbites can cause oronasal fistula, a condition in which a hole forms between the mouth and nose. This can cause severe pain, and in some cases even nasal disease and infection. Some warning signs to watch out for include signs of oral pain (such as the dog shying away when you pet its face), blood in saliva, abnormally bad breath, and difficulty eating or drinking.
What Causes Underbites in Dogs?
Underbites in canines can fall into one of two categories: skeletal or dental. Dental malocclusion happens when a dog has a normal facial skeletal structure, but has one or more teeth that are abnormally positioned. Skeletal malocclusion occurs when the dog's facial structure is abnormal. Resulting in the upper and lower rows of teeth not fitting together properly.
Both dental and skeletal malocclusion causes are at least somewhat genetic. Genetics can increase the likelihood of malocclusion, and these traits can be passed down between generations. Problems during gestation or early development can also lead to underbites, as can injuries and infections in puppies.
In some breeds, underbites are actually the result of intentional breeding practices. Some breeders may breed their pups specifically to engineer the type of jaw structure of a bulldog or a boxer. Like other questionable breeding practices, this crosses a line for some people. Underbites can cause discomfort and health problems for some dogs, so many believe that intentionally breeding underbite dog breeds is wrong.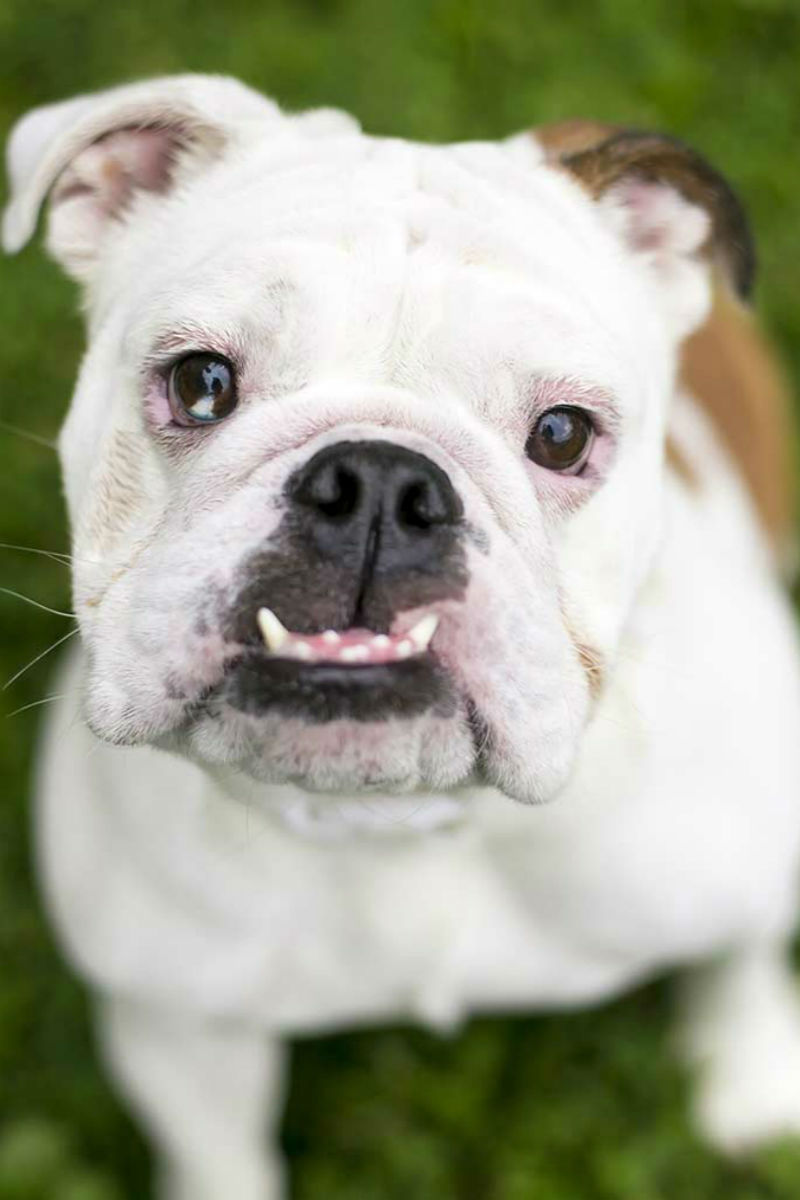 Things to Consider Before Bringing Home a Puppy With an Underbite
If you are shopping around for puppies and have your eyes on one with an underbite, there are some things to consider before bringing them home. First and foremost, consider the potential health problems your pup may face later in life. Also, consider the fact that you might run into some larger-than-usual vet bills if serious problems do develop.
Although underbite dogs might seem endearing and arguably "cute," your focus should be on the health and happiness of your pup—not just their cuteness factor. With all that said, keep in mind that slight underbites in puppies are not necessarily permanent.
Do Underbites Get Better?
This misalignment can sometimes self-correct as the dog develops. This is particularly true in some breeds with more pronounced muzzles, in which slight underbites are common. With that said, most small dogs that show symptoms as a young puppy will likely have a dog underbite for the rest of their lives. As a rule of thumb, the alignment of a dog's teeth is typically permanent once it reaches about 10 months old—although this can vary from breed to breed.
What Should I Do If My Dog Has an Underbite?
Why does my dog have an underbite, and what should I do about it? If you have a dog with an underbite, it doesn't matter much why it's there. The important question is whether it's causing your dog discomfort? This can often be difficult to tell. Most of the time the dog will have had the condition for his or her entire life, and won't necessarily show signs of it bothering them.
In some cases, underbites don't cause any irritation and are nothing to worry about. Or it could be causing your pup significant discomfort, even if he isn't showing it. In any case, you should take your dog to the vet to have the underbite examined. A veterinarian will be able to tell the severity of the condition and check for signs of pain and infection.
From there, your vet will either recommend a treatment (see below) or let you know that no treatment is required. Even if you are given the all-clear by your vet, you should still keep an eye on your dog and watch for behavioral changes that may signal discomfort. Trouble eating, blood in the saliva, or signs of sensitivity around the mouth or nose should all trigger a return visit to your vet.
Treatment Options
In many cases, no treatment will be recommended. Unless the underbite is causing discomfort or increasing the risk for disease, there is no need to correct it. If a vet determines that the dog underbite does require treatment, there are a few ways to go about it. Dog underbite correction options include removal of problem teeth, oral surgery or the use of an orthodontic appliance.
All of these treatments are pricey and invasive, so they should only be completed at the recommendation of your trusted veterinarian. In some cases, your vet will be able to do the work themselves but often they will refer you to an animal orthodontist or dental specialist.