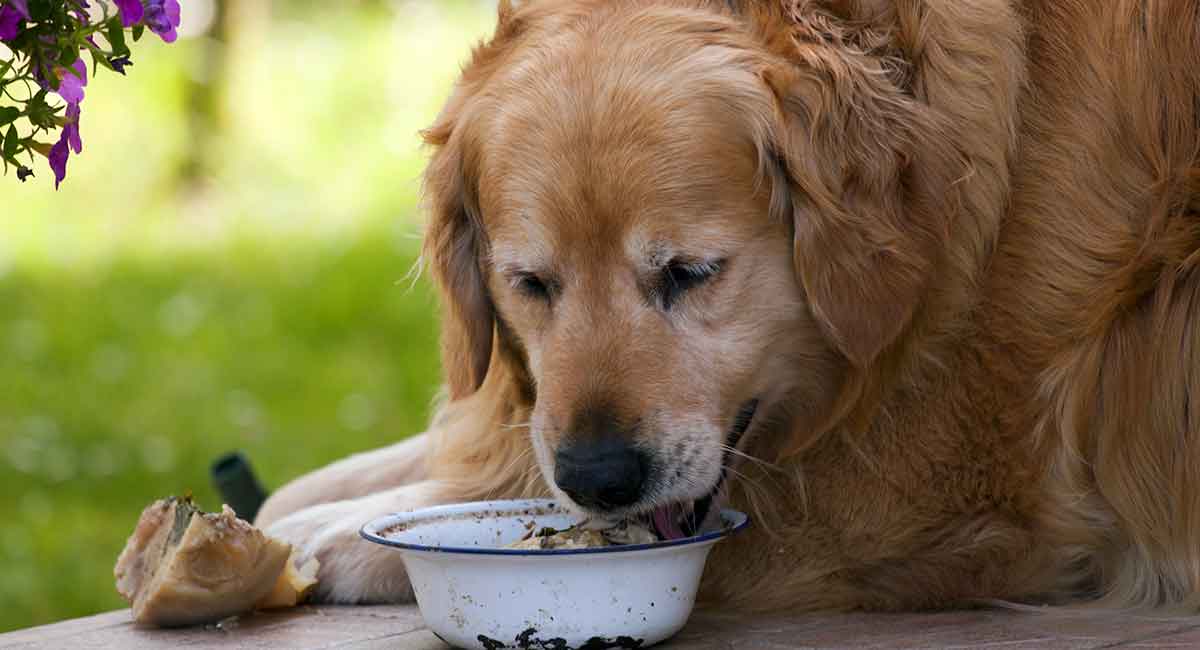 Fat Golden Retriever dogs do not have an obvious waist, and when you run your hands down their sides you won't be able to feel their ribs. Your fat Golden Retriever might weigh over 75lbs, but it's possible that they will be lighter than this and still over weight. Golden Retrievers come in two types, one stockier and bred for the show ring, the other more slim and bred for an active working life. A healthy English Golden Retriever will often be heavier than the same height of fit American Golden Retriever. The best way to tell whether your dog is overweight or obese is a physical check, not a moment on the scales.
Contents
Fat Golden Retrievers Are On The Increase
Obesity has become a huge problem for our pet dogs, including fat Golden Retrievers. A 2017 clinical survey done by the Association for Pet Obesity Prevention (APOP) found 56 percent of dogs surveyed in the U.S. were classified as being clinically overweight. For the gorgeous Golden Retriever, the data is even more distressing. A 2012 study by the APOP found that almost 63 percent of Golden Retrievers were overweight or obese. These are sobering statistics for one of the world's most beloved breeds.
The friendly and devoted Golden is instantly recognizable for their kind eyes; floppy ears; and long, lustrous coat of golden fur that gives them their name. Bred as a Scottish gundog in the early 1800s, the energetic breed was built to retrieve waterfowl.
This muscular dog bears a wolflike physique and moves with a graceful, athletic bearing. Swimming, fetching, running and jumping come naturally for this active dog. So why is the Golden Retriever getting fat in such alarming numbers?
Do Golden Retrievers Get Fat Easily?
It might seem as though your Golden Retriever is always hungry. Biologically, dogs are descended from wolves and have an innate drive to constantly scavenge for food. For domestic dogs, this means begging and mooching.
It's easy to get in the habit of giving your dog an extra snack or two when you're enjoying some together time on the sofa. Tough as it may be, as pet owners, it's our responsibility to not give in.
Snacks can cause weight gain and make exercise more difficult, which leads to gaining even more weight. However, there may be other reasons why the Golden Retriever seems to have a problem with weight gain.
The Morris Animal Foundation's ongoing lifetime study of 3,000 Golden Retrievers in the U.S. found that the probability of obesity was higher in Goldens who were spayed or neutered at a young age.
There's also an indication that tendency toward obesity may be genetic in some breeds. A study done at the University of Cambridge found a deletion in the canine POMC gene is associated with weight and appetite in Labrador Retrievers and flat-coated Retrievers.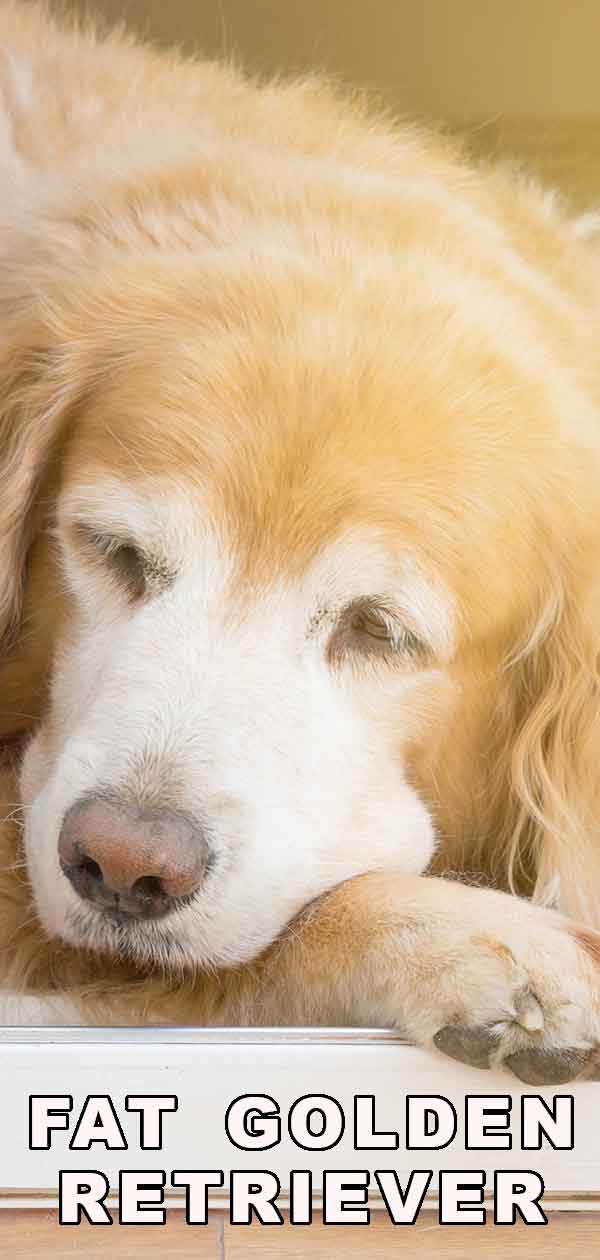 Is My Golden Retriever Fat?
A full-grown male Golden Retriever should weigh between 65 and 75 pounds. A female should weigh between 55 and 65 pounds. However, these are guidelines and there are ranges that fall within the parameters of normal weight based on genetics, shape and size.
How Can I Tell If My Golden Retriever Is Fat?
The best way to tell if your Golden Retriever is fat is by looking at him from different angles and feeling for his ribs. Look at your dog from the side.
His tummy should tuck up from the chest between the ribs and hind legs.
He shouldn't be the same width all along his body. There should be an upward curve from the chest to the hind legs.
His tummy shouldn't be a straight line, or worse, sag down between his legs.
Stand above your dog and look down at him. You should see an inward curve at the waist. If this curve isn't visible from the side or from above, your Golden Retriever is probably overweight.
Another way to tell is by feeling for his ribs. Put your hands on either side of his rib cage. Using gentle pressure, you should be able to feel each of his ribs. If you can't feel them at all, your Golden Retriever is overweight.
Start at the chest, and run your hands along his body. If you can't feel his waist, this is another indication that he's overweight.
Are Fat Golden Retrievers Unhealthy?
You may be wondering whether it matters if your Golden is packing some extra pounds. After all, there's a certain appeal to a pudgy pooch. However, just like people, being overweight can decrease your Golden Retriever's quality of life and can shorten her life span.
Increased Health Risks for Fat Golden Retrievers
Carrying extra weight creates numerous health problems and can make existing ones even worse for the Golden Retriever. Being overweight can also be hard on joints and bones. Golden Retrievers are prone to hip and elbow dysplasia, which is an abnormal formation of the hip socket. This serious condition can cause pain, lameness and arthritis of the joints. Being overweight can increase the negative effects of hip and elbow dysplasia.
Studies show that obesity leads to the development of numerous other diseases in dogs, including diabetes, heart disease and osteoarthritis. Respiratory, renal function and health can also be adversely affected.
Cancer is a big problem for the Golden Retriever. They're at an increased risk compared to other dog breeds. Obesity has not been linked to the development of cancer in dogs. However, the Morris Animal Foundation's ongoing lifetime study may prove to be useful for assessing the risk of obesity on the occurrence of cancer.
Helping Your Fat Golden Retriever Lose Weight
Your dog may not like it, but treats need to be eliminated from his diet. This includes table scraps, bits of food your kids sneak him, nibbles he finds on the floor and anything else he eats between meals.
If you're using treats for training, these calories need to be deducted from his daily food allowance as well. For some dogs, eliminating treats might be enough to get him down to an acceptable weight.
Natural foods are better snack choices than prepackaged treats. Raw vegetables and fruit are low in calories and have the benefit of adding nutrition to his diet.
Reduce Meal Time Calories for Your Fat Golden Retriever
Reducing meal sizes is normally the easiest way to get your dog's weight down. The first thing to do is to reduce each portion by around a third. After four days if they are not beginning to lose weight you can drop by another third, and continue in this manner until you start to see visible changes in your dog.
Once their weight reaches a healthy level you can slightly up their ratio size to stabilise them.
Exercising a Fat Golden Retriever
Exercise will help with weight loss, but it is rarely a good solution by itself. If your dog is very overweight you will need to up their step count slowly so as not to cause further medical issues. Swimming if they are a fan is a great way to get them more active, because it's easier on the joints.