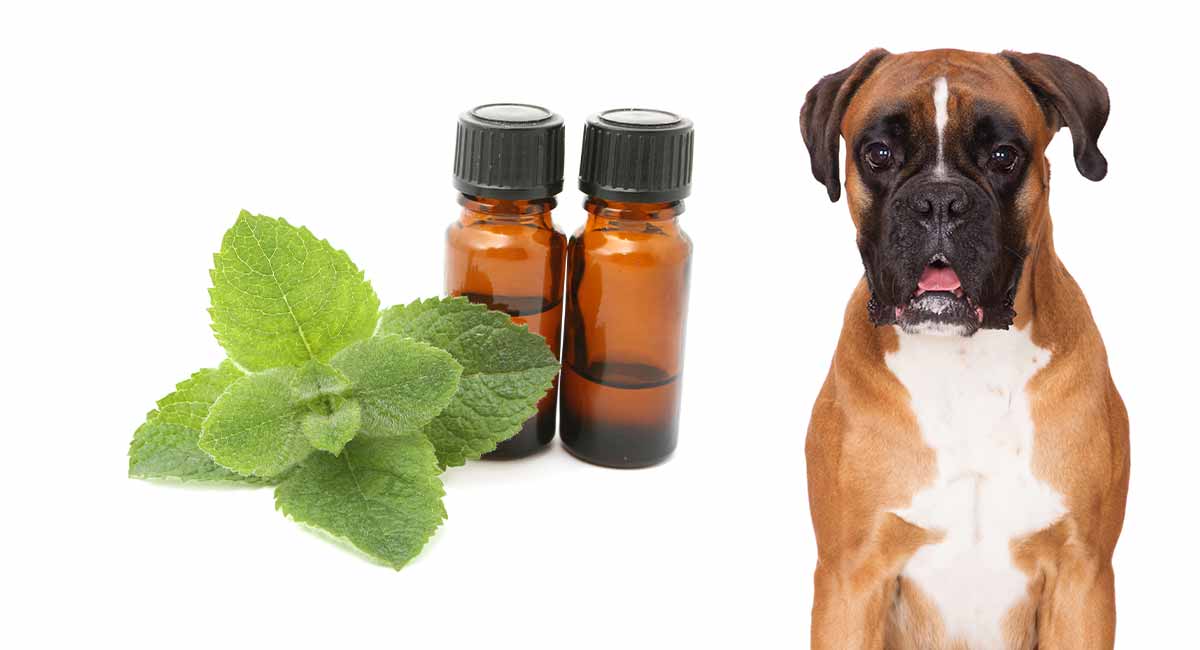 Is peppermint oil safe for dogs with itchy allergies or pesky pests? Pet parents use peppermint oil as a tick or flea treatment, killer and repellent. You might have also heard it's a great way to help sooth a dog with allergies. Well sadly, not all of these uses work, and some even cause more harm than good. Peppermint oil doesn't kill fleas, though it might put them off living on your dog. But unfortunately the risks of using it as a flea treatment vastly outweigh the uncertain benefits. That very smell that makes insects want to leave your dog, also makes your dog want to wash it off. Which they do with their tongue, which goes into their mouths and can cause them to swallow the peppermint oil. And peppermint oil can be poisonous if ingested.
There is also no scientific evidence that peppermint helps dogs with allergy in the way that drugs like apoquel do, and there are signs that it can actually make your dog more sore and itchy! Mites, ticks, fleas and allergies are all very upsetting for us pet parents, so knowing the best way to get rid of them or their symptoms really matters. Today we'll bust all the myths and reveal the truth around how essential oils, particularly peppermint oil, work on dogs. We'll look at when they are a great home remedy, and when they are best left on the shelf. We'll help you decide whether this natural remedy is the right treatment for your pet. We'll also look at whether peppermint oil is safe for dogs if put in a home diffuser, or even used as a treat!
Contents
Essential oils contain aromatic substances extracted from plants. These strongly scented plant extracts are combined with oils to make them easier to handle and use. And humans love them as home remedies for things like headaches, sore muscles and relaxing techniques. But essential oils are not intended to be eaten and can be very toxic, like cinnamon oil, citrus oil, eucalyptus oil, tea tree oil, peppermint oil, pine oil and wintergreen. So it's important that you store them out of reach of pets and children, and do not allow your pet to swallow them.
Is Peppermint Oil Safe For Dogs With Fleas?
Some owners want to know if they can switch to using peppermint oil for dogs to kill fleas and ticks instead of veterinary preventives. Or whether they can use it for skin conditions when their dogs are itchy. The idea of a more natural treatment can be very appealing. But there are a couple of important questions that we need answered!
Does peppermint oil kill fleas?
Is peppermint oil safe for dogs?
Many plant oils contain substances that can kill or deter living organisms. But those oils are not useful unless we can produce the substance in a form which is safe to use on animals. Sometimes to make the substance safe to use, we need to dilute it so much that is is no longer effective.
Natural vs Medical Remedies
There's a huge trend towards using natural remedies and aromatic oils. You can hardly find a beauty or cleaning product without an added pleasing herb or scent. This trend is filtering through to pet products – with added essential oils or scents pleasing to the humans that buy the goods. Many people think that natural products are safer than the harmful chemicals found in pharmaceuticals – whether for themselves or their pets.
The idea that natural medicines are inherently better and safer is not always accurate. And doesn't tell us the whole story. Plenty of 'natural' plants are toxic for humans and animals. And technically, essential oils are chemical compounds, too.
Unlike many medical terms, the term 'natural' is unregulated. That means that there are no standards for 'natural' remedies, and natural supplements can be often put on the market with minimal, if any, control or testing. This means that you have no way of knowing what exactly the ingredients are, or the potential side effects. Yet plants and herbal remedies can be very powerful.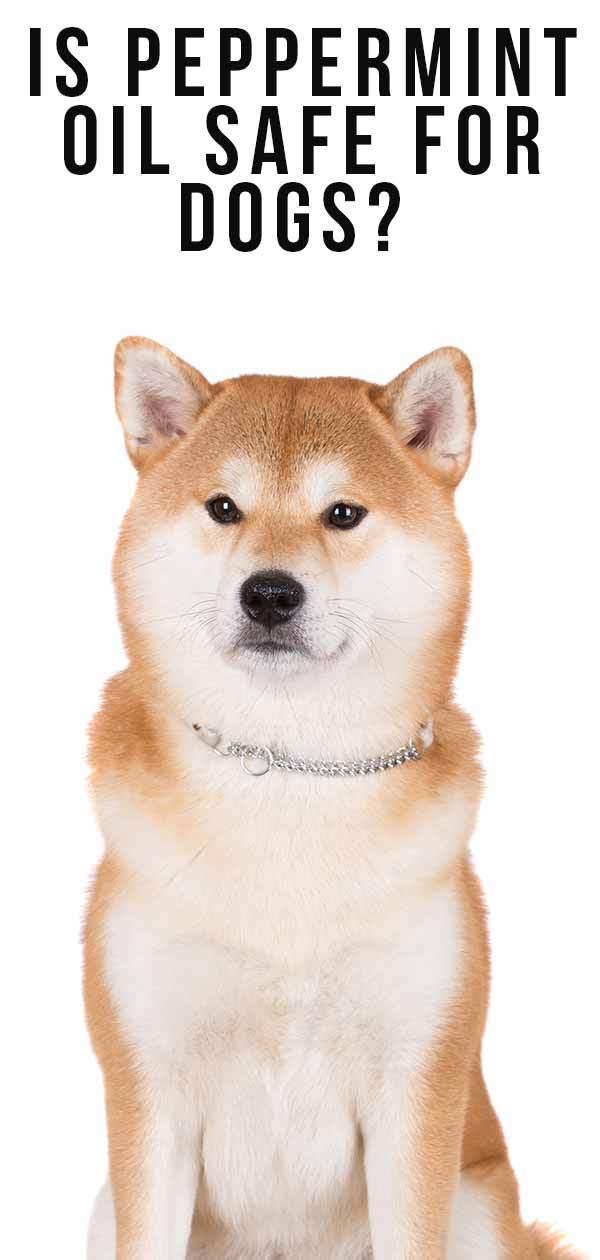 Peppermint Oil For Dogs
The use of essential oils is often called aromatherapy because of the strong smells involved! It's important to remember when using aromas in your home, that your dog has 125 to 500 million more scent cells in their nose than you do. And can easily be upset by strong smelling substances. That pleasant essential oil you use to relax might be overpowering for your furry friend. Watch whether your pet maybe leaves the room when you light up that diffuser.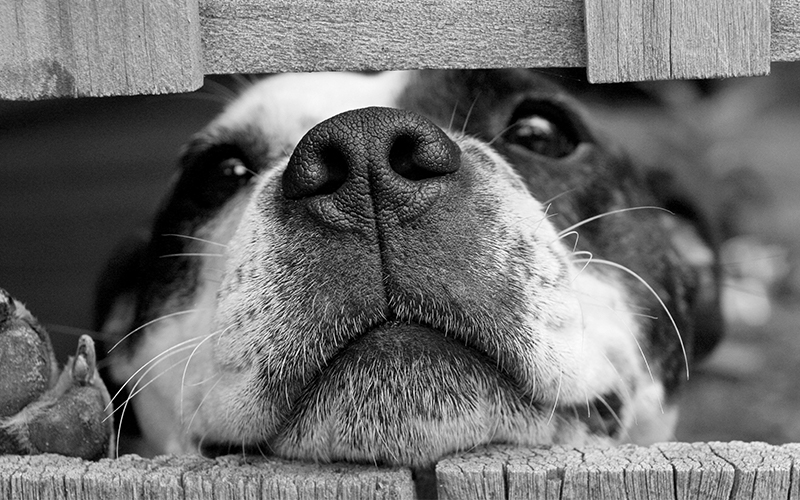 How Does Peppermint Oil Work?
The main ingredient of peppermint oil is menthol. Research has established that menthol does kill mites and some bacteria, fungi and yeasts. Also that it has soothing properties, for example for coughs and when applied to the skin.
Peppermint oil is gaining popularity for a wide range of ailments in people. However, even in humans it has been linked to health problems such as muscle pain and skin and mucous membrane irritation. Some people even have serious allergic reactions to mint. Recently some owners and a few holistic veterinarians are proposing peppermint oil for dogs as an alternative, or supplement, to traditional flea and tick preventives.
Much of its popularity is based on anecdotes and successful marketing by the companies who sell these natural pet products. Scientific research has so far provided little evidence of its effectiveness.
Peppermint Oil for Fleas
Peppermint has been used as an insect repellent for thousands of years. It is still used in some countries today against pests like fleas and mosquitos. Now that we have powerful chemical repellents like DEET, however, how does peppermint hold up in comparison?
Some studies have found that peppermint oil, especially in combination with other essential oils, is effective in repelling pests like fleas, ticks, and mosquitos. Others have been inconclusive, or found very few benefits in using peppermint oil to fight fleas. This lack of conclusive evidence is not stopping companies from manufacturing peppermint oil flea repellents.
Does Peppermint Oil Kill Fleas?
One piece of information we can say for sure is false is the idea that peppermint oil kills fleas. Peppermint oil does not kill fleas.
A product sold as peppermint oil repellent may kill fleas. Usually when used in a product that contains other ingredients like sodium lauryl sulfate or citrus extracts like linalool and d-limonene. But the peppermint oil is not the active killing ingredient.
It may, however, help to repel fleas.
Does Peppermint Oil Repel Fleas?
Peppermint oil may help repel fleas. Although further research is needed to confirm exactly how well peppermint oil performs against conventional therapies. Studies have found that peppermint oil for fleas does not work as effectively as some other essential oils traditionally used for this purpose.
The effectiveness is also dependent on the concentration of the oil and on how often it is applied. The other ingredients in a product will also play a role in determining how well it works. The range of products have different concentrations and even different instructions for how often to use them. This can be confusing.
Without regulation of the products, and large studies measuring their efficacy and safety, we have no way of knowing if peppermint oil flea products work. The same can be said on whether peppermint oil works for dog allergies.
Is Peppermint Oil Safe For Dogs with Allergies?
Many people are turning to applying peppermint oil on their dog's skin when they're scratching a lot. There is evidence that peppermint oil is effective against mites, bacteria, fungi and yeast infections. So it might help. There are reports that it can relieve the inflammation, irritation and rashes associated with allergies and skin infestations. However, for some dogs it might even cause skin irritation or allergies.
And then the questions "What and how much does one use?" And "Is peppermint oil safe for dogs" still remain. When your pup is scratching excessively you should get a proper diagnosis from your vet. You can then discuss what natural remedies you might use to help relieve the condition.
Many veterinarians are skeptical and concerned about the increasing interest in essential oils, despite the lack of research supporting their use in veterinary medicine. This includes experts in the control of parasites in animals. Besides whether essential oils work or not, there are also legitimate concerns about safety.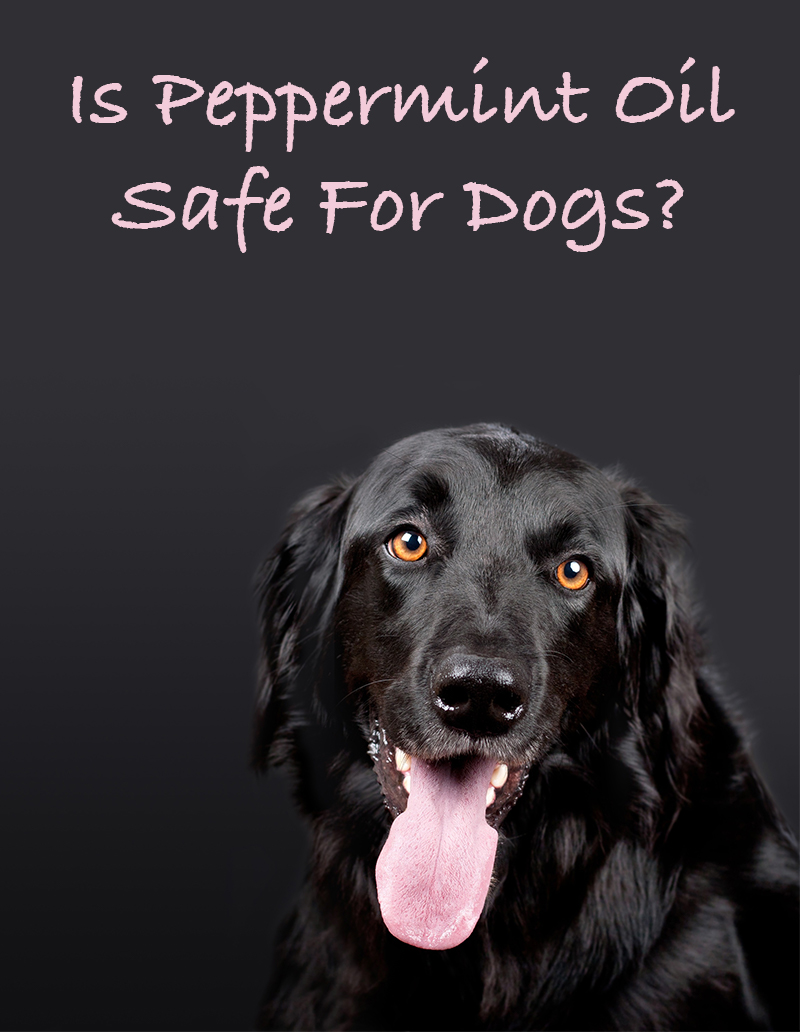 Is Peppermint Oil Safe For Dogs?
The most important question any prospective oil user should ask themselves is not "Does peppermint oil kill fleas" but "Is peppermint oil safe for dogs?" The answer, for the moment, is no.
The use of essential oils to treat dogs is relatively new. This means there has not been enough time for researchers to determine the risks, effectiveness, and correct dosages for essential oils.
What researchers have found so far, however, is that there are some serious adverse reactions associated with peppermint oil.
Dogs and other animals are more sensitive to oils than we are. And some essential oils that are perfectly safe and beneficial for us, are toxic for our pets – just like certain foods.
Is Peppermint Oil Safe For Dogs and Other Animals?
Cats are especially sensitive, and you should never use peppermint oil on your cat.
Peppermint oil can cause skin and mucous membrane irritation in your dog. The potency of the smell can also be disorienting for your dog's powerful nose. The body absorbs essential oils very rapidly – whether through skin application or ingestion. When applied to broken skin it's absorbed even faster.
The compounds in the oil then have to be broken down by the liver. Overdosing can lead to serious side effects. The risks are higher in the case of puppies and young dogs, old dogs and those with liver disease.
The most common symptom of peppermint toxicity in dogs is vomiting. But it can also cause lethargy and weakness, lack of coordination, tremors and difficulty breathing. Some dogs even had these reactions with the prescribed doses.
What should you do if your dog has essential oil on his skin and shows signs of toxicity? Vets recommend that you wash the area right away with dishwashing detergent. On top of the above risks there are those associated with using ineffective flea control products.
Further Risks of Using Peppermint Oil for Fleas
You should be sure that the product you use to control fleas works properly. Exposure to fleas can cause severe irritation. Fleas also spread tapeworm and viral and bacterial diseases. Some of these diseases could even spread to humans.
Fleas can also cause flea related dermatitis, which can lead to secondary infections. Severe infestations can cause anemia in young dogs. So we've covered the potential risks of peppermint oil for dogs. What about the mint in your garden?
Is Peppermint Oil Safe For Dogs If Given In Herb Form?
Peppermint is a herb in the mint family and it has many herbal uses. It also makes a fragrant addition to herb gardens. When ingested in large amounts it is toxic for dogs. But there's no reason you can't grow peppermint in your garden.
The good news is that, besides its effect on pests, research has shown that peppermint also repels dogs and cats. There are reports that dogs turn away and walk off if you put mint under their noses.
So it's highly unlikely that your pet will snack on the mint in your garden – most dogs instinctively know what's good for them or not.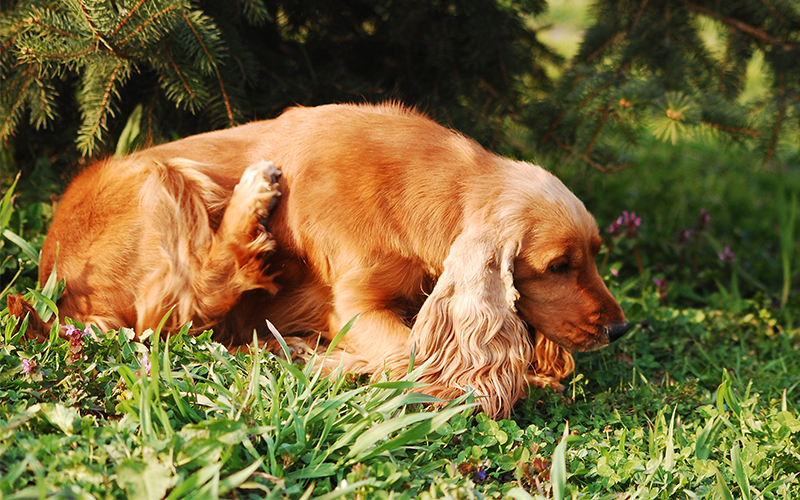 Is Peppermint Good For Dogs?
Peppermint is considered toxic to dogs. In small doses, however, it is generally safe. That does not necessarily make it good for dogs.
If you want to use a product that contains peppermint, or any other essential oil, talk to your veterinarian. They will know which products are safe for dogs, how to apply them, and the correct dosage.
That way, you'll know you are doing something that's good for your dog instead of accidentally harming them.
Is Peppermint Oil Safe For Dogs To Eat?
Peppermint is toxic for dogs if ingested in large quantities. This includes the plant, essential oils, and other products containing mint. Essential oils are highly concentrated and therefore more dangerous.
If you use essential oils in your home, make sure you keep them out of the reach of pets and children. Now you might be wondering about all the flea products on the market that contain peppermint and other essential oils.
Peppermint Flea Spray
These products can be made and sold because the EPA doesn't require registration for essential oils, since they've been deemed safe for human use. That doesn't mean they are effective or safe for dogs.
Some sprays include other, more effective ingredients and very low concentrations of peppermint oil. These sprays might be safe.
On the other hand, a study performed in 2012 examined the Animal Poison Control Center database of the American Society for the Prevention of Cruelty to Animals (ASPCA). They found that some cats and dogs experienced significant adverse side effects from peppermint oil even when used according to the product label.
If you're considering using a peppermint flea spray on your dog, consult your veterinarian to see if the spray that you've selected is safe. Your veterinarian has access to veterinary journals and resources that can help him or her determine if there have been cases of toxicity associated with the product.
If your veterinarian says the product is safe for you to use, make sure you also use an additional repellent to make sure your dog is protected.
Is Peppermint Oil Safe for Dogs in Essential Oils?
Products containing peppermint essential oil might not be totally safe, but they are much safer than using your own pure peppermint essential oil on your dog.
Natural flea repellent products typically use lower concentrations of peppermint essential oil to reduce the risks of toxicity. Even a drop of essential oil diluted in a homemade spray could be too much if used on irritated skin.
If you wish to use peppermint essential oil on your dog, always use a specially formulated peppermint oil flea repellent and be sure to check if the producer has performed safety tests.
You can find this information out on their websites or by calling their customer service line.
Is Peppermint Oil Safe for Dogs to Treat Fleas?
So is peppermint oil safe for dogs? Fleas are frustrating. The idea of spraying harmful chemicals in your home, especially if you have pets and children, is understandably concerning. But sometimes your natural solution could be harmful, too.
Most veterinarians caution owners against using peppermint oil and other essential oils on their pets.
That does not mean you can't use oils to treat yourself or your home. As long as you comply with any safety suggestions your veterinarian provides, especially when it comes to spraying pet bedding.
Hopefully, future studies will help veterinarians and owners figure out how (and if) to use essential oils safely. And provide us with more definitive answers about which products are harmful and which are effective.
Until then, play it safe and treat your dog with another form of flea preventive. Have you had any experiences with peppermint oil and your dog? If so, please share it with us in the comments section below.
Find Out More
Related Articles
Resources: Is Peppermint Oil Safe for Dogs?
Baker, B.P. Peppermint and peppermint oil profile. Cornell Cooperative Extension.
DVM360 Staff. 2013. 'Have you heard? Essential oil flea preventives: "natural" does not equate to no worries. DVM360.
Flint, C. Essential oil and liquid potpourri poisoning in dogs. VCA Hospitals.
Genovese, A.G. et al. 2012. Adverse reactions from essential oil-containing natural flea products exempted from Environmental Protection Agency regulations in dogs and cats. Journal of Veterinary Emergency and Critical Care.
Gerhold, R. 2019. Most natural veterinary parasite products don't work: It's science. DVM360.
Kidd, R. 2008. Aromatherapy. Proceedings. DVM360.
Wooten, S.J. 2018. Essential oils for fleas and ticks? Not so fast. DVM 360.