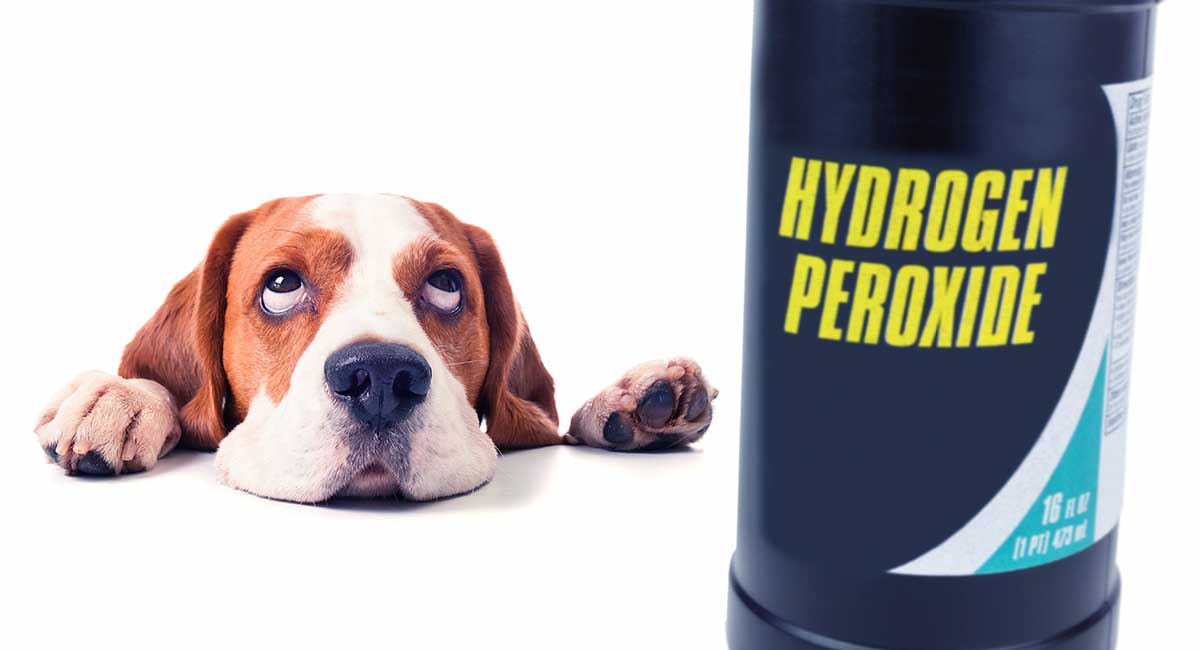 Hydrogen peroxide is an incredibly versatile chemical, used for lots of things from bleaching hair to being a mild antiseptic. While some people swear by hydrogen peroxide for dogs' home medical treatment, veterinarians have concerns about it. This chemical can be effective at treating and preventing infections, but the coverage is not complete. And many infections will not be dealt with by it at all, or warrant more serious intervention. There's also the risk of making some things worse.
The one use that does seem watertight is using it induce vomiting in dogs. With poisons that fit the bill like xylitol and theobromine, using hydrogen peroxide to make dog throw up is a good first aid response. Don't forget though, you can never be certain how much of the substance is in the dogs system. Take your pet to a veterinarian straight away after inducing vomiting, and always check with them beforehand if you can too.
Contents
Hydrogen peroxide is a commonplace household chemical with a truly staggering range of uses. In it's eventful history this compound has been used as a disinfectant, for bleaching clothes, and even as an ingredient in rocket fuel.
We most commonly run into hydrogen peroxide in its household disinfectant role. Most often this is at a concentration of three percent. Industrial hydrogen peroxide is much stronger and can strip pigment from certain materials. We usually think of this liquid as being clear, but it's actually a very pale blue. The hydrogen peroxide we keep around the house is just so dilute that this shade is barely visible.
Hydrogen peroxide uses for dogs
You may have heard hydrogen peroxide suggested as a treatment:

Research into hydrogen peroxide for dogs
Hydrogen peroxide is chemically similar to water. Where water is H2O, hydrogen peroxide has an extra molecule of water, making it H2O2. It occurs naturally in very small amounts when we breathe out.
There is a wealth of research into the properties and effects of hydrogen peroxide in general. This is also some research into its efficacy in canine healthcare and medicine.
Speaking generally, hydrogen peroxide in known for its ability to cause cell damage. The school of canine dentistry is particularly interested in hydrogen peroxide. So too are those researching canine cardiology.
Using hydrogen peroxide to induce dog vomiting
Hydrogen peroxide is largely considered to be generally safe for use to induce vomiting in dogs that have ingested poisons, when used correctly.
The dosage for this needs to precise, and not all poisons are effectively treated with this method, in fact it will make some things worse.
Some people suggest using hydrogen peroxide to make dogs sick. This might be necessary if they've swallowed something poisonous.
Hydrogen peroxide: An emetic
Hydrogen peroxide can be used as an emetic, meaning a substance used to induce vomiting.
There are a few situations in which this can be useful, but not as many as you might think.
Emesis with hydrogen peroxide is only advisable when a dog has ingested something that is not caustic or corrosive, but still poses a risk to health.
It's also very important not to use this substance if your dog is visibly disoriented, as he could inhale it.
When is hydrogen peroxide a suitable emetic?
Dogs that might benefit from vomiting induced by hydrogen peroxide include ones that have very recently eaten something dangerously toxic.
This could be chewing gum (or anything else containing xylitol), chocolate, or rat poison.
All of these are poisonous but meet the important aforementioned criteria of not being caustic or corrosive.
Alternatives to peroxide emesis
It's always worth asking your vet whether hydrogen peroxide is suitable for this purpose, if they're available.
They may have a method of how to make a dog vomit without hydrogen peroxide, like soda crystals, or they may advise against emesis entirely.
You might be asking 'how long will my dog vomit after hydrogen peroxide'?
Hydrogen peroxide causes vomiting through a fizzing action, so as soon as it has all been thrown up the vomiting should cease.
When using hydrogen peroxide, dog vomit is not a certainty. This doesn't mean you should increase the dogs. Please check with your vet if your dog didn't vomit after a dose.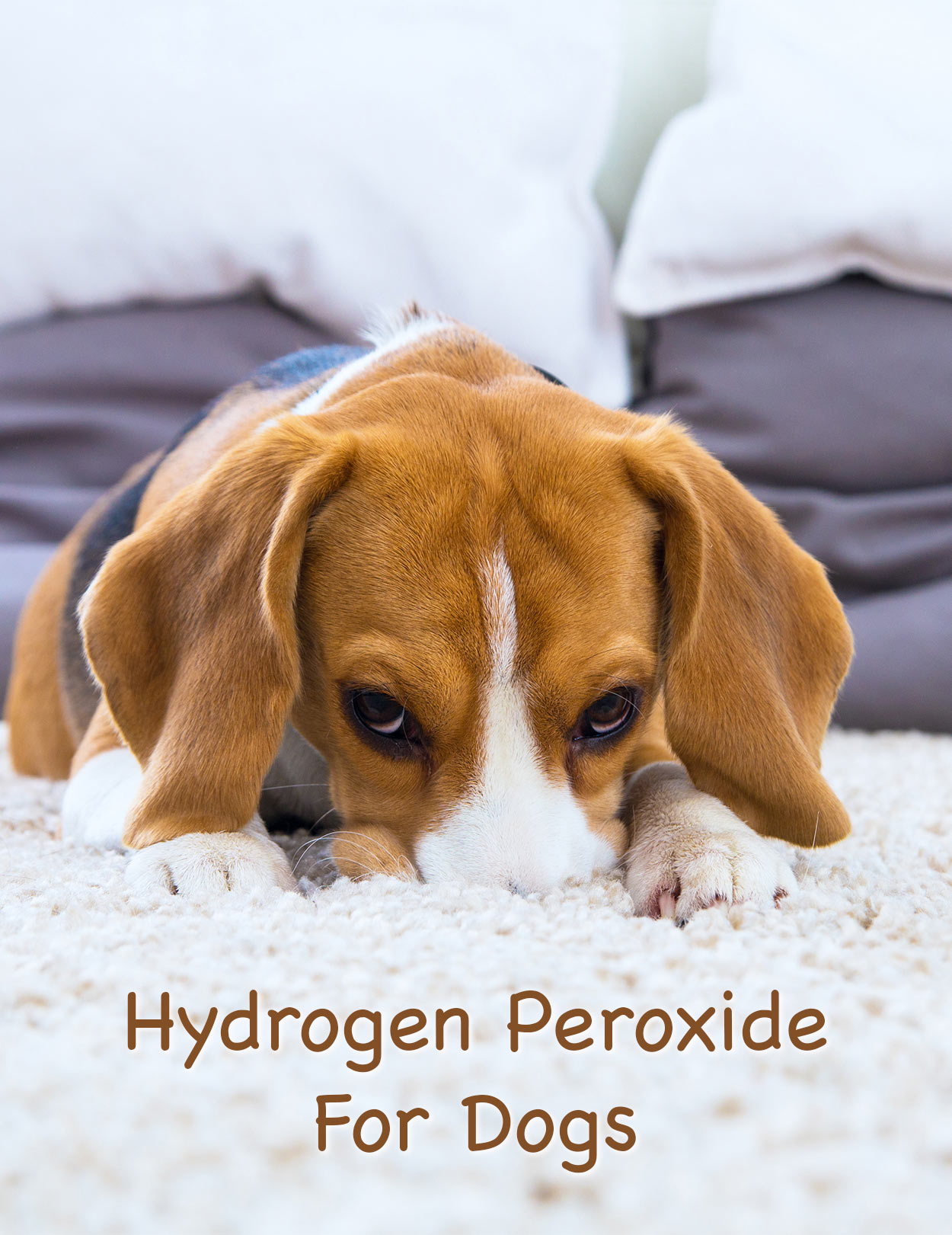 Dog ear infection home remedy
The more controversial use of hydrogen peroxide is in remedying infections.
When treating a dog's ear infection, hydrogen peroxide is a home remedy mainstay. Any of us humans who've experienced this ailment know it's incredibly uncomfortable.
So, can you put peroxide in a dog's ear? Otitis, otherwise known as an ear infection, is understandably something we're eager to treat.
Proponents argue that the oxidation reaction that occurs should be suitable to kill off bacteria and yeast that has taken up residence in your dog's ear.
Risks
The converse side of this is the potential damage hydrogen peroxide can cause. Hydrogen peroxide is known to damage skin cells.
So the fragile, and at this point possibly inflamed, skin of the in of the ear is seen to be at risk of damage when cleaning dogs ears with hydrogen peroxide.
Another argument against hydrogen peroxide for dogs is what it leaves behind, water.
Using ear wax and other evolved methods all land dwelling mammals, us included, make efforts to keep their ear canals dry.
A dry ear canal is inhospitable to any foreign organisms that might want to set up shop.
The leftover water, after washing with hydrogen peroxide, therefore creates the perfect environment for more organisms to flourish. Warm and wet environments shielded from the sun are perfect for both bacteria and yeast.
For ear infections, go to the vet
All these risks become far more pronounced if we use hydrogen peroxide that is too strong.
Treating ear infections shouldn't be done at home in any case.
By taking your dog to a vet, they can identify the nature of the infection. If they want to use hydrogen peroxide, they can do so in the way they see as safest.
Otherwise they might suggest another course of treatment. As a dog ear infection home remedy, peroxide isn't the best idea.
The only way to give our dogs the best chance against an ear infection is taking them to a vet.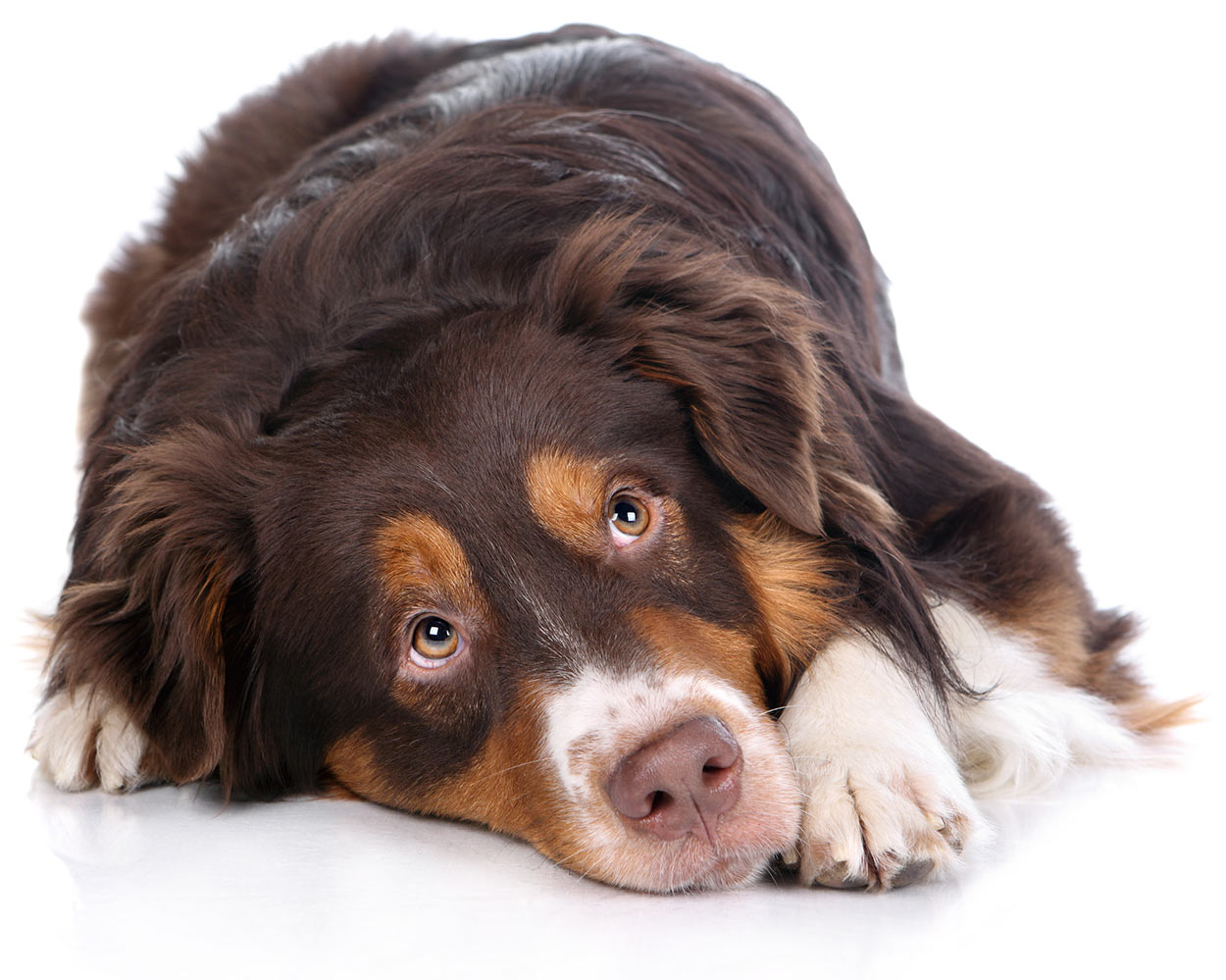 Ear mites
There's another ear related ailment for which people sometimes suggest hydrogen peroxide, dog ear mites.
Unfortunately this falls foul of the same issues as using it to treat infections.
While it may kill the population in the ear, the subsequent wetness could cause an infection to take their place.
So let's not use hydrogen peroxide for dogs' ear infection.
Can I clean my dog's ears with hydrogen peroxide?
When looking for a homemade dog ear cleaner, hydrogen peroxide will often pop up first. However, this is not a recommended solution as it will dry out and irritate your dog's ears.
Instead, look for a purpose designed ear cleaner for your dog. Your vet will be able to provide you with information about the most suitable ear cleaner.
Dog hot spot treatments
Hot spots are a kind of condition known by veterinarians as a superficial pyoderma. More specifically, hot spots are a form of acute moist dermatitis.
As such, vets do not recommend topical hydrogen peroxide treatment. Instead, because this is a bacterial problem, studies like this recommend antimicrobial treatment.
Hydrogen peroxide may make matters worse than they already are.
Hydrogen peroxide as a remedy for yeast infections in dogs
There is no evidence to support any claim that hydrogen peroxide is a useful treatment for yeast infection in dogs.
If you are worried that your dog has a yeast infection there are commercial solutions available. Your vet will be able to direct you to the most suitable one.
These will include topical and systemic antifungal treatments.
Using Hydrogen peroxide for dog wounds
Let's look at another use. We know this chemical has some antiseptic ability, so how good is it for cleaning wounds?Can you use hydrogen peroxide on dogs that are injured?
As with ear infections, the use of hydrogen peroxide for dogs to disinfect wounds is controversial. Similar to this is the use of hydrogen peroxide for dog skin infection.
The ability of this chemical to kill some bacteria through an oxidation reaction is well known, but there are some issues with applying it directly to wounds.
Risks
Hydrogen peroxide for dogs' wounds will kill some species of bacteria, but many are resistant. This poses a huge risk, as we don't generally know what might have gotten into our dogs wounds.
If the offending organism is susceptible to this chemical, it will stop an infection from starting, if not the infection may continue uninhibited.
The other main issue with using hydrogen peroxide for dogs to disinfect wounds has to do with the way it affects recovery. There's mounting evidence to suggest that hydrogen peroxide can upset the way wounds heal.
This is because they damage and destroy fibroblasts, these important cells help to naturally close up injuries and promote new cell growth.
For these reasons many vets now advise against using hydrogen peroxide to clean wounds. It's always best to have a professional look at any wound your dog has suffered.
They're not as good at keeping these clean as we are, so your vet might want to take some precautions.

Is hydrogen peroxide safe for dogs?
Whether anything is safe or unsafe for dogs, generally depends upon how much they're receiving, and where it's going.
Hydrogen peroxide is naturally occurring. It's water with an extra oxygen molecule.
We exude this chemical in very small amounts in our breath, and it exists in minute quantities in the air we breath and water we drink.
This is not to imply that hydrogen peroxide is innocuous and safe, just because it's natural.
At high enough concentrations, hydrogen peroxide is caustic. It can cause immediate damage to skin and anything else it comes in contact with through a volatile oxidation reaction.
A less severe, but still pertinent, example of this is hair bleach (which is usually hydrogen peroxide). If this gets onto the skin while someone is bleaching their hair, it can cause the skin to be red and slightly painful to the touch.
Even at low concentrations, it's not really good for anyone, humans and dogs alike. The argument is that it may be less harmful than what it's preventing.
Possible side effects
The case against hydrogen peroxide for dogs as a treatment for ear infections or as an ear cleanser is pretty compelling. This treatment fills the ear with water.
A wet ear is one susceptible to further infection, even if you kill off the microbes currently taking refuge in there.
It might be best to talk to a vet when faced with infection. They might seem like a minor annoyance at the time, but there's always potential for a more serious condition to emerge.
Other side effects include irritated skin when applied topically.
If you notice any swelling or irritation please consult your vet immediately.
Hydrogen peroxide dosage for dogs
So, if we can use hydrogen peroxide for dogs to induce vomiting in certain situations, what amount should we use? How much hydrogen peroxide to make a dog throw up?
As with anything, the hydrogen peroxide dose for dogs differs with their weight.
Larger dogs need a higher dose. The London vet clinic gives advice on how much hydrogen peroxide to make a dog vomit in each weight bracket.
They also explain how to make a dog vomit with hydrogen peroxide in terms of method.
We should keep in mind that this is not risk free, and should only be done in emergencies that match the situations we laid out earlier. Dosing advice should be held to as strictly as with any other treatment.
Getting the dose right is important
Too much hydrogen peroxide for dogs could cause him to inhale his vomit. This could easily lead to aspiration pneumonia.
By providing the correct dose we lower the risk of this happening, but it never goes away completely.
This is why this technique is only recommended when the dog has swallowed something really dangerous, but not corrosive. For example, xylitol (found in chewing gum) or theobromine (found in chocolate).
Both of these non-caustic poisons represent a serious risk to a dogs life.
They're chemicals that a dog has no real means to fight against and process properly. It's important to take your dog to a vet even after purging.
It's always possible that too much theobromine or xylitol had already entered your dogs system before emesis started. So, hydrogen peroxide for dogs can be used to induce vomiting in some poisoning situations.
Usually, hydrogen peroxide for dogs comes in a bottle that is a 3% solution. This is deemed a safe amount to use as an emetic in you dog. Do not use a higher solution than this.
Hydrogen peroxide that is sold for different reasons might be very harmful to your dog.
Alternatives to hydrogen peroxide for dogs
In the case that your dog has been poisoned or has ingested something toxic, you need to act quickly.
Your first move should be to call your vet.
Do not administer hydrogen peroxide without first consulting a professional. The alternative when it comes to poison control may be to have your dog's stomach pumped.
Infections
The best way to avoid ear infections is hygiene. You might be interested in our guide to cleaning your puppy's ears.
If an infection has already manifested, consult your vet and he will prescribe a suitable antibiotic.
Here are some remedies to some ailments mentioned above that may be better than hydrogen peroxide:
Neosporin: Good for small wounds. As a dog hot spot treatment, peroxide isn't great. Neosporin is much better.
Cleaning your dog's ears is the best way to prevent ear infections