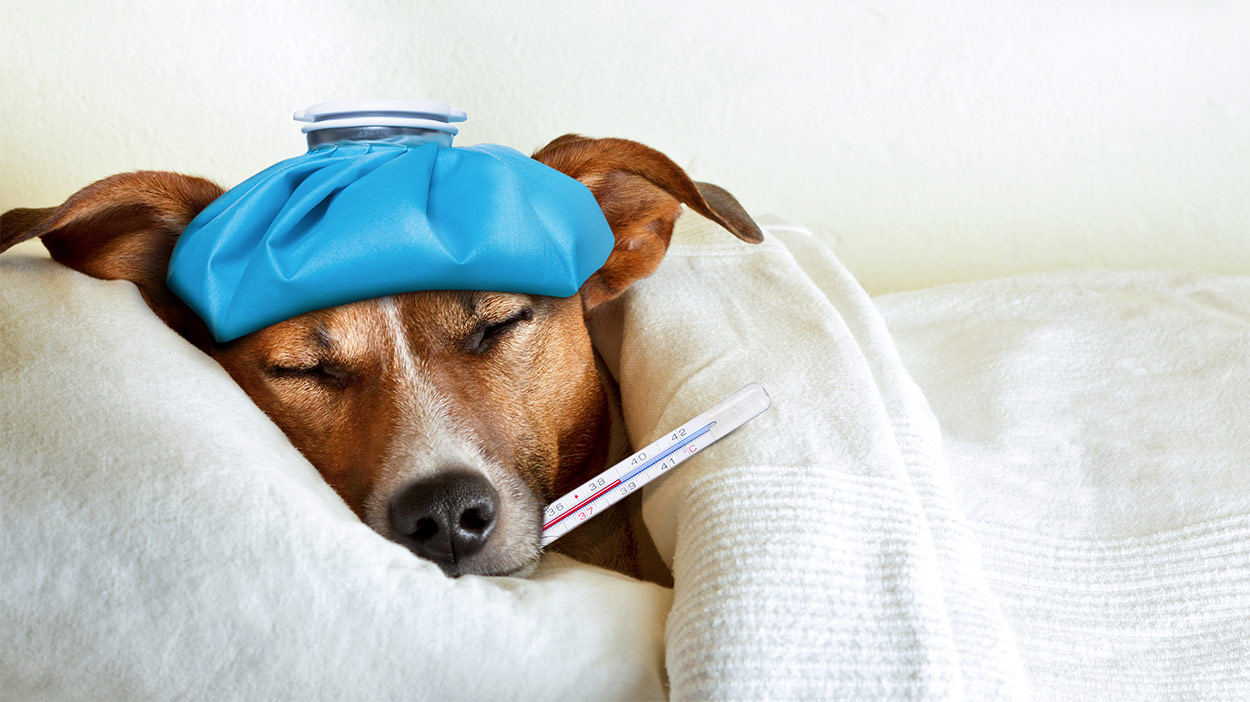 Have you ever needed to know how to make a dog vomit?
One of the many reasons we love our dogs is for their enthusiastic nature and lust for life.
Sometimes though, this enthusiasm can also get certain dogs into situations that we, as their owners, find both worrying and stressful.
Imagine coming home and finding that your beloved dog has tipped over a bottle of antifreeze and is happily lapping up the contents.
What on earth should you do?
Step one – call your veterinarian
The first step in a situation like this is definitely to call your veterinarian.
If they are closed due to holidays, or it's late at night, try the nearest emergency veterinary practice or pet poison helpline.
The veterinarian may recommend that you induce vomiting, or emesis, to remove as many toxins as quickly as possible.
But how to make a dog vomit?
It might sound like a slightly distasteful topic – but it can be really useful to know how to make your dog throw up, at least in theory anyway.
Before we take a look at the instructions your vet may give you to induce vomiting in dogs, let's go through some specific scenarios where the recommended course of action may be to make your dog throw up.
Just as importantly, we'll also consider situations where it definitely wouldn't be recommended.
When inducing vomiting is recommended
Generally, the only time to induce vomiting at home is after you've spoken to your veterinarian and they advise you to carry this procedure out at home.
They will ask for a detailed breakdown of what happened.
It can be useful to write this down as you prepare to call your veterinarian.
They're likely to ask:
Details about your dog – breed, age, weight, sex, and name
What your dog ate
When your dog ate it
Amount consumed
Current condition – conscious, breathing rate, and other vital statistics
Brief history – seizures, cardiovascular issues, stomach surgery to prevent bloat, or other concerns
One particular instance where you may well be asked to induce vomiting at home will be if your dog has consumed antifreeze.
Dogs will often lick this up from the ground if it has dripped from your car.
Due to the high percentage of ethylene glycol in this product, as little as a tablespoon can cause kidney failure.
Quickly removing the toxin increases the chances of recovery.
When inducing vomiting is NOT recommended
For certain substances and scenarios, getting your dog to be sick is definitely not recommended.
Let's take a look at some substances first.
Generally, these are corrosive or petroleum based products, which would cause damage to your dog's esophagus if they were vomited back up.
Corrosive substances

Batteries
Toilet cleaner
Bleach

Petroleum based substances

Some insecticides
Diesel fuel
Gasoline
Crude oil

Sharp and solid objects
There are also some scenarios when inducing vomiting is not recommended. This includes if the substance was ingested more than two hours ago or your dog is:
unconscious
having trouble breathing
too weak to stand
already vomiting
If your dog is unconscious or weak, they may not be breathing properly.
This will affect their ability to swallow, meaning they may inhale some vomit which could result in aspiration pneumonia.
How to make a dog vomit
Again, it's important to note that you should never induce vomiting in your dog without first speaking to your veterinarian.
In some instances, your veterinarian may request that you bring your dog into their practice, for them to induce vomiting.
Let's assume, though, that you have called your vet, given them the details of what has happened, and they recommend inducing vomiting at home.
But how to make your dog vomit? We'll go through it step by step.
While you will hopefully never need to use this information, it's always better to be prepared with the knowledge and equipment you may need for this scenario.
Before we look at the procedure itself, let's see what you need to have on hand.
How to make a dog vomit with the help of your first aid kit
First of all, what makes dogs throw up? Because you're going to need this in your first aid kit.
There is only one substance recommended for use when inducing vomiting in your own dog – 3% hydrogen peroxide.
You can buy hydrogen peroxide in most drug stores.
Just make sure the concentration is 3% and not higher.
While you might see other substances recommended, such as salt water, these should not be used as they are likely to cause your dog additional harm.
As well as 3% hydrogen peroxide, it's a good idea to consider adding these other items to your dog's first aid kit as well, if they're not already there.
Turkey baster or large syringe (needle removed)
Measuring teaspoon
Rubber or latex gloves
Paper towels
Cleaning solution
Plastic paint sheets or large bags
Within our dog first aid kit, we also have a piece of paper listing our regular veterinarian, emergency veterinarians in our local area (in case ours is closed), and the number of the poison helpline for our country.
It can be a great idea to write these numbers down, rather than have the added stress of searching for them while trying to treat your dog.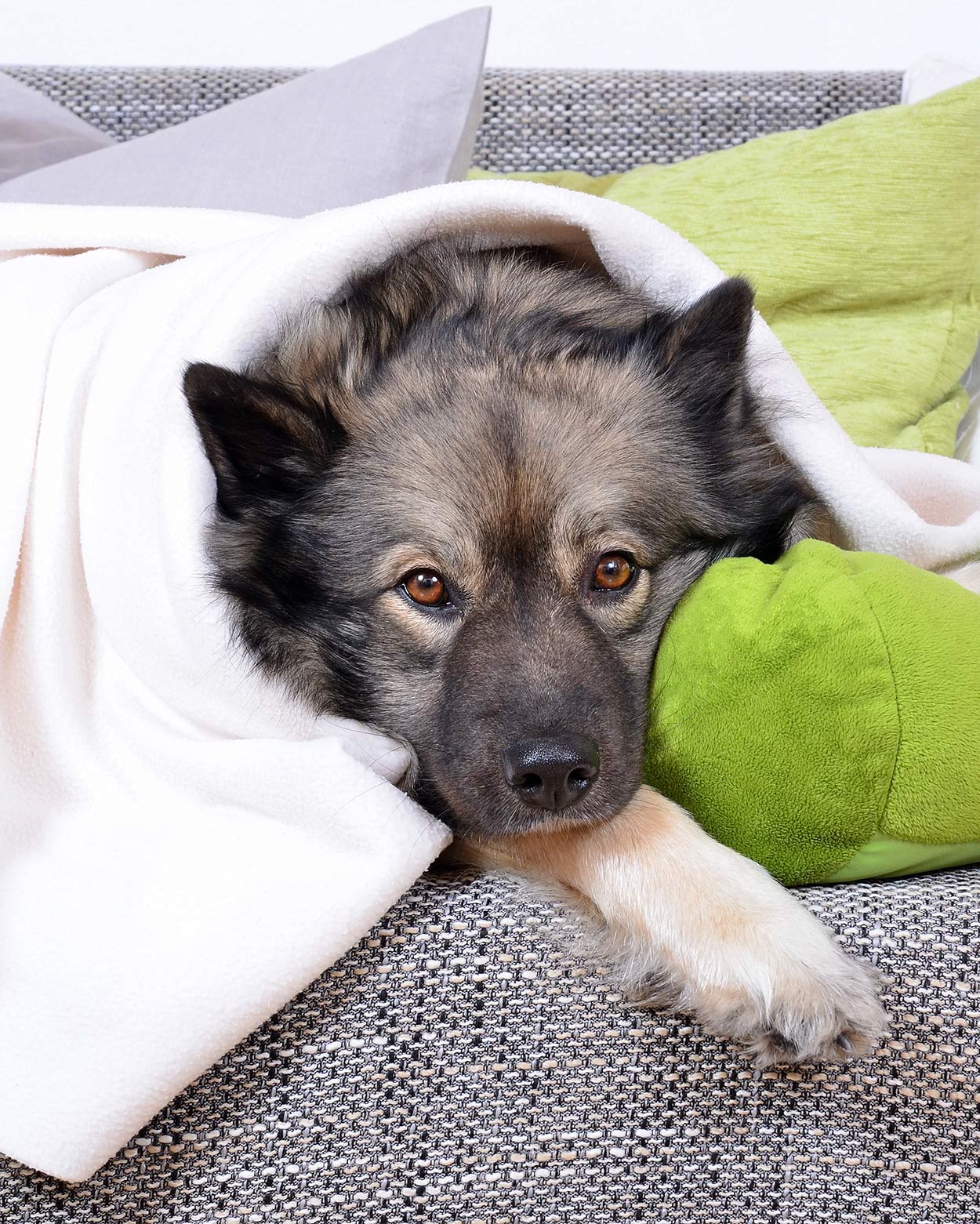 Step by step guide to how to make a dog vomit
If your veterinarian recommends vomiting, you might be asking yourself, "But how to make my dog throw up?"
These are the most likely steps they will ask you to follow:
Step 1:
Weigh your dog, if you don't already know how much they weigh to the pound.
Step 2: (Optional)
You may be asked to offer your dog a small meal if they haven't eaten anything other than the offending item within the last two hours.
This increases the likelihood that your dog will vomit.
If they are not interested in food or your vet does not recommend this step, proceed to Step 3.
Step 3:
Measure out the 3% hydrogen peroxide.
The recommended dose is one milliliter (ml) per pound of weight.
If you have a syringe, it should have milliliters noted on one side.
If not, one teaspoon is roughly 5ml.
NOTE: The maximum recommended dosage is 45 ml. Even if your dog weighs more than 45 pounds, do not exceed this amount per dose.
Step 4:
Here you have two options.
Some vets may recommend using the syringe or baster to squirt the hydrogen peroxide into the back of your dog's mouth.
Others suggest mixing it with ice cream or a similar palatable substance like honey, which should encourage your dog to gobble it up.
Step 5:
Walk your dog gently, which should assist absorption of the hydrogen peroxide.
Step 6:
If your dog has not vomited after 15 minutes, you may give another dose of hydrogen peroxide.
If this does not induce vomiting, do not give a third dose.
Call your veterinarian for advice, they may ask you to come in.
They will most likely administer prescription drugs which can be more effective than hydrogen peroxide.
Step 7:
After your dog has vomited, use rubber or latex gloves to collect a sample in a suitable container.
This may be useful for your veterinarian, especially if you have not been able to identify what your dog ate.
Step 8:
Take your dog to your veterinarian for a check-up, unless instructed not to do so.
Most veterinarians will want to observe your dog and make a plan of action for their recovery.
Country specific differences
One other thing to note is that depending on what country you're based in, the general rules for how to make a dog sick may differ.
First, it may be harder to get hold of 3% hydrogen peroxide.
In the UK, it's a prescription only medicine in most pharmacies, so it's unlikely you'll be able to purchase it this way.
The UK based Animal Poison Line recommends that owners do not induce vomiting in dogs, and instead call your veterinarian as soon as you can.
At home vs. at your veterinary practice
If you have spoken to your vet and they have advised you to induce vomiting, you may still feel unsure about how to go about this.
In this case, it's probably best that you take your dog to the vet instead and allow them to induce vomiting.
Indeed, there is a good argument for doing this.
Your vet will most likely use apomorphine rather than hydrogen peroxide.
Apomorphine is only available by prescription.
While both these drugs are as effective at inducing vomiting, a clinical study carried out in 2016 found that administering hydrogen peroxide to induce vomiting resulted in gastric mucosal lesions in all dogs.
The majority of these lesions had resolved after two weeks.
In contrast, minimal lesions were found in dogs who had been administered apomorphine.
Summary
Hopefully, you'll never have to follow this procedure, but knowing how to make a dog puke is definitely a useful skill.
References
Niedzwecki et al. 2016. Effects of oral 3% hydrogen peroxide used as an emetic on the gastroduodenal mucosa of healthy dogs. Journal of Veterinary Emergency and Critical Care.
Khan et al. 2012. Effectiveness and adverse effects of the use of apomorphine and 3% hydrogen peroxide solution to induce emesis in dogs. Journal of the American Veterinary Medical Association.
Coates. 2013. How to… make a dog vomit. PetMD
Marshall. 2016. What I Know About Vomiting! Pet Poison Helpline
Becker. 2011. If Your Pet Consumes THIS Poison – Induce Vomiting as Soon as Possible. Mercola Healthy Pets.
Veterinary Poisons Information Service