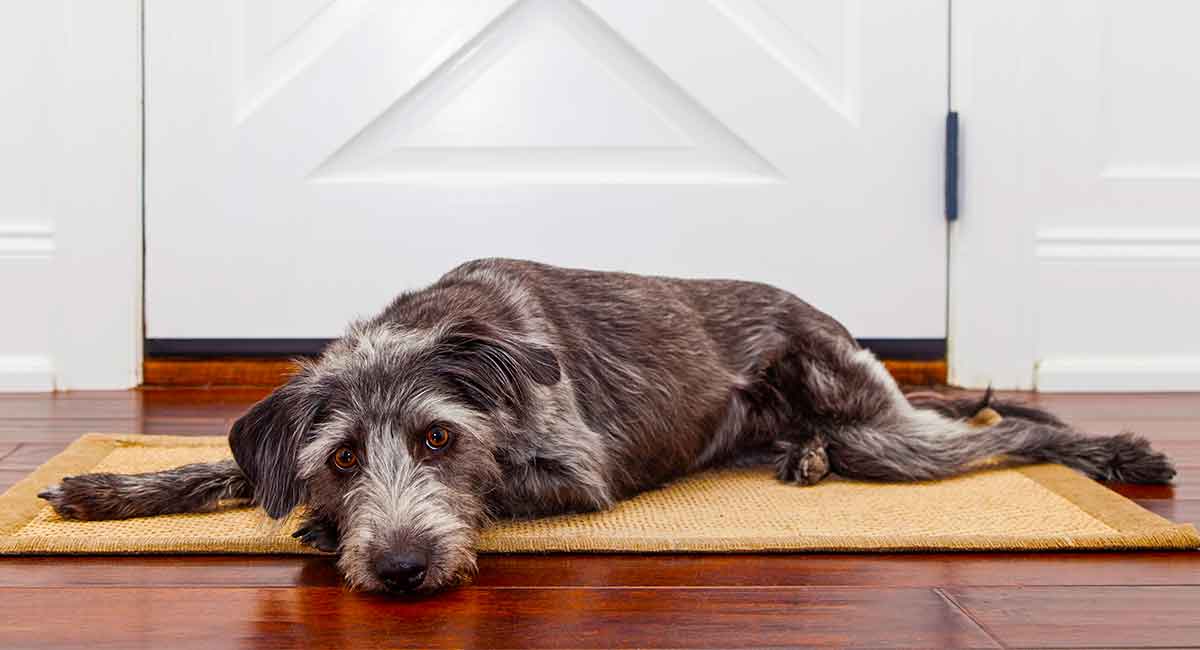 An itchy dog can drive itself and its owner mad – with it's chewing, licking, biting and scratching. Using Apoquel for dog allergies can give both you and your pet much-needed instant relief. It might also be the best long term option for constant and severe distress from atopic dermatitis. But the ideal treatment is to get to the core of the problem, not just alleviating the symptoms. It may be worth having your dog tested if he is diagnosed with allergies. Knowing whether he's suffering from food or environmental allergies can help you pinpoint the problem and put an end to your dog's misery – giving him a happy, healthy, itch-free future!
Contents
What is Apoquel?
Apoquel is a drug with oclacitinib as its active ingredient. It stops dogs' allergic itching within hours by disrupting the pathway of the sensation and inflammation. The drug inhibits the Janus kinase (JAK) 1 enzyme – a protein that sparks itching and inflammation. It doesn't treat the cause of the allergy, but does block the symptoms very quickly.
Side Effects of Apoquel for Dogs
In clinical studies, fewer than 5% of the dogs on Apoquel experienced side effects. The most common side effects were vomiting and diarrhea. Some dogs also experienced lack of energy, decreased appetite, and skin lumps. Most of these side effects disappeared after a week or two on the treatment.
Like any other treatment for allergies, Apoquel does suppress the immune system. Quite a few dogs developed skin, ear and urinary tract infections. These infections can however be effectively treated and resolved.
One veterinary dermatologist, that has placed over 1000 dogs on Apoquel, reported another rare side effect. Owners explained that their dogs get a funny look on their faces and run around the house like crazy. The problem resolved once Apoquel was stopped.
For this vet the rare occurrence of bone marrow suppression from Apoquel is the most concerning side effect. That's why, in the case of long-term treatment, blood tests should be done after the first three months, and then every year.
Does Apoquel cause Cancer?
There has been a lot written recently about Apoquel causing cancer. A study that followed dogs who had been treated with the medication for up to three years reported that 12 out of 239 dogs developed some form of cancer.
One should, however, keep in mind that the dogs might have developed cancer anyway. The finding does not necessarily mean that it was a side effect of Apoquel.
Long Term Use
When Apoquel for dogs first hit the market in 2014, it was hailed as a wonder drug. Having a medicine that provides relief to itchy dogs within four hours, and controls the itch completely within a day, was great news for desperate dog owners. But given that the drug disrupts a dog's immune system, some pet owners remain wary of the long-term consequences.
In so-called 'margin of safety' studies conducted by the manufacturer on 12 month old dogs, there were incidences of warts, cysts and abnormal or swollen lymph nodes. It also lowered white and red blood cell counts, although not below the normal range.
Safety studies performed on dogs less than six months old were discontinued as some of them developed bacterial pneumonia and mange.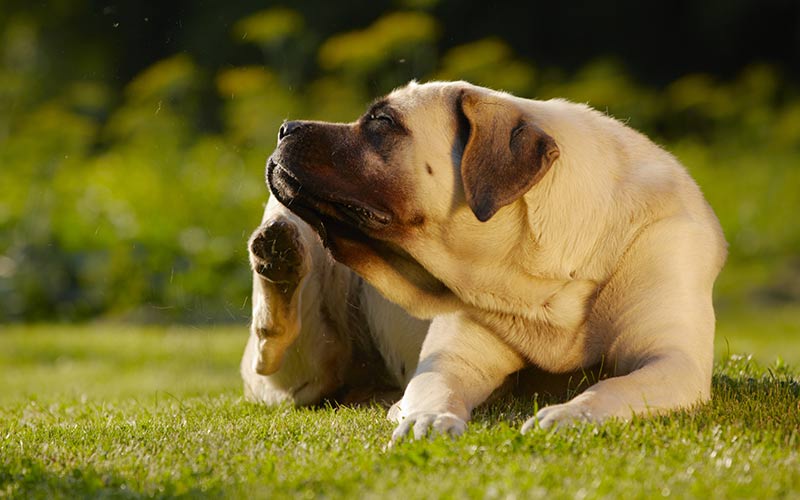 Apoquel Dosage in Dogs
Apoquel tablets for dogs comes strengths of 3.6mg, 5.4 mg and 16mg of oclacitinib per tablet. The dosage will depends on your dog's weight.
According to the manufacturer's dosage chart, a large breed weighing between 130 and 175lbs should take two Apoquel 16mg daily.
If you've a medium or small-sized pup the Apoquel 5.4mg for dogs is probably more appropriate. For a dog weighing between 20 and 29.9lbs, one 5.4mg tablet daily is sufficient.
Very small breeds, weighing between 6.6 and 9.9lbs should take the lowest dosage. Half a tablet of the Apoquel 3.6mg for dogs is the recommended amount.
How to Give Apoquel
Tablets are usually given twice a day for up to 14 days and then once daily for maintenance if needed. The tablets only work for about 24 hours and so there is no point in trying to reduce the dose to a tablet every second day.
You don't have to wait for mealtimes – dogs can take Apoquel with or without food.
Unlike steriods, there is no complicated tapering off period. Dogs can simply stop taking the medication at any time.
What if your vet wants to change to Apoquel when your dog is already on a steroid? Your dog will probably start on the new medication while the steroids are tapered off.
It's very important to follow your veterinarian's instructions when it comes to Apoquel dosage in dogs. There may be reasons to adjust the recommended doses to suit your pet.
And don't try and pop an Apoquel for your own allergic reaction – it's been developed for dogs only.
Given that Apoquel for dogs has become so popular, you may be asking the cost is.
How Much Does It Cost?
Online retailers sell Apoquel for between $1-$2.50 per tablet. The different strengths used to be the same price, but most of the retailers now have a price range.
Don't be fooled if you come across Apoquel generic for dogs online however. Zoetis still has the sole rights to produce oclacitinib tablets and so Apoquel is the only available brand.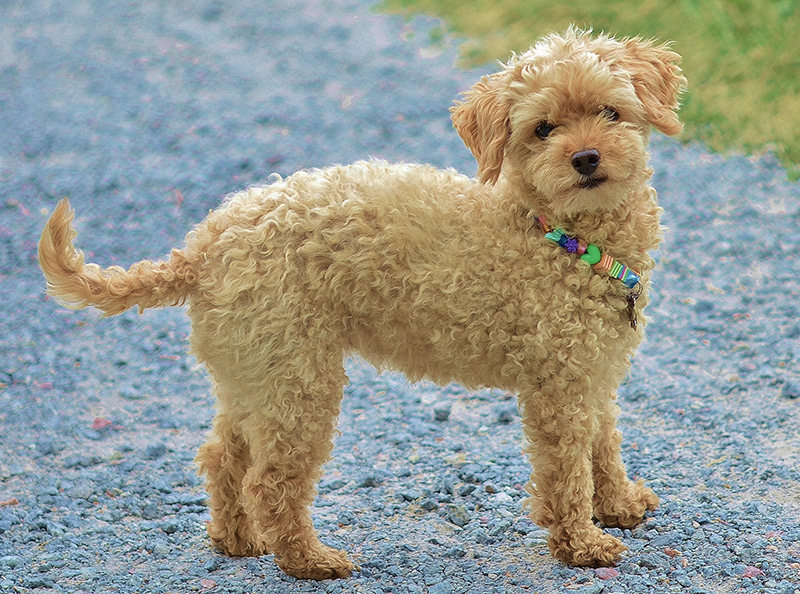 Alternatives to Apoquel for Dogs
Atopic dermatitis, in particular, can seldom be treated successfully without medical intervention. The condition is genetically linked, mostly chronic and rarely cured. However, in most cases it can be managed successfully.
Your vet will usually prescribe a medication to relieve the itching and to stop the skin condition from becoming worse. The next step will be to try and find the cause so that the condition can be avoided, rather than just treating the symptoms.
The older drugs that were most commonly used to treat allergy-related itching in dogs are glucocorticoids (a type of steroid) and cyclosporine.
Glucocorticoids, such as Prednisone, also give quick relief. They come in tablets and an ointment. They're still the most effective for treating long-term skin changes from AD.
However, Glucocorticoids have more serious side effects than those reported for Apoquel, especially if used for a long time.
Cyclosporine (Atopica) has the advantage that it can be given to pups from as young as 6 months old. It is very effective in treating treating the inflammation which goes with AD.
A downside is that it takes quite a while to start working. Potential side effects are similar to those of Apoquel
Cytopoint vs Apoquel
In 2016 Zoetis brought out another treatment for AD, Lokivetmab,with the brand name Cytopoint. It's an injectable antibody, similar to a vaccine.
Cytopoint inhibits the activity of a natural immune messenger molecule in the body. It is given every 4 to 8 weeks. The treatment is suitable for dogs at any age and even those with current infections and cancers. At this stage it's still very expensive.
The cause of the condition can be found and treated once your pup's distressing itch and inflammation have been relieved.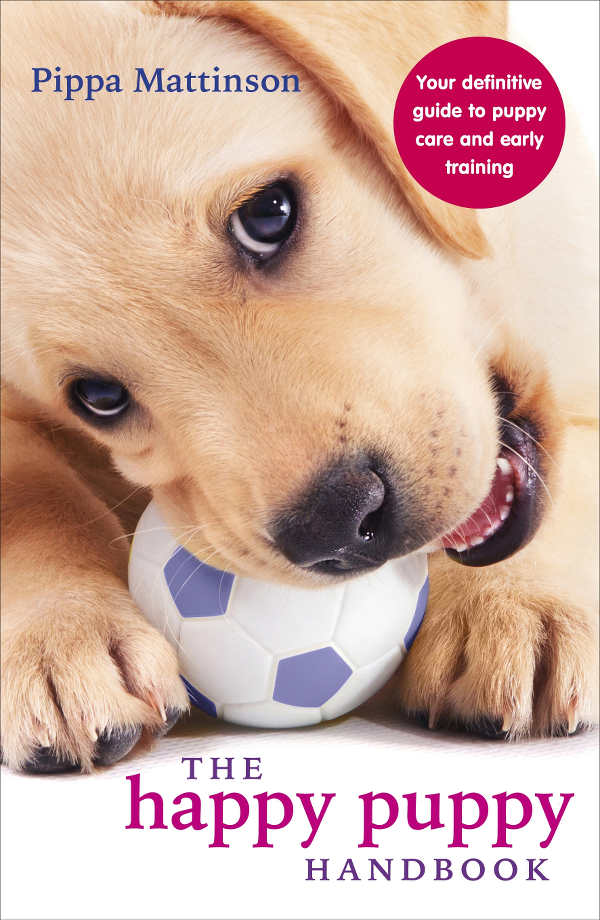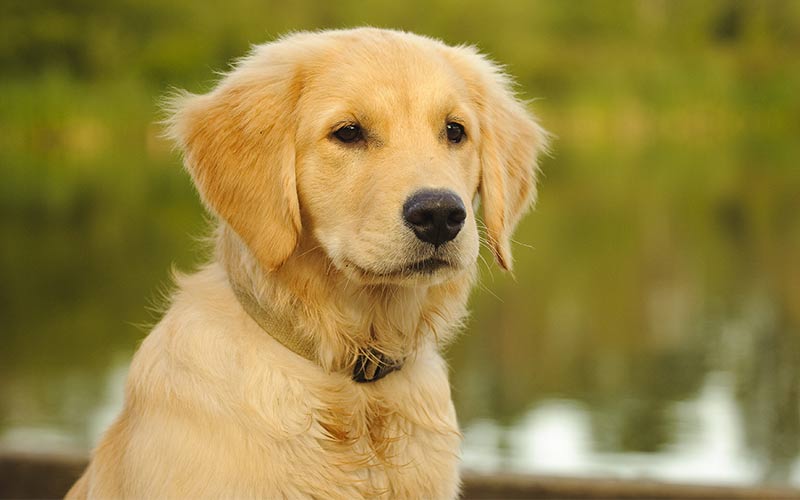 Further Treatments for Dog Skin Allergies
Your vet can run blood tests to try and find out what your dog is allergic to.The cause can then either be avoided or your dog can be given a course of treatments known as allergen-specific immunotherapy.
This involves testing to find out what your dog is allergic to, followed by a series of shots. This is the only effective long-term treatment that doesn't involve suppression of the immune system. And that will improve the quality of life for your pet with a condition that is likely to get worse over time.
Your vet might also recommend further steps tailored to your dog's specific problem. These could include additional medications against inflammation and supplements. Also dietary changes, infection prevention, and avoidance of allergens.
Home Treatments
If the allergen is something in the environment then common sense tells you that you should keep your pup's bedding clean. And give them regular baths.
Between baths, it's also good idea is also to wipe down your dog's coat and paws after a long walk outside.
Furthermore, there are a variety of natural alternatives you can try with your vet's approval.
When my dog has an allergy breakout, I find that an oatmeal bath soothes his red, itchy skin. Make a paste with oatmeal and warm water and rub it into his fur, leave for a few minutes and thoroughly wash.
Another option is a baking soda bath, using a ratio of one tbsp of baking soda to one cup of warm water.