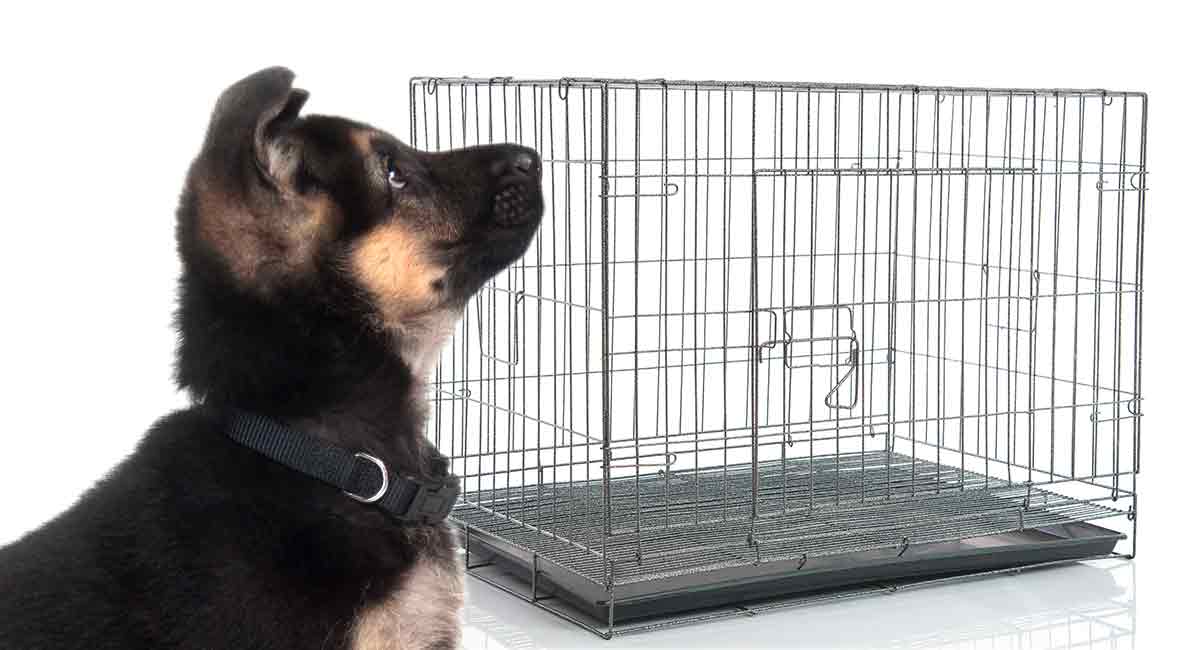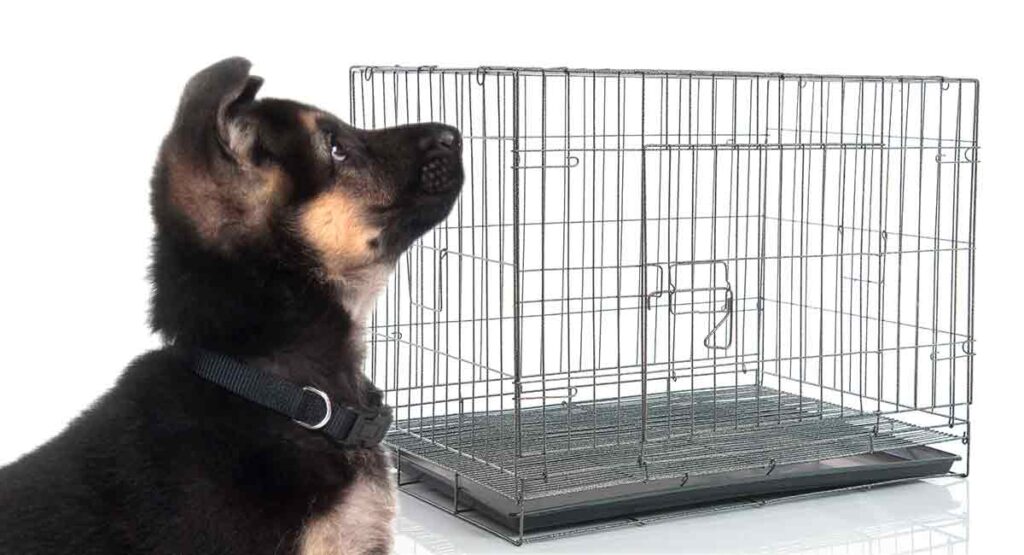 The best German Shepherd crate size for an adult is usually either 42" or 48". But, it will depend on the size of your individual GSD. Like any breed, male German Shepherds are often larger than females. So males will often need a slightly bigger space. It's best to buy the right sized adult crate, even from puppyhood. You can simply use a crate divider whilst your dog is growing to its full size.
Contents
German Shepherd Size
German Shepherds are a large dog breed that don't reach their adult weight until 36 months. They can grow from 22 to 26 inches tall at the shoulder and weigh anywhere from 50 to 90 pounds.
Male German Shepherds are usually heavier than females, and some individuals could fall slightly outside of this size range. The best way to estimate how big your puppy will be when fully grown is to take a look at his parents.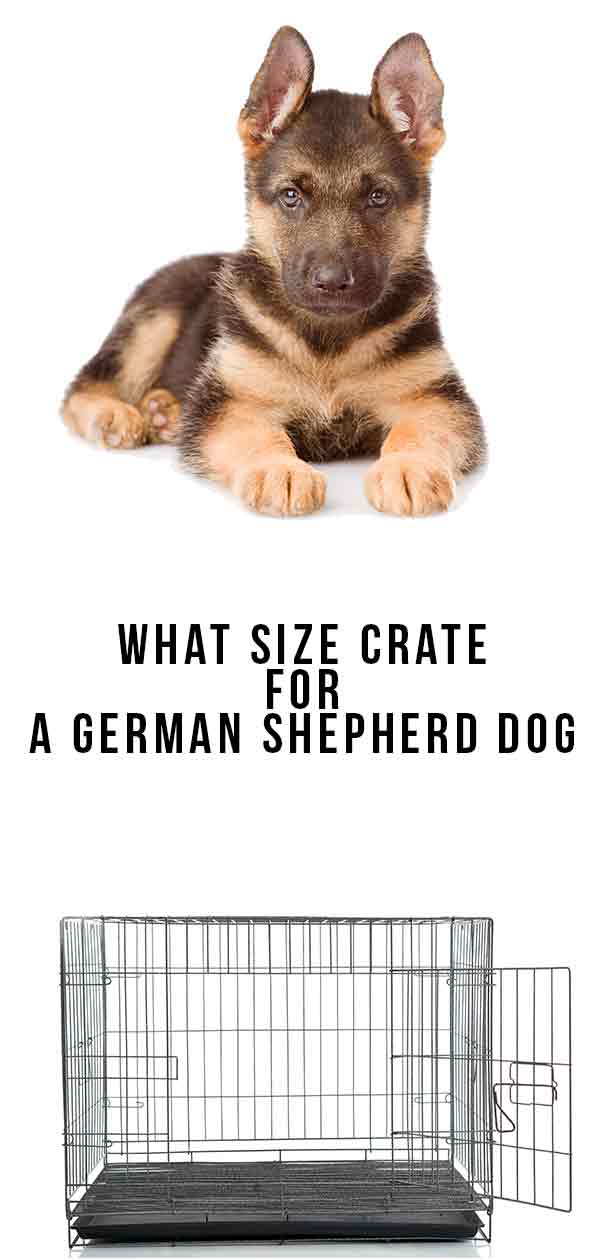 Measuring Up
Dog crates aren't like hamster cages, your pup should only spend time there over night or for short periods during the day. The size of your dog crate should be big enough for your dog to:
Turn around completely.
Sit up without crouching his head.
Lie on his side with paws stretched out.
So, you're going to need a pretty big crate for a German Shepherd. As a minimum you are likely to need a 42" crate. Most people find that 48" is best. Especially if they have a larger, or male German Shepherd.
Is Big Always Best?
You might even need to go for a slightly larger option. Dog crates come in a huge variety of sizes, even up to 72". For some people, it is a matter of space. The bigger the dog crate, the harder it can be to find space for it in your home.
However, a crate that is too big for your dog can be problematic for other reasons. If you are housetraining your dog, he may use half of a big crate as a toilet, rather than using it just for sleeping. Crate training your dog will be much easier if you choose one that fits him properly.
German Shepherd Puppy Crate Size
German Shepherd puppies need a crate that is the right size for them. Too small and they will be uncomfortable and unhappy. Too big and they will soil their space.
Puppies grow quickly. So, getting the exact right size crate will get expensive if you're having to change it every few weeks.
The best solution is to start with the size you think you will eventually need when your GSD is fully grown. Many crates come with a crate divider that you can use until they are an adult.
Why Use a Divider?
I don't ever start puppies in small crates, I always go straight to the final size. Which means I get a lot of use out of dividers for the first few months. Dividers are usually sheets of plastic or metal caging that can be used to separate your dog's crate into smaller sections. Using one will allow you to tailor your crate to the exact size you need. And to change it accordingly as your dog grows!
Best Crate For German Shepherds
My favorite crate for our large breed dogs is the MidWest Homes line. They do this crate 48 inch version, which I have been really happy with and ours has lasted for years. They do dividers to fit for when your pup is young, and they stand up to scratching and wipe down easily if accidents happen. We line ours with vet bedding, but you can also find more traditional dog beds to fit.
The Kelixu dog crate is ideal for large dogs too*. It comes in 42, 46, or 48 inch sizes. This option is built on top of locking wheels. So, it is easy to move around your home, especially if you will struggle to lift a heavy crate! It has a slide out plastic tray for easy cleaning.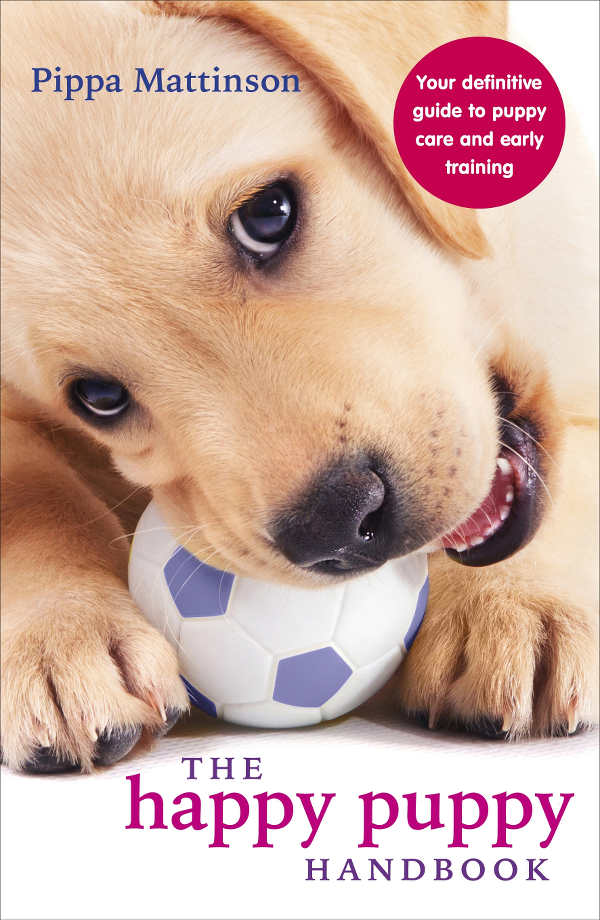 The EliteField comes in 42" size* and is made from a soft fabric over a basic frame. It is easy to fold down and store, so would make a great travel crate. It has three doors, so you can put it pretty much anywhere and your dog can still use it.
However, this is one we would recommend as a travel option only, especially if your GSD is prone to chewing or digging. The fabric will be pretty easy for your dog to get through if you're using it as his main crate, so it may need replacing often.
Affiliate link disclosure: Links in this article marked with an * are affiliate links, and we may receive a small commission if you purchase these products. However, we selected them for inclusion independently, and all of the views expressed in this article are our own.