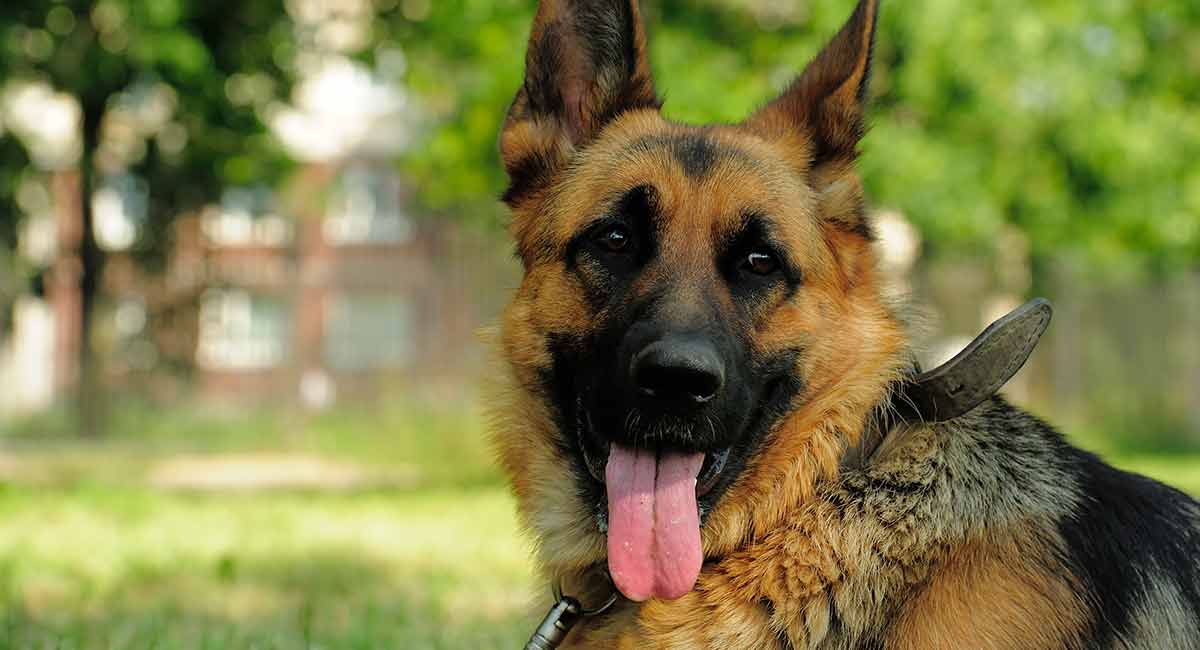 The King Shepherd is often mistaken for an oversized German Shepherd. But it is a separate breed.
It was selectively bred with the intent to create a larger, healthier and friendlier version of the German Shepherd dog.
Serving as both family companion and courageous protector, the King Shepherd is a giant mixed breed with many admirable qualities.
Could this impressive and powerful canine be the right dog for you?
Read on to find out.
Where Does the King Shepherd Come From?
In the early 1990s, the King Shepherd was developed by two American breeders named Shelley Watts-Cross and David Turkheimer.
According to the American King Shepherd Club, American bred German Shepherds were bred to flock guardians, which were then bred with European-bred German Shepherd dogs.
It's been suggested that Alaskan Malamutes and Great Pyrenees were also in the mix.
The intent was to create a dog with the intelligence and trainability of the German Shepherd. But free of the health and temperamental problems associated with the breed.
The Mixed vs Purebred Debate
As a hybrid, the King Shepherd is part of a debate that has been ongoing since designer dogs came on the scene in the early 1990s.
Purebred purists argue that appearance, size, temperament and health of a breed is predictable and controlled by keeping the bloodlines pure.
Hybrid fans state that inbreeding has created numerous health problems for purebred dogs.
And while there have certainly been scientific studies to back up this claim, mixed breeds are still at risk for health conditions that affect either parent.
Check out this article if you'd like to know more about the mixed versus purebred debate.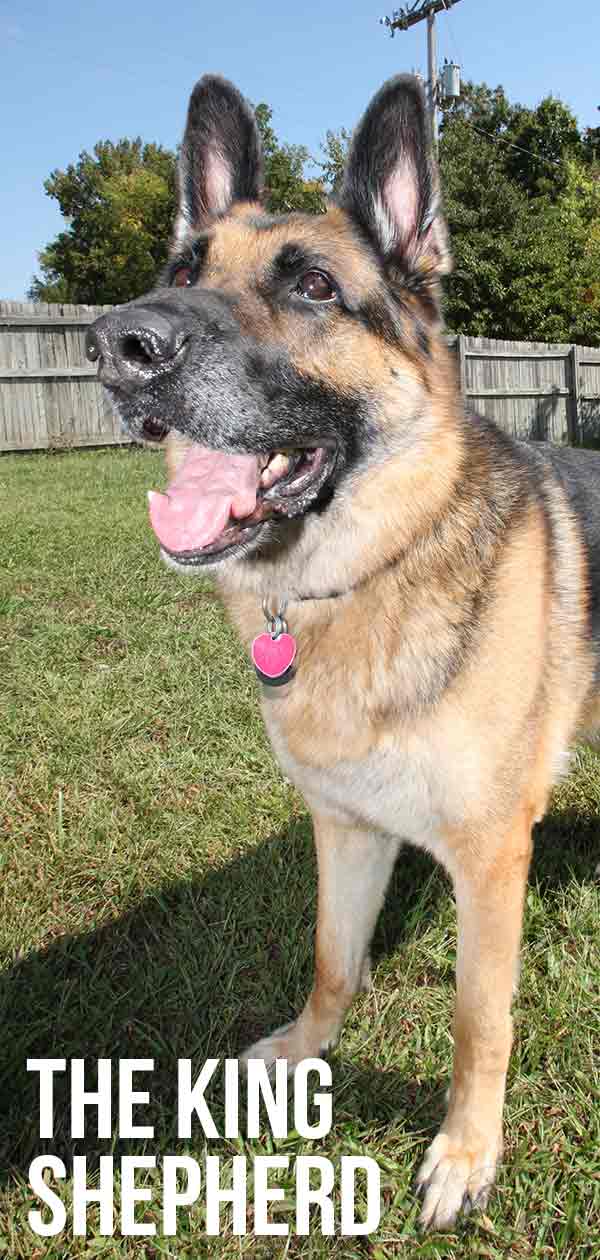 Fun Facts About the King Shepherd
The King Shepherd is not currently recognized by the American Kennel Club (AKC) as a separate breed. Or even as an official form of the GSD.
They come in two different coat types: smooth-coated and long-coated.
The King Shepherd Appearance
Generally speaking, the King Shepherd widely resembles the German Shepherd.
However, these dogs are considerably larger.
An adult male stands from 27 inches to 32 inches tall and weighs from 110 pounds to more than 140 pounds.
The female is smaller, standing 25 to 30 inches and weighing 90 to 120 pounds.
General Build
Despite their size, these powerful, muscular dogs are very agile and athletic.
They're solid and ruggedly built, with a broad, deep chest.
Where the German Shepherd has a steep slope to their backs, the King Shepherd's is significantly straighter.
A large, square head—that's in good proportion with the body—is one of their defining features.
Their faces have the same appealing teddy bear quality found in the German Shepherd.
Coat Type and Colors
Coats come in a range of colors, from sable to black saddle with tan, gold, cream or silver markings.
There are two distinct weather-resistant coat types; and both will shed.
The smooth coat is plush, wavy and similar to the German Shepherd coat.
The long coat is coarse and straight.
The King Shepherd Temperament
Loving, loyal, stable, calm and friendly. The King Shepherd is both a wonderful family pet and an excellent working dog.
They make great service and therapy animal. Plus, they are also well-suited for protection work.
These dogs were bred to have the intelligence of the German Shepherd. But without the aggressive tendencies.
They're known to be playful, good with children and even other family pets, if they're properly socialized.
Despite their sociability, there can be an aloofness toward strangers.
Introducing them early on to a wide variety of people and environments goes a long way to curb antisocial behavior.
Training the King Shepherd
Proper training and socialization is imperative for all breeds.
However, when a dog weighs as much as an adult, the importance can't be overstated.
These dogs are smart, eager to please and highly trainable. Provided that positive reinforcement techniques are used.
This means employing plenty of praise and treats in the process.
Mental Stimulation
King Shepherds are both energetic and super smart. So adding games that provide mental stimulation are recommended.
Like any breed, neglect leads to destructiveness.
And you can imagine what kind of damage a dog this size could do to your home.
Exercising the King Shepherd
There are some breeds that you can simply walk around the block.
The King Shepherd is not one of those dogs.
Exercise means at least one hour of intensive exercise a day.
These dogs have tons of energy and love strenuous activities.
What to Expect
Be prepared for long walks at a brisk pace or bicycling with them running alongside you.
Without this level of daily activity, they become bored and find ways to burn off energy on their own.
Due to their massive size, they ideally need a home with a large fenced yard where they can run around unleashed.
But Be Aware…
However, King Shepherd puppies are a different story.
Like all giant breeds, over-exercising puppies during skeletal development puts them at risk of developing hip dysplasia.
This disease prevents the hip from developing properly and can be very painful.
The King Shepherd Health
Although the King Shepherd is by all accounts healthier than the German Shepherd, they're still at risk for certain health conditions.
As mentioned, joint issues like hip dysplasia are a problem.
Bloat and torsion is a serious stomach disorder that affects large and giant breeds.
This life-threatening condition occurs when the stomach fills with gas and twists.
Von Willebrand's disease is a genetic bleeding disorder that affects the blood's ability to clot.
Degenerative myelopathy is a progressive disease of the spinal cord which typically affects older dogs.
Hypothyroidism, eye issues and allergies are also problems for the breed.
King Shepherd Lifespan
The King Shepherd has a life span of 10 to 11 years.
This is an improvement over the seven to 10 years expected for the German Shepherd.
Grooming and Feeding the King Shepherd
Whether your King Shepherd has a smooth or a long coat, he will require brushing two to three times a week.
His thick coat sheds a lot. But regular grooming cuts down on stray hairs around the house.
It also increases his blood circulation, and keeps his skin and hair healthy.
Twice a year grooming increases to daily sessions when he sheds his seasonal coats.
Bathing is only required when necessary to avoid irritating the natural oils of the skin.
Best Food
King Shepherds should get a high-quality food that's meat-based and suited to their age and size.
If you're feeding him dry food, he should get three or four cups per day divided into two meals.
Depending on your dog's age and activity level, he may require more or less food.
Checking with your veterinarian is recommended if you have any questions regarding your dog's diet or weight.
Do King Shepherds Make Good Family Dogs?
Considering that the King Shepherd was bred to be a superior family companion, the answer is a resounding yes.
Like the German Shepherd, this dog is devoted and loyal to those he loves.
He's even gentle with children and smaller pets as long as he's been well-socialized. However, he's not the dog for every family.
This giant breed needs plenty of space both inside and outside. If you live in an apartment, this isn't the right dog for you.
Those who want a big dog to relax with should also continue their search. King Shepherds require lots of physical and mental exercise.
Remember that these dogs were bred to be diligent workers. They're very intelligent.
But if left idle for too long, they will find something to occupy themselves.
Rescuing a King Shepherd
Considering their size and exercise requirements, it's certainly possible that you'd be able to find a King Shepherd in a shelter.
Many people underestimate the responsibility of owning a giant dog.
Sometimes these dogs are ill-bred and have behavioral issues.
But just as often these dogs have come from homes that shouldn't have a dog in the first place.
Give them extra love and attention right from the start.
Once you gain their trust, you'll likely be rewarded with lots of unconditional love and big wet doggie kisses.
Finding a King Shepherd Puppy
Finding a good breeder is essential when looking for a King Shepherd puppy.
They should be happy to let you visit where the dogs live so you can see the level of care they've received.
Meeting at least one of the parents is also a good idea.
This will give you an idea of what the puppies look like when they're grown.
Reputable breeders are be able to prove that they've health tested their animals for inherited conditions.
Where to Avoid
Don't be tempted to buy from pet stores.
Most of these dogs come from puppy mills.
These breeding facilities are known for their ill-treatment of animals.
Check out our extensive puppy search articles.
They'll give you plenty of tips on how to find a puppy.
Raising a King Shepherd Puppy
Raising a puppy is very rewarding, but it's also a lot of work.
Early socialization and positive reinforcement training are critical for ensuring your King Shepherd puppy grows to be a well-behaved dog.
The King Shepherd Products and Accessories
Here are some products that are specifically designed for German Shepherds or large breeds:
Pros and Cons of Getting a King Shepherd
There are plenty of reasons to get a King Shepherd, but that doesn't mean this is the right dog for everyone.
Consider these pros and cons before making a final decision.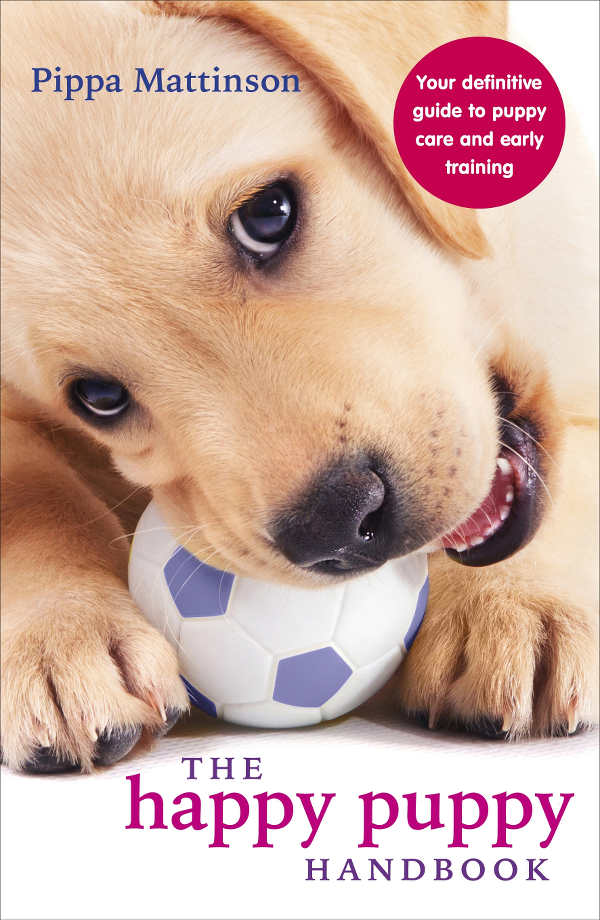 Cons
Their enormous size makes them too big for apartments or smaller homes.
They can become destructive if not given enough daily exercise and attention.
This breed sheds a lot and requires regular brushing.
Pros
They are very friendly, loyal and gentle.
This breed is highly intelligent and trainable.
They make excellent guard dogs.
When properly trained, they're great with kids and other animals.
Similar King Shepherd Breeds and Breeds
Not completely sold on the King Shepherd?
Here are some other large dog breeds to consider:
King Shepherd Rescues
Although the King Shepherd is a relatively new breed, German Shepherds rank second in popularity in the U.S.
Rescues that deal in all kinds of shepherds are a good place to start your search.
If you'd like your local rescue to be included on our list, please add them in the comment section below.
Is the King Shepherd Right for Me?
Before you bring a King Shepherd into your life, think about how much time you're able to devote to their care and upkeep.
They absolutely need intensive socialization and training when they're young.
Exercise is a daily commitment once they're older.
These incredibly smart dogs are capable of performing a wide array of working duties.
They are happier when mentally engaged.
Things to Remember
They're very social and want to be around people.
A full-grown King Shepherd weighs more than 100 pounds. That's a lot of dog to handle.
Big dog mean big food bill; big poop; and big, muddy footprints.
Are you up to the task?
Let us know what you think about the King Shepherd in the comment section below.
References and Further Reading:
The American King Shepherd Club Inc.
Beaver, B.V., 1983, "Clinical Classification of Canine Aggression," Applied Animal Ethology
Clemmons, R.M., 1992, "Degenerative Myelopathy," The Veterinary Clinics of North America, Small Animal Practice
Farrell, L.L., et al., 2015, "The Challenges of Pedigree Dog Health: Approaches to Combating Inherited Disease," Canine Genetics and Epidemiology
Hedhammar, A., et al., 1979, "Canine Hip Dysplasia: Study of Heritability in 401 Litters of German Shepherd Dogs," Journal of the American Veterinary Medical Association
Krontveit, R.I., et al., 2012, "Housing- and Exercise-Related Risk Factors Associated with the Development of Hip Dysplasia as Determined by Radiographic Evaluation in a Prospective Cohort of Newfoundlands, Labrador Retrievers, Leonbergers, and Irish Wolfhounds in Norway," American Journal of Veterinary Research
Lobetti, R.G. and Dippenaar, T., 2000, "Von Willebrand's Disease in the German Shepherd Dog: Clinical Communication," Journal of the South African Veterinary Association
Rivier, P., et al., 2011, "Combined Laparoscopic Ovariectomy and Laparoscopic-Assisted Gastropexy in Dogs Susceptible to Gastric Dilatation-Volvulus," The Canadian Veterinary Journal