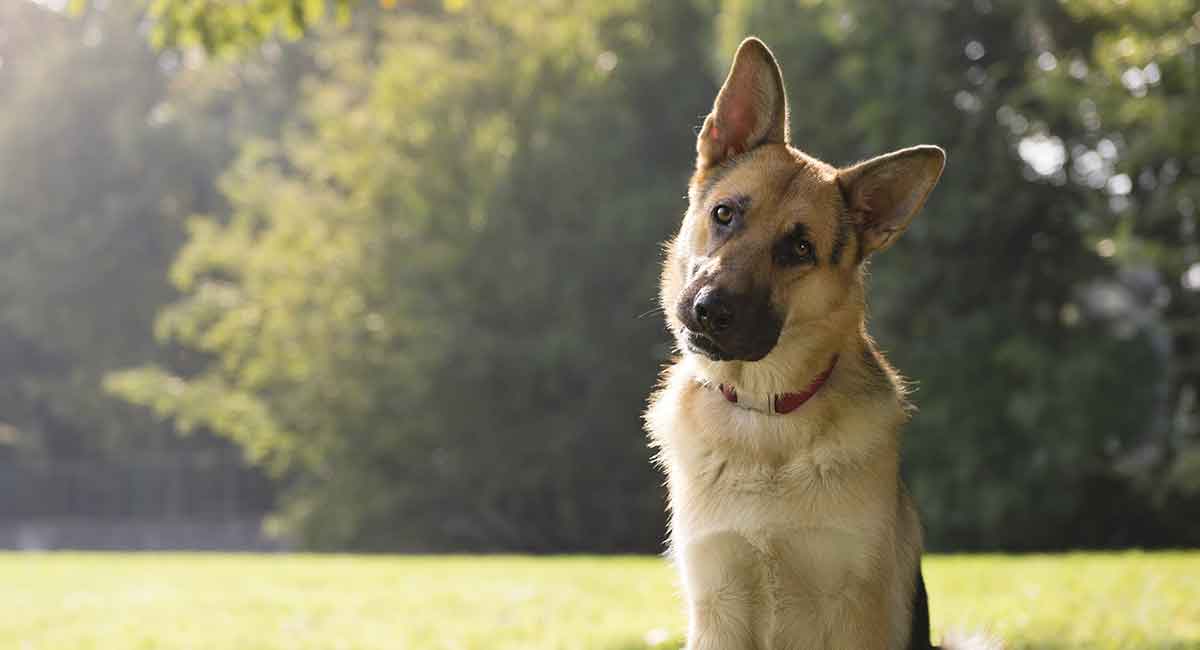 German Shepherd size varies more than you might think. They are fairly large compared with other breeds, but they aren't quite as massive as you might think. German Shepherd puppies are around 1lb as newborn puppies, and will be about 15lbs when you bring them home at 8 weeks old. An adult German Shepherd will be around 24 inches in height and 80lbs in weight. Females are slightly shorter and lighter than males on average.
Contents
Your tiny, cute German Shepherd puppy will likely grow into a medium-sized or large dog. Females will probably weigh in on the medium side, while males can get pretty big. GSD puppies experience a phenomenal rate of growth, especially before six months, so be ready. Just remember that dogs as big as male German Shepherds are at risk for joint problems because they grow so quickly, and overfeeding them can exacerbate those problems as they get older.
Factors Effecting German Shepherd Size
German Shepherd size is dependent on age, but there are many other factors too. Female Shepherds are smaller and lighter than males. How your dog is fed and exercised will play a part. There is variation within the breed so it also depends to some extent on the size of your dog's parents, or if they are from working or show lines.
In this article we will look at the height and weight of GSDs at different stages of their development. And at what you might expect your cute German Shepherd puppy to measure and weigh when they are a full grown German Shepherd Dog. And of course we've included some pictures of German Shepherds to remind you how gorgeous they are no matter what their size, color, or weight.
German Shepherds are the third most popular dog in the USA right now, having been recently nudged down a place by the French Bulldog. The breed belongs to the Pastoral group of dogs traditionally used as herding dogs. Some shepherd breeds were also used to guard livestock. German Shepherd Dog size is linked to this important role.
The German Shepherd temperament is also tied in with this purpose and has made them uniquely suited to work as a service dog. With the right training, German Shepherd dogs also make excellent family pets.
Working German Shepherd Size
Because of their dual purpose as both herding and guard dogs, they are one of the larger shepherd dog breeds. There are several types of German Shepherds within the breed, including the King German Shepherd.
The German Shepherd Dog's name is often abbreviated to German Shepherd, or simply GSD. Let's find out a bit about the origins of this awesome dog breed. Stephanitz and others founded the world's first club for GSDs. He also turned to refining them into good police and guard dogs, creating a very versatile breed still in demand as herding became less common.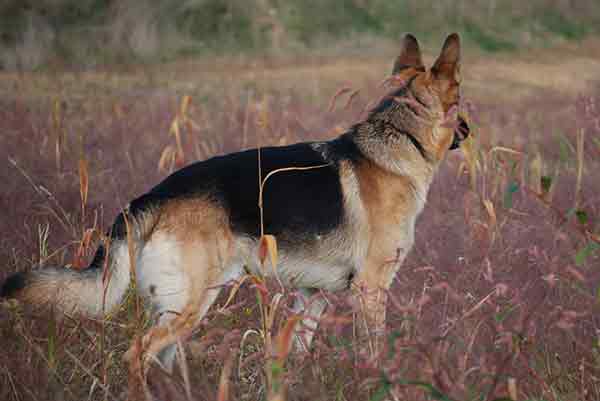 The dogs became popular in the U.S. after Rin-Tin-Tin and Strongheart appeared in movies and after the world wars introduced dogs working for the German military to people of other countries.
German dog breeds became unpopular during the second world war and lovers of the breed began referring to them as the Alsatian dog, to protect their dogs from anti-German sentiment.
German Shepherds are often used for service, agility, conformation, obedience, search and rescue, police/military, and guarding. They are easily trained, so they make good show and work dogs.
German Shepherd Size, Lifespan & Health
German Shepherd lifespan and health are tied up with size. Specifically with weight and growth rate. And that's because some health issues in dogs are directly linked to obesity.
Being overweight can be harmful to German Shepherd health, just as it can to other breeds. This is something we'll consider when we look more closely at German Shepherd weight.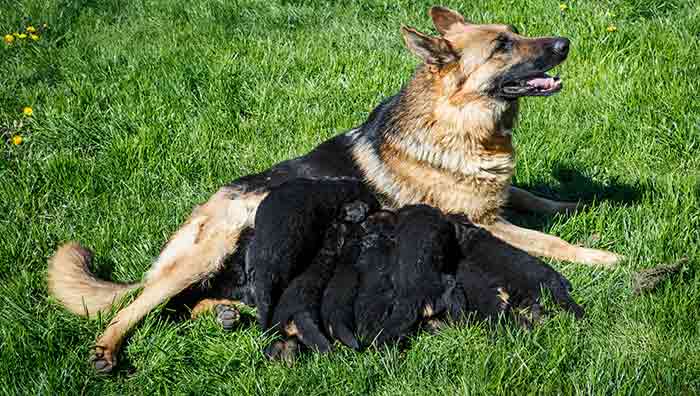 Weight issues in adult dogs is not the only area of concern, GSDs are prone to hip and elbow dysplasia, which has been linked in some cases to overly rapid growth in puppies.
They also suffer fromosteochondritis dissecans, disorders of the pancreas, panosteitis causing lameness, eye and ear issues, and allergies. And are vulnerable to bloat. In addition, some GSDs have deeply sloping backs and angulation in the legs that may be causing health issues.
German Shepherds can live for 9+ years, but of course, German Shepherd life expectancy is a result of a number of factors, including genetics, environment, and diet.
German Shepherd Puppy Size
An average weight of German Shepherd puppies, according to a giant census study of dogs in Italy, is about 503 grams or 1.1 lbs at birth. A baby German Shepherd can range from 0.8 lbs-1.3 lbs (370-600) grams at birth.
There are usually 6-8 puppies in a litter, and birth weight, as well as litter size, often depends on the mother's size as well as body shape. By about a week of age, they will weigh 1.6-2.1 lbs, which is about double their birth weight.
Don't be surprised if their individual sizes begin to show at this point; some small pups may overtake the larger ones even though they can't see or hear yet!
German Shepherd Growth
As a large breed, German Shepherds should not be overfed. Too-rapid weight gain in large breed dogs has been linked to higher levels of canine hip and elbow dysplasia, along with osteoarthritis, and good German Shepherd breeders take steps to avoid these conditions in their puppies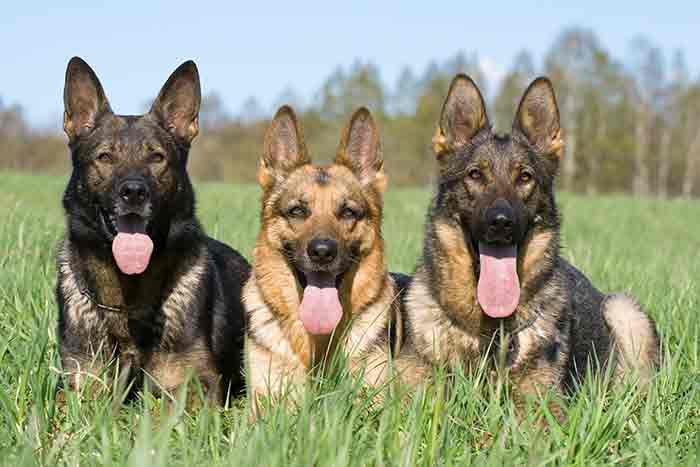 Joint disorders may be caused by an excess of calcium, phosphorus, and vitamin D. It's easy to overestimate how much food a puppy needs because the correct amount of food can look small, so be careful.
This is one of the reasons why large breed-specific dog foods exist: to control the growth of these dogs in a way that will maximize their health and minimize joint problems.
So make sure to consult a vet about your puppy's correct level of weight gain, and follow a growth chart provided by your breeder or veterinarian.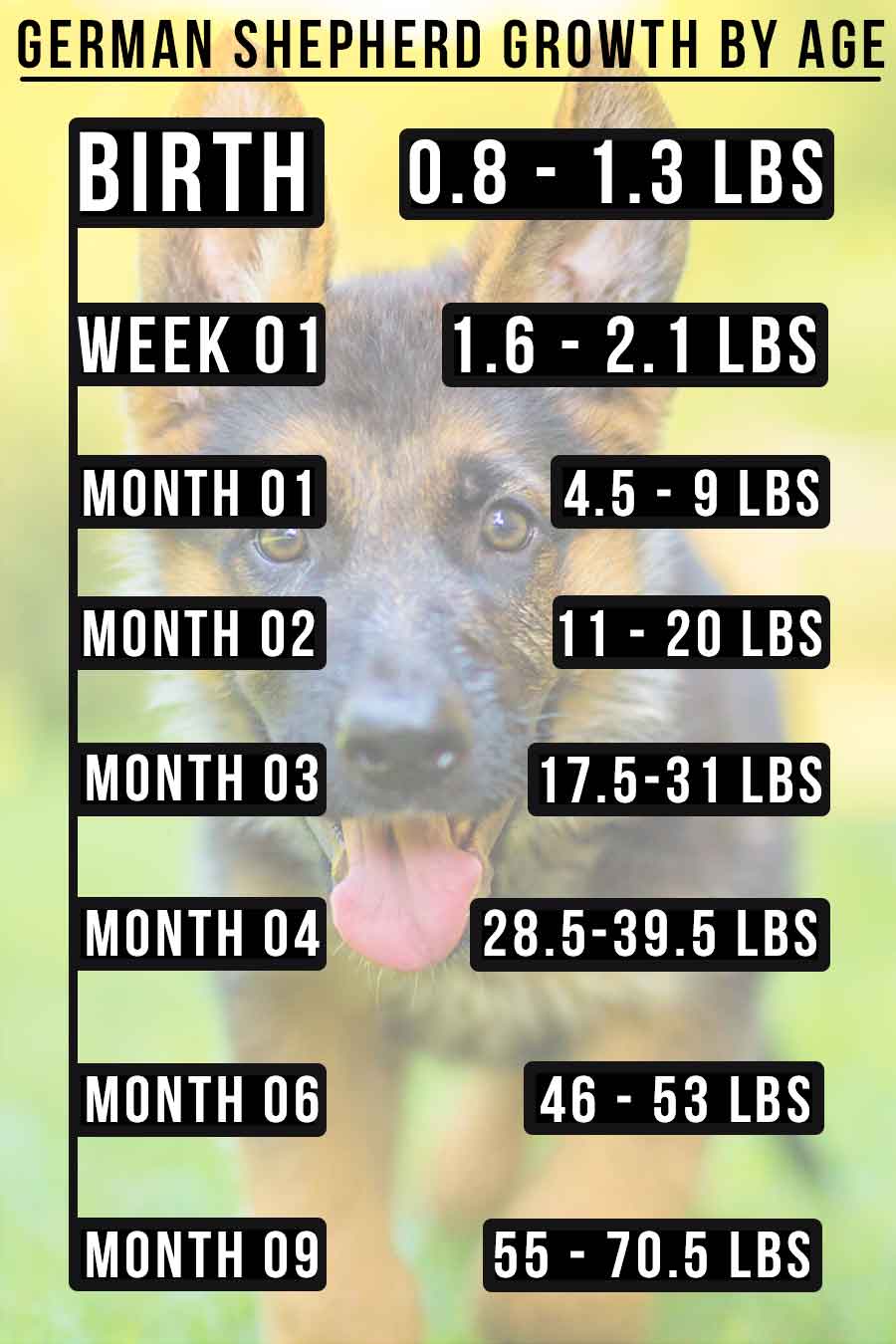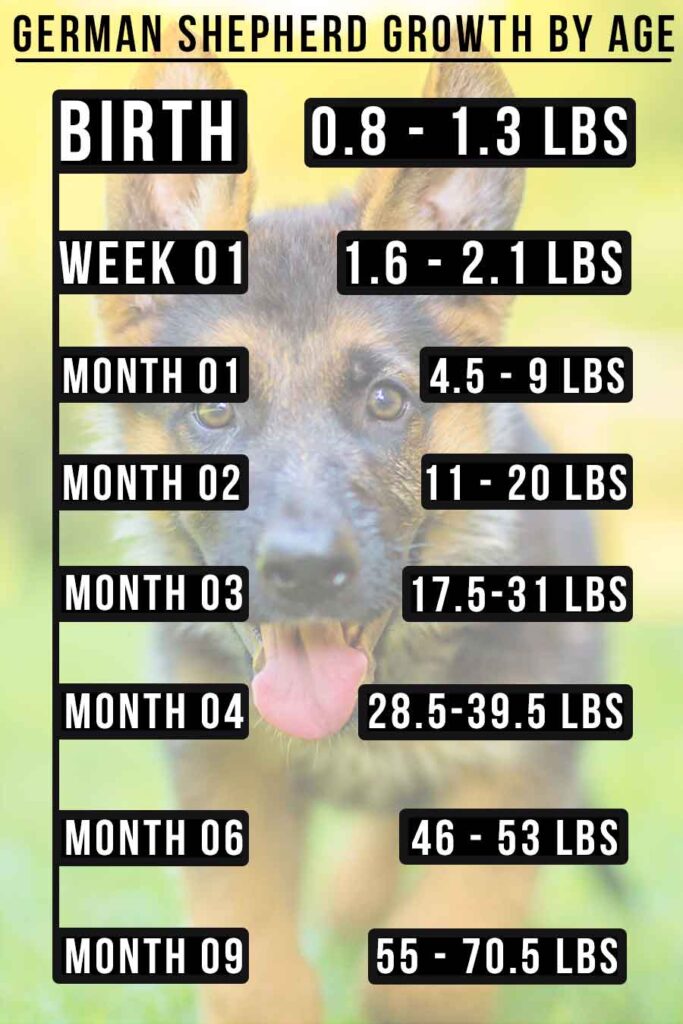 German Shepherd Growth By Age
When you bring home your puppy as an 8 week old German Shepherd, they will probably weigh 14-15lbs. But up to 3 or 4lbs either side of that is normal. Let's look at how a GSD puppy grows month by month from birth.
1 month Old German Shepherd Size
At about a month, German Shepherd puppies will weigh 4.5-9 lbs.; females weigh less, and males will be at the top of the range.
2 Month Old German Shepherd Size
At two months, you can expect them to weigh in at 11-20 lbs.
3 month old German Shepherd puppy
When they reach three months, your pup should be about 17-31 lbs. depending on gender. At this age most puppies are settled in with their new families and are on three meals a day. If your puppy struggles to eat their full day ration in three meals, it's fine to break it up into four portions for another few weeks.
4 month old German Shepherd puppy
At four months, your puppy will weight somewhere between 28.5-39.5 lbs. That's pretty big! It's about half of the adult weight your dog will eventually reach. At this age pups can look quite gawky and skinny.
Large growth spurts will take place between 2-5 months, so keep a close eye on your puppy's weight during this period especially.
6 month old German Shepherd Puppy
At six months, the average male is 53 lbs., and the average female weighs about 46 lbs. Growth rate starts to really slow down now and many dogs will look a lot less puppyish than they did a month ago
9 month old German Shepherd puppy
By nine months, your Shepherd will weigh between 64-70.5 lbs. if he's a boy, and 55-59 lbs. if she's a girl. At that point, the dog is about 90 percent of his or her adult weight.
Adult German Shepherd Size
By the time your dog's first birthday comes around they'll be pretty close to full grown. Your year old German Shepherd is almost an adult and won't grow much taller. But in the coming months your pup will fill out, look less gawky, and may carry on gaining weight for another 12-15 months. Bear in mind that this should be muscle gain, not fat, so keep an eye on that waistline!
When Do German Shepherds Stop Growing?
German Shepherd puppies generally stop growing significantly in height by nine months for males, eight months for females. Males may get an extra inch by 15 months and females slightly less than that by 12-15 months. They reach their adult weight at 36 months.
GSDs, like many larger breeds, are considered fully grown by about 18 months, when they have reached 98 percent of their growth.
How Big Do German Shepherds Get?
Shepherds come in a range of different coat colors, but these don't have much impact on size. So whether you have a black german shepherd, or a sable german shepherd, or a blue german shepherd for example, the size generalizations below will still apply to purebred German Shepherds
They don't apply however, if you have a german shepherd mix, in that case the size will depend on what your shepherd dog is mixed with. A golden shepherd (golden retriever shepherd mix) may be very similar but a shepherd mix dog where one parent is much smaller, will not.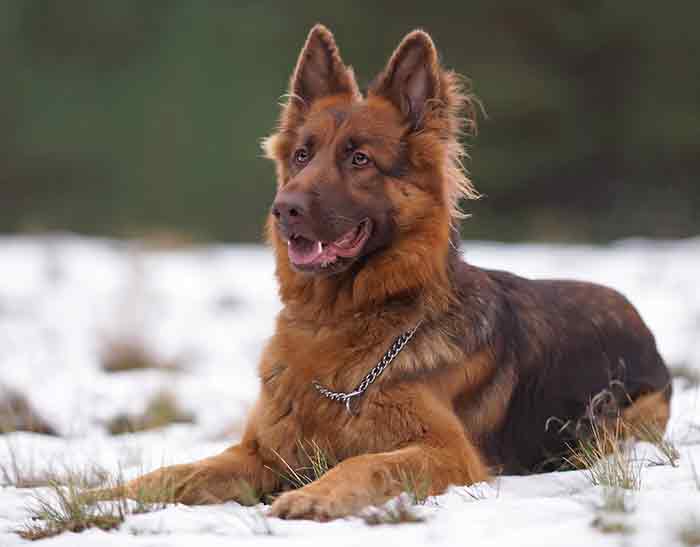 How big your dog will get, provided you feed a them a healthy age appropriate diet, will largely depend on the size of their parents. Sometimes peoople want to know if they can influence their dog's final size by altering how much they feed them. The answer is no, not really, though it is possible to harm your dog by overfeeding either as a puppy or an adult.
What Is The Average Adult German Shepherd Size?
German Shepherd dogs will no longer grow in height after 36 months of age, or three years.
You should know there's about a 25 percent weight difference between males and females.
Just remember that the numbers we've given in this article are averages. Your dog may be under or over, and it's fine if that's the case!
Don't feel the need to be exact. Dog individuals vary, just like human individuals do.
You can ask your vet for a weigh in and a check up to discuss any concerns
The German Shepherd breed standard specifies that a good height for adult male German Shepherds is 24-26 inches at the withers. For females, a size of 22-24 inches at the withers is about right.
How tall is a German Shepherd – length vs height
These dogs are longer than they are tall. The breed standard says the desired proportion for German Shepherd dogs' width to height is about 10: 8.5.
Fully grown male German Shepherd size is usually between 24-26 inches tall and 65-90lbs.
And adult female German Shepherd size is typically within 22-24 inches tall and 50-70lb.
Average German Shepherd Weight
There's no weight standard listed for the breed. However, you can expect your male GSD to weight about 80 lbs by 18 months of age, and 84 lbs by 36 months of age.
Female German Shepherd weight is going to be less than male, the average weight at 18 months of age is about 62 lbs. At the age of 36 months, she'll probably weigh around 66 lbs.
But a good weight for females can like anywhere from 50-70 lbs, and a good weight for males will be anywhere from 65-90 lbs, depending on individual factors.
Keeping Your GSD To A Healthy Weight
A naturally big German Shepherd may weigh more than average while still being fit and healthy. Shepherds are often not as greedy as some other popular dog breeds, but obesity can still be a problem in this breed. Keep an eye on your dog's weight and get advice from your vet if you think your dog is piling on the pounds.
Remember that exercise (or lack of it) is rarely at the heart of excessive weight issues in dogs. The problem is almost always too much food.
Check that you can feel your dog's ribs if you press firmly along their sides, and that they have a waist when viewed from above, and that their belly slopes upwards towards their back legs, rather than forming a straight line.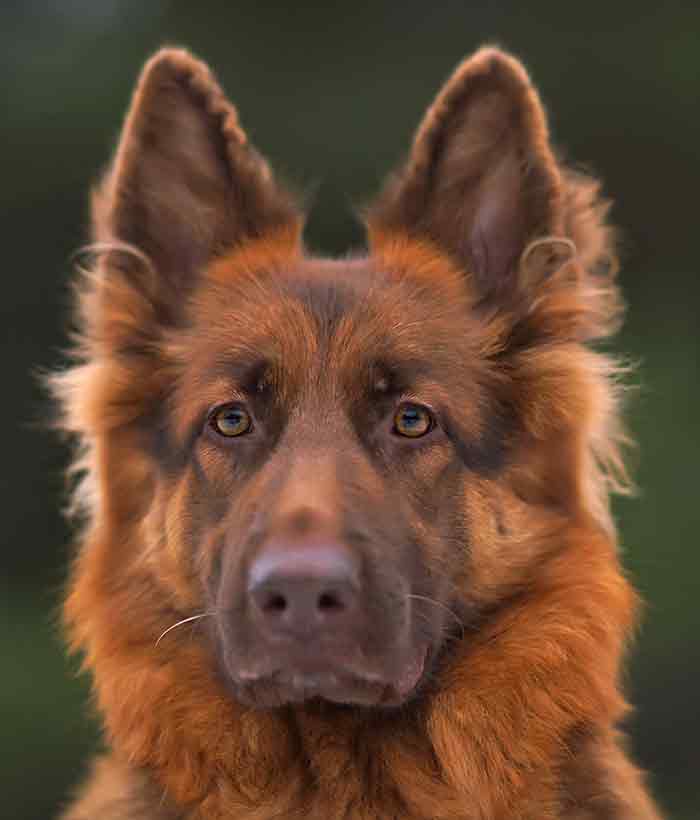 Some slight weight loss may occur naturally in an old german shepherd. Older dogs may lose their sense of taste or smell and have less of an appetite than they did when young. But unless you have been deliberately attempting to reduce your dog's food intake or increase their exercise, then noticeable or rapid weight loss should always be investigated by a veterinary surgeon
The Mini German Shepherd
You may be wondering if it's possible to have all the wonderful advantages of your favorite shepherd dog breed in a slightly smaller package? If so, one of the German Shepherd mix breeds might suit you/
There are also breeders that have set out to miniaturize the breed and you can read all about them in this article: Miniature German Shepherd There are pros and cons of miniaturization and you need to know what you are getting into.