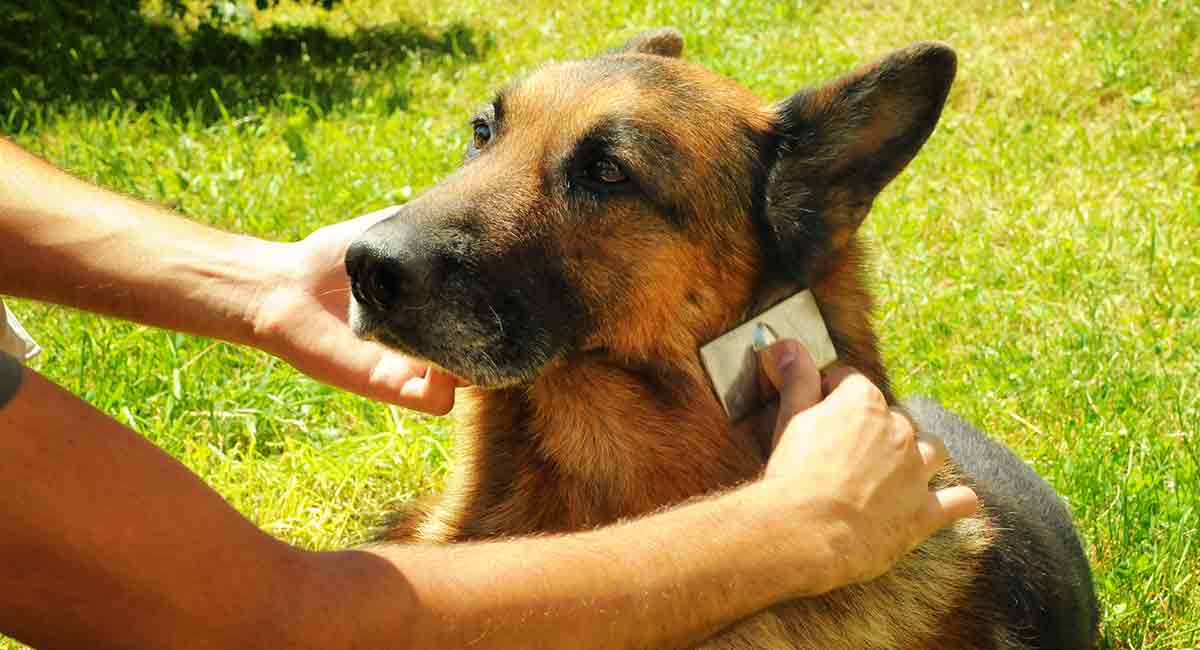 Welcome to our guide to German Shepherd grooming!
In this article, we take a look at the German Shepherd's coat.
We talk about how to groom your dog, and we discuss what items you'll need to create a grooming kit for him.
Products included in this article were carefully and independently selected by the Happy Puppy Site team. If you decide to make a purchase from one of the links marked by an asterisk, we may earn a small commission on that sale. This is at no extra cost to you.
Do German Shepherds Need Grooming?
All dogs need grooming, including German Shepherds!
Grooming is important to prevent the dog's coat from becoming matted. Grooming keeps your dog's skin healthy and allows you to check for any lumps and bumps, sore patches, or parasites.
A thorough brush removes dead and loose hair from their coat, helping to keep the fur healthy and shiny.
Grooming also massages your dog's skin, helping to improve his circulation.
Best of all, regular grooming strengthens the bond between you and your dog and is a pleasurable experience for both of you.
What Type of Fur Do German Shepherds Have?
German Shepherd dogs have a double coat that keeps the animal and also blocks out harmful UV rays and excess heat during the summer.

The outer coat of "guard hairs" is dense, coarse, and straight with flat hair that lays close to the dog's body.
The undercoat is thicker and softer than the guard coat. You'll notice that the fur is longest and thickest around the dog's neck and trousers.
German Shepherds can have four different coat lengths:
Short coat with an undercoat
Medium length with an undercoat
Long length with an undercoat
Long length without any undercoat
German Shepherds with long hair have feathery tufts on their tail and ears, and they have "trousers" on the back of their legs.
A German shepherd without an undercoat has the same degree of feathering, but the outer coat is softer and not as coarse.
Before you assemble a grooming kit for your German Shepherd, you'll need to know what coat type your dog has, as the grooming requirements are slightly different for each.
How Often Should You Groom a German Shepherd?
German Shepherds are year-round moderate shedders, so ideally, you should groom your German Shepherd at least two or three times a week.
If you want to, you can bathe your German Shepherd. Bathing is beneficial as it can remove that doggy smell that develops when the oils exuded by the dog's skin accumulate.
The German Shepherd's coat is very thick, and drying may take several hours. Note that you can't groom your dog until he is completely dry.
After your dog's bath, dry him using a high-velocity hair dryer. Blow the fur in the direction of growth.
Don't be tempted to pass the dryer rapidly back and forth across the dog, as that can cause the coat to become matted and tangled.
The Shelandy Adjustable Speed Pet Hair Dryer*  is a very popular tool.
The dryer features a four-layer noise reduction system to prevent your dog from being frightened by the noise. Four nozzles of various sizes are included with the dryer, allowing you to choose what size works best.
The hairdryer comes with a 12-month manufacturer's warranty.
If you don't want to bathe your German Shepherd, try using a waterless shampoo instead.
Wahl Natural Pet No-Rinse Waterless Shampoo* contains only natural ingredients and no harsh chemicals or soaps that could irritate your dog's skin.
Grooming During the Shedding Season
German Shepherds are sometimes called, "German Shedders!"
That will tell you all you need to know about their grooming requirements during the shedding season!
When your dog is shedding in the spring and fall, you'll need to brush him every day.
Heavy shedding happens in spring to allow the dog to get rid of his winter coat so that he won't overheat during the warmer weather.
In the fall, the lightweight summer fur is shed to make way for the dog's thick winter coat.
Indoor-dwelling German Shepherds may not shed as heavily as outdoor dogs.
That's because your central heating and living in your house will keep your dog nice and warm, negating the need for the thick underfur that an outdoor living dog would need.
Many German Shepherd owners report that their long-haired dog sheds less than his short-haired relatives. But why is that?
Well, the reason for this odd phenomenon is that the German Shepherd's fluffy undercoat gets trapped by the longer outer fur as it sheds.
That means less hair on your furniture, but it also makes your dog more susceptible to developing mats in his coat.
Also, although a short-haired German Shepherd is less prone to matting, you will find more of his hair on your clothes and carpets.
Therefore, both long and short-haired German Shepherds require plenty of grooming, although for different reasons.
How to Groom a German Shepherd
So, how do you groom your German Shepherd? Here's a quick overview of how to do it!
Step 1 – Detangle!
Begin by checking your dog's coat for any mats and tangles. Use a special detangling tool to work gently through the knots and mats.
You can make this step easier by using a coat conditioner* before you begin brushing.
Step 2 – Remove loose undercoat
Next, brush your dog with a de-shedding tool to get rid of any loose undercoat, working from your dog's head right along to his tail.
Step 3 – Get rid of debris and stray hairs
Take a pin brush and use that to remove any remaining loose undercoat.
Step 4 – Add some shine
Finish the job by going over your German Shepherd with a soft-bristled brush to lift away any remaining loose hair from the top of the coat.
When you're brushing your German Shepherd, take care not to press down too hard, as this can be uncomfortable for your pet.
Use long, smooth strokes, always working in the direction of the hair's growth, rather than against it.
As you work, check the skin for lumps, bumps, and signs of ticks or fleas.
German Shepherd Grooming Tools
So, now you know how to groom your German Shepherd, you'll need to assemble a suitable grooming kit for him.
In this section of our guide, we've hunted down a selection of the best grooming equipment that's currently on the market.
Click on the in-text links to see full details of each product, including other purchasers' reviews. When you've found the ideal grooming product for your dog, click to buy!
De-shedding tools
One essential item in your German Shepherd's grooming kit is a de-shedding tool.
We recommend the Furminator De-shedding Tool for Dogs*.
The Furminator is a best-seller on Amazon. That's because the Furminator will get rid of up to 90% of your German Shedder's loose undercoat!
The Furminator is available in five sizes, from small to giant, and there's also a short and long hair version.
It's comprised of a guardless stainless steel blade with teeth that pass smoothly through the coat, pulling out all the loose stuff that otherwise finishes up all over your home.
It also has a handy self-cleaning button that saves you from having to pull the hair out of the tool yourself. The ergonomically–designed handle is comfortable to hold, which is essential when you're grooming a large, hairy dog!
If your budget is limited, the HappyDogz Pet Grooming Shedding Brush* is a slightly cheaper alternative to the Furminator.
The HappyDogz tool works in the same way as the Furminator except that it lacks a self-cleaning button. You can remove the blade for cleaning, but you'll need to pull out the clogged fur yourself.
The HappyDogz tool might be a good option for German Shepherd puppy owners who could then upgrade to a larger instrument with more features.
Slicker brushes
For routine grooming outside of your German Shepherd's heavy, seasonal shedding periods, you'll need a slicker brush.
The slicker brush has a mat of fine, wire bristles with curved ends that are attached to a handle.
The bristles penetrate the fluffy undercoat, removing loose and dead hair. Look for a slicker brush that has blunt-ended bristles so that you don't scratch your dog's skin.
We like the Pet Portal Pro Quality Self Cleaning Slicker Brush*.
The Pet Portal is a pro-grade slicker brush that's perfect for removing small mats and tangles from the undercoat.
The brush has a self-cleaning button, so you won't need to spend time removing loose hair from the brush whenever you use it.
For a slightly cheaper option, check out the Pet Neat Self Cleaning Slicker Brush*.
The brush is self-cleaning and is very well-made and durable for the low price.
De-matting rake
A cheaper alternative to the de-shedding tools featured here is de-matting rakes.
De-matting rakes have a double row of evenly-spaced teeth that reach right down to the base of the underfur, gently teasing out tangles and mats in preparation for grooming with the slicker brush.
The Pat Your Pet Grooming Tool – 2 Sided Undercoat Rake for Cats & Dogs* is a very good example of a pro-grade de-matting rake.
The tool has a 2-in-1 head. One side has nine teeth that are designed to get rid of stubborn mats. The other side has 17 teeth that work by thinning the coat and kicking off the de-shedding process.
The Pat Your Pet is a well-made grooming tool that does what it says it will. The only drawback to this tool is that it only comes in a small size, which might not be ideal if you have a huge German Shepherd to groom!
So, if your German Shepherd is a big chap, the PawsPamper Extra Wide Undercoat Rake* might be a better choice for you.
The tool's blades are made from high-quality stainless steel and have rounded edges to prevent irritation to your dog's skin.
The full-tang wooden handle is sturdy and won't work loose. The PawsPamper de-matting rake is specially designed for use on double-coated dogs, so it's ideal for German Shepherds.
If you're not happy with your purchase, it's worth noting that the manufacturer will give you a full refund.
Pin and bristle brushes
Pin and bristle brushers are double-sided, featuring a soft-bristle brush on one side and a mat of plastic-tipped pins on the other.
These are handy, and they save you the expense of buying a separate soft-bristled brush.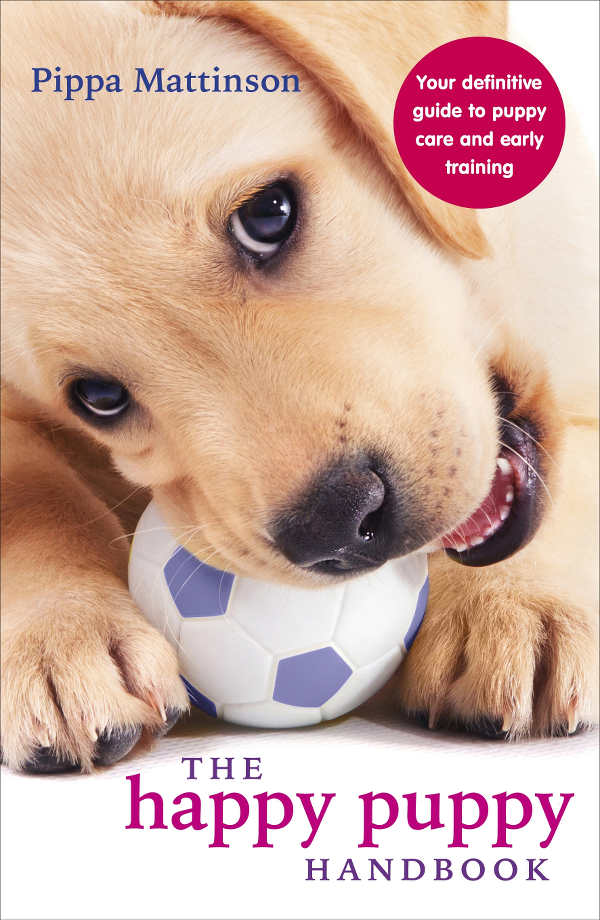 You can use the pin brush to get rid of loose undercoat, debris, and dirt. The soft brush side can then be used to pick up any loose hair from the top of the coat, leaving it with a lovely shine.
The Safari Pin & Bristle Brush for Dogs* is a best-seller on Amazon.
This well-made brush has round-ended pins that are designed to be easy on your dog's skin, and soft bristles to slide smoothly over the coat.
Another pin and bristle brush we like is the best-selling HaloVa Professional Double Sided Pin & Bristle Bamboo Brush*.
The HaloVa is a superior-quality brush that does an excellent job.
The brush's round-ended pins are made from durable plastic, and its bristles are manufactured from all-natural material.
What's more, its back and handle are made from responsibly-sourced wood.
German Shepherd Grooming Video
To watch how to go about grooming your German Shepherd, check out this awesome video for a great example.
German Shepherd Haircuts
You must never shave or clip your German Shepherd!
Although you may see your dog panting in the hot weather, shaving off his thick coat is not the best thing for him.
The German Shepherd's coat has evolved to keep him warm during cold weather and cool during the heat of summer.
If you remove the outer, water-repellent guard hairs from your German Shepherd, he'll get cold and wet during the winter.
In hot weather, your dog's skin will be vulnerable to damage from the sun's UV rays.
Also, the dog's coat will never grow back properly.
Grooming Your German Shepherd
If you decide to welcome a German Shepherd into your family, you must be prepared to devote time to the ritual of grooming him.
You'll need to groom your dog at least twice a week throughout the year, and every day during his two heavy shedding periods in spring and fall.
Your basic German Shepherd grooming kit should comprise a de-shedding tool or de-matting tool, a pin and bristle brush, and a slicker brush.
Related Articles
Do you have a German Shepherd?
Tell us all about your grooming routine, and share your tips with other readers in the comments box below.
Affiliate link disclosure: Links in this article marked with an * are affiliate links, and we may receive a small commission if you purchase these products. However, we selected them for inclusion independently, and all of the views expressed in this article are our own.