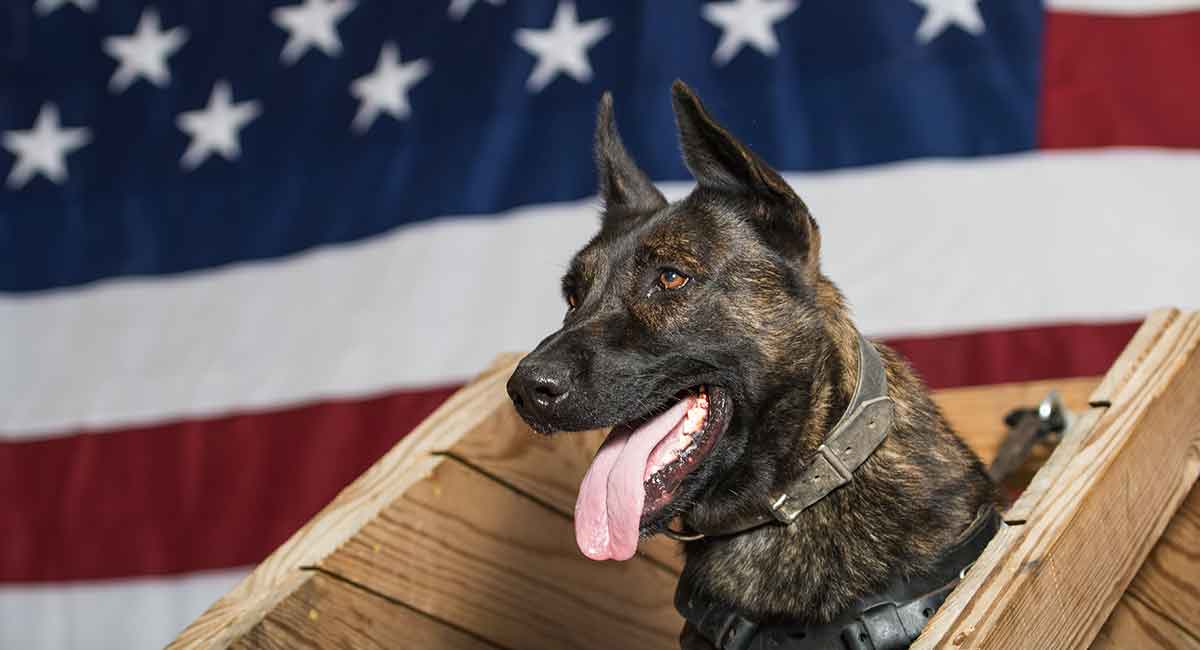 The Dutch Shepherd is a relatively rare but beautiful dog breed with a herding background.
These are medium-to-large dogs weighing 40-75 lbs.
Dutch Shepherds can be loyal, smart, sweet and active, but they need plenty of training, as well as physical and mental exercise.
What else do you need to know if you're looking to have one as a pet?
That's what we're going to look at in this article!
If you think this might be your next pet, read on to find out more.
Where Does the Dutch Shepherd Come From?
The Dutch or Holland Shepherd has its roots in the Netherlands, where it was a herding dog.
This breed was cultivated to keep flocks of sheep away from crops by patrolling the borders of fields. They accompanied the sheep to their destinations, kept hens away from gardens, herded cows for milk, pulled milk carts, watched children, and alerted farmers of anyone approaching farmsteads.
So basically, this versatile dog was good for many countryside tasks!
By about 1900, sheep flocks were mostly gone from the country, and Dutch Shepherds started being used as police dogs, search and rescue dogs, and guide dogs.
Their breed standard was created in 1898. By 1914, it stipulated these dogs should be of brindle coloring, which makes them more distinct from similar Northern European shepherding breeds, like the German and Belgian Shepherd.
But they became much more rare, generally, as a result of the increased use of modern farming techniques. World War II caused a drop in dog breeding and sent many dogs to Germany for use in the military.
This caused many bloodlines to become extinct, and Dutch Shepherds were in danger of dying out by the 1940s and '50s. In 1959, Dutch Shepherds were mixed with Belgian Laekenois to create a rough-haired type of Dutch Shepherd.
They are still rare. The Dutch Shepherd is recognized by the United Kennel Club (UKC) and has been able to compete in the American Kennel Club's Miscellaneous Class since 2017.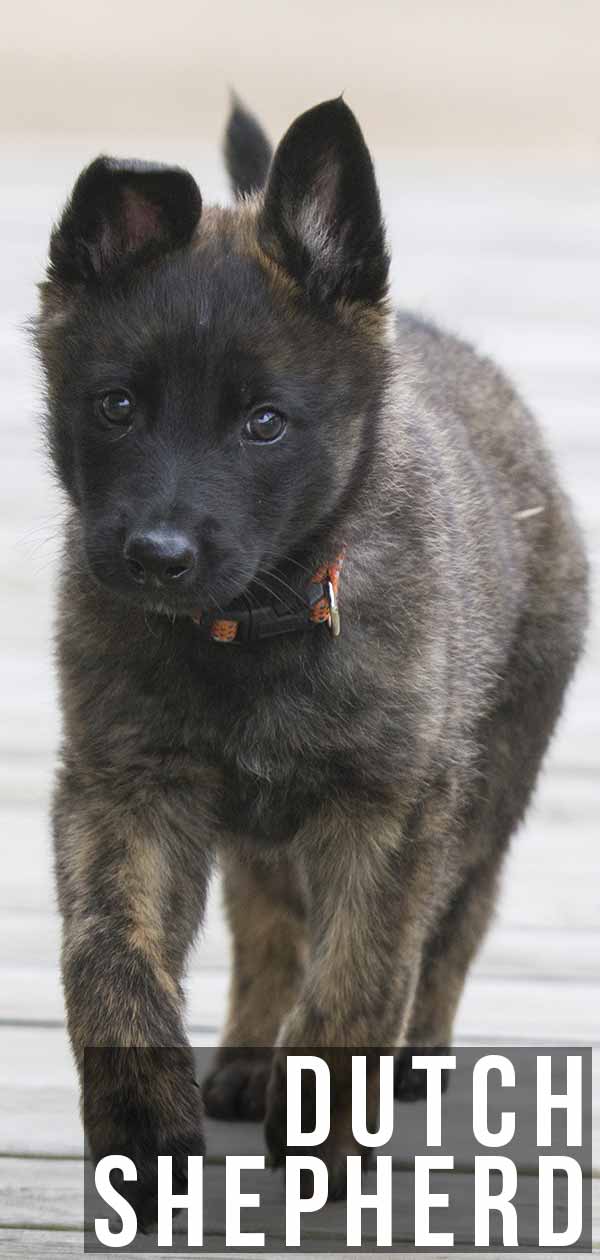 Fun Facts
The Dutch Shepherd is a natural shepherding dog and was often trusted to take out sheep in the morning and bring in the flocks at night without any human help.
If a Dutch Shepherd dog meets the minimum pure breed standard requirements, experts actually encourage breeding them. That's because genetic diversity needs to be fostered to bring these dogs back to a stable and healthy population.
Appearance
These medium-sized dogs are well-muscled and well-balanced.
They tend to range from 21.5-24.5 inches in height at the withers, and weigh between 40-75 lbs.
They resemble their Northern European counterparts, the German Shepherd and the Belgian Shepherd, but are said to have some more wolf-like facial characteristics.
Their faces are distinguished from the other breeds, too. They are wedge-shaped and rather elongated.
There are three types of coat in Dutch Shepherds: shorthair, wirehair and longhair.  In the wirehair type, the brindle markings are hard to see because hair is so curly.
Standard colors include gold brindle, silver brindle, and yellow. Golden brindle varies from light sand to chestnut red.
The brindle is usually pretty clear all over the body, and Dutch Shepherds may also have a black face mask to go with that.
Temperament
Dutch Shepherds are said to be intelligent, athletic, energetic, and loyal. They are a reliable and watchful breed with persistence and independence built into their natures.
These dogs are also loyal and have the ability to work with other dogs as well as people.
They can have a bit of obstinacy in their personalities, though.
Their endurance is quite high and they can run all day. They have a well-developed herding instinct.
Training Your Dutch Shepherd
These dogs love mental and physical stimulation. They are smart and obedient, and do well with short training sessions.
Positive reinforcement is key!
Owners say Dutch Shepherds become more driven the more challenging a task is.
But they do have a streak of independence and can be on the stubborn side, which can become worse if they aren't trained properly. They are responsive, but not necessarily outgoing.
With these dogs, obedience and socialization training is very important. If you have one you'd like to be a good companion, consider herding, scenting and agility training as ways of enriching your Dutch Shepherd's life.
Health
Dutch Shepherds are generally healthy dogs, according to the American Dutch Shepherd Association.
They do not suffer from too many hereditary or genetic issues, but as larger dogs they are still prone to hip dysplasia.
So you will need to make sure any puppy you obtain has been tested for that. They are also genetically prone to gastric carcinoma, a form of stomach cancer. You will also want to test for eye problems.
Additionally, the wirehair Dutch Shepherd is prone to goniodysplasia. This condition happens when fluid from the eye doesn't flow out as readily as it should. It can eventually cause blindness. The link between goniodysplasia and heredity is not well understood yet.
You should know that Dutch Shepherds as a breed are sensitive to anaesthesia. So if your dog needs surgery for any reason, inform your vet.
In the Netherlands, where these dogs are from, usually half the customary dosage of anaesthesia is used when needed.
The expected lifespan of a Dutch Shepherd dog is between 11-14 years.
Grooming
As with all dogs, grooming is an important part of health. Because Dutch Shepherds come in three hair types, each type will require different grooming regiments.
Shorthair Dutch Shepherds simply require occasional brushing except during the shedding periods of spring and fall. Longhaired dogs will require weekly brushings or maybe more, depending on their activities.
Wirehaired types get a combing a month, but their coat requires hand-stripping a couple of times a year. Show dogs require hand-stripping more often.
This requires your fingers or a stripping knife to pull dead hair out by the root in order to allow new hair to grow in.
Otherwise, your dog's coat can become dull and untextured, because with clipping you're just removing off a top layer of hair.
A groomer is the best person to do this, at least initially. Instruction and practice can help you learn to do it yourself.
Do Dutch Shepherds Make Good Family Dogs?
If your family is energetic and has experience with dogs, a Dutch Shepherd may be a good option.
These dogs need lots of activity, and like to work with humans and other dogs, so make sure to provide the type of stimulation that keeps them healthy and happy.
Many Dutch Shepherds are fine with kids, but be cautious when sourcing your dog. Those that come from lines that have been bred for work or sport as compared to ones bred as companion dogs can have different qualities.
Some Dutch Shepherds bred for work or sport may not be as suitable for families with children because of high prey or shepherding drives.
Rescuing a Dutch Shepherd
Because they are rare, rescuing a pure Dutch Shepherd may be more difficult than with some other breeds.
Dogs you may find at rescues may be ones that failed at police work or other jobs, which means they may have been trained to show higher aggression levels.
You should know that some rescues do not adopt out to organizations or departments – just to individuals. They do tend to expect that you will use these dogs as family dogs rather than working dogs.
That doesn't mean you won't find the Dutch Shepherd rescue of your dreams, though, and there are definite advantages to rescuing! For example, adopting an adult dog means you may get good information on health challenges that show up after puppyhood.
However, just be aware that when you do look at a rescue, you may have less choice in what traits, healthwise or personality-wise, that your dog has.
Finding a Dutch Shepherd Puppy
When you're looking for a new pup, avoid pet stores and puppy mills. Rescues are a good option, and so are qualified, responsible breeders.
How do you find breeders and rescues? Your first line of inquiry might be the Internet. Do a Google search, but remember not to put too much stock in the hits you get back until you have vetted them in other ways.
Talk to friends and family about their experiences with breeders and rescues. Get on a neighborhood Facebook group and ask where people sourced their puppies and how they felt about the experience.
And of course, vet the breeders yourself as much as possible. Visit personally, if you can. Ask questions. Get medical information on the potential puppy's parents.
Appropriate medical testing for the breed is very important.
If you are looking for a puppy of any breed, our Puppy Search guide has you covered, so check it out for advice on each step involved in the process.
Raising A Dutch Shepherd Puppy
Do you need information to help you raise a Dutch Shepherd puppy? If so, we have guides that will help you on your journey.
In these working dogs, which can look intimidating to some, you'll want to curb any dominating tendencies. Try our guide on aggressive puppies.
You will also want to make sure your dog doesn't jump up on anyone. We have a guide for that, too!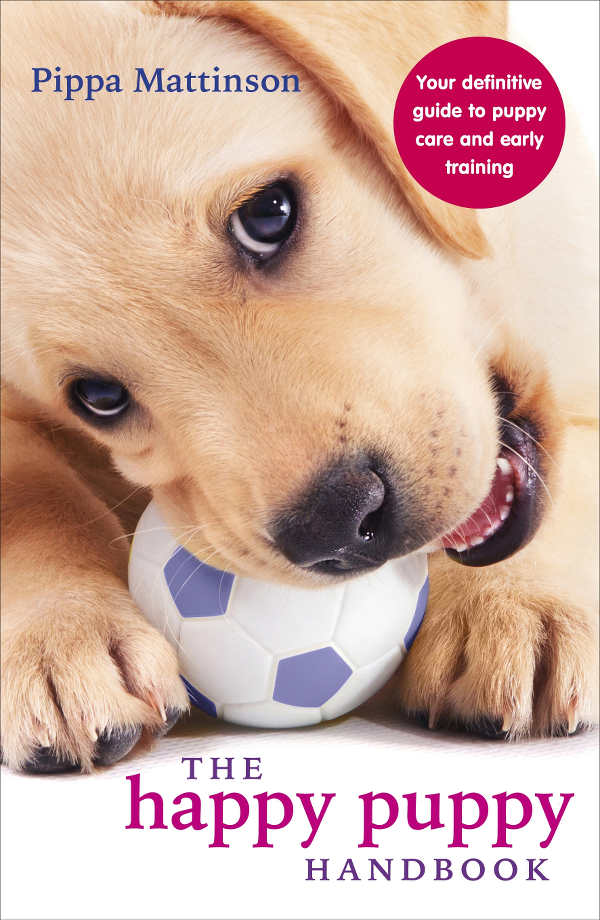 And if you're looking for something else, you can browse our Puppy Training category for all the information you need.
Pros and Cons
First, let's look at the cons:
Dutch Shepherds are fairly energetic dogs with a touch of obstinacy in their natures.
They require stimulation and like to work alongside humans.
Exercise is a high priority, they need a place to run!
High shepherding drives may be an issue with small children.
On the other hand, there are some definite pros!
These dogs are smart and loyal.
They are generally pretty healthy, and they make good companions for active families.
Dutch Shepherds have drive and endurance and can be used for different tasks, such as guarding and protection.
Similar Breeds
Breeds that are like the Dutch Shepherd include the German Shepherd, the Belgian Shepherd, and the Belgian Malinois.
All these breeds are similar in size and appearance, and they have similar herding backgrounds. They hail from similar locations in Northern Europe.
To make them more distinctive from one another, breeders called the brindled ones Dutch Shepherds.
However, they have since diverged a bit genetically, so if you're looking for a similar type of dog make sure to do your research on what you want.
Another European Shepherd breed you might want to take a look at is the Russian Bear Dog!
Dutch Shepherd Rescues
Breed-specific rescues do exist!
You may also want to look at Belgian Malinois and German Shepherd rescues, too. Some rescues take in all similar Shepherd breeds and mixes.
If you're looking for one, start here:
You can also sometimes find Dutch Shepherds in regular shelters and rescues.
Is A Dutch Shepherd Right For Me?
Only you can decide if any dog is right for your home, family, and lifestyle.
These are medium-to-large dogs with high activity requirements, so you'll probably need a fenced-in-yard to do justice to their need to romp.
Dutch Shepherds may do better in households that have a bit of experience with dogs. They are generally healthy and independent dogs.
If you think you can handle a Dutch Shepherd, and have fallen in love with those ears as we have, you might consider this for your next pet! Be sure to let us know in the comments below.
References and Resources