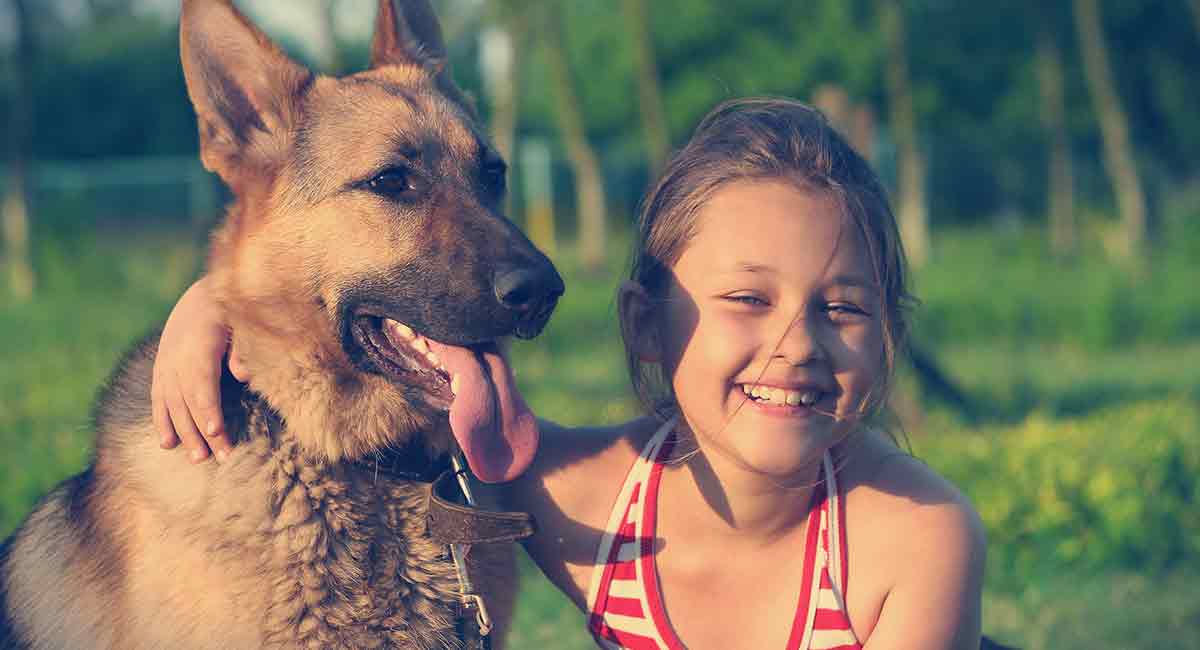 Are German Shepherds good with kids?
German Shepherds who have been extensively socialized from an early age can, and often do, live happily with children.
However, they might remain cautious with unfamiliar children from outside the family.
Children visiting the home of a German Shepherd should be taught ground rules for respecting their space.
The Noble German Shepherd Dog
Confident, courageous, and off-the-charts intelligent, the German Shepherd is widely regarded as one of the world's best guard dogs.
They're also one of our most beloved pet breeds.
According to the American Kennel Club, they're America's second most popular dog.
But does their natural urge to protect make this large, powerful dog a good companion or a potential threat to children?
Are German Shepherds Good With Kids?
The answer to this question is more complicated than a simple yes or no.
To understand if German Shepherds are good with kids, we need to take a closer look at their history, temperament, and natural instincts.
The Amazing German Shepherd
Originally, the breed was developed by a German cavalry officer in the late 19th century to be the ideal herding dog.
Today the German Shepherd's supreme intelligence and trainability allow them to excel at many jobs, such as therapy work, search and rescue, and catching criminals.
With their smooth, powerful curves and alert demeanor, they're one of the most iconic and recognizable dogs.
Male German Shepherds stand from 24 to 26 inches tall and weigh between 65 and 90 pounds.
Females are smaller, standing 22 to 24 inches tall and weighing from 50 to 70 pounds.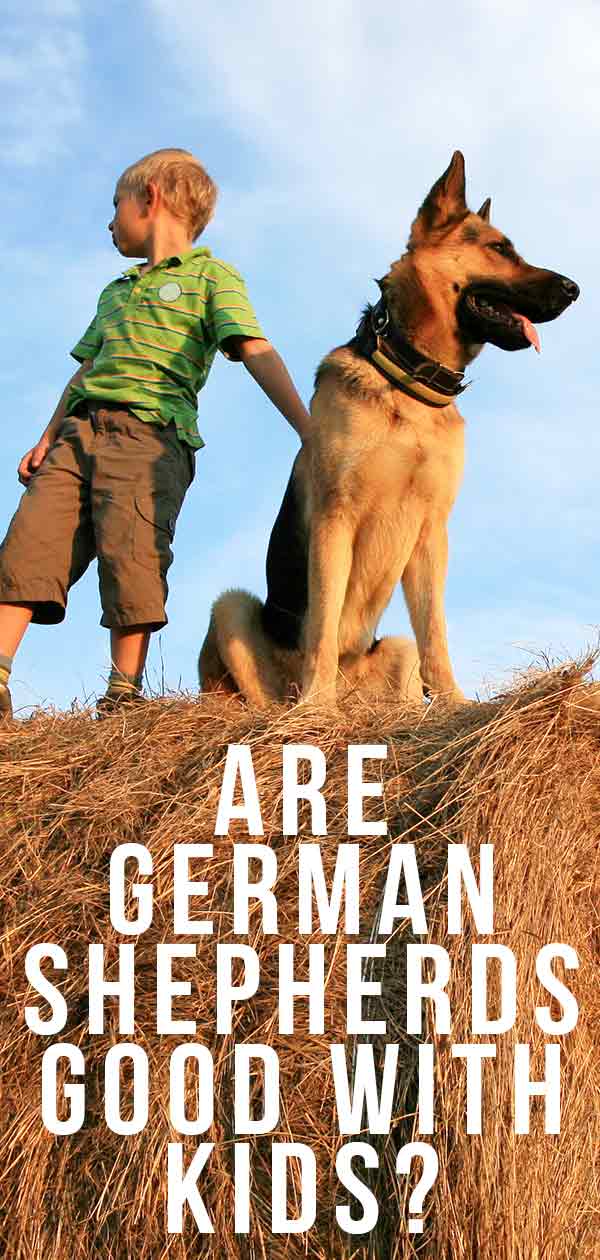 German Shepherds can be both gentle pets and dedicated guardians.
These versatile dogs are extremely loyal, with a devotion that knows no bounds.
They're willing to put their life on the line for the people they love.
This means they need you to give them plenty of attention.
A neglected German Shepherd is far more likely to behave badly.
Protective by Instinct
There's no question that German Shepherds possess a protective instinct which makes them watchful and alert.
It's why they're such exceptional guard dogs.
These protective instincts can also make them territorial and leery of strangers.
The breed is also known to become aggressive with other dogs.
If you have children, you'll want to know if the German Shepherd and kids get along before bringing this breed into your life.
The Importance of Socializing a German Shepherd
All dogs require socialization and training.
But when you're dealing with a dog that's as physically powerful and mentally adept as the German Shepherd, you can't emphasize the importance enough, especially when children are involved.
This study discovered that children are the most common victims of reported dog bites to people and that dog owners were often unaware of the factors that increased the risk of dog bites to children.
Socialization needs to begin early.
This means taking your German Shepherd puppy out and introducing them to the world.
You want your pup to have positive interactions with as many different types of people, pets, and places as possible.
The more socialized your dog is, the less likely they will show signs of aggression and other unwanted behaviors.
Training a German Shepherd
German Shepherds are highly regarded for their trainability.
Because this breed develops a deep commitment to their owner from an early age, their eagerness to please makes them very trainable.
This includes responding well to training for child-friendly behavior.
Start training sessions right away with your German Shepherd puppy.
The earlier you start teaching them, the more success you're going to have.
Positive, reward-based methods that are consistent will produce excellent results.
Clicker training, which uses a signal to tell the dog when he's done a great job, is also recommended for this breed.
Exercising a German Shepherd
The German Shepherd is an active breed that once worked herding flocks of sheep.
So it should come as no surprise that they need plenty of daily exercise.
Dogs who are frustrated and bored can be more prone to aggression.
They can also turn to unwanted behaviors like chewing, digging, and barking.
An adult German Shepherd should get about two hours of daily activity to ensure their physical and mental well-being.
These exceptional dogs will shine at canine activities such as agility, herding, and tracking.
Are German Shepherds Kid Friendly?
In some ways, the German Shepherd and kids were made for each other.
They both have energy to burn.
And the German Shepherd's ability to learn new tricks can be an endless source of joy for both of them.
Those that have been raised together will share a special bond as they grow.
This breed's calm, gentle nature can allow them to tolerate pokes and prods better than other dogs.
However, it's essential to train your dog to interact safely with children.
That being said, it's also important to teach children how to behave with dogs.
German Shepherds and Young Children
Toddlers should always be supervised around any dog.
That goes double when you're talking about a large breed like the German Shepherd.
This study on dog bites found children aged five or younger were more likely to provoke animals prior to injury than were older children.
And even the friendliest, most docile animal can seriously hurt a tot unintentionally by knocking them over during an innocent encounter.
The German Shepherd With Kids That Aren't in the Family
German Shepherds who are properly socialized tend to bond quickly with their family, and this includes children.
In fact, many German Shepherds will treat your children with as much love and care as they would their own puppies.
But how do they feel about your children's friends and kids who live in the neighborhood?
Like other breeds who work as guard dogs, their protective instincts can make them wary of strangers.
Studies Show…
This study of 978 potential guide dogs full found that German Shepherd puppies had an increase in stranger-directed aggression compared with the other breeds.
Another study on dogs bites in kids found that 82% of the dogs involved were familiar to the children.
It's important that German Shepherds are trained to determine the difference between danger and playtime with the neighbors.
There is only one way dogs are able to understand human behavior.
They need to be introduced to as many different situations, noises, and other encounters as possible.
Teach your dog that not every stranger means them or the family harm.
That is the only way to raise a confident, well-adjusted dog.
In short, a well-socialized German Shepherd should be exceptional with children within the home and well-behaved with other kids.
Is a Male or Female German Shepherd Better With Kids?
Female German Shepherds are not only smaller than males.
They're also less muscular and have a distinctly feminine appearance about them.
There are typically temperamental differences between the sexes as well.
Males are more dominant and prone to territorial behavior. They can be possessive of things like their toys and bed.
Male German Shepherds often bond closely with the person they spend the most time with.
Therefore, they can become possessive of them as well.
Feminine Touch
Females tend to love the whole family, so this isn't usually a problem.
They're known to be more sensitive, friendlier to outsiders, and more tolerant of children.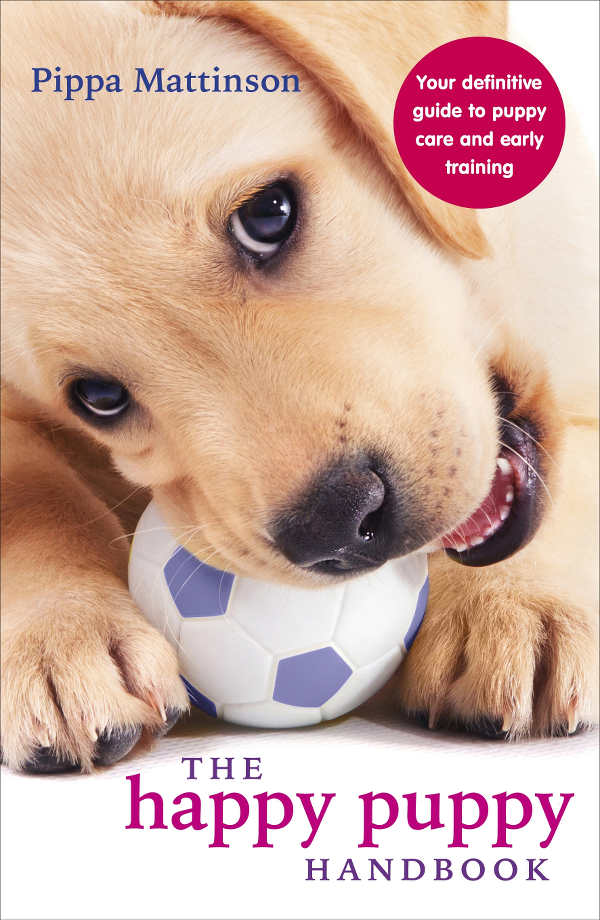 This study found non-neutered male dogs were more than twice as aggressive as females and neutered male dogs.
For these reasons, choosing a female German Shepherd in a home with children could be the better choice.
German Shepherd Maturity
The breed is known to take a long time to mature.
As they grow, they learn to adapt to their size.
They don't always have complete awareness of how big they are.
Females tend to mature faster than males, which can make them easier to train.
This is another reason to choose a female German Shepherd in a home that has children.
German Shepherds and Kids
A German Shepherd can be a wonderful family companion for children and a well-mannered dog around others.
But they need early socialization, consistent training, and plenty of loving attention.
As the owner of a powerful breed, it takes dedication to provide this dog with all they need to become a well-adjusted pet and a trusted family member.
Do you have a German Shepherd and children in your life?
Tell us about your experiences in the comments.
Related Articles
References and Resources
Kagarise Sherman, C., et al., "Characteristics, treatment, and outcome of 99 cases of aggression between dogs," Applied Animal Behavior Science, 1996
Reisner, IR, et al., "Effects of gender and parental status on knowledge and attitudes of dog owners regarding dog aggression toward children," JAVMA, 2008
Foyer, P., et al., "Early experiences modulate stress coping in a population of German shepherd dogs," Applied Animal Behavior Science, 2013
Avner, JR, et al., "Dog Bites in Urban Children," Pediatrics, 1991
Serpell, JA, et al., "Aspects of Juvenile and Adolescent Environment Predict Aggression and Fear in 12-Month-Old Guide Dogs," Department of Clinical Studies, School of Veterinary Medicine, University of Pennsylvania, 2016
Schalamon, J., et al., "Analysis of Dog Bites in Children Who Are Younger Than 17 Years," Pediatrics, 2006
Blackshaw, JK, "An overview of types of aggressive behavior in dogs and methods of treatment," Applied Animal Behavior Science, 1991