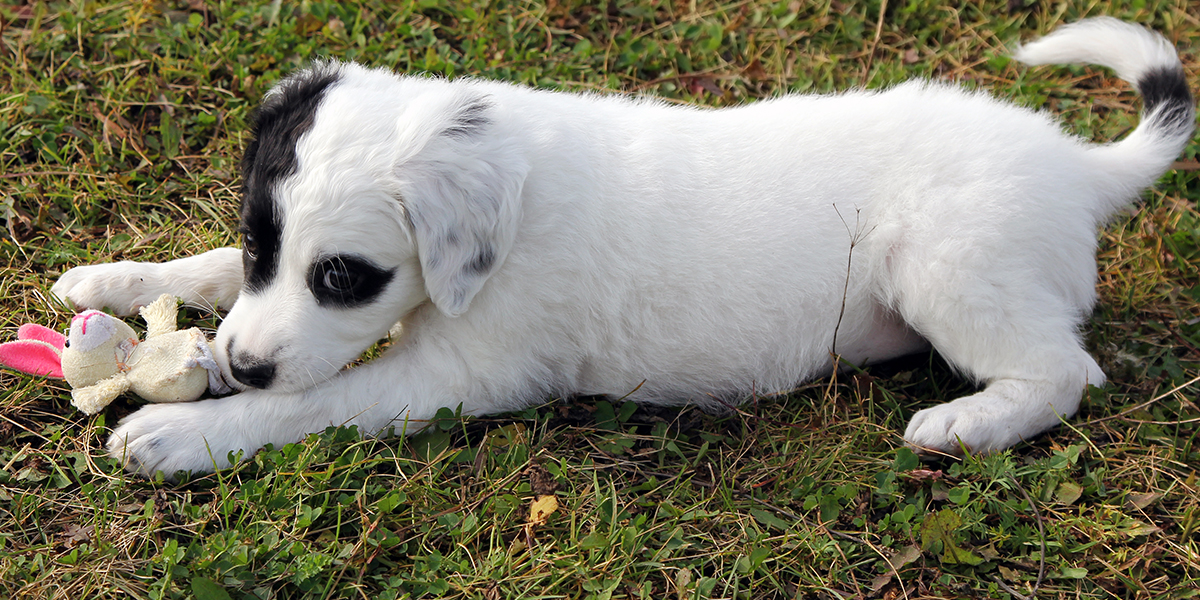 Housetraining a puppy can be tricky.
Sometimes it goes smoothly to begin with then falls apart.
Sometimes it gets off to a rocky start then quickly improves.
Sometimes the whole housetraining process is a bit of a roller coaster.
But don't despair! Help is at hand
Wilful puppies
People often tell me their puppy is wilful.  He knows what to do and doesn't do  it. It can certainly seem that way when you are up to your ankles in puddles.
But fortunately housetraining problems are never due to wilfulness, stubborn ness, or naughtiness.  This is a good thing, as we don't want to get into a battle of wills with a tiny new puppy.  Bear with me whilst I explain.
Puppy instincts
Your puppy has a very powerful and useful natural instinct to keep his nest clean.
In the wild this instinct helps to keep the sleeping area, occupied by cubs or pups, free from pathogens and parasites.
What this means for you, is that your puppy won't empty his bowels or bladder in his nest unless he is physically unable to hold on any longer.
This is a very useful instinct.
It means that provided you don't leave your puppy in his nest for longer than he can physically cope, if he cannot leave his nest, if for example his nest is in a crate, he won't empty himself.
An important factor here is the reference to 'how long he can physically cope'.
Bladder control and bowel control
Small puppies have small bladders, and very minimal control over holding in the contents when their bladder is full.   This means that accidents are highly likely if the puppy is left with a full bladder for very long.
Eating a meal increases the pressure in your puppy's belly, and is likely to increase his need to empty his bladder
In addition, certain activities are likely to both increase the need for the puppy to empty his bladder and to forget any toilet training that he may have learned so far.
High risk times for accidents
'High risk' activities include any that create arousal such as 'fear' or 'excitement'.
So if your puppy is a bit scared, or if he is having a great game, he is likely to need to empty his bladder, and also more likely to miss the signal that his bladder is full, until it becomes so intense that he has to go right there and then.

Your job is to make sure that the puppy gets to his toilet area before his need to empty his bladder becomes overwhelming.  And to help him gradually learn to space out his toilet trips, as he gains increasing control over his bladder.
This capacity is partly a function of his maturity, but it is also a function of his opportunities to 'practice'  bladder control.
This can be difficult to achieve if the puppy has constant access to a toilet area such as puppy pads down on the floor all the time, or the back door left open for him all day.
By the time your puppy arrives in your home he will have a bit more control over his bowels, than he does over his bladder, but he still won't be able to hold on for very long.   Fortunately, most puppies tend to empty their bowels after eating, so provided you take him to your toilet area after each meal, you shouldn't have too many accidents.
Habit, memory and attention span
Small puppies have short memories.  He may have used his toileting area quite regularly for a week or two.  But that doesn't mean he will remember to use it every time.  He is going to need some help and some reminders
Puppies are creatures of habit, and love to go to the toilet in places where they have been to the toilet before.
This is both a curse and a blessing.
A curse because if your puppy has an accident on your best rug,  he'll probably try and empty himself on the rug next time you take your eyes off him.
A blessing because once you get him used to using his designated toilet area, he'll be happy to do so over and over again.
Many puppies like to wee on a soft surface such as a carpet, or grass.  Obviously grass is preferable, but you can teach your puppy to wee on any outdoor surface if you wish.
Barriers and cleaning
The answer to the problem of accidental toileting and the likelihood of repeated accidents, is to keep puppies off tempting and difficult to clean surfaces like carpets.  At least for the first few weeks.
And to clean up any accidents very thoroughly indeed.   Remember dogs can detect minute traces of body fluids with their amazing sense of smell
Cleaning fluids need to be ammonia free as the smell of ammonia, which is present in urine, may tempt the puppy to re-use the scene of the crime.
Gates and crates
Baby gates are a great way to keep your puppy in selected parts of the house where floors are washable.
I use them until puppies are around six months old.
And a small crate (small enough so that the puppy cannot leave his nest) is a good way to supervise a puppy when you cannot watch him closely.
He won't wee in the crate unless you leave him too long.
Remember that new puppies may need to wee at half hourly intervals at certain times of the day.
So make crate times, short and sweet.
Summary
Let's sum up with some key housetraining principles
Clean up any accidents thoroughly with ammonia free detergent
Keep puppies off carpets for the first few months
Confine puppies to their nest or den for short period, when you cannot supervise
We'll look at the role of crates in housetraining in the next article: house training methods.