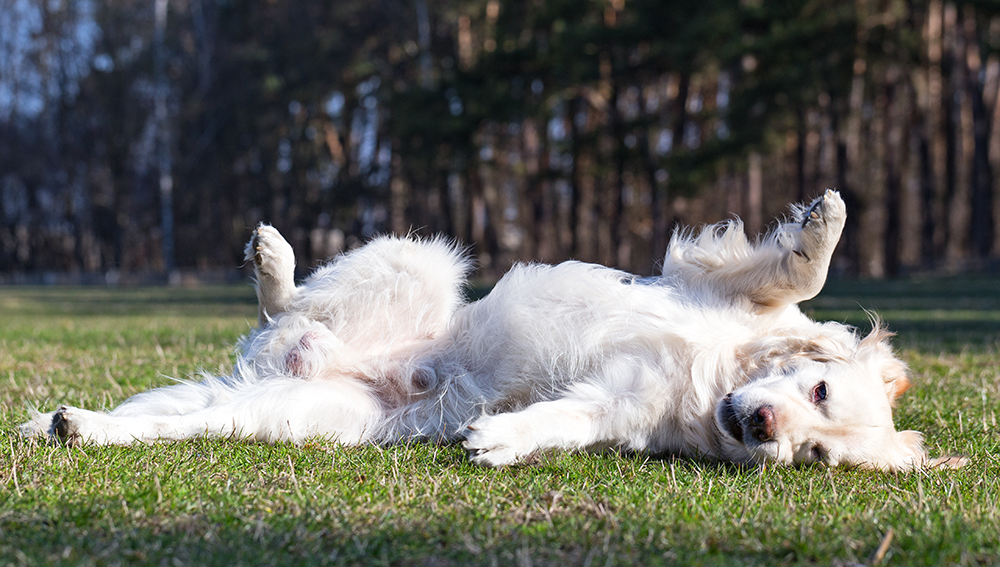 There is no truly disobedient dog, just owners that haven't been shown how to help them understand or feel motivated. Dogs become disobedient as they become more independent. This is because our increasing expectations of them are often coupled with a failure to provide effective motivation for the behavior we want to see. We forget to take our dogs through the stage where they are trained to respond to us in lots of different scenarios, not just the simple ones they learned the initial cue in.
Contents
Ever been embarrassed by your dog in public? Does your puppy want to go home with everyone else but you? Does he behave perfectly at home, when no-one can see him, then seem to go deaf when visitors come around or when you are out in the park? You aren't alone, and I can help!
How disobedience begins
It is very common for new dog owners to get off to a great start with training their puppies, then find it all falls apart when he gets to 8 or 9 months old.
He starts ignoring them, running off, playing with other dogs, jumping all over people, disobeying commands that he knows perfectly well.
Rough behavior
Just to add insult to injury, at this point in his life, he may also start nipping and jumping at his owner. Because of his increasing size and strength, this rough behavior can be quite intimidating.
And because of his age it isn't surprising that many people put it down to either 'adolescence' or 'dominance', and react by 'toughening up' with their puppy. After all, this dog is just becoming mature. Surely he now needs to be firmly put in his place? But wait!
Why is my dog disobedient?
When a dog starts disobeying a previously understood command, it is only reasonable to ask why.
There are several possible explanations for this naughtiness.
deliberately defying you
forgotten his training
over-excited
not be as well trained as you thought
My dog knows commands but won't obey!
Many dog owners feel that their dog is deliberately defying them. He is choosing to be disobedient. This is understandable when he has been taught what to do and then completely ignores them.
Defiance is often attributed to adolescent hormones. The cute puppy from just a few weeks back, is turning into a rebellious teenager. Isn't he?
Well, we are going to come back to this in a moment. But first there are other possibilities that we need to consider.
The puppy who forgets his training
If it has been a while since you last spent time actually training, it is possible that your disobedient puppy has forgotten what he was taught. This doesn't mean he is stupid. Far from it.
All it means is that the training was not practiced often enough or for long enough, for it to become an 'automatic' response.
If you don't have much time for training, especially if you tend to cram all your attention on your dog into weekends and don't do much during the week, this is a distinct possibility. It's easily done. We all lead busy lives.
Helping your puppy learn to obey
The best way to remedy this is to fit short little training sessions to something else that you do as a habit each day.
You could do a short training session while you wait for the kettle to boil for your morning coffee for example. Or plan to spend five minutes training your puppy immediately after cleaning your teeth.
One thing is certain, if you want your puppy to respond to your commands, you need to practice regularly.
For most of us though, it isn't a case of the puppy forgetting his training, so let's look at the other options
The puppy who is over-excited
Another possibility is that you are trying to train your puppy when he is so over excited that he cannot respond to anything around him.
This is called being over the threshold. And it is one of the most common problems for people trying to train dogs of between six and twelve months old.
You need to tackle this issue if it is affecting you, because no matter how much time and energy you put into your dog, you cannot train your puppy effectively until he is under threshold. The link at the beginning of this section will help you with this.
Infrequent training, and trying to train a puppy that is over-excited are often both just a small part of a bigger problem. We'll look at that next.
The puppy whose training is incomplete
By far and away the most likely explanation for a puppy or dog that is becoming disobedient, is that the dog is actually not as well trained as his owner thinks he is.
In other words, the training process has stalled, or broken down completely.
It can be hard to hear, but the truth is, many people think that they have trained their dog, when they have barely started the process.
If that includes you, don't panic. As for all other training issues, the answer is to go read up on the principles of successful training, then go back to a point where everything was working, then move forwards armed with the knowledge that will enable you to succeed.
Your puppy is not defying you
I will also add at this point, the first of our possibilities – defiance – is actually almost never what is going on.
You don't need to worry about your puppy defying you, he really isn't. Dogs do what they are motivated to do, and what they have been trained to do.
Defiance is a very human behavior. Usually part of a complex strategy which involves consciously weighing up options and making a decision in order to manipulate others both in the present and the future. It is often part of a struggle to gain or regain control.
That brings us to the whole dominance issue. Is your puppy trying to rise above you in status now that he is becoming mature?
Is he defying you because he wants to be in charge? It sounds possible doesn't it? And for many of us, it's quite a scary thought!
Is my puppy becoming dominant?
It used to be thought, that dogs reaching maturity may seek to exert their dominance over their owners, and refuse to comply with commands as a way of displaying their status. A sort of "I'm in charge now!" approach.
The response to this belief was to attempt to pull rank over the dog. Using a process known as 'rank reduction'. In other words, we had to make sure our dog knew we were the pack leader, or dominant member of the family. Or he might take over as 'Boss'.
Over the last few decades a number of studies have shown that dominance theories are deeply flawed.
We now know that although dogs will fight to get what they need when resources (food etc) are scarce, they are rarely interested in gaining control over others in any kind of general sense.
Dogs do what works for them in the here and now.
Disobedience is about training
Trainers all over the world are moving away from the methods founded on the dominance and pack leader theories that were once so widespread, though there are still a few trainers that practice 'rank reduction' techniques.
Fortunately we now know that there is no need for you to worry about dominance. Your dog's disobedience is highly unlikely to be connected in any way with a need to take over the world, or even your small corner of it.
So if dogs are not defying us, and if our dogs are not trying to take control, why are so many dogs so naughty!
Well there is good news and there is good news. The first bit of good news is that it's not your dog's fault. Your dog isn't actually naughty at all. He just isn't trained yet.
Even better is the news that your disobedience problems can all be solved by training. That's right, ALL of them.
No bad dogs
There are actually no bad dogs. Just badly trained ones.
This can be a little tough to take on board because it means you, and not your dog, are responsible for how he is behaving. And that can hurt.
But dust down your pride, because things are about to get better. The great thing is that you can fix this!
All you need to do is arm yourself with some important information, then set aside a little time each day to train your dog
Let's give you the information you need. Let's get down now, to the real cause of disobedience.
Why dogs are disobedient
It is very common for a breakdown in trained behaviors to occur at exactly the time the dog is reaching maturity
When training breaks down at this age, towards the end of the first year, there are several key factors involved.
The increasing independence of the dog, the increasing expectations of the owner, the diminishing returns for the dog, and the failure of the owner to carry out a programme of proofing.
That might sound like a lot to take on, but we'll tackle each of these in turn.
Independent puppies!
Your puppy is growing up fast. When he was small you were his whole world. He only really felt safe when you were near.
As a young dog reaches maturity, he becomes less dependent on his owner for company and security.
He is happy to roam further afield and may be increasingly interested in hunting and exploring.
In other words, your puppy doesn't depend on you so much. He wants to be off having fun like anyone who is leaving childhood behind.
Influencing your puppy
The further your dog is from you, the less influence you are likely to have over him, the less attention he is likely to pay to you.
The more time he spends at great distances from you, the more happy experiences and pleasure he will have there. This will confirm his suspicion that life might just be more fun without you hanging around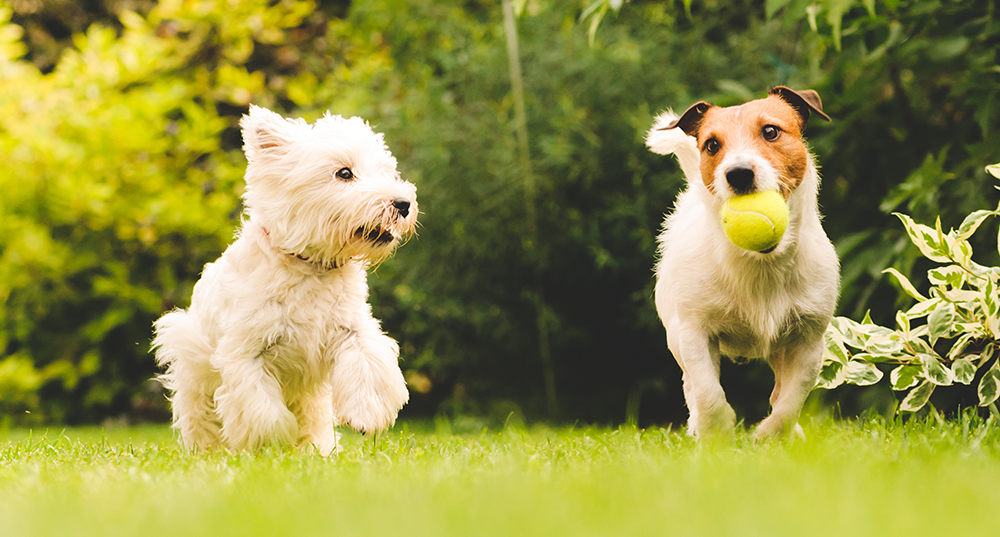 The owner who simply puts this down to 'hormones' or adolescence is going to be in trouble if he does not change his approach to his dog. Because whilst adolescence will pass, disobedience will not.
Your dog won't suddenly start wanting to be with you again of his own accord, you are going to need to take steps to make that happen. That means interacting with your dog when you are out together, rather than just allowing him to amuse himself
But my dog doesn't like me!
Most dog owners are suprised to learn that they need to actively ensure their puppy is motivated to interact and play with them.
They think this happens automatically when a dog and owner bond together.
Indeed, many dog owners assume that their puppy is now ignoring them, and doesn't want to play with them, because he doesn't like them very much.
This is not true at all. Though it can certainly seem that way
It's just that he is finding you a bit boring. Again, if this is happening to you, don't panic. We can fix this, but right now there are a few more issues to consider
Your expectations of your dog
As a dog passes from the cute puppy phase into gawky adolescence our attitudes towards him begin to change. His antics are no longer as appealing as they once were.
Jumping up is not longer sweet, its embarrassing. And with larger dogs may be positively dangerous. All of a sudden, manners start to matter.
Why don't you grow up and behave!
The truth is, we expect a great deal more from a nine month old puppy than we did five months ago.
He looks like an adult, he weighs as much as an adult, and we want him to behave like an adult.
This change in attitude towards the puppy only serves to confirm his belief that you are becoming increasingly grumpy, and that he can have a lot more fun by himself, than he can if he hangs out with you.
Dogs who don't deserve a reward
To add insult to injury, the naughty puppy may now find he is getting fewer rewards for good behavior than he did before!
After all, he doesn't really deserve a reward does he?
You can see the beginnings of a downward spiral setting in here, with the naughty puppy becoming ever more naughty as we become less appealing to him. And as we make ourselves less and less appealing by withdrawing affection and rewards.
How to reward older puppies
We tend to reward small puppies a lot. We also tend to use valuable (to the dog) rewards such as food. Displays of affection tend to be enthusiastic and physical.
We cuddle, and pet puppies profusely.
As dogs grow up, we put aside these displays of affection, and leave the treats behind.
He's a grown up dog now, and should behave himself for the joy of pleasing us.
Many people genuinely believe that adult dogs don't need rewards, or at that they should be satisfied with a pat and a kind word.
But that is not how the world works.
The truth is we need to reward older puppies and adult dogs too!
Dogs need motivation
Dogs just like us, need motivation. That motivation comes in the form of rewards.
Your dog is not going to keep doing something that is not rewarding, any more than you are going to bang your head on a brick wall for ten minutes each morning.
But rewards can come from two very different sources
At the same time as our dog's need for security and reassurance is rapidly subsiding, and as we rapidly reduce the rewards we used to provide for being good, the dog is in a position to find his own rewards.
He is now happy to roam further afield, and when he does so he inevitably comes into contact with all kinds of rewards that we did not supply.
This is the worst thing that can happen to any animal / trainer relationship. Maintaining control of rewards is crucial to your success. All the rewards your dogs gets access to, should come from you or be under your control.
Why your dog won't come back at the park!
Out in the countryside or at the park, there are butterflies to pursue, horse manure to eat, rabbits to chase, other dogs to annoy, and all manner of smells to investigate.
The outdoor world is a huge playground, and if you are not careful, your role in that playground increasingly becomes that of 'spoil sport' and 'game-ender'
Remember, dogs, like people need motivation.
If being around you is as interesting as watching paint dry, your dog is going to take himself elsewhere. And if coming back to you always means 'game over' – your recall is going to suffer.
Taking control of rewards
If you want to train your dog to come back every time you call, you're going to have to spend some time teaching him a really good recall, and maintaining it.
And the first step in training any skill is to get your dog focused on you.
You need to make being with you, and responding to you, more exciting for your dog. And to reinforce the behaviors you like from him, with rewards that he finds valuable.
In other words you need to take control of the rewards in his life.
That means two things
Ensuring great rewards come from you
Ensuring NO rewards come from anywhere else!
Rewards don't have to be food. They can be all kinds of things, including access to fun activities. Read our article on using and choosing rewards – it will give you lots of ideas. You'll find a few more below:

You'll also need to prevent your dog accessing rewards that you don't want him to have. And that usually means having him wear a long line attached to a harness, when he is outdoors running free.
Once you have done that, everything will start to slot into place and training can begin in earnest. The extent of your success though will depend on how well you 'proof' what you teach your dog.
I'll explain what I mean by proof, in a moment.
The disobedient dog – a summary
So here's the situation so far with most disobedient dogs.
We have a dog who doesn't play much with his owner, finds his owner pretty dull, and spends a lot of time amusing himself when outdoors.
His training is usually incomplete, that is to say, he will obey certain commands at certain times and not at others. He probably won't come back when he is playing with other dogs, or trying to gatecrash some unsuspecting stranger's picnic.
He has probably had little in the way of high value rewards for some time, or his owner may have been using food ineffectively as a bribe.
This is a dog who needs to learn to enjoy hanging out with his owner, with an owner who needs to learn how to reinforce the right behaviors and prevent the wrong ones.
It is also a dog who badly needs his training proofed, so that he will respond to commands, even when he is busy.
The key to successful dog training
Proofing lies at the very heart of successful dog training, and is the secret to reforming a disobedient dog. Yet many dog owners have not even heard of this crucial process.
Proofing means training your puppy or dog to respond to your cues in all the different situations where you may need to have control over him.
In the house, at the park, on the beach, out on the moor, in your friends garden, whilst playing with other dogs, when people are eating, when there are ball games going on. And so on.
These are all different scenarios to a dog.
Sadly, just because he responds to you in one of them, does not mean he knows how to respond to you in another. You need to practice your training in different types of situation. The link above will help you do this
Starting over
In many cases, the easiest and happiest way to go forwards from this point is to start your training over again. Pretend your dogs knows nothing and start training him, just as you would a new puppy. But this time, do it right.
Learn how to use rewards, learn how to prevent self-rewarding.
Keep your dog actively engaged with you when you are outside. Make use of the about turn walk technique where the dog has to find you, rather than the other way around
You really do need to read up on proofing if you have not done this yet. It will make training your puppy a good deal easier. Even so, there will be mistakes and you need to know how to deal with them.
What to do with a disobedient dog
Let's face it, you are going to 'slip up' at some point. And when you do, you need a coping strategy.
Here is a three point plan to help put you back in the driving seat.
Manage the situation
Assess where you went wrong
Plan your next session
If your puppy disobeys you, your first priority should be to limit the damage from your error.
You have given him a cue – he failed to respond. You need to manage the situation to make sure things don't get worse.
Managing the disobedient dog
The most important thing is avoid his disobedient behavior being reinforced.
So, if for example, the dog has failed to sit on the sit cue, make sure that you don't reward him, or allow him to reward himself for NOT sitting. It's all about preventing the dog from self rewarding
Preventing your dog from self-rewarding
If your dog is rewarded for his disobedience, he is likely to disobey again.
Unfortunately, and especially outdoors, it is easy for dogs to 'self-reward' by engaging in enjoyable behaviors.
Using a long line or training leash, is a good way to avoid this happening. We like the new biothane training leashes like this tracking leash from Amazon. Biothane is less likely to tangle than traditional long lines, and easy to clean.
What if I make a mistake?
You are bound to make mistakes occasionally.
Perhaps you'll forget to take your long line with you and think that it will be 'ok this time'.
Or maybe you are caught unawares by people entering an area where you thought you were alone with your dog.
Maybe he shoots off after another dog before you can grab the end of his long line. So what now?
When to keep quiet
If your dog has abandoned you for a more exciting adventure, and is romping around with another dog or dogs.
And if you have not trained him to recall away from other dogs, there is no point in giving your recall cue.
The only likely outcomes are that he will be rewarded for ignoring you, by continuing with his game, and that your recall cue will less effective next time. So you need to make yourself be quiet.
The same applies to any cue that you are tempted to give in a new or distracting situation. Before you give a cue ask yourself "Have we practiced this" and "Is my dog likely to obey?"
If the answer to those two questions is "no" then you have slipped up, and you need to manage the situation before you can move on. This essentially means getting the dog back under your control.
How to get your dog back when he ignores you
You can either trigger your dog's recall by running away from him, or walk calmly up to him, take hold of his collar, and put him on the lead.
Triggering the recall is usually the best option. It works because dogs just LOVE to chase things.
If you are going to try running away, you need to make plenty of noise to attract the dogs attention.
Do NOT use your recall cue, but you can whoop, holler, clap your hands, or make a noise in any other way.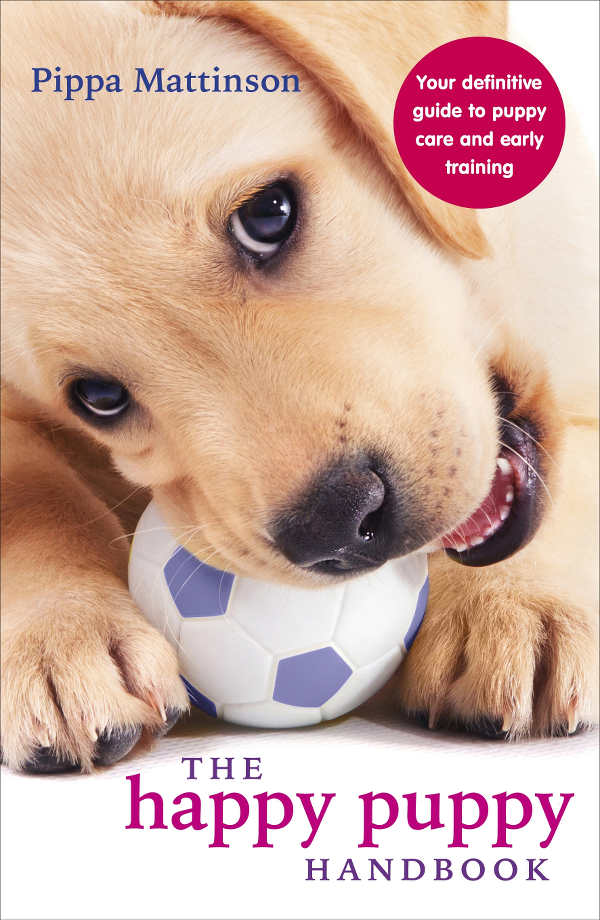 As soon as the dog glances in your direction run. Don't stroll, don't hesitate, just RUN. And keep going.
Keep running!
Most dogs will wait and watch you for a moment, not quite believing you are going to leave, especially if you have traipsed around after them in the past. That's why you need to keep going.
The dog needs to believe that you are leaving the area!
When his owner does not stop after the first twenty yards, ninety percent of dogs will run after him.
If your dog is one of the ten percent that don't, or if you are not physically up to running, you'll just need to go and get him. Even if it means walking a hundred yards or more.
Make sure you don't add to your problems
Don't be tempted to scold the dog when you get to him, you'll simply end up with a dog that is hard to catch. And that is one problem you really don't need.
So don't give him any more instructions. Or tell him how naughty he has been, and how he is ruined your day
Just take hold of the dog, use food to get his attention if needs be. And put him on the lead.
Crisis management is not a good way to train a dog, so now you need to make sure that this doesn't happen again. The next step is to work out what you did wrong.
Assessing where you went wrong
If you were caught unawares by people or dogs entering your training area, however frustrating this may be, you need to recognise that this is your fault.
There are very few places where you can guarantee total privacy, and unless you own or rent a completely private piece of ground, the chances are you'll be interrupted at some point.
Planning your next session
You need to be realistic and plan for the unexpected. This means expecting distractions – and knowing what you are going to do, to prevent them interfering with your training.
Avoiding distractions
The same applies to wildlife. Parks are not just popular with joggers and dog walkers, they usually have their fair share of squirrels, and birds too. The countryside is full of wild animals. Rabbits, and deer are very appealing to dogs, and most dogs will chase them if they move.
If you are setting up a training session with a dog that is keen on hunting or chasing you need to take precautions to prevent the dog having access to chasing opportunities.
Most wild animals will move out of an area where a person has walked around, so stomping about in an area before you enter to train the dog, may be sufficient.
If you cannot guarantee a distraction free zone, you must have a young untrained dog on a long line.
How to train a disobedient dog
The key to successful dog training is the five Ps – planning, prevention, prizes, proofing and patience. Pick a command that you want your dog to respond to and follow a good training guide. If necessary start from the beginning.
Use these 5 Ps to keep you on the right track
Planning
Remember to plan your training in advance. There is an old saying that failing to plan, is planning to fail. And it is as true of dog training as it is of many other activities.
Write down what you want to achieve during a training session.
Work out how you will prevent the dog accessing any reward other than the rewards you deliberately provide for him. This is the most important part of your training.
Decide what you want to achieve, and break it down into small steps so that your dog can be a winner.
Make sure you think hard about what you are asking your dog to do, and about the potential for distractions to interrupt your training plans.
Prevention
Prevent your dog from rewarding himself. Set thing up so that if your training does not quite go to plan your dog gets NO rewards.
You can limit the dog's opportunities to self reward by picking your training locations carefully and using a long line where necessary.
Prizes
Most important of all – motivate your puppy!
Puppies need prizes. So do older dogs. Winners expect prizes. Its only fair. You don't want to be begging and bribing, so you need to learn how to use rewards effectively in dog training.
It is very easy for the adolescent dog to see his owner as nothing but a spoil-sport outdoors, because the only time he gets near to him, or engages with him, is when the walk is about to finish. This is a punishment to a dog.
Remember to keep rewarding your dog.
Proofing
Remember to train your dog to respond to you in different situations. Start with the easiest situation and the easiest task.
And work your way up
What your dog finds hard, may not be what another dog finds hard. Each dog is different.
Patience
Training takes time so be patient. Your dog will get there if you strive to prevent situations arising where he can benefit from disobedience.
Take the trouble to set your dog up to win and you won't be disappointed with the outcome.