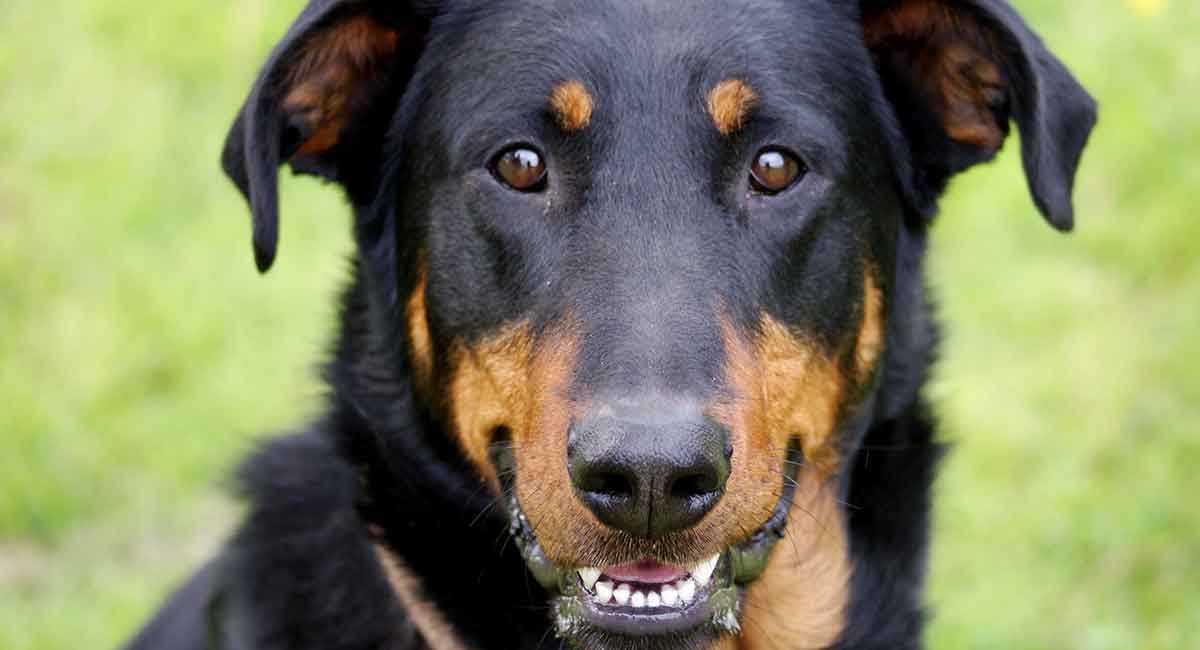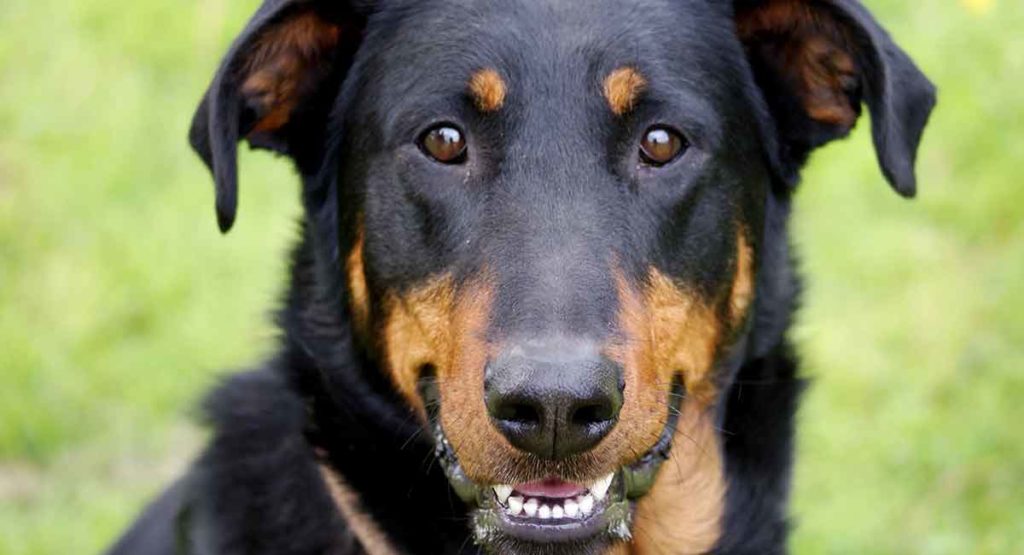 The Beauceron is a striking and intelligent breed. This dynamic dog is an excellent guard dog, as well as an active and loving companion in the right home. The Beauceron is a smart, muscular, loyal, hard working French herding breed. Also known as the Bas Rouge, Beaucerons are large, and athletic dogs that needs plenty of exercise. The Beauceron puppy can reach up to 27 inches in height and over 100 pounds in weight once fully grown.
The Beauceron has an affectionate personality. They are gentle and playful with their loved ones, but wary of strangers, and will protect your home and family. With an independent streak and strong character this French shepherd dog is also a breed best suited to a more experienced owner.
Contents
We're going to look at the personality and characteristics of the Beaceron dog breed. We'll explore its origins from farm dog, to modern companion. We'll talk about health, lifespan, grooming, training and care needs. And look at the traits that make this breed so special.
Not only is the Beauceron smart and energetic, this is also an agile dog that is responds well to training and excels at agility and obedience. You can see some Beaucerons in action in the video above
Beauceron Origin
The Beauceron has the ability to expertly herd a flock without startling them. Officially classified during the late 1800's, the breed was noted for their striking black and red coat (Bas Rouge means 'red stockings') They are also noted for their strength and endurance, often driving livestock over long distances.
Historically, this is a breed that has played a number of roles.Their unique intelligence, size, and loyalty have made them expert in several fields including working with the military, guarding homes or people, herding sheep, or leading rescue missions.
The Beauceron seems to be the cream of the crop when it comes to those looking for a working dog. But is this the right dog for a pet home? We'll have a look at some of the breed's characteristics.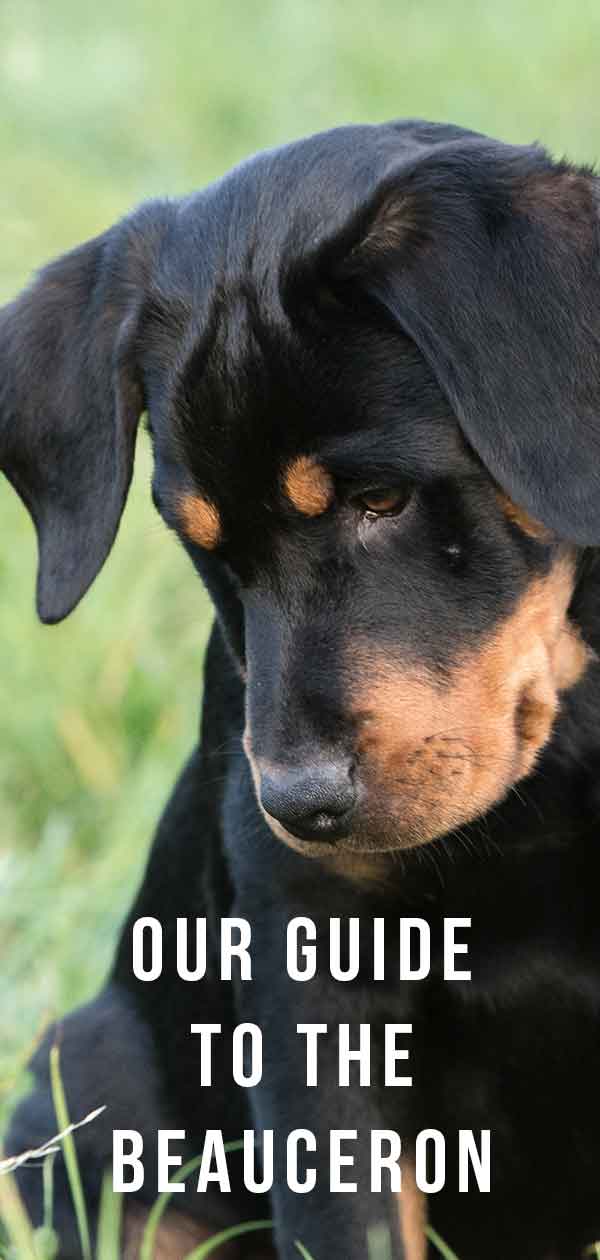 Adult Beauceron Dog Size
This is a large and powerful breed that stands around 24 to 27.5 inches tall. These French sheepdogs are deceptively large dogs, and can weigh anywhere from 70 to 110 pounds!
Males tend to be at the larger end of both the height and weight ranges.
Appearance, Coat Color And Markings
The markings of the Beauceron are quite similar to those of the Doberman Pinscher or Rottweiler. The Beauceron has floppy ears, a long tail, and a thick double-coat that comes in four colors, including:
Black and Gold
Tri-Color
Black and Rust
Harlequin
If you have seen one of these dogs with erect ears, that's because in some regions, ear cropping is sometimes carried out in this breed. This practice is generally falling out of fashion now, and as you can see in the video above, the Beauceron looks very handsome with their natural ears intact.
Beauceron Temperament
Though a powerful dog renowned for their sheer size and strength, the breed is also sensitive and gentle. And given enough exercise will be calm and relaxed at home. Their need for exercise however is considerable, a quick stroll before supper will not be sufficient. The Beauceron also needs a lot mental stimulation and is happiest when given a job to do. Whether that is tracking, or protection work, or agility or obedience is up to you. But this is not a dog that will be content to idle the day away
The breed does require early socialization and obedience training beginning in puppyhood. And for you to help to harness all this energy and intelligence into something positive and productive.
As a herder, these French sheepdogs will use their mouths the way we use our hands, grabbing anything and everything, to take them where they want them to go. Positive reinforcement training can help to steer them in the right direction.
Beauceron Personality Challenges
While the Beauceron makes a gentle and loving family pet, he is not known to get along well with other household animals. He can also be wary of strangers.
This feature can be a disadvantage in a pet or companion dog. And the Beaceron needs thorough socialization from an early age. You can also improve your chances of raising a friendly and sociable dog by picking a puppy with two friendly parents. And getting them familiar with lots of people visiting from the day after you bring them home.
Beauceron Training
An athletic dog by nature, the incredibly brainy canine will require tons of physical and mental stimulation in order to keep him from becoming bored and destructive. This is not the dog for the owner with little to no canine rearing experience. That is because the clever Beauceron can outwit unsuspecting owners in a heartbeat.
This dog will require a lot of maintenance in the way of play, exercise, doggy jobs, and training to stay mentally and physically fit. Early socialization and obedience training are hugely important for this large breed beginning in puppyhood and then throughout his life to better ensure he is a well-adjusted adult dog.
Positive reinforcement
Never use harsh or physical corrections on the Beauceron, as he is typically easy to train and eager to please and will not handle this method of correction well at all. In fact, harsh corrections and punishments could even deter him from the lessons you are trying to teach him.
Always use a gentle, patient hand, and utilize positive reinforcement. This is an obedient breed who picks up quickly when taught under the right conditions. As always, we suggest praise and treats!
Exercise
As far as exercising goes, this is a very active breed who needs a lot of daily exercise every single day. Long walks, hikes, jogs, and more are all suitable exercise regimes for this breed, and he will also need a large, securely fenced in yard where he can be allowed to run and play freely throughout the day as well.
Beauceron Grooming
While the breed's thick, weather-resistant coat does not require much in the way of grooming, these dogs do shed.
All year around, and even more so twice a year during molting season. During the normal season, you will need to brush your dog a few times a week. But during shedding season, you will need to brush him every day.
Caring for your Beauceron
Rubber grooming mitts, a medium-bristle dog brush, or a hound glove will help keep all that loose hair under control. And to keep your dog's skin and coat healthy. Consistent brushing will also help support new hair growth.
Your pup will also need his nails trimmed regularly to keep them from cracking and splitting. And his ears will need to be checked and cleaned on a consistent basis to keep waxy buildup, moisture, and debris from causing ear infections.
Beauceron Health Issues and Life Expectancy
All dogs can be genetically predisposed to certain inheritable health conditions, and this breed is no exception. While he is described as being an overall healthy dog with a lifespan of 10 to 12 years, the breed is still prone to some minor health issues such as gastric torsion (Bloat), and canine hip dysplasia.
If you are considering adding a puppy to your household, make sure both parents have great hip scores. The breeder should be happy to show you a copy of their certificates.
Nutritional Needs
Like all larger dog breeds, the Beauceron will do best on a high-quality dog food made for large breed dogs. Make sure it is high in meat proteins such as beef, chicken, or salmon, and low in unnecessary additives like soy, corn, wheat, and sugar.
Keep in mind that large breed dogs develop differently than small breed dogs do. They require dog food that is specified for larger breed dogs to promote proper skeletal growth. Also, experts suggest feeding your dog food specified for his age, weight, and activity level.
What is the Ideal Home Type for a Beauceron Dog?
The Beauceron dog breed is highly intelligent, active, and loyal, but he is not the best breed for the novice dog owner. So, how do you know if he is right for you?
This is a dog breed who will do best in homes with lots of space. You will need a large, fenced in backyard where he can run and play even after he has been exercised for the day. Also, this breed is a heavy shedder and he may not be suitable for those who suffer from allergies or don't like having their clothes and furniture covered in fur. He would do best with adult families and in homes without other pets.
Active and Intelligent
This is a breed who needs to get out and about every day and loves to go on adventures and explore. An owner who lives a very active lifestyle and enjoys the outdoors will love this breed. As long as this dog is given a task and has a purpose, he will be happy, and his energy will be utilized for something positive.
How Can I Find a Beauceron Puppy?
Is the Beauceron dog the perfect breed for you? If so, we want to help you find the healthiest puppy possible. When going through a breeder, remember that responsible breeders will have already health screened their puppies. And will be able to offer documents proving as much and proving that your pup is healthy and ready to go home with you.
Most breeders will charge anywhere from $500 to over $1000 for their Beauceron puppies. It is very important to find a breeder that prioritises temperament and health. Finding the right puppy is setting the foundation for a great future dog.
References