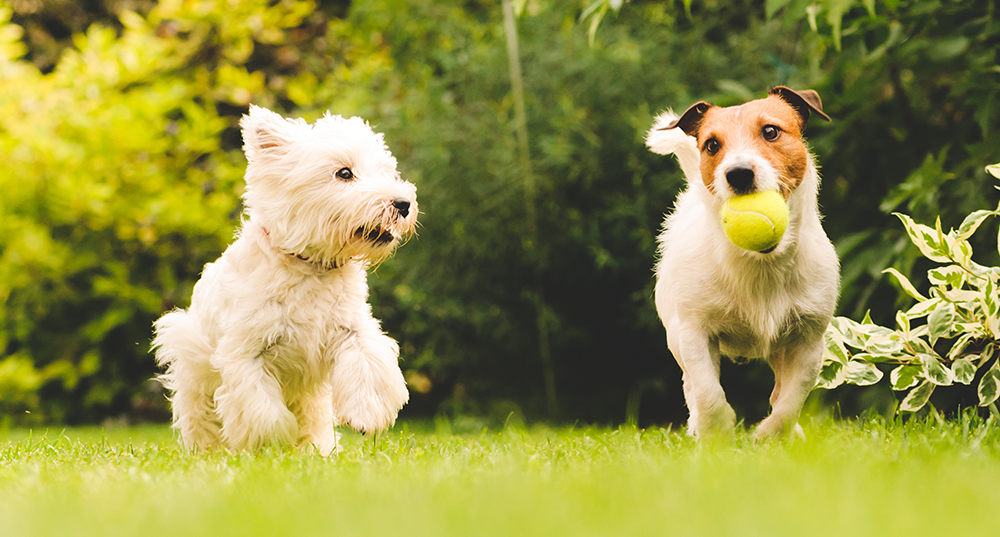 Here are 7 great ways to improve bad behaviors like door barging, in just a few days.
We tend to think of dog training as something that happens in allocated time slots or 'training sessions'
Committing to finding time for more training sessions is a great idea.
Dedicated dog training sessions are really helpful.
But it's important that we don't forget, that if you live with a dog, training takes place around the clock, day in and day out.
It is often the day to day interactions we have with our dogs, that have the greatest impact on their behavior
Unconscious dog training
Whenever you respond to your dog, or make decisions that impact the outcome of his actions, you are training him. Even if you weren't aware of it.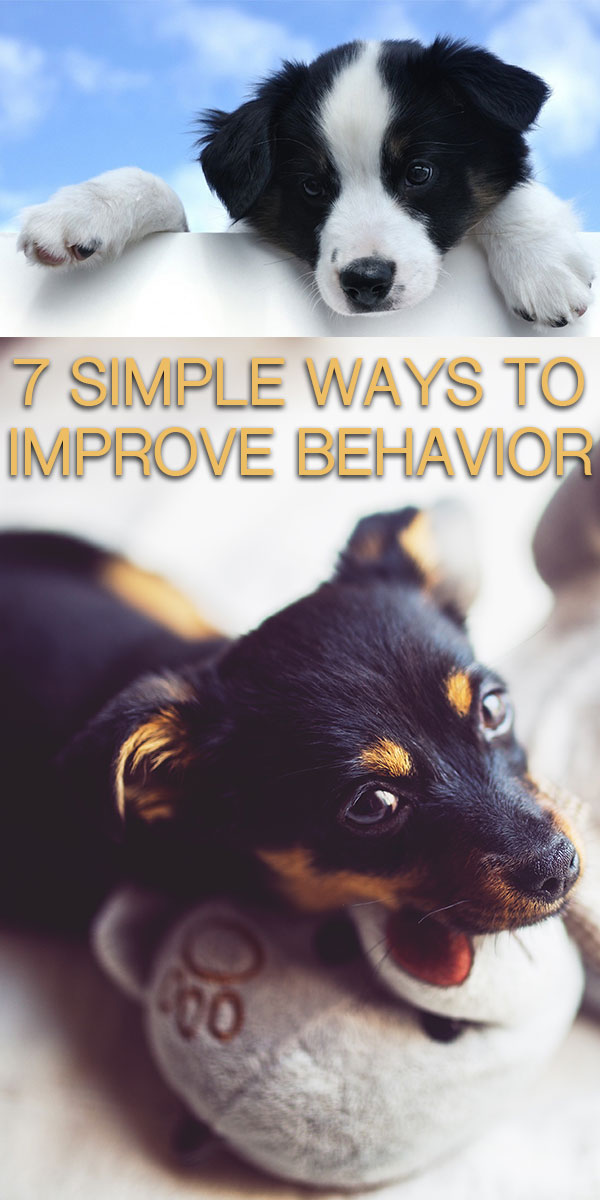 This kind of unconscious dog training goes on any time you interact with your dog, and becoming aware of this, can really help you to have a better trained dog.
Training a dog effectively, to behave well and obey you in all manner of circumstances is a long journey. Not something that can be achieved in a week.
However, there are significant changes that can be made in certain aspects of behavior, that don't take very long at all.
7 ways to a better behaved dog
In this article, we're going to look at seven things you can do, to improve your dog's behavior in an informal way, during the course of your days together. In each case, you should be able to see significant improvement in the course of a week of focused effort.
These aren't formal obedience training sessions. Just ways of interacting with your dog that will make him more pleasant to live with, indoors and outside
We'll be looking at
Encouraging your dog to relax
Teaching the dog to respond first time
Improving your dog's recall
Getting your dog to stay closer on walks
Encouraging your dog to be quiet
Putting a stop to snatching
Teaching your dog not to barge through doors
1 Catch the Relax: Encouraging your dog to be calm
Some dogs are very restless. Every time you get up, they are on their feet and ready to go! They never seem to relax.
Part of this is down to the dog's temperament, but a large part is also due to the way we respond to dogs.
We tend to automatically reinforce attention seeking behaviors with attention (so dogs do more of them) and ignore quiet and relaxing behaviors
Reversing this natural human behavior can have a dramatic effect on a dog.
And the best way to do this, is to 'Catch the Relax'.
How to Catch the Relax
You'll need some good treats(paid link) out in a bowl in an easily accessible place.
At various points during the day, whilst your dog is relaxing in his bed, or asleep on the carpet or sofa, grab a treat from the bowl and walk past him.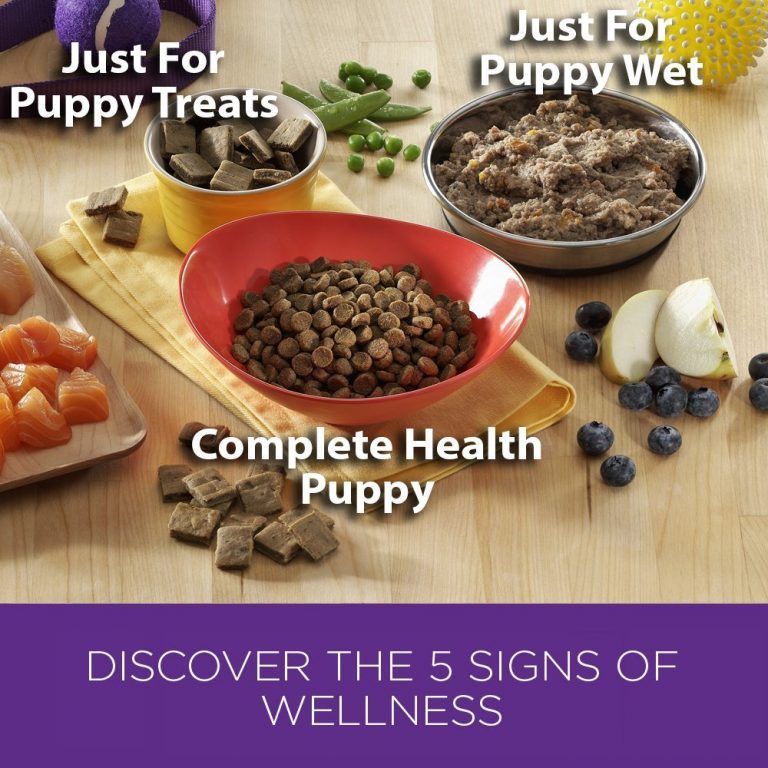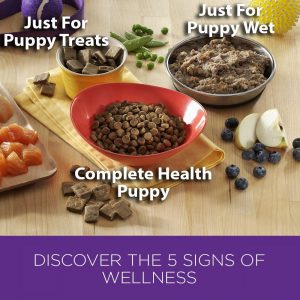 (paid link)If your dog leaps up to see what is going on, put the treat back in the bowl again.
Don't make any comment to the dog or interact with him in any way at this point.
Repeat at intervals.
Eventually he will decide you are not going to give him the treat, and remain in his bed or sleeping place.
Simply place the treat between his paws and walk away.
Don't get him excited, don't praise him or make a fuss, just quietly and swiftly drop the treat in front of his nose.
Rinse and repeat.
You can easily fit this into your day or evening, it only takes a second to walk past the dog. And by the end of the week, your dog will be more relaxed. Give it a go
More on this topic
If your dog has trouble relaxing you may find these more detailed articles helpful:
2 Say it only once: getting your dog to respond first time
You hear this all the time "Sit" says the dog owner. "Sit SIT" then "BENSON sit, …. Sit… SIT!" Benson eventually sits, with his happy face on, tongue lolling. He is quite adorable, but every time he is required to do something, he has to be told ten times or more before he complies.
This is both annoying and unnecessary. It is caused by the owner giving multiple commands. And you can fix it if you want to.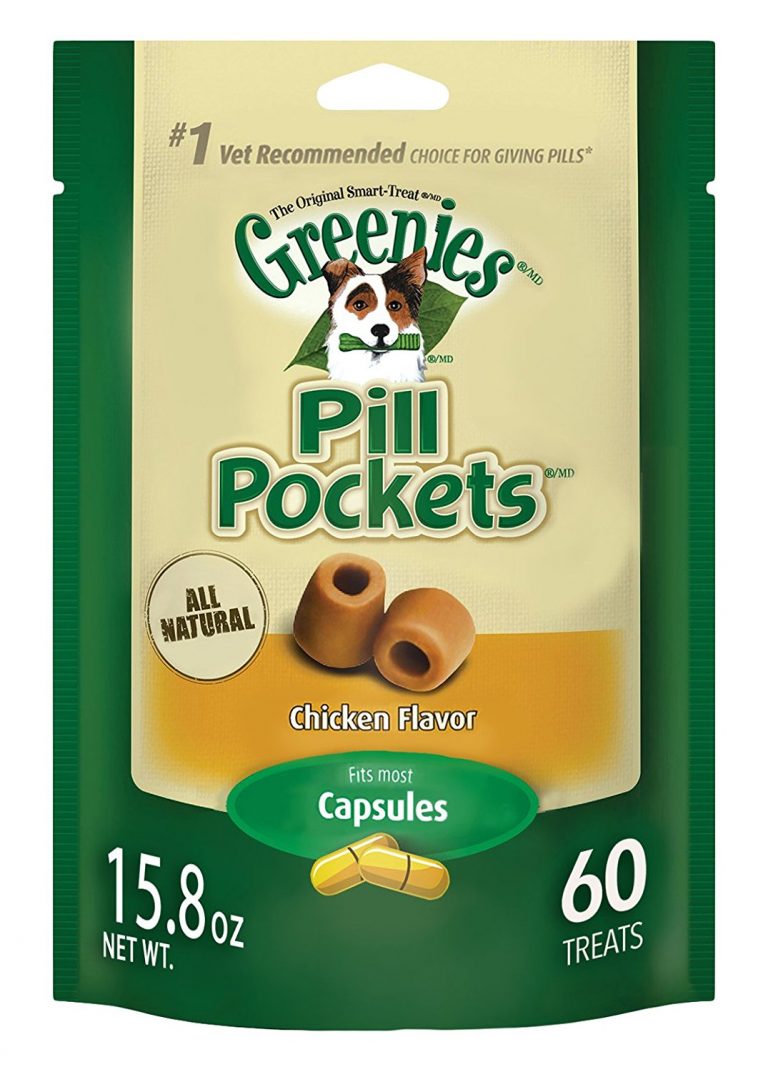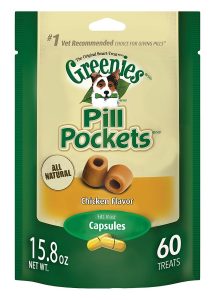 (paid link)Again, arm yourself with some handy treats.
We like Greenies chicken treats, but you can make your own if you want to, with little bits of cheese or just use kibble.
Teaching Your Dog To Respond First Time
At intervals throughout the day, ask your dog to sit.
Say the word ONE time only, then watch and WAIT. Count to five – in your head – don't speak.
If at five he has not sat, get your treat, hold it above his head and move it backwards towards his tail until he sits.
Do NOT repeat the sit command. As his bottom touches the floor say 'YES' and give him the treat.
See if you can do this ten times a day, in between other activities.
You'll soon find as you count, that you are not getting to five before your dog sits. Reward him with the treat anyway. And within a day or two, he'll be sitting straight away on a single command.
The next step is to ask him to sit without holding a treat in your hand. Have the treat in a bowl on a shelf near to hand though. As soon as he sits, say YES, then immediately go fetch him a treat from the bowl.
By the end of the week you can have the rewards in the cupboard or fridge. Just go with him to fetch one after you say 'YES'.
Eventually you can fade the rewards so that you only give him a treat for some of his sits. Just be careful not to let multiple commands creep back in again.
3 Race back to me: Improving your dog's recall
This is all about sharpening up your recall. You'll need some extra special treats for this. Little chunks of roast chicken or beef are brilliant.
At some point during the day or evening, when your dog is not doing anything in particular, say his recall word (come or here for example) The second he looks at you, throw him a special treat. Make it a lovely surprise for him.
After two or three of these, start dropping the treat at your feet, so he comes right up to you in order to eat it. After two or three of these, don't drop the treat until he reaches you.
Repeats five to ten times at intervals during the day.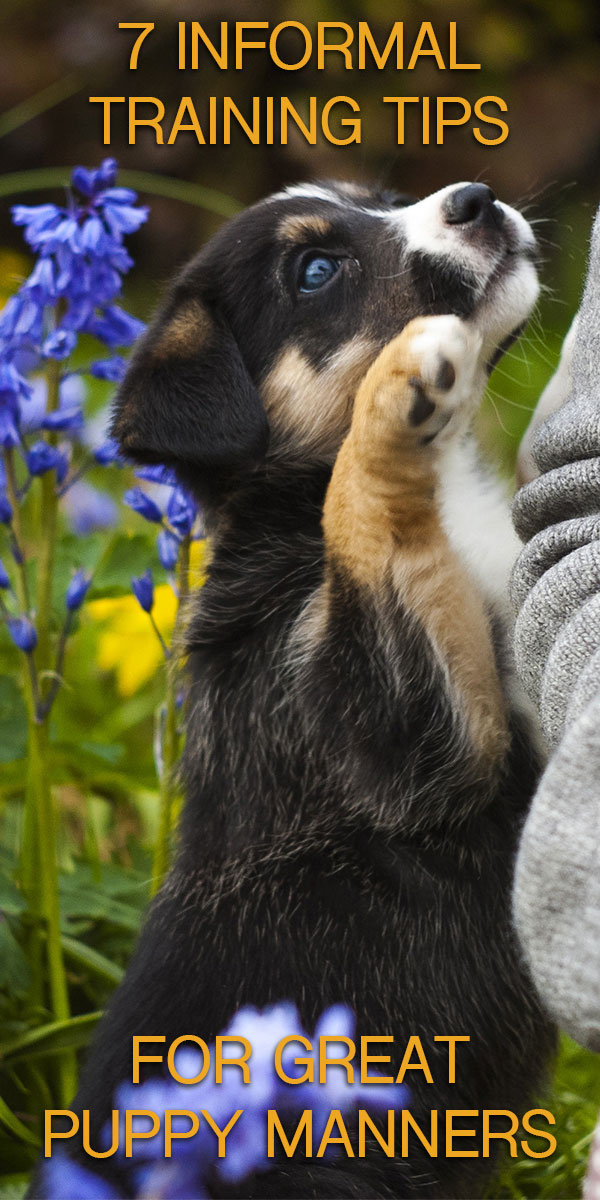 By the next day, your dog should be racing to find you when you say his recall word. Even from different rooms in the house.
Don't wave food at him (a bribe) or plead with him. Just wait for him to find you when you say your word.
Troubleshooting the 'race to me' recall
If he doesn't come to find you, you have tried when he is distracted (not a good idea at this point) or not hungry (don't do this straight after his dinner) or your reward is too mean (get a better reward!)
Did he get it right? If so, now you can try in the garden.
We all tend to forget to reward our dogs as they get older and recall is often the first thing to get sloppy.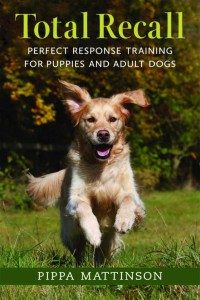 (paid link)Some extra special recall rewards for a few days helps to remind the dog that you are worth being with.
And reminds you of the importance of rewarding your dog for a job well done.
For full instructions for training a solid and reliable recall, check out my book Total Recall(paid link).
And for some handy tips now, try these links:
And don't forget to join the forum if you need some help and support.
4 Stay close: Keeping your dog closer on walks
Some dogs, especially as they mature, stray further and further on walks. A simple and effective strategy to deal with this is The About Turn Walk.
You can find detailed instructions by following the link. The About Turn walk teaches your dog to take responsibility for keeping close to you and for following you.
You can make great strides with this technique in a week, though a month or so is required for best results. It isn't difficult to do, so check it out today.
5 Sshhh: Encouraging your dog to be less noisy
Noisy dogs can be quite a problem.
When we updated this article for 2019, we took another look at all your comments below. Barking and noise was by far the most common problem that you told us about. Whether that was barking at other dogs, barking for attention at night, or barking in the back yard, our readers all had the same wish. To teach their dogs to be quieter.
A lot of dogs make a noise because we inadvertently reward and encourage it with attention, or even giving the dog access to significant rewards like a walk or a ball game.
Many noise problems can be resolved or greatly diminished with a week of committed and focused effort.
What to do to reduce the noise
Think about what your dog is barking for. Does he want you to clip on his lead(paid link)? Or throw his ball?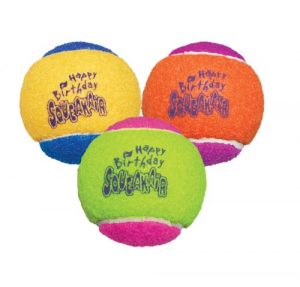 (paid link)If so, wait for a pause in the barking, mark the pause with a word like YES and then dog what he wants – i.e. Throw the ball or put his lead on.
Over the next few days, make the pause longer by a second or two each time.
By the end of the week, your dog will have stopped barking when you get out his lead or pick up his ball(paid link), because he knows you won't throw it until he is quiet.
Dogs that whine when crated or shut in a room, can be taught to be quiet in order to be let out. You can find instructions for this in this click for quiet article over on the Labrador Site.
A great strategy for many dogs that bark for attention or when excited, is to put barking 'on cue' That is to say, we teach the dog to both bark and stop barking. Check out our article on how to train a dog not to bark for more information.
6 Take it gently! Helping your dog not to snatch
Many dogs snatch. This is not polite, but it is quite easy to fix. In addition, if your dog takes your fingers off each time you offer him a treat you will have problems training with food. So this really is something you need to address.
The key to success is teaching the dog that backing away from the offered food, will result in him receiving it.
You can find instructions for this process in this article: Working with food 1 Most dogs can learn this in less than a week.
7 After you: Putting a stop to door barging
Door barging is very rude. When you walk through a doorway, if your dog charges past you without caring whether or not you have been left in a heap on the floor, you have a door barger.
People used to say that door barging was about dominance. It isn't. We now know that most dogs have no interest whatsoever in dominance.
Door barging is about your dog getting to where he wants to be. It's about excitement, lack of impulse control, and plain bad manners.
You can stop this quite quickly if you want to.
Stopping Door Barging
Place your handle on the door and watch the dog. Is he pushing at it with his nose? Is he quivering with excitement? If so WAIT.
And…. wait.
You are watching for the dog to relax a little, back away from the door. Any sign that he is breaking his focus on the gap he is waiting for.
When he backs off, or relaxes, say YES and open the door a crack. Hold TIGHT to the handle, and do not make the gap big enough for him to get through.
Wait again, for him to relax and back off from that gap
When you are ready say OK and let go of the handle.
Practice several five to ten times a day. Within three days, you should be able to put your hand on the door handle and start to open the door whilst your dog waits politely for the OK cue.
Now you can ask for a bit more. Next time, see if you can attract your dog's attention and get him to look at you. Make a kissy noise with your mouth. As soon as he looks at your face say OK and let go of the handle.
You should see a big improvement by the end of the week, and may even be able to move on to taking a step through the door way yourself before giving your OK and allowing the dog to follow you.
Safety first
This system is best for interior doors, or doors leading into a safe area such as a secure garden.
If you want to work with doorways opening onto an unsecured area such as your driveway, or if your dog is very large and strong, you may need to have the dog on a lead during the initial stages, and until he has learned some self control.
If managing your dog on a leash is also problematic, you might like to look at Loose Leash Walking: An Expert Guide to Getting a Relaxing Stroll too.
Summary
Building small changes into the way you manage your dog at home and outdoors can reap big rewards.
You'll notice that many of these issues involve 'waiting' the dog out. Being prepared to wait for the right behavior is a huge part of successful dog training. If you can cultivate a little patience in this respect, you will be well on your way to a really well behaved dog.
Consistency is the key to success, so don't give up. Build on your good behaviors and see if you can improve them even further.
More information
You might also enjoy these articles
Help my dog is distracted
I hope you have fun with some of the ideas in this article. Don't forget to let me know how you get on!