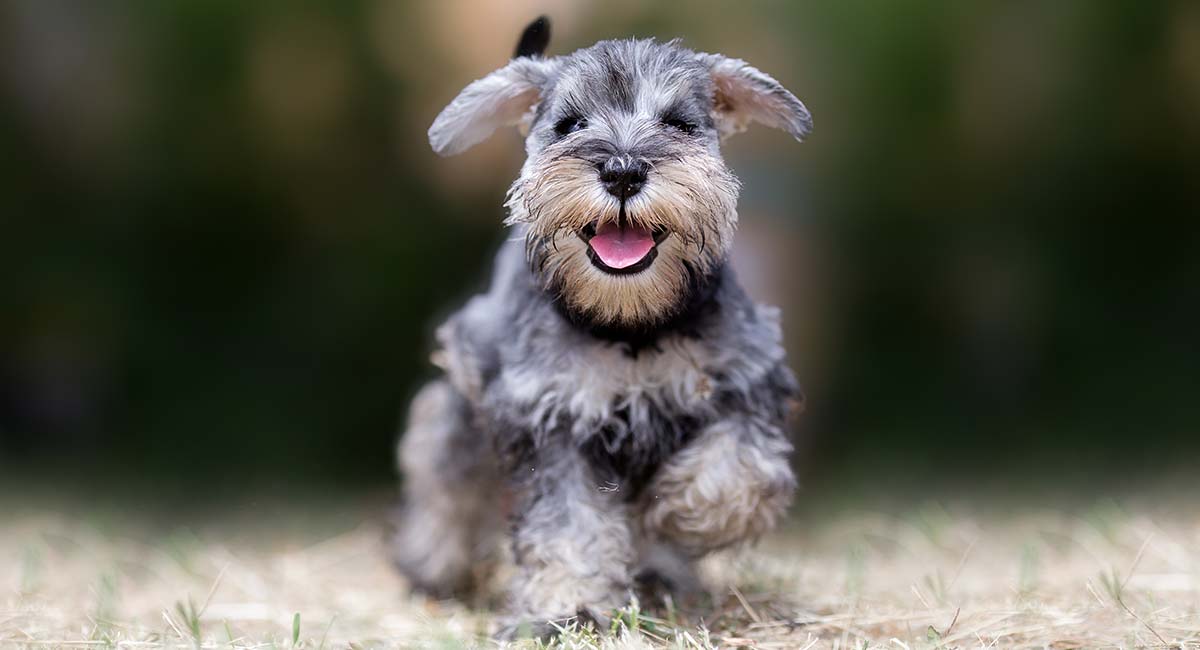 The teacup Schnauzer is not an official breed but a purebred Miniature Schnauzer that's been bred to be very small. While the Miniature Schnauzer weighs between 11 and 20 pounds, the teacup Schnauzer typically weighs under 7 pounds. Although small breeds tend to have longer lifespans than larger dogs, extremely tiny pups can be subject to some huge health problems. And their temperament might differ from the smart, obedient and loyal nature of the larger Schnauzer types, depending on how your micro pup was bred.
Contents
Schnauzers Of Different Sizes
The Miniature Schnauzer is a German breed, admired for their bushy brows, thick whiskers, and wiry coats that come in salt and pepper, black and silver, and black. This popular dog was bred down from the larger Standard Schnauzer by crossbreeding with smaller dogs such as the Affenpinscher and Miniature Poodle.
These dogs are known to be smart, friendly, and obedient. They also make great watchdogs. Although the Miniature Schnauzer is the smallest of the three Schnauzer breeds, some people are interested in a dog that's even tinier.
Enter the micro Schnauzer.
The Appeal of the Teacup Schnauzer
With their long faces and short bodies, Miniature Schnauzers are awfully cute. And they're even more adorable when they're puppies. So it's not hard to see why a dog like the teacup Schnauzer, who stays puppy-sized forever, is attractive to so many people.
Their reduced stature fits in with today's small urban living spaces and busy lifestyles. Small dogs take up less space and require less exercise. In fact, these dogs are so small that they're easy to carry around in a purse or tote bag.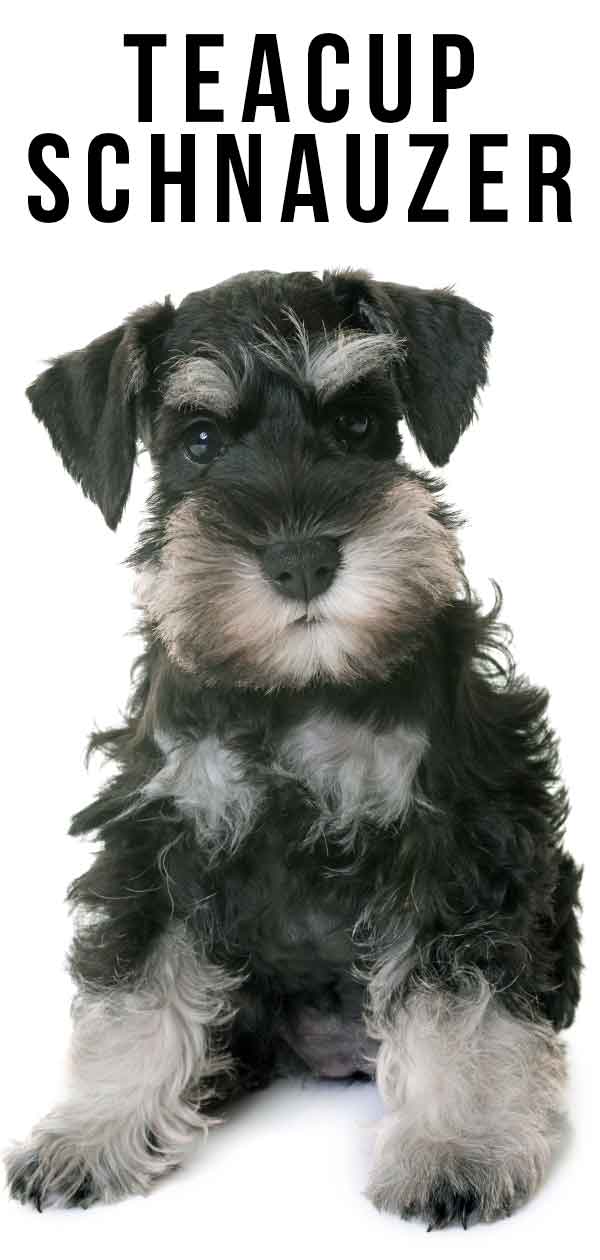 Where Do Teacup Schnauzers Come From?
There are essentially three ways to create a teacup Schnauzer. The most popular way is to mix a Miniature Schnauzer with an even smaller breed. However, this produces a mixed breed, and whenever two different dogs are bred together, they can inherit physical and temperamental traits from either parent.
Introducing a dwarfism gene is another way that breeders can create a teacup Schnauzer. This method can be very difficult and will typically create a dog that isn't entirely miniaturized, but has shorter than normal legs.
Finally, some breeders produce teacup Schnauzers by repeatedly breeding runts together. Although it's quite possible to create a teacup dog using any of these techniques, each of them has its own difficulties and is not without controversy.
Mixing With a Smaller Breed
Mixing with a smaller breed is usually the easiest and most humane way of creating a teacup dog. But using this method also means that this would no longer be a purebred Schnauzer.
Ultimately, the puppies could look or behave nothing like this breed. You just never know which traits the puppies are going to inherit when you mix two breeds.
Introducing a Dwarfism Gene
Dog breeds with extremely short legs, large heads and long backs usually carry a recessive dwarfism gene. Some breeders deliberately introduce this gene to dogs that don't always have it, in order to shrink the breed down.
This does have the desired effect of making a smaller dog, but sadly dwarfism comes with an awful lot of health issues. Even in those breeds where every member carries two copies. Skeletal disorders, painful joints and other health problems mean that this is a seriously ethically questionable way to make a purebred teacup dog.
Breeding From Runts
Some breeders will breed the smallest dogs to create the tiniest puppies possible, with each successive line becoming smaller. Of course, the benefit to this method is that the offspring will be purebred Schnauzers, with all of the appealing traits of the breed.
The problem is that runts are small, weak, and often have serious health conditions that make it difficult to produce healthy puppies.
Dental Issues
Due to their tiny mouths, Miniature Schnauzers are highly susceptible to problems with their teeth such as periodontal disease. This can lead to other serious conditions, including heart disease, for which the breed is also already at risk.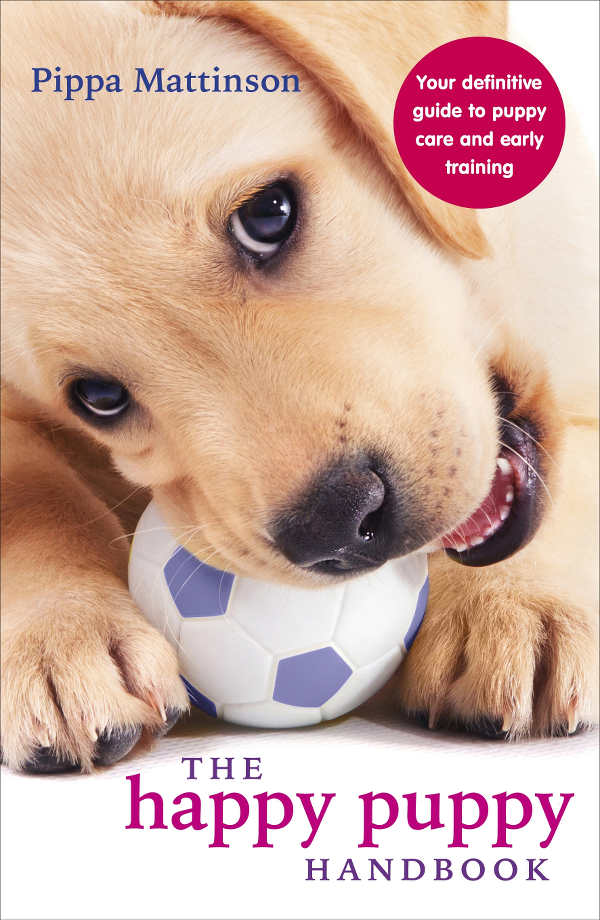 Organ and Muscular Problems
There is evidence that breeding from very small dogs can increase the chances of urinary stones, pancreatitis and even myotonia congenita. This is a muscular disease in which the muscles contract too easily causing stiffness. Not pleasant for your puppy, and likely to decrease their lifespan considerably.
Skin Complaints
Comedo syndrome is so common in the breed it's also known as Schnauzer bumps. It causes blackheads to develop along their back, scabbing, and hair loss. The breed is also at risk for eye diseases such as cataracts, ear infections, epilepsy, and hypothyroidism.
Teacup Schnauzer Puppies
There are always risks attached to buying a puppy, but you can avoid them by asking lots of the questions and looking for evidence. Good breeders are happy to give you lots of information about your puppy, their parents and how they raise their dogs. They'll show you health certificates, and be transparent about any concerns they might have.
The healthiest teacup variety of Schnauzer is likely to be a mixed breed, but if you want that classic Schnauzer look and personality then go with the Miniature Schnauzer. You won't be able to fit it in your pocket, but you'll hopefully have a happy and healthy companion for many years to come.