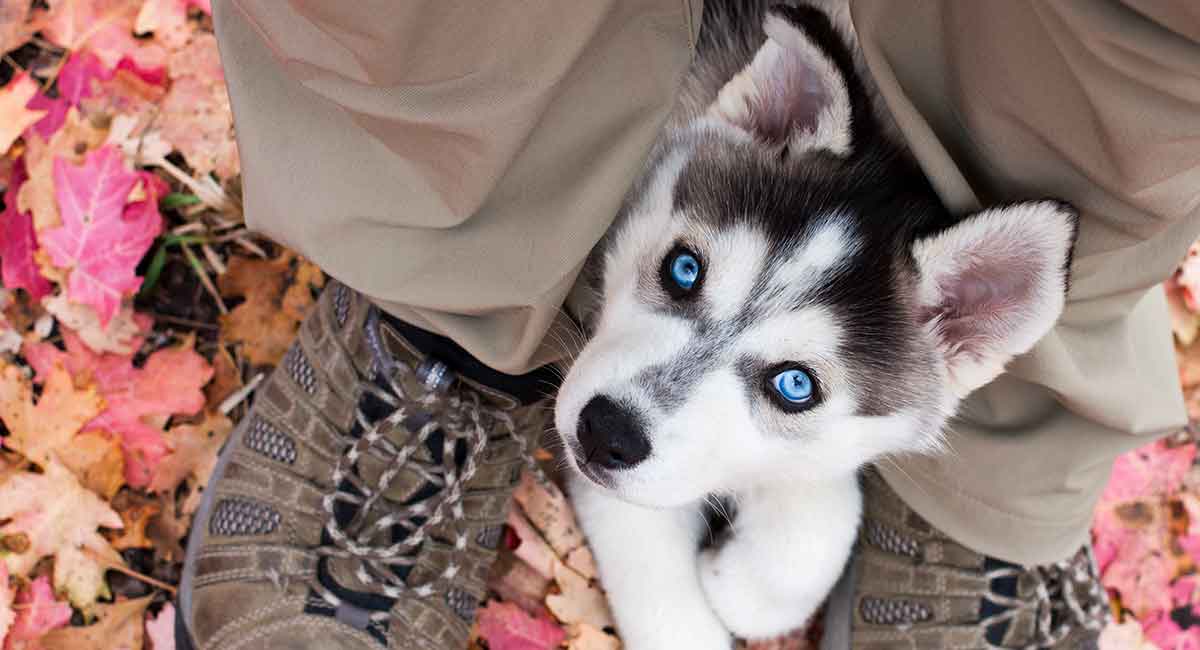 The Siberian Husky is a fascinating dog breed, with a unique coat, wild look and crazy cool history. Today I'm going to share 28 awesome Husky facts, to help you to fall even more in love with our favorite breed. With their thick coat, almond-shaped eyes, and muscular build, this medium-sized Arctic breed stands from 20 to 24 inches and weighs from 35 to 60 pounds. Graceful, nimble and a sled dog with unmatched endurance, they can still make surprisingly good family pets in the right home.
Contents
These 28 Husky facts will look at the breed's history, appearance, temperament, and more to give you a well-rounded view of this iconic canine.
Fascinating Husky Facts
Although Siberian Huskies have a distinctly wolf-like appearance, they're a friendly breed that loves being around people. As their name suggests, these outgoing dogs hail from the harsh climes of Siberia and it's in this expanse of ice and snow that their story begins.
1. Huskies Were Bred by the Chukchi Eskimos
The Siberian Husky's ancestors were bred by the Chukchi people in northeastern Asia as endurance sled dogs. As this nomadic people had to expand their hunting ground to survive, they developed a dog who could pull light loads over long distances across rugged wasteland in sub-zero temperatures.
2. They Might be Santa's Favorite Dog
It was during the gold rush in Alaska that Siberian Huskies first began appearing throughout the U.S. and Canada. These superior sled dogs were used to transport goods, for sled racing, and even herded reindeer.
3. Huskies Have Other Names
The Siberian Husky is often referred to simply as Husky or Sibe. At one time they were also known as the Chukcha or Chuksha dog due to their origins.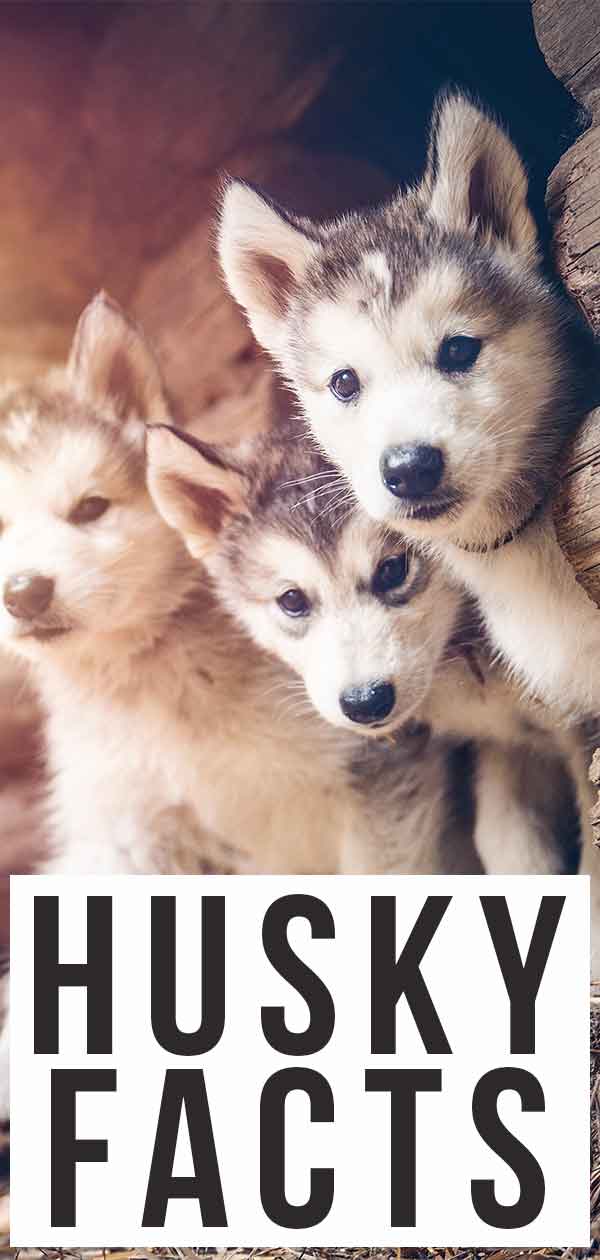 4. Don't Confuse Them with the Malamute
Although both members of the Spitz family of dogs, the Siberian Husky and the Alaskan Malamute are two entirely different breeds.
Malamutes are known for strength, while the Husky is famous for stamina. Huskies are also considered more outgoing, intelligent, free-spirited, and healthier than their larger cousins.
5. Huskies are Heroic
One of the most interesting facts about Husky dogs is that they made headlines around the world in the winter of 1925 when a sled team delivered lifesaving medicine to Nome, Alaska during a diphtheria outbreak.
The team was led by a Siberian Husky named Balto and these dogs traveled well over 6oo miles in treacherous conditions in just five and a half days. Today there's a bronze statue honoring the legendary Balto in New York's Central Park.
6. They Were Also War Dogs
During World War II, Huskies were used by the US Army to transport provisions, medicine, and mail. They also served in the Army's Arctic Search and Rescue Unit of the Air Transport Command and in the Byrd Antarctic expeditions.
7. Huskies are the Only Breed Able to Alter Their Metabolism
You can't discuss amazing Husky dog facts without talking about their unique capacity to alter their metabolism. This ability to draw energy from more than one source allows them to run for extended periods on very little food without becoming fatigued .
8. Husky Habitat Facts
Siberian Huskies are remarkably adaptable. They can withstand temperatures as low as 60 degrees below Fahrenheit. Their lush double coats also insulates them from the heat. This is provided they have access to shade and fresh water.
They shouldn't be over-exercised on hot days and tropical climates aren't the most suitable for this cold weather breed.
9. Huskies Have Colorful Coats
One of the breed's most striking features is their beautiful, abundant coat that consists of a soft, dense undercoat and a straight outer coat.
These dogs shed a lot, especially during the spring and fall when they blow their coats. From solid black to pure white, Huskies come in a wide array of colors. They often sport markings on the head, including unusual patterns not found in other breeds.
10. They Come with a Matching Nose
A Husky's nose color will vary depending on the color of their coat. Dogs that are black, tan, or gray have a black nose, copper coats have liver-colored noses, and the noses of white dogs are flesh-colored.
11. Sometimes They Have a Snow Nose
Huskies also have a condition known as snow nose in which pink markings appear on the nose in winter and disappear in summer. This is due to the enzyme tyrosinase, which controls pigmentation and is believed to be more sensitive to low temperatures.
12. Ole Blue Eyes
Eye color can be brown or amber, but most Husky's eyes are a piercing blue. Blue eyes in Huskies are a dominant trait, but the color is rare and recessive in other breeds.
Sibes can also have half-blue and half-brown eyes or one blue and one brown eye, known as heterochromatism. The almond shape makes it easy to squint and keep out snow.
13. Houdini Husky Facts
Among the most pertinent facts about Huskies as pets is that they're notorious escape artists. They can find their way out of just about anything.
Jumping over or digging under fences and slipping out of collars are perfectly normal behavior for this adventure-seeking breed.
Your yard will need a six foot fence at minimum, with a few inches of foundation under the ground to keep this dog enclosed.
It could be their nomadic origins that compel them to explore new territory, but unfortunately many Huskies become injured or lost due to their wayward instincts.
14. They're Natural Pack Dogs
As born pack dogs, Huskies get along with other dogs as long as they don't feel challenged. Cats and other small critters won't fair quite as well since Huskies have a strong prey drive.
Contrary to their cold as ice persona, these dogs are very sociable and renowned for being good with children. They want to be part of the pack and will become upset if left on their own for long periods.
15. And Natural Excavators
Siberian Huskies like to dig holes. This is due in part to an excess amount of energy to burn, but digging also comes naturally to this breed.
They would dig holes in the snow or ground to make a warm shelter for sleeping and hiding their food.
16. They Have Unique Vocal Stylings
Although Siberian Huskies don't bark much, they're a very vocal breed. You can expect an array of sounds, from drawn out howls to what might sound like talking.
If you have more than one of these dogs they may howl in unison.
17. Siberian Huskies are Cat-like
Siberian Huskies are known for being clean dogs. Their coat doesn't have that doggy odor many people aren't fond of and they rarely need to be bathed. But what's really unique is that these dogs actually lick and groom themselves much like a cat does.
18. Husky Puppy Facts
All puppies are known for their playful antics and exuberance. So it should come as no surprise that this athletic working dog is extra rowdy as a puppy.
Expect lots of boisterousness and jumping up. For this reason it's important to never leave a Husky puppy alone with young children.
19. Their Beautiful Eyes are Prone to Problems
Although Huskies are an overall healthy breed, they are susceptible to a number of eye conditions. When getting a puppy, ensure that the breeder has screened their stock for such problems as juvenile cataracts.
An important baby Husky fact to be aware of is that puppies as young as three months old can be affected by this disease. Corneal dystrophy and progressive retinal atrophy are other eye diseases that affect the breed.
20. Celebrity Husky Facts
These gorgeous dogs also have some famous owners. British singer Rita Ora has a Sibe named Bowie and American singer Miley Cyrus' pup is called Floyd. Actors Jared Leto and Ben Stiller also have Huskies, named Sky and Alley.
21. Siberian Huskies Can Go the Distance
The top speed for a Sibe is 28 miles per hour. It's not all that fast when you consider a Greyhound can run about 45 miles per hour.
But, when it comes to endurance, the Husky really shines. A team of dogs can run for hours and cover about 150 miles in one day.
22. Husky Facts for Kids
Huskies have been featured on the silver screen. The 1995 animated film Balto is based on the true story of the sled dog who led the famed mission in 1925.
Iron Will is a live-action adventure film that's also based on a real life Husky event. In this case it was the 522-mile dog-sled race between Winnipeg, Canada and St. Paul, Minnesota that occurred in 1917.
Snow Dogs and Iron Will are other movies that feature Siberian Huskies in starring roles.
23. They're Closely Related to Wolves
Actually, all dogs are close relatives of the wolf, but this study found Siberian Huskies and Greenland Sledge Dogs to be more closely related than other breeds.
However, Huskies are domesticated dogs and have evolved differently than wolves for thousands of years.
24. They Don't Make Great Watchdogs
Their fierce wolf-like appearance may scare off some intruders, but the Husky really doesn't make a very good watchdog. They're simply too playful and friendly and will happily welcome strangers.
25. There's a Smaller Siberian Husky
A smaller version of the Siberian Husky was developed in the 1990s by a breeder named Bree Normandin. She did this by selectively breeding two undersized purebred Huskies.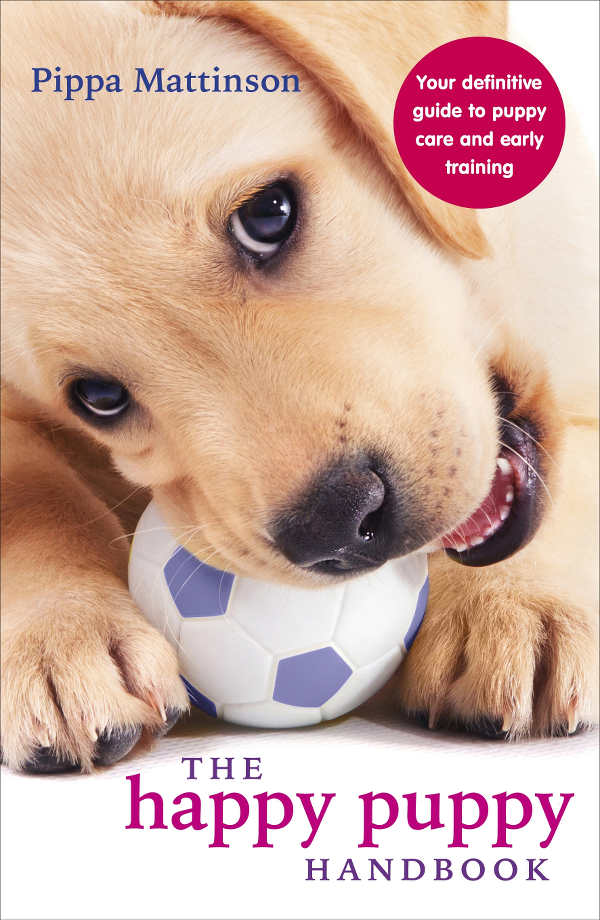 Full grown miniature Huskies will stand from 12 to 16 inches and weigh between 15 and 35 pounds.
These dogs are not recognized as a separate breed or a variety of Siberian Husky by the Siberian Husky Club of America or the AKC.
26. Huskies Can Be Finicky About Food
If you think all dogs are insatiable eaters that will scarf just about anything, you may be surprised when you set a bowl of food in front of a Husky.
They're one of the few breeds who can actually get bored with eating.
Sensitivity to common allergens such as corn, wheat, dairy, soy, and eggs, as well as the additives and fillers found in many commercial dog foods, could be another reason why your Husky isn't interested in food.
Although bred to travel long distances without food, if they won't eat for an extended period it's time to visit the vet.
27. Owning a Husky Can Be Challenging
If you're an inexperienced dog owner, think twice before choosing the Siberian Husky as a pet. These dogs are highly intelligent, but can also be extremely stubborn, which makes training difficult.
They're also strong-willed, independent, and need tons of exercise. With their history as a working dog pulling sleds over long distances, they're happiest when they have a job to perform.
Without mental and physical stimulation Huskies can become incredibly destructive.
28. Game of Thrones has Increased Their Visibility
The giant dire wolves who portray devoted protectors on the Game of Thrones series don't exist, but they do resemble Siberian Huskies. Due to the show's massive popularity many people have bought Husky puppies without doing any research on the breed.
Unfortunately, a lot of these dogs wind up in shelters when people realize that owing a dog is a lot more work than watching one on TV.