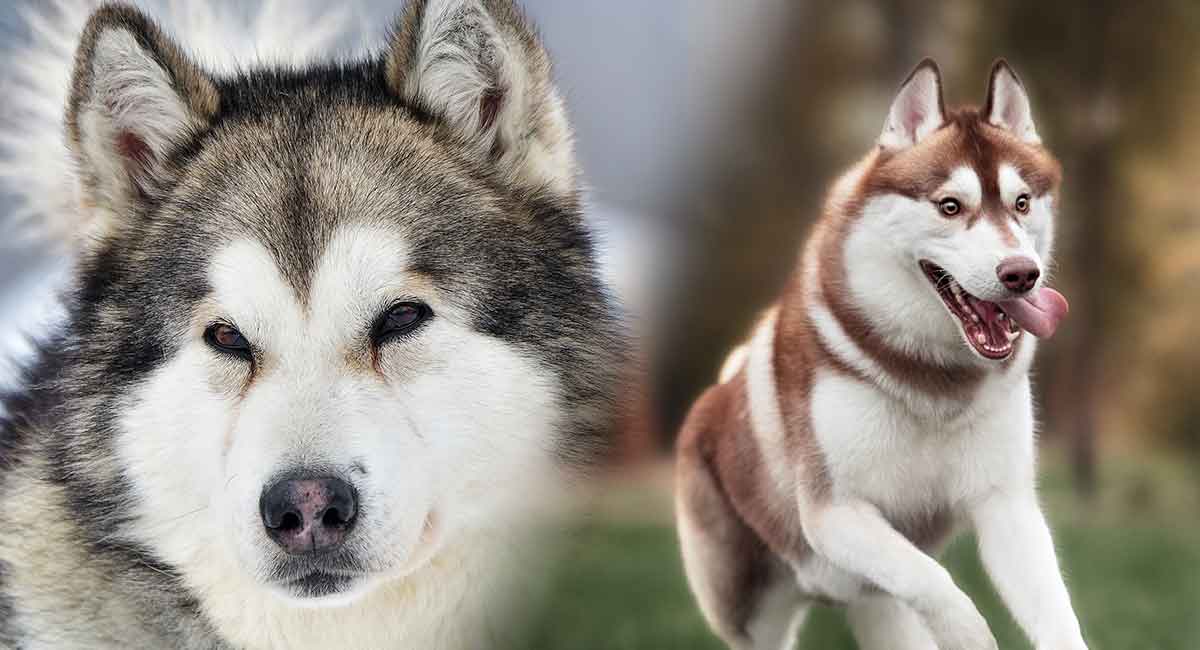 The Alaskan Malamute vs Siberian Husky debate is a battle of the titans between two breeds that have worked alongside humans for a long time. So, when comparing the Malamute vs Husky, which is best?
These are large, powerful breeds that can be a lot to handle but can also prove to be great companions. Both have similar appearances, but Huskies are generally social, smaller, and tend to live a little longer. Whereas the Malamute is more loyal, protective, and was originally bred to pull heavy weights.
Let's find out which one will suit your home best.
Alaskan Malamute Vs Siberian Husky – Which is Best?
When you compare two dog breeds there's no definitive answer as to which is the best. You can however, decide which is best for you and your situation.
Huskies are more sociable, lighter in weight and more free-spirited than the larger Malamute who is beautiful and incredibly loyal.
It might seem like a tough choice, but these similar dogs do have quite a few differences. And these differences can make one more suitable to your home than the other.
Choosing between the Alaskan Malamute vs Siberian Husky for your next pup is no easy decision! Which will be best for you?
Huskies also tend to live a little longer, and have fewer guarding tendencies. But this doesn't automatically mean they will be a better pet for you. Read on for a more detailed look at these two popular breeds.
Your Frequently Asked Questions:
Contents
Alaskan Malamute Vs Siberian Husky History
Both the Husky and the Malamute are ancient dog breeds. They were bred to live and work with people in very cold, harsh climates.
The Husky was first bred by the Chukchi people in Eastern Siberia. Whereas the Malamute originates from Alaska. Both breeds both have long histories as sled dogs.
The Malamute was bred to haul weight while the Husky was bred to race. The Malamute more often worked alone, whereas the Husky would work in a team of dogs.
So, although they come from similar environments, they had quite different purposes!
Breed Recognition
Both breeds are recognized by AKC. The Husky in 1930, and the Malamute a little while later in 1935.
Both breeds are also recognized by:
Kennel Club (UK)
Australian National Kennel Council
Canadian Kennel Club
New Zealand Kennel Club
United Kennel Club
Federation Cynologique Internationale
Alaskan Malamute vs Siberian Husky Fun Facts
Huskies have been in our stories and on our screens for a long time. From Whitefang the brave Husky to Mischa the talking Husky on YouTube, we sure do see a lot of these distinctive dogs.
One Husky story that might have gone under your radar was the story of Balto, Togo and Fritz. These three dogs pulled life-saving medicine on sleds over a combined distance of 1000 miles. If it wasn't for them, many Inuit children would have died from diphtheria. You can read more about it here.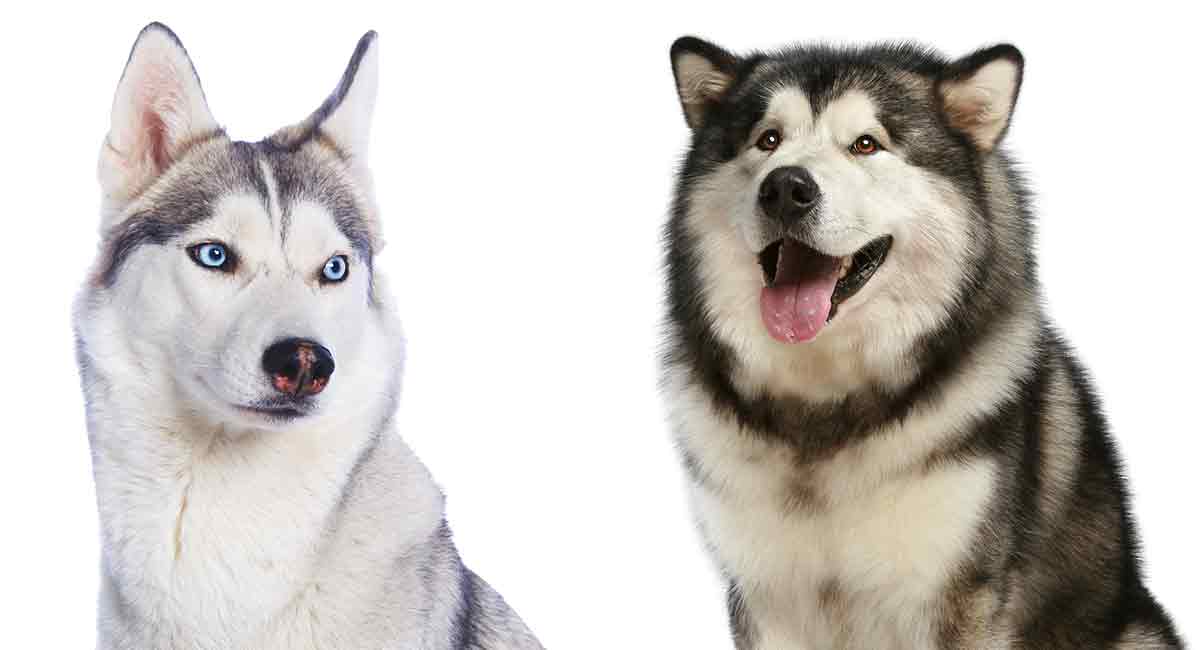 Alaskan Malamute vs Siberian Husky Appearance
When it comes to size, the Alaskan Malamute vs Siberian Husky difference is clear.
Size-wise, comparing the Malamute vs Siberian is a choice between a large and a medium-sized dog.
The Alaskan Malamute will weigh 75 to 85 pounds in adulthood.
But the Siberian Husky, in contrast weighs 35 to 60 pounds as an adult.
Coat
Siberian Huskies are perhaps best known for their black and white coat. However, this breed comes in a whole host of colors, including: copper, red, agouti and sable.
Malamutes, on the other hand come in gray and white, sable and white, solid white, seal and white, red and white and black and white.
Eyes
You might know Huskies for their striking blue eyes. Did you know that Huskies can have eyes of two different colors? This is known as heterochromia.
Malamute eyes are usually brown. Breeders prefer Malamutes to have darker eyes.
Alaskan Malamute vs Siberian Husky Temperament
The difference in temperament is minimal in most cases. These pups were bred to live and work in packs of people and dogs.
They're known to be friendly and outgoing with "their" people.
However, the Malamute will be more aloof with strangers. They're also less tolerant of other animals, including dogs.
The Husky is more apt to accept strangers readily and live well with other family dogs.
Difference Between Husky and Malamute Guarding Tendencies
Many parents are concerned about guarding tendencies. The difference is especially important if you are choosing a dog for your children!
The Alaskan Malamute can have some aggressive tendencies. This is coupled with a high prey drive and a low tolerance for other dogs.
The Siberian Husky also has a high prey drive but has a higher tolerance for other dogs. They're often considered too friendly and outgoing to make good guard dogs.
Difference Between Husky and Malamute in Intelligence
The Alaskan Malamute and Husky dogs are both very smart!
These dogs can be expert escape artists. Plus they can jump or dig through areas that aren't dog-proof.
Comparing Malamute and Husky Noise
Both Malamutes and Siberian Huskies have a tendency to howl and bark.
Huskies are well known for their chatty nature. Especially when they are in groups. There are some hilarious videos of this on the internet!
And although Malamutes have less of a vocal reputation, they're still likely to be a loud dog.
Fortunately, you can reduce the likelihood of your puppy growing into a noisy adult by never rewarding their 'conversation'.
Ignore any noise from the word go. You might get away with a quieter home!
Alaskan Malamute vs Siberian Husky Training
Sled dogs in general can be more challenging to train than hunting or herding breeds.
But are there differences between the Alaskan Malamute vs Husky?
Some Malamute owners describe their pets as stubborn.
And many experts recommend that neither of these breeds should run off leash in open country.

We have all sorts of dog training guides for you here.
Alaskan Malamute vs Husky Exercise
These breeds are both hard-working, which means they need lots of exercise!
Alaskan Malamutes and Huskies are both very active.
You'll need plenty of space in a secure yard for your sled dog to run about. But also be willing to take long walks every day!
Alaskan Malamute and Siberian Husky Health
Like any dogs, the Malamute vs Husky are both be prone to health issues.
Alaskan Malamute Problems
The Alaskan Malamute is prone to the following:
chondrodysplasia (dwarfism),
polyneuropathy,
von Willebrand's disease,
thyroid dysfunction,
day blindness,
thrombopathia,
and hip and elbow dysplasia.
Siberian Husky Problems
The Siberian Husky is prone to the following:
thyroid dysfunction,
juvenile cataracts,
corneal dystrophy,
progressive retinal atrophy
and hip dysplasia.
Health Testing
The Alaskan Malamute Club currently requires members to test parent dogs for hip issues, eye issues and polyneuropathy. They also recommend tests for elbow issues, heart function and thyroid function.
The Siberian Husky Club currently requires that participating breeders test parent dogs annually for eye issues and once for hip dysplasia.
So both the Husky vs Malamute need health testing.
Difference Between Husky and Malamute Life Expectancy
Choosing between the Husky vs Malamute, you'll want a pup that will be a member of your family for a long time.
The life expectancy of an Alaskan Malamute is 10 to 14 years.
But the life expectancy of a Siberian Husky is 12 to 14 years.
Siberian Husky vs Malamute Grooming
The grooming needs of these two dogs are nearly identical.
Regular brushing and grooming is necessary to manage shed hair. As well as to keep their skin and coat healthy.
Both dogs will also benefit from regular nail trims and ear cleanings.
Shedding
Learning about the shedding differences between these breeds important. It shows how much time you'll spend cleaning fur around your home!
Both dogs have a thick, double-layer coat. This will "blow out" twice per year with the seasons.
The coat will also shed year-round. So, both breeds will need regular brushing to keep shed hair under control.
They aren't the best choice for people who don't want to spend time grooming and cleaning fur.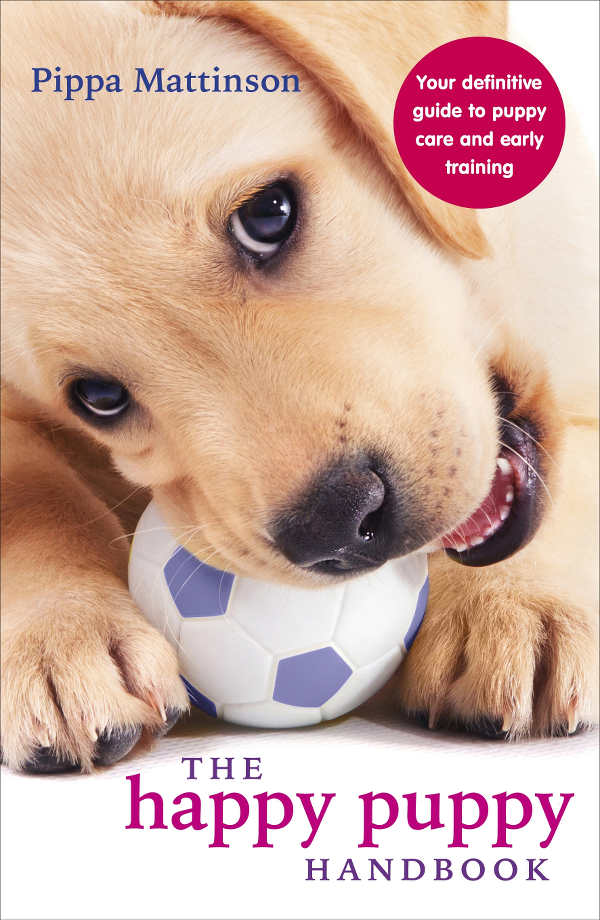 Alaskan Malamute vs Siberian Husky Puppies
You should watch out for the same things in Malamute vs Husky puppies.
Look for a bright-eyed, healthy and energetic puppy. She should be eager to play and interact.
The breeder should give proof of health testing.
Malamute vs Husky Puppy Price
Price is also a factor when choosing a puppy.
Alaskan Malamute puppies can cost $1,200 to $1,700.
But Siberian Husky puppies can cost $600 to $1,300.
Which Breed Makes A Better Pet?
Supervision and training are key for both kids and pets.
Even with proper supervision and training, however, a comparison of the Malamute dog vs Husky for a family pet suggests the Husky is likely to be a better fit.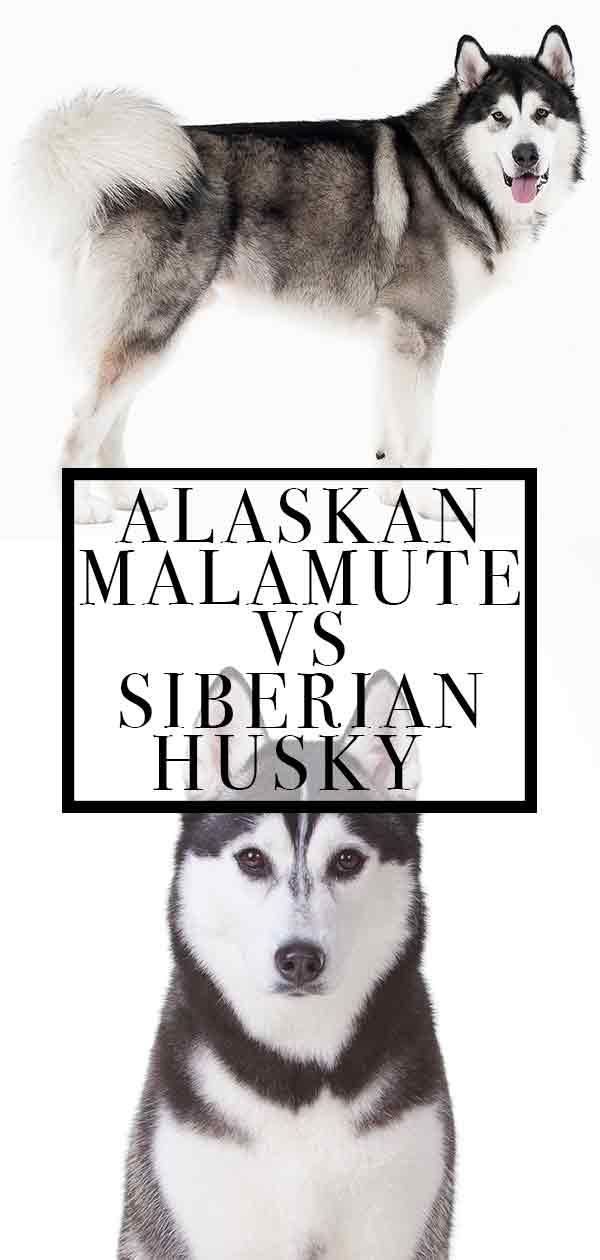 Alaskan Malamute vs Siberian Husky – Which Dog is Right for Me?
We hope you now have the information you need to choose between these breeds as your new pet!

You will always have some people say that one breed is intrinsically better than another. But this is rarely the case.
Some breeds just suit one owner better than another. For instance, if you live in a small space, the Alaskan Malamute Husky difference in size might be more important!
Do you have an Alaskan Malamute or a Siberian Husky? Tell us about your reasons for choosing them in the comments!
References and Further Reading
Culaw, S., "Grooming and Care," Alaskan Malamute Club of America, 2018.
Hamilton, H., "Siberian Husky: Official Breed Health Statement," American Kennel Club, 2015.
Anderson, S.T., "Alaskan Malamute: Official Breed Health Statement," American Kennel Club, 2018.
Ross, D., "The Personality of the Alaskan Malamute," Alaskan Malamute Club of Victoria, 2018.
Soares, A., "Behavior Tendencies of Different Dog Breeds," Montgomery County Humane Society, 2018.