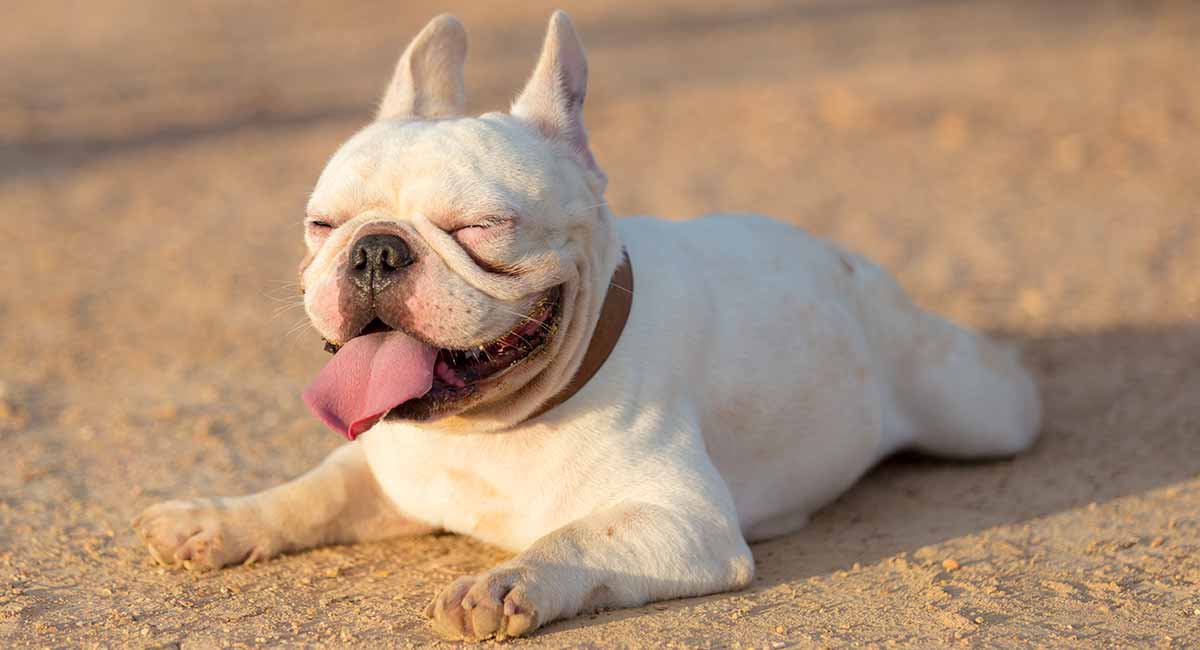 A white French Bulldog is still a purebred Frenchie. This dog just has a white or predominantly white coat instead of the more common brindle, cream, fawn or other coat color pattern. There are a number of genetic factors that can cause this pale coat. These include: albinism, leucism, brindle, and merle genes. But, this unique coat can come with some serious health issues. Such as deafness, eye issues, and skin problems, among others.
Contents
The Genetics
The genes that carry color instructions have specific locations (loci) on the canine chromosomes. Different dog breeds have different color genes. Which is why some colors only happen in some dog breeds.
There are just two basic pigments in the canine genome. How these two pigments interact determines what color your dog's coat looks like.
The first pigment is eumelanin. Which is considered the primary or "default" color pigment. It is black, but can be diluted or modified when other genes act on it.
The second pigment is phaeomelanin. Which expresses in a range of reds from very light cream all the way to deep red. As you might imagine, color genetics can get quite a bit more complicated from here.
White vs Albino French Bulldogs
There are a number of genetic factors that can contribute to the appearance of a white coat in a French Bulldog. The albino gene is the least common, and most white French Bulldogs don't carry this trait.
The C series of genes, sometimes called the albino locus, can restrict pigment expression to certain areas. It can also lighten existing pigment. This can result in an all-white French Bulldog with the characteristic pinkish skin, nose and eyes. However, to date, canine researchers have only located the gene responsible for albinism in the Doberman dog breed.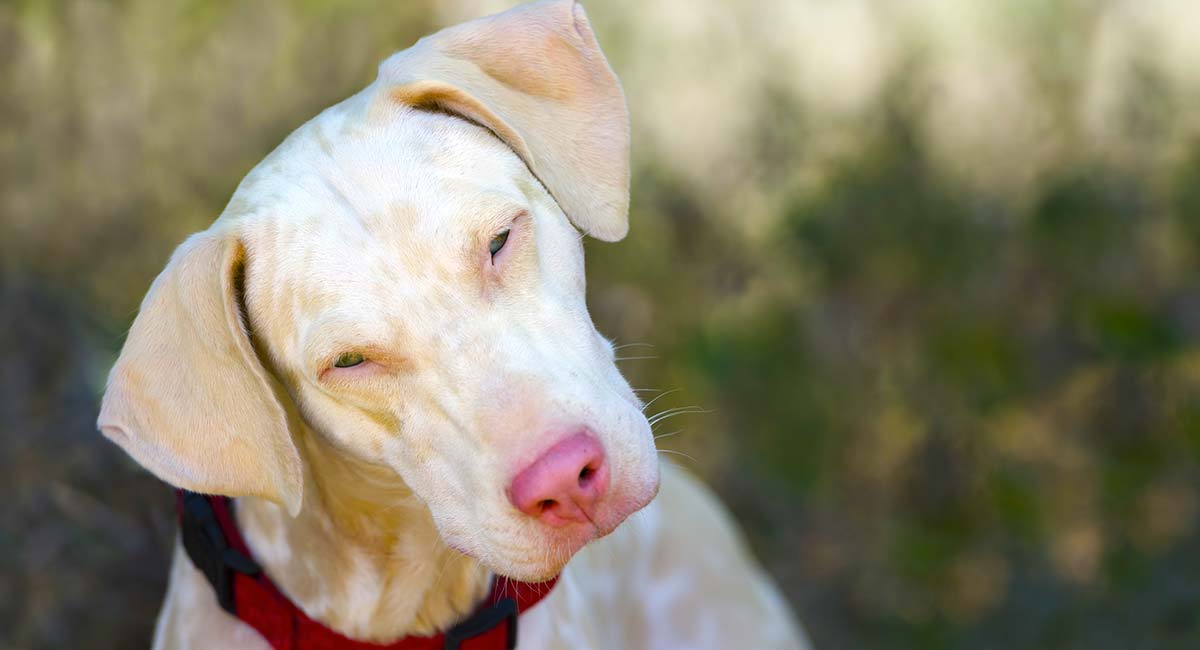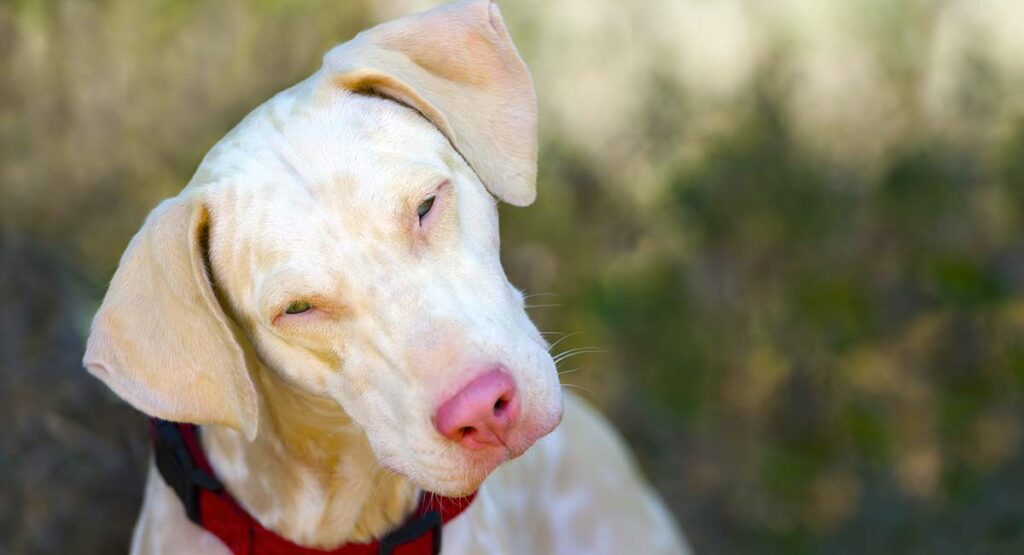 A pure (true) albino French Bulldog would lack pigment in all areas where pigment is normally present. The eyes would look pinkish, blue or amber, depending on how light passes through the iris. The skin would also appear pinkish because the blood vessels show through.
A partial albino French Bulldog lacks pigment in only parts of the body. He may display a white (single color) or other color in the non-affected areas.
Leucistic French Bulldogs
A leucistic French Bulldog has a light-colored coat but normal eye color. Leucism looks a lot like albinism. But it is caused by different genes that prevent the pigment cells from doing their job properly.
Partial leucism is actually the genetic mechanism behind common canine markings such as the popular piebald color pattern.
White (Self) French Bulldog
A white French Bulldog has an all-white coat. Or a predominantly white coat with a small percentage of markings of other colors. If those markings are sufficiently light or dilute, this gives the appearance of an all-white, single color coat.
Piebald French Bulldog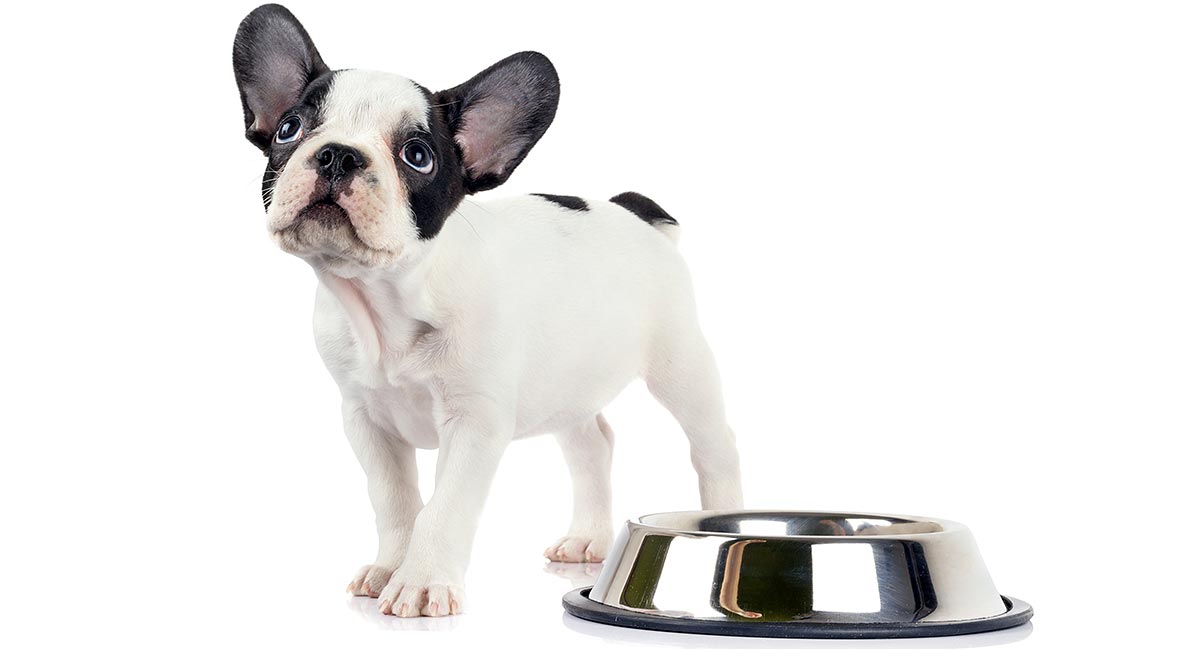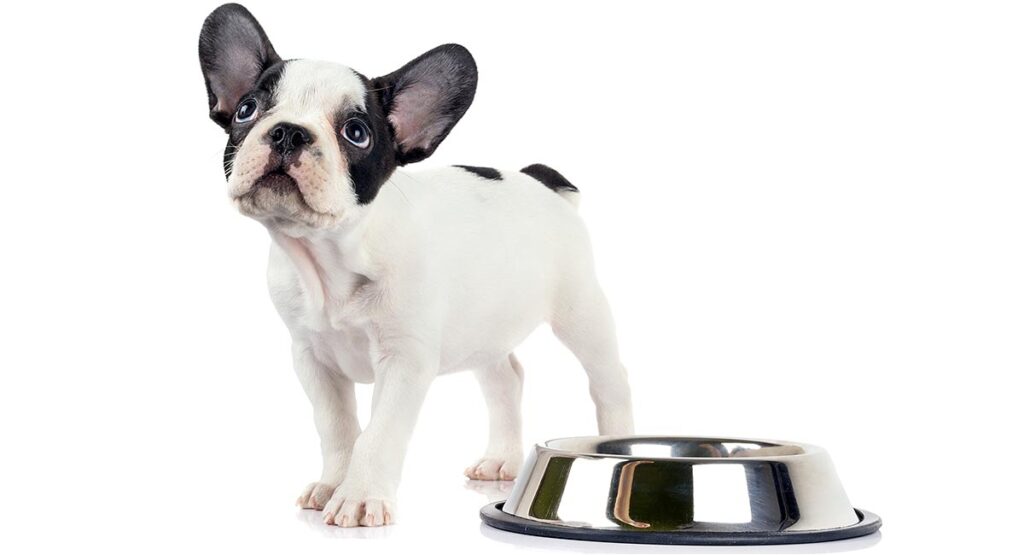 "Brindle" or "pied" (piebald) French Bulldogs have predominantly white coats with other markings. Here are some examples from the official French Bulldog Breed Standard of white-coated Frenchies with coat color patterns present:
White and brindle
Cream (ranges from light ivory-white to a more yellow cream)
Fawn (ranges from a very light yellow to a more reddish gold)
White and fawn
Cream and white
Fawn, brindle and white
Double Merle Genes
There is one more way that a white French Bulldog has a predominantly white coat. One way is for a French Bulldog to inherit the merle color pattern gene from one or both parents.
A French Bulldog with one merle gene is called a single merle. This happens when only one parent contributes the merle gene. A double merle occurs when two French Bulldogs carrying the gene for the merle coat color pattern are bred together.
This will produce a dog known as a double merle or false white, that can be predominantly white-coated. However, this type of breeding will never be done by reputable breeders. It can create very serious lifelong health issues for the puppies. These include organs and nervous system development, as well as vision and hearing.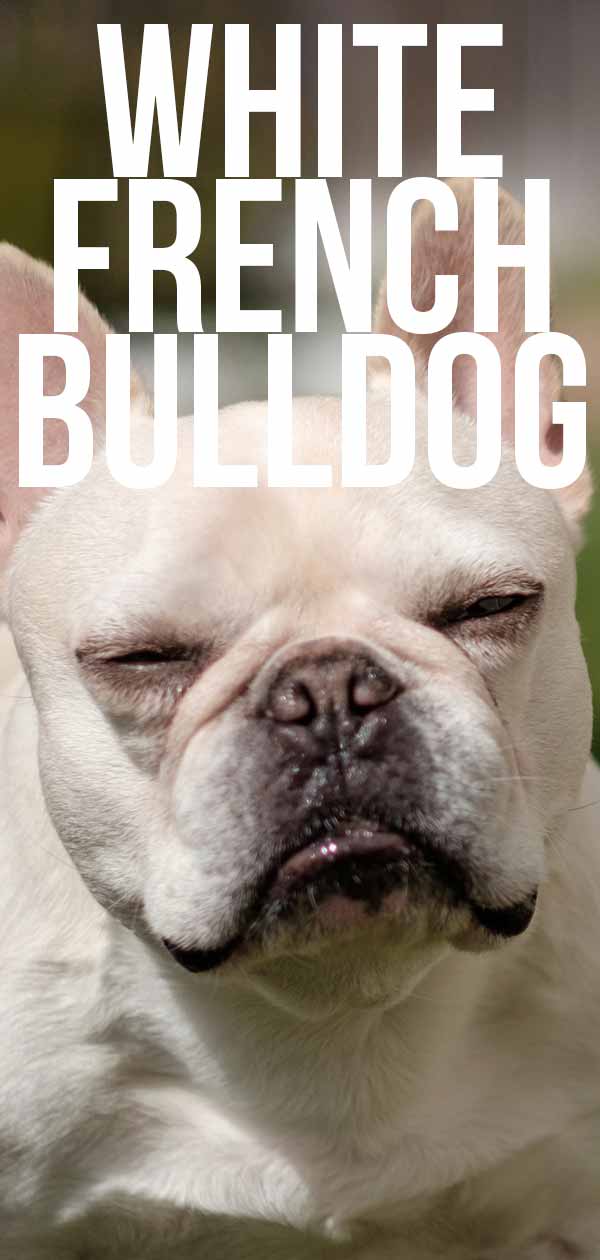 Dilution of Coat Color
The "D" series of genes, also called the Dilute locus, can dilute or lighten any other coat color. In fawn or cream coat colors, this can create the appearance of a pure white coat.
Piebald Spotting with White Coat
A coat that is at least 80 percent white but includes 20 percent other colors on the body is called a piebald spotting. The "S" series or "spotting" locus is recessive. This means each parent dog must contribute these genes in order for them to take effect.
The spotting color (areas of pigment) ranges from breed standard-accepted colors (ex. fawn or cream) to non-accepted colors like black.
Spotting typically occurs on the face, along the back, rump or around the shoulders. For very light colors like fawn or cream at the light end of each spectrum, the coat may appear to be a single (solid or self) color.
Extreme White Coats (Brindle and/or Pied)
A coat that is at least 90 percent white is called "extreme white." The only patches of color, if any are visible, are located on the head or around the rump area.
Here again, it is the "S" series of genes responsible for this coat color pattern. In the extreme white fawn or cream, the visual appearance is often of a single (self or solid) white coat. These Frenchies may lack pigment in the eyes, nose and mouth.
White French Bulldog Health
Canine researchers discovered the white coat color is associated with certain health issues. This is typically true across dog breeds because the responsible genes are linked to pigment rather than breed.
Deafness
Dogs that have all-white or predominantly white coats can inherit hearing loss or deafness in one or both ears. This is called pigment-associated hereditary deafness. It could be cause by a lack of pigment in the inner ear canal. This can occur with the following dogs:
White albino dogs
White solid (self) dogs
Dogs with the piebald or merle gene that are predominantly white-coated
One limited study predicted that white French bulldog puppies have a 25 percent chance of bilateral deafness (hearing impaired in both ears). They also have a 37.5 percent chance of being unilaterally deaf (hearing impaired in one ear only).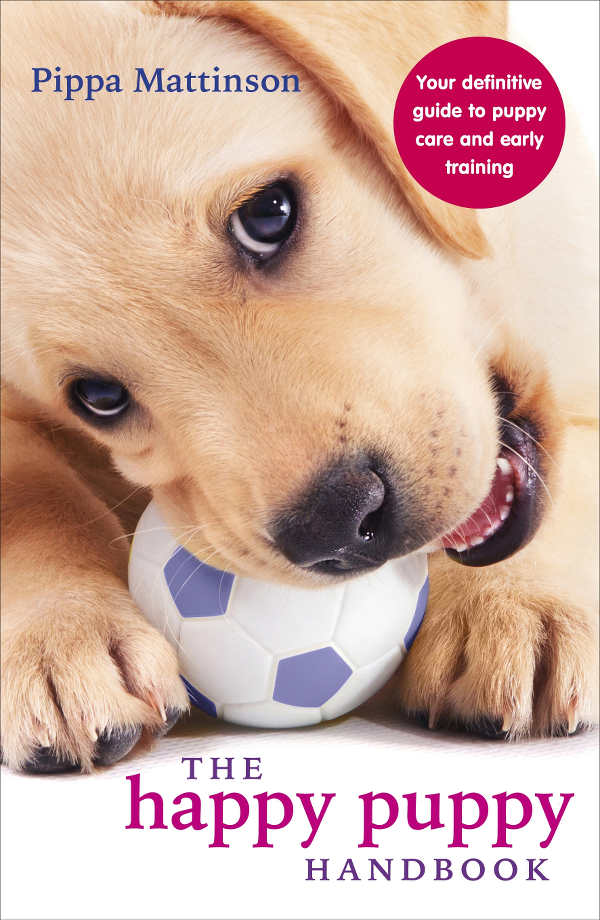 Skin Sensitivity
Just as light-skinned people tend to be more apt to get sunburned, the same holds true for very light-skinned dogs. With increased incidences of sunburn comes a higher risk for eventual skin cancer. Including skin lesions and tumors.
Eye Defects and Blindness
Eye defects and disorders can occur with some white French Bulldog coat types. This includes:
the possibility for missing eyes
smaller-than-normal eyes
malformed eyes
non-functioning eyes.
These defects can occur individually or together in one or both eyes. The merle and double merle gene expressions present the most risk for eye health issues.
Developmental Issues
The merle and double merle gene expressions can influence the development of major organs and the nervous system. In some cases, French Bulldog puppies are born with severely life-limiting health issues that they do not survive.
White French Bulldog Grooming
The white French Bulldog, like all Frenchies, has a very short, flat, neat-looking, single-layer coat. However, this doesn't mean your white Frenchie won't shed—and sometimes profusely. French Bulldogs shed somewhat all year long but most noticeably during the changing of the seasons.
When brushing and grooming your white French Bulldog, know that sometimes white-coated dogs have more sensitive skin. Choose a brush with rounded tips and gentle bristles. This grooming tool guards against causing any irritation or abrasion to your dog's skin during grooming sessions.