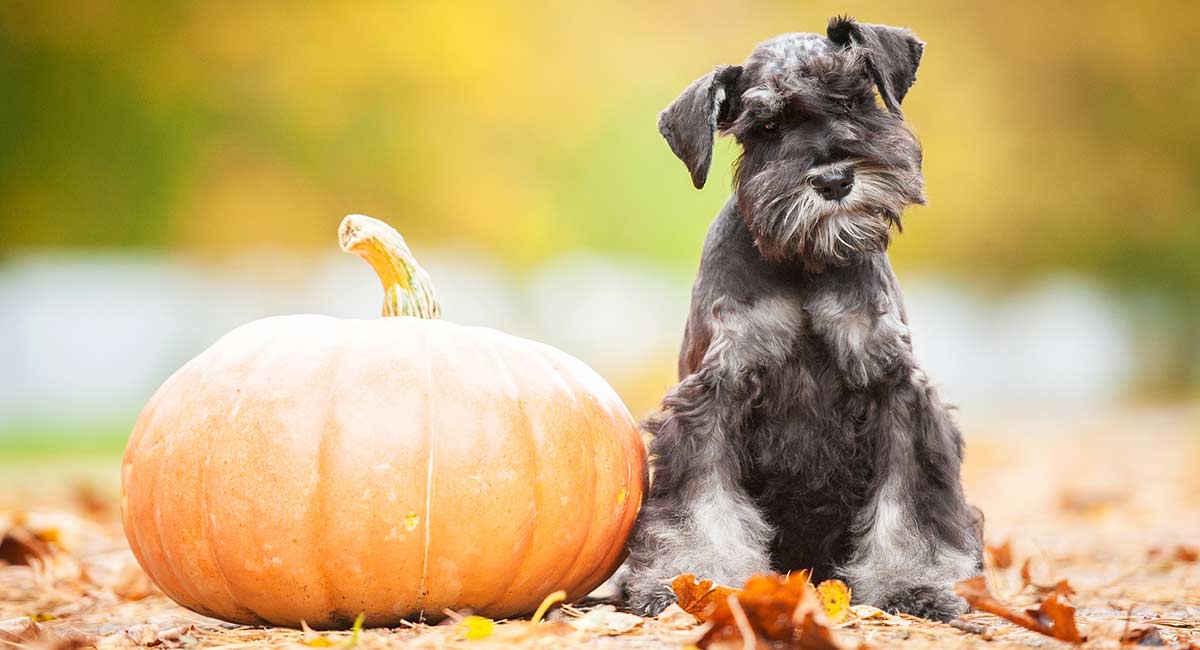 Choosing great Schnauzer names is very important. The breed has a bubbly personality and is full of fun, but every dog has a different character. That's why it's important that your puppy's name suits him or her. There will always be an element of guesswork involved in naming any puppy, as you won't know what sort of "person" he will grow into. However, you will know what color your pup will be and what size he will grow to be, depending on whether you have a Miniature Schnauzer or a Giant Schnauzer.
Contents
As well as reflecting your dog's looks and personality, your dog's name also needs to fulfil a purpose. A recall purpose! Always choose a short name that's easy for your pup to learn and remember. Don't choose long, complex names, unless you can think of a cool nickname that your Schnauzer will be able to learn easily.
Finding Inspiration
You can draw inspiration for Schnauzer names from many sources, some of which can be quite unexpected. For example, you might have a family member, friend, or colleague who bears more than a passing resemblance to your pup!
Be careful though if you do choose someone's name for your pup, in case you cause offense. It might be a good idea to ask them before you name your Schnauzer after them!
A really good source of inspiration for dog names can be found in lists of baby names. These books typically publish the meaning of each name too, so you can choose a name with a special relevance to you.
If you find two names that you like and you can't decide between them, why not combine both? You could create a unique Schnauzer name for your pet and be one hundred percent sure you won't find another pup with the same name!
Female Schnauzer names
Female Schnauzers can be every bit as cheeky and cute as their male counterparts. We think these female dog names would look great on a lady Schnauzer! You can find more names for female dogs at this link. The Schnauzer breed originates from Germany. With that in mind, you might want to choose a German name for your female Schnauzer, like these:
Trudy
Selda
Karla
Iselda
Ilsa
Elga
Elda
Edda
Duna
Delia
Alcira
Alarice
Aixa
Adelaide
Ada
Boy Schnauzer names
There are plenty of male dog names that look good on a Schnauzer. For more male dog names, check out our suggestions here. If you have a male Schnauzer puppy, you might like to choose a German name for him that reflects his heritage. Schnauzer names for male dogs often sound very strong and macho and suit Giant Schnauzer boys perfectly!
Varick
Valdus
Ulton
Ulric
Obert
Nando
Milo
Miles
Kaiser
Jupp
Josef
Jarvis
Jaegar
Ivo
Axel
Asterix
Arvin
Ansel
Salt and Pepper Schnauzers
A Schnauzer's coat is sometimes described as salt and pepper colored, and some pups have darker, gray coats. Here's a selection of names that would suit a coat of gray or salt and pepper color:
Ash
Brand
Cinder
Coal
Coke
Ember
Foggy
Fuzzy
Gandalf
Gris
Haze
Misty
Names inspired by cartoon characters
Cartoons are something everyone remembers from their childhood and the names of your favorite cartoon characters can make good names for Schnauzers.
Pokee – Short for Pokemon
Astro –The Jetsons' family dog
Goofy – Best buddy of Mickey Mouse and Donald Duck
Scooby – First name of super-cool adventurous mutt, Scooby Doo
Pluto – Canine companion of Mickey Mouse
Dino – "The Flintstones" family
Spyke –Tough guy with self-repairing powers, seen in the X-men series
Inspired by Historical Figures
There are plenty of historical figures that had great names that would suit a Miniature Schnauzer.
Here are some miniature Schnauzer dog names taken from historical figures:
Golda
Giselle
Fergie
Eve
Eleanor
Duchess
Dolly
Delilah
Cleopatra
Cleo
Clementine
Carmen
Brunhilda
Anastasia
Alexandra
Plato
Ming
Miles
Midas
Julius
Chekhov
Chaucer
Casanova
Capone
Avigdor
Augustus
Attila
Abel
Drinks Based Ideas
These Schnauzer names are inspired by some of our favorite adult beverages. Always name your pet responsibly!
Champers
Chianti
Cider
Daiquiri
Ginny
Rémy
Sambuca
Shandy
Taboo
Names From Movies
If you think that your Schnauzer has movie star looks (or Hollywood teeth), you could name him or her after a famous movie character. Perhaps you have a favorite film? If you do, why not choose your Schnauzer's name in honor of your favorite character?
Here are a few popular movie star names that we reckon would suit a Schnauzer.
Winnie (Winnie the Pooh)
Uggie (The Artist)
Trinity (The Matrix)
Toto (Wizard of Oz)
Stitch (Lilo & Stitch)
Snake (Escape from NY, Escape from LA)
Simba (Lion King)
Robin
Neo (The Matrix)
Napoleon (Napoleon Dynamite)
Morpheus (The Matrix)
Milo (The Mask)
Marv (Sin City)
Kip (Napoleon Dynamite)
Kane (Citizen Kane)
Juno
Jack (The Shining)
Clarice (Silence of the Lambs)
Chance (Homeward Bound)
Brick (Anchorman: The Legend of Ron Burgundy)
Boba Fett (Star Wars)
Baxter (Anchorman)
Batman
Atticus (To Kill a Mockingbird)
Ambrosius (Labyrinth)
Cute Schnauzer Names
All Schnauzer dogs are cute, even the giant version of the breed. And cute dogs deserve cute names, right? Our selection of cute dog names is sweet, sparkly, and guaranteed to tug on your heartstrings, just like your new Schnauzer puppy!
Queenie
Pumpkin
Poppy
Peaches
Pansy
Pancakes
Rosie
Nessie
Nala
Molly
Marley
Maggie
Lulu
Lucy
Lottie
Lily / Lillie
Kiki
Katie
Winston
Waffles
Tucker
Toby
Sprout
Sawyer
River
Riley
Quinn
Pluto
Pip
Pepe
Otto
Otis
Oscar
Oliver
Mowgli
Moose
Finn
Eddie
Dash
Cooper
Colby
Buddy
Boots
Bolt
Biscuit
Beau
Archie
Amos