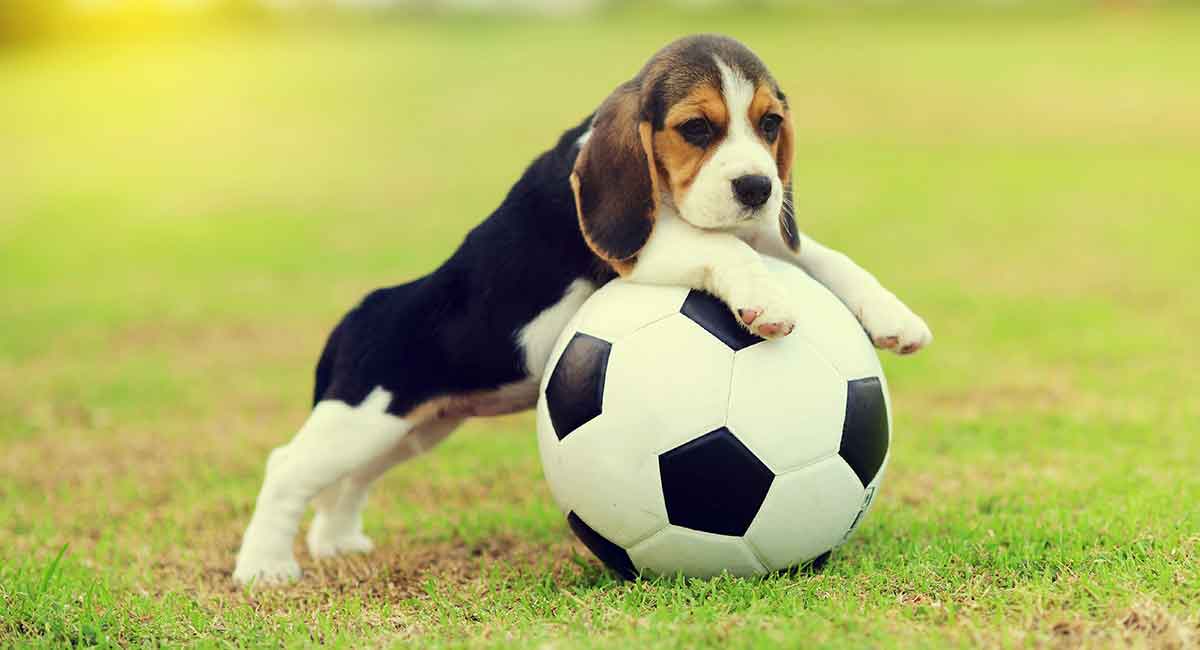 Pocket Beagles are a small purebred Beagle. They are lively, stubborn scent hounds that suit active homes. Pocket Beagles are bred in several different ways, and some make better family pets than others. They are 7-12 inches tall and weigh up to 15lbs. Today we'll look at how Pocket Beagles are bred and where to find a healthy small Beagle puppy.
Contents
These days, many people are fascinated by the Mini Beagle. It's no surprise. The Beagle is one of the most popular dog breeds in the United States. Miniature dogs are also growing in popularity. Today, we're going to take a closer look at this little dog breed. We'll cover how Pocket Beagles origins and how breeders got them so darn small. This will include a discussion on the impact that Pocket Beagles' size can have on their health. So read on for all the Micro Beagle info you need (plus some adorable pictures of Pocket Beagles)!
What Is a Pocket Beagle Dog?
Starting in the Middle Ages, miniature hounds were all referred to as Beagles. They were very popular among the British aristocracy.
The first known to be called Pocket Beagles measured between 8 and 9 inches at the shoulder and were owned by Queen Elizabeth I herself.
These Pocket Beagles were used as hunting dogs. They would ride along in saddlebags (or pockets, hence the name). Larger hounds would flush out prey before the Beagles were released to chase the quarry through the underbrush.
Elizabeth also referred to these dogs as her Singing Beagles, due to their delicate and high pitched baying. She entertained her guests by placing her Pocket Beagles on the dinner table and allowing them to romp among the dishes.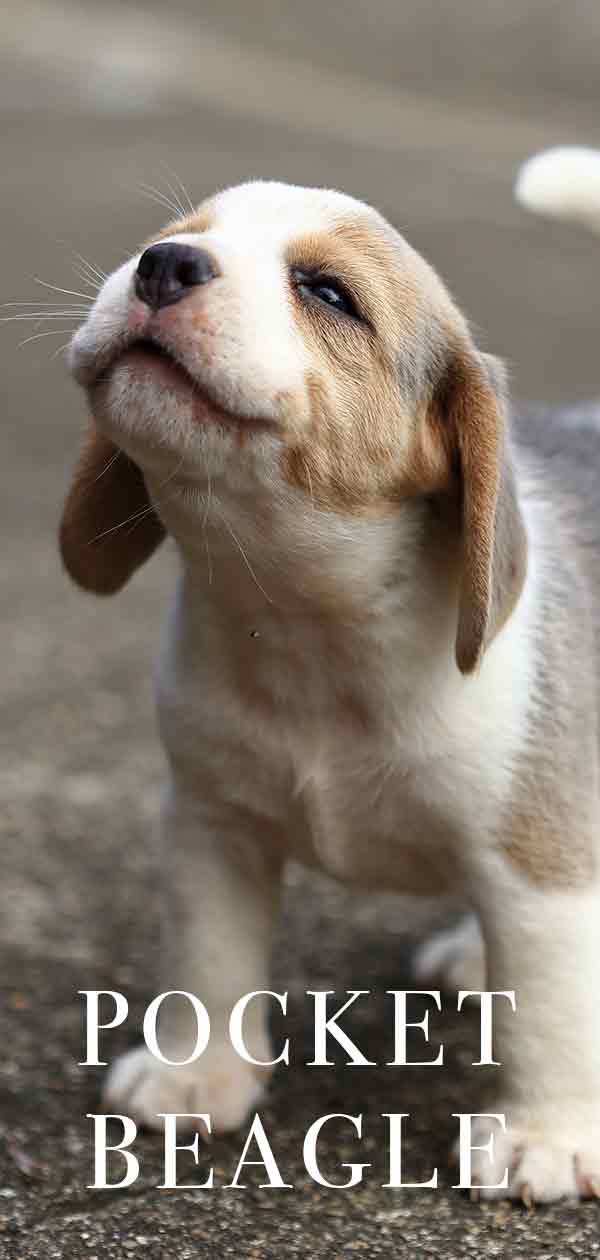 This is a charming history, but these micro Beagles are not the same as today's Pocket Beagles, despite what some less-than-trustworthy breeders would lead you to believe.
This genetic line has long since been extinct and the breed hasn't been recognized by any kennel club since 1901.
Modern Pocket Beagles are simply an attempted recreation of the original Pocket Beagle. They are not recognized as a unique breed or variety of Beagle.
Pocket Beagle vs Beagle
So we've talked about the Pocket Beagle's background and small size, but how different is the Pocket Beagle compared to the Beagle?
To really discuss Beagle vs Pocket Beagle, let's briefly cover the traits of the full sized Beagle before we move on to a more detailed discussion of the micro Beagle.
On average, the Beagle is between 13 and 16 inches in height and 20 to 30 pounds in weight.
The Beagle has a moderately domed skull with large eyes, moderately low hanging ears, and a square, medium length muzzle.
It has a dense, medium length double coat and sheds year round, but more heavily in the spring as it loses its winter coat.
Beagles have a friendly, inquisitive, and cheerful disposition.
Pocket Beagle Size
Because it's not a recognized breed, there's no defined size range for Pocket Beagles. Breeders of Pocket Beagles generally estimate adult Pocket Beagle size as between 7 and 12 inches in height.
Pocket Beagle weight is likely to be between 7 and 15 pounds when the Pocket Beagle is full grown.
The Pocket Beagle's size, compared to the regular Beagle, is much smaller, around half the height and weight of the standard Beagle.
But how exactly do breeders get such small Beagles in the first place?
How Miniaturization Is Achieved
There are three methods breeders use to develop a miniature version of a dog breed. We'll take a few minutes to discuss each of them briefly.
Pocket Beagle Mixes
The first method is to breed the Beagle with a smaller breed with a similar structure. These is probably the best way, because it increases genetic diversity.
Mixed breed dogs in general tend to be healthier than purebreds, but it also means that the puppies can possibly inherit a larger variety of health conditions, though each at lower rates than if they were purebred.
This is especially a concern when breeders don't disclose that their miniaturized versions are mixed breeds.
In these cases, owners don't know what possible genetic health problems to keep an eye out for. Additionally, the lack of breed standard makes it more difficult to find reputable breeders to crossbreed with. Because of this, breeders often interbreed their dogs repeatedly.
Dwarf Pocket Beagles
The second way that breeders may breed a miniature dog is to intentionally introduce the gene for dwarfism into their breeding line and selectively breed to continue that gene.
Because dwarfism is particularly common in Beagles, this may be the most common method of breeding Pocket Beagles.
Dwarfism does not inherently mean that a dog is unhealthy, but it is often the case, especially for dogs with more severe dwarfism symptoms.
Dogs with dwarfism can suffer from bowed limbs, joint problems and spinal abnormalities amongst other problems.
These can lead to a lifetime of distress and discomfort for your dog, and some hefty vets bills for you.
Breeding Pocket Beagles from Runts
Finally, breeders may select the smallest dogs, or runts, and breed them together.
As with dwarfism, small dogs aren't necessarily less healthy than their larger counterparts.
However, there is a higher correlation between being the runt and suffering chronic health conditions, than for their healthy-sized counterparts.
So as you can see, all three of these methods can carry a great deal of risk for the health of the Pocket Beagle puppies bred using them.
This unfortunately means that miniature dogs are often unhealthy.
Breeders may also use a combination of these methods, such as breeding a Beagle that carries the dwarf gene with a Beagle and Miniature Pinscher mix. This further compounds the risks.
But now that we know how Pocket Beagles come to be, let's move on to some of their traits.
Pocket Beagle Temperament
In general, the Pocket Beagle has much the same personality as the Beagle.
They're sweet, social, playful, and happy-go-lucky.
Beagles were bred to be pack dogs, so they get along well with dogs and cats and enjoy spending time with their family and hate being alone.
They can be shy at first, but are easily won over, especially with treats.
However, because they're so food oriented, Pocket Beagles may nip at small children who wander too close to their food bowl.
Since children may also be too rough for such a small dog, Pocket Beagles are generally not recommended for children.
Beagles are one of the breeds that most enjoys digging. A bored or lonely Beagle can be very destructive, so careful training and lots of affection is needed to avoid bad habits.
Some breeders report that the smaller the Beagle, the more hyperactive they are.
So Pocket Beagles may be even more rambunctious than standard Beagles.
Do Pocket Beagles Shed?
People often also have questions about the Pocket Beagle's coat.
Like the Beagle, the micro Beagle typically has a short, hard, straight, and dense coat with a soft undercoat that develops in the colder months.
However, the coat may differ if the Pocket Beagle is the result of a mix with another dog.
For example, most Beagles are constant shedders with a heavier shedding season in the spring.
If a Pocket Beagle is a crossbred descendant of a Poodle, the Pocket Beagle may not shed as much.
Structural Differences Between Beagles and Pocket Beagles
As a general rule, Pocket Beagles seem to have a narrower, more pointed muzzle that standard Beagles. Apart from that, however, differences in body type depend on how the micro Beagle puppy was bred.
If the Pocket Beagle is a mix, it may also have traits from any other breeds present in its ancestry.
If it's a result of breeding Beagles with dwarfism, the Pocket Beagle is likely to have features that result from dwarfism, such as:
Short legs (present in virtually all dogs with dwarfism)
A long body in proportion to the legs
Bowed legs, especially in the front
Enlarged joints
Out-turned feet, especially in the front
A large or wide head
An underbite
A protruding tongue
Bulging eyes
A distended abdomen
Pocket Beagle Health
In addition to the health problems that commonly affect Beagles, like hip dysplasia, epilepsy, and degenerative myelopathy, Pocket Beagles are also at risk for certain other health conditions.
Mixed breed Pocket Beagles are at risk for inherited health problems from any other breeds that are in their ancestry.
Dwarfism carries its own set of health problems, including:
Respiratory problems due to a depressed nasal bridge
Problems breathing
Loud breathing
Snoring
Excessive panting
Spinal deviations and pain
Conception and whelping issues
Again, micro Beagles that are bred using a mix of methods can carry the health risks from each of those methods, compounding the problems.
On top of these problems from breeding, Pocket Beagles are very small dogs and may also face health problems common among small dogs, such as:
Patellar luxation
Intervertebral disk disease
Pancreatitis
Mitral valve disease
Whelping issues
Homeostasis imbalance
Pocket Beagle Puppies and Breeders
Unfortunately, because of the health risks of breeding miniaturized dogs, I can't recommend the Pocket Beagle. While Pocket Beagles can be ethically bred in a way that creates healthy Pocket Beagle puppies, doing so takes time.
Modern Pocket Beagle breeding has not been going on long enough to produce healthy pups. If you really want a Beagle, stick with the 13 inch variety of the full sized version.
Get it from a responsible, conscientious breeder to help ensure that you're getting a healthy dog and only supporting healthy breeding practices, or find a Beagle in a shelter. Even full sized Beagles are already small dogs, but if you still want something like a Beagle, but smaller, I recommend a Beagle mix such as one of these:
Cheagle (Chihuahua and Beagle mix)
Meagle (Miniature Pinscher and Beagle mix)
If you're concerned about shedding, you could also try to find a Miniature Poogle (Beagle and Miniature Poodle mix). However, not all Miniature Poogles inherit the lack of shedding from the Poodle parent.
Do You Have a Tiny Beagle?
Do you know how they got so small?
Tell us about your experience in the comments.
References & Further Reading