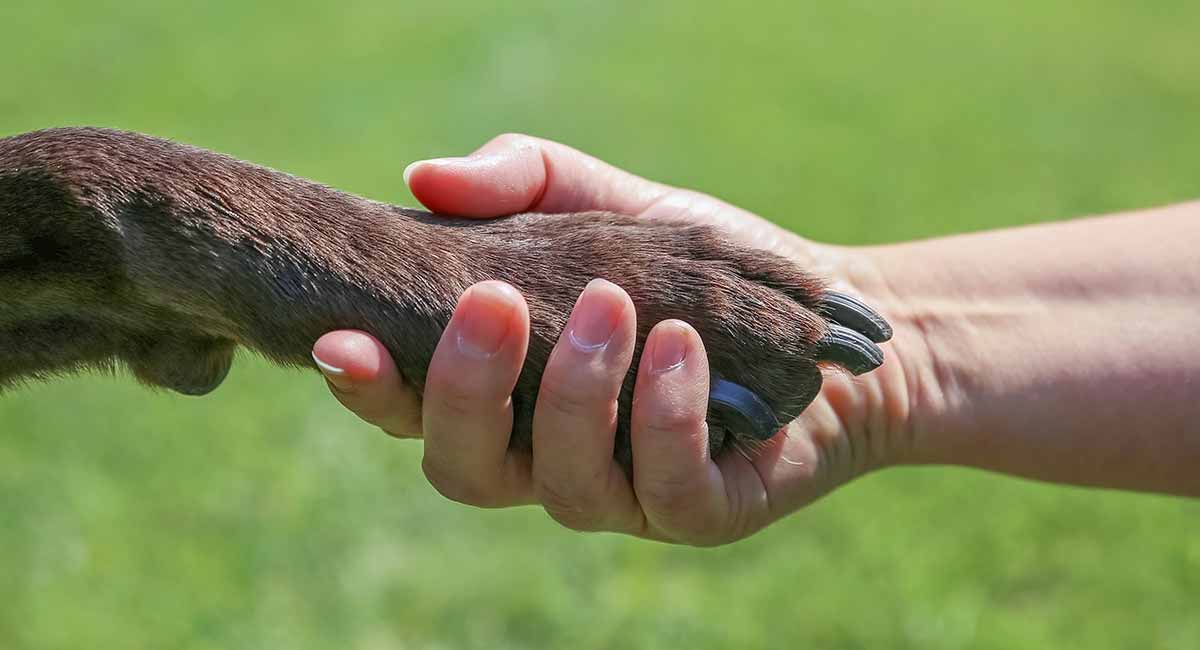 An emotional support dog has a letter from a health care professional 'prescribing' them as part of their owner's therapy for a mental health disorder.
Also known as ESA dogs, they have some legal rights to live and travel with their owner that go beyond the privileges of normal pets.
But sadly there are a lot of dishonest companies selling counterfeit emotional support dog credentials.
This causes distress and disappointment for vulnerable dog owners, who discover they haven't bought the rights they thought they had.
This article is all about whether you qualify for an emotional support dog.
And how to make sure your dog is correctly endorsed by a healthcare professional.
Emotional Support Dogs
Many people are confused about the distinction between an emotional support animal, and a service animal.
They might have received conflicting information about where an emotional support dog will be allowed to accompany them.
They might also struggle to navigate the rules and requirements for securing emotional support animal status for their dog.
Especially at a time when, by definition, they are likely to be feeling very vulnerable.
If this is you, or someone you know, these links will help you find the answers in this article:
Or, if you're researching how to get an emotional support dog for the first time, start here to find out everything!
What Is An Emotional Support Dog?
Numerous studies demonstrate that spending time with an animal we're bonded to has a positive effect on our health.
In fact lots of people say their pets are like therapy!
But the role of an emotional support animal (ESA) goes further than that.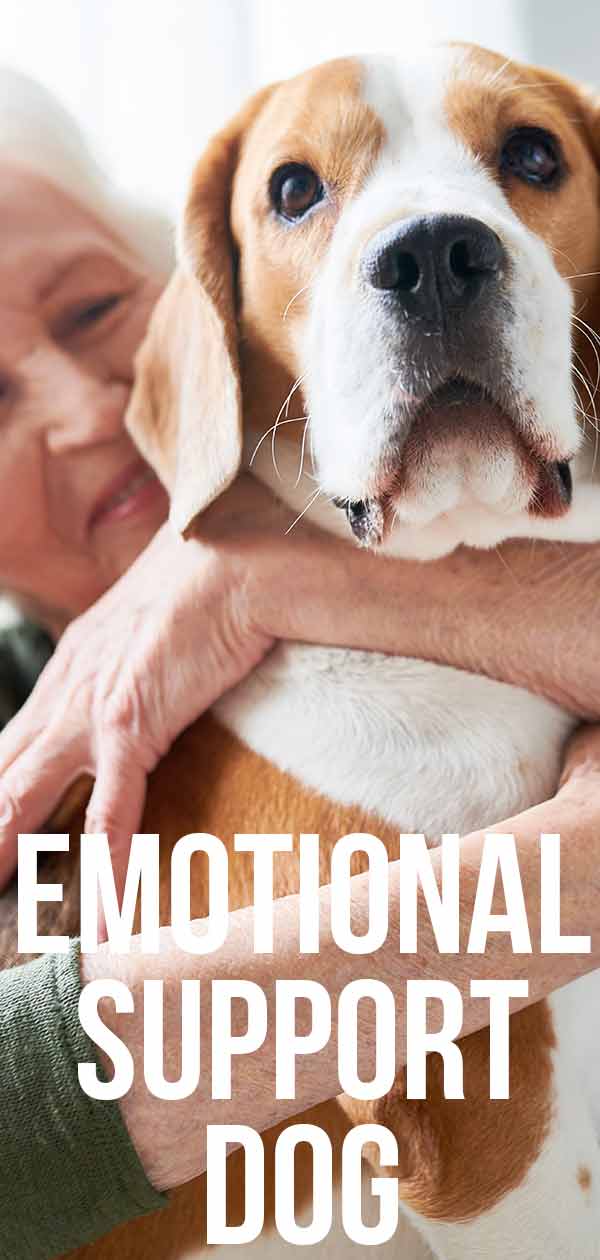 An ESA literally forms part of the therapy prescribed by a mental health practitioner, to relieve the symptoms of a mental disorder.
Specifically, one of the disorders recognized in the Diagnostic and Statistical Manual of Mental Disorders.
Examples include:
depression
anxiety
post traumatic stress disorder (PTSD)
and autistic spectrum disorder (ASD).
How do they work?
The impact of an emotional support dog runs deeper than just a general feeling of improved well being due to having a pet.
When a doctor confirms that a dog functions as an emotional support animal, they're saying that the dog's presence affects their owner in a way that specifically reduces symptoms of their mental illness.
For example:
Their blood pressure goes down, or their breathing or pulse becomes more steady.
They gain confidence to go outside and interact with other people.
Emotional Support Dog Vs Service Dog
It's clear that emotional support dogs can radically change their owners' lives.
And perhaps it's exactly because their influence is so significant, that they are frequently confused with another very special kind of dog: service dogs.
The terms are sometimes used interchangeably in everyday conversation, but legally they are two different things.
What's the difference?
Service dogs are trained to perform specific tasks for people with all kinds of mental and physical disabilities.
Emotional support dogs 'work' simply by being present.
Under the Americans With Disabilities Act, service dogs may enter all public places, including restaurants, bars, stores, salons, museums, etc.
A lot of misunderstandings about where emotional support dogs can and can't go stem from confusion between emotional support dogs and service dogs.
Emotional support dogs can't accompany their owner into all public places like a service dog.
But they do have two special privileges to join their owner in places pets aren't usually allowed…
Where Can You Take An Emotional Support Dog?
ESA dogs' status gives their owner the legal right to keep their dog with them in two places where they wouldn't usually be allowed.
Firstly, the Fair Housing Act entitles emotional support pets to live in housing where pets are usually prohibited.
For example student accommodation, or a "no pets" rental.
Secondly, the Air Carrier Access Act entitles emotional support animals to travel for free on flights into, or within, the USA.
Flying with your emotional support dog
Here are some of the key facts you need to know about flying with an emotional support dog:
Airlines can require 48 hours notice of emotional support animals due to travel on a flight.
They can also insist on seeing the letter from a mental health care professional, prescribing your dog as an emotional support animal.
Emotional support dogs can't be turned away from flights because they make other passengers uncomfortable.
But they can be turned away or asked to leave the plane before take off if they behave in a disruptive way.
For flights of 8 hours or more, airlines can ask for evidence that your ESA dog won't need to toilet in that time, or that that they can do so in a safe and sanitary way.
Be sure to check all the Department of Transportation's rules before you travel.
There are also some details in which airlines have discretion, so check their own requirements ahead of time as well.
Taking an ESA dog to other places
Emotional support dogs aren't automatically allowed into other public areas that usually prohibit pets.
However, as a gesture of goodwill, some businesses and organisations do allow them.
When you go out, always call ahead first to find out if your emotional support dog will be warmly received!
How To Get An Emotional Support Dog
There are typically two routes to getting an emotional support dog.
Either your doctor may suggest a dog as part of your therapy for a mental illness.
Or you might approach your doctor to have an existing pet granted ESA status.
Choosing an emotional support dog
If you don't already have an emotional support dog, but your doctor has suggested one, they should also be able to recommend where you might find a suitable dog locally.
There are rescue shelters that specialize in assessing dogs' temperament and matching them with adopters who would benefit from an ESA.
Hope and Recovery Pets in Ohio is one such example.
Alternatively, you could look for a suitable dog in a shelter, a breed-specific rescue, or available as a puppy.
Bear in mind that puppies are a lot of hard work though, which isn't always compatible with acting as a therapeutic aid!
Emotional Support Dog Breeds
There are no federal regulations about what makes a dog suitable to be an emotional support animal.
So in theory any dog breed can be an emotional support dog.
And since the curative effect of emotional support dogs depends largely on the chemistry they have with their owner.
Lots of different dogs breeds are indeed ESAs.
However, calm, easily trainable dogs breeds with people-focused temperaments are often thought of as the best suited to emotional support work.
For example
Getting an emotional support dog letter
Want a new or existing pet to be approved as an emotional support dog?
You need a letter from a mental health care professional prescribing them to you as part of your treatment for a mental health disorder.
If you're not already receiving health care for a diagnosed mental illness, you can kick start this process by approaching any of:
your primary care physician
a psychiatrist
a psychologist
or your social worker, if you have one.
Bear in mind that if you're already under the care of one mental healthcare professional, they might refer you to a colleague to prescribe your dog as part of treatment.
This is to do with the requirements of their professional code of conduct.
Emotional support dog letter – contents
If your doctor agrees that your dog has therapeutic value, they will provide a letter which
Confirms that you have a mental health diagnosis.
Explains how your dog alleviates that condition.
Describes your relationship with the dog, possibly including specific details they have observed during your consultations with them.
Explains any negative effects of you not having your dog with you at home, or on a flight.
Includes details of any specific training your dog has received in order to help you (optional).
It's important to appreciate that identifying your dog as an emotional support dog isn't harmless loophole, so that they can live with you or fly with you.
This letter forms part of a diagnosis of a mental health disability, and your dog is being prescribed as part of your therapy.
It becomes part of your medical record, and must be disclosed when applying for life insurance and some jobs.
And when you show the letter to your landlord or airline, you're not just telling them you have permission to travel with your dog.
You'll be showing them intimate information about your mental health.
This isn't information to be ashamed of, but it's important to understand the gravity of the disclosure.
Emotional Support Dog Training
There is no requirement for emotional support dogs to undertake or complete any special training, or even any training whatsoever.
However, ESA dogs behaving disruptively can be refused entry onto flights, or asked to disembark before take off.
So ideally they should have sound and reliable manners, including no barking, and no sniffing other dogs or people.
If you would like a new dog to provide emotional support in specific circumstances, it is wise to ask a professional dog trainer for help teaching them the skills they need to best help you.
For example teaching them the signals you give when you need support, and how you want them to respond.
Emotional Support Dog Certification Vs Registration
Finally, we come to the biggest potential pitfall of securing emotional support animal status for your pup.
The risk of being duped by dodgy companies offering accreditation and registration online.
The culprits
Awareness of mental health, and mental illness, has increased dramatically in recent years.
People affected by mental illness are more likely than ever to seek treatment, which is a wonderful thing.
In California alone, the number of dogs owned for emotional or psychiatric support increased 1200% between 1999 and 2012.
But sadly, a disappointing number of unscrupulous companies have sprung up, who are willing to target those people for money.
Examples of ESA dog scams
For the right fee, dodgy internet-based companies offer
Counterfeit ESA animal letters, with no questions asked.
Official-looking certificates, which they heavily imply carry the same weight as an official letter.
And products such as emotional support dog vests, which they also imply are all you need to take your pet onto flights and into accommodation.
They might even talk about 'registering' your emotional support dog, or including it on a database, so that the world can check their status.
Most tempting of all, they usually conduct everything remotely, using telephone, email, or simply by filling in a form on a web page.
Fees vary from a single up-front payment, to an annual subscription, and there are often a range of packages at different price points.
One of the most audacious and prominent sites encourages you to enter your dog on their registry so they can qualify for a letter from a mental healthcare professional.
But is it really necessary?
Do emotional support dogs need to be registered?
No!
The only thing you need for your dog to have the legal status of an emotional support dog is a letter from a mental healthcare professional.
They don't need a certificate or a vest.
And they don't need to be included on any kind of registry or database.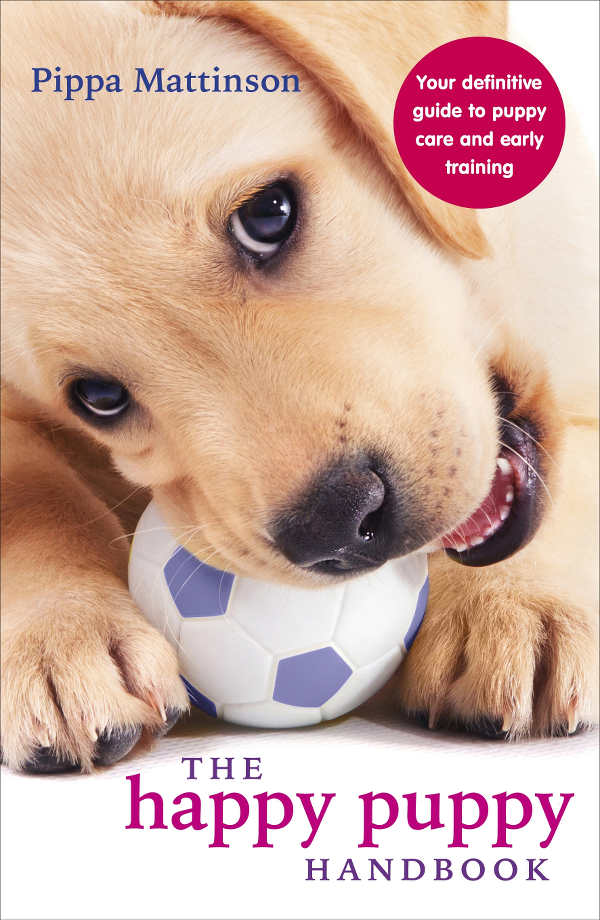 Whilst an official database of emotional support dogs would be a good idea to avoid exactly this kind of fraud, there is no such database which is endorsed by federal government, or which airlines and landlords are actually consulting.
The registries and databases which claim to exist are basically taking your money, your personal details, and your private medical information, in exchange for nothing of any value.
Furthermore, the unsuitable animals they register jeopardize the future of all emotional support animals.
And finally, 18 states currently have laws which punish misrepresenting a pet as a service animal.
So if you purchase fake credentials, and receive incorrect advice with them about the rights they give you, you could end up subject to a criminal investigation as well for relying on it.
Emotional Support Dogs – Summary
Emotional support dogs aren't trained to complete any specific tasks for their owner, but they alleviate the symptoms of a mental health disorder simply by being present.
They get their status from a letter written by a mental health professional, prescribing them to their owner as part of the therapy for their mental illness.
That letter allows ESA dogs to live in accommodation where pets aren't usually allowed, and join their owner in the cabin on flights.
The only way to get your dog accredited as an emotional support dog is via a mental health care practitioner.
Ask a doctor or social worker you already have contact with to refer your to an appropriate practitioner, to avoid falling victim to an online scam.
There is no need for them to be entered on any sort of registry, and a certificate or special vest isn't a substitute for the proper letter.
Do You Have An Emotional Support Dog?
Tell us their name and give them a shout out in the comments box down below!
References
U.S. Department of Transportation, Service Animals (Including Emotional Support Animals), accessed 28 May 2020.
Beetz, Psychosocial and Psychophysiological Effects of Human-Animal Interactions: The Possible Role of Oxytocin, Frontiers In Psychology, 2012.
Julius H, Beetz A, Kotrschal K, Turner D, Uvnäs-Moberg K. Attachment to Pets. New York: Hogrefe; 2012
Fine et al, The role of veterinarians in assisting clients identify and care for emotional support animals, Journal of the American Veterinary Medical Association, 2019.
Schoenfeld-Tacher et al, Public perceptions of service dogs, emotional support dogs, and therapy dogs, International Journal of Environmental Research and Public Health, 2017.
Yamamoto et al, Registrations of Assistance Dogs in California for Identification Tags: 1999–2012, PLOS One, 2015.
Galietti, A PSYCHOLOGIST'S ROLE IN PROVIDING LETTERS FOR EMOTIONAL SUPPORT ANIMALS, APA Practise Organisation, 2016.
Animal Legal and Historical Center website. Table of Assistance Animal Laws. Accessed 28 May 2020.
Brooks et al, The power of support from companion animals for people living with mental health problems: a systematic review and narrative synthesis of the evidence, BMC Psychiatry, 2018.