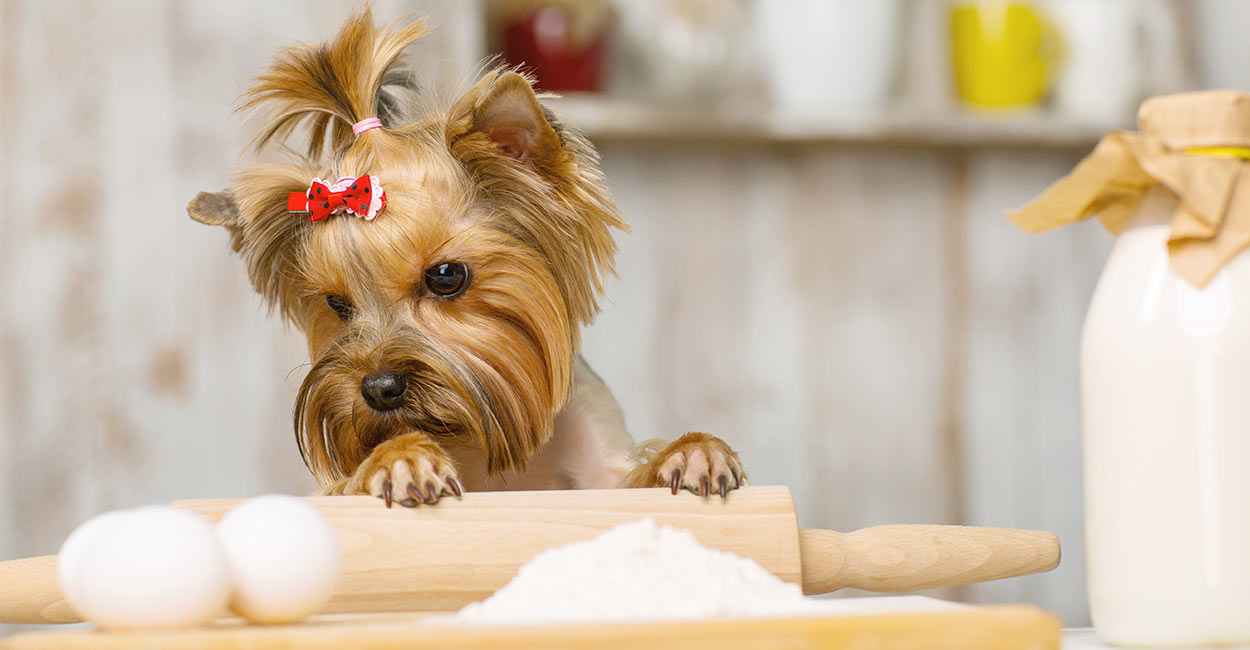 Are You Looking For The Best Dog Cupcake Recipes Around?
From Super Simple To Uniquely Impressive, There Are Some Amazing Options When It Comes To Baking For Your Pup's Special Occasion.
We Have Gathered Together The Very Best Dog Cupcake Recipes, And Even Some Options For Fun Non-Edible Cake Alternatives!
Everyone loves cupcakes!
After all, they make the perfect celebratory finger cake….or paw cake, depending on who is doing the celebrating!
Did you know the cupcake may have been born as early as 1796?
According to the Cupcake Bakers Association, these tiny treats were originally called "cakes to be baked in cups."
A mere three decades later, the first reference to the "cupcake" popped up.
Fast-forward to today, and humans and canines alike can be seen devouring cupcakes every chance we get!
In this post, we dish about dog cupcakes essentials.
Including topics like dog cupcake recipe ideas, puppy cupcakes, dog themed cupcakes and dog decorated cupcakes.
So you can find out how to make home baked dog cupcakes yourself!
And now, without further delay, let's dig in!
Can dogs eat cupcakes?
As fellow dog lovers, we know that your doggy bestie is so much more than "a dog."
The truth is, whatever you have is hers.
Anything new you get is also hers.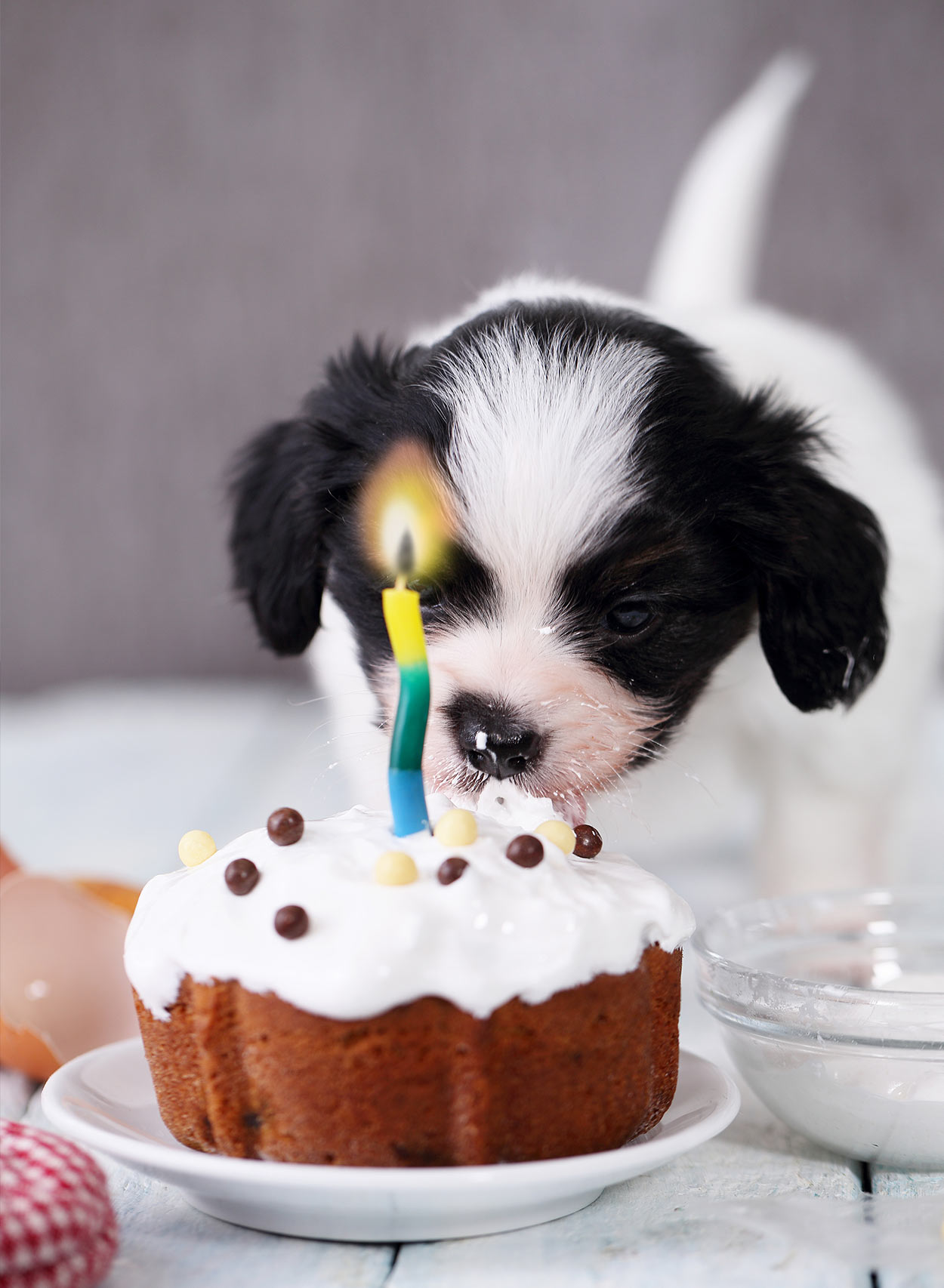 Most of all, your heart belongs to her.
You want to share everything.
After all, life is so much more fun (and tastier!) when it's shared!
But still, there are some "people foods" that dogs really shouldn't consume.
Some of these foods are downright deadly, and others are just best offered in moderation if at all.
This is especially true during the puppy years, when your little one should be eating only puppy-specific fortified dog foods.
This is important to help his still-developing digestive and elimination system adjust in the face of challenges like weaning, potty training and the transition to adult dog food.
Finally, if you plan to serve celebratory dog cupcakes that may contain a food item your dog has never eaten before, make sure that food item is a very minor ingredient in the overall recipe.
Dog cupcake ingredients to avoid
Dogs, like people, can have some unique food intolerances
And you certainly don't want to spend your pup's special moments in the emergency waiting room!
Dog and cupcakes foods to AVOID:
chocolate, alcohol, caffeine, xylitol (DEADLY!), gum, grapes, raisins, fruit pits, cooked bones, nuts (especially macadamia nuts), onions, garlic, avocado, citrus, yeast, spices, dairy (unless the amount is minimal).
So now we know what no to put in them, let's launch into those super yummy dog cupcake recipes!
Starting with those nice and easy dog cupcake mixes
Easy dog cupcake recipe ideas
Being pressed for time is a common dilemma for us all!
You want to celebrate your pup's special milestones in style, but how will you ever find the time to assemble a batch of homemade dog friendly cupcakes from scratch?
Not to worry!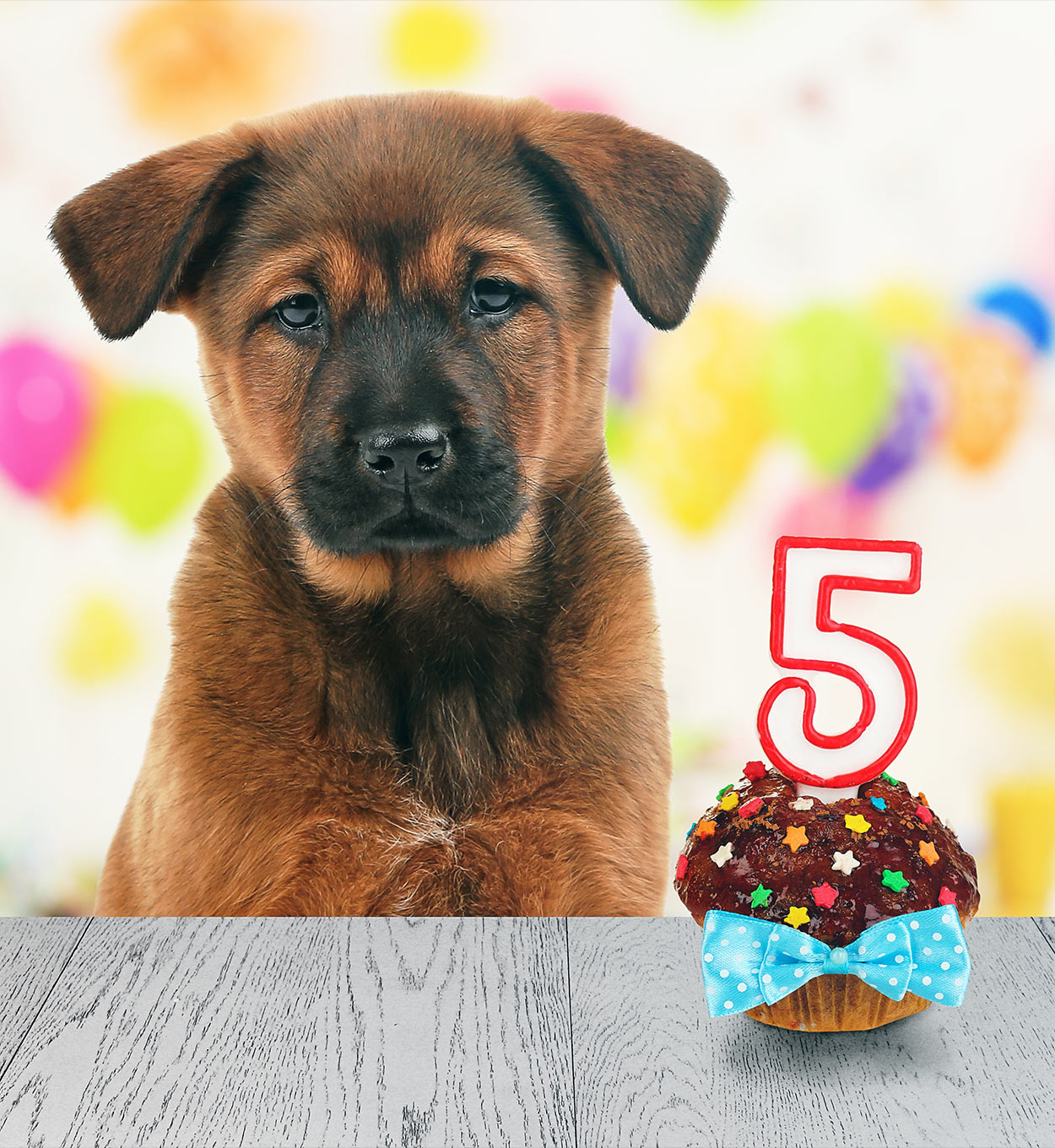 Did you know you can use dog cake mixes to whip up awesome puppy dog cupcakes too?
The general rule of thumb is that you need the same amount of batter to make one 9-inch round single layer cake as you need to make 12 regular size cupcakes.
And when you fill each baking cup up with batter, only fill the cup two-thirds of the way to the top. This will give each baking cupcake room to rise without spilling over the sides.
You can also add ingredients to any standard cake mix you use to make easy dog cupcakes customized to your dog's tastes.
If the desired addition has a lot of liquid (such as applesauce), you may want to cut back on other liquids accordingly.
These dog friendly cake mixes can make great easy dog cupcakes!
Puppy Cake Banana Cake Mix and Frosting for Dogs
This Puppy Banana cake mix is a perfect choice to make easy puppy cupcakes.
The ingredients are all natural and the recipe is already pre-mixed to make 8 standard cupcakes or 24 mini-cupcakes.
The mix also comes with frosting.
Puppy Cake Pumpkin Cake Mix and Frosting for Dogs
This wheat-free cake mix, made by the same company, ensures your pooch will have a tasty birthday even if he has a wheat allergy!
And it should be very simple to put together.
Fire Hydrants and Frisbees Dog Puppy Cake Mix and Frosting
For truly fast and easy dog cupcakes that are both tasty and healthy, check out Fire Hydrants and Frisbees dog cupcake mix.
This dog birthday cake kit includes the mix, frosting, 15 birthday candles and even a bone-shaped cake tin if you decide to make a cake instead!
Dog Paws Mold and Free Dog Lovers Cookbook E-Book
Whether you just use the mold with your own recipe or you find the perfect recipe in the included E-book download, these adorable paw-shaped mini-cupcakes will turn any pooch into a cupcake puppy lover for life!
Peanut butter cupcakes for dogs
It is possible that experts and canine enthusiasts will never reach a perfect consensus on the topic of whether peanut butter is a safe "people" food for dogs.
That's because it contains xylitol on occasions.
Xylitol free peanut butter is fine, but peanut butter with xylitol is potentially very dangerous.
When you use peanut butter dogs' cupcakes, make sure it is xylitol free.
The great thing about appropriate peanut butter, is that dogs' love it.
Why do dogs love peanut butter so much? Because it is delicious, of course!
This also makes peanut butter a perfect choice for pup-centric celebratory delicacies. For the healthiest yet still decadent treat, select an organic peanut butter without added salt, sweetener, and other questionable ingredients.
And now, whip up these easy peanut butter dog cupcakes recipes!
Easy Peanut Butter Cupcakes for Dogs
The Scrumptious Pumpkin have produced an Easy to make Peanut Butter Cupcake recipe for dogs.
This super-simple recipe makes six regular-sized dog cupcakes frosted with yummy peanut butter and yogurt frosting.
Click here and scroll to the end of the page for a printable recipe!
Peanut Butter Dog Cupcakes
Like Mother, Like Daughter make a yummy set of Peanut Butter Dog Cupcakes
These cupcakes look so scrumptious you might be tempted to dig in – except for the crushed-up Milk Bone dog treats mixed into the batter!
But expect to catch your dog staring at cupcakes baking in your oven as soon as the decadent scent begins to waft through your kitchen.
The recipe makes six peanut butter-frosted cupcakes topped with another whole Milk Bone each – yum!
Peanut Butter Pupcakes
Crazy for Crust has produced these adorably named Peanut Butter Pupcakes
This six-cupcake recipe features a peanut butter-honey-banana cupcake topped with a mound of cream cheese-peanut butter frosting.
Click here and scroll to the bottom of the page for a sweet pic of the baker's dog looking at cupcakes fresh from the oven!
No-PB dog cupcakes
Some dogs, just like some people, don't digest nuts very comfortably (or at all).
For these pooches, it's a peanut butter-free lifestyle for safety and health!
But these no-PB dog cupcakes are so tasty your pup will forget all about what he can't have and devour what he can have!
Apple Crunch Pupcakes
Miss Candiquik share a recipe for some tasty Apple Crunch Pupcakes.
This simple dog cupcake recipe is for wholesome dog friendly cupcakes.
They feature real chopped apple, which is packed with Vitamins K, B6 and C, potassium and surprisingly little sugar for such a sweet fruit.
You can use Candiquik coating to make the cute bone-shaped dog cupcake toppers or choose other decorations or even just serve them plain!
Cheddar Cheese Carrot Pupcakes
Pizzazzerie share a yummy Cheddar Cheese Carrot Pupcakes Recipe
This tasty PB-free recipe features two other canine favorites: cheddar cheese and carrots.
The recipe makes 6 standard-size pupcakes.
You can opt for just plain whipped cream cheese for an equally tasty frosting!
Apple Cinnamon Dog Cupcakes
DIY Network let you know how to make Apple Cinnamon PupCakes for dogs
These wonderful gluten-free, PB-free, healthy pupcakes feature crushed eggshells for calcium and a tasty sweet potato frosting.
Truly unique and dog-gone delicious!
Click here to check out the recipe.
Mix homemade dog cupcakes
Many awesome cakes and cupcakes (for people and pups) use a mix base with extra fresh ingredients added in.
Not only is this a life-saver for entertainers who are pressed for time, but you can feel confident your pooch won't know the difference!
Enjoy these mix-based homemade dog cupcakes!
Bitz N Giggles
Bitz N Giggles share their recipe for Easy Dog Cupcakes
This tasty recipe starts with an old standard – Jiffy Corn Muffin Mix
Then add a couple of simple ingredients, along with your pup's favorite dry dog food.
You can frost or not as you please!
Cheesy Cornbread Pupcakes
The Domestic Rebel produce some yummy Cheesy Cornbread Pupcakes
This is another great recipe that begins with a base of Jiffy Corn Muffin Mix (or you can use any simple corn muffin mix you have on hand).
The frosting is particularly fun – just a bit of cottage cheese and a tasty dog treat of choice as a topper!
Pupcakes Birthday Dog Cupcakes
Fresh Fit Kitchen share their recipe for Pupcakes Birthday Cake for Dogs
While not a pre-made dog cake mix, this simple recipe  is one that you can readily customize by changing the flour and leaving out the peanut butter as your dog's nutritional needs may dictate.
With banana rounds and rolled oat sprinkles dog cupcakes toppers, these pupcakes look as good as they taste!
From scratch homemade dog cupcakes
If time permits, it is always fun to whip up your own homemade dog cupcakes or dog cupcake cake!
You can also check out these additional yummy dog birthday cake recipes for even more options!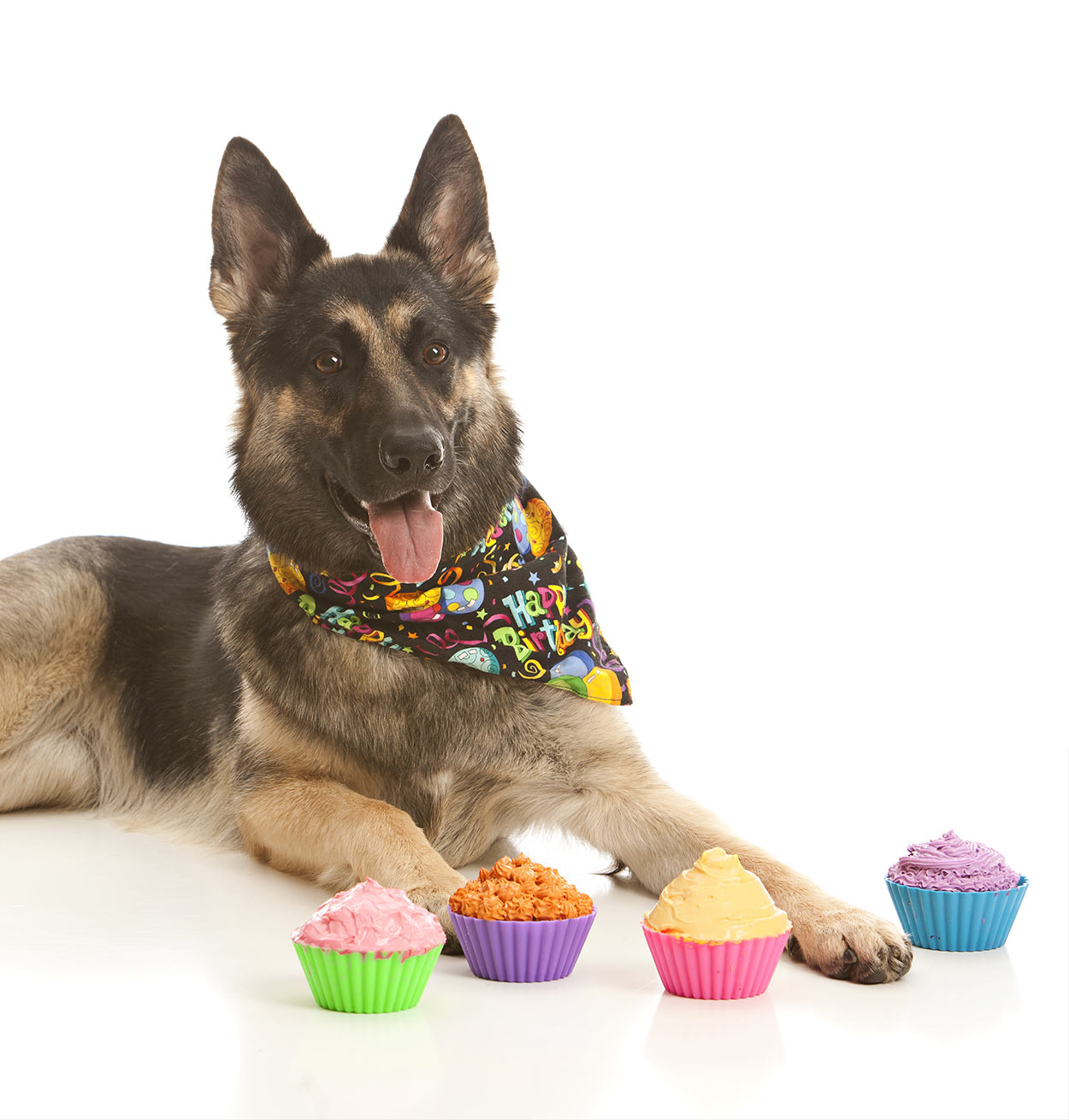 With the fun from-scratch homemade dog cupcakes recipes shared here, you can make a cake or cupcakes, iced or non-iced, and decorated with fun dog cupcake toppers to make the festivities truly special!
Blueberry Dog Cupcakes
Staying Close to Home have some delicious looking Homemade Dog Cupcakes. With blueberries!
Blueberries are low in sugar and packed with anti-oxidants. Plus, they are delicious!
These blueberry pupcakes are frosted with whipped plain cream cheese and decorated with fresh blueberry puppy cupcake toppers.
You will definitely want to label these "for dogs only," because (aside from the ground-up doggie kibble hidden in the batter) they sure look good enough for people to munch as well!
Carrot Cake Dog Cupcakes
Dog Treat Kitchen have a great recipe with Carrot Cake Dog Cupcakes with Cream Cheese Icing.
Like blueberries, carrots are packed with anti-oxidants. They are also full of Vitamin A, which is great for your dog's skin and coat.
These great cupcakes also freeze well to keep on hand for future special occasions!
Pumpkin Carrot Pupcakes
My Modern Cookery share their yummy Pumpkin Carrot Dog Cupcakes.
These nutrient-packed healthy pumpkin carrot pupcakes can be frosted with peanut butter or left plain.
Either way, the six plump cupcakes won't last long once your pooch gets a whiff of them!
Check out the full recipe here.
Puppy cupcake recipe ideas
Puppies need very deliberate daily nutrition.
From daily calorie count to vitamin and mineral content to protein content, what a puppy eats can in some ways "make or break" his digestive health as an adult dog.
This is why it is so important to choose your puppy's treats with the utmost care and attention to ingredients!
For instance, puppies can easily consume easy-to-digest pumpkin, but they cannot yet tolerate raw apples.
These puppy cupcake recipe ideas will give you plenty of creative choices for your pup's special times!
Turkey Cranberry Dog Cupcakes
My Dog Likes have made some scrummy Turkey Cranberry Pupcakes
These simple, special dog cupcakes are rich in nutrients and protein.
A perfect way to introduce your puppy to a future full of birthday festivities!
Cranberry is amazing for preventing urinary tract infections, pumpkin is soothing to the digestive tract and turkey is, well…turkey!
Check out their dog cupcake recipe here.
Soft Red Velvet Dog Cupcake Recipe
Dachshunds United have a beautiful Soft Red Velvet Dog Cupcake recipe.
Not only are these dog friendly cupcakes simple to whip up, but they are also simple in their ingredients list: just pureed beets, an egg and flour.
Beets contain folate, iron, potassium, magnesium, Vitamin C and antioxidants. Best of all, the puree makes these cupcakes soft for sensitive puppy teeth!
NOTE: For the healthiest cupcakes, choose organic canned beats with no preservatives, salts or sweeteners or make your own fresh-cooked beet puree.
Zucchini Dog Cupcake Recipe
The K-9 Harper Lee has shared a great Whole Wheat Zucchini dog cupcake recipe.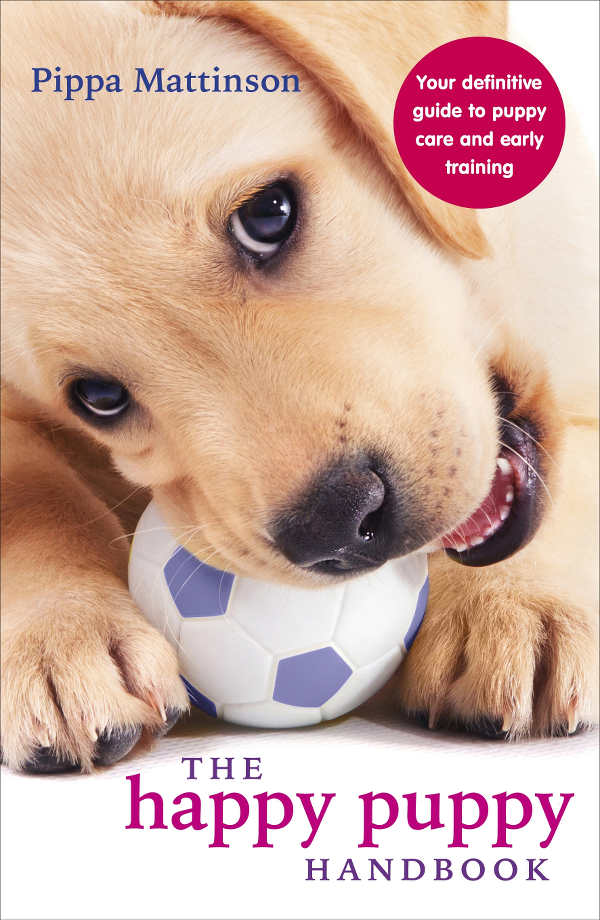 The Perfect Companion For Life With A New Puppy
Zucchini is a great veggie for dogs. It is packed with healthy fiber, potassium, anti-oxidants, Vitamin C and B vitamins and it is low calorie.
You can substitute any flour for the whole wheat flour in this recipe.
With a base of chicken stock, there is no doubt these pupcakes will be a hit with canine celebrants!
Unique dog birthday cupcake recipes
As it turns out, there is more than one method of making dog cupcakes!
Meet these neat microwaveable, single-serving and frozen dog birthday cupcake recipes!
Homemade Frozen Pupcakes
Top Dog Tips have some great Homemade Frozen 'Pupcakes' Dog Treats With Fruits and Vegetables.
If your canine sidekick's birthday happens during the hot summer season, these frozen pupcakes will go down a treat!
Pup Cake For Your Birthday
The Squishy Monster put together a brilliant Pup Cake for Your Birthday Dog
This "cake" actually looks like the biggest pair of "supersize" cupcakes you've ever seen.
The banana peanut butter combo is another smash hit with pups, and it only takes five minutes to put everything together before you pop it in the oven!
Dog cupcake toppers
As dog birthday parties and similar dog-centric festivities become mainstream, clever canine party planner parents have discovered all kinds of neat ways to personalize their pup's special treats with dog cupcake toppers and other canine-centric accents.
You can use dog cupcake toppers to make dog face cupcakes, paw print cupcakes or even breed-specific cupcakes.
Here are some uniquely fun dog cupcake toppers that can dress up your delicious cupcakes just in time for the celebration!
Just make sure you remove the inedible ones before giving it to your dog!
Adopt A Puppy Figures
These popular and highly rated puppy cupcake toppers feature several different dog breeds.
Made of PVC plastic, they have a hard, rubbery feel and are about 1-inch in diameter.
Bakery Crafts Puppy Cake Candles
These cute little 1.5-inch puppy cake candles are perfect for individual cupcakes in a supervised situation!
Etta Says Liver Sprinkles
For a dog cupcake, what flavor of sprinkles could be better than tasty liver?
These popular sprinkles are all natural and made in the U.S.A.
Non food cupcake dog toy alternatives
Sometimes celebrating your pup's milestones with treat foods just isn't an option.
But these fun nonfood cupcake dog toy options can still make the day festive and special for your canine bestie!
Alazco Cute Chocolate Frosting Cupcake Desert Shape Squeaky Dog Toy
This adorable (and surprisingly loud) squeaking cupcake comes complete with frosting and sprinkles.
Owners say their pups love this hard rubber toy, but it is not for serious chewers so always use it with supervision!
ZippyPaws Donutz Squeaky Plush No-Stuffing Dog Toy
This plush stuffing-free dog toy donut comes in a wide assortment of colors for medium to small dogs.
Owners say their pooches fall in love with this toy on first sight.
MultiPet Birthday Cake
This adorable mini-cake with candle toppers squeaks out "happy birthday" tunes when your dog squeezes it.
Because it is filled with plush, this is a toy best reserved for supervised play.

Dog cupcakes
We hope you have enjoyed browsing through this curated list of the easiest, tastiest, healthiest dog cupcakes!
Which one will you choose to make for your pup's next special day?
Resources
Bellis, M., "Who Invented the Cupcake?," ThoughtCo, 2017.
Yuill, C., DVM, MSc, CVH, "Nutrition – General feeding Guidelines for Dogs," VCA Animal Hospitals,
San Filippo, M., "Celebrate holidays safely with your pets," American Veterinarian Medical Association (AVMA), 2013.
Bean, M., "Feasting on the Facts of Pet Obesity," Pet Emergency Veterinary Clinic-Buffalo, 2016.