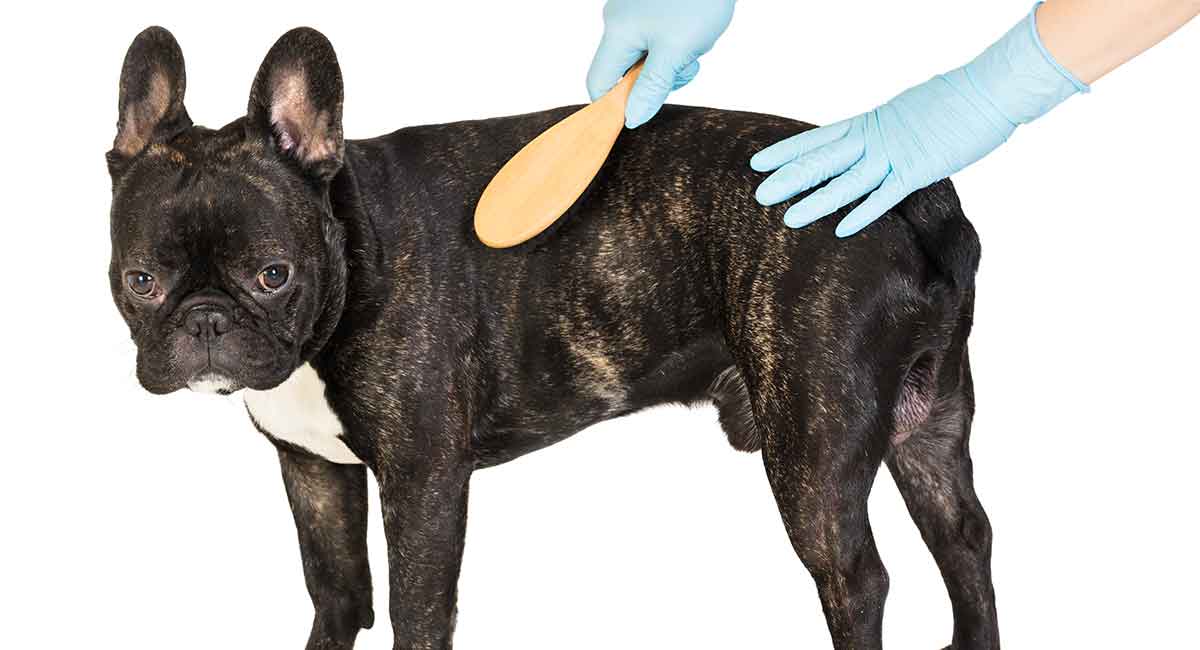 Do French Bulldogs shed? You've come to the right place to find out!
The French Bulldog is a smaller dog that is growing in popularity.
In 2015, they were the sixth most popular AKC dog in the United States.
French Bulldogs make excellent companions. They rarely bark, and if they do it is to get attention. Furthermore, they have a calm nature, making them great apartment dogs.
Do French Bulldogs Shed?
All dogs shed. Even breeds advertised as hypoallergenic shed to a certain degree.
This is because dogs naturally lose old or damaged hair by shedding.
Although shedding is normal for dogs, the amount and frequency are usually determined by their health and breed type.
Another determining factor for how much a dog sheds is the time of year.
During the summer, most dogs shed their undercoat to keep them from overheating.
In the winter they shed their summer undercoat and grow out a thicker, warmer coat to stay warm during the cold part of the year.
French Bulldogs have a short, fine, smooth coat that is very easy to groom. They do not shed much, but twice a year they do lose their undercoat.
Shedding usually happens around spring and fall.
Shedding can be minimized by using a stripping comb and grooming mitt to remove excess hair.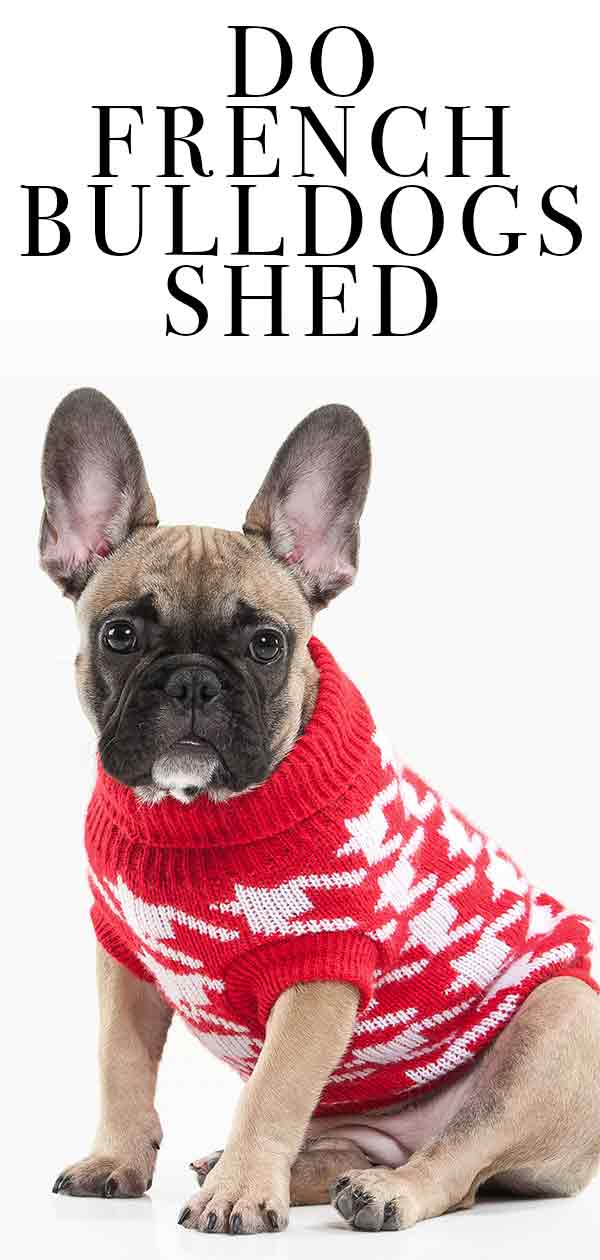 Why Do Dogs Shed?
A dog's fur helps control their body temperature and protects their skin from the sun and other environmental elements.
Usually, most dogs will shed during the spring and fall.
Most dogs are double-coated, meaning that they typically have an undercoat and top coat. The undercoat, made up of minor hairs that grow around the main hairs, is shorter and softer.
Any change in temperature can cause seasonal shedding. This is often referred to as "blowing coat."
A study was done on how a dietary supplement can help prevent or reduce the amount of hair your dog sheds.
A more serious reason for shedding can be directly associated with health. So it is vital to take note of inexplicable unnecessary shedding.
For example, a poor diet or the wrong choice of food can cause a dog to shed and lose hair.
It is important to know what you are feeding your dog. This study on salmonella-contaminated commercial raw food diets gives an example of how food can cause shedding.
Skin problems, endocrine diseases, nutritional and vitamin deficiencies, and other metabolic disorders can cause hair loss or change the rate at which their hair grows.
If any of these health problems seem to be the issue, it is important that you contact your veterinarian.
Keep your dog healthy with proper nutrition and routine vet visits.
How Much Do French Bulldogs Shed?
The French Bulldog does shed, but not often. On average the French Bulldog will shed twice per year during spring and fall.
This breed only needs to be brushed occasionally to keep their coat healthy.
Begin grooming them at a young age, so they are used to the grooming process. While grooming, check for any scabs, skin lesions, bare spots, rough or flaky skin, or signs of infections.
French Bulldogs have a few health issues when it comes to their skin. This is because the French Bulldog is naturally prone to having skin problems. One issue they can suffer from is dermatitis of the facial folds.
Dermatitis is an inflammation of the skin. Dermatitis in dogs can occur with redness, itching, crusts, hotspots, sores, seborrhea, and inflammation, resulting in a risk of infection.
It is recommended to take your French Bulldog to the vet to be treated for any of these skin ailments.
Dealing with French Bulldogs Shedding
While French Bulldogs do not shed often, you do need to take care of their fur and skin.
By taking the time to groom them, you can reduce shedding and possible skin problems.
Keep in mind that you cannot stop a healthy dog from normal shedding. However, you can minimize the amount they shed.
Visit your local vet to get a recommendation for tools that will work best for your dog's hair type.
Excessive shedding can be prevented through proper nutrition. You may need to experiment with different dog foods to see which one suits your dog best.
If you want to keep as much hair off your furniture as possible, we recommend covering it up with furniture throws.
Throws will keep your furniture looking better and make your home more inviting to guests.
You will also need to vacuum often. Be diligent in your vacuuming efforts. Doing this frequently will keep the dog hair to a minimum.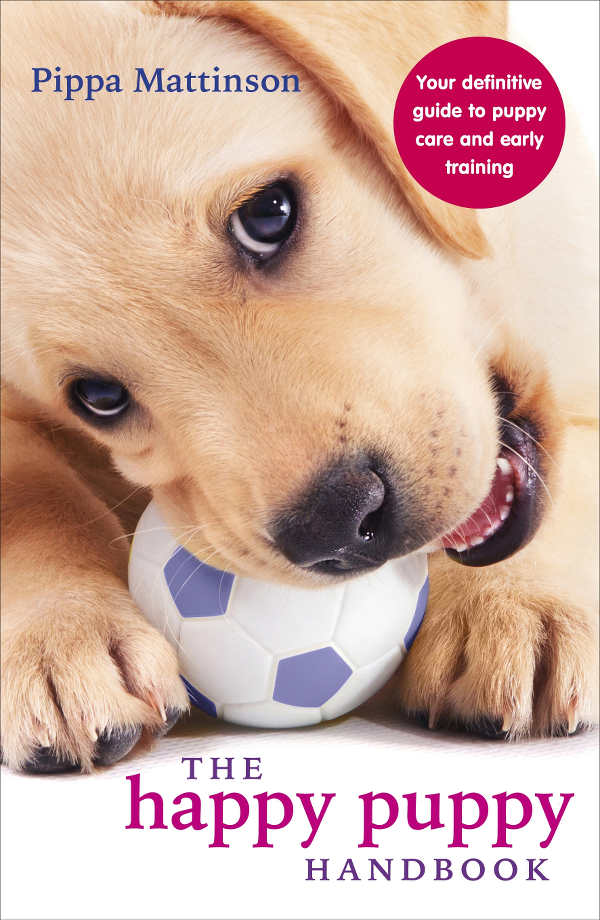 Control allergies and fleas. Visit your local vet to make sure your pet is getting the proper allergy relief.
Bathe your dog occasionally during the summer. A clean dog will have a much healthier coat.
Use an oatmeal shampoo once a week or two times a month to keep them clean without drying out their skin. This will also rejuvenate their existing coat.
French Bulldogs Haircuts
French Bulldogs are simple to groom; they do not need their coat cut. Brush weekly to keep the moderately-shedding coat looking shiny and healthy.
Since the French Bulldog does not shed much at all due to their naturally short and sleek coat, there are no haircuts that will significantly decrease the amount that they shed.
Do French Bulldogs Shed Too Much?
French Bulldogs do not shed much at all, but they do shed their undercoat twice a year.
They have a short, fine, smooth coat that is easy to take care of. Bathe them monthly or as needed to keep their coat healthy and clean.
Since they do not shed much, it is easy to keep your house or apartment free of unwanted hair.
Overall, the French Bulldog makes a great pet that won't stress you out with shedding like some other breeds.
Related Articles
References and Resources
Doris W. Vredegoor BSc; "Can f 1 levels in hair and homes of different dog breeds: Lack of evidence to describe any dog breed as hypoallergenic," Journal of Allergy and Clinical Immunology, 2012.
Barbara A. Allen; "Dietary supplement for preventing or reducing shedding by animals," Stabar Enterprises, 1998.
Rita Finley; "The risk of salmonellae shedding by dogs fed Salmonella-contaminated commercial raw food diets," The Canadian Veterinary Journal, 2007.
Luke A. Schneider; "Temperament and lateralization in the domestic dog (Canis familiaris)," Journal of Veterinary Behavior, 2013.
F. Picco; "A prospective study on canine atopic dermatitis and food‐induced allergic dermatitis in Switzerland," Veterinary Dermatology, 2008.