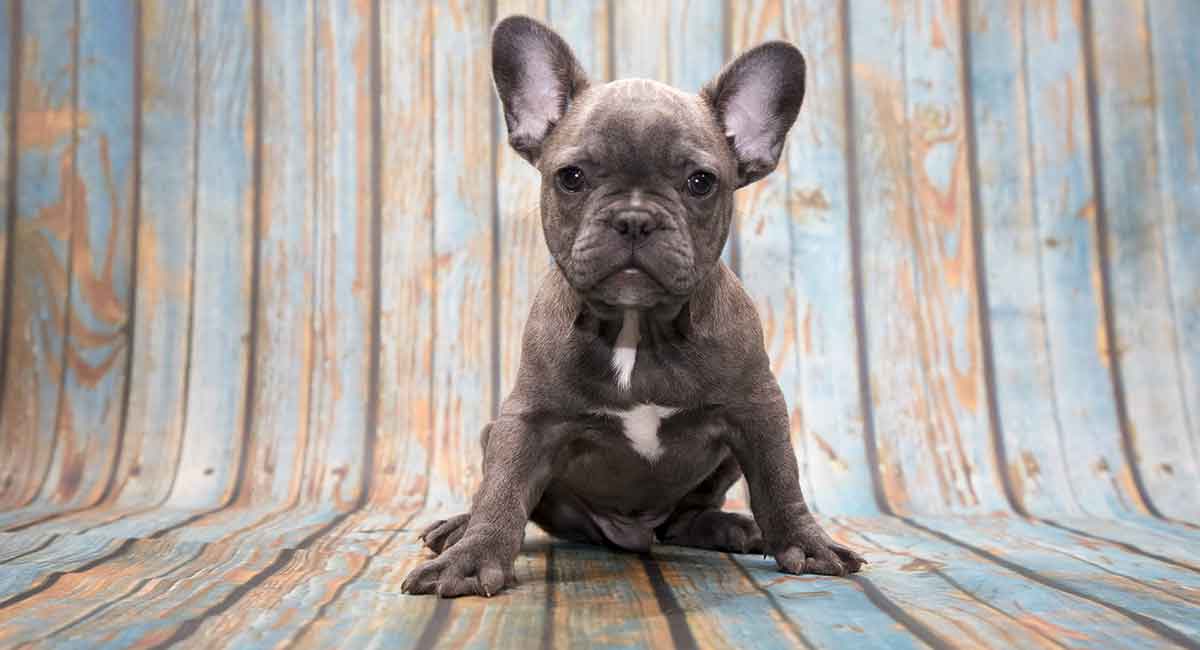 Blue French Bulldog puppies are friendly, confident, short haired dogs with a dark grey colored coat. They are popular lap dogs, apartment pets and companions, although this shade isn't accepted in the show ring. Frenchies also come with a lot of health problems in any color, and the blue shade does add some other potential issues into the mix.
Contents
Official French Bulldog Colors
The blue coat color is not accepted by the official breed standard, so this coat type will never be intentionally be bred by show breeders.
Breeders who advertise these colors as rare are therefore sadly usually more motivated by money than the importance of following the breed standard. The fact is, by selecting a silver blue French Bulldog, you could be encouraging the proliferation of breeders who select color over health or temperament.
French Bulldogs also come in a variety of additional color combinations, for example, bindle and white or fawn and white. But your pedigree pup will never have blue written on their documentation, although this color has been referred to by the kennel club casually as mouse in the past.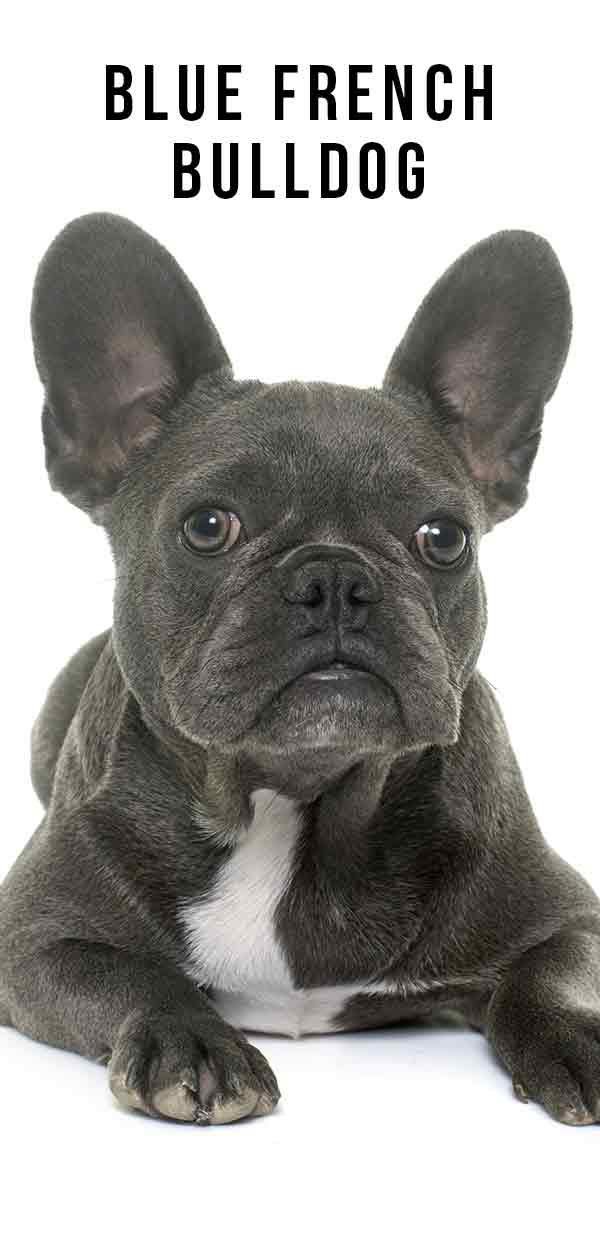 Genetics of the Blue French Bulldog
In dogs, the blue coat color is due to a recessive gene known as the dilution gene. This relatively rare gene is usually viewed as undesirable except in certain breeds such as the Weimaraner, one of the only breeds to only be found in the dilute coat color.
If a French Bulldog has two copies of this gene then rather than having a black coat, they will instead be a light blue French Bulldog.
Unfortunately for Blue French Bulldogs, and some other breeds which express this dilute gene, they can suffer from a genetic condition known as color dilution alopecia (CDA). This is a recessive and inherited condition and arises due to a faulty version of the dilution gene.
You may also see a blue French Bulldog with blue eyes. Again, this is seen as desirable by some but will run the same risks of CDA. We encourage owners never to select a dog for their coat or eye color over their health and wellbeing.
Color vs Trainability
Blue French Bulldogs aren't any less intelligent than their officially colored cousins. They are alert and generally a joy to be around. Their intelligent and adaptable natures mean they enjoy spending time with their families wherever you may take them.
French Bulldogs are independent little dogs, which can sometimes translate into stubbornness if you don't dedicate time and energy to their training. But positive food-based training works well to motivate them.
Blue French Bulldog Exercise
French Bulldogs are unable to swim, so great care should be taken around ponds, swimming pools, and rivers.
French Bulldogs are often referred to as a "low energy" breed, with this sometimes being seen as an advantage owing to the fact that they don't need much exercise. Unfortunately for these little dogs, that's not the whole story.
The reason they require less exercise than many other breeds is due to the brachycephalic shape of their face. Their shortened muzzles and narrow nostrils are simply not able to get enough oxygen into their bodies.
Potential Health Issues
Unfortunately, French Bulldogs of any color are prone to a wide array of some serious health conditions. Blue French Bulldogs suffer from additional health issues on top of this. First, let's take a look at the general health conditions suffered by French Bulldogs. A year-long survey found the most common problems are
skinfold dermatitis
diarrhea
conjunctivitis (pink eye)
ear infections
long nails
Another one of the main issues with French Bulldogs is due to their flat face shape, referred to as 'brachycephalic.' Unfortunately, while many people find this face shape 'cute,' it can have some serious health implications for these little dogs. These include increased risks of overheating, obstructed airways, narrow nostrils, issues with their eye sockets, and dental problems.
French Bulldogs are known for their loud breathing, snuffling, and snoring. While these noises may sound cute to some, they point to some major problems.
The cesarean rates for French Bulldogs are also very high. One study focusing on pedigree dogs in the UK found that the incidence rate for cesarean sections in French Bulldogs was over 80 percent.
Blue French Bulldog Hair Loss
In addition to the health issues affecting all French Bulldogs, a pure blue French Bulldog is more likely to suffer from a skin condition known as alopecia.
It may not be obvious that your dog suffers from this condition when you buy them, as it won't necessarily develop until they are between 4 months and 2 years old. Signs to look out for include
sore, wrinkled skin
allergic reactions
dry, scaly, and flaky skin
itchiness
brittle hair
bald patches, usually on the dog' head, ears, and spine
Alopecia will only affect blue areas, but if you have a solid Blue French Bulldog then their entire body may be affected. However, if you have a fawn and blue French Bulldog, the fawn areas won't be affected.
Grooming
The short coat of a French Bulldog is easy to look after with a quick brush just once a week. The Frenchie does shed, but minimally.
Any Blue French Bulldog may be prone to suffering from alopecia, which can impact your grooming regime. And since French Bulldogs are not as active as some other breeds, their nails can become uncomfortably long.
Blue French Bulldog Puppies
While French Bulldogs are certainly full of character, it's highly likely that your puppy could suffer from a range of health issues owing to their brachycephalic face shape. This can often mean costly vet bills and will likely affect the quality of life of your little dog.
Add to the mix the additional health problems that Blue French Bulldogs could potentially suffer as a result of their coat color. We think that's enough reason to reconsider purchasing one of the pups.