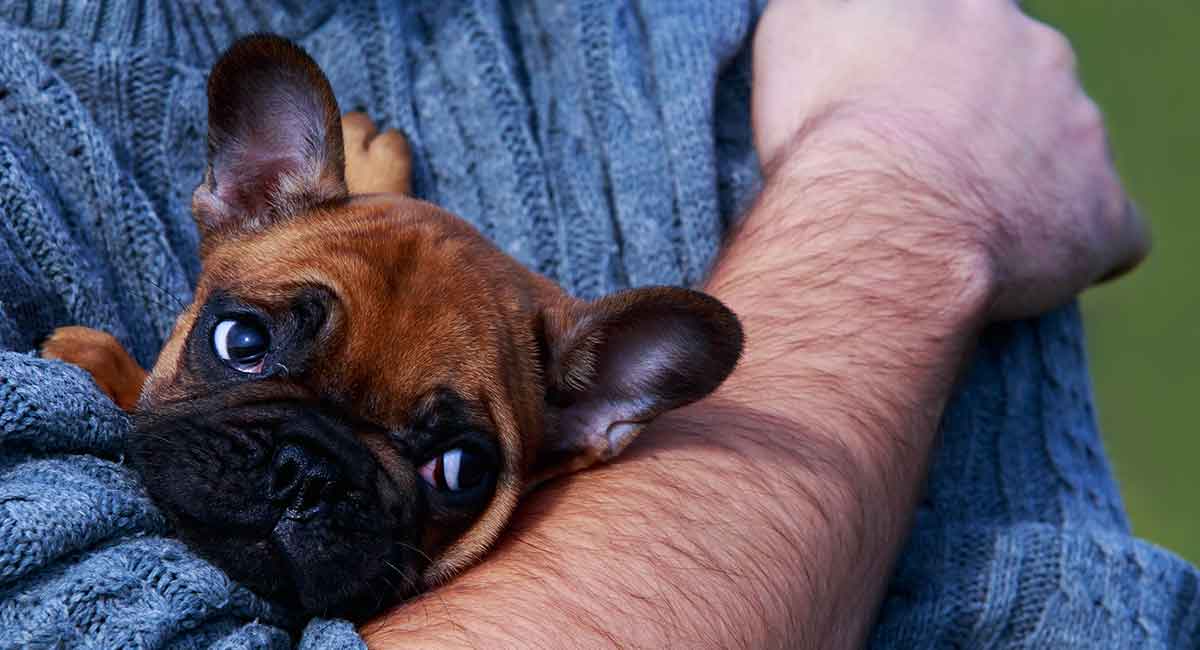 A baby French Bulldog is more likely than most breeds to be born by caesarean section.
They will be one of a litter of 1-10 puppies.
Baby French bulldogs grow rapidly and hit many developmental milestones before they're ready to leave their mom and join a new household.
Your Baby French Bulldog
Puppies tend to gain the adoration of dog lovers everywhere, regardless of the breed. The French Bulldog is no exception.
Despite this, there are a lot of people who don't have the slightest idea of how a baby French Bulldog develops into an 8-week-old puppy.
In this article, we will be taking a detailed look into how a baby French Bulldog develops over the first 8 weeks of their life. We will cover how their appearance and behavior will evolve, and how they are properly cared for during this critical time.
A Baby French Bulldog is Born!
Since the French Bulldog is a flat-faced breed, there is a higher chance of the mother experiencing a difficult or abnormal birth.
A C-section may be preferred over a natural birth, because the puppies' large heads and broad shoulders, coupled with mom's narrow pelvis, increase the chance of difficulties.
Providing that the birth goes well, French Bulldogs commonly have litters containing 4-5 puppies. However, this isn't a hard and fast rule; litters can be as small as 1 puppy or as big as 10 puppies.
If it was a natural birth, the mother should instinctively chew off the umbilical cords and clean up her newborn pups.
After just being born, the baby French Bulldogs will likely focus on nursing off their mother. When they aren't doing that, they will be conserving their energy by sleeping.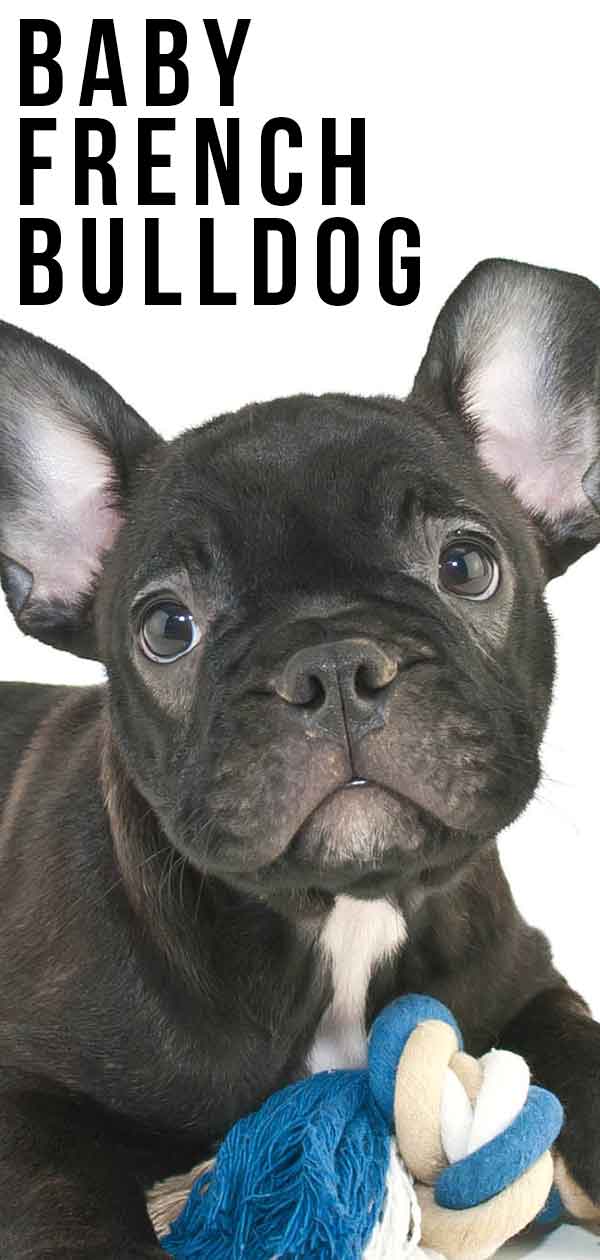 Newborn French Bulldogs
A newborn French Bulldog will need a quick check over to be safe. Flat-face dogs commonly experience a health condition known as Brachycephalic Airway Syndrome which can cause severe breathing issues.
The owners will listen for any wheezing or excessive snorting and sniffling to see if there are any serious breathing difficulties.
Newborn Frenchies will have their eyes and ears closed, meaning that they are initially blind and deaf. On top of this, they cannot stand up just yet and will move by crawling on their belly.
They cannot regulate their temperature, so to stay warm they will cuddle close to their den mates.
Baby Frenchies will also require their mother's help to urinate and defecate. She does this by stimulating their genitals and anus.
A coat will be present at birth, however, the color will vary according to the genetics of the parents. Common colors are white, cream, or fawn.
Patterns such as brindle and piebald will also be noticeable at this very early stage. White markings, black shading, and/or a black facemask may also be present.
As for their behavior, over the first few days, Frenchies will continue to just nurse off their mother and sleep.
One Week Old Baby French Bulldog
At one week of age, French Bulldog puppies are expected to double their birth weight. It's important that they continue to gain weight daily.
Their eyes and ears will still be closed. Due to this, they won't show much of an interest in their surrounding environment.
The Frenchie pups will continue to focus on feeding and bulking up. Owners will need to watch out for any puppies who are losing weight or showing any signs of illness.
Two Week Old Baby French Bulldog
Once the baby Frenchies have hit two weeks, some exciting changes will begin to occur!
Their eyes should have fully opened by now. Their vision won't be perfect; a French Bulldog's eyes still have a lot of developing to do. However, they should be able to make out their mother and den mates for the first time.
While dark brown is the normal eye color for this breed, initially they will appear to be blue. This will change to dark brown over time as they age.
The owners of the puppies will need to check their eyes for any defects, as Frenchies can be prone to such problems.
Additionally, their ears should be open or opening very soon. They will no longer be deaf and will react to sound.
With their newfound sight and hearing, the Frenchies may show a bit of curiosity towards their surroundings. However, they still can't move too well, so any grand quests will have to wait!
Three Week Old Baby French Bulldog
Frenchies at this age will continue to develop rapidly. They will begin to take their first shaky steps, exploring their den as much as their wobbly legs will carry them! However, they will still need to rest a lot, sleeping the majority of the day.
On top of this, the mother will no longer need to help them urinate or defecate, as they will be able to do so on their own.
While it is still a bit too early for the weaning process to begin, the Frenchies will also start to have their baby teeth come through.
Four Week Old Baby French Bulldog
Four-week-old French Bulldogs will begin to show the first signs of independence from their mother.
By this time, they will be a lot more balanced on their feet. They should be able to walk about like a pro, and maybe even run!
Their teeth should be developed enough by this age that the weaning process can also begin. Up until now, the French Bulldog babies have been receiving all their daily nourishment from their mother's milk.
Now their daily diet can begin to contain some solid food for the first time. At this stage, it's important that they still receive a large portion of their daily nutrition from their mother.
The Frenchies should also begin to show some basic social behaviors. They may clumsily play with their littermates and mother.
This social development also marks the start of an early socialization period. The owners should take advantage of this to help the baby Frenchies become used to human presence and contact.
At this age, basic crate and potty training can begin. As this breed can be slow to housebreak, starting early can help significantly.
Five Week Old Baby French Bulldog
At five weeks old, you can expect the French Bulldog puppies to be fully confident on their feet, running and playing somewhat roughly with their den mates.
They may also develop quite the habit of chewing and nibbling at this stage.
The weaning process should be continuing well, with the puppies beginning to shift away from their mother's milk onto a fully solid diet.
Six Week Old Baby French Bulldog
At this point, the weaning process should be fully complete. The French Bulldog puppies will be on a high-quality puppy diet, and will no longer require any sustenance from their mother.
This is another big step towards independence, however, it is still too early for them to be taken away from the den.
Socialization should be continuing in earnest, with the puppies showing a good amount of familiarity with humans by this point.
Seven Week Old Baby French Bulldog
Frenchies at seven weeks of age are coming close to leaving the den behind.
At this age, they may experience the beginnings of the "fear" period. This is a critical part of their development in which the puppy learns to be careful around new things for the first time.
Up until now, the baby French Bulldogs have approached new things with innocent curiosity; however, at the start of this period, they may begin to show caution towards the unknown.
It's key to make new encounters as positive and rewarding as possible at this stage, and avoid pressing the puppies to far, as it may make a large impact on their behavior going forward.
Eight Week Old Baby French Bulldog
The baby French Bulldogs are now eight weeks of age and can be moved into new homes.
Their senses will be fully developed, and their eyes will have transitioned in color to a shade of dark brown.
A healthy Frenchie puppy will weigh between 5-7 pounds.
Basic socialization will be present, along with some potty and crate training. It is imperative that new owners continue the training process at home, especially as the fear period will still be in full swing.
Here are some great resources on further potty training a Frenchie and dealing with any potential mouthiness:
Puppy Potty Training Schedule and Finishing Touches
Biting Puppy: How to Stop a Puppy From Biting
Finally, check here for a guide to feeding a Frenchie.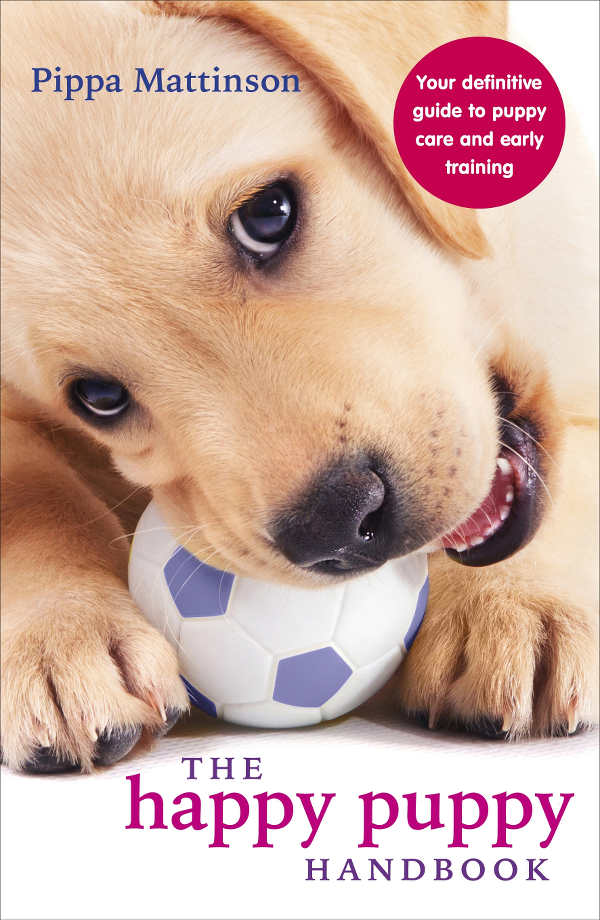 Do French Bulldogs Make for Good Family Pets?
Sadly, we cannot recommend this breed to any family due to their inherent structural health problems.
It is likely dogs of this breed will suffer from breathing issues, among other conditions that severely affect their quality of life.
We would recommend looking into similar but healthier breeds. See below for some places to start!
Cairn Terrier
Cavalier King Charles Spaniel
West Highland White Terrier
Have you ever raised baby French Bulldogs? What do you think of this breed? Let us know in the comments!
Make sure you also take a look at our guide to bathing a new puppy!
References and Resources
Serpell, J, "The Domestic Dog: Its Evolution, Behavior and Interactions with People" Cambridge University Press, 1995
Farricelli, AJ, Understanding Fear Periods in Dogs. PetHelpful, 2019
Borge, KS, et al, "Litter Size at Birth in Purebred Dogs – A Retrospective Study of 224 Breeds" Theriogenology, 2011
Bloomfield, S, "What is Normal for a Newborn Puppy?" The Veterinary Expert, 2014
Playforth, L, "My Dog's Whelping, What Should I Do if She Suffers Labour Complications?" Vets Now, 2018
Monnet, E, "Brachycephalic Airway Syndrome" World Small Animal Veterinary Association, 2015
British Veterinary Association, "Health and welfare of brachycephalic dogs"