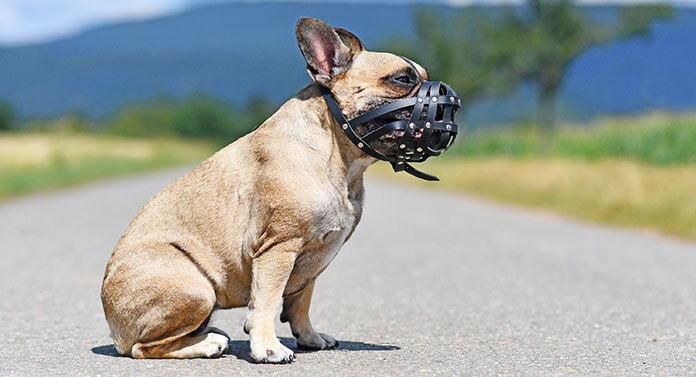 Frenchies are generally friendly, social and affectionate dogs. But, if they are not trained and socialized properly, there is the risk of aggression. Signs of fearful, anxious or guarding behavior in Frenchies include growling, snarling and stiff body language. Even though they're small dogs, biting can be a real problem.
Contents
General French Bulldog Temperament
These little dogs are loyal, loving, laid back and affectionate. They will enjoy curling up on their owners lap, and will be happiest when they are together with you.
Frenchies are also intelligent and eager to please. They can take well to training, especially positive, reward-based methods. But, there are times when these little dogs can show less-lovable traits.
Every dog has teeth, and therefore the ability and potential to bite if they feel threatened or backed into a corner. Dogs that are naturally calm and friendly are less likely to display these behaviors, but it's not impossible.
Aggressive Puppies
Once they've found their feet, young puppies can display some behaviors that are pretty startling to the uninitiated. I've never raised a puppy that didn't chew, growl, snarl and snap at me regularly when they were small. But these behaviors in a dog that is under a year old are almost always a result of playful intensions. They aren't actually angry or afraid, rather just having and burning off some enthusiasm.
Puppies have tough skin, and they haven't got a clue that those playful nibbles are causing you some serious pain. The best thing to do to avoid these situations is to disengage, put them somewhere safe and take a time out. And don't rough house or wind up your little scamp, no matter how tempting it might be.
If your Frenchie is biting, growling, and snarling, but they are still a very young puppy, they may just be exuberantly playing. But over 18 months old and you may have an aggressive dog on your hands.
Why Are Some French Bulldogs Aggressive?
The most common cause of biting or growling in this breed is anxiety. Fearful dogs may try to hide, or run away before displaying any aggressive behaviors. They won't make eye contact and will shy away from your touch.
However, a few Frenchies can some guarding instincts. They feel uncomfortable with visitors entering their home, and might even try to protect or defend the property and their family. Barking, raising a lip, snarling and snapping at your guests is a sign that your dog is not happy with the intrusion.
Resource guarding is another potential cause of aggression in dogs, and one that owners can accidentally make an awful lot worse. We used to be advised that removing the food bowl repeatedly would teach our dogs to share their dinner, but we know better now. The right thing to do is to add more food as they eat, not snatch away something they value and were enjoying. Making them nervous that they might not get to hold onto this prize.
French Bulldog Socialization
Well socialized dogs are less likely to react with fear-based aggression when they are older.
Although puppies can't go on the ground before they are fully vaccinated, you can still achieve a lot of their socialization by carrying them to see new places and things. And it's important that you do this before they turn 16 weeks old, as after that point they are a lot less amenable to new experiences.
Make it your mission from 8 to 16 weeks old to take your dog as many places as possible. All those you will want to bring them to when they are older. Train stations, bus stops, the school gates. They all help to teach your pup that everywhere you go is normal, and everything they experience is safe.
Invite lots of different visitors over to your home, of a variety of ages. Make sure everyone that arrives is given a handful of kibble to offer your puppy. Make guests something to celebrate, not to fear.
Kids and French Bulldogs
French Bulldogs are popular family dogs partially because they often get on well with the kids that they live with.
However, Frenchies are very small dogs, and young children that don't share their homes don't always know the best way to handle them. This can lead to aggressive reactions, such as growling or biting, if your pup gets hurt. And potentially a lifetime reluctance to spending time with younger people.
Do Frenchies Like Other Pets?
In my experience, this is a breed that does best alone most of the time. A strong bond with the human family and reluctance to share means that although they can get along well with other dogs, they'd rather not have to. People tend to have the best luck in this respect if they introduce new canine family members slowly, and carefully.
Frenchies are likely to be okay with cats that they grow up with. However, they may not do well with cats outside the home, even if they live with one. Although they don't have strong predatory responses in general, the site of a kitty running away is too tempting even for these laid back pups.