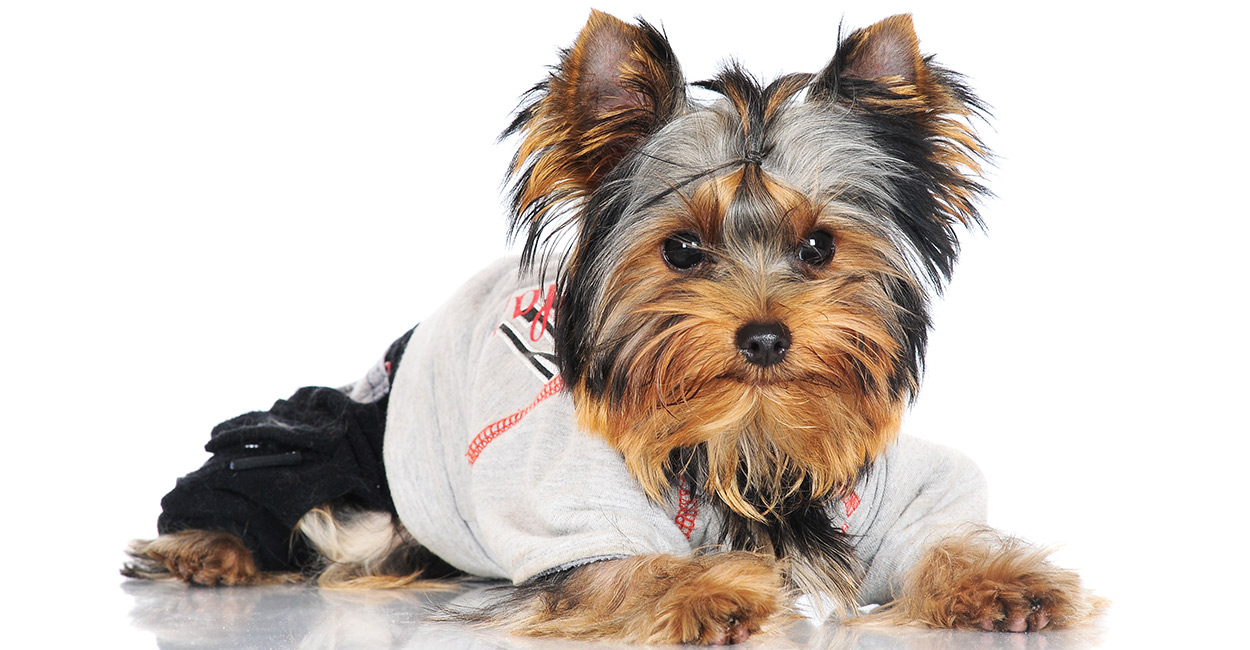 Welcome to our complete Yorkie clothes: from practical winter layers to glitzy party threads, we've got everything you need so that your pooch can never say they don't have anything to wear!
Yorkshire Terriers are adorably spirited dogs, renowned for their long silky locks cascading in varying shades of tan, gray, white, golden, brown, blue, and black.
With their expressive eyes and enticing personality, you could say that they are the glamorpusses of the canine crowd!
Wouldn't they look fantastic dressed in clothes that set off their looks and personality?
Many dog owners agree, and they buy canine clothes that are fashionable as well as functional for their treasured pups.
Yorkshire Terrier clothes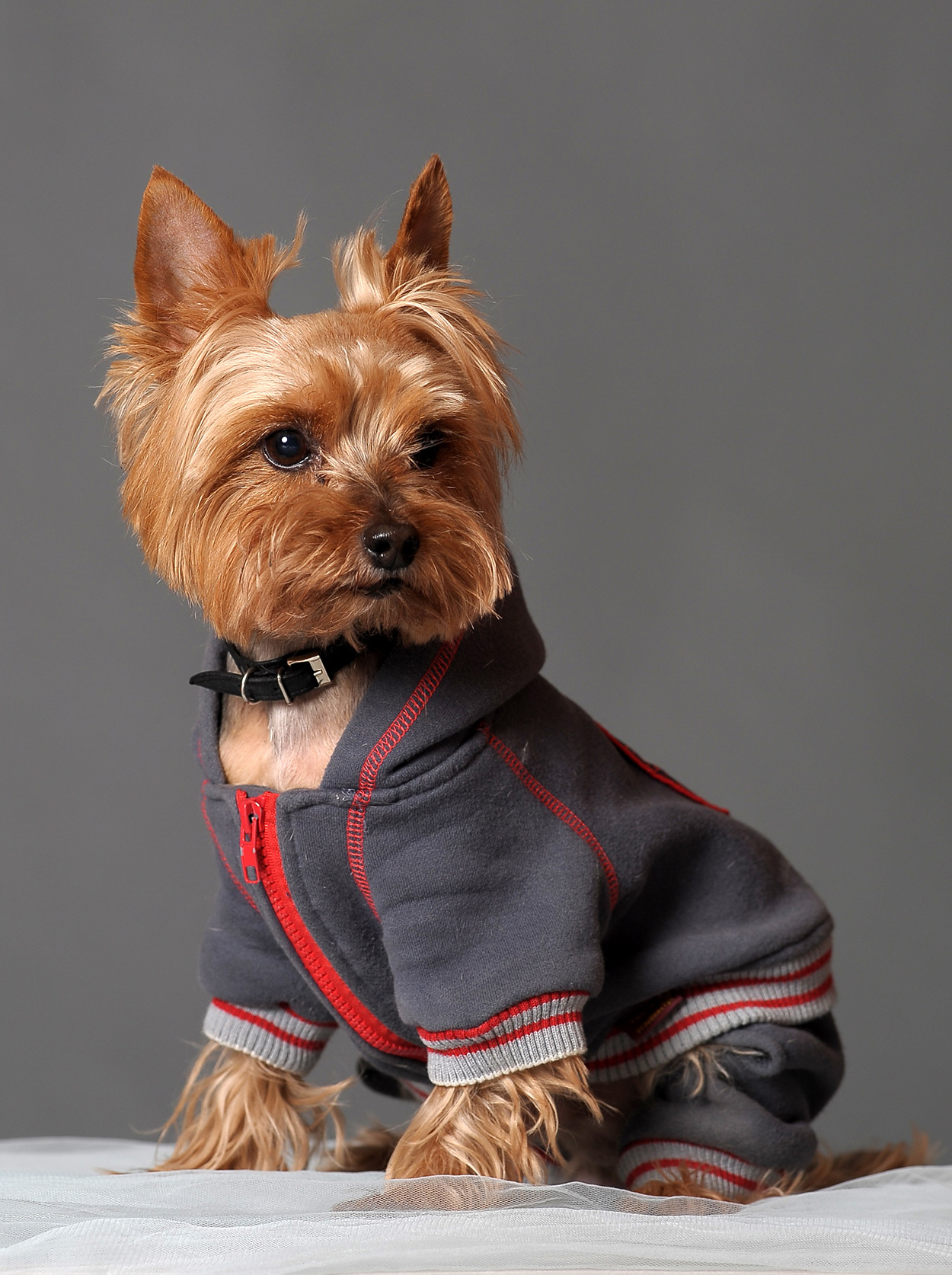 But do dogs really need clothes, you may be wondering?
While some pups might not need clothes depending on their locale, others would definitely benefit from a layer of protective clothing.
And what about the chance to indulge in a bit of fashion every now and then?
When I'm out walking, most dogs I see are sporting some type of fashion statement: a bandana scarf, a dress-to-impress collar, or a snazzy sweater.
Plus, clothing doesn't harm dogs, and if it pleases their owners and the pooches don't mind, why should we?
Yorkie outfits
Yorkies are petite pups that typically reach no more than 8 inches in height and tip the scales at around 7 pounds.
Small dogs have to work harder to stay warm, and if a Yorkie is out and about in the cold, a layer of extra warmth can be beneficial.
Think about it, when you shiver you put on a sweater or jacket, right?
It's easy to assume that a dog's fur will naturally meet its requirements for warmth, but that's not always the case.
Size, age, and breed are all factors to consider when thinking about a dog's comfort.
Even inside, some homes can be cooler than is comfortable for a pooch.
Thin haired dogs such as Yorkies, and those with shortly cropped locks, may not be as warm as we imagine them to be.
There are also medical conditions that affect a dog's ability to regulate his temperature, such as alopecia.
Picking Yorkie clothes
The key to dressing your Yorkie, whether it be for function or form, is being paws-itive that your pooch is comfortable.
You never want your pet to be feel confined in or restricted by her clothes.
After you have put clothes on your pooch, observe your dog to make sure she can move freely and isn't showing signs of overheating such as panting or lethargy.
Dressing our pets is a fun way to interact with them, a sure-fire conversation starter at the dog park, and a simple way to make a connection with our furry friends.
And for some dogs, having a sweater or jacket on simply makes sense in cold climes.
For all of these reasons we've reviewed some of the warmest, most fun, and dare we say trendiest, dog clothes for little Yorkies.
Yorkie costumes
Who says Halloween is just for kids?
Or that Santa suits are for only for chubby, bubbly white-haired gents?
Our pets are our fur babies and dressing them up for special occasions has become the norm, so let's open with some fun Yorkie costumes for when fancy dress is the order of the day.
If you need an extra special costume for your Yorkie, we have some colorful recommendations:
Mogoko Adorable Blue Shark Costume
With sizes ranging from small to xxxl, this company offers a shark costume sure to fit every dog who is so inclined!
This blue-finned doggie costume is made with velvet and microfiber and runs on the warm side, so it is best used in cooler months.
California Costume Collections Holy Hound Dog Costume
Holy guacamole, this sensational costume is sure to be the hit at any party!
We recommend the extra small size (fits dogs up to 8 inches) for your Yorkie, who is sure to command respect dressed in this officious red, white and gold printed costume.
Included are a mitered hat and a handsome stole with leggings.
NACOCO Pirates of the Caribbean Style Costume
Aye, Mateys, your dog will want to walk the plank, and the sidewalk, and just about anywhere he can command attention in this inspired pirate costume!
The adorable two piece outfit is machine washable and comes complete with a tiny pirate hat, skull and cross bones on full display.
Naturally the one piece body outfit has a hook and sickle, because what self-respecting pirate dog would leave home without them?
Pandaloon Panda Puppy Dog and Pet Costume Set
This too-cute walking panda bear costume with arms is recommended for very small and small dogs only, just like your Yorkie.
It's made of plush fabric, has reinforced feet, and is fully adjustable around the face and back.
Featured on Shark Tank, Crazimals, Unilad, and Viral Thread, the full length hoodie costume comes complete with an "authentic" bamboo accessory.
Yorkie sweaters
When it's cool enough for an added layer of warmth, but not yet winter weather outside, a toasty sweater is the perfect alternative!
CHBORLESS Pet Dog Classic Knitwear Sweater
With sizes from XXX-small on up, your little guy or girl is sure to find just the right size sweater to cuddle up in.
This wool sweater has cuffs around the legs and neck for added warmth, and there are several colors to choose from including pink, red, blue and gray.
Maybe one for each day of the week?
FAMI European Classical Pet Sweater
Three colors and three sizes mean your Yorkie can indulge her fashion sense with this traditional cable-style sweater with ribbing around the openings.
We recommend the small (for dogs around 5 pounds) or medium (for dogs around 7 pounds) for Yorkies.
Yorkie t-shirt
A fun yet cozy tee shirt is the perfect way to show off your pet's identity as well as her fashion sense.
Each of these tees makes a paws-itive doggy statement:
Idepet Cotton T-Shirt Vest for Yorkshires
What pet parent could resist showing off their little one in this adorable t-shirt that proclaims your dog's love for all the world to see?
I (heart) my mommy, and I (heart) my daddy, is printed in black across this gray cotton tee. Aw!
Sizes start at XS.
BINGPET SECURITY Dog Shirt
Your little one will be the boss of the dog park in this arresting tee!
Starting at size XS, the black shirt has SECURITY written in bold white letters across the back.
The comfy shirt is made of 65% cotton and 35% polyester and can be machine washed and dried for use again and again.
Haoricu Summer Angel Cotton Vest
Your little angel is sure to be pleased with this cute little tee that features white angel wings on a snuggy tee shirt that comes in flattering shades of blue, light blue, purple, red, and green.
The soft, comfy tee is made of polar fleece, and comes at an affordably price you won't mind getting mucky in the park.
Yorkie dog clothes
Sometimes a bit of whimsy is in order when it comes to expressing your dog's personality, and these Yorkie clothes offer the perfect channel for announcing his or her canine mood to the world:
Sanwood Daisy Flower Gauze Tutu Dress
Made especially for smaller dogs, this tutu style dress is adorned with a sweet pink and white flower and includes a green polka dot ribbon—too cute!
The white pullover is sure to be a hit with your little princess.
SILD Dog Jeans Jacket
This little jean jacket is almost too cool for doggie school!
It features a lapel c
ollar, and "belt loops" that can double as a leash holder.
The button closure design makes this winning fashion statement an easy-on, easy-off outfit.
WIDEN Pet Dog Pajamas
These colorful pajamas are fancy enough for wearing to a special occasion, yet comfortable enough for just lounging around the doghouse.
Made of cotton, the onesie comes in a variety of cheerful colors and each features a bow and ribbon flower on the back.
Yorkie puppy clothes
Even puppies can get in on the fashion action with these adorable little outfits perfectly sized for little dawgs:
Gooby Every Day Cold Weather Fleece Dog Vest for Small Dogs
Warm, fleecy, 100% polyester material will keep your pup toasty when the weather turns cold.
The color choices are numerous and include clay, lime, lavender, turquoise and peach.
An O ring is attached to this stylish pullover, for use with a leash.
Scheppend Adidog Puppy Hoodies
Your tiny puppy will have all the street cred he can handle when he ventures forth in this adorable doggie hoody.
It features a button closure design in soft cotton and comes in a range of colors including red, green, black, and blue.
Yorkie winter coats
Our dogs can't really tell us when they're cold, so a warm, stylish coat is a terrific way to make sure that your best friend is cold-weather ready. Any one of these cozy options are sure to keep Fido comfy:
Kuoser Cozy Reversible British style Plaid Dog Vest
Hundreds of happy pet parents have wrapped their bundles of joy up in this impressive winter coat.
Sizes start at XS for dogs weighing 4 to 6 pounds.
The outer layer is water-resistant and the inner layer is soft and cozy (the coat is made of polyester and terylene/cotton).
The windproof coat comes in handsome shades of plaid and it closes snuggly around your dog's body with a velcro strap.
LESYPET Waterpoof Puppy Coat
This delightful little doggie jacket is windproof as well as waterproof.
The filler material consists of warm cotton and the jacket is machine washable.
The coat attaches securely via snap buttons and has a drawstring hole to keep the chill at bay.
The back features a hole designed to accommodate a dog leash.
PetCee Waterproof Fleece Lined Reflective Dog Jacket
This toasty, cute coat is waterproof on the outside (100% polyester) and 100% fleece-lined on the inside.
It's also windproof and suitable for use in the snow.
Fully adjustable velcro straps ensure a snug fit, and sizes start at XS.
It is machine washable and includes a convenient leash attachment on the back.
For extra peace of mind the item comes with a 100% return guarantee.
Didog Reflective Dog Winter Coat
This versatile coat is made of nylon on the outside, making it splash-proof, wind-proof, and snow-proof.
Inside, cozy polar fleece keeps your Yorkie warm and toasty.
Velcro closures beneath the chest and neck make this an easy-on/easy-off jacket.
Yorkshire terrier clothes
We hope that you enjoyed our review of Yorkshire Terrier dog clothes.
As you can see there is an almost unlimited range of doggie wear to suit the needs and wants of your furry friend.
With their outsize, larger-than-life personalities, why not showcase your Yorkie's attitude with clothes that highlight his or her personality?
On top of all the fashion-forward trendiness that the right outfit can bring to the party, Yorkie clothes can also serve a valuable purpose.
As a small dog with thin hair, it can be a chore for your little one to keep its body temperature regulated.
A stylish coat or sweater may be all she needs to shake off the chills!

Yorkie clothes – Are you a fan?
Does your fun-loving fur baby have a favorite Yorkie shirt or outfit?
We'd love to hear all about your Yorkshire Terrier's clothes-sense in the comments section below!