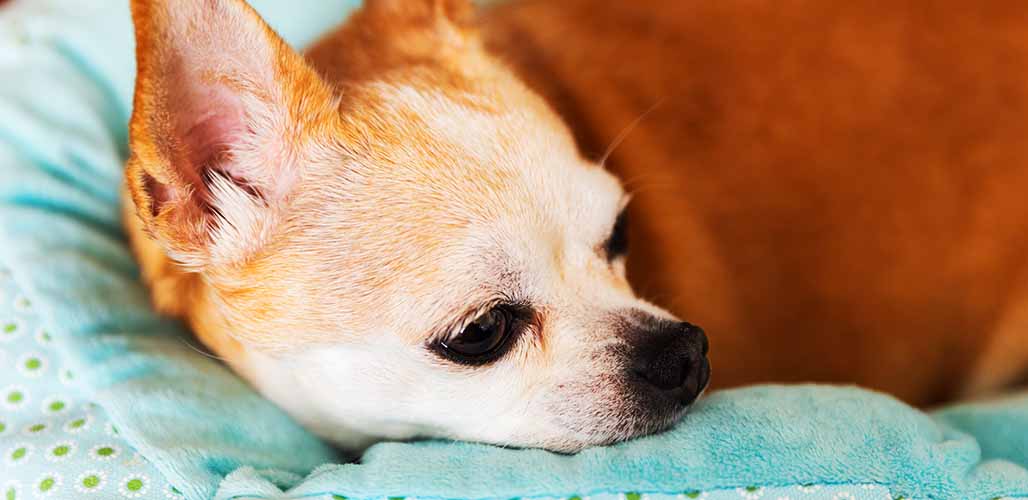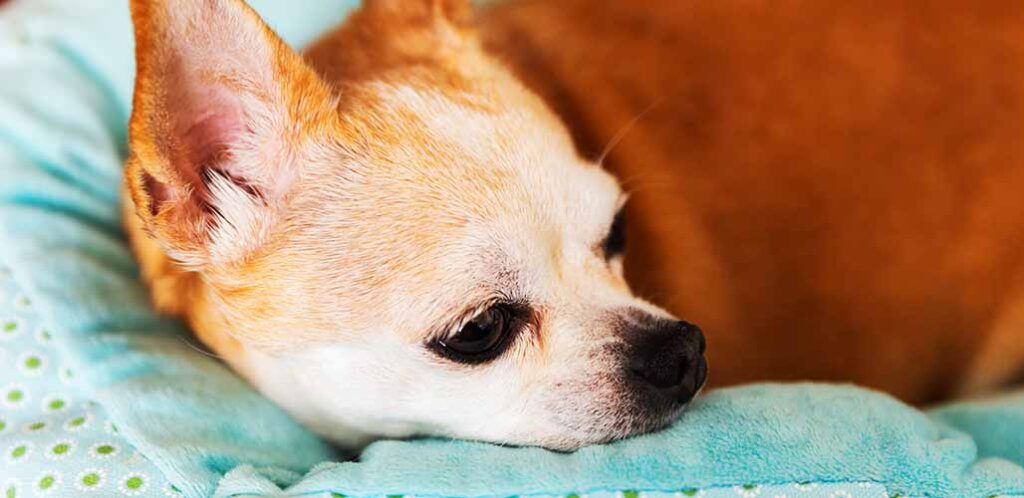 The question 'what do Chihuahuas usually die from?' can seem a little morbid. But I didn't feel embarrassed about asking it before getting a puppy. Knowing the health risks for any dog breed is an important and responsible part of keeping them safe, healthy and alive for as long as possible. Veterinary data reveals there are four leading causes of death in Chihuahuas, the number one of which is heart disease. We're going to look at all the main possibilities, and how to put them off for as long as possible in this article.
Contents
What do Chihuahuas usually die from?
The leading causes of death in Chihuahua are:
Heart disorders (responsible for 19% of deaths)
Lower respiratory tract disorders (responsible for 16% of deaths)
Traumatic injuries (responsible for 14% of deaths)
Brain disorder (responsible for 11% of deaths)
In total, these four categories of disease account for 60% of Chihuahua deaths (or 3 in 5). But they're umbrella terms which cover a range of possibilities, so let's break them down a bit more.
Heart disorders
Heart failure is the leading cause of death in Chihuahuas. 1 in 5 Chihuahuas die from heart failure, and they are more likely to die from heart failure than almost any other dog breed. This is because Chihuahuas have a higher genetic risk of some heart diseases than other dogs. These include
pulmonic stenosis (a valve defect)
patent ductus arteriosus (a hole in one of the major blood vessels serving the heart)
and degenerative mitral valve disease (another valve defect).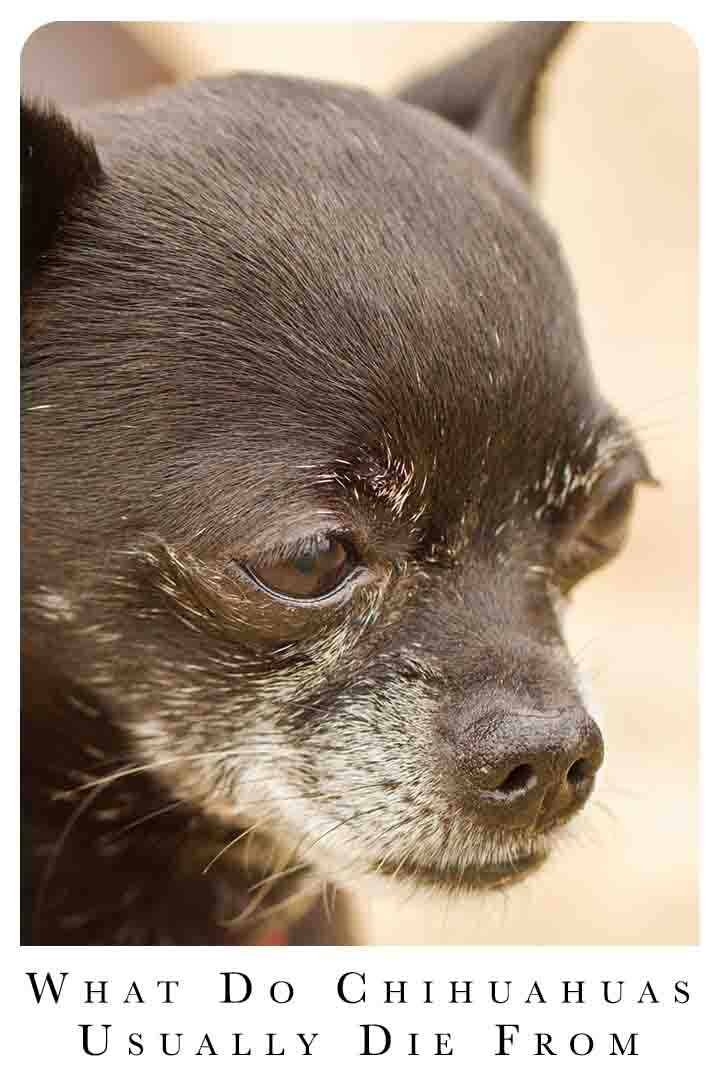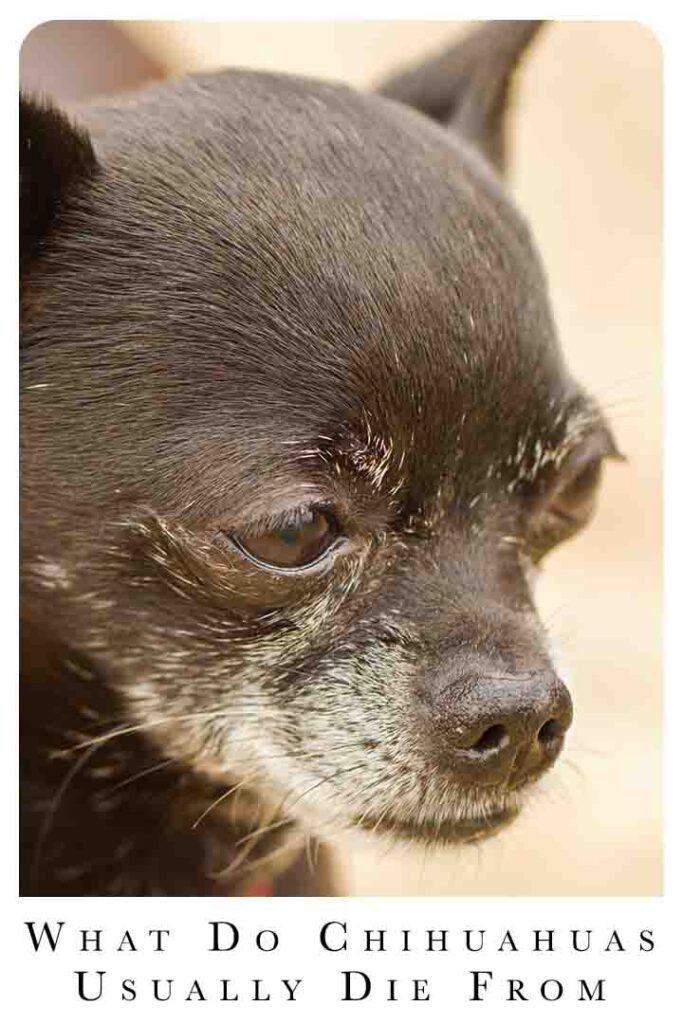 But the category of heart disorders also includes all the dogs who die from cardiac arrest or heart failure as a natural consequence of old age. The heart is a muscle which works hard throughout our lives to circulate blood. Inevitably, it eventually wears out. So this category also includes many of the Chihuahuas who die peacefully in their sleep at a ripe old age.
Lower respiratory tract diseases
Lower respiratory tract diseases include conditions like bronchitis and pneumonia. They can be bacterial or viral infections, and Chihuahuas' ability to fight them off depends upon their age, immune strength, and overall health. Very young and very old Chihuahuas are more likely to die from respiratory tract infections, as are Chihuahuas who are already weakened by other health problems. Chihuahuas with a high inbreeding coefficient may also have a less effective immune system and be more vulnerable to respiratory infections.
Traumatic injuries
Sadly, 14% of Chihuahua deaths are almost entirely preventable. And those are the ones caused by traumatic injuries. Chihuahuas have been bred over hundreds of years for a very small and delicate frame. Their breed standard uses terms like 'dainty' and 'graceful', and specifies that they ought not weigh more than 6lbs. Which means they are exceedingly fragile. Possible causes of fatal traumatic injuries include being hit by vehicles, accidentally stepped on, falling from heights and being dropped. Chihuahua owners need to take extra steps to dog-proof their homes, including setting up ramps to beds and sofas, and making sure their Chi can't squeeze through the balusters on stairs and landings.
Brain disorders
This is another umbrella term, but what it most commonly means is Chihuahuas who have died from a stroke. I can't find any veterinary evidence about whether Chihuahuas are more likely to have strokes than other breeds. It could be that this is simply another case of once a dog is old enough, something will eventually fail, because sadly they can't live forever.
What do most Chihuahuas die of?
What do Chihuahuas usually die from if not one of the big four above? Each of the following categories is responsible for 2 to 7% of Chihuahua deaths every year, on average:
Intestinal damage
Neglect
Kidney disease
Behavioral problems requiring euthanasia
Hormone disorders
Non-cancerous tumors
Urinary tract infections
And finally, these are some rarely fatal conditions in Chihuahuas, responsible for less than 2% of deaths each:
Adverse reactions to medicines
Complications from routine surgery
Cancer
Pancreatic disease
Parasitic infestation
A review of veterinary records in the UK found that 7 in 10 Chihuahuas are euthanized, and 3 in 10 have unassisted deaths. This sounds like a high rate of euthanasia, but it's important to bear in mind that these dogs are being euthanized at the point when one of the conditions above has brought them very close to death anyway, and euthanasia is sparing them any further pain, distress, or loss of dignity.
What age does a Chihuahua die?
The longevity statistics for Chihuahuas are surprising. Mortality surveys over the years have produced highly varying estimates of the average Chihuahua lifespan, ranging from 7 years and 1 month to 12 years and 5 months. The all-breed average lifetime for a dog is 11 years and 11 months, so it's hard to say whether they're beating the odds or not! But as a rule, smaller dog breeds do live longer than larger breeds, and by rights that means Chihuahuas should be living comfortably past 12. So why are they not in so many cases?
One study from 2022 appears to reveal the answer. A lot of Chihuahuas sadly die before their 2nd birthday, and this skews the overall average life expectancy for the breed. These premature deaths are most likely be caused by one of the hereditary heart diseases mentioned above, or infections in newborn puppies without a mature immune system.
If they survive their first two years, Chihuahuas are very likely to reach 16 or 17 years old. The oldest Chihuahuas even reach their twenties. So not a lot of dogs actually die in middle age – the average life expectancy for the breed is just a classic illustration of how statistics can be misleading.
The importance of health testing
How can you make sure your Chihuahua is going to be one of the ones who lives to 16, not 1? The answer is health testing! The Canine Health Information Center at the Orthopedic Foundation for Animals recommends that all Chihuahuas being considered for breeding are tested for
heart disorders
eye disease
and patella luxation.
In particular, thorough cardiac screening can prevent the hereditary heart diseases from being passed on which kill so many Chihuahua puppies before their 2nd birthday. Besides health testing, lifestyle factors such as dog proofing your home and keeping your Chi at a healthy weight will secure them the largest possible number of years with you.
Do Chihuahuas have health problems?
The most common non-fatal concerns which Chihuahuas present at veterinary clinics with are:
dental disorders, including retained baby teeth, overcrowding, and gum disease
anal sac impaction
and aggressive behavior.
Statistically, male Chihuahuas are more likely to experience poor health than females. Males have higher rates of aggression, heart murmurs, ear infections, pink-eye and upper respiratory tract infections, whilst females aren't more likely to suffer any of the conditions which affect both sexes.
How do I know if my Chihuahua is dying?
It's painful to think about our dogs reaching the end of their lives. But giving them comfort and dignity in death rather than burying our heads in the sand and refusing to think about the prospect is the last great kindness we can give them in thanks for all their love and companionship.
From about 7 or 9 years old onwards, your Chihuahua will be considered a senior dog. From this point onwards it's a good idea to take them for veterinary check ups every 6 months. These are a chance to identify and manage some of the side effects of aging. For example your vet might recommend supplements to protect their joints, and later on prescribe painkillers to manage symptoms of arthritis.
These health checks are one of the best ways to prolong your dog's life as long as possible, give them a happy old age, and plan for end in a way that you can look back on and honestly say that you did the best you could for them.
What do Chihuahuas usually die from – summary
The most common cause of death in Chihuahuas is heart failure, followed by lower respiratory tract infections, traumatic injuries, and brain disorders such as strokes. Unfortunately, a high prevalence of hereditary heart diseases in Chihuahuas means that an unusual number of dogs from this breed die before their 2nd birthday. Dogs which make it past this point quite often survive to their late teens.
More articles for Chihuahua lovers
References