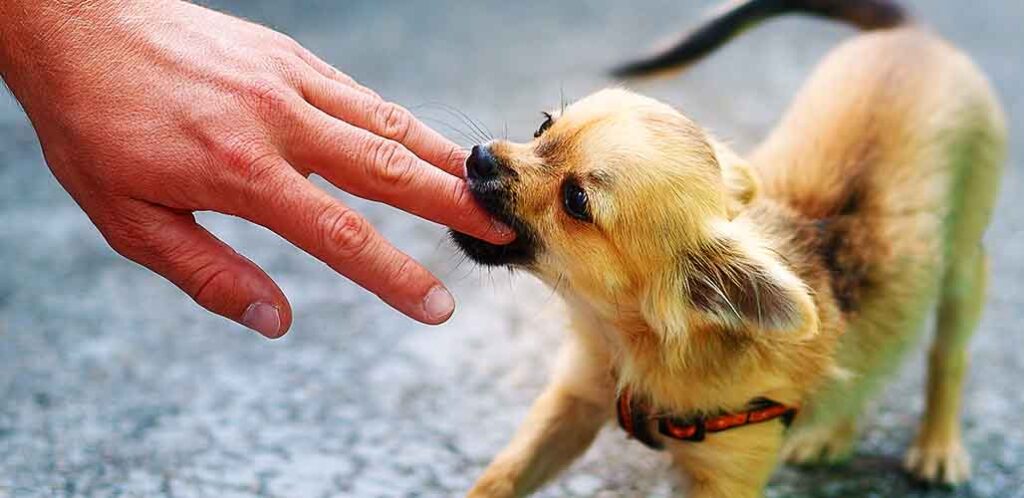 Chihuahua bite force is about 80lb. The size of their mouth means their bite is much less dangerous than a larger dog's. Which is reassuring, as these cute lap dogs can be a bit snappy! But Chihuahua bite force is still able to break the skin and leave a nasty wound. Today we look at how to avoid being bitten by a Chihuahua, what to do if they look like they might bite and whether Chihuahua aggression problems are as bad as they seem.
In this article about Chihuahua bite force, we answer the questions 'how hard can a Chihuahua bite?' and 'does it make them dangerous?' We'll also explain some simple measures you can take to minimize the risk of ever being bitten by your Chihuahua.
In this video Pia the Chihuahua is giving a chew toy everything he's got. Let's see exactly how much that is, and how much damage it can do!
Chihuahua bite force
Researchers have estimated Chihuahua bite force at about 80lbs. Or to put it another way, equivalent to their jaws being pushed together by a baby rhino standing on top of them! This sounds like a lot, and it could certainly do you a serious injury.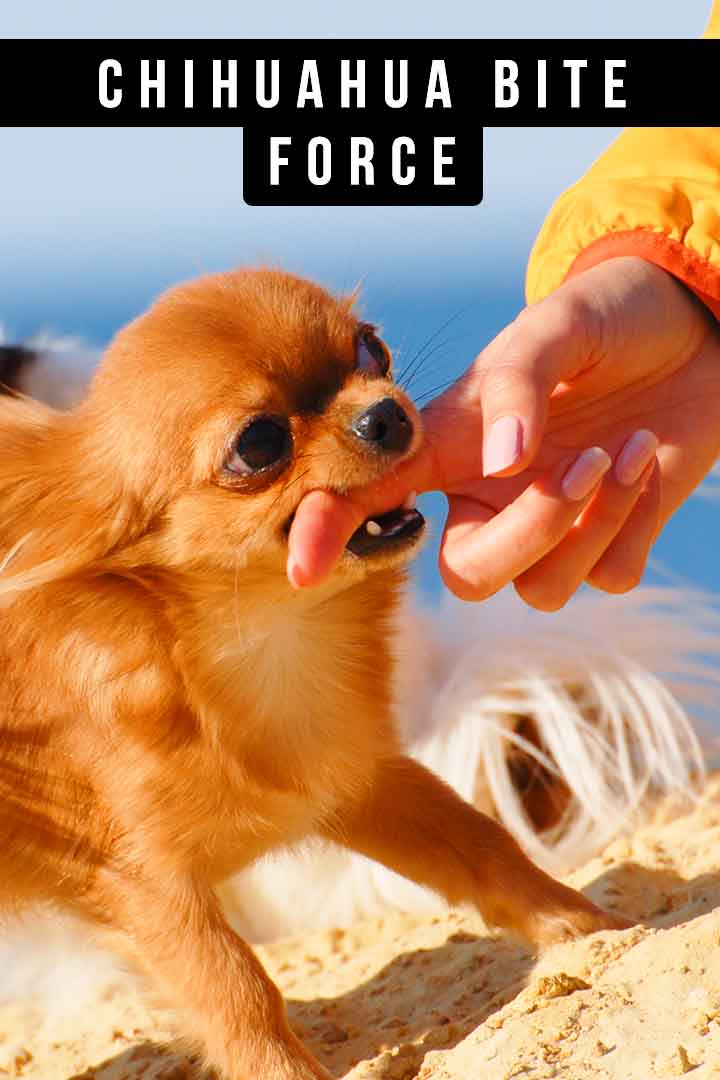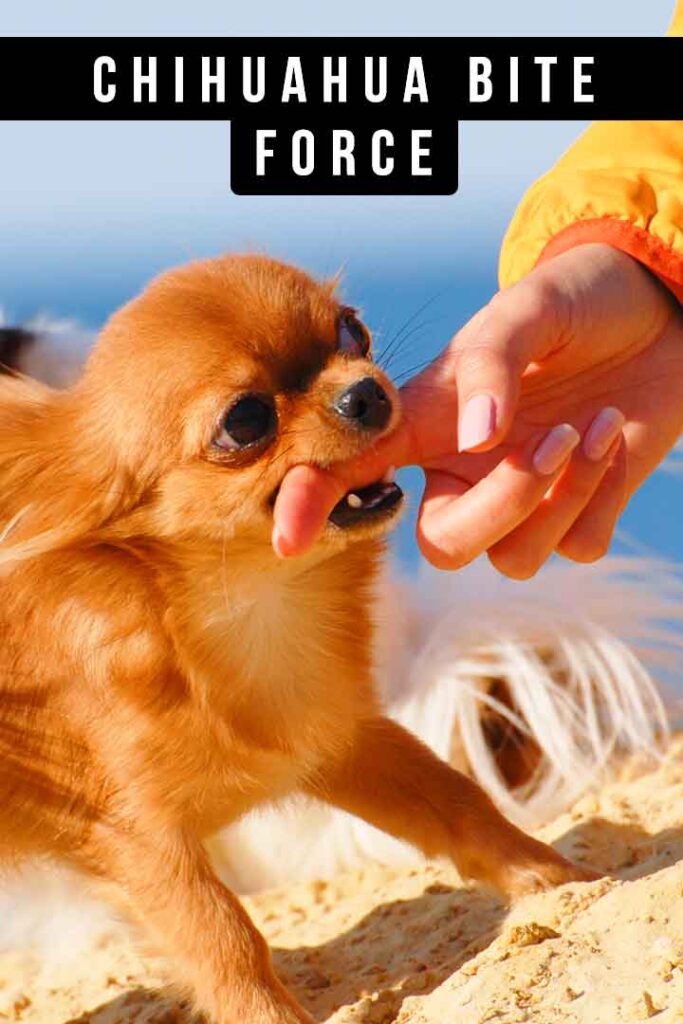 By way of comparison Bulldogs and Boxers have an estimated bite force of 160-250lbs, and Rottweilers have an estimated bite force of 430-470lbs. And interestingly, Chihuahua bite force is comparable to some larger dog breeds despite the difference in size, because of the shape of their head.
Chihuahuas have a brachycephalic jaw. This means the distance from the tip of their nose to the back of their head is relatively short compared to the width of their skull. This amplifies the strength of their bite. By contrast, a Collie, which can easily weigh ten times more than a Chihuahua and stand over three times taller, only has a fractionally stronger bite force, of 100lbs. That's because their muzzle is very long relative to the width of their head (known as 'dolicocephalic').
Measuring the bite force of a Chihuahua
All of these bite force estimates need to be taken with a pinch of salt however, because measuring dogs' bite force is a tricky business. We can't, for example, ask a dog to bite down as hard as they can on something, while we measure the force they exert. But, numerous studies have attempted to model or estimate bite force. Either theoretically by measuring their skull and the muscles around it, or by motivating them to bite something with enthusiasm as part of a game. The values in the previous section were estimated in 2020, by researchers using the latter technique. And they match previous estimates using both methods pretty closely.
Do Chihuahuas bite?
All dogs are capable of biting. The probability of them biting and the determination with which they are likely to bite is shaped by things like:
their size
jaw shape
breed instincts
chewing enthusiasm
personality
and training.
As puppies, all dogs breeds bite when they play, and to soothe the aches and pains of teething. Usually, they grow out of it by the time they are 6 to 9 months old. Biting in adult dogs is usually associated with fear and reactivity. Numerous studies have identified Chihuahuas as one of the dog breeds most likely to display aggressive behaviors (including barking, growling and biting) towards unfamiliar people, unfamiliar dogs, familiar dogs, and even their owners.
Why do Chihuahuas bite?
Possible reasons for the high frequency of Chihuahua bites are:
Inadequate socialization
Socialization is the important process by which young puppies are gradually introduced to different kinds of people, dogs, places and stimuli before they reach 12 weeks old. During this early window, they are very receptive to forming positive opinions of new things. Owners of toy breed puppies may be more likely to overlook socialization, because their dog is small enough to be carried around. Or they might inadvertently allow their tiny charge to be overwhelmed by too much at once, so that the experience isn't positive. For example letting an enthusiastic child pet them too roughly. Chihuahua puppies which aren't successfully socialized are more likely to display fearful aggression as adults.
Owners let toy dogs get away with more
Just about every undesirable behavior dogs can perform gets more frequent in toy dogs. Researchers have speculated that this is because the consequences are smaller, so owners don't address them. For example a Chihuahua who regularly nips at their owners' ankles might not be regarded as a big deal. Especially if their owners routinely wear boots and jeans, and the bites aren't hurting them.
Bad breeding for dogs with bad temperaments
This is linked to the point above. Responsible breeders only use sires and dams with great temperaments, who have never shown signs of aggression. But other breeders might use a breeding dog who frequently nips at their family because they consider it 'normal for the breed'. However, this increases the probability of the puppies having reactive temperaments and being likely to bite too.
Are Chihuahuas dangerous?
Does all this mean that Chis are inherently dangerous, and you shouldn't get one? Not at all! Just because Chihuahuas are more likely to bite than other breeds doesn't mean all Chihuahuas have a low threshold for biting. The factors which increase the risk of biting can be minimized by finding a good breeder and socializing and training your puppy properly.
What about older Chihuahuas?
It's wise to only engage an adult Chihuahua if they approach you first, and with their owner's blessing. But, this is true of all dogs! If a Chihuahua does bite you, it's likely to be on the hands, forearms, or face. If a Chihuahua does bite you, it's unlikely you'll have much trouble shaking them off. But, they could still do significant damage to the skin, blood vessels, tendons and other tissues. And the potential for injury is greater if a Chihuahua bites a child or an elderly person. All dog bites require immediate medical attention. Unsurprisingly, Chihuahuas are not linked with any of the fatal dog bite injuries documented each year.
Preventing Chihuahua bites
Socialize them as a puppy. Socialization give dogs the confidence to go out into the world without fear, which makes them less likely to bite.
Never break up a dog fight. Chihuahuas are more likely than almost any other breed to fight with other dogs in the home. But attempting to separate fighting dogs is one of the most common risk factors for sustaining a bite.
Don't disturb them when they're sleeping. Another common risk factor for dog bites is startling a sleeping dog.
Learn to understand their body language. Did you know that a wagging tail doesn't always mean a dog is happy? Some tail wagging is an expression of anxiety, uncertainty, or high alert. Learn the signs that your dog is relaxed and calm, or stressed and anxious. And diffuse stressful situations before they escalate.
Always supervise Chihuahuas with children. Children aren't much good at reading dog's signals when they want to be left alone, and even worse at exercising self restraint to heed those signals. So, always supervise interactions between children and dogs.
Chihuahua bite force summary
Chihuahuas have a bite force of approximately 80lbs, which is impressive relative to their size thanks to their brachycephalic jaw. Choosing a puppy from a reputable breeder, socializing and training them well, and learning to recognize their emotional state from their body language can help reduce the risk that they ever bite you.
More Chihuahua resources
Best Shampoo for Chihuahua Dogs and Puppies
References
Brassard et al. Bite force and its relationship to jaw shape in domestic dogs. Journal of Experimental Biology. 2020.
Coren. Dog Bite Force: Myths, Misinterpretations and Realities. Psychology Today. 2010.
Ellis et al. Calibration of estimated biting forces in domestic canids: comparison of post-mortem and in vivo measurements. Journal of Anatomy. 2008.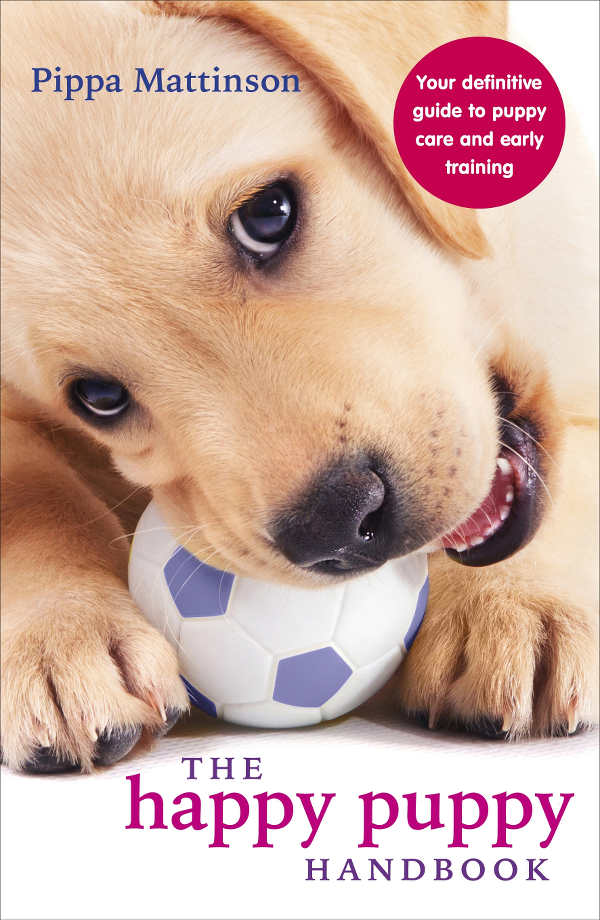 Kim et al. Bite Forces and Their Measurement in Dogs and Cats. Frontiers in Veterinary Science. 2018.
McGreevy et al. Dog Behavior Co-Varies with Height, Bodyweight and Skull Shape. PLOS One. 2013.
Hygaard & Dahlin. Dog bite injuries to the hand. Journal of Plastic Surgery & Hand Surgery. 2011.
Serpell & Duffy. Dog breeds and their behavior. Domestic Dog Cognition and Behavior. 2014.