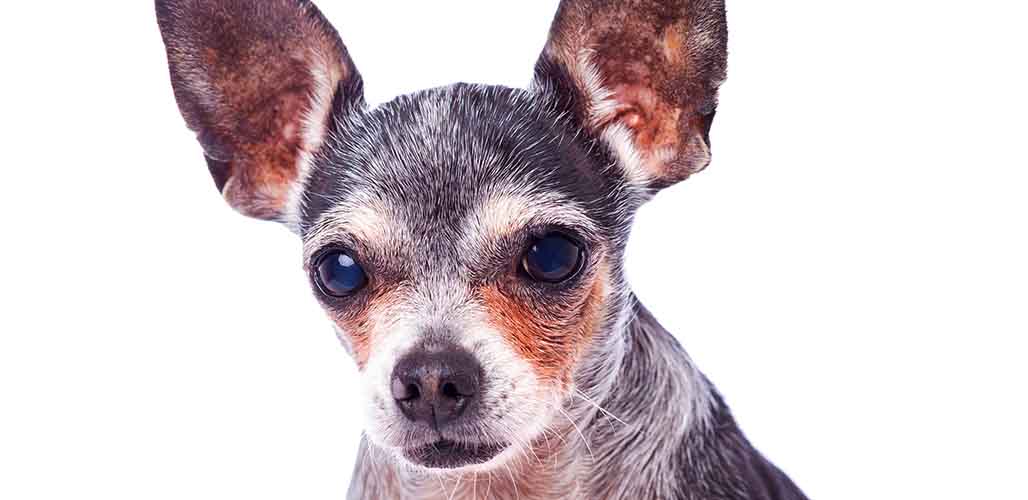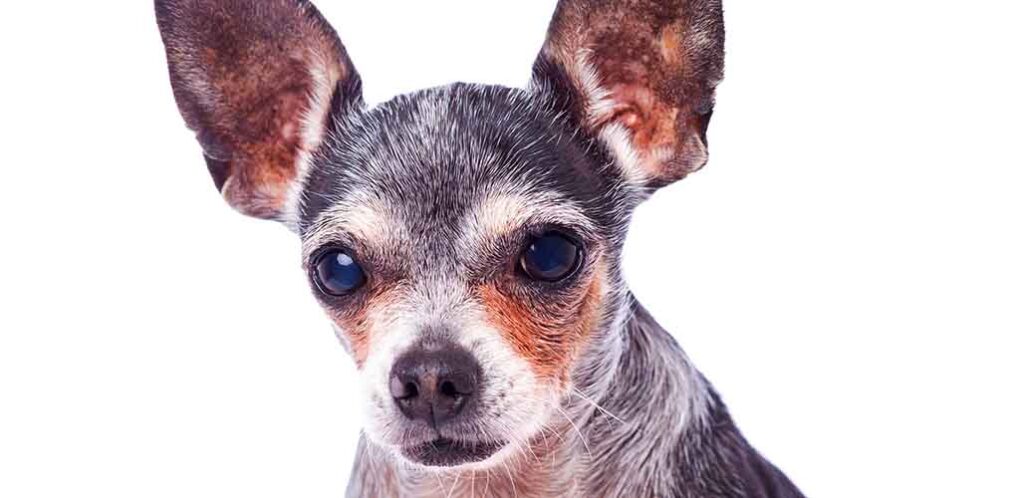 If you're a new owner of an old Chihuahua, or if the Chi you've had from a puppy is starting to enter their golden years, this detailed guide to Chihuahua aging and care will help you prepare for the next stage of their life.
Chihuahuas are considered senior from about their 11th birthday onwards. Chihuahua owners are likely to notice physical, mental, and behavioral changes in their older dog. There might be some age-related health conditions to address as well.
16 year old Chihuahua Peanut is slowing down but still has his playful moments. Let's find out more about how his owner may be adjusting to owning an older Chihuahua.
What age is considered a senior Chihuahua?
Are you unsure whether to call your Chihuahua old yet? If so, that's totally understandable, because when it comes to dogs, 'old' is a relative term! Dogs' average life expectancy is linked to their adult size. Large and giant dogs have the shortest lifespans, and small and toy dogs have the longest lifespans. Researchers don't fully understand why that is yet though. They have speculated that by not using as much energy to achieve and maintain a large size, dogs like Chihuahuas simply don't wear out their bodies as quickly.
Chihuahuas are usually considered old, or 'senior', from between 10 and 12 years old. Usually about 11 onwards. The reason one Chihuahua might be regarded as senior at 10 years old, and another at 12 years old, is because aging depends a lot on the individual. Some Chihuahuas might be showing physical signs of aging and have acquired some age-related health problems by the time they're 10. Whilst others might still be fighting fit at 11. For this reason, it's more important to make care decisions based on your own pet's specific needs at each life stage, than to time them by their age on the calendar.
Chihuahua life expectancy – how old do Chihuahuas live?
Chihuahuas live for 11 to 12 years on average. This is based on anecdotal evidence from breed experts, and some limited studies of Chihuahua lifespan. But in fact, estimating the life expectancy of an 'average' Chihuahua is quite tricky. Sadly, a significant proportion of Chihuahuas die during or shortly after birth, or in midlife from traumatic injuries (such as falling from furniture). These premature deaths skew life expectancy estimates based on the average lifespan of previous Chihuahuas, so that they appear very low (as low as 7 years in fact).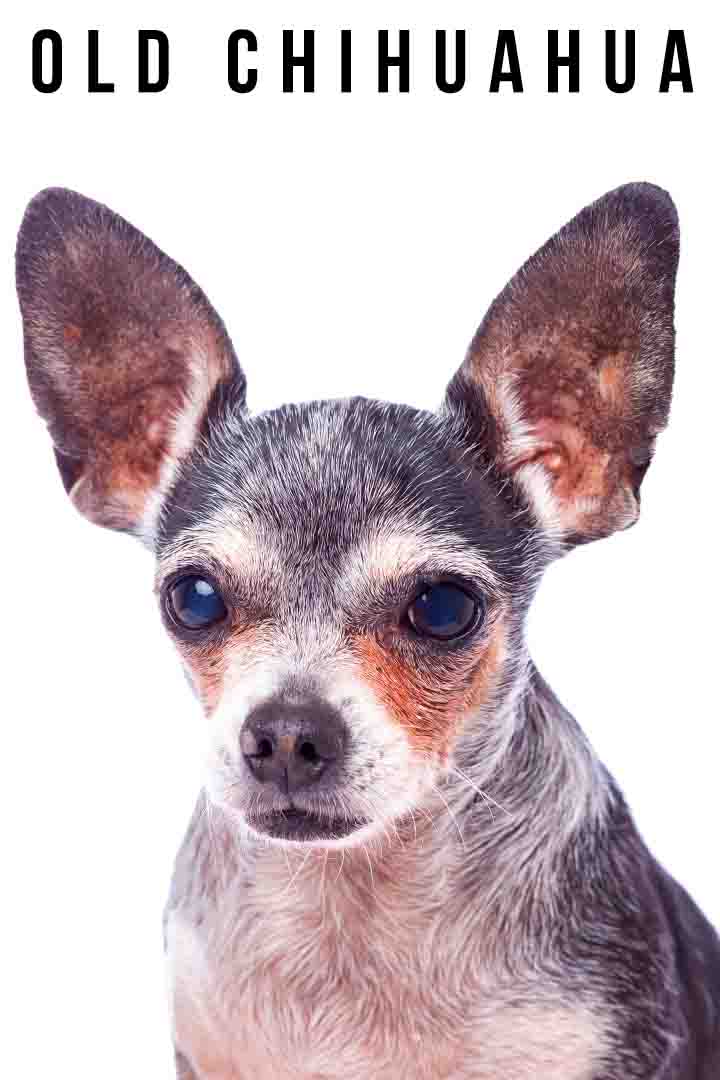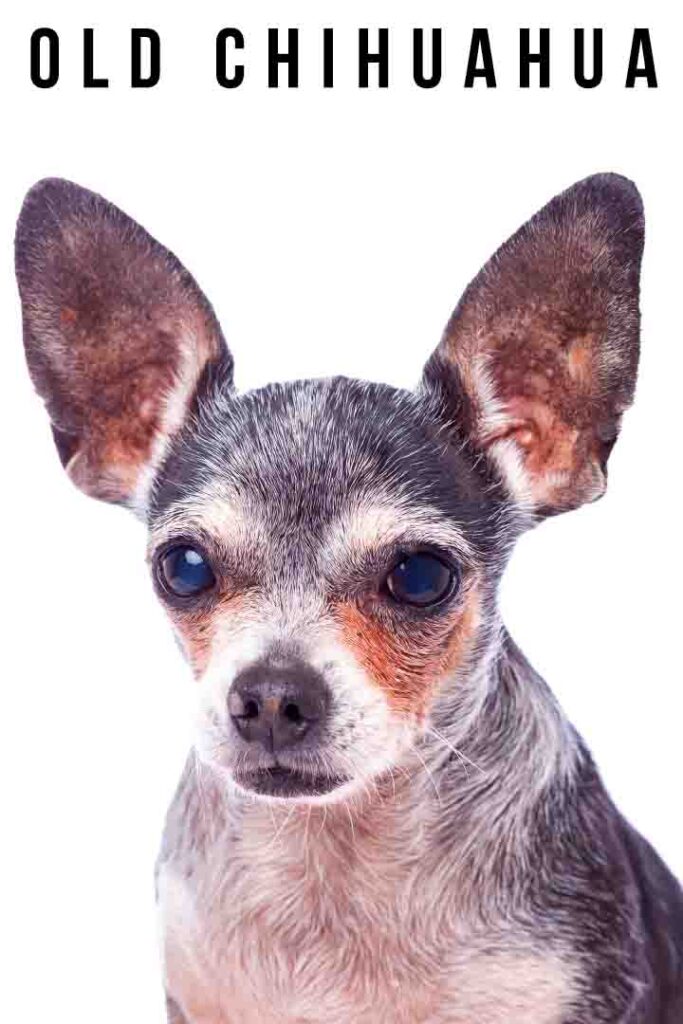 But for Chi's who survive being born and who don't have any fatal accidents, their 11th birthday is likely to be the start of their old age, not the end of it. In fact it's not unusual to read reports of 14 year old Chihuahua dogs, and even occasionally 20 year old Chihuahua dogs!
Will my old Chihuahua change?
We all change as we get older, and the same is true of our dogs. As your Chihuahua gets older, you're likely to notice changes in how they look, and how they behave. They might also start to acquire age-related health problems.
Physical aging
Some of the physical ways old dogs change are:
Losing pigment in their fur
Thinning fur
Weight loss, or gain
Loss of muscle mass and tone
Decreased speed and agility
Deceased coordination
Emotional and behavioral changes
Older Chihuahuas might also become noticeably more:
Set in their ways
Intolerant of puppies or children soliciting their attention
Disinterested in playing
Enthusiatic about napping
You might also notice behavioral changes linked with some of the age-related health concerns described below. Interestingly, evidence suggests cognitive aging progresses at the same rate in all dog breeds, regardless of their size. So mentally, large dogs have a relatively short old age. But small dogs like Chihuahuas have a longer period at the end of their life of thinking like an old dog. Of course, there will still be variation among individuals. One Chihuahua might start to become forgetful from 10 years old, whilst their neighbor remains whip smart until they are 13. In the end, they could both live to 16.
Common health problems of senior Chihuahua dogs
Age-related health problems are part of aging for most old Chihuahuas. The longer they use their body, the greater the likelihood that some part(s) of it will start to wear out. Common health problems in elderly Chihuahua dogs are:
Sensory loss
In particular, deafness, and sight loss caused by cataracts.
Heart problems
Older Chihuahuas are prone to cardiac diseases such as mitral valve disease and hypertrophic cardiomyopathy. Both of these cause the heart to work less efficiently. Cardiovascular failure is the leading cause of eventual 'death by old age' in the Chihuahua breed.
Eating and digestive problems
Older dogs of all breeds often start to experience difficulties with feeding and digestion. Specific issues include
Losing teeth
Decreased gut motility
Less efficient absorption of energy and nutrients from food
New food sensitivities
Pancreatitis
Trauma
We've already touched on how easily Chis can receive traumatic injuries such as broken bones. The risk is even higher in older Chihuahua dogs, who are more likely to lose their footing, or not see a step approaching for example. On top of this, senior Chihuahua dogs are more likely to suffer complications from anesthesia if they need surgery to fix an injury.
Canine Cognitive Dysfunction (CCD)
CCD is more commonly known as 'doggy dementia. It manifests in a similar way to Alzheimers in humans. Symptoms include:
Disorientation at home and on familiar walking routes
Sleeping more during the day, but being restless at night
Urinating and defecating indoors
Increased anxiety
Decreased interaction with family
Gazing absently into space (known as star gazing)
Pacing
It's estimated that around 1 in 7 Chihuahuas have some degree of CCD by the time they are 8 years old. And that the older they get, the more likely they are to develop symptoms. Since it is a neurological condition caused by the brain aging, symptoms can only be managed rather than reversed. Let's look at that, and other aspects of caring for an elderly Chihuahua next.
Caring for an older Chihuahua
Is your Chihuahua old? Here are some of the ways the care they need is changing, and you can make their senior years as comfortable and enjoyable as possible.
Clothes
If your Chihuahua hasn't needed a wardrobe yet, you might find that from 10 or 11 years old onwards, they start to feel the cold more. Especially if their fur gets thinner, or they lose a little weight. Lightweight layers can help trap warm air next to their skin and make them more comfortable.
Keep things consistent
Old Chihuahuas often become less adaptable to change. Sometimes it is simply part of becoming stuck in their ways. But if it interferes with their well being, it could form part of a CCD diagnosis. Since CCD can't be cured, keeping your older dog's environment and routine consistent are an important part of managing their symptoms and limiting the anxiety they cause.
Shorter walks
Keeping up with regular activity for as long as your dog can manage it is essential for their physical well being. But as they get older, you're likely to notice they get tired more easily, and you'll need to adapt accordingly. If you have younger dogs as well, you might need to walk them separately, or take a sling along so you can carry your elderly Chihuahua when they get tired.
Instal ramps
Older dogs inevitably become less mobile, and also lose their footing and injure themselves more easily. If your older Chihuahua has been navigating steps and furniture in our house until now, you might find they start struggling, in which case installing ramps will help.
Respect their space
With a few honorable exceptions, most older dogs dislike being pestered by puppies and young children. Some will tolerate it more patiently than others, but it's not fair to expect them to put up with it endlessly. If they are experiencing pain or disorientation from an age-related health problem, they might growl or nip in situations which wouldn't have provoked them when they were younger. So, make sure they have a private space where they know they can rest in without being bothered.
Diet
Many pet food manufacturers produce commercial diets targeted at senior dogs. They tend to be less calorie-dense than adult diets, to allow for older dogs becoming less physically active. They might also be fortified with supplements for joint health. If you older Chihuahua loses some or all of their teeth, you might need to soften their kibble with water, or switch to a pate-style food. Your veterinarian can help you choose something appropriate.
Vet checks
Speaking of which, twice-annual veterinary check ups are more important than ever for elderly dogs. They're a chance to check on their overall body condition, but also to promptly identify any issues which might be causing them pain.
Indoor potty options
Finally, incontinence is a frequent symptom of old age and CCD. Although it hasn't been studied as far as we're aware, it makes sense that Chihuahuas, with their tiny bladders, could be particularly affected. Setting up a pee pad in a discreet corner indoors, or even investing in a turf box, can prevent this becoming a source of frustration or resentment.
Old Chihuahua Summary
Physically, small dogs like Chihuahuas age more slowly than big dogs, meaning that they can potentially live well into their teens. From around 11 years old onwards they are considered a senior dog. In this stage of their life, the care they need is changes distinctly from the care they needed when they were younger. And after all the years of companionship they've given so far, they deserve a comfortable old age!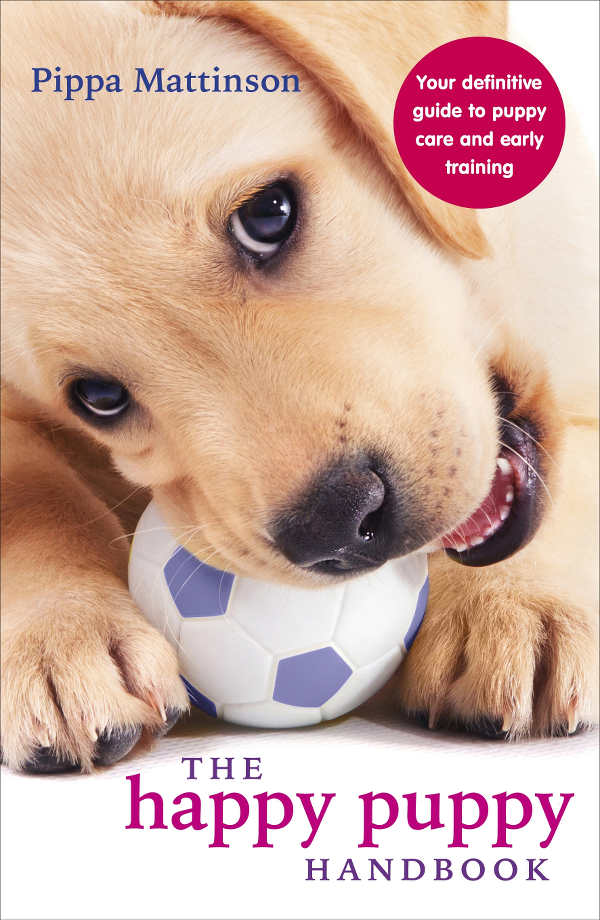 Do you have a really old Chihuahua?
Is your Chihuahua older than the average age of 11.5 years? We'd love to hear about them in the comments box down below! What are they like, and what do you think has been the secret to their long life?
Don't miss
Best Shampoo for Chihuahua Dogs and Puppies
Chihuahua Clothes – The Best Coats And Outfits For Chihuahua Dogs
References
Fast et al. An Observational Study with Long-Term Follow-Up of Canine Cognitive Dysfunction: Clinical Characteristics, Survival, and Risk Factors. Journal of Veterinary Internal Medicine. 2013.
Fleming et al. Mortality in North American Dogs from 1984 to 2004: An Investigation into Age-, Size-, and Breed-Related Causes of Death. Journal of Veterinary Internal Medicine. 2011.
O'Neill. Demography and commonly recorded clinical conditions of Chihuahuas under primary veterinary care in the UK in 2016. BMC Veterinary Research. 2020.
Silva & Castells. Key Concepts in Senior Dog Care. Servet. 2020.
Wallis et al. Demographic Change Across the Lifespan of Pet Dogs and Their Impact on Health Status. Frontiers in Veterinary Science. 2018.
Watowich et al. Age influences domestic dog cognitive performance independent of average breed lifespan. Animal Cognition. 2020.