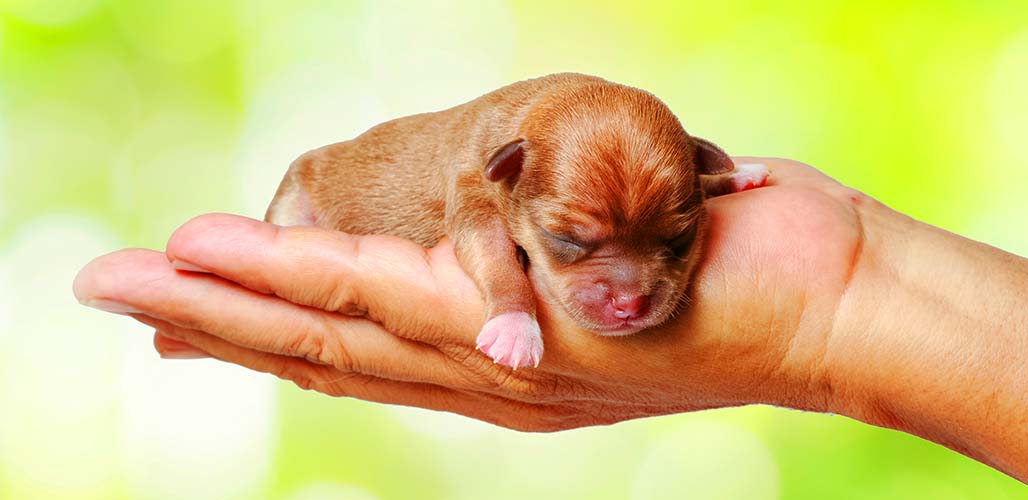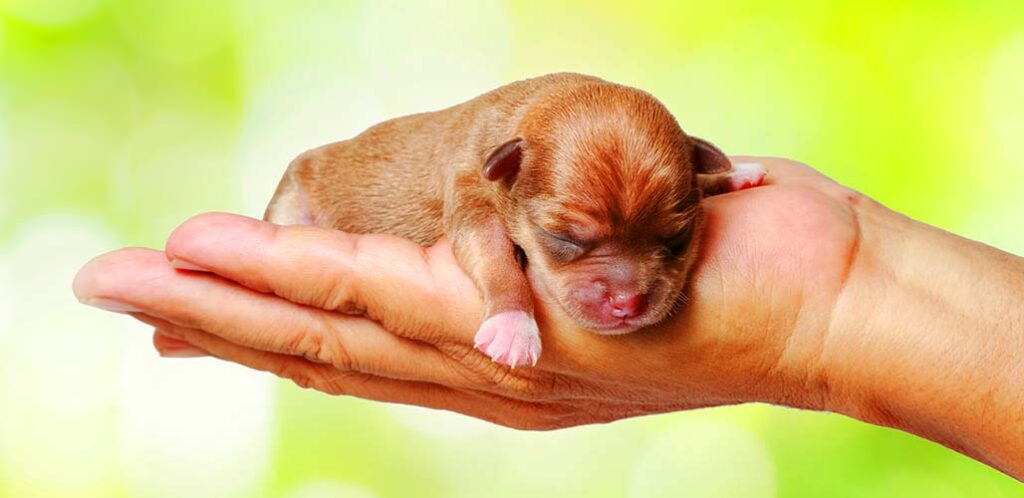 This article is full of facts about newborn Chihuahua puppies, from how small they are and what they're like in their first days and weeks, to the milestones they need to reach before they're ready to go home with a new owner.
A newborn Chihuahua is tiny, helpless, and completely dependent on their mom for survival. But the days and weeks that follow are an extraordinarily fast-paced period of development.
This video charts one Chihuahua puppy's progress from birth to joining his forever home. Let's take a closer look at some of the milestones it features.
How big are newborn Chihuahuas?
Let's start with size. Chihuahuas are among the smallest dogs in the world. In fact, only the Toy Poodle has an equally low size limit on show dogs – just 6 pounds. And of course, that means teeny tiny puppies. Perhaps because their size is so fascinating, there have been several surveys of baby Chihuahuas' birthweight. A newborn Chihuahua puppy can weigh between 1.2 and 9.5oz (35 and 270g). Most weigh between 3 and 5oz (85 and 140g). And the average birthweight is 4.25oz (120g). For comparison, a D battery weighs 4.75oz!
Several studies have tested whether low birthweight is a problem for puppy Chihuahuas. But happily, the smallest puppies were just as likely to survive the tricky few days immediately after birth as their larger siblings and cousins.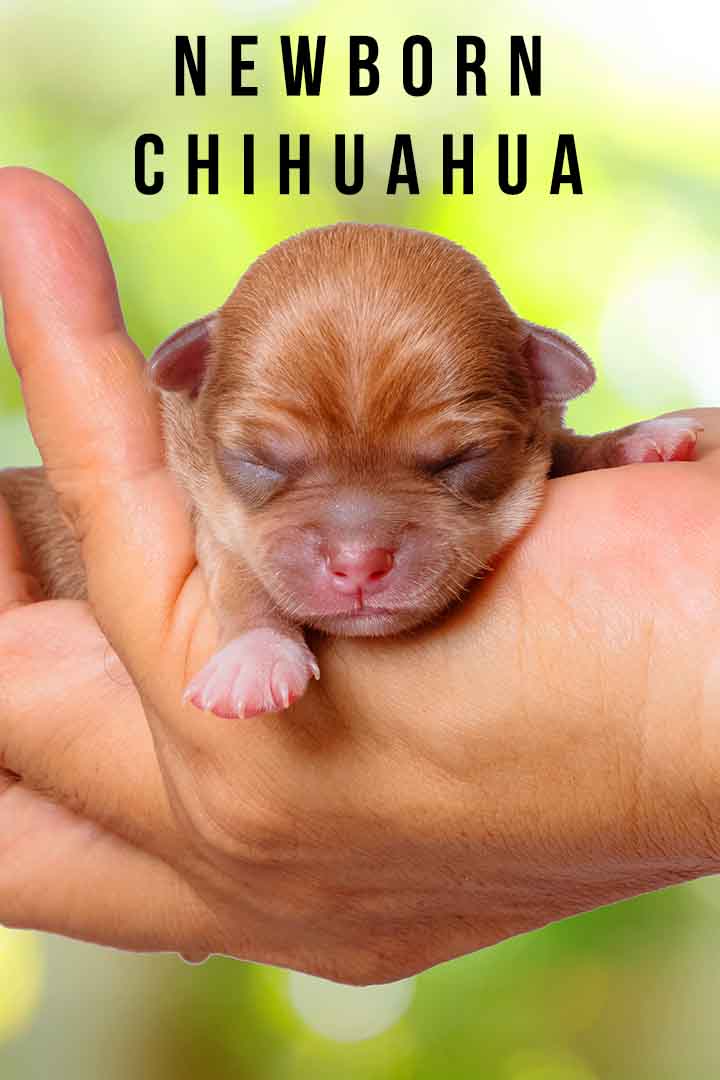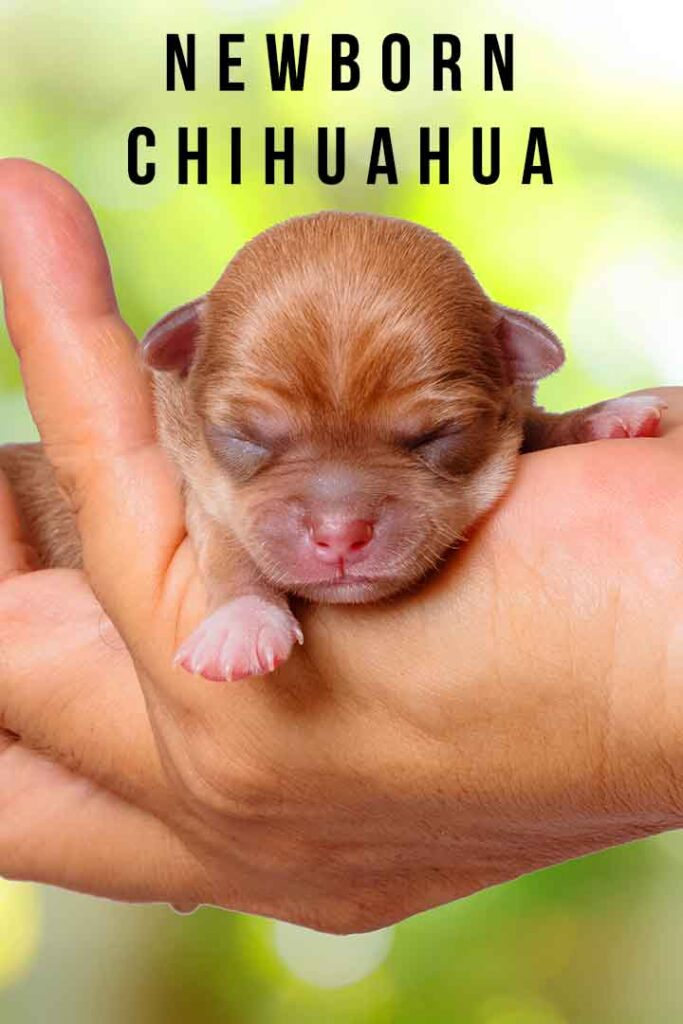 Not as small as they ought to be?
So Chihuahua newborn puppies are very tiny indeed. But they're not actually that tiny compared to their mom. Downsizing a whole wolf into a pet dog under 6lbs was a breeding project driven entirely by humans. However, when we change one aspect of a dog's biology (in this case their height and weight) so rapidly, not everything about them always manages to keep up at the same rate.
For example Chihuahuas often struggle with dental problems due to having a wolf's worth of teeth in a tiny pair of jaws. And their puppies still grow disproportionately big compared to the size of their mom while they're in the womb too. This means that Chihuahuas are more likely to need a planned cesarean section, and more likely to experience difficulties if they give birth naturally. To ensure the best possible outcomes for mom and her pups, all pregnancies should be monitored closely by a veterinarian. And novice breeders should be mentored through the birth by a more experienced breeder.
Cute facts about newborn Chihuahua pups
The average number of puppies in a Chihuahua litter is 2 to 4.
Newborn Chihuahuas are blind and deaf, but they can smell, taste, and sense touch and vibrations.
One of their first instincts is to feed – in fact the first puppies will start suckling before mom is even finished giving birth to their siblings!
They can't regulate their own body heat though – they rely on huddling together mom's warm hugs to maintain a stable core temperature.
They can sleep for over 20 hours a day! For the first two weeks they will spend their waking hours either seeking warmth or nursing.
Newborn Chihuahuas' colors aren't always a good predictor of their adult coloring. They can look very different 12 weeks later, and even 9 months after that!
Both longhair and shorthair Chihuahuas are born with short coats. Two shorthair dogs can throw long hair puppies, but not the other way round. An experienced breeder can sometimes tell long hair puppies from short hair puppies from about 3 or 4 weeks old, but long coats can reveal themselves even later than that.
How to take care of newborn Chihuahua puppies
The most precarious period of a newborn puppy's development is the 3 days immediately after they are born. Sadly, around 1 in 12 litters include at least one still born puppy, and around 10% of live puppies die in the first 24 hours after birth. These are distressing moments for any breeder. They highlight the importance of having someone on hand who can recognize when a puppy is having problems, and who can make prompt (and possibly life-saving) judgments about their needs.
In a perfect world, baby Chihuahuas are cared for entirely by their mom. The bond between a mother dog and her newborns is complex and sophisticated. It gives her babies the best possible chance of survival, and improves the odds of them becoming well-adjusted, well-rounded adults too. In exceptional circumstances when a human has to take over (like little Stewie in our video earlier) it needs to be done under the supervision of a veterinarian or an exceptionally experienced breeder. It's not something that can be learned from online research alone!
Important choices
Even when mom stays in charge, there are still important decisions to be made by the breeder though. One of these is what to wean them onto. Usually this will be the same puppy food that mom has been eating to fortify her diet and give her energy to nurse. Another is how to start socializing them. Gentle stimulation between birth and 5 weeks is important for their long term emotional development. Puppies exposed to a variety of household smells, sights and sounds in this period are more confident and exploratory when they grow up, than puppies kept isolated from those experiences. Furthermore, puppies handled briefly and gently every day before 3 weeks old are more exploratory at 8 weeks old, and give fewer distress calls when left alone for short periods.
Baby Chihuahua development
The initial period of newborn Chihuahua development is quick and intense. In the first week alone, they should double their birth weight. The neonatal period – the high risk window immediately after birth – closes between 3 and 4 days old. After that follows a period up until three weeks old which is all about staying warm, eating, and sleeping. During this time, their eyes start to open sometime after 7 days old, and are usually fully open by the time they're 14 days old. Shortly after that, their ear canals will open too. Whilst newborn puppies can move themselves short distances to nurse by paddling their limbs, some uncoordinated attempts at actual walking begin between 18 and 21 days old.
Behavioral development
Baby Chihuahua development at this time isn't all physical either. Some important emotional and behavioral changes are taking place too. The peak period for socializing a puppy is between 3 and 12 weeks old. Between 6 and 8 weeks in particular, a puppy's motivation to approach and investigate new things outweighs any concerns they have about the thing not being safe or friendly. Adult Chihuahuas are one of the dog breeds most likely to behave aggressively towards their owner, unfamiliar people, and other dogs. They are also amongst the dogs breeds most likely to be frightened by loud noises, such as thunderstorms or fireworks. Failure to socialize them from a young age because they seemed too small for it is a significant contributing factor to this. So it's vital that their breeder is committed to providing lots of socialization opportunities on your behalf during the socialization period before they come home.
From 6 weeks onwards, puppies also start to recognise and understand human communication signals, such as pointing towards the location of food. An exciting world of possibilities for sharing information with your puppy has started to open up!
When are newborn Chihuahua puppies ready to go home?
Baby Chihuahuas should stay with their mom until they are at least 8 weeks old. The final week between 7 and 8 weeks old is the peak window for puppy social play. And it's an important time for learning confidence, social skills, emotional intelligence, and bite inhibition from their mom and their siblings. Researchers have found that being separated before 8 weeks old is a stressor which increases the risk of anxiety related behaviors. Puppies separated from their mom before 8 weeks old are more likely to be destructive, vocal, fearful, noise reactive, attention seeking, and resource guarding as adults, than puppies who stay with their mom until 8 weeks old.
The 8 week threshold is so important that in around half of U.S. states, and many other countries, such as the UK, it is illegal to sell a puppy before they are 8 weeks old. Because Chihuahua puppies are so small and fragile, some breeders even insist on keeping them at home with mom for longer. This gives them more chance to get physically big and strong before adjusting to the upheaval of a whole new life. If your breeder keeps their puppies for longer than 8 weeks this can be very commendable. But, have a frank conversation with them about what socialisation they will do for you while they still have your puppy. Will the experiences your newborn puppy has with them be enough to prepare them for their life with you?
Newborn teacup Chihuahuas' special needs
Undoubtedly, their tiny size is a big part of why Chihuahuas are so popular. To capitalize on this, some breeders try applying special descriptive terms to the smallest Chihuahua puppies, such as 'teacup' and 'pocket size'. But as we've seen, some variation in newborn Chihuahua size is normal – it's not indicative of being a separate, special type of Chihuahua. However, newborn teacup Chihuahuas can need special attention when it comes to some aspects of their care:
Their bones will be very small and fragile for longer.
Some bones might never develop quite as they should. For example, they may be left with a permanent opening in top of their skull, called a fontanelle.
These differences mean they might not be fit enough for a long journey to a new home until they're older.
Once home, they may need smaller, more frequent meals than other puppies, to maintain stable blood sugar levels.
And it's likely that they will take longer to potty train.
Newborn Chihuahua summary
Newborn Chihuahua puppies are among the tiniest of all. Luckily, this doesn't seem to do them any harm in the long term. But raising a Chihuahua litter for the first time should always be done with the support of a more experienced mentor, and under the oversight of a veterinarian. Besides providing everything they need for physical health, newborn puppy carers need to think about socialization and ensuring well rounded emotional development from soon after birth. Tracking development milestones is an exciting way to pass the time until they're ready to go off to their new homes at 8 weeks old.
Did you get to meet your Chihuahua when they were a newborn? We'd love to hear about them in the comments section down below – let us know how much they weighed, and whether you could sense clues to their adult personality already!
More help with Chihuahuas
Why Are Chihuahuas So Mean?
References
Farrell et al. The challenges of pedigree dog health: approaches to combating inherited disease. Canine Medicine & Genetics. 2015.
Fusi et al. Apgar score or birthweight in Chihuahua dogs born by elective Caesarean section: which is the best predictor of the survival at 24 h after birth? Acta Veterinaria Scandinavica. 2020.
Lawler. Neonatal and pediatric care of the puppy and kitten. Theriogenology. 2008.
Moxon & England. Care of puppies during the neonatal period: Part 1 care and artificial rearing. Veterinary Nursing Journal. 2012.
Mugnier et al. Birth weight as a risk factor for neonatal mortality: Breed-specific approach to identify at-risk puppies. Preventative Veterinary Medicine. 2019.
Santos et al. A review of maternal behaviour in dogs and potential areas for further research. Journal of Small Animal Practice. 2019.
Teacup Chihuahua Statement. The Chihuahua Club of America. Accessed June 2022.
The Domestic Dog: Its Evolution, Behavior and Interactions with People. Cambridge University Press. 2016.