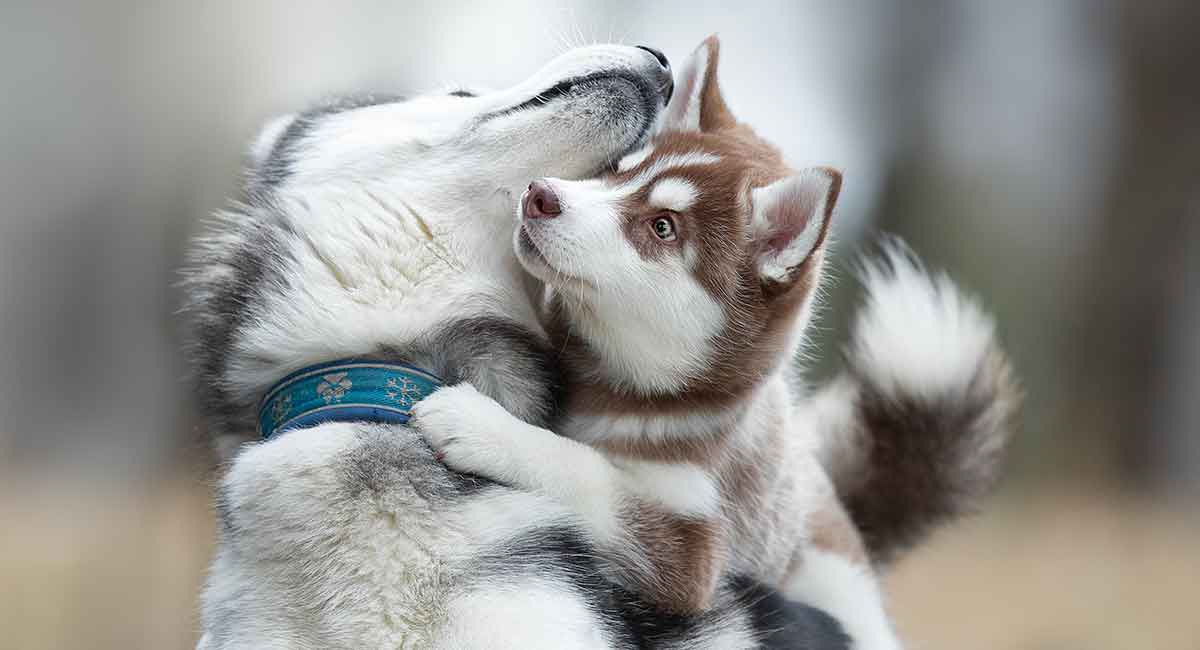 Are you curious about the Siberian Husky temperament? There is perhaps no dog as recognizable as the Siberian Husky.
These powerful dogs are thickly coated and built for endurance. Their primary job is to pull light sleds over vast frozen tundra, but they have been employed in police work as well.
Siberian Husky temperament can be described as energetic, outgoing, and loyal. They possess an innate friendliness that makes them poor watchdogs but great companion animals.
However, there is more to the Husky than meets the eye. They can also be stubborn and independent.
Their prey instincts and endurance make them primary candidates for accidentally getting lost.
Before adopting a dog, you should develop an intimate understanding of their breed's general personality.
To help you achieve this, we've put together this complete guide to the Siberian Husky's temperament.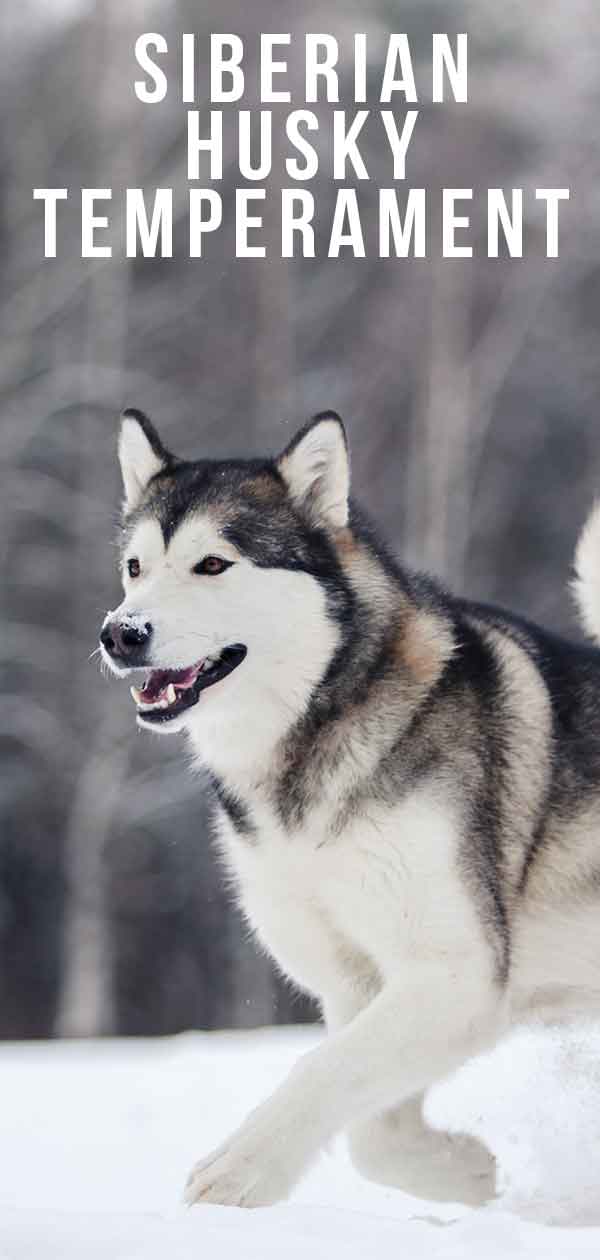 The Typical Siberian Husky Temperament
The Siberian Husky temperament is typically described as friendly. They are not suspicious of strangers or aggressive with other dogs.
Their even temperament makes them wonderful family pets. They do not possess much innate aggression and do well with people of all ages.
These dogs are extremely playful. Siberian Husky temperament includes an enthusiasm for life that is unmatched by many breeds.
Even into adulthood, they often keep the vigor and energy levels of a puppy. However, there are some negatives to this breed as well.
The Siberian Husky requires lots of exercise and training to be well behaved. They have high energy needs and need regular mental stimulation. Often, people describe them as "too much."
Originally bred to pull sleds, these dogs have enormous amounts of endurance and energy.
They need long walks, bike rides, and hikes to stay healthy and happy.
If their physical and mental needs are not met, the Husky can become destructive and disobedient.
Training Can Be Challenging
Huskies require regular, consistent training.
However, it is not all bad. Once trained, these dogs are extremely obedient.
You truly get out of the Husky what you put into them.
A word of warning, however. Because of the popularity of the breed, some breeders have bred Huskies indiscriminately.
This can lead to puppies of uneven temperaments being born.
For this reason, it is paramount when adopting a Husky puppy that you meet the parents first.
Siberian Husky temperament is partially genetic.
So if the parents are shy and aggressive, it is likely the puppies will be too.
If possible, we even recommend rescuing an adult Husky. That way, you can test out the dog's temperament as an adult before you adopt him or her.
Huskies are also known to be notoriously good at escaping fenced-in areas and kennels.
So we recommend never leaving them unsupervised outside and purchasing a high-quality, Husky-proof kennel.
Are Siberian Huskies Easy to Train?
Siberian Huskies have been found to be more independent than some other dogs.
As with all dog training, patience is and consistency are imperative.
You can read some of our training guides here.
Share Training Time
These dogs do not tend to attach themselves to one particular person.
But it is still important to ensure that you aren't the only one giving them commands because of the generalization problems we previously discussed.
You don't want them only to respond to you, especially when it comes to commands like "come" and "wait."
It is particularly important for the Husky to be introduced to a variety of people and places.
While they are usually very friendly, it is important that they learn to generalize their commands.
These social dogs will also benefit from regular play time with other dogs and people.
The sex of the Husky or neutering status will not affect their trainability.
Are Siberian Huskies Friendly?
Siberian Huskies are usually very friendly and open to strangers.
They are not as people-focused as many other breeds.
They will not constantly bark for attention or seek out praise.
However, they are not shy or aggressive by any means.
Most of the time, Huskies are indifferent to strangers.
They ignore them or might ask for some brief attention.
But a well-trained and socialized Husky will not have a problem with strangers entering their home or petting them.
They do not possess the spirit of a guard dog.
A 'talkative' dog
One particular problem with strangers that I encountered with my Husky is their tendency to misinterpret his happy "talking" noises with a growl.
Huskies do not often bark in the traditional manner.
Instead, they often "talk," which sounds a lot like whining and growling.
Whenever you have people over or visit someone with your dog, it is often a good idea to let them know this, so they don't think your Husky is constantly growling at them.
Huskies usually do well with people of all shapes and sizes.
They are good with children, though they should still be watched with young children due to their large size.
It is not uncommon for a Husky to accidentally injure a child, especially when they are trying to play.
Teaching the "sit" command and "leave it" can really help with this.
Are Siberian Huskies Aggressive?
A well-bred and trained Husky should not be aggressive.
These dogs might not be as attention seeking as some other breeds, but they are not aggressive or timid.
Instead, they are affectionate and calm.
These dogs naturally deal with stress without becoming violent and aggressive.
So they do well in a variety of situations and you can usually trust them to react appropriately in difficult situations.
But it is important to point out that a Husky's normal "talking" can sound similar to a growl.
So it is vital to learn to differentiate a Husky's growl from their normal "talking" sounds.
As we discussed earlier, you should also explain the difference to your friends and family members.
You do not want one of them misinterpreting your Husky's signals.
The Importance of Socialization
Of course, while these dogs aren't normally predisposed to be aggressive, they still need proper socialization and training.
Even the calmest Husky can become aggressive if they are never introduced to anyone new.
We recommend taking your Husky to puppy kindergarten if they are still young.
If you adopt an adult Husky, socialization can take a little more work.
But obedience classes, dog daycares, and playdates can go a long way, especially for this breed.
We do not recommend taking an unsocialized and untrained Husky to a dog park or other off-leash area.
These dogs can escape even the tallest, most secure fenced area.
The last thing you want is for your Husky to get scared and decide that the fastest escape route is over the fence.
It is also important to avoid physically punishing your Husky.
Huskies who are physically corrected have a much higher aggression rating than those who only experienced positive training.
Do Siberian Huskies Like Other Dogs?
Siberian Huskies typically get along well with other dogs, no matter their size.
They enjoy playing with other dogs and are very accepting of other dogs in their home.
They are not known for dog-based aggression, no matter their sex.
But it is important to note that the Siberian Husky temperament includes a very strong prey drive.
So some Huskies might interpret small dogs as prey if they are not socialized with them properly.
However, this is not aggression in the traditional sense and can be corrected with socialization.
Introducing Your Husky to Other Dogs
We recommend introducing your dog to smaller dogs at an early age.
If you adopt an adult dog, this socialization is still possible, but it should be done on a leash or behind a solid barrier like a glass door.
Of course, some Huskies never aim these prey instincts at small dogs.
But it is always better to be safe than sorry and prioritize socialization.
Just in case, we also recommend teaching your Husky the "leave it" command.
So if they begin displaying chasing instincts towards smaller dogs, you can redirect them.
When introducing a new dog into your home with a Husky, it is important to follow recommended introduction guidelines.
You should allow them to meet in a neutral area first, like the front yard.
Then, slowly introduce them into your home and gauge your Husky's mood carefully.
When introductions are taken at an appropriate rate, Huskies are rarely aggressive towards other dogs, even in their own home.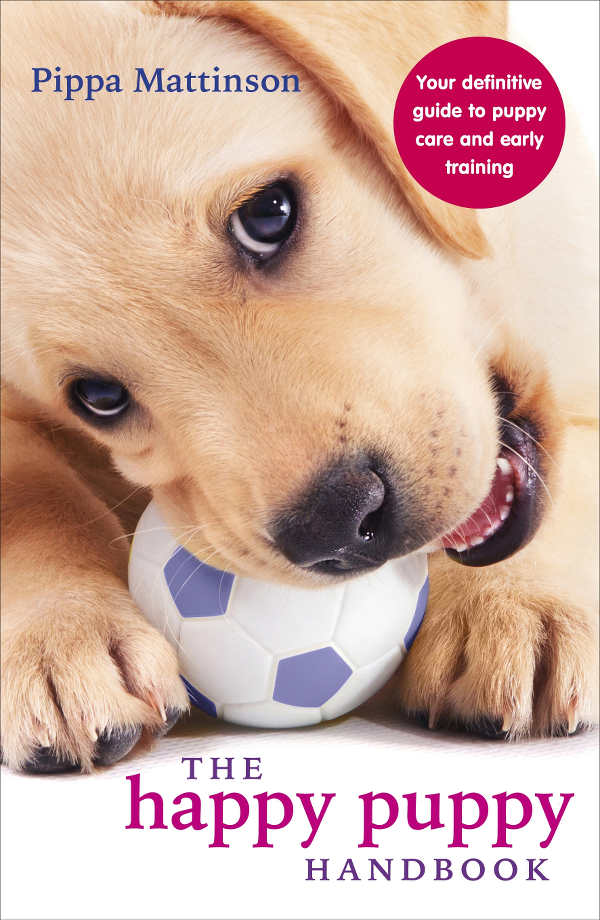 Natural Instincts
Huskies have a natural impulse to chase.
Whether it is leaves or rabbits, if it moves, it is likely that they will give chase.
This cannot be trained out of them completely.
It is likely they will always respond to fast-moving stimuli by giving chase.
However, it is possible to redirect this behavior by teaching the "leave it" command.
The Myth of the Pulling Instinct
It is also important to point out that these dogs do NOT have a natural instinct to pull.
Though these dogs were originally bred to pull sleds, this does not come naturally to them and is not inherent in their DNA.
All sled dogs must be taught to pull sleds; it is not a natural instinct.
So it is completely possible to train a Husky to walk on a leash without pulling, just like every other dog.
A Husky that pulls a leash is not listening to its natural instincts, it just has not been trained correctly.
Are Siberian Huskies Good Family Pets?
Siberian Huskies can make great family pets.
The Siberian Husky temperament is affectionate, friendly, and do not have a tendency to be aggressive.
But they also require quite a bit of exercise and training.
So it is important that you have enough time to dedicate to them before choosing to adopt one.
If you want to read more about Huskies, take a look at our guide to the miniature Husky!
References and Resources
Wan, Michele. "DRD4 and TH gene polymorphisms are associated with activity, impulsivity, and inattention in Siberian Husky dogs." Animal Genetics. 2013.
Serpell, James. "Effects of breed, sex, and neuter status on trainability in dogs." Anthrozoos. 2005.
Duffy, Deborah. "Breed differences in canine aggression." Applied Animal Behavior Science. 2008.
Hsu, Yuying. "Factors associated with aggressive responses in pet dogs." Applied Animal Behavior Science. 2010.
Jensen, Per. "The Behavioral Biology of Dogs." CABI. 2007.
Pérez-Guisado J, Muñoz-Serrano A, López-Rodríguez R. "Evaluation of the Campbell test and the influence of age, sex, breed, and coat color on puppy behavioral responses". Can J Vet Res. 2008
Jo Jacques & Nannette Morgan, "Does Breed Matter? Utilizing the Siberian Husky's Genetic Blueprint When Training" 2007