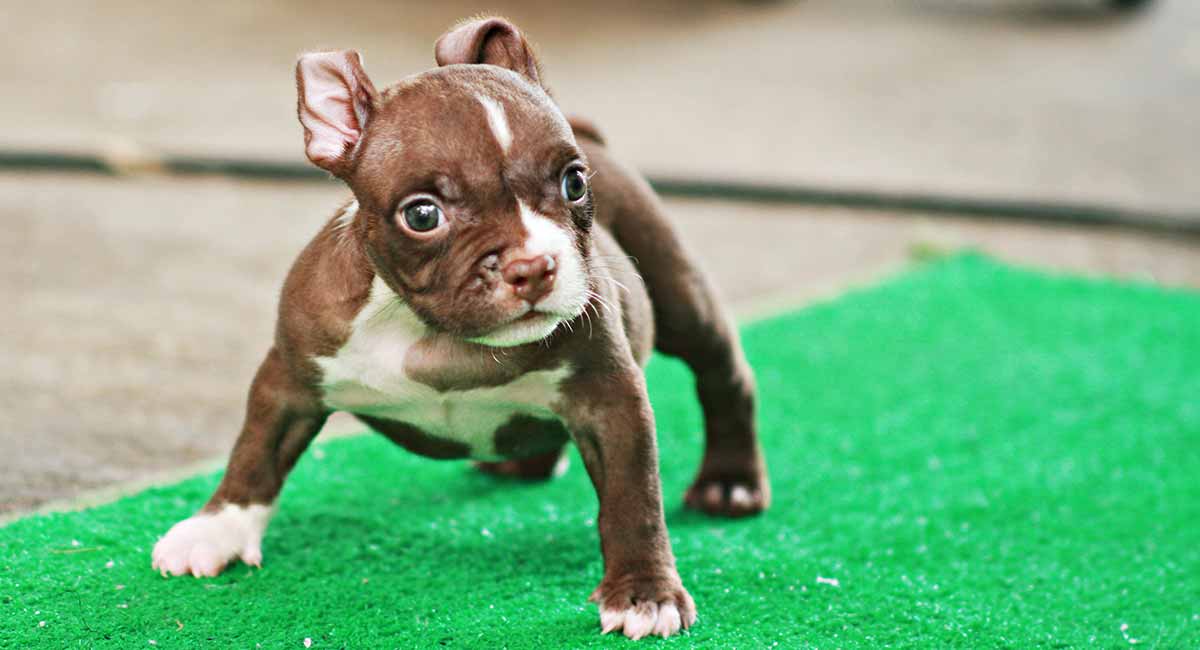 A pocket Pitbull is a smaller version of one of the popular Pitbull breeds. They are smart, loyal, short coated dogs, with affectionate, protective temperaments. Little but sturdy dogs, they are usually under 17 inches in height and weigh less than 22 lbs. Pocket Pitbulls can come from American Pitbull Terriers, American Staffordshire Terriers, Old English Bulldogs or English Bull Terriers, or mixes like the Pitbull Patterdale Terrier.
Contents
Pocket dogs are bred by outcrossing with smaller dogs like the Patterdale Terrier, deliberately introducing dwarfism to a breeding line, or selectively breeding from runts over several generations. The size of a pocket Pitbull depends upon the method used. But so does the health they'll enjoy, too.
The Pocket Pitbull Vs The Pitbull
Pocket Pitbulls should differ from regular Pitbull dogs only in terms of size. The idea is to shrink the average Pitbull into a more managable package. The reality however, is that in order to make the Pitbull smaller you need to add another breed or condition that changes other things about the dog too.
Also, let's be clear, the term pocket Pitbull is misleading. You may be picturing a Pitbull tiny enough to fit into a pocket. But this is definitely not the case. A pocket Pitbull, or a miniature Pitbull, is simply a smaller version of the parent breed.
Standard Pitbulls
There's one more thing to clear up, and that's the fact that there actually is no Pitbull breed. Rather, this is a generic term used to describe a number of different dogs descended from Olde English Bulldogs.
The American Pitbull Terrier is the most popular of these dogs. So, it is the one usually used to create the pocket Pitbull. This medium-sized breed typically stands from 17 to 20 inches and weighs anywhere from 30 to 60 pounds.
These athletic dogs are distinctive for their large, wedge-shaped heads. They have a longstanding reputation for being aggressive. Much of this has to do with their history of fighting bulls, bears, and other dogs. However, if you talk to a Pitbull owner, they're more likely to tell you that their dog is loving, gentle, and very affectionate.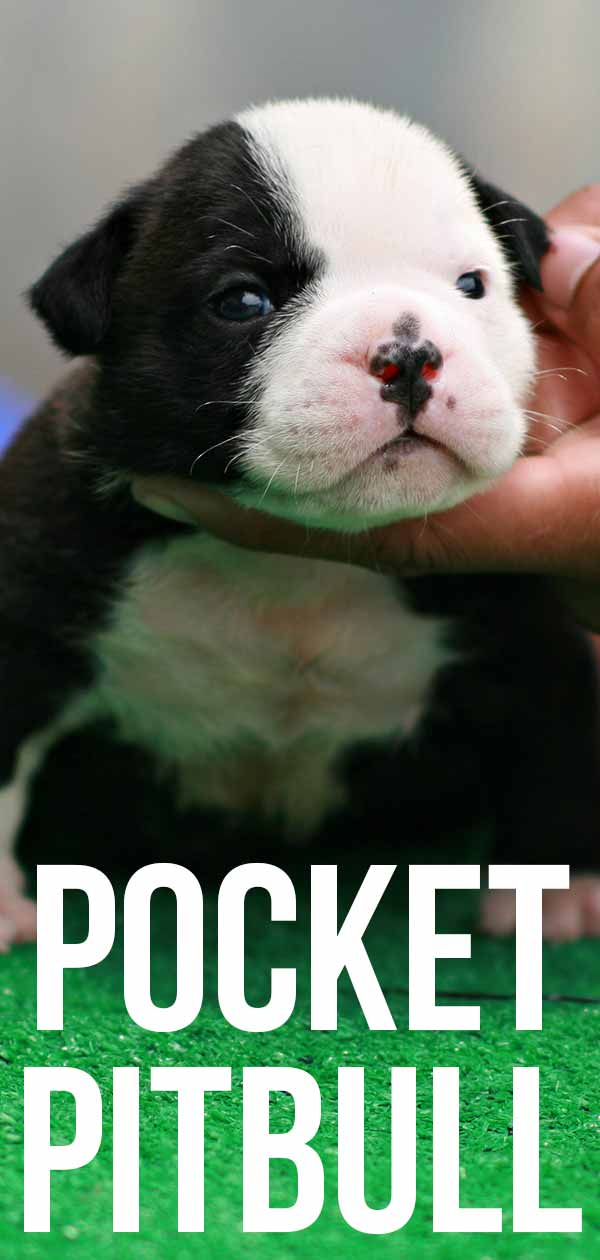 The Appeal Of The Pocket Pitbull
People who live in smaller homes will find miniaturized dogs more adaptable to compact living spaces. Not only do they take up less room, but they also usually require less exercise, which is a big draw for busy people.
Then there's the cuteness factor. And this is often the one that tips the scales in favor of a scaled-down Pitbull version. There's no denying that there's something very appealing about a dog who retains the adorable physical attributes of a puppy.
Where Do Pocket Pitbulls Come From?
There are essentially three ways for breeders to produce a pocket Pitbull. The first way is to breed a Pitbull with a smaller dog. While this method can create miniature Pitbulls, there's always a chance that the offspring will look and act like the other breed.
Introducing the gene for dwarfism can create a dog with shorter than normal legs. Finally, some breeders will repeatedly breed from runts to get very small puppies.
Mixing With A Smaller Breed
Crossbreeding a Pitbull with another breed is the most humane method of achieving a miniaturized version. It offers the added bonus of genetic diversity and the possibility of decreasing inherited health conditions. Let's take a look at some pocket Pitbull possibilities.
Pitbull Patterdale Terrier Mix
Crossing the American Pitbull Terrier with the smaller Patterdale Terrier is the most popular combination to make a pocket Pitbull. In fact, these dogs are sometimes referred to as the Pitterdale.
The Patterdale Terrier is an English dog bred almost exclusively for their ability to hunt. They're a fairly new breed, only in existence since the early 1900s. And they're still quite rare. Especially outside of the UK.
These small dogs typically stand about 12 inches and weigh in the 11 to 13 pound range. Confident, lively, and stubborn, these dogs can also be quite laid back. However, they still have lots of energy.
Both of these breeds are loyal, affectionate, smart, and protective. Unfortunately, they also share some health concerns. Including allergies and eye diseases. The Patterdale Terrier is also prone to patellar luxation and portosystemic shunts.
Pitbull Yorkie Mix
Although the Pitbull Yorkie mix combines two terrier breeds, these dogs couldn't be more different in terms of appearance. The Yorkshire Terrier is instantly recognizable for their long, silky, luxurious coat of steel blue and golden tan. This is highly in contrast to the Pitbull's short, shiny coat.
Although they stand just 6 to 9 inches and weigh under 7 pounds, Yorkies have a spirited terrier temperament. Believe it or not, these lap-sized dogs were originally bred to chase and kill rats.
Although they're relatively long-lived, these dogs are susceptible to a number of health concerns that affect small breeds. Such as Legg-Perthes disease, tracheal collapse, and hypoglycemia.
This mix is likely to be courageous and energetic, with a high prey drive. There's a good chance that a Pitbull Yorkie mix will be smaller than a Pitbull. But this is not a common pairing and may be difficult to locate.
Boston Terrier Pitbull Mix
The Boston Terrier and American Pitbull Terrier have a lot more physical characteristics in common. In fact, these dogs are distant relations.
The Boston Terrier stands from 15 to 17 inches and weighs up to 25 pounds. You can expect these puppies to have a short, smooth coat, and triangular ears.
As Boston Terriers are a brachycephalic breed you would want to choose a puppy who has the Pitbull's longer muzzle. This is to avoid the respiratory and other health issues associated with the flat face conformation.
Introducing The Dwarfism Gene
Dwarfism is a medical condition in dogs known as chondrodysplasia. It's caused by one of many types of dwarfism genes that give dogs short limbs, large heads, and long bodies.
Breeds such as the Dachshund and the Welsh Corgi have been selectively bred to encourage this trait. However, it's also possible to introduce a dwarfism gene to create smaller than average puppies in other breeds like the Pitbull.
This does create a dog of shorter stature. But there are serious problems with this method. Skeletal defects and growth abnormalities can be painful depending on the severity. Other health risks associated with dwarfism include heart defects, skin aberrations, and even behavioral issues like aggression.
Breeding From Runts
The final way that breeders can produce a pocket Pitbull is to breed from increasingly smaller dogs.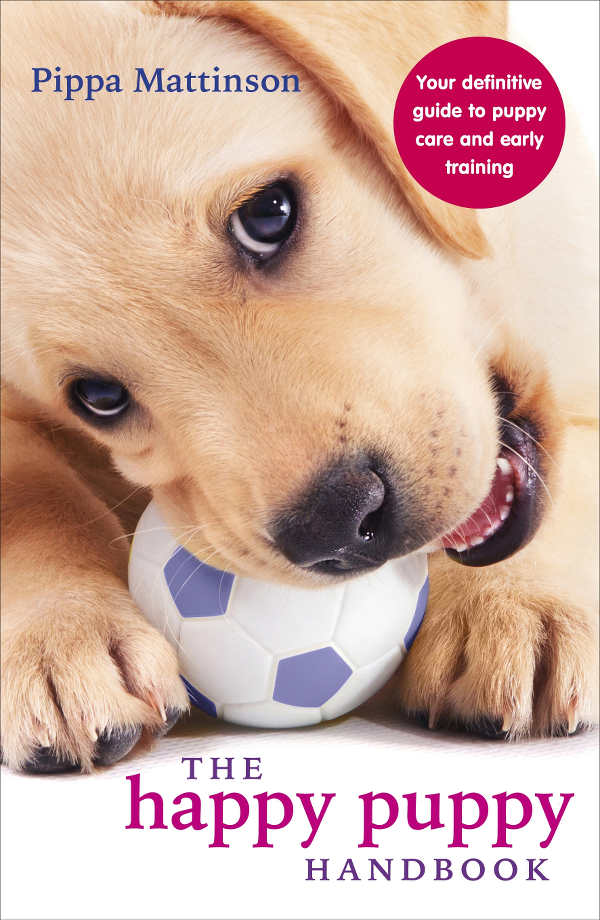 This method is a surefire way of ensuring that all of the Pitbull's physical characteristics and normal conformational proportions are intact.
But it can take several generations before a smaller version is achieved. And breeding from runts carries a high risk of passing along numerous health problems. Since the smallest dogs are often the weakest it can make it very hard to produce healthy puppies this way.
Are Pocket Pitbulls Good Pets?
Choosing a pocket Pitbull that's the result of crossbreeding with a Patterdale Terrier will produce a muscular, well-proportioned dog that stands from 12 to 16 inches and weighs from 11 to 22 pounds.
These dogs are better suited to homes with a fenced yard where they can run and play than they are for apartment living. Despite their tough appearance and reputation, they can be very sweet-natured.
Pocket Pitbull Training
Early socialization and training with positive reinforcement methods that use plenty of rewards and praise are crucial for a dog known to be territorial and protective. They do make excellent watchdogs.
Pocket Pitbulls are known to be intelligent and eager to please. But also independent and stubborn. This could make training difficult for first time owners.