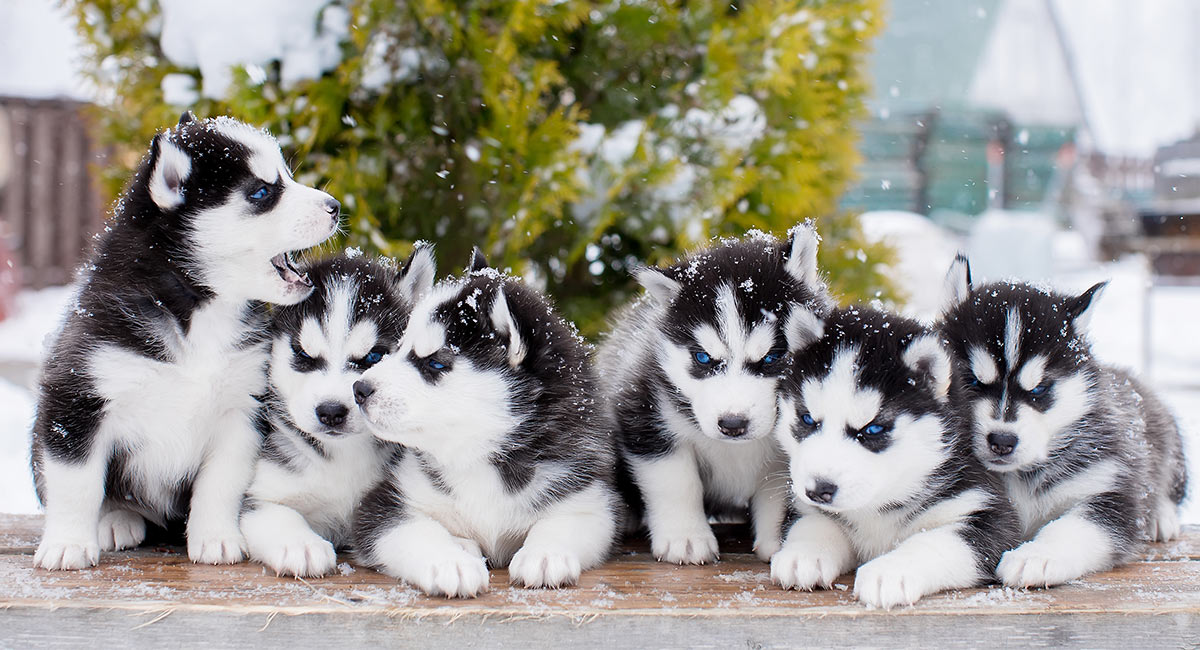 If you love Siberian or Alaskan Huskies, then you won't believe what we've got in store. A giant collection of the most adorable, dramatic and funny pictures of Huskies you'll ever see!
Contents
Here's a dog that looks to all intents and purposes like an actual fluffy wolf. But has a loving and loyal personality, and when well bred can even be amazing with kids. Although the Alaskan Husky is still primarily a sled dog, the Siberian Husky is now found in homes all over the world as well as working hard. They thrive with active families who love the outdoors, and have lots of time to spend keeping them company.
Baby Siberian Husky Photos
Newborn Husky photos are possibly the sweetest things ever. Born with their eyes sealed closed, there tiny faces look like they are masked as they peer around sightlessly.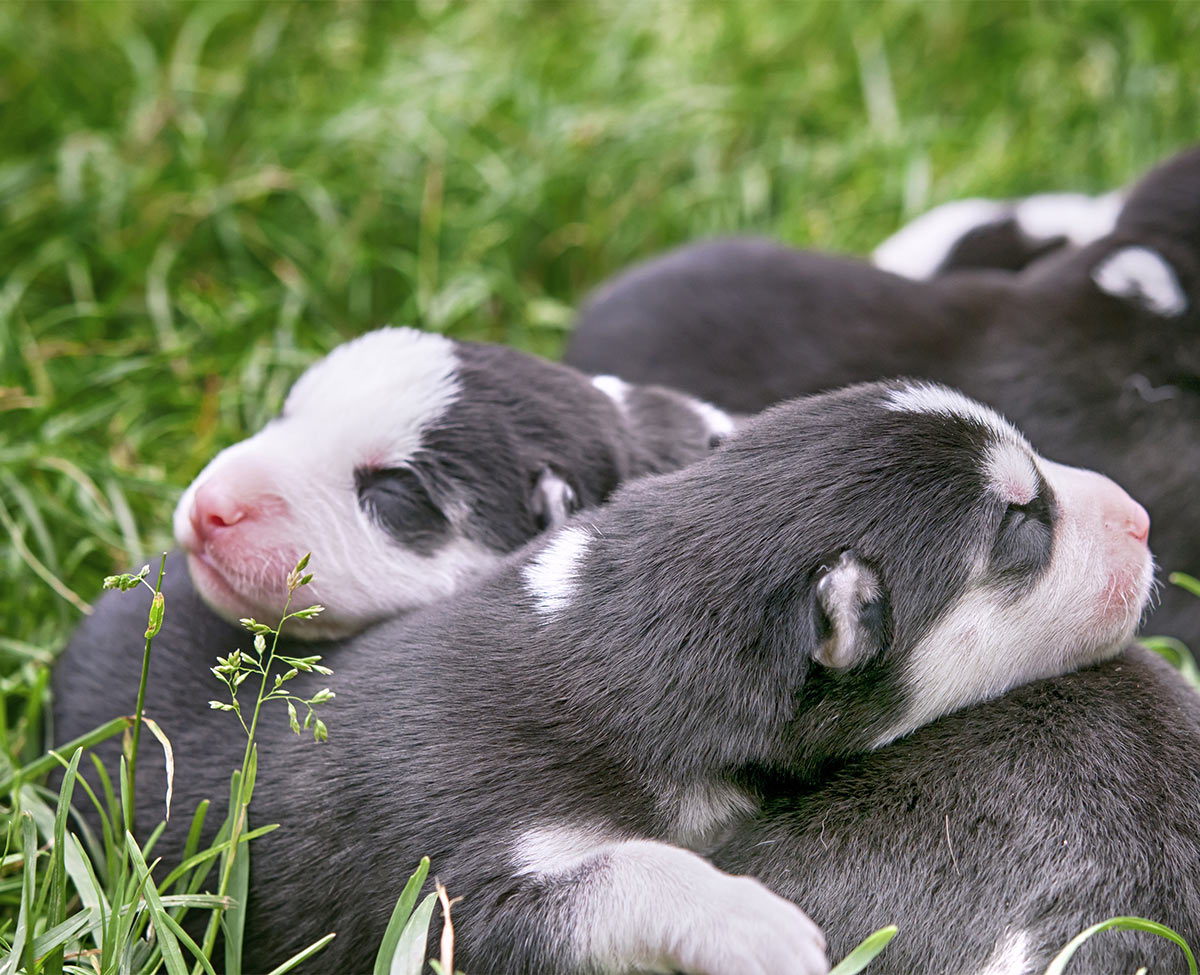 Early days are spent nestled up to Mom, drinking, sleeping and snuggling with their brothers and sisters.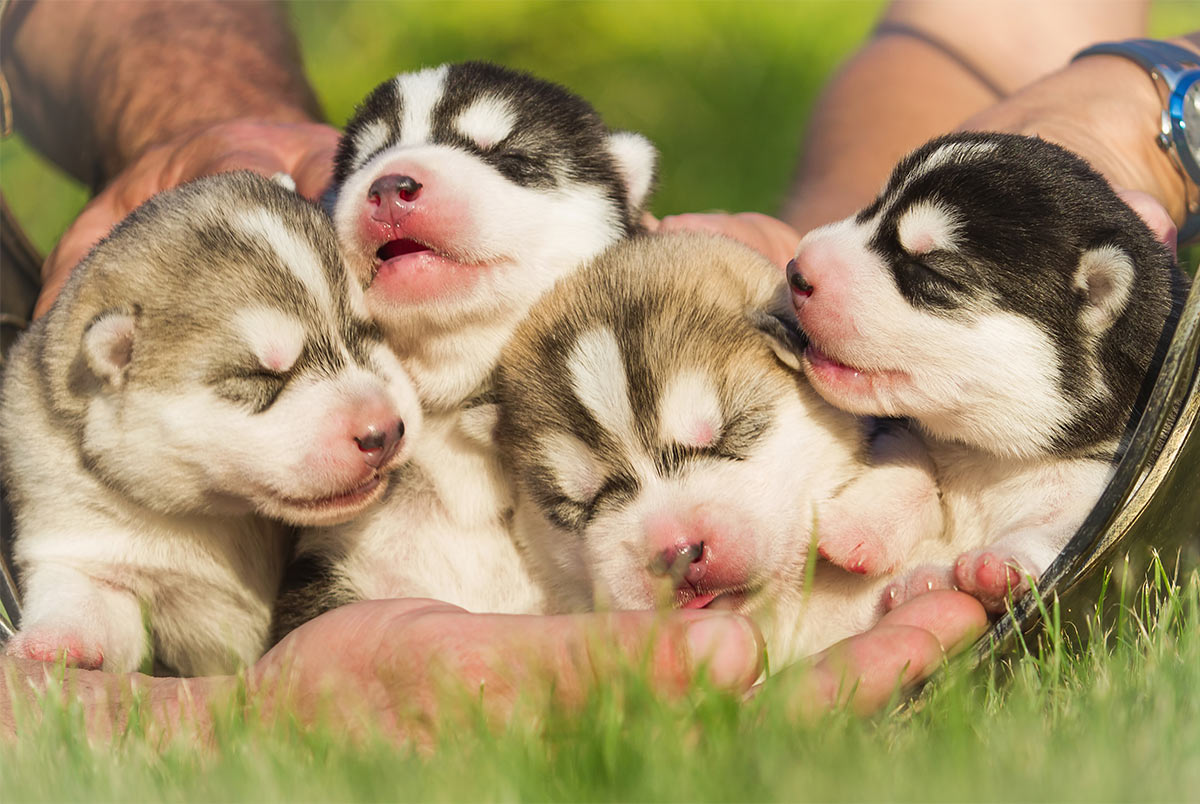 After a week or two pictures of Huskies' newborn pups look more like those of their older friends. Although there ears will stay flopped over for a while longer, and they still very much need their Mom and siblings.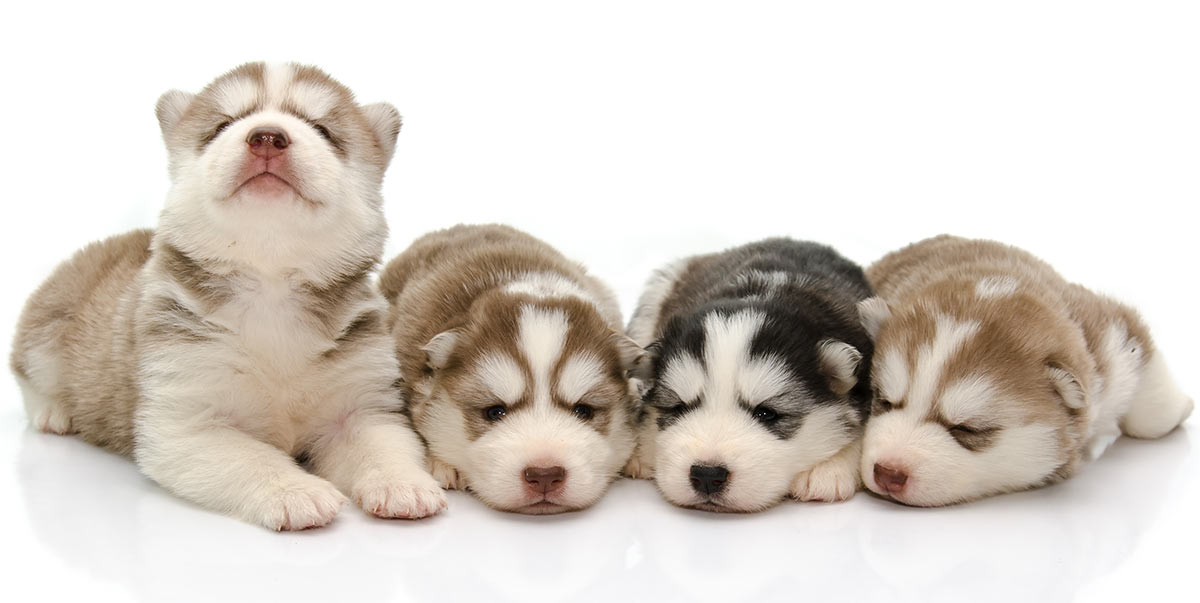 Pictures of Husky Puppies
Once they are up and about, it doesn't take long for baby Huskies to develop some serious personality. This little one is having a special moment with her Mother, while her sister chills out by her side.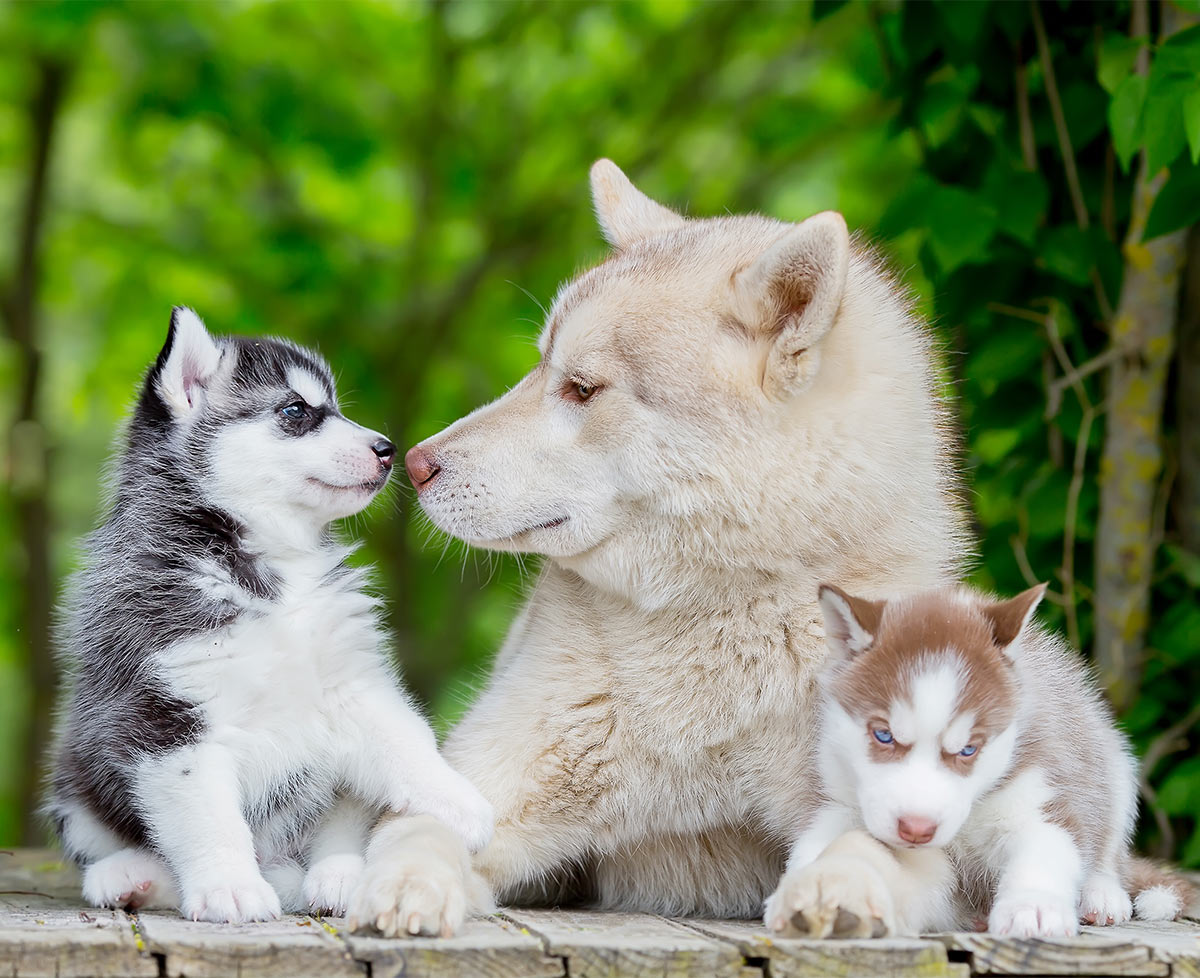 There is something magical about pictures of Siberian Husky puppies exploring during those first few weeks. Having fun in the back yard for the first time, but still a little bit unsure about the big wide world.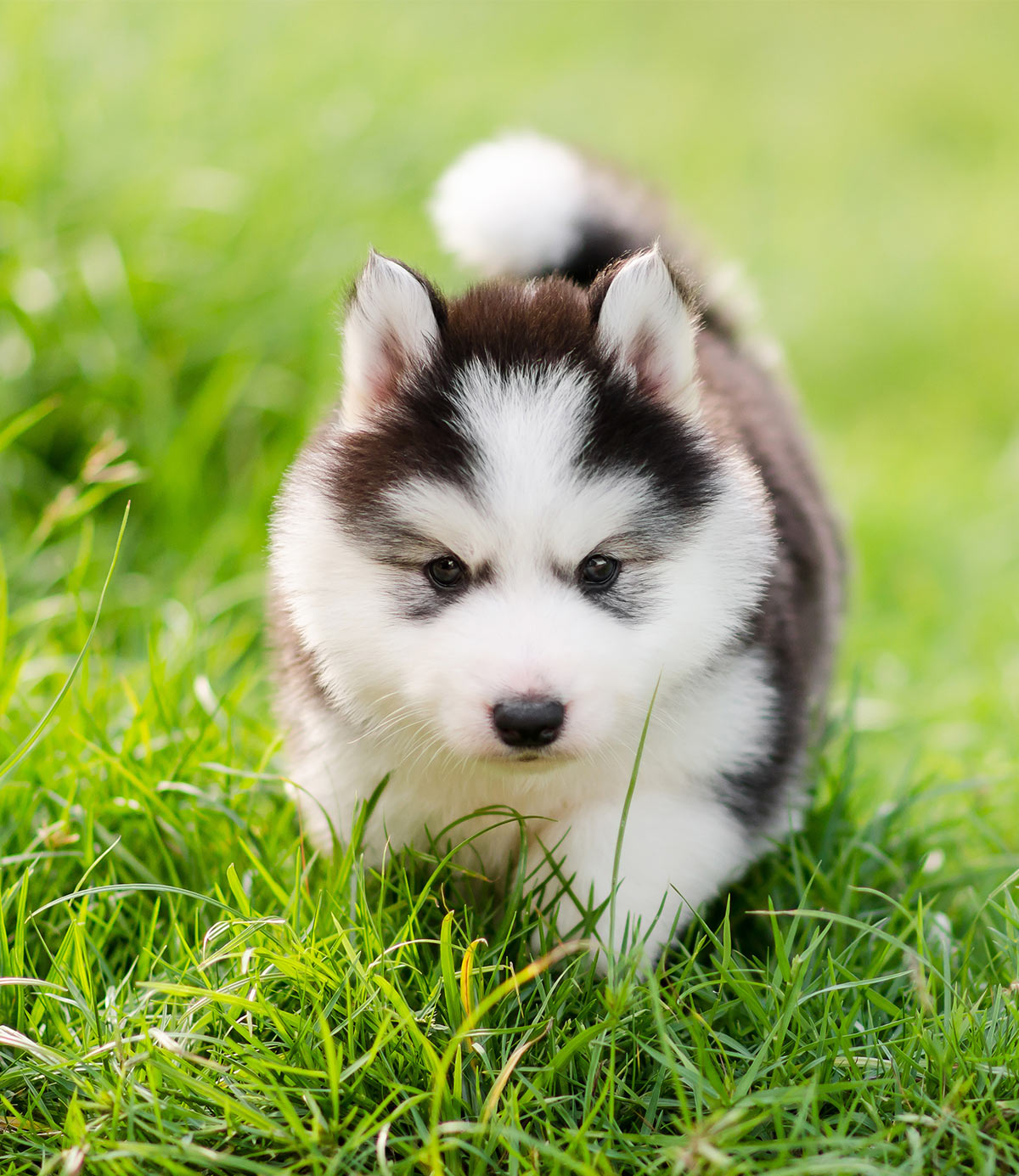 Husky growth pictures really highlight the development from dependant newborn babies into more confident pups.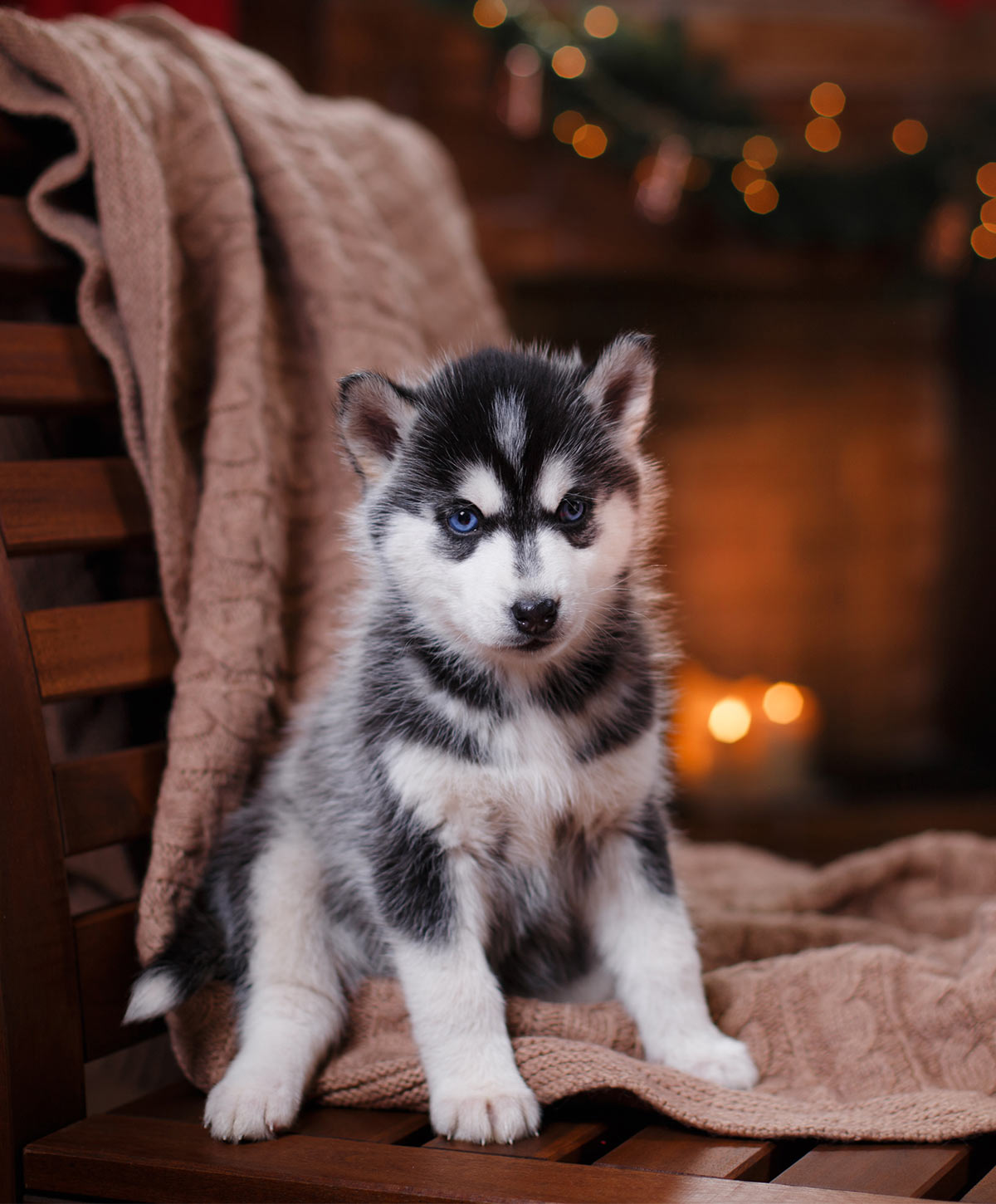 Even when they are asleep pups are growing at an amazing rate. They can also look even more wolf like, especially when they are lightly patterned like this little cutie.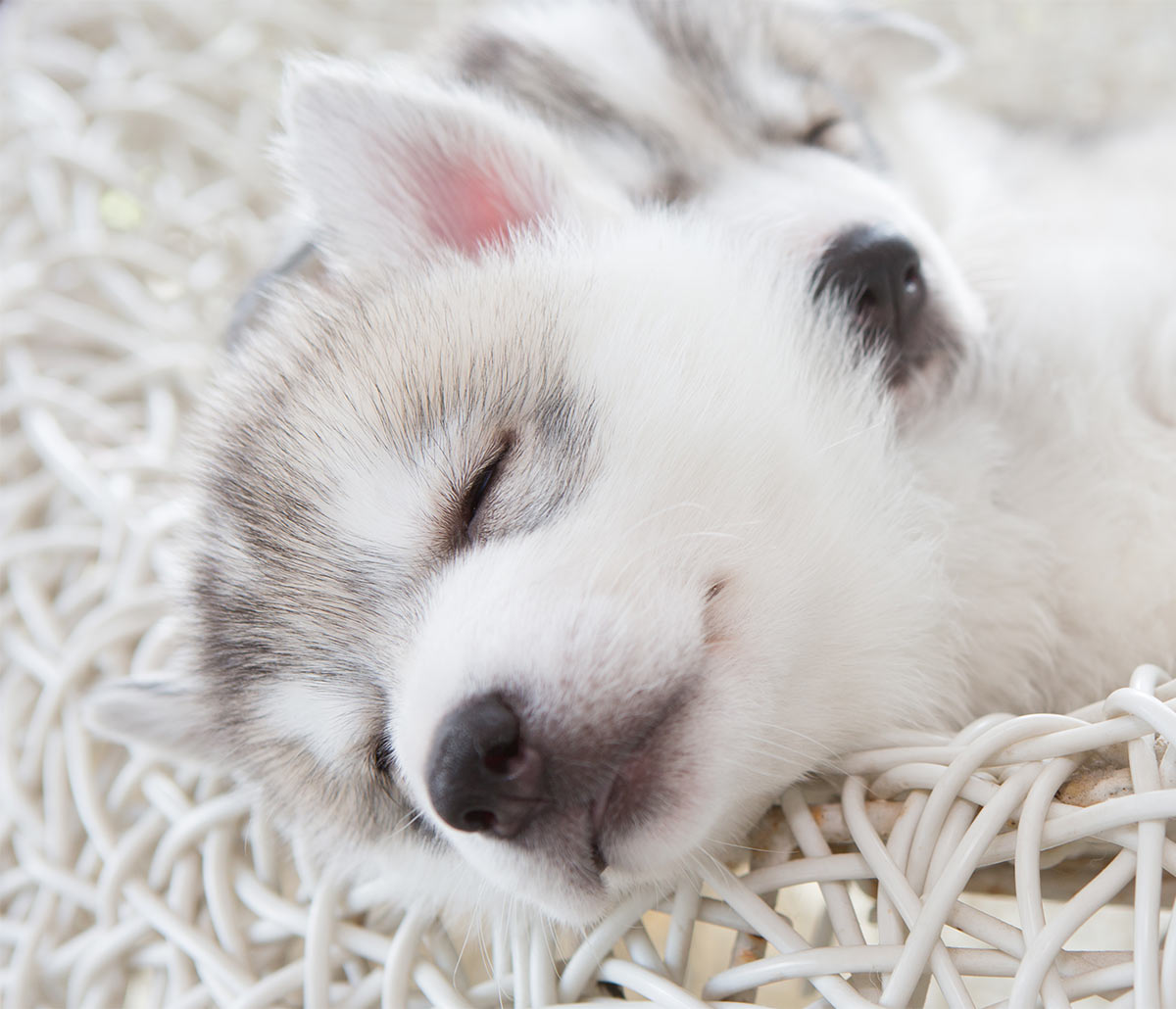 Husky puppy photos of individuals are great, but it's definitely time for some more duos!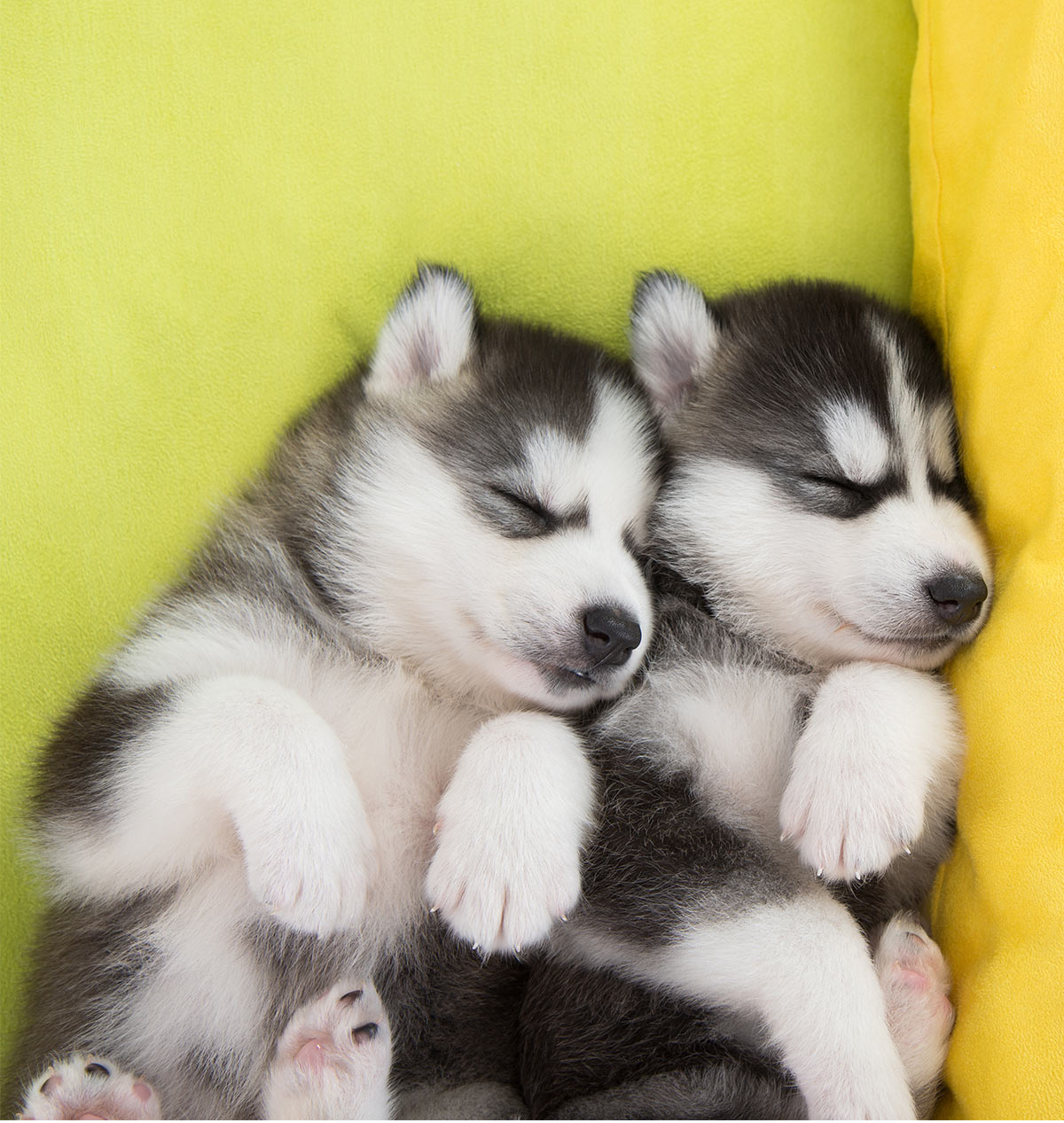 Pictures of baby Siberian Huskies together shows what a strong bond these wonderful dogs have for their family. Although I think the pup in front might not be taking so kindly to his brother's presence!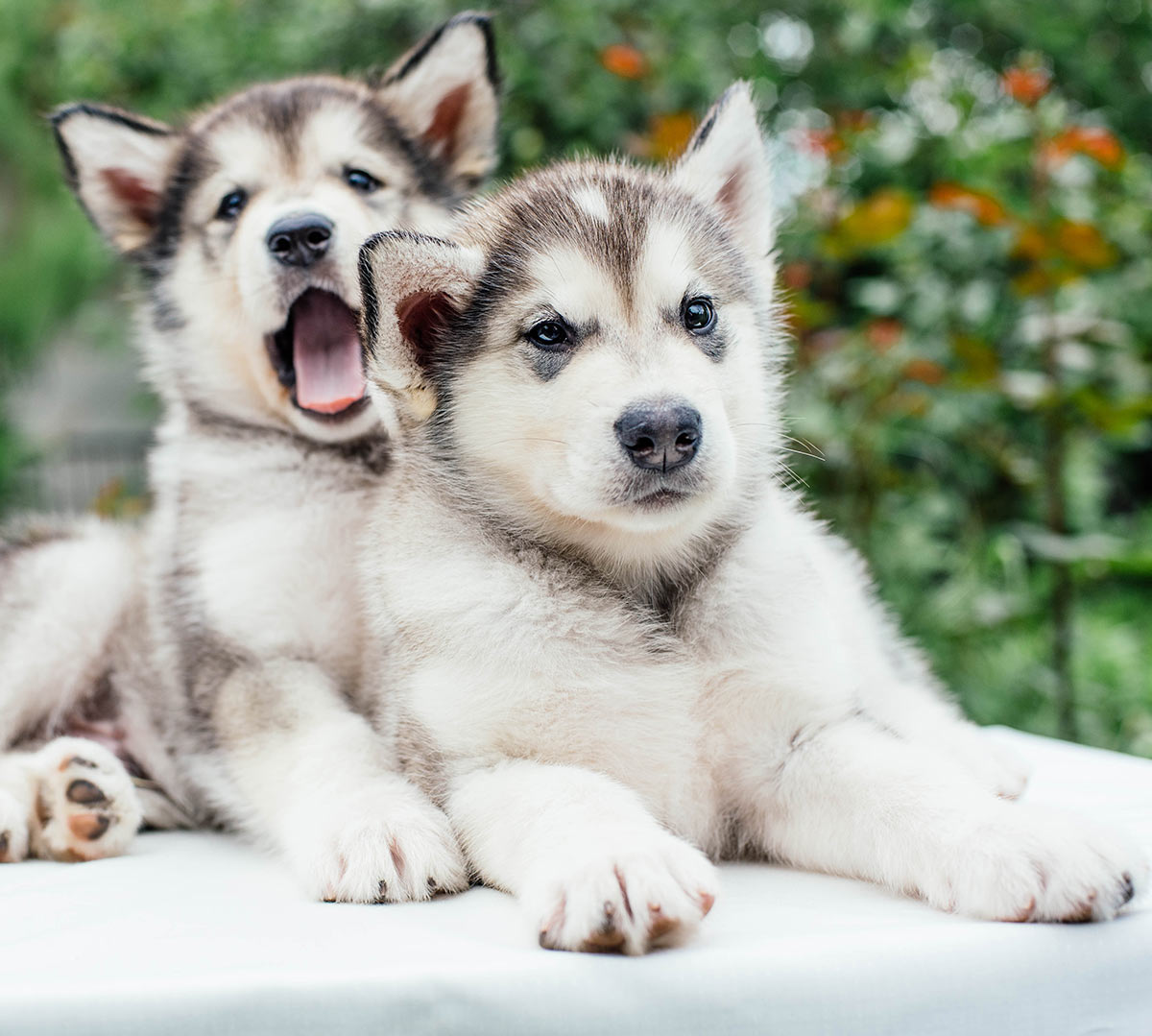 By the time you bring your Siberian Husky puppy home he will have started to develop a more independent personality, but he will still need his new closest family all the time – that's you!
When they arrive home, 8 week old puppies are thrown into a whole new world. And it can be a bit overwhelming. But it's the best time to start that all important socialization.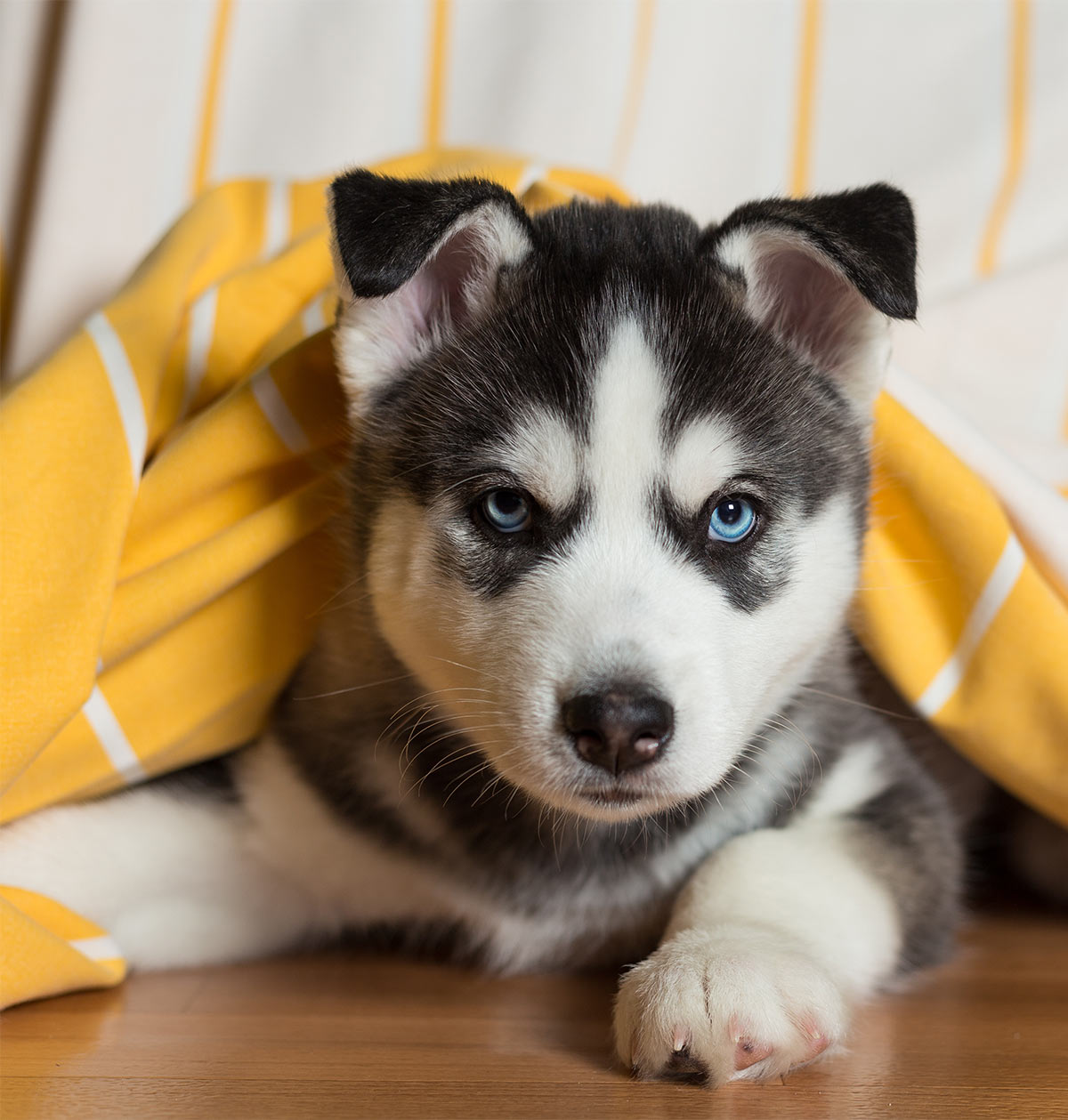 Helping to get him familiar with plenty of new places, people and visitors to the home. This will help your pup to grow up into a happy, friendly dog.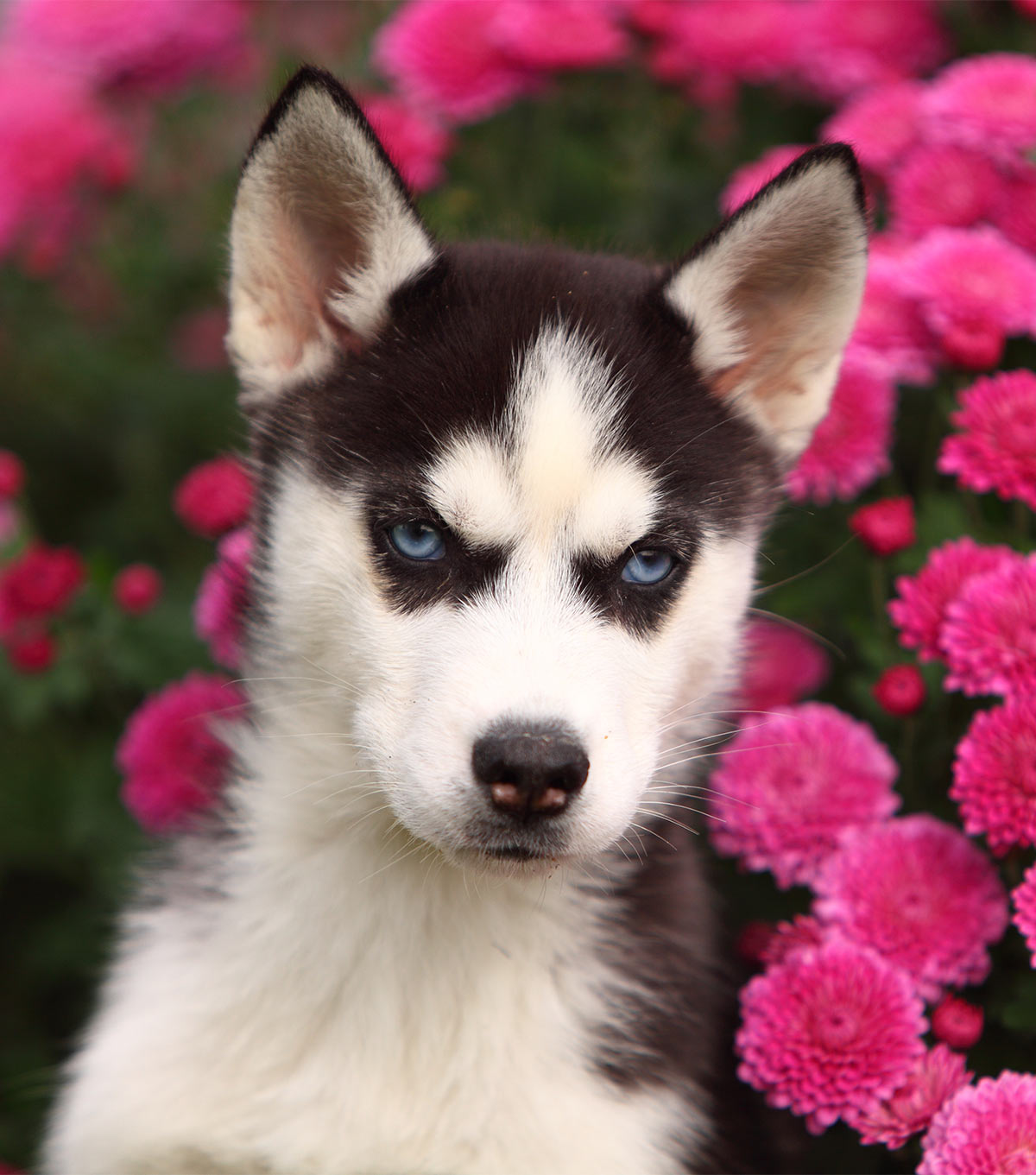 Pictures of Siberian Huskies
Cute Husky pictures of these loving and loyal dogs relaxing are gorgeous.
What better view than that can you imagine for your back yard?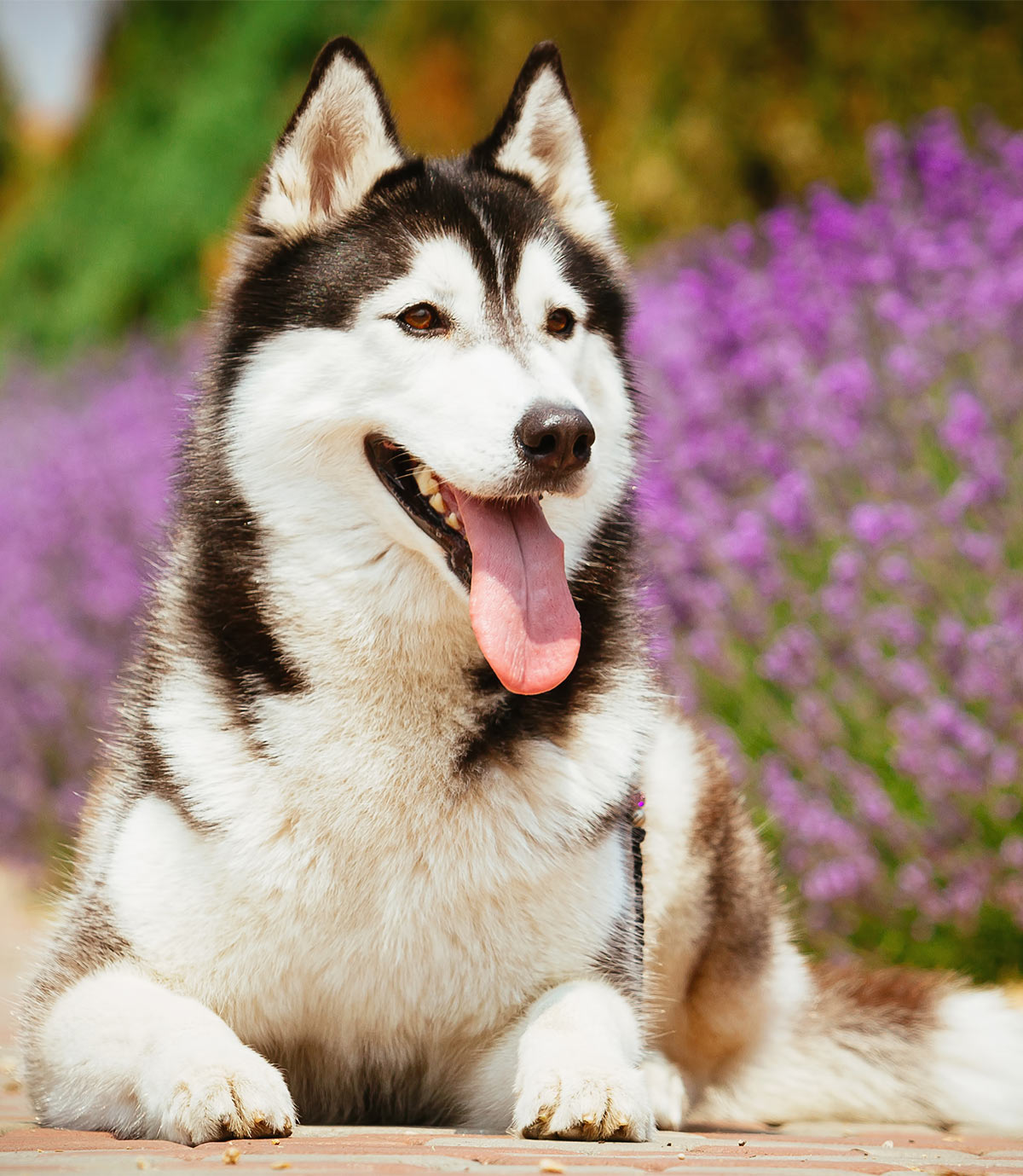 Then there Siberian Husky photos that show off their true athletic nature.
Watching your active pup run and run without seeming to tire is a true delight.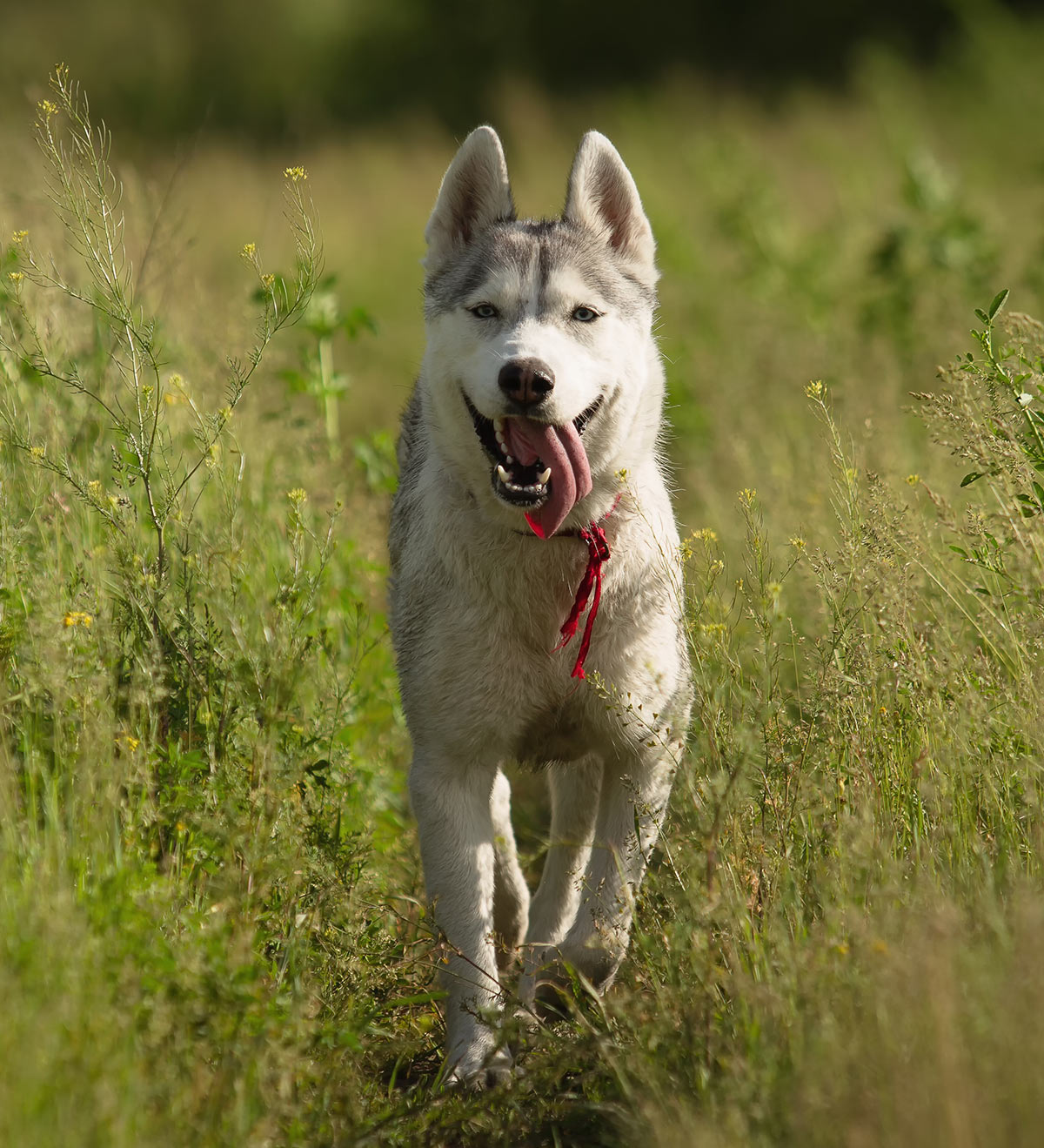 Although bred for the cold and snow, they are just as at home most places. As long as they don't get too hot in their thick warm coats!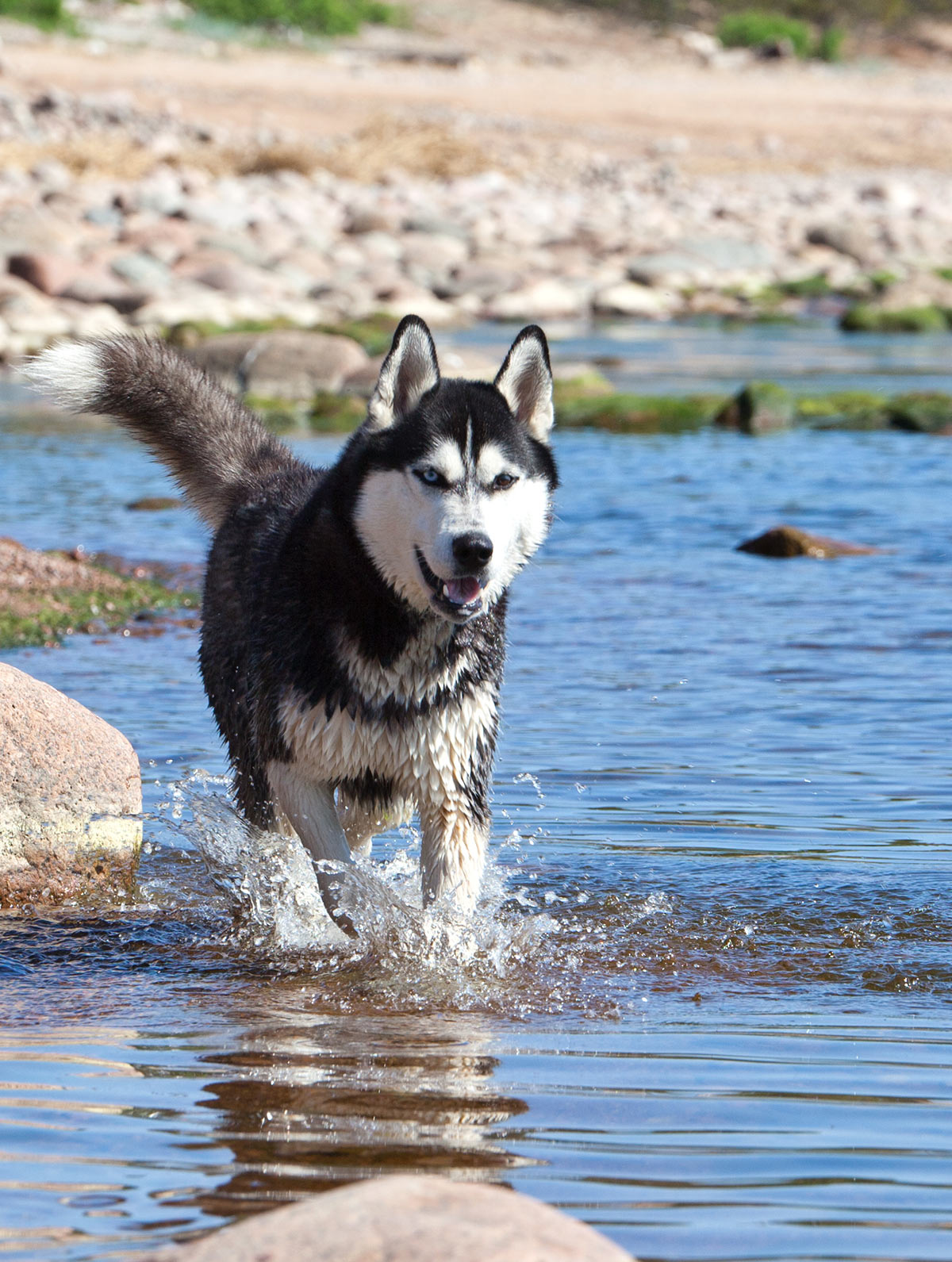 Although active, this breed is also very intelligent and needs a lot of company and mental stimulation.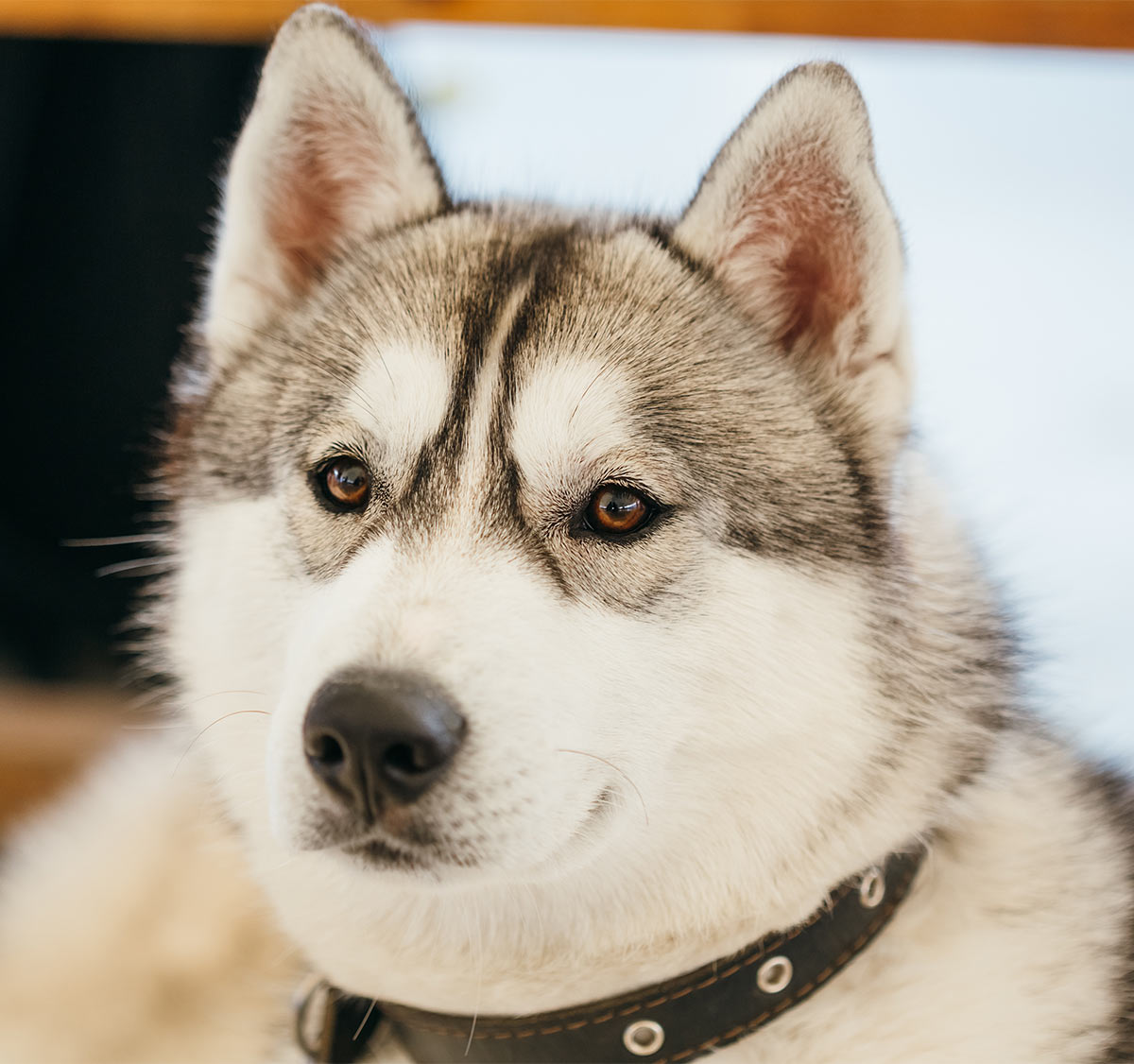 Pictures of Huskies with blue eyes are always incredibly striking.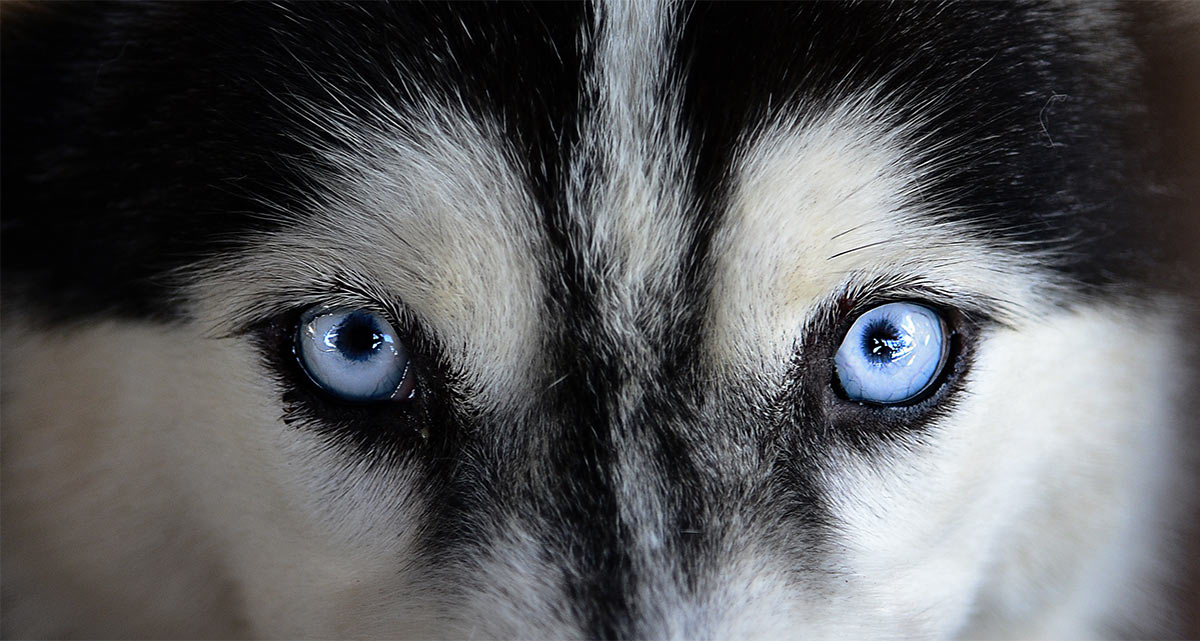 Their piercing gaze is definitely a large part of the breed's appeal when it comes to Husky photos.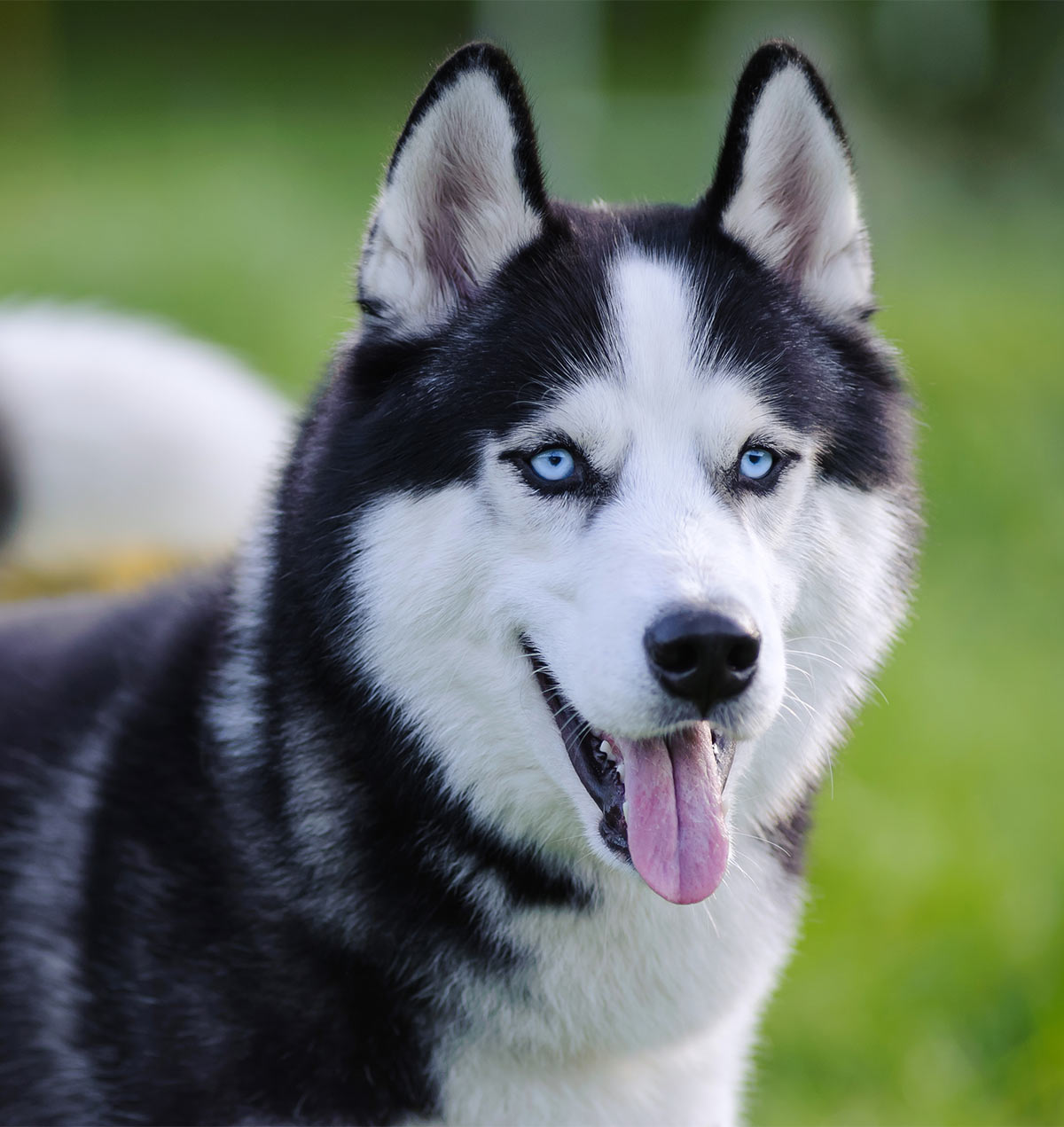 There is something very special about seeing a Husky in the snow. The kind of land they were bred for.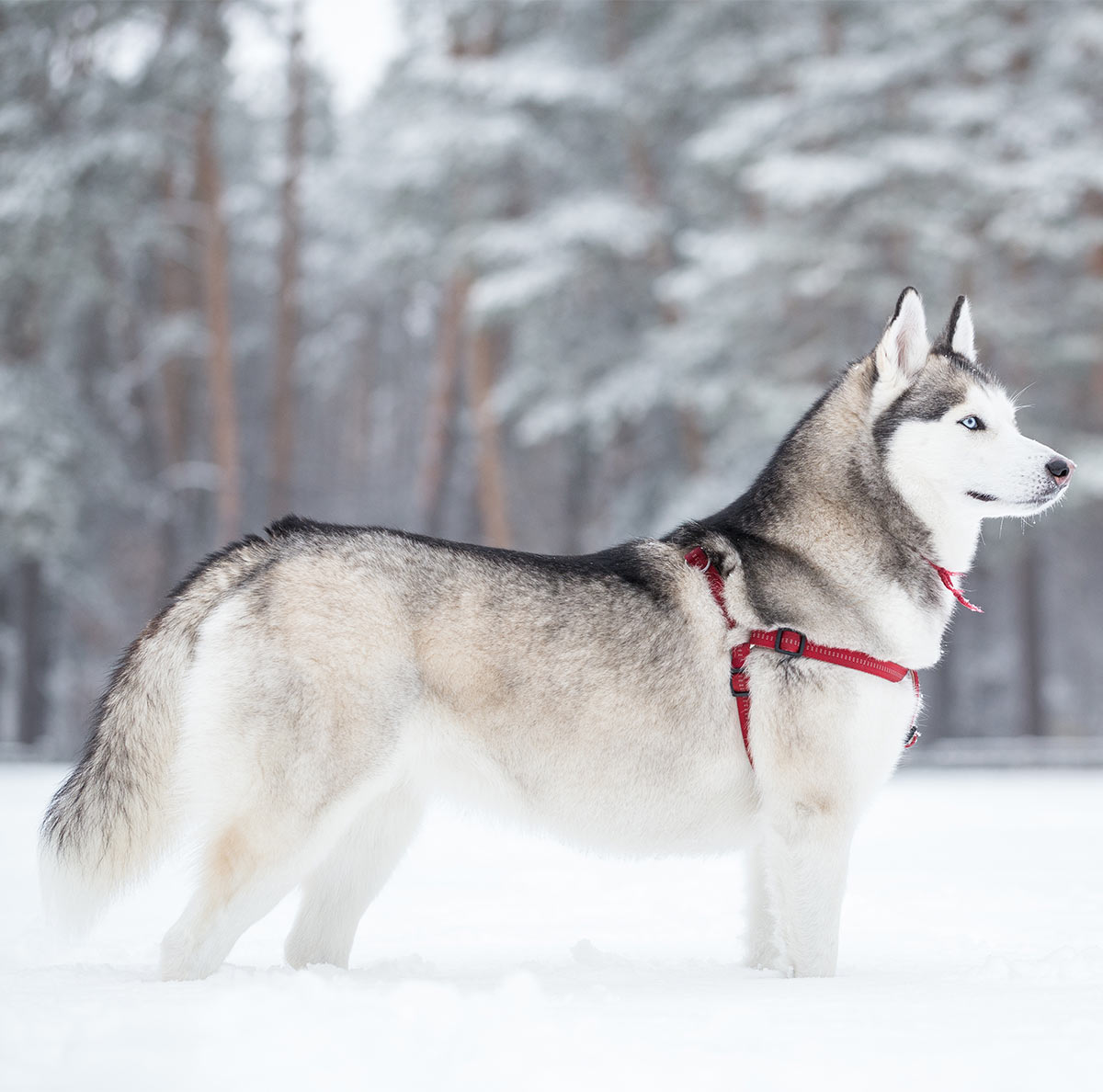 Husky Dogs in the Snow
It is wonderful to see how at home they look as they race alongside each other.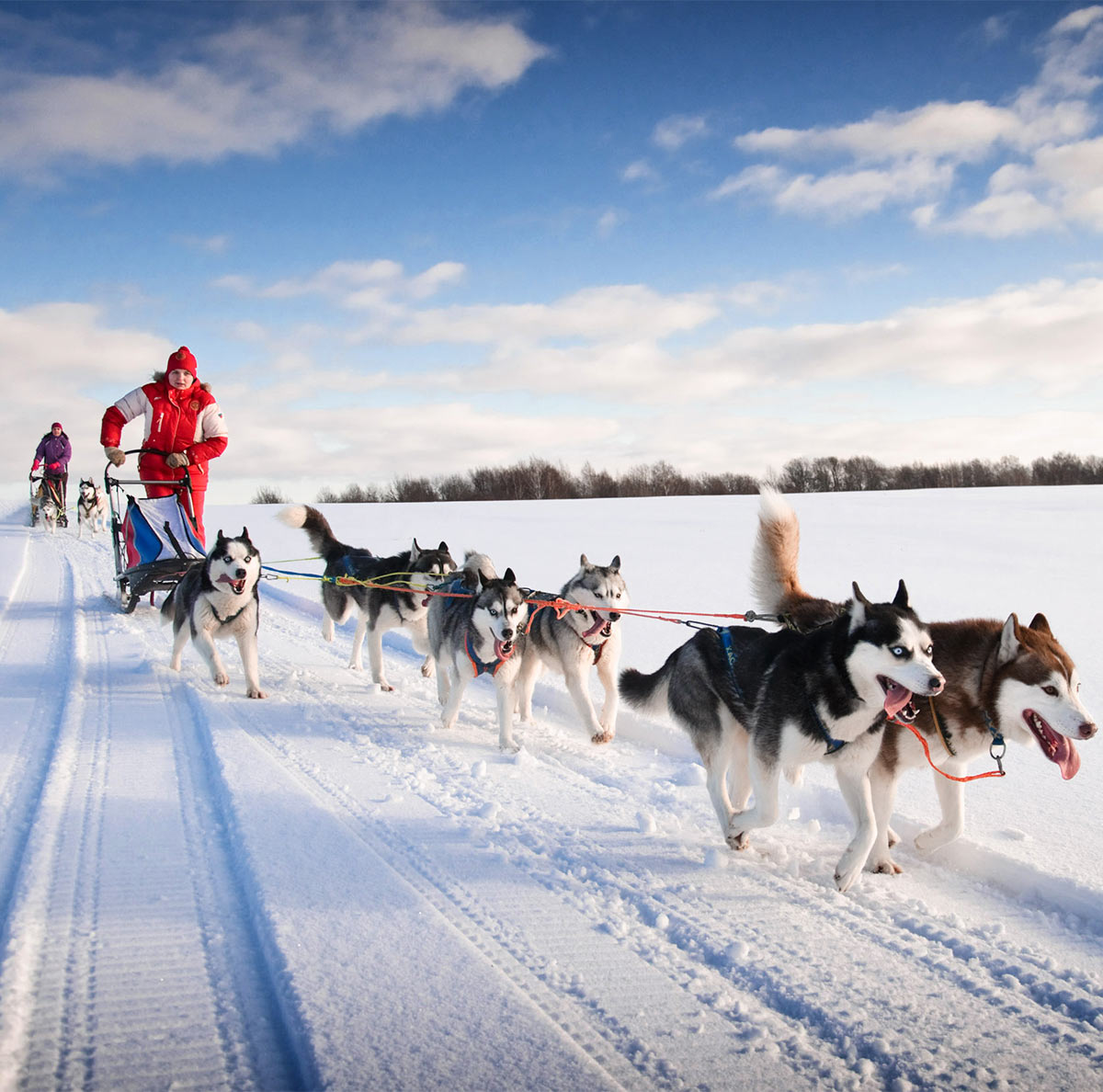 These powerful dogs love to run, and can keep up an impressive pace for long distances.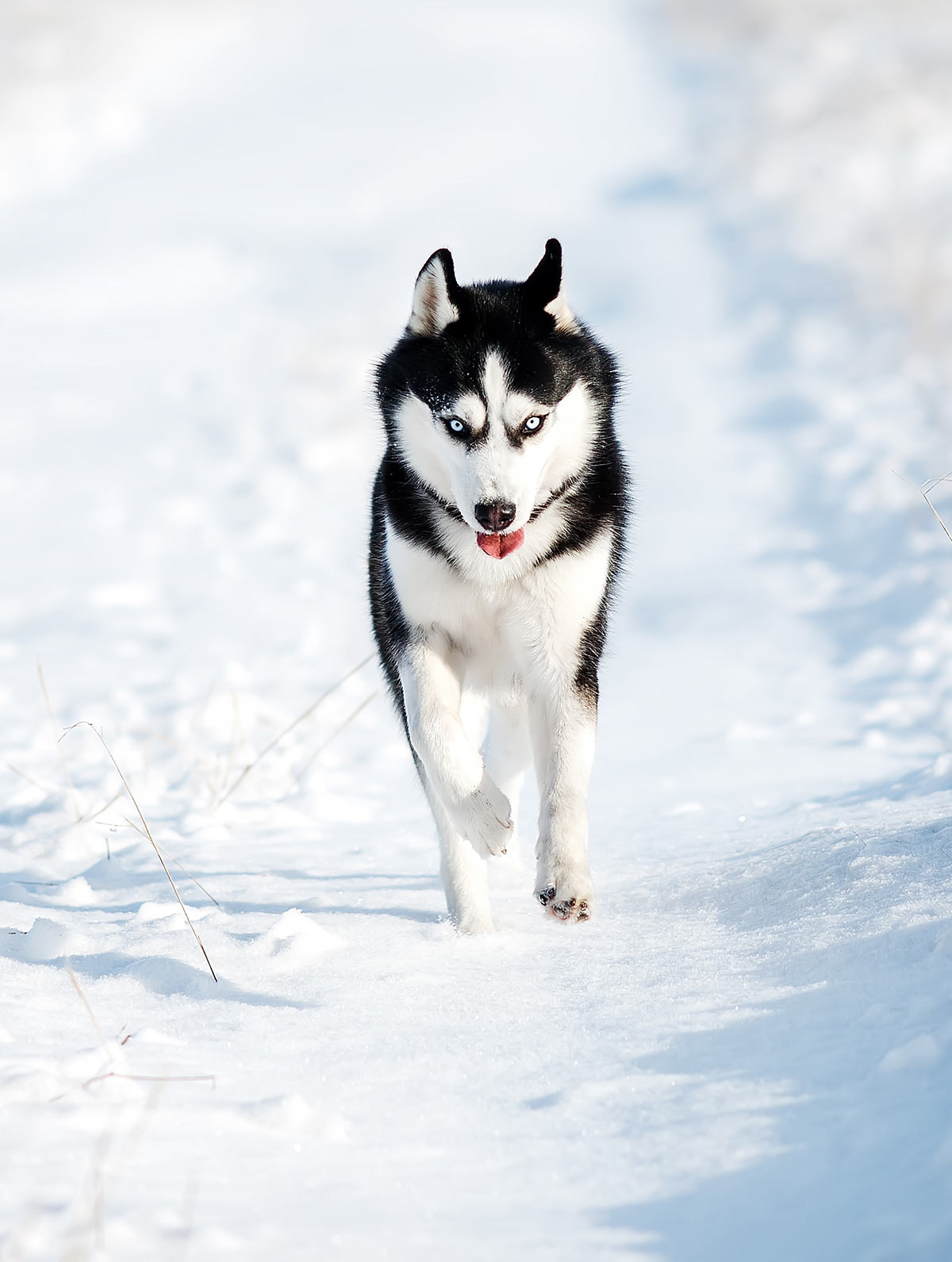 Husky photography in the snow highlights their routes, but also how well adapted for it they are.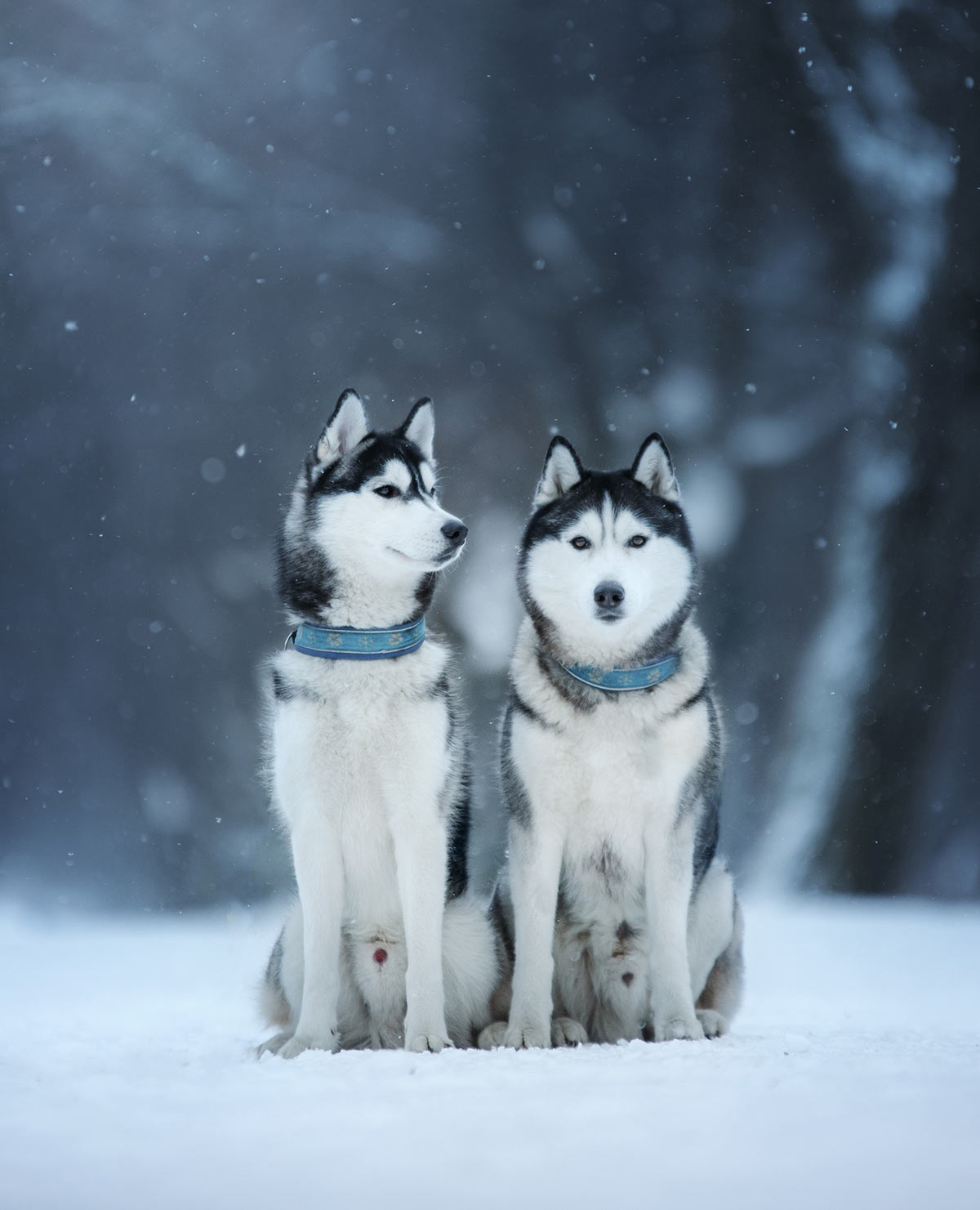 Look at the thick coat and pale colors of this beautiful dog.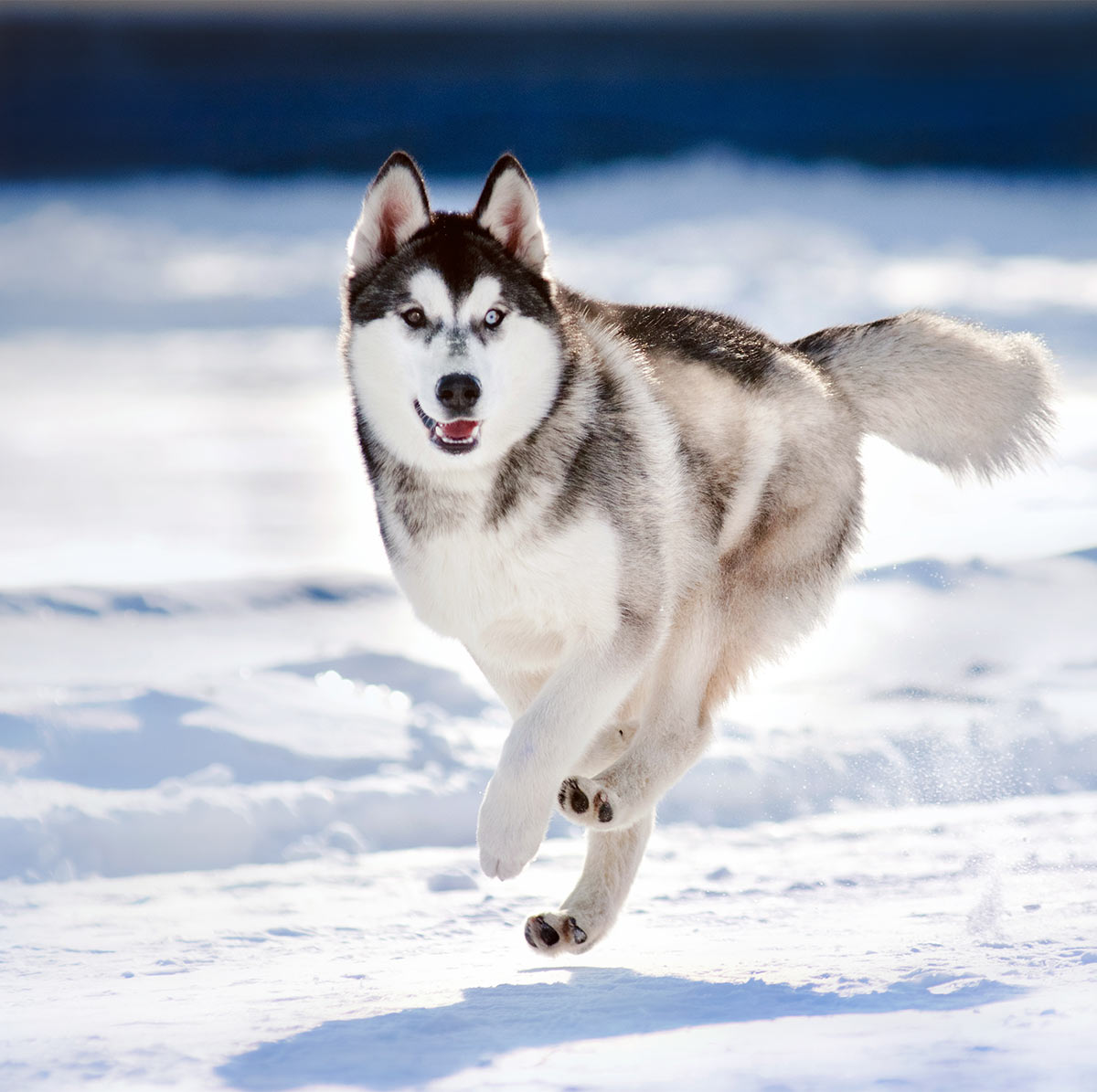 Pictures of White Huskies
From Pictures of Huskies in the snow, to pictures of a Husky with snow white fur.
This unusual coloration on what is already a pretty unique dog looks stunning. Especially in the snow!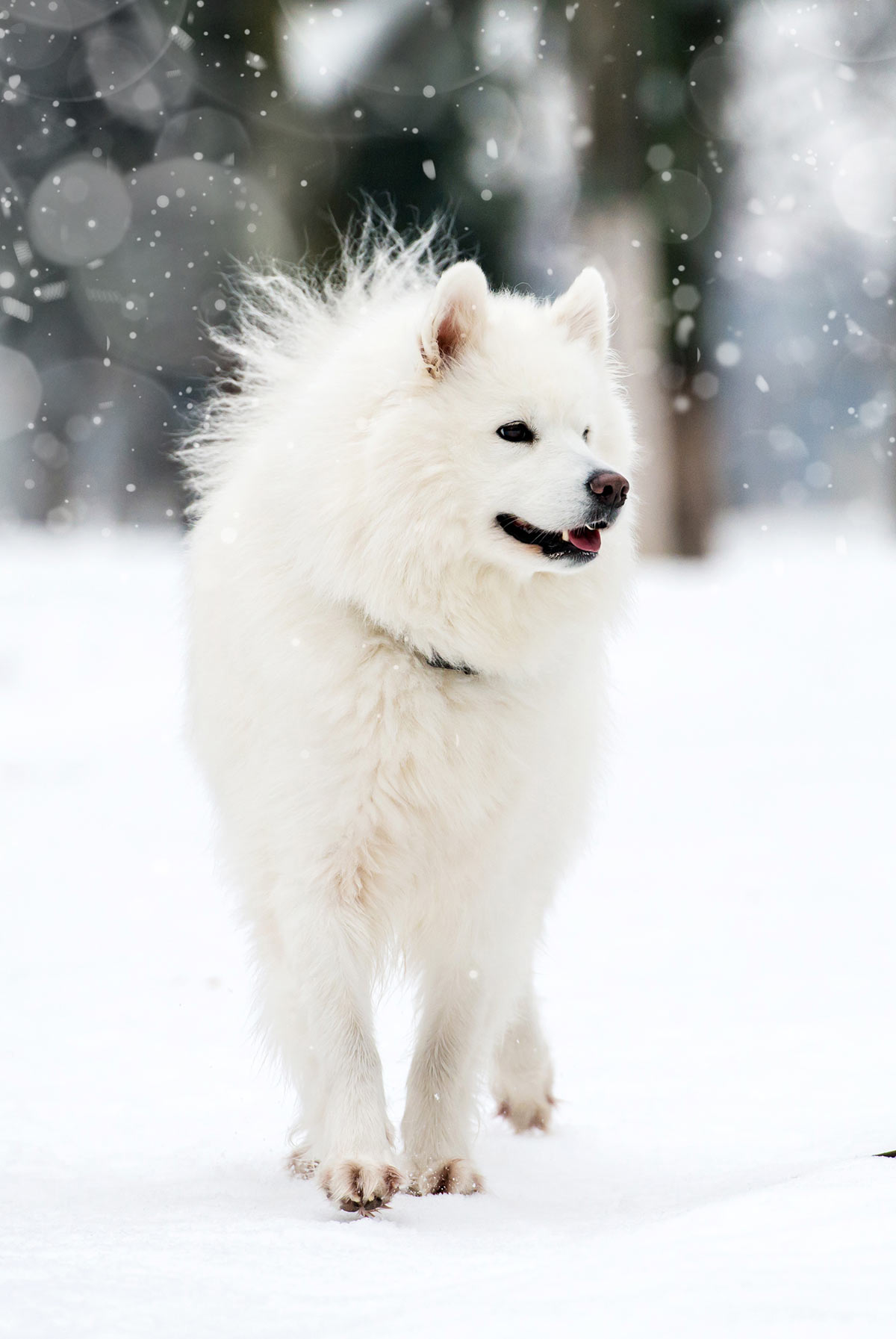 Who wouldn't want to play in the snow with their very own wolf cross polar bear!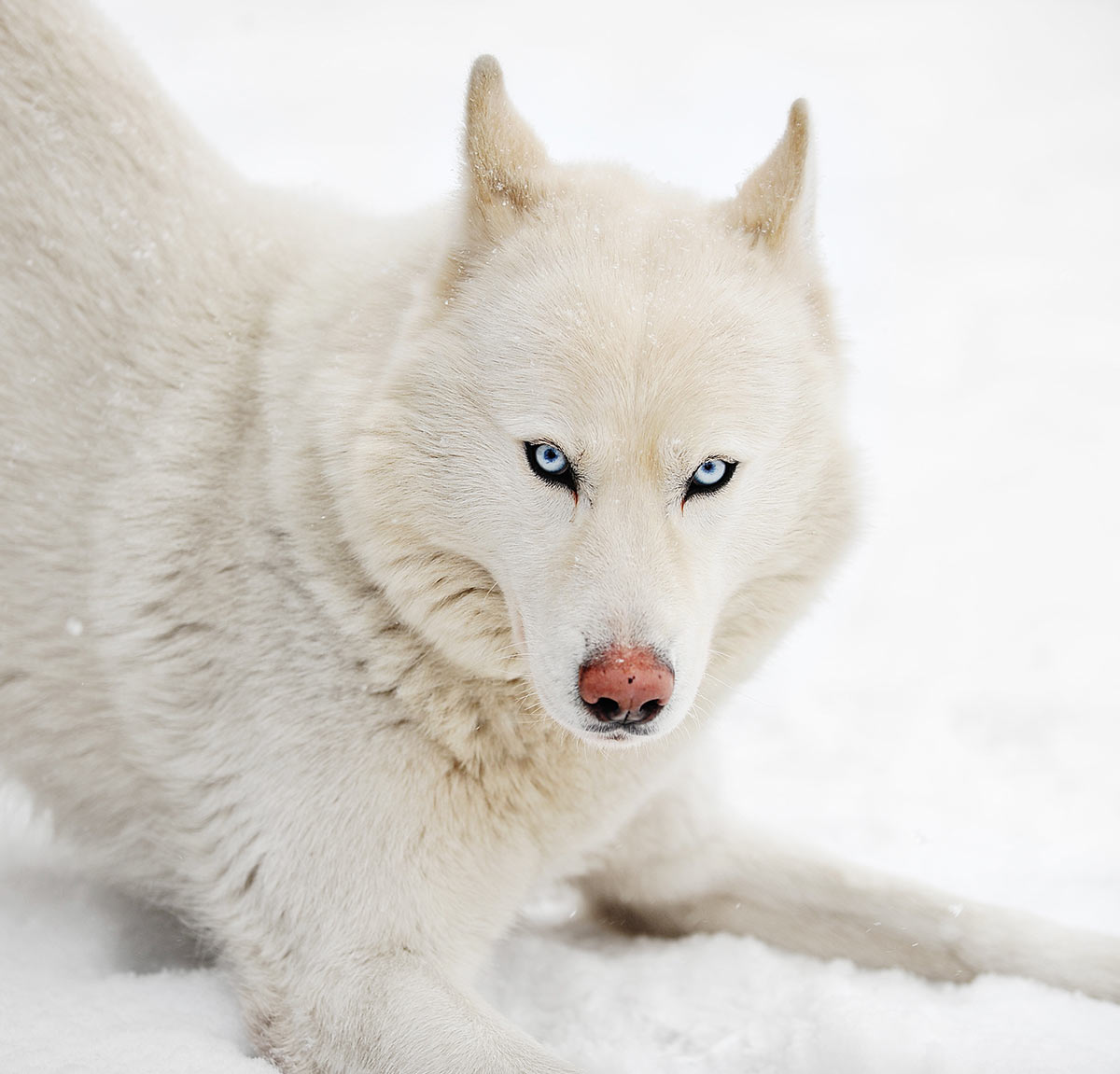 The blue eyes in white Siberian Husky pictures look even more piercing with the pale snowy backdrop.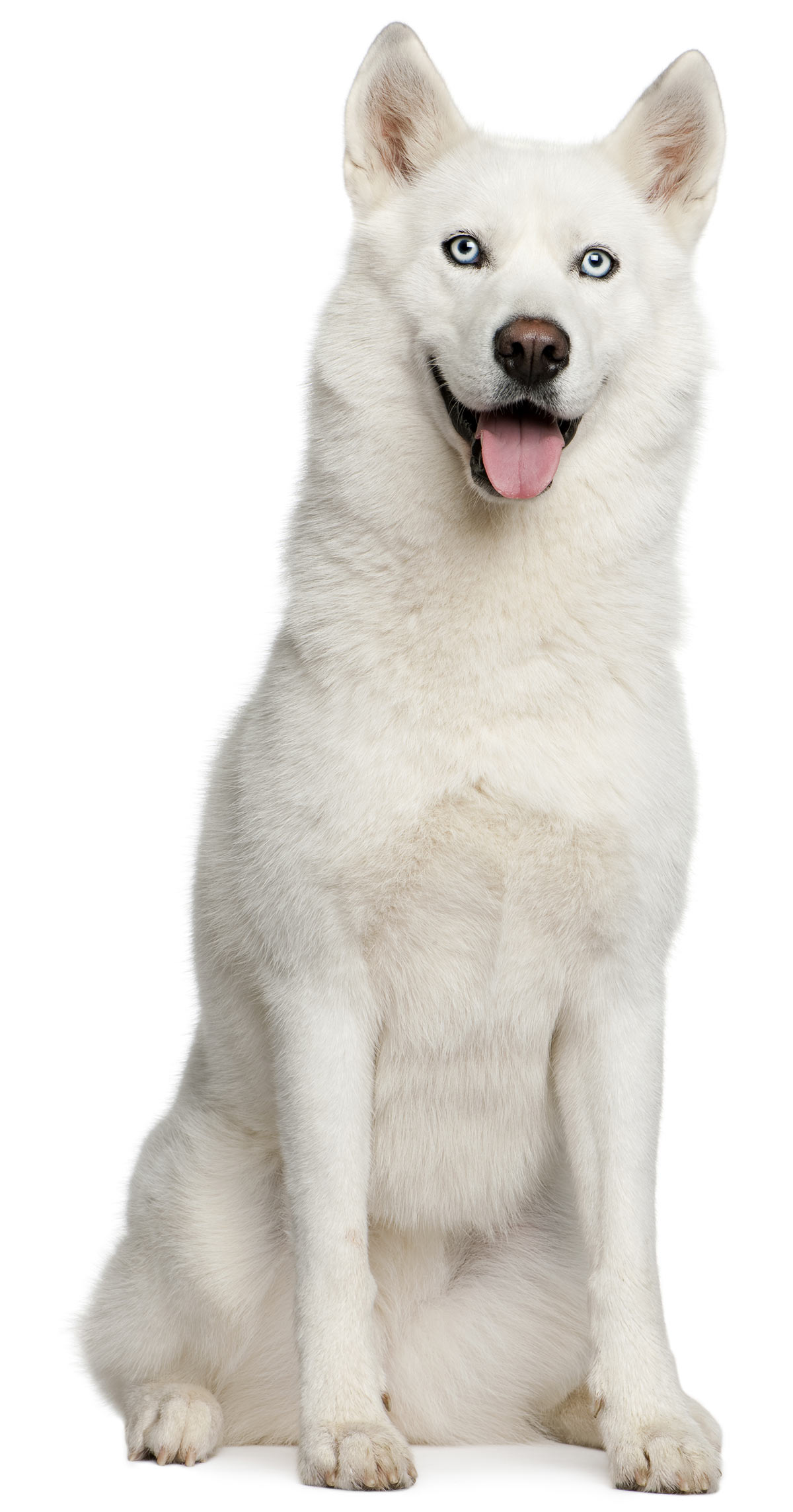 Pictures of Huskies with completely white coats are quite hard to come by, because even the palest Huskies often have those defined markings on their heads.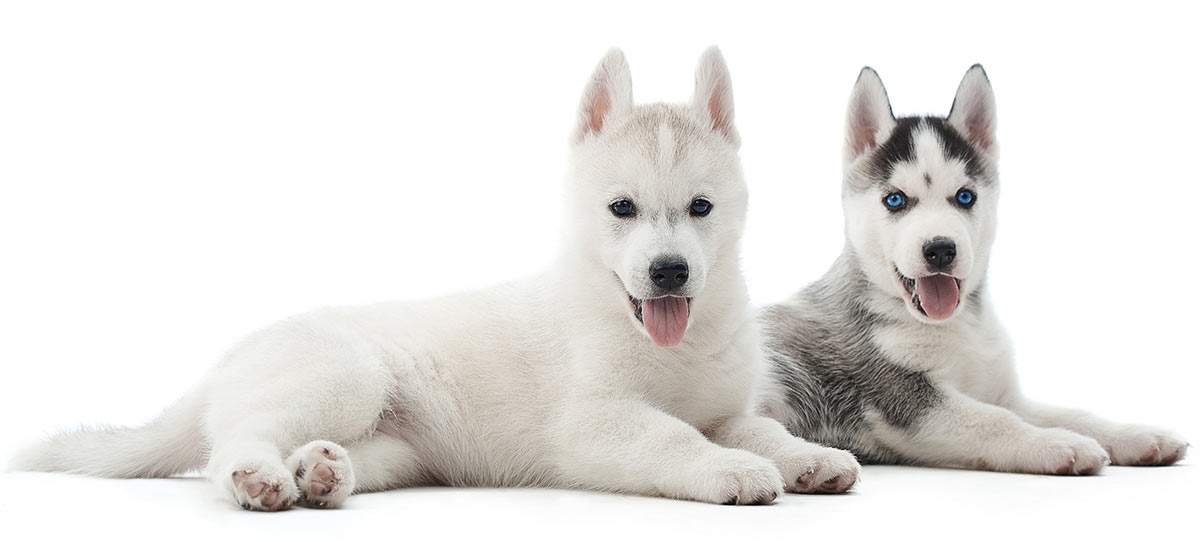 If you look at these two cuties you can see the white Husky has pale but still definable markings just like her sisters on her head.
These markings are even more notable in pictures of Huskies with red coats.
Pictures of red Huskies
When you think of Siberian Huskies, then dark grey markings are probably the first thing you think of.
But you can get these beautiful dogs in the same pattern, but another color. Red!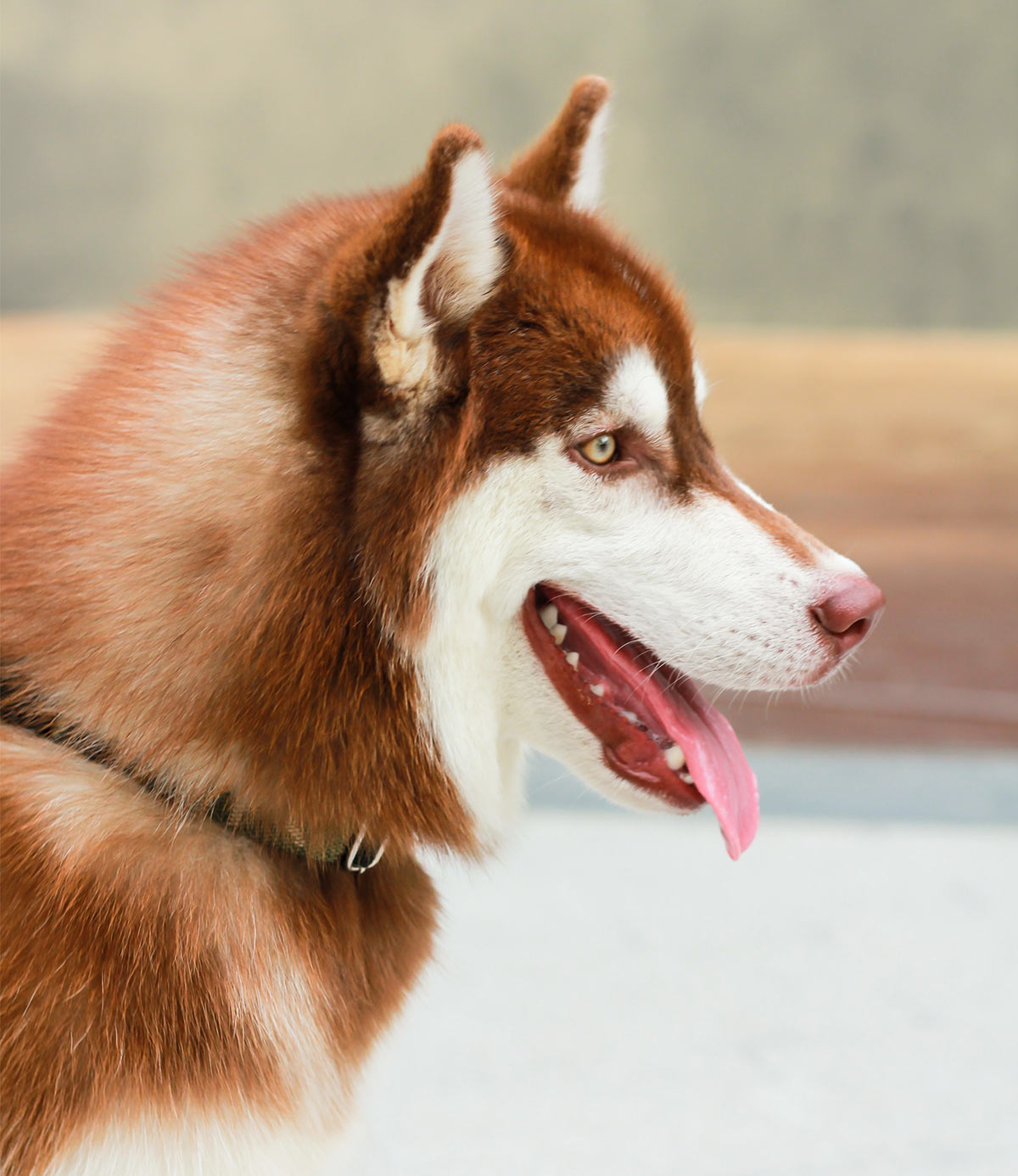 The red and white Husky isn't even a non standard color combination, they are accepted by the AKC and are on their list of an amazing 6 accepted markings.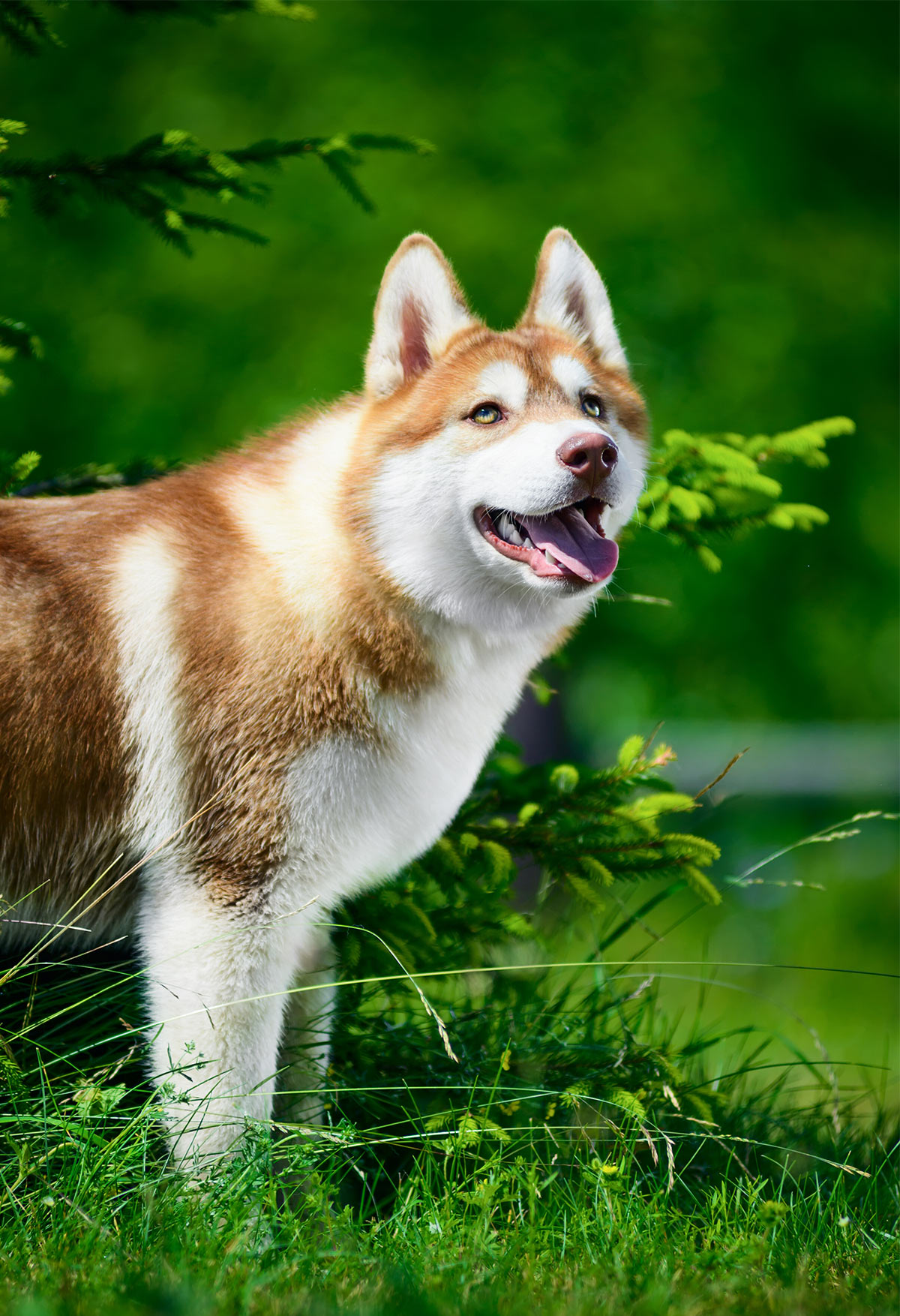 From brown to red to orange, these striking coated dogs certainly don't fade into the crowd.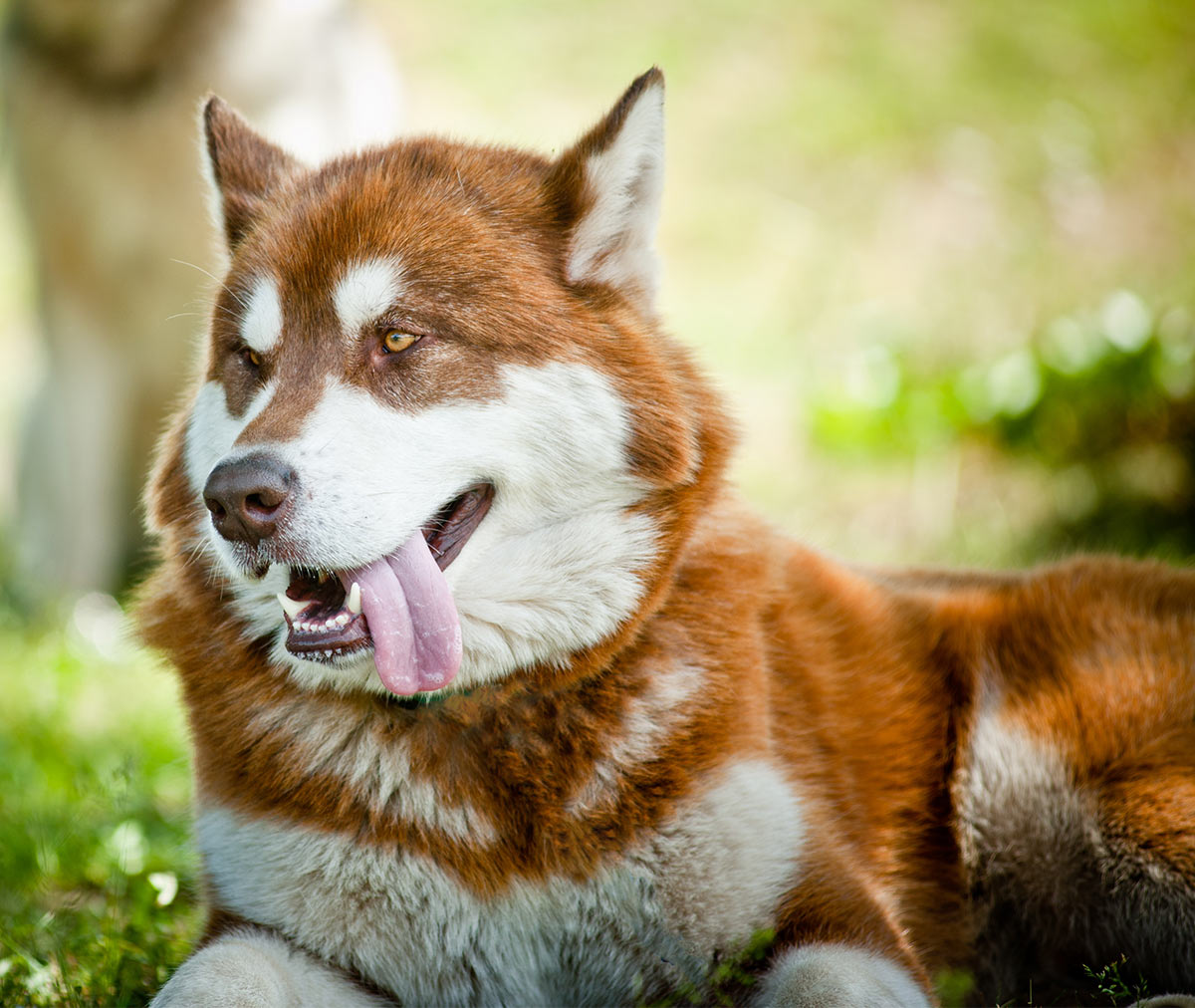 As these cute Husky pictures show, they can have blue eyes, brown eyes or even a combination of the two!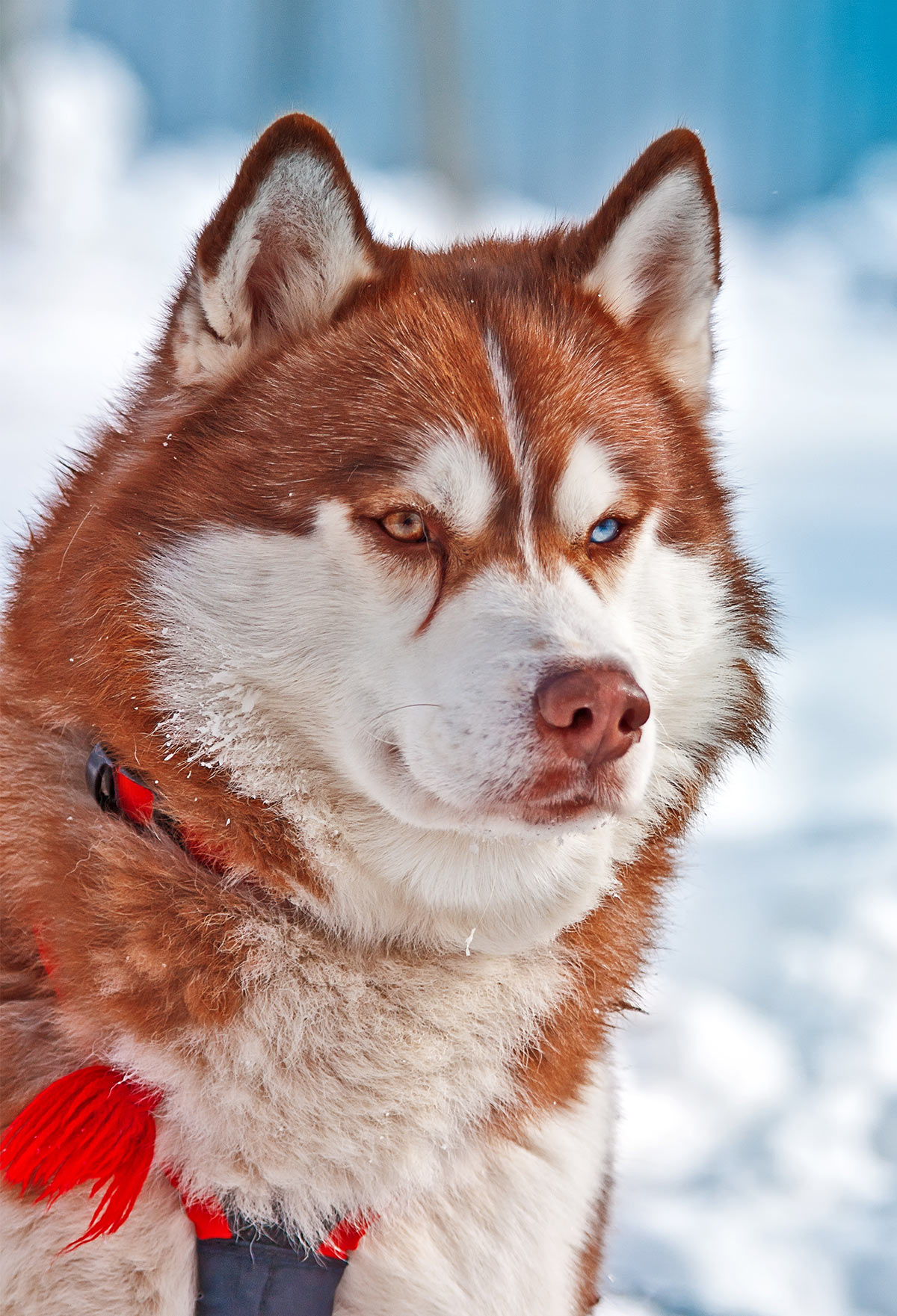 Bicolored eyes on a red Husky puppy look pretty amazing too.
Husky puppies with differently colored eyes will grow into adult dogs with the same striking colors.
A red Siberian Husky won't have a different temperament. Just a different look!
Pictures of Alaskan Huskies
So we've seen a lot of Siberian Huskies, but what about Alaskan Husky dog photos!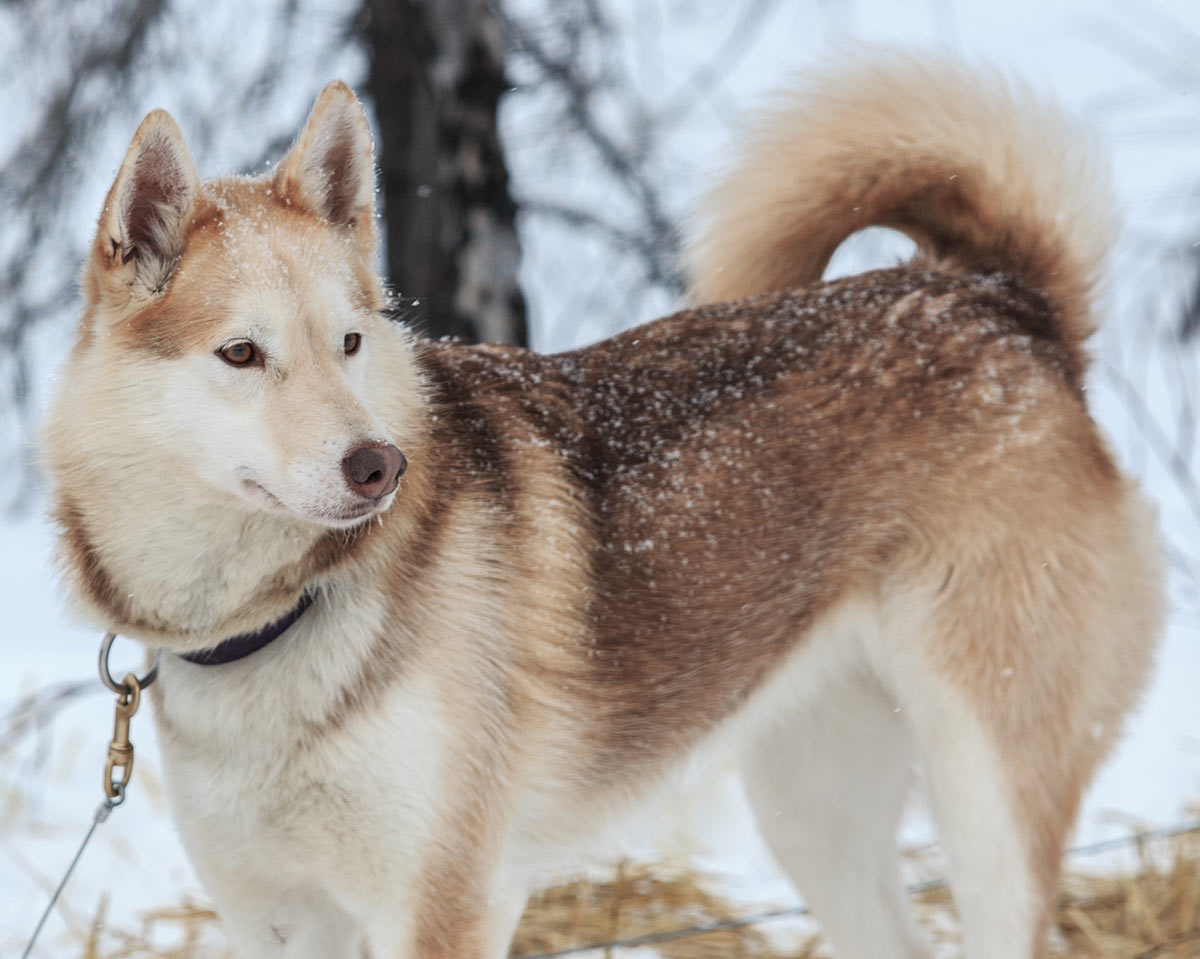 This Husky variety isn't an official pedigree breed, but they are an incredibly popular and well loved dog.
From very similar backgrounds to the Siberian Husky, the Alaskan Husky is still very much a working sled dog.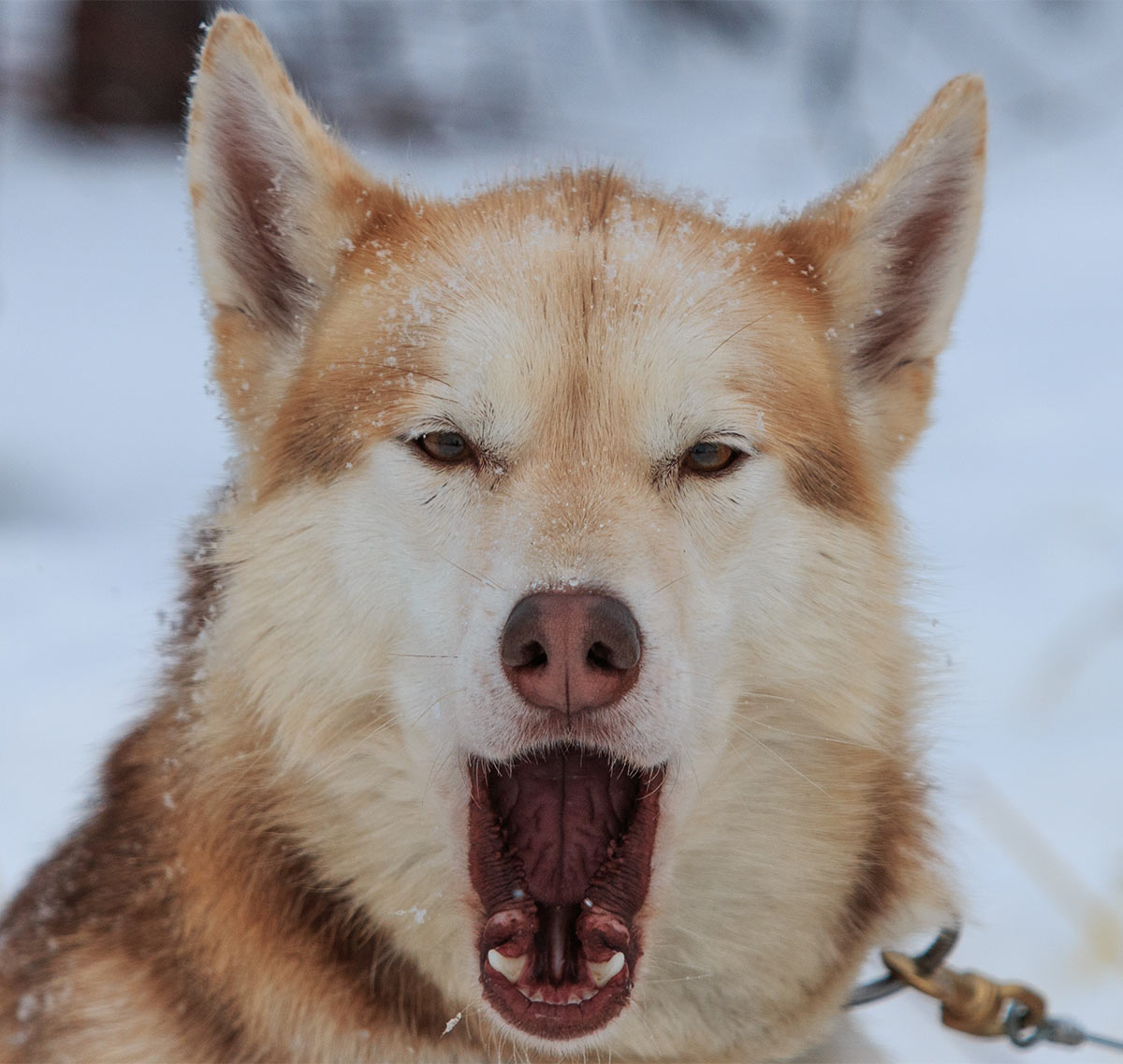 They run in groups and have amazing stamina and drive.
Although they often don't have the steely blue stare of some the Siberians, Alaskan Husky photos have a stunning look of their own.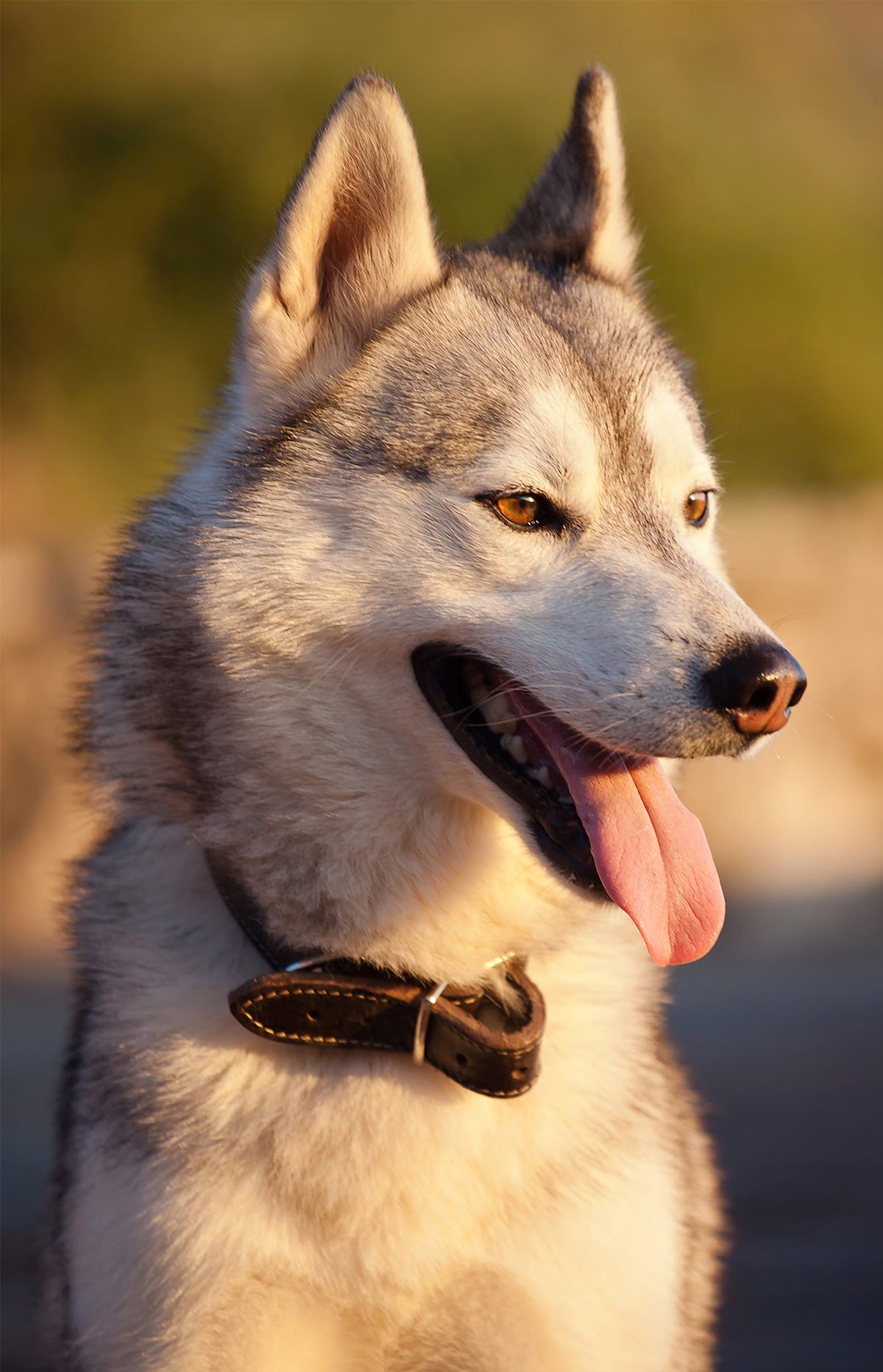 They can appear to be even more wolf like, and come in a wider range of colors and body shapes. Although they all maintain that healthy original body structure.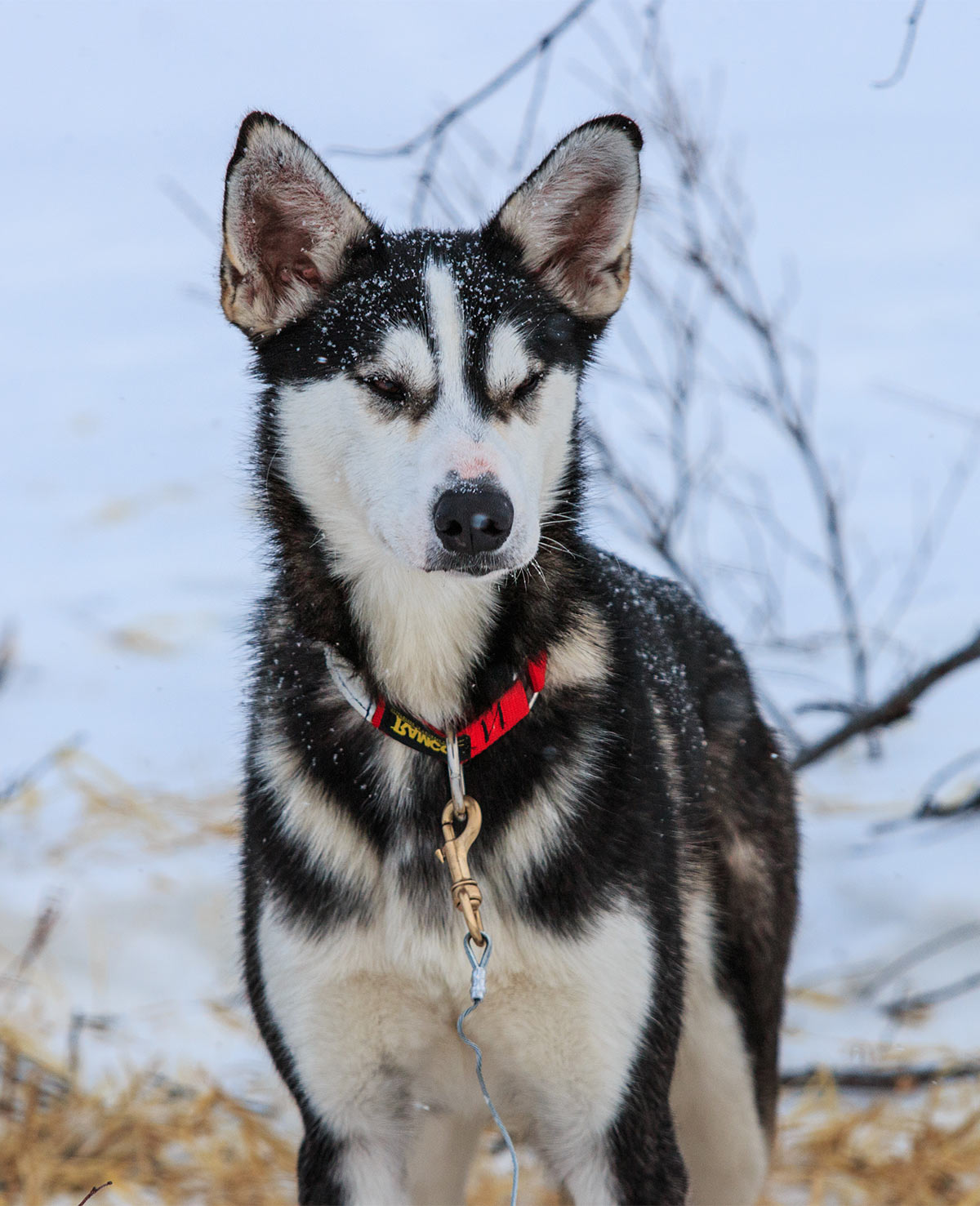 Although Alaskan Huskies often have brown coats, they can come in color patterns more similar to the average Siberian Husky too.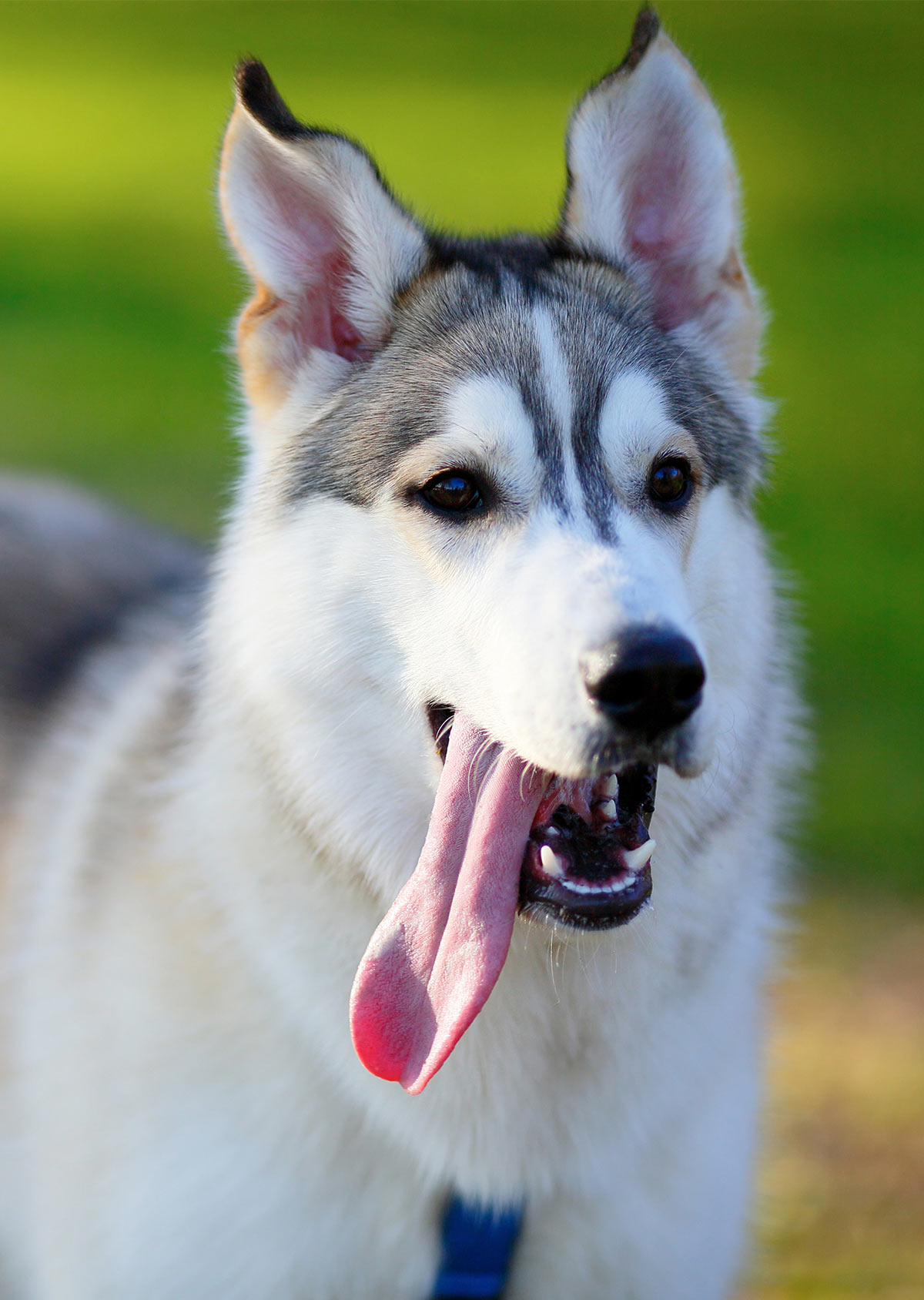 Funny Husky pictures
You could be forgiven for assuming that Huskies are a serious bunch.
Their wolf like appearance and serene expressions give an air of calm.
But they can definitely do silly.
This joker has been enjoying a roll around the back yard. I think we can be pretty confident he's enjoyed himself!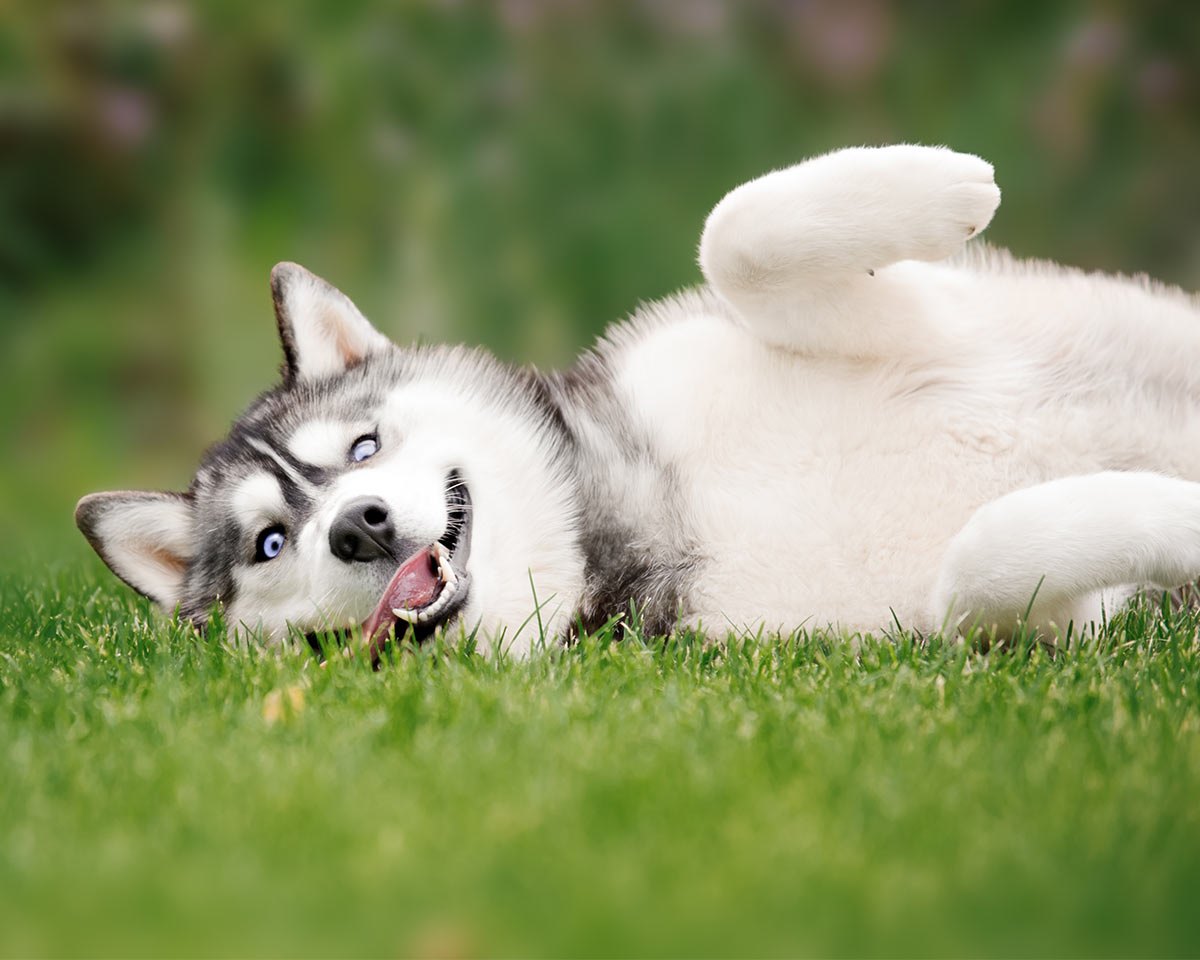 Pictures of Huskies who are up to no good, or in amusing situations, always tickle me.
But sometimes a shot is just plain funny for the angle.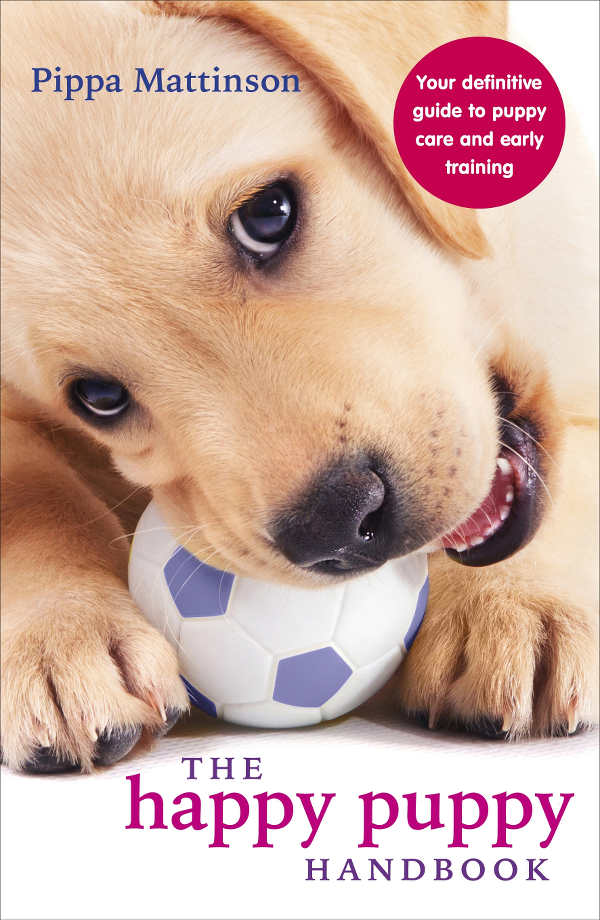 Although it does show off that gorgeous Siberian Husky nose!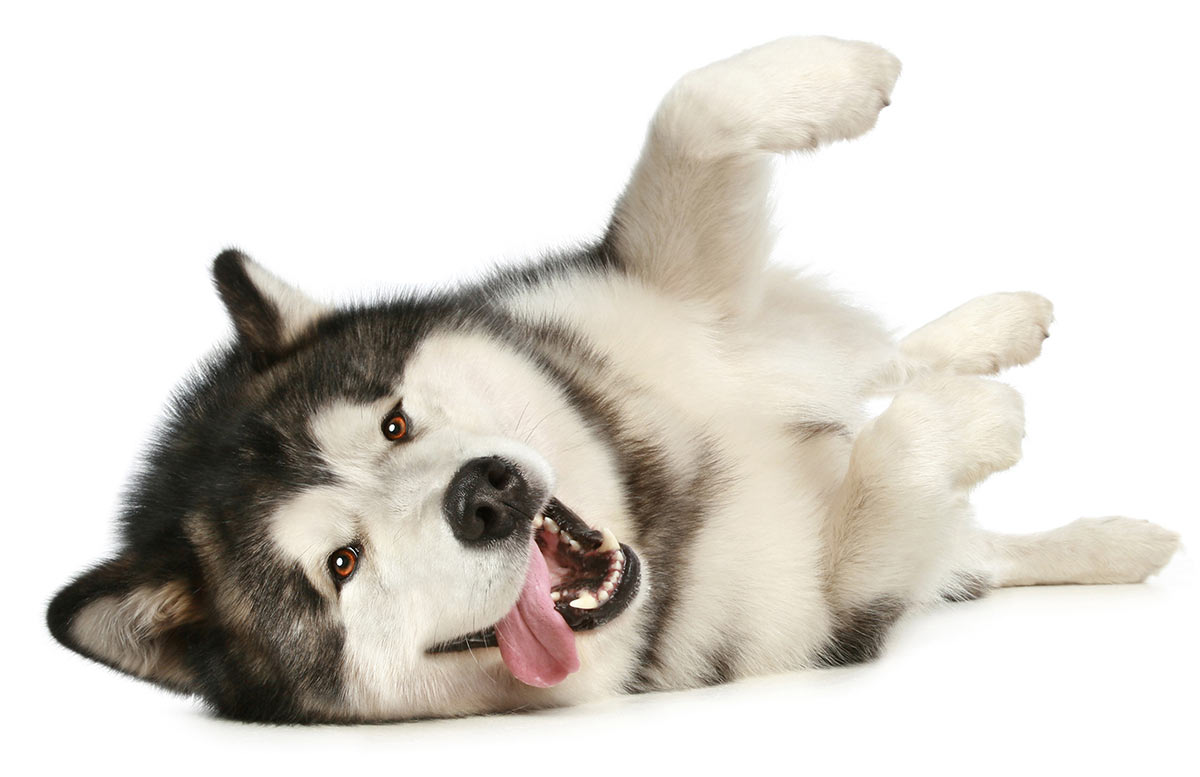 And who doesn't love playing with bubbles!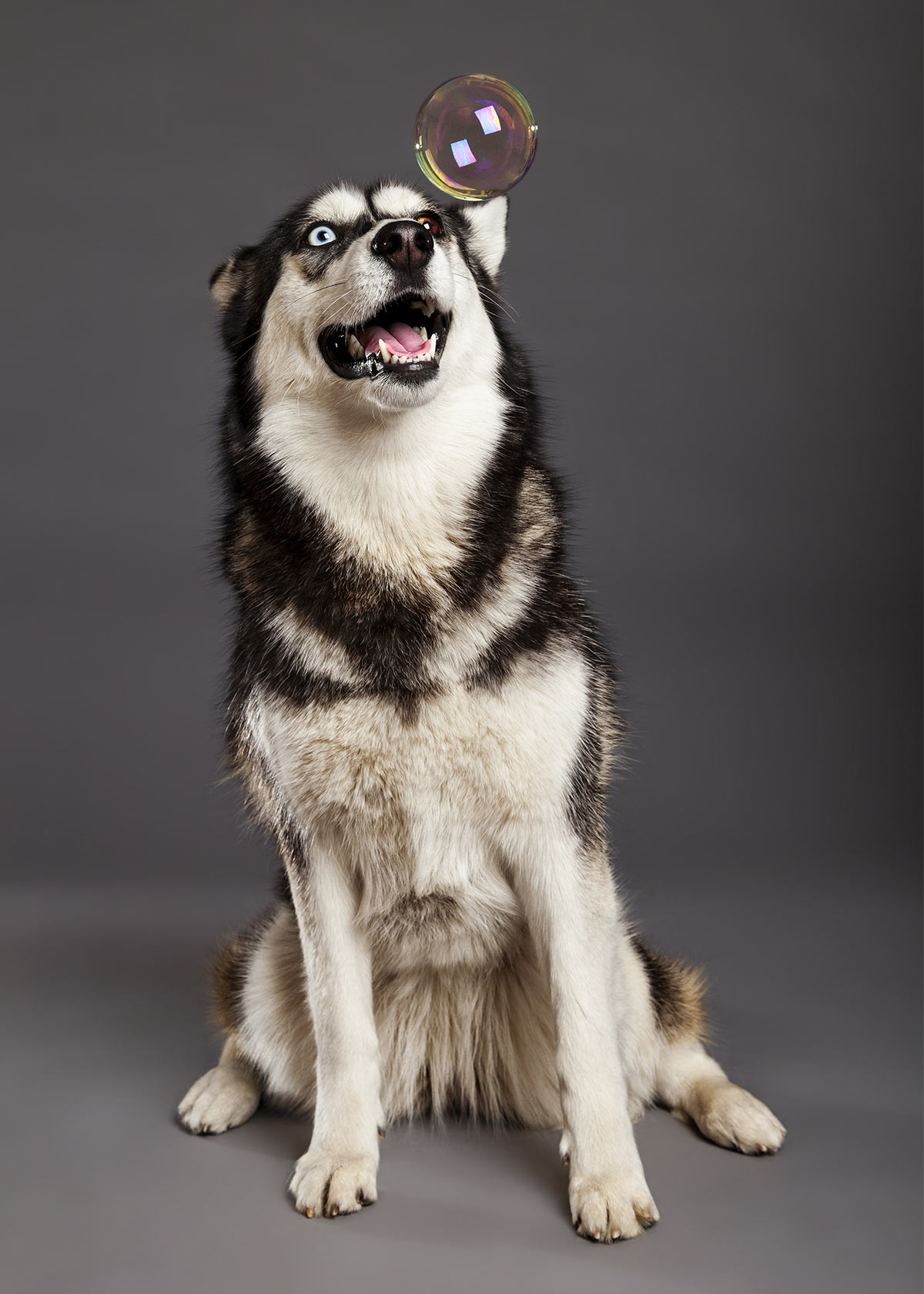 Pictures of Huskies having fun can be arty and dramatic, but they can also be a little bit silly.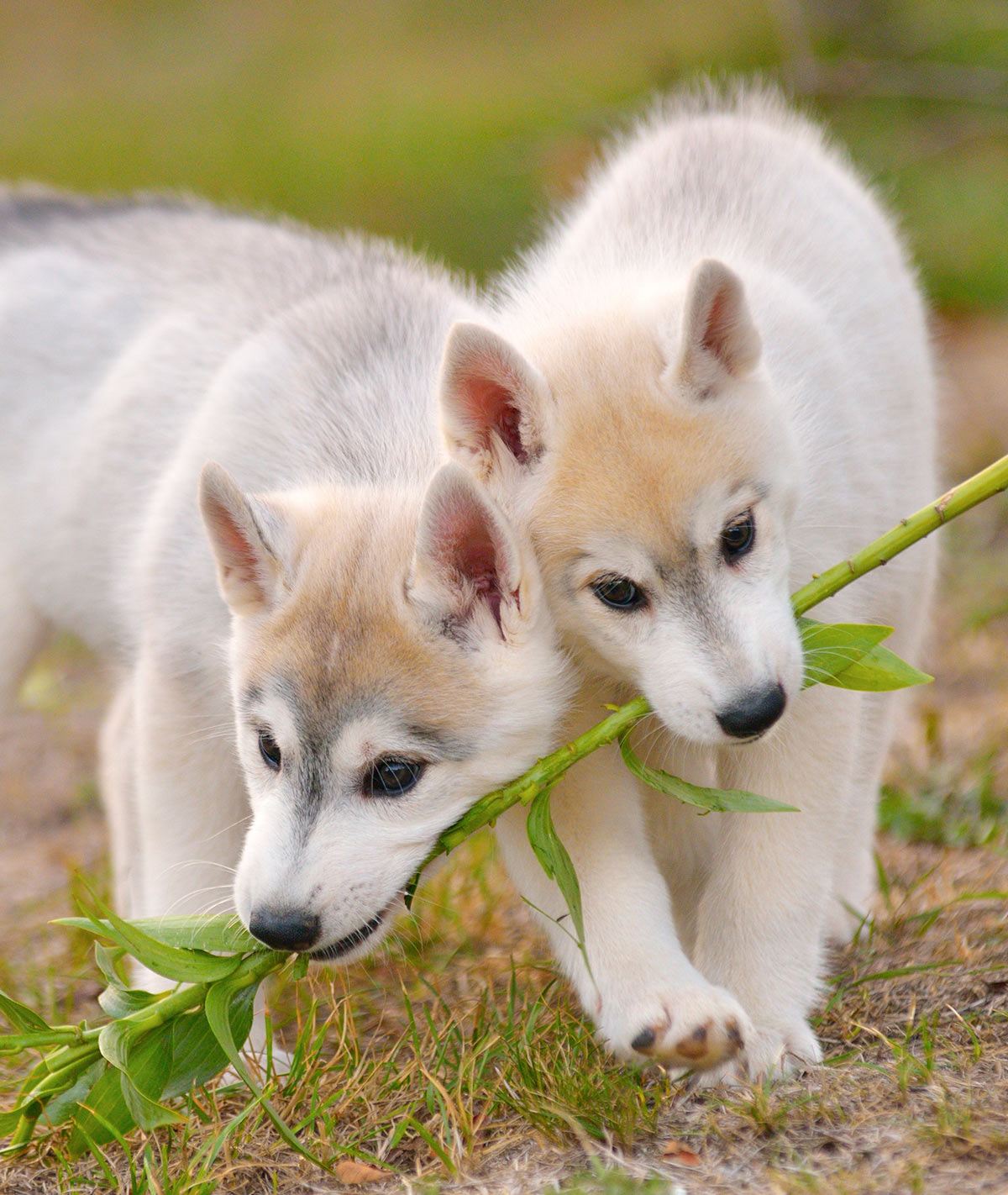 Like this pair who both really want the same stick.
And this absolutely adorable bunch that have somehow ended up posed in an old fashioned suitcase!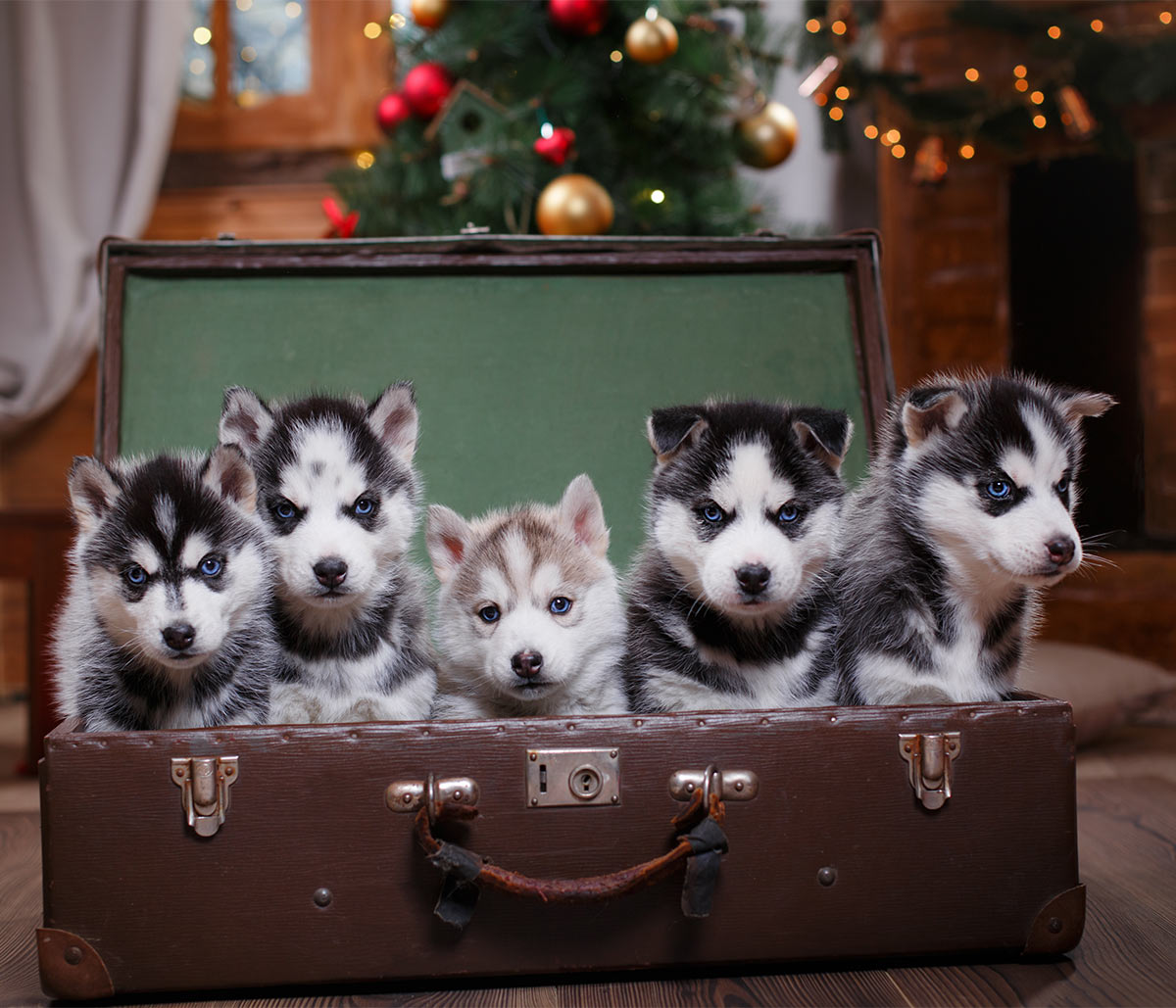 This playful pup could almost be having a game of hide and seek under the blanket.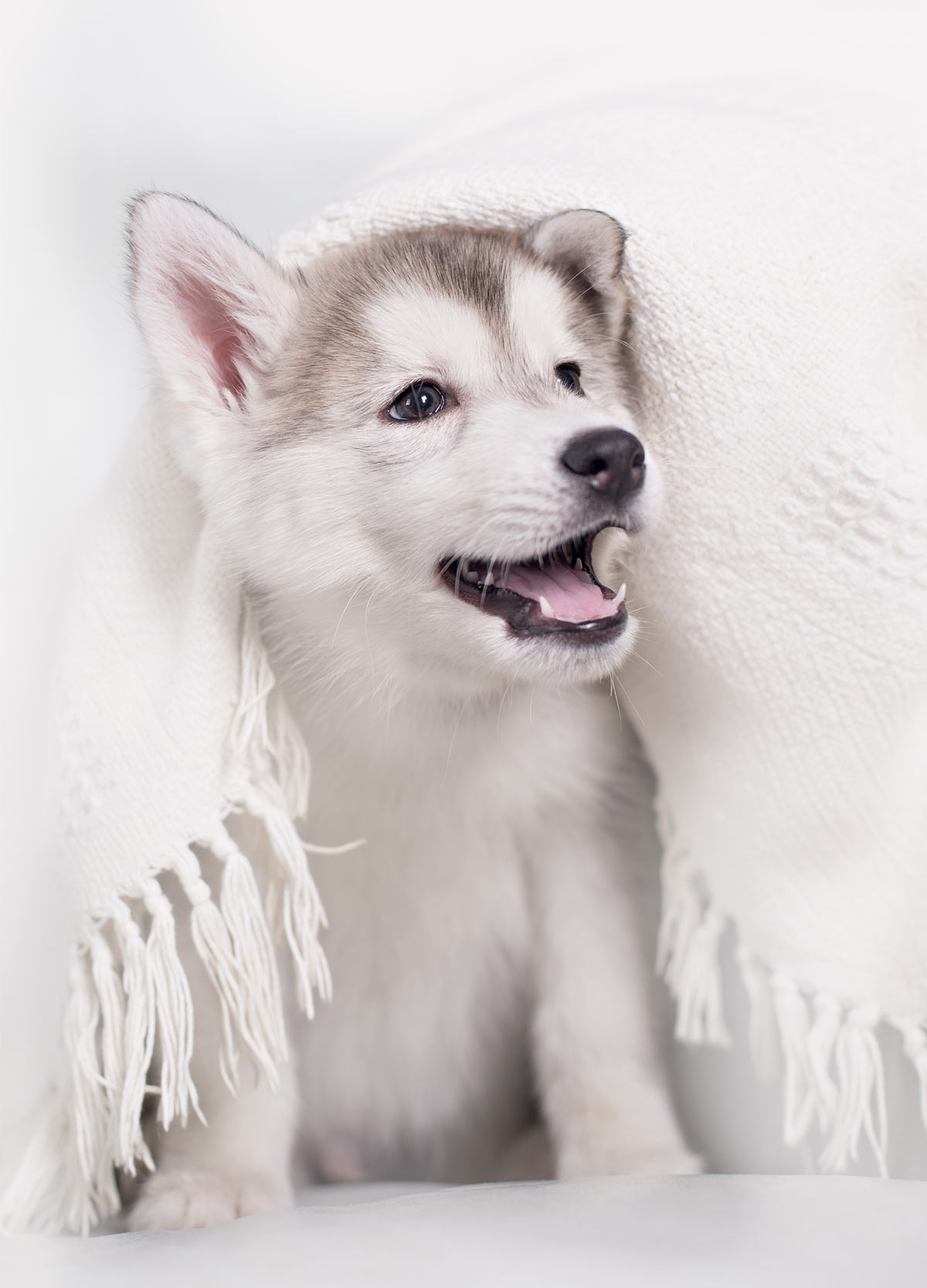 You can't possibly see his grin and not find one of your own on your face.
And finally give a giggle for this little scamp.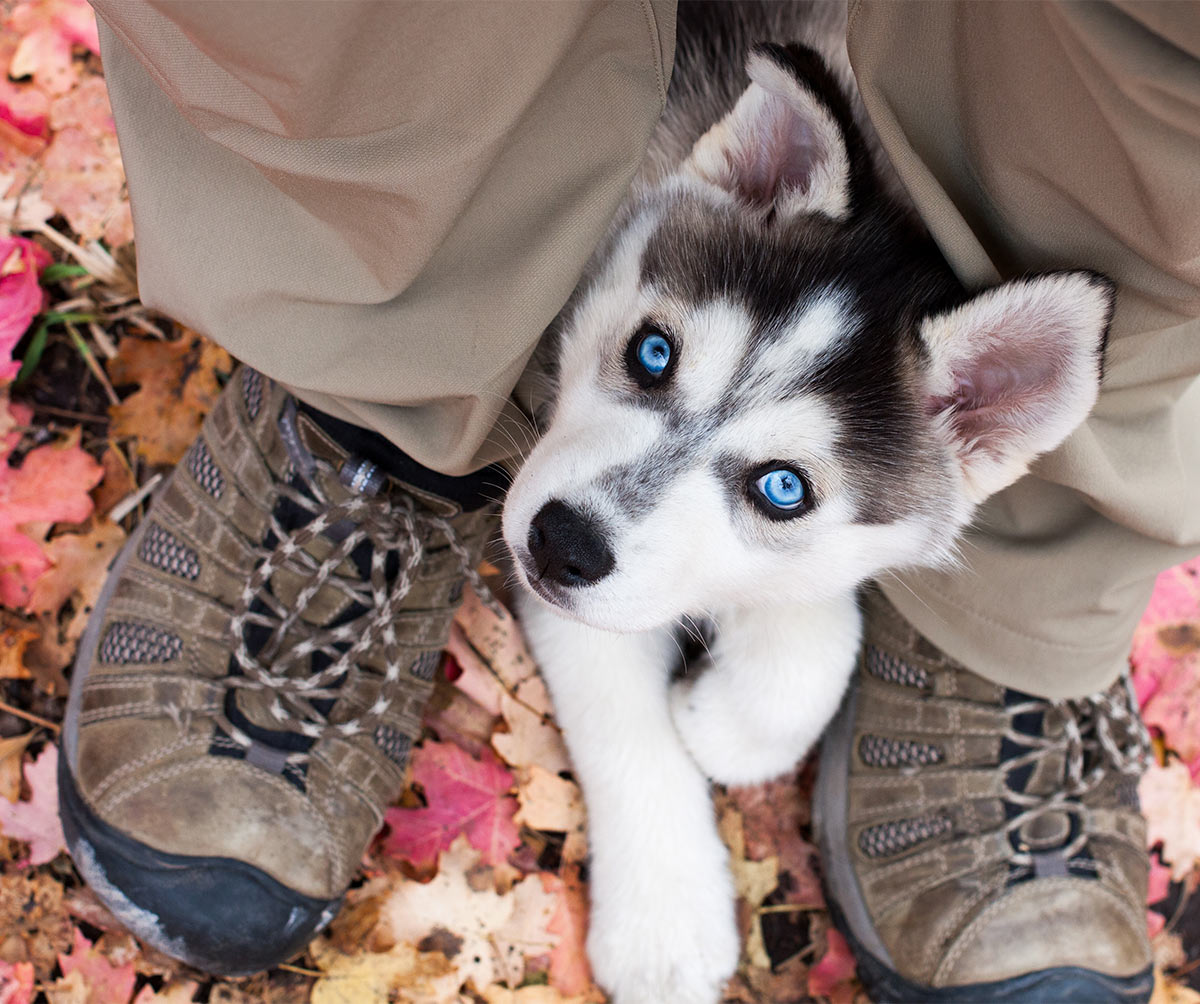 If there is a more perfect dog for a photo collection than pictures of Huskies, I'll eat my sled.

Best Husky Pictures
The best pictures of Huskies reflect their beauty and their wonderful nature.
These wolvern dogs are proud and loyal. Loving pets with an impressive level of energy and drive.
When well bred and well raised they make amazing members of families. If you are thinking of bringing a Husky into your home then check out our guides
They should help you to decide which Husky is the right one for your family, and how to find a happy, healthy puppy.