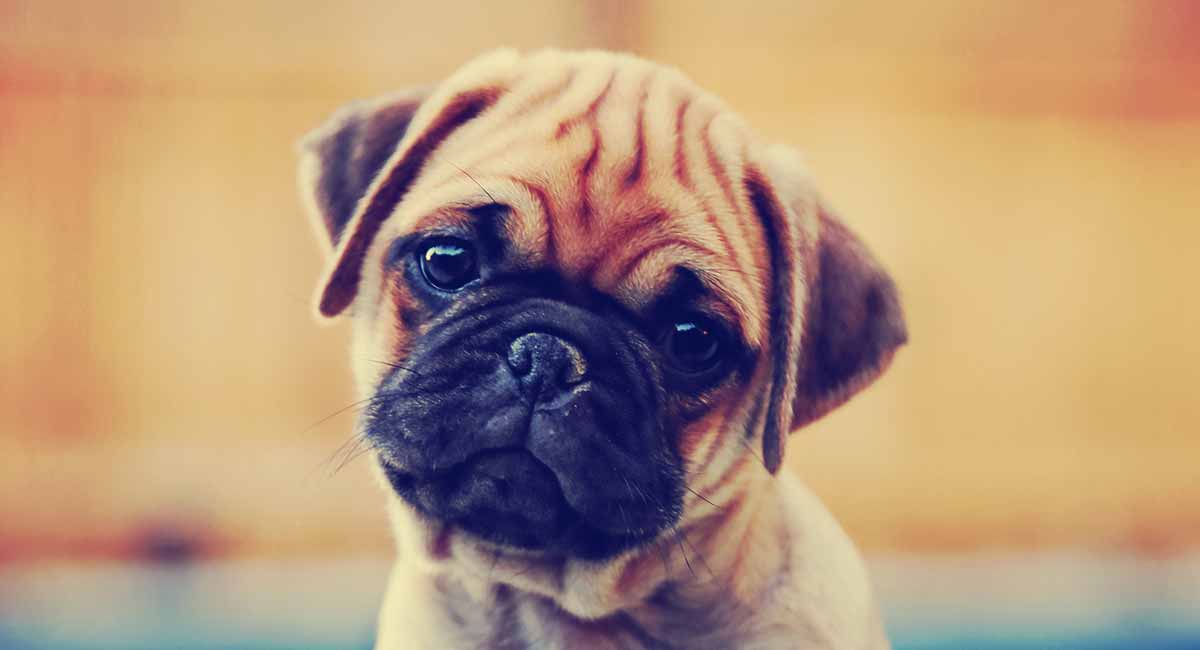 Miniature Boxer dogs are cute, fun and full of personality. They are intended to be a full Boxer in a small parcel, but the reality isn't quite that simple. Today we'll take a look at the three ways Mini Boxer puppies can be bred. We'll help you to decide which of them appeals to you as the perfect way to create a Miniature Boxer dog. Because shrinking a dog breed has some major pros and cons.
What is a Miniature Boxer?
A miniature Boxer is a Boxer dog who has been bred to be small. This can be achieved by crossbreeding, deliberately introducing the gene for dwarfism, or breeding several generations of runts together. However, all of these approaches come with drawbacks, especially in terms of their health. So which type of miniature Boxer is best? What should we know about this tiny breed.
The Mini Boxer is a bred to be a smaller version of the full sized Boxer dog. Boxers are charming, active, intelligent dogs. The breed has a devoted following, and he's just as devoted to his family.
The Appeal of the Miniature Boxer
A full grown Boxer is a bouncy dog that can take up a lot of room in your home. Not just because of their size, but because of the way that they move and behave. Given the Boxer's popularity, it's no wonder that a smaller version of this beloved breed would be equally sought after.
Boxers have distinctive features. Round faces, big eyes, and smaller snouts all add up to human adoration, thanks to the baby schema response. But there's more to the appeal of a miniature Boxer than just looks. At 55 to 75 pounds, the traditional Boxer is a medium to large-sized dog. His athleticism means he's well-muscled and strong.
Why Choose a Smaller Version?
Plenty of would-be Boxer owners just can't physically manage a dog that large. Or don't feel comfortable doing so. Others may live in a place that doesn't allow large dogs. Perhaps they just aren't up to the costs of feeding and caring for a larger dog. In these situations, a miniature Boxer might seem like a great alternative to the traditional, full-sized Boxer.
Where Do Miniature Boxers Come From?
There is no true, officially recognized miniature Boxer breed. Instead, most dogs advertised by breeders as miniature Boxers are actually crossbreeds between Boxers and smaller dogs.
Because a crossbreed may take more after one parent than the other, there is of course no guarantee that a Boxer cross will have that famously loyal and friendly temperament. However, there are two other ways that breeders produce miniaturized versions of a Boxer.
Canine dwarfism is genetic health condition affecting the dog's bone growth and structure. It will result in a smaller-sized Boxer. And repeatedly breeding from runts, or unusually small purebred Boxers, tends to also result in smaller puppies. All three of these methods have their drawbacks. Some can unfortunately result in dogs with serious health issues.
Mini Boxer Breeds
By far the most common way for breeders to get a miniature Boxer is by crossing the full-sized Boxer with smaller breeds. Let's take a look at some of the most popular Boxer crossbreeds.
Boston Terrier Boxer Mix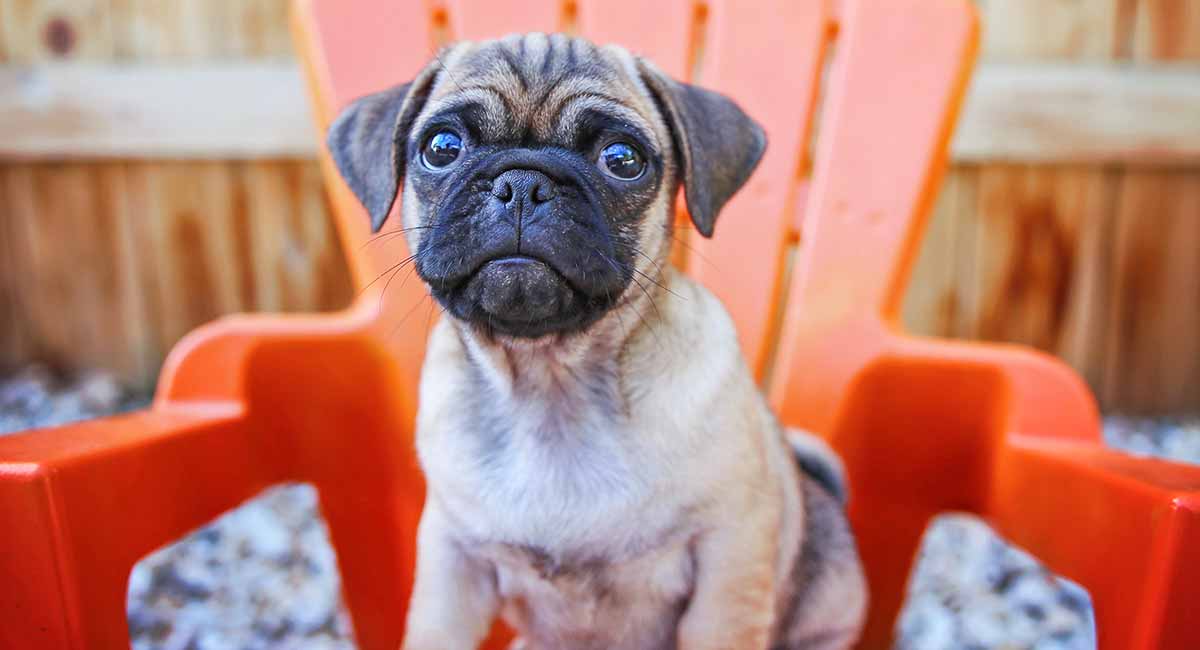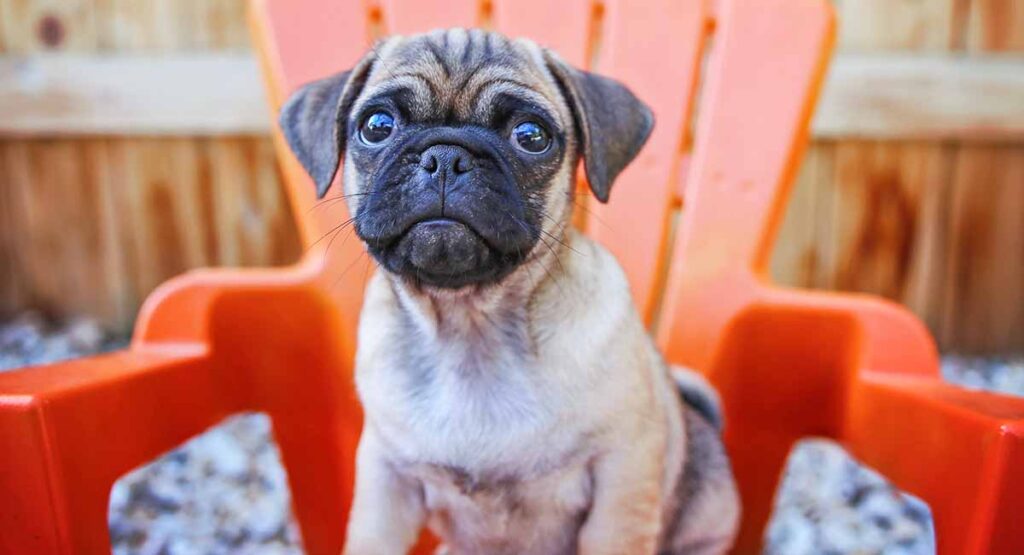 When it comes to creating a miniature Boxer, probably the most popular crossbreed is the Boston Terrier Boxer mix. The Boston Terrier is a bright, cheerful little dog. Bred for companionship, this non-sporting breed is affectionate and active. Boston Terriers are well-suited to be apartment dogs and are relatively low-maintenance as far as grooming goes.
Unfortunately, the Boston Terrier is also subject to many health problems as a result of his distinctive profile. The short, flattened snout means that this breed – like the Boxer – is likely to suffer from complications related to brachycephaly. His large, protruding eyes make him prone to developing a wide variety of eye conditions as well.
A Boston Terrier Boxer mix will almost definitely be a playful, loving companion. As far as appearance goes, this mix is just about the closest you can get to resembling a "true" Miniature Boxer. However, this mix may also require special care, or even ongoing medical attention. This is due to the genetic health issues mentioned above.
Corgi Boxer Mix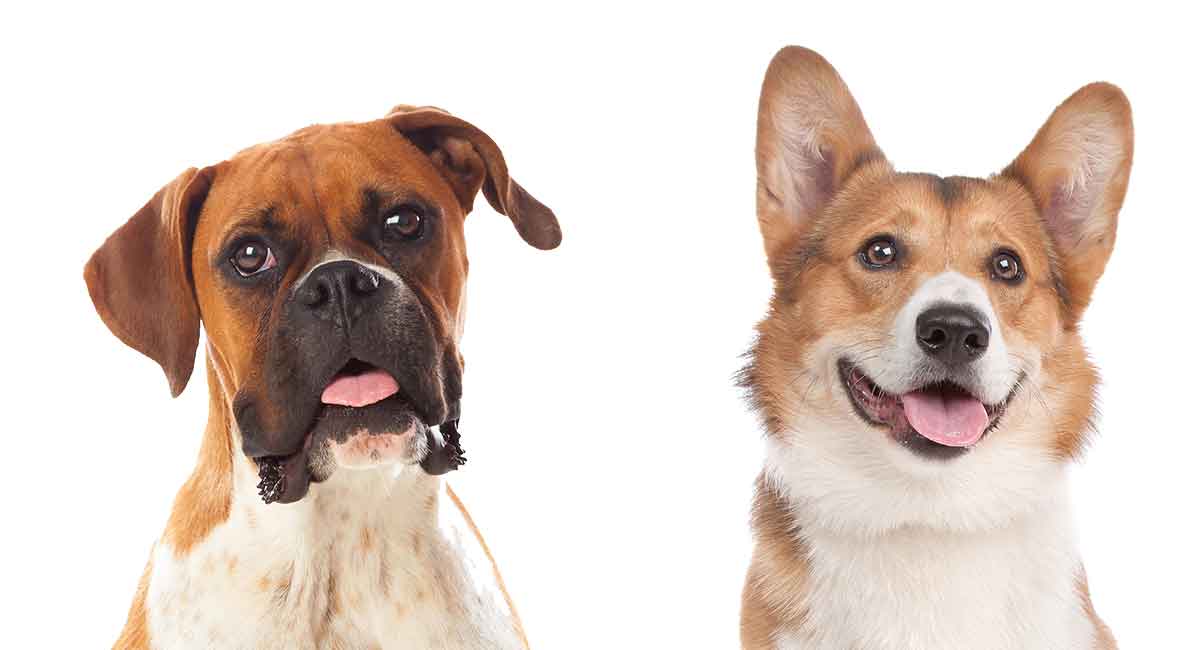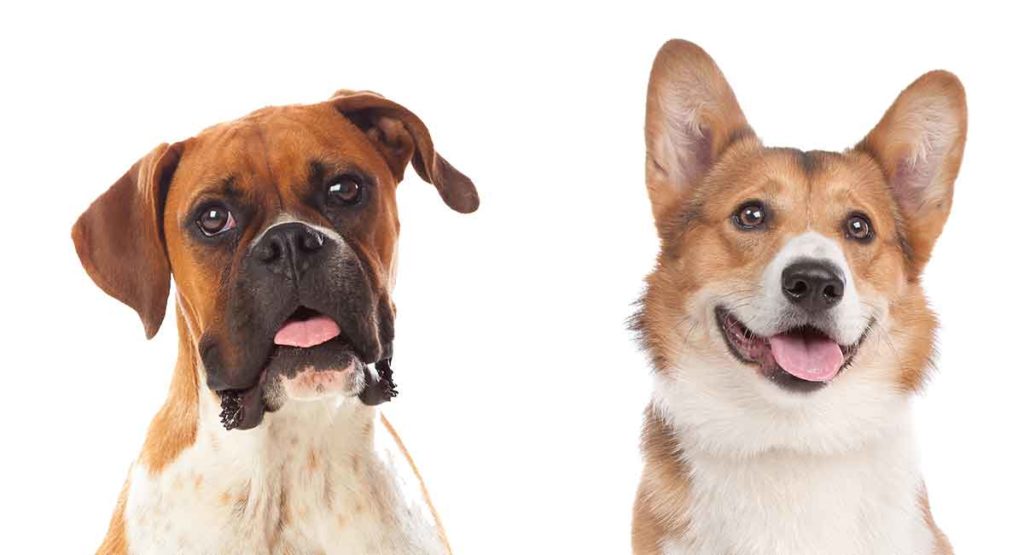 Cute, lively, and low to the ground, the Pembroke Welsh Corgi is a herding breed with royal roots. But Corgis are far from ornamental. They're strong, agile dogs, built for working out in the fields.
The Corgi Boxer mix is therefore likely to need a significant amount of exercise and attention to keep from getting bored. Both breeds tend to be outgoing and friendly. So, you can probably expect a mix to exhibit those same characteristics.
Be aware that both Corgis and Boxers are prone to canine hip dysplasia. So a mix of these breeds may also develop this condition. Both breeds are also at risk for degenerative myelopathy. This is an incurable disease of the spinal cord that causes paralysis. Corgis stand at 10-12 inches tall and can weigh up to 30 lbs.
English Bulldog Boxer Mix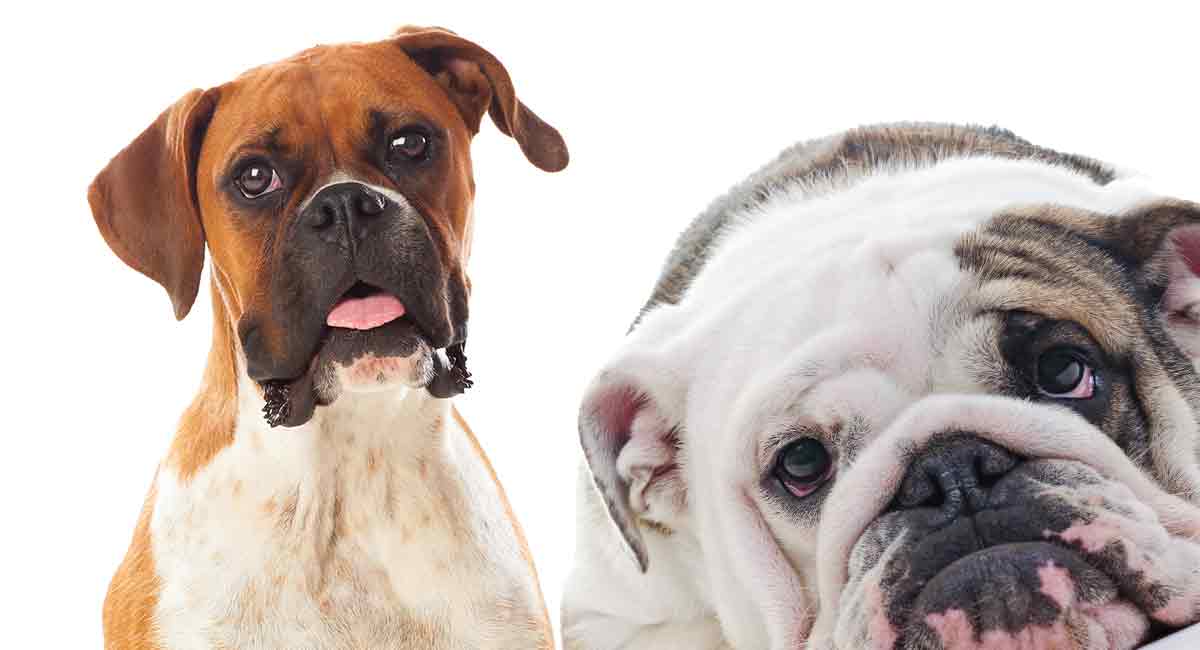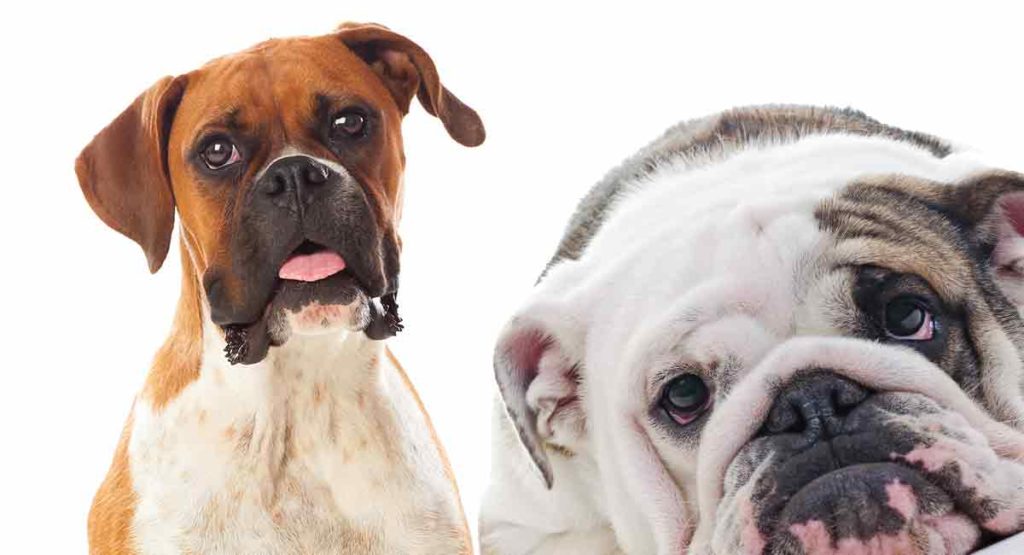 An English Bulldog Boxer Mix is sometimes called the "Bulloxer." It combines the athleticism and spirited nature of the Boxer with the laid back, endearingly goofy charm of the English Bulldog. The English Bulldog stands at 14-15 inches tall and can weigh up to 50 lbs. So, a Bulldog Boxer Mix will probably be solidly in the small to medium size range.
With his gentle, easygoing nature, the English Bulldog requires less activity than the Boxer. Any mix of these two breeds is likely to produce a dog with a wonderful temperament. However, because the English Bulldog is prone to a staggering amount of health issues, we can't in good conscience recommend this mix.
Beagle Boxer Mix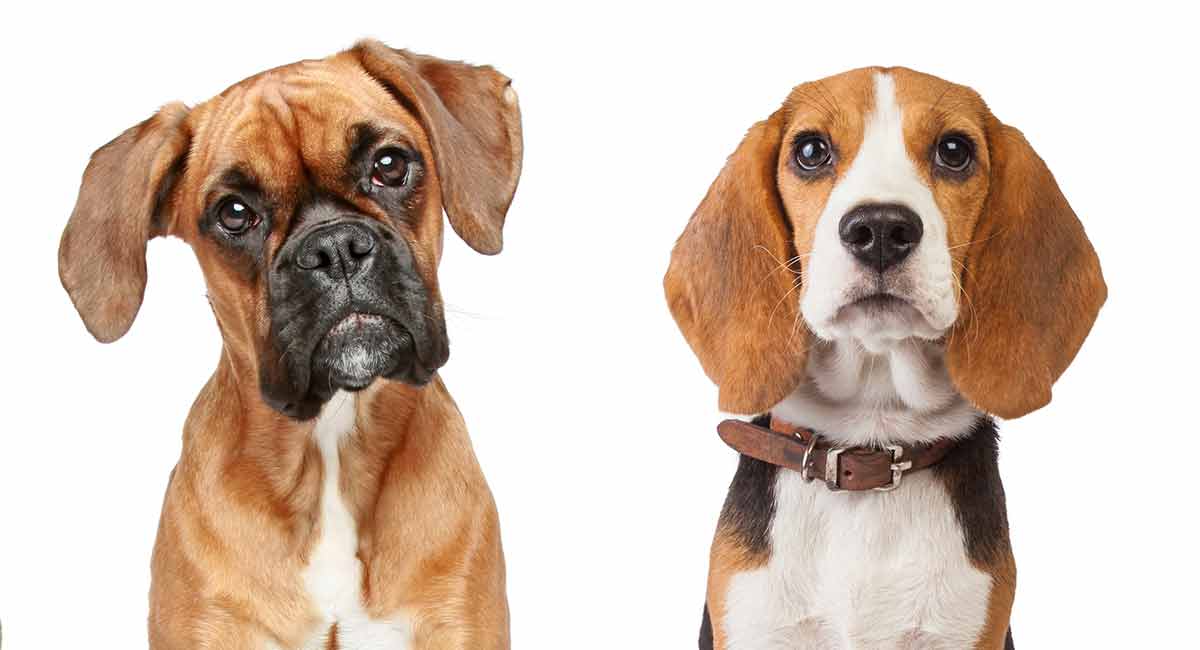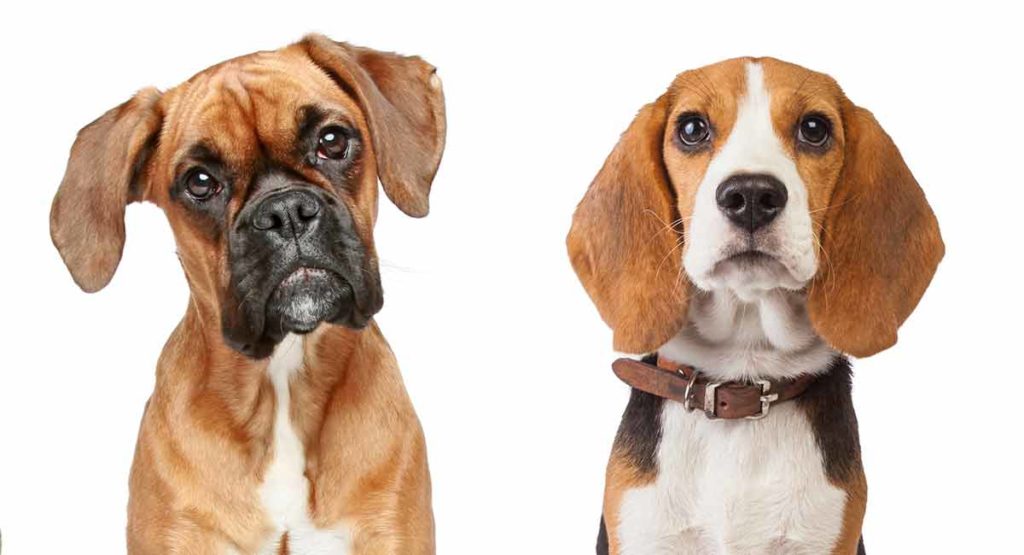 The Beagle Boxer mix is affectionately referred to as a "Bogle," and the name reflects his fun-loving personality. Beagles have long been popular family dogs, with their adorable big brown eyes and happy-go-lucky attitudes.
When combined with the Boxer's loyalty and devotion, this makes for a truly endearing mix. Be warned, though, that the Bogle might inherit that infamous Beagle howl. Plus, it will probably need a lot of exercise.
The standard Beagle stands at 13-15 inches tall and weighs 20-30 lbs. The smaller variety stands at 13 inches or under and should weigh less than 20 lbs. Depending on the mix, a Bogle may be more medium-sized than miniature.
Boxer Husky Mix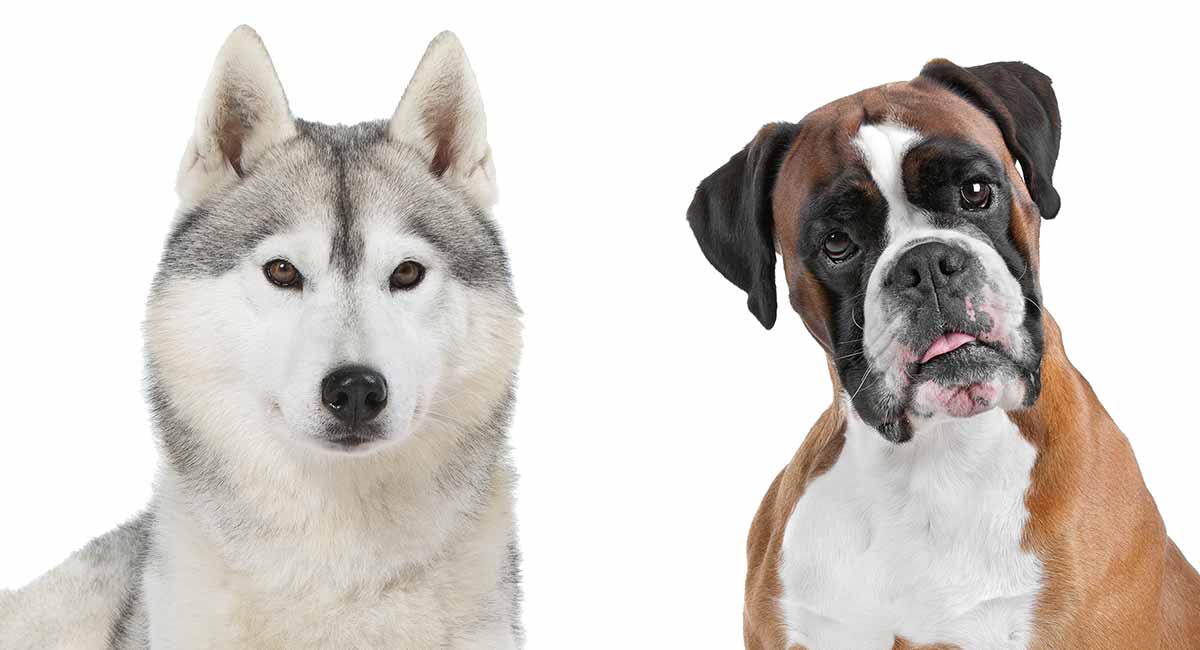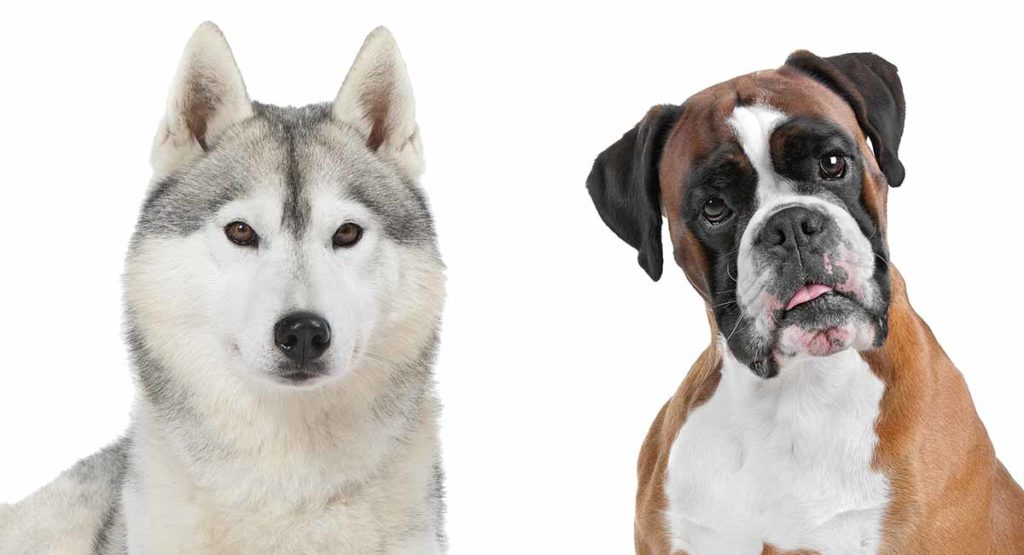 Combining two active and intelligent breeds the Boxer Siberian Husky mix is a powerful and loyal dog. They do very well is busy homes where they get lots of interaction during the day. Recall training is essential, as is using positive reinforcement methods.
Introducing the Dwarfism Gene
Another way to get a miniature Boxer is to introduce the dwarfism gene. Dwarfism in Boxers is caused by a health condition called achondroplasia. It is considered a bone disorder.
Canine achondroplasia is rare in Boxers. But when it does occur, it has serious consequences. For example, a Boxer with dwarfism usually will have misshapen bones, and problems with their jaws and teeth.
Often, dogs with this type of dwarfism have shorter lifespans. They can even experience chronic pain because of their condition. So while introducing the dwarfism gene in Boxers is certainly one way to get a smaller-than-average puppy, it isn't a humane option.
Breeding From Runts
The "runt of the litter" is a term you might've heard before to refer to the smallest puppy in a litter. But there's a difference between a puppy who is smaller than its siblings and a severely underweight puppy. The latter is what the term "runt" refers to as far as a breeder is concerned. Abnormally underweight puppies could have congenital defects causing their small size. As they get older they're extra vulnerable to health issues.
Breeding two abnormally small Boxers together might create a litter of similarly sized puppies. This is a means of downsizing the breed while keeping the Boxer's temperament and appearance the same. But breeding two Boxers who are abnormally small may also mean passing along congenital defects. This makes for smaller but less healthy puppies.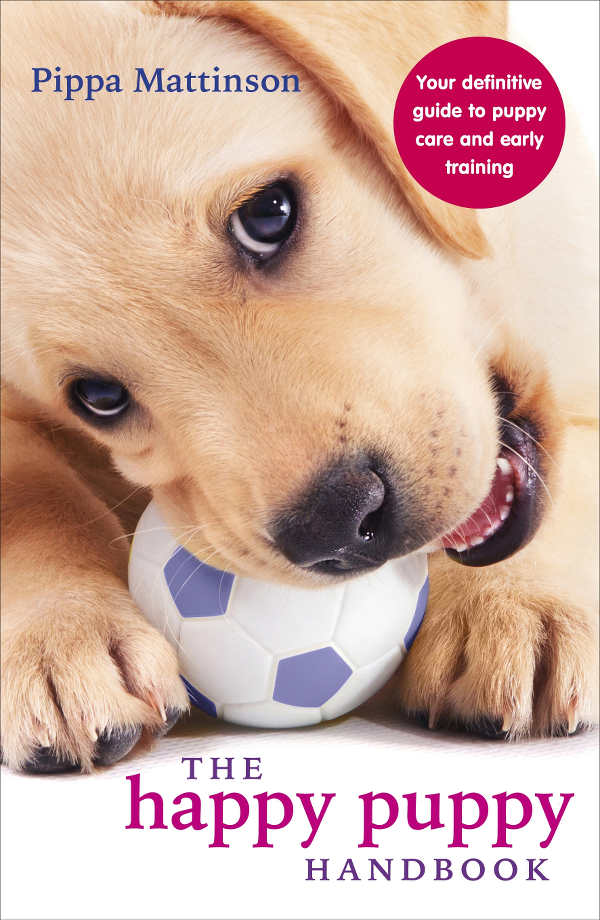 Is A Miniature Boxer Right For Me?
If you're ready to welcome an active, intelligent, and devoted dog into your life, then a Miniature Boxer might be just the right choice. It's important to be aware that the Boxer as a breed does face some serious hereditary health concerns. These include: brachycephalic syndrome, cancer, heart disease, and degenerative myelopathy.
The breeds commonly chosen to create a miniature Boxer have their share of potential health problems as well. Although, crossbreeding sometimes can reduce the likelihood of inherited diseases. It's up to you to do your research. Then you can decide whether or not you're up to the task. A miniature Boxer will require a certain level of care and attention.
Finding A Miniature Boxer
The miniature Boxer is not an officially recognized breed. So, it can be difficult to find responsible breeders. Many Boxer crossbreeds come along with a long list of potential health concerns. So, rescuing a miniature Boxer mix may be your best bet.
There are plenty of Boxer mixes in animal shelters just waiting for their new homes, ranging in age from puppies to seniors. Adopting an adult dog from a shelter means you'll know exactly what size and temperament you're getting. Also, adoption fees are usually significantly less expensive than purchasing a dog from a breeder.
Choose Responsible Breeders
However, if you really have your heart set on a Boxer mix puppy from a breeder, make sure to find someone who is responsible and acts in the best interest of their dogs.
Not sure what makes for a responsible dog breeder? Check out our guide to finding the right breeder here, or read up on what questions to ask when calling a breeder over the phone. This way you'll be sure that your new puppy is as healthy as possible, so they can live a longer, happier life.
Are you still longing for a miniature boxer in your life? Let us know in the comments.
Find Out More!
References and Resources
Borgi et al. "Baby schema in human and animal faces induces cuteness perception and gaze allocation in children." Frontiers in Psychology, 2014.
Chetboul et al. "Congenital Heart Diseases in the Boxer Dog: A Retrospective Study of 105 Cases (1998–2005)," Journal of Veterinary Medicine, 2006.
Coates et al. "Canine Degenerative Myelopathy," Veterinary Clinics: Small Animal Practice, 2010.
Everts et al. "Bone disorders in the dog: A review of modern genetic strategies to find the underlying causes," Veterinary Quarterly, 2000.
Jezyk, P.F. "Constitutional Disorders of the Skeleton in Dogs and Cats," Textbook of Small Animal Orthopaedics, 1985.
Miller et al. "Degenerative Myelopathy in Two Boxer Dogs," Veterinary Pathology, 2009.
Shelton et al. "Degenerative myelopathy associated with a missense mutation in the superoxide dismutase 1 (SOD1) gene progresses to peripheral neuropathy in Pembroke Welsh Corgis and Boxers," Journal of the Neurological Sciences, 2012.