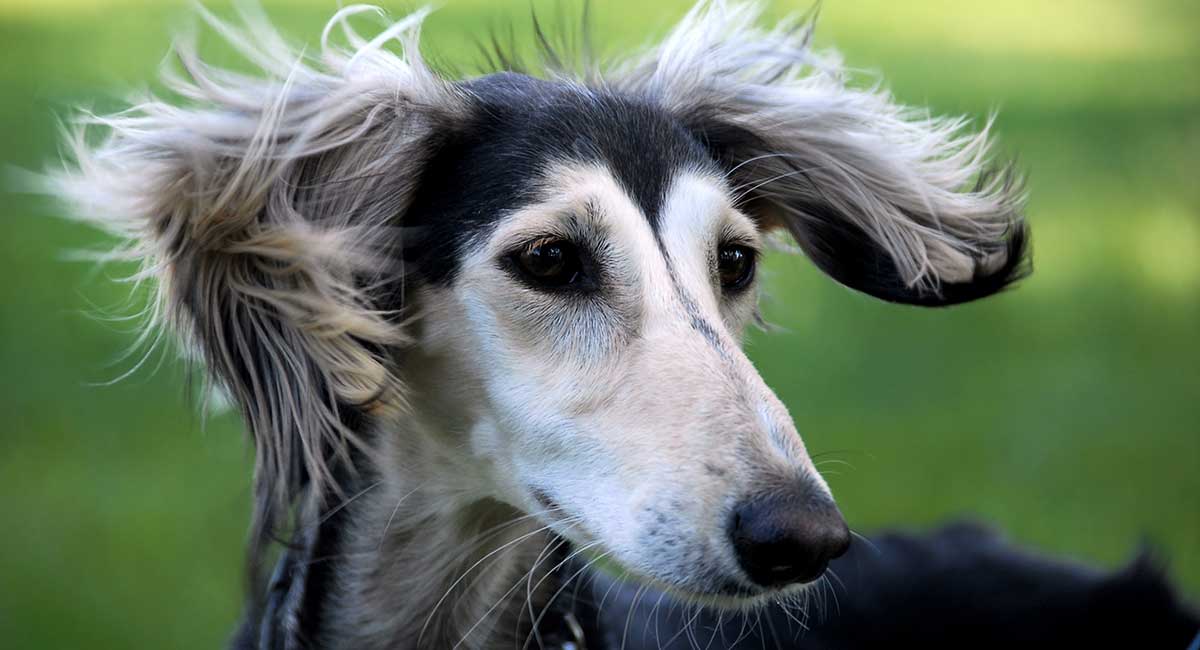 The Saluki is a lean, strong dog, with a silky feathered coat. Built for speed and weighing between 40 and 60lbs, the graceful Saluki may grow up to an impressive 28 inches tall. We'll be looking at the behavior traits, and needs of this sight hound breed. Including temperament, grooming, and training. We'll talk about Saluki lifespan and health. And we'll share our top tips to help you to find and raise a Saluki puppy, and care for your adult Saluki.
Contents
Saluki dogs are known to be gentle, wise, and dignified. Many refer to the breed as being an "old soul."
Some Saluki breed traits can be challenging for pet owners. Saluki speed has its obvious downsides outdoors, and Saluki howling is something many owners have to deal with. But these issues shouldn't put you off Saluki adoption, and we'll help you to get the best out of your dog.
What is a Saluki?
The Saluki is a member of the Sight Hound group of dogs. They are tall, slender and have long fur on their ears and tails. A gentle temperament but incredible speed and prey drive make this unusual breed even more special.
Popularity: 120 of 193
Purpose: Hunting; part of the hound group
Weight: 40-60 lbs
Temperament: Gentle, independent, and loyal
The Saluki Hunting Dog
To hear archaeologists tell it, the Saluki dog may just be the oldest domestic dog breed in the world. Early Saluki breed date estimates are based on archeological evidence. And these mummified remains date all the way back to the 6th century B.C.
Saluki dogs originally arose in Arabia in the Middle East. However, the breed is fast disappearing from its birth country of Arabia. Its tribal way of life is being swallowed up by modern life in the big cities. Salukis have always been a cherished breed. Arab tribesmen highly valued Salukis; they were thought to be a gift from God. The tribesmen called them el hor, which means "the noble."
Luckily, the Saluki hound is becoming popular with Western breeders. Hopefully, this will likely ensure the breed's survival. These dogs have long been members of the royal court — most famously with Alexander the Great.
Today, however, the only regular hunting many dogs do is pure sport hunting. A good example is that held annually in the Western United States by the National Open Field Coursing Association.
Still, the reduced demand for Saluki hunting dogs among nomadic peoples has not yet substantially changed this dog breed. So far as far archeologists can tell, the breed's appearance and temperament are fairly similar to their ancestors'. Even the activity requirements and overall presentation is still quite comparable to the earliest representatives of this breed.
Working Sight Hounds
Many hound dogs typically work using scent. But Salukis use their vision. Interestingly, a recent research study proved that sight hounds and other non-scent hound breeds do not display the same keen sense of smell. In olfactory tests, that scent hounds tend to rank higher in the sense of smell.
Salukis, though use their eyes. They trust what their eyes tell them implicitly and follow that without question or hesitation. When you understand that your dog is absolutely driven by keen eyesight, the safety precautions breeders and owners recommend make so much more sense.
They cannot be completely trusted in an open area if you let them off the leash. If they start chasing prey, they may not respond when you call them. This also means they can quickly get lost or get into trouble. Because they moved much faster than humans, they often worked alone. This may be one reason why the breed is known for being so independent.
Saluki Appearance
The Saluki dog looks quite unusual in appearance compared to many modern dog breeds. These dogs truly look like canine supermodels, all leggy and lean with a calm yet exotic gaze.
Another unusual trait that first-timers often can't help but remark about is their expression. Salukis tend to have a wise, dignified and gentle expression. If you've ever heard the term "old soul," you can see this manifesting in the Saluki dog's expression. And this dog is in fact an old soul in terms of its breed lineage.
The Saluki dog's coat
One unusual trait about the Saluki is that they grow what breeders call "feathers" on their ears and tails. Their coat can be smooth or wavy (called "feathered"). In all other places on the dog's face, body and legs, however, the coat is quite short.
These gorgeous dogs come in a range of colors and patterns.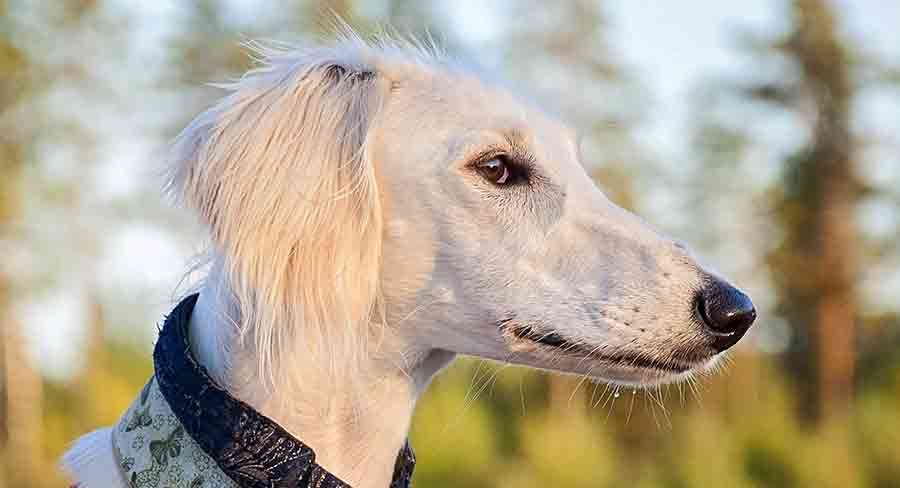 Saluki Size
These dogs can show quite a bit of variation in weight between male and female adult dogs. However, the normal weight range for adult Saluki dogs is 40 to 60 pounds. At maturity, though, you can expect females to weigh at the low end. Males, in comparison, will be nearer the high end.
Average Saluki Weight and Height
Male adult dogs often stand several inches taller than their female counterparts. The normal height range for the adult Saluki is 23 to 28 inches (paw to shoulder) for male dogs. However, female dogs will generally stand less than 23 inches tall (paw to shoulder).
Saluki Temperament
The Saluki temperament is said to be both wonderful and challenging. Breeders and owners say this is one dog many people find to be more "cat-like" than "dog-like." For one, they are very independent, as we mentioned before.
But the main reason for the "cat-like" descriptor is that they have a small circle. This means they've evolved to bond very closely with only "their" people — you and your family members.
If you have one of these, you can probably speak to their reserved nature around strangers. Due to this Saluki temperament, these dogs may not do well if you have frequent visitors to your home.
With regards to their instincts, they are hunting dogs. They've been bred to work hard and run fast as hunting partners to humans. As a result, even while in homes, they still need their exercise.
A bored Saluki can quickly become an unhealthy dog. This is because their muscles won't be able to strengthen and remain toned or strong.
Do Saluki Dogs Bark Much?
Saluki dogs are hounds — specifically, they are sight hounds. But like all hunting dogs and hounds in particular, the Saluki is quite noisy. It can readily emit a loud round of howling or baying. This may be cute to your ears but not so much to the neighbors.
For this reason, it is vital to consider in advance whether you live in an area where a dog will be welcome. This breed will not be a well-suited part of just any neighborhood.
Overall, though, these dogs are calm and quiet. They adapt well to apartment living, but chafe at activities such as retrieving items. They also do not tolerate rough play or activities well. Additionally, they do have a tendency to chase moving objects. So anything from birds, squirrels, and even moving cats is a chase waiting to happen.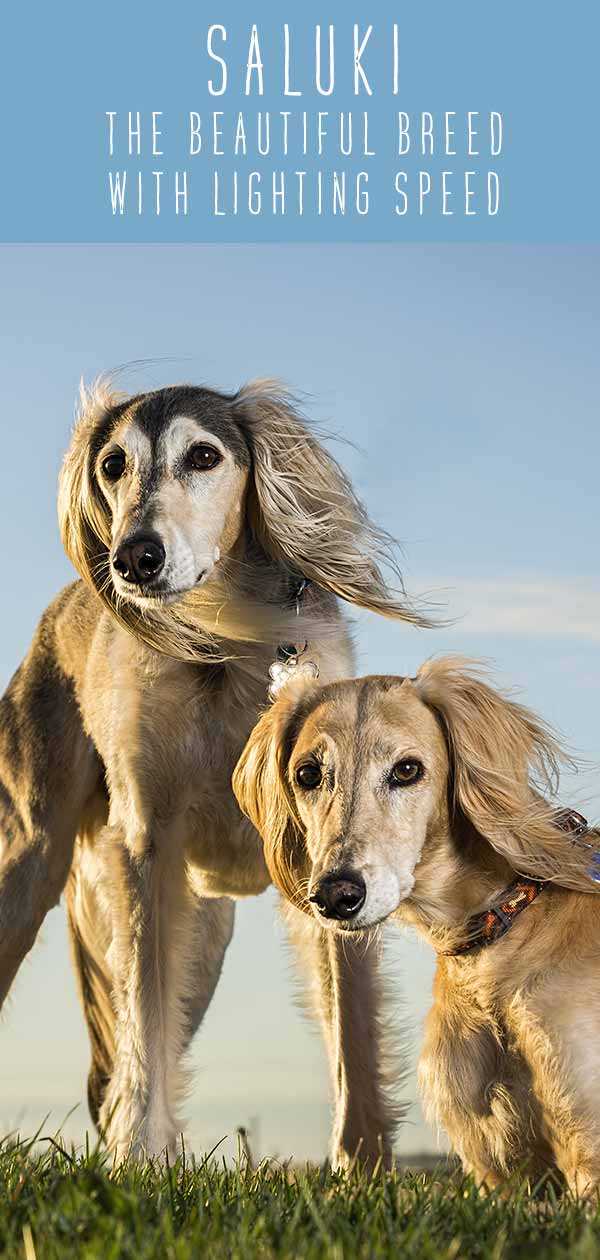 Training and Exercising Your Saluki
The Saluki dog is a gentle yet independent spirit. Imagine what it's like to train a cat. You now have a good idea of the approach and patience it takes to train a Saluki.
This breed has always had one particular job to do. Their task has been to run down the swiftest prey animals on the planet and deliver them to their human hunting partner. So, running is in your dog's blood — literally. For this reason, you can absolutely expect to find a willing and eager hunting student in your Saluki.
But, certain other activities may be difficult. For instance, if you want an attentive canine sidekick, you may be disappointed. If your dream is a dog that follows every command and will come when you call no matter how alluring the landscape may look, you may find this is a frustrating companion.
Saluki dogs, like cats and many dog breeds, are only trainable students when you use positive training and reinforcement methods.
So, if you try to use any negative or punishment-based reinforcement, you will likely fail. The same applies for hiring a trainer who uses this type of protocol — you can expect your Saluki to become distrustful. They may even become harder to handle.
Ultimately, starting young is key. You can teach your Saluki puppy everything from holding still for teeth brushing and nail trimming if you start early. If you'll need them to use their crate while you're away, you'll also need to train them young.
Saluki Speed: Giving Your Dog Proper Exercise
The Saluki speed is actually legendary. At a flat-out run, this dog can quickly reach speeds of nearly 40 mph. In fact, Salukis are so fast they can actually outrun gazelle and hare. Not even a greyhound dog can beat the Saluki speed in hunting mode.
In hunting contests, Saluki contestants sometimes run for two or three miles. Then, they often reach their maximum speed of around 40 mph by about the half-mile mark.
So this gives you a really good idea of how much daily exercise and activity your Saluki dog will require to stay happy and healthy.
Specifically, breeders and trainers advise that this dog will need long, extended runs at least twice per week. They'll also need daily exercise opportunities (such as accompanying you on your daily bike rides, runs or jogs). That's one way to keep that Saluki speed!
Socializing Your Saluki
Socialization is especially important for reserved dogs. A Saluki puppy will benefit from puppy kindergarten and regular exposure to strangers or extended family. Be sure to take them to parks and have them interact with other dogs.
What about swimming? Can Salukis swim? Indeed, they can be taught to swim, but these dogs aren't a particularly water-loving breed. Still, every dog is different. For all you know, your dog may just love swimming.
Saluki Health and Care
The Saluki is notoriously intolerant to anesthetic. Most primitive dog breeds share this intolerance.
For this reason, it will be vital to find a veterinarian that is knowledgeable about treating primitive dogs. Your dog won't be able to tolerate anaesthetic during a procedure.
Additionally, a 1997 genetic health study identified a number of concerning health issues. Three of these are significant: cancers, blood/immune issues and heart conditions. Some common cancers affecting the breed include:
Mammary and reproductive cancer
Hemangiosarcoma
Liver/spleen tumors
Lymphoma
Leukemia
Squamous cell carcinoma
The breed also suffers several heart conditions. Some of the most cited ones are:
Cardiomyopathy (hardening of the heart muscle)
Heart murmurs
Arrhythmia (irregular heartbeat)
Congestive heart failure
Congenital heart defects
Other medical issues include hypothyroidism, autoimmune hemolytic anemia, and skin disorders. Saluki dogs also tend to have skin allergies and autoimmune thrombocytopenia (low platelet count).
Always choose a breeder that willingly volunteers the results of breeding pair health testing. They should provide an initial health guarantee and offers a take-back guarantee if the puppy doesn't work out.
Expected Life Span of Saluki Dogs
The Saluki dog can live anywhere from 10 to 17 years.
A balanced and complete daily diet, plenty of daily exercise and enrichment, access to preventative veterinary care, and overall lifestyle can significantly impact length and quality of life.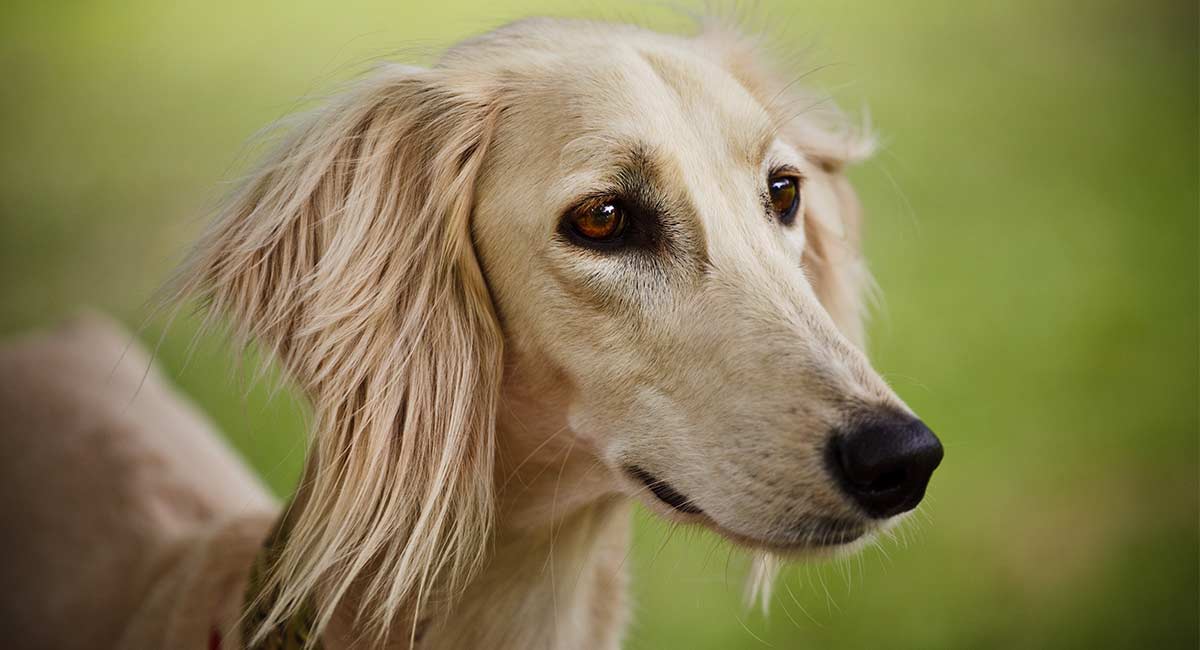 As we've seen, the Saluki dog breed has a very unique appearance and a unique coat. They are sometimes called the long-haired Saluki. However, the only true long hair on this dog is found on the ears and tail areas.
The rest of the coat is short, sheds little, emits no odor, and is easy to groom and maintain.
You can brush your dog once per week. But, the long-haired areas will likely need brushing at least twice per week to keep them clean and tangle-free.
The Saluki dog breed will fare well on any high-quality dog food. You may decide to buy a store brand or make yours with your vets approval, of course.
Do They Make Good Family Pets?
The breed is an ancient, honorable sighthound. But this isn't the dog for everyone. Breeders and owners say that they are not great around children. But, not because the Saluki dog breed will harm your kids.
Instead, children may be too much for this dog. A child can, without meaning to or even realizing it, easily play too rough for your Saluki. For this reason, breeders advise never to leave a Saluki and a child in a room together unsupervised.
Rescuing a Saluki
Adopting a puppy is an enriching and fulfilling experience! It always feels great to give a home to a fur child in need. But bringing home an adult sight hound is a big responsibility.
You will need to work closely with the rescue center to make sure that your home is right for a large, potentially untrained dog. And one that could well have spent several years being free to chase the wildlife.
Old dogs can learn new tricks, so training is possible, but when a dog with a high prey drive has spent their early years rewarding themselves with a fun chase recall training can be challenging. And if you have any small pets at home a rescue Saluki might not be the best fit for you.
Finding a Saluki puppy
When selecting your puppy, there are a few things to look out for. First, be sure to pick a bright-eyed dog with clear eyes, nose, tail, and skin. Also choose one that is alert, willing to be held and handled, and happy to play with you and litter mates. Next, always try to meet the parent dogs.
A good breeder will answer any questions you might have, however small you think they might be. They will also ask you lots of questions. Great breeders want to know all about your family set up, home, worklife and dog experience. Don't be offended by the interrogation, as they want their precious puppies to go to the most suitable people.
Saluki Puppy Price
The price of this breed can put a noticeable dent in your wallet — just the cost of the dog itself! Now, plus the supplies, the initial "well puppy" veterinary exam or the annual care costs, it can be a lot. Breeders and club officials state that the current going rate for a Saluki dog puppy is anywhere from $400 to $1,000.
The price fluctuation can relate to supply/demand or lineage (show line, hunting awards, etc.). Things like gender, birth order, size, and coloration may also affect the price. Don't forget the factor show versus pet quality, breeder expenses and other factors.
Raising a Saluki Puppy
At home, your pup will be a calm, even-natured and relatively quiet companion (at least while inside the house). Still, caring for a vulnerable Saluki puppy is a big responsibility. There are some great guides to help you with all aspects of puppy care and training.
There is one special requirement these dogs have that is worth noting. When your dog is done running and exercising for the day, she will require a plush, comfortable and well-padded place to rest.
This is because they're very lean and spare dogs without much (if any) natural "padding." Saluki dog breeds definitely have much less padding than most other dogs.
So your Saluki dog will depend on you to provide a soft, cushioned bed. They'll also need blankets and pillows where they can rest comfortably. Without access to padded resting spots, the Saluki can easily injure skin, coat, joints, and muscles just by lying down for an extended period of time, such as at bedtime.
Escape Artists
These beauties are also notoriously excellent at escape. They are smart and ambitious and likely do not even mean to escape, per se. Instead, they are just following their sight and their hunting instincts. Unfortunately, these instincts can lead them outside your yard if the area is not escape-proof.
If there is any little vulnerable area in your backyard area or the field where you are exercising your dog, they will likely find and use it. The general guidance is to ensure your fence is five to six feet high.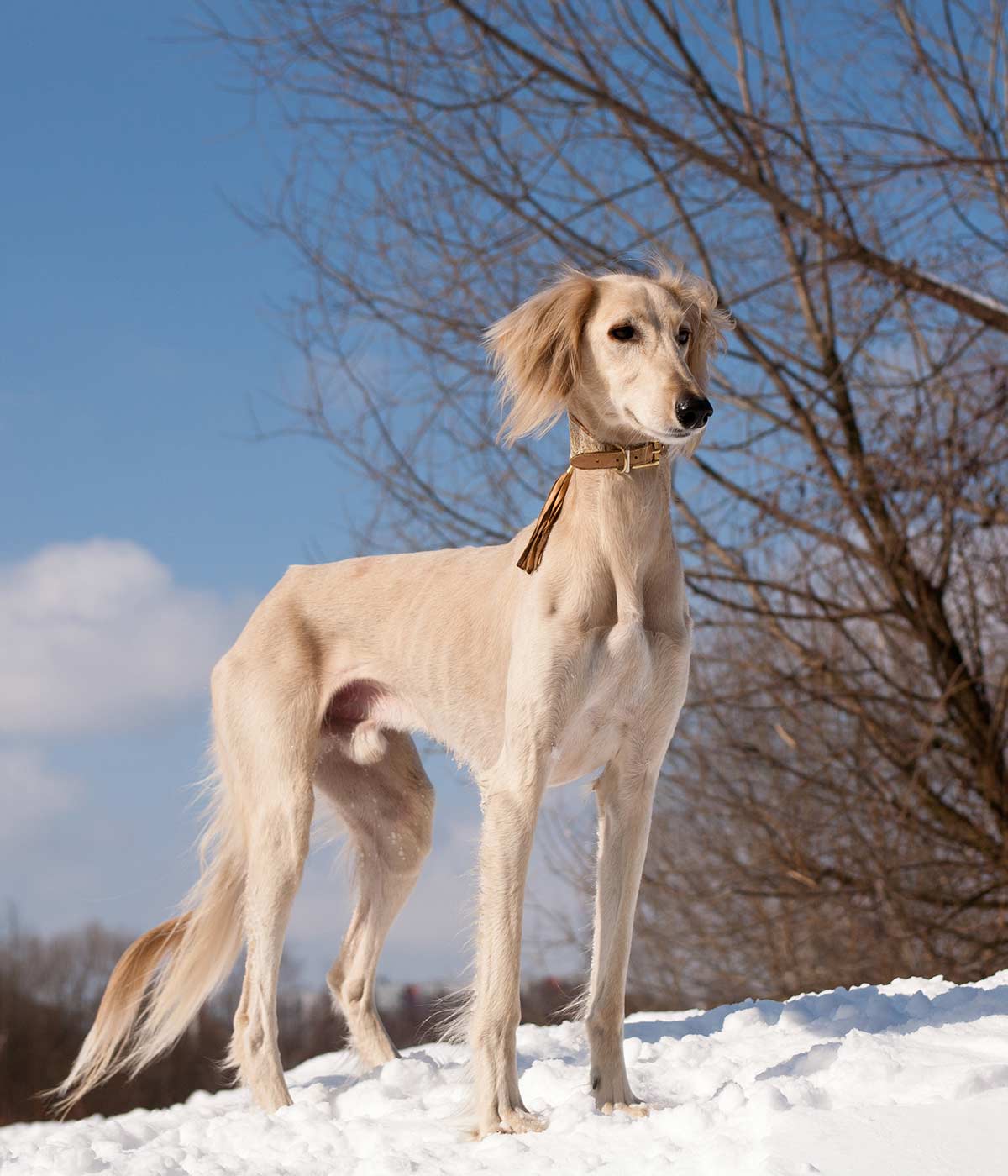 Saluki club officials say the number one cause of death in this dog breed — other than sheer old age — is getting hit by a vehicle. The dog will run after a squirrel or something else equally captivating and won't understand to stay off the roadways.
Pros and Cons of Getting a Saluki
Cons
Tendency to run off due to sight hound instincts.
Very reserved: May not be open to very playful children or strangers.
Needs lots of exercise and activity.
Fairly expensive to buy and raise.
Quite noisy and needs space: May not be apartment friendly
Pros
Perfect for runners and other active owners.
Great personality: loyal and affectionate.
Even-tempered: Rarely aggressive or biting.
Good watch dogs.
Very gentle with kids.
Saluki Breed Rescues
We've sourced a few rescue centers for this breed if you're looking to adopt.
Please leave any other breed rescue center recommendations below!
Similar Breeds
If you really like the breed's athleticism but aren't sure about it, you may want to try another option. Other dog breeds you might want to consider include:
References And Resources
Gough A, Thomas A, O'Neill D. 2018 Breed Predispositions to Disease In Dogs and Cats. Wiley Blackwell
O'Neill et al. 2013. Longevity and Mortality of Dogs Owned In England. The Veterinary Journal
Schalamon et al. 2006. Analysis of Dog Bites In Children Who Are Younger Than 17 Years. Pediatrics
Duffy D et al. Breed differences in canine aggression. Applied Animal Behavior Science 2008
Strain G. Deafness prevalence and pigmentation and gender associations in dog breeds at risk. The Veterinary Journal 2004
Packer et al. 2015. Impact of Facial Conformation On Canine Health. PlosOne
Adams VJ, et al. 2010. Results of a Survey of UK Purebred Dogs. Journal of Small Animal Practice.
AKC. Gibeault, S. MSc. CPDT. 10 Facts About the Saluki.