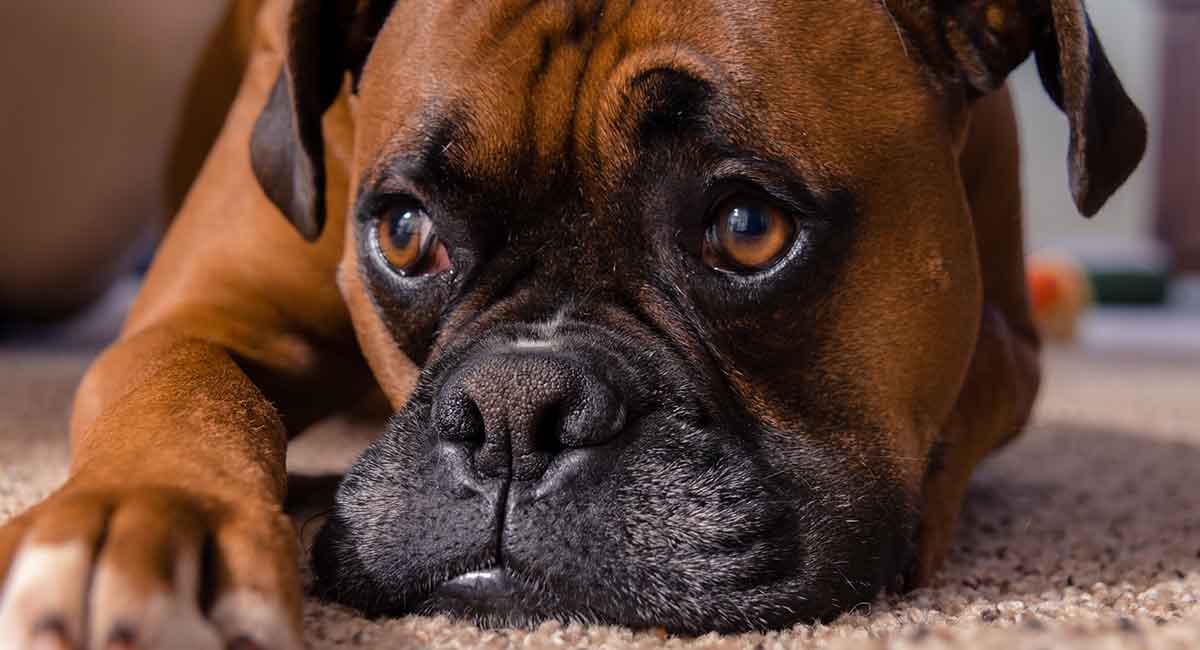 Welcome to our treasure trove of Boxer dog facts!
There are lots of interesting things to learn about these endearing dogs.
These range from fun Boxer dog facts you can tell your kids, to more serious health-related facts. Read on and enjoy!
Boxer Dog Facts and Information
#1 The Boxer dog family tree goes back over 2,000 years
According to a 2015 article, the ancient eastern Molossor dog was used for fighting and protection. It is an ancestor of the modern Boxer dog.
But the modern Boxer was originally bred from crossing the English Bulldog and the now-extinct German Bullbeiser in 1890.
#2 Today the Boxer is famously loyal
In the early 1900s the Boxer became officially recognized as a stand-alone breed.
The Boxer is known all around the world for being a good companion and protector of the family.
#3 Boxer breeding hasn't always been plain sailing
The Boxer breed has traditionally had high levels of inbreeding which is a worldwide trend.
Inbreeding is bad for dog genetics and health. So it is preferable to mate dogs that are not closely related.
Fortunately, the amount of inbreeding in the Boxer has been decreasing in recent decades.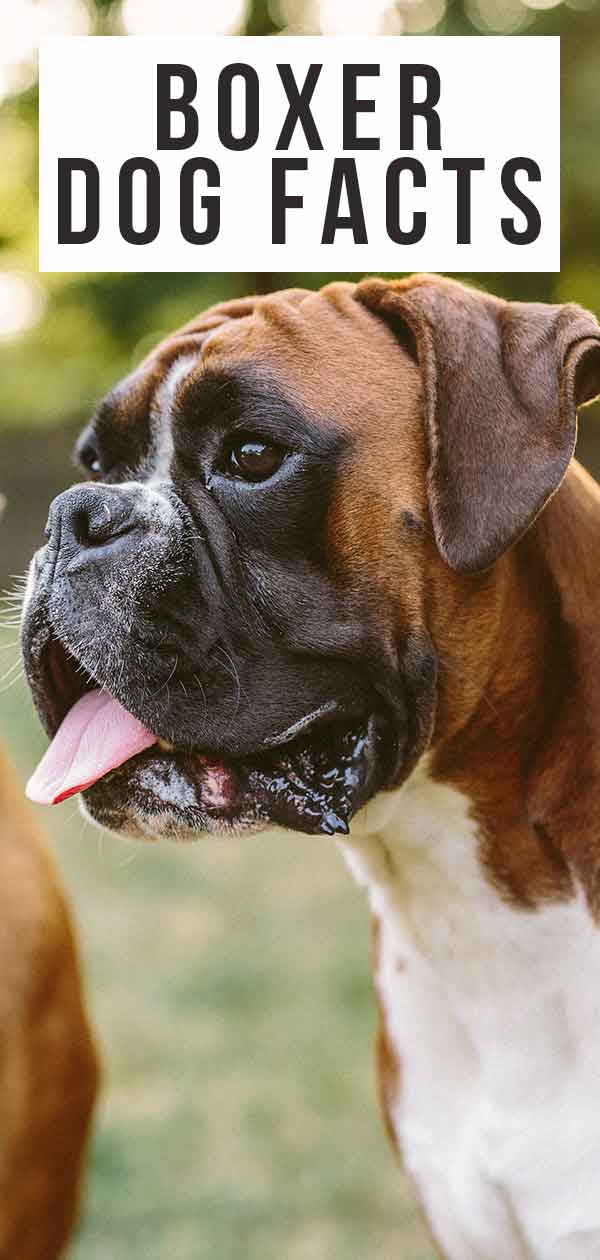 Interesting Boxer Dog Facts About Their History
#4 They have a colorful past
In the first World War they were used as guard, patrol, and report dogs.
#5 They have been the ultimate canine specialists
Their ability to be disciplined helped them carry out their important roles. They were bred to work closely with people and to perform specific tasks.
#6 And they can be good service dogs too!
Furthermore, they are good at rescue dog work and helping the disabled. So, they can be good service dogs.
Boxer Dog Breed Facts
#7 Their size packs a punch as well as their name
The male Boxer is 23-25 inches high and weighs 65-80 pounds. The female Boxer is 21-24 inches high and weighs about 15 pounds less than the male.
#8 They live for 10 -12 years
Which compares well to the average lifespan combined average of all pet dogs, which is 11-12 years.
In fact, some of the luckiest Boxers ever survive to 16 and beyond.
#9 Boxers are a brachycephalic breed
This Boxer dog fact is about the health of this popular breed. Dogs with a short skull, such as Boxers, are the result of many generations of selective breeding.
There is the possibility that this is a by-product of human selection for juvenile behavior in dogs. Which just means that humans like dogs that are more social and playful.
But being brachycephalic has put the Boxer at increased risk of respiratory illness and Brachycephalic Obstructive Airway Syndrome.
#10 Their coat has a tried and tested look which never goes out of style
Most Boxers have a short coat that is fawn colored. It can have white markings on it.
Their short coat means that very little grooming is required.
#11 Male Boxers are known for having boldness and courage
According to this 2018 study in Animals journal.
#12 You can get white Boxer dogs too
White Boxers are Boxers that have white markings or spots on a large part of their coat.
It is a semi-dominant trait, and it involves a single gene.
But white pigmentation in Boxer dogs is also associated with an increased risk of deafness.
Boxer Puppy Facts
#13 Boxers take about a year to reach their adult size
Boxer dogs usually weigh about 1 pound at birth. But, as much as 15 pounds when they're ready to come home at 8 weeks old.
They reach their full size around their first birthday.
#14 Boxers remain puppies at heart all their lives
As puppies, these dogs are quite clownish. This is a behavior they maintain into their adult years.
They love attention and like to play a lot.
#15 Boxer puppies tails are naturally long…
#16 … and their ears are naturally floppy
But Boxers commonly have their tails docked and their ears cropped, using surgery.
These are done purely for cosmetic reasons. It is totally unnecessary from a medical standpoint.
Many people are unaware that short tails and erect ears are the result of surgery, and believe that these are a result of genetics.
But these physical changes give the appearance of the dog being more aggressive and dominant, and less playful.
Unfortunately this reduces the likelihood of these dogs being adopted in shelters.
Fun Boxer Dog Facts
#17 Humphrey Bogart and Lauren Bacall had pet Boxers
Which became the favorite breed in their household.
Their first Boxer was a wedding present, who they named Harvey. Harvey was followed by two more Boxers, named George and Baby.
Harvey proved to be quite intelligent. If the couple had a fight, Harvey would sit in between them until they sorted out their differences.
#18 Other celebrities with Boxers include…
…Hugh Jackman, Justin Timberlake, Ryan Reynolds, and Chelsea Handler!
Boxer Dog Facts for Kids
#19 Boxer dogs are great for teaching tricks
Since they love to play, they can be easily motivated to learn new tricks. Especially if you make them into a fun game with tasty rewards.
#20 Boxers are the 11th most popular pedigree dog breed in the U.S.
And the 2nd most popular working breed, after Rottweilers.
#21 Their name isn't a coincidence
True to her namesake, the Boxer dog likes to play by standing on her hind legs and moving her front paws in a batting or "boxing" fashion. The name "Boxer" supposedly comes from this.
#22 This one will leave you tongue-tied…
If you've ever wondered which dog has the longest tongue (who hasn't?), it belonged to Brandy, a Boxer. The length of her tongue was an amazing 43 cm.
Brandy lived with her owner, John Scheid, in Michigan, United States, until September 2002.
#23 The entire Boxer genome has been sequenced
The Boxer in question was called Tasha.
The US National Human Genome Research Institute (NHGRI) believed sequencing her DNA will help model and understand human disease from a genetic basis.
In total, the process cost $30 million.
Boxer Dog Facts About Health
#24 Boxer dog health is helping us better understand human health
Boxers are genetically predisposed to arrhythmogenic right ventricular cardiomyopathy.
ARVC is a heart disease related to abnormal heart rhythm. It occurs during adulthood. And in extreme cases it can result in sudden death.
ARVC in Boxer dogs has the potential to model the equivalent disease in humans. This is due to the similarities between the two.
This means that understanding ARVC in Boxers can help in the understanding of similar heart disease in humans.
#25 In fact, looking after your Boxer's heart is incredibly important
Boxers are also prone to aortic stenosis, which causes blood flow in the heart to be restricted.
This causes heart murmur, which is a whooshing or swishing sound during each heartbeat. As opposed to a regular heartbeat sound.
In severe cases, aortic stenosis can result in the dog experiencing shortness of breath, tiredness, and intolerance to exercise.
In extreme cases, this can lead to heart failure and death. Boxer dog aortic stenosis is commonly detected with chest x-rays, an ECG of the heart, and echocardiology.
#26 The Boxer also has a high risk for hip dysplasia
Like many dogs of their size, Boxers are prone to the painful joint disease hip dysplasia.
Hip dysplasia has a significant hereditary component. So prevention is the best cure – find a Boxer puppy from parents with healthy hip scores.
You can suspect that your dog has hip dysplasia if she has any of the following:
decreased physical activity
lameness in the hind legs
looseness in the hip joint
stiffness or pain
and a swaying walking style.
A veterinarian can check if your dog has hip dysplasia.
#27 Neutering may increasing the risk of hip dysplasia
A 2005 study showed that there is a 1.5 times higher occurrence of hip dysplasia in Boxer dogs that are neutered.
This might be because neutering often leads to an increase in body weight (obesity). Which in turn can increase the stress on their joints.
Neutering is an individual choice which should be based on the best interests of each dog, in consultation with their vet.
Maintaining a healthy body weight is a must for every dog.
#28 Sadly, the Boxer dog has one of the highest death rates resulting from cancer
This unlucky dog is at increased risk for: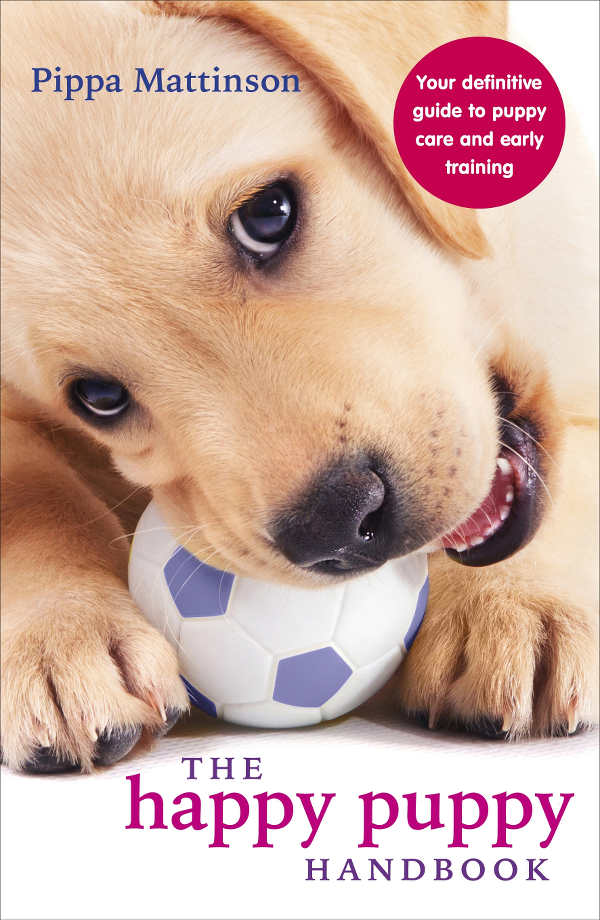 mast cell tumors, and glioma
lymphoma
brain tumors
hemangiosarcoma
aortic/Carotid body tumors (paraganglioma), and
mammary gland tumors (in female Boxers).
Boxer Dog Facts About Intelligence
#29 Boxers will understand a new command after repeating it 25-40 times.
Boxers have average intelligence for work and obedience tasks.
#30 But outside of obedience type tasks, Boxers are actually very smart.
And they easily get bored with repetitive, mundane tasks.
#31 Which is partly to do with their energy levels
These are very energetic, highly playful dogs, and they need lots of exercise and enrichment each day.
Boxers love running around, jumping, and taking nice long walks.
#32 Variety is the spice of their life
Getting different toys out on rotation, walking different routes every day and incorporating games into mealtimes keep this lively breed engaged in positive behaviors, instead of unwanted ones!
But watch that you don't overdo it with the physical activity. Since their shortened skull means that they can have breathing difficulty and a hard time cooling themselves.
Boxer Dog Food Facts
#33 How much you feed your Boxer depends a lot on how old she is.
2-4 months old feed her 4 times a day.
4-6 months old feed her 3 times a day.
For over 6 months old feed her 2-3 times a day.
Check out this guide to feeding your Boxer puppy, along with a guide on the best puppy food for Boxers.
#34 Boxer dogs are prone to sensitive tummies
To prevent digestive upset, some dogs prefer a grain free food. But the best way to know for sure what to feed your Boxer is to talk to a vet. Even dogs can have food allergies!
Boxer Dog Facts as Man's Best Friend
#35 Boxers have been very helpful in human therapy, such as for helping people suffering from mental health problems.
For example, a 2015 study talks about a 7 year old female Boxer, Kisbey, who worked for the St. John Ambulance Therapy Dog Program.
#36 Therapy dogs, such as Kisbey, can interact with people in a manner that can be very difficult for another human to do.
Something as simple as physical touch can be a traumatic experience for some people.
But therapy dogs give opportunities for interactions which are comforting and therapeutic.
Animals are also non-judgmental, which helps bonding take place in the interaction.
Do You Know Any Great Boxer Dog Facts?
We hope you've enjoyed reading some of our favorite Boxer dog facts.
Do you know any more?
Please share them in the comments, so we can add them to our list of amazing Boxer dog facts!
More Fun Facts
Take a look at some of our other guides to Boxer dogs. Or perhaps you're interested in finding out facts about other popular breeds!
35 Fun German Shepherd Dog Facts
References
Further Reading
Dobson, J., "Breed-Predispositions to Cancer in Pedigree Dogs" ISRN veterinary science, Volume 2013, 2013
McGreevy, PD, et al., "Dog Behavior Co-Varies with Height, Bodyweight and Skull Shape" PLOS ONE, Volume 8, Issue 12, 2013
Scandurra, A., et al., "Behavioral and Perceptual Differences between Sexes in Dogs: An Overview" Animals: An open access journal from MDPI, Volume 8, Issue 9, 2018
Leegwater, PA, et al., "Localization of White Spotting Locus in Boxer Dogs on CFA20 by Genome-Wide Linkage Analysis with 1500 SNPs" Journal of Heredity, Volume 98, Issue 5, 2007
Strain, GM, "The Genetics of Deafness in Domestic Animals" Frontiers in veterinary science, Volume 2, Issue 29, 2015
Strychalski, J., et al., "Clicker Training Efficiency in Shaping the Desired Behavior in the Following Dog Breeds: Boxer, Chow Chow and Yorkshire Terrier" Polish Journal of Natural Sciences, Volume 30, Issue 3, 2015
Starkey, MP, et al., "Dogs really are man's best friend — Canine genomics has applications in veterinary and human medicine!" Briefings in Functional Genomics, Volume 4, 2005
Dell, CA, et al., "Taking a PAWS to Reflect on How the Work of a Therapy Dog Supports a Trauma-Informed Approach to Prisoner Health" Journal of Forensic Nursing, Volume 11, Issue 3, 2015
Mills, KE, et al., "Tail Docking and Ear Cropping Dogs: Public Awareness and Perceptions" PLOS ONE, Volume 11, 2016
Leaver, SDA, et al., "Behavioral responses of Canis familiaris to different tail lengths of a remotely-controlled life-size dog replica" Behavior, Volume 145, 2008