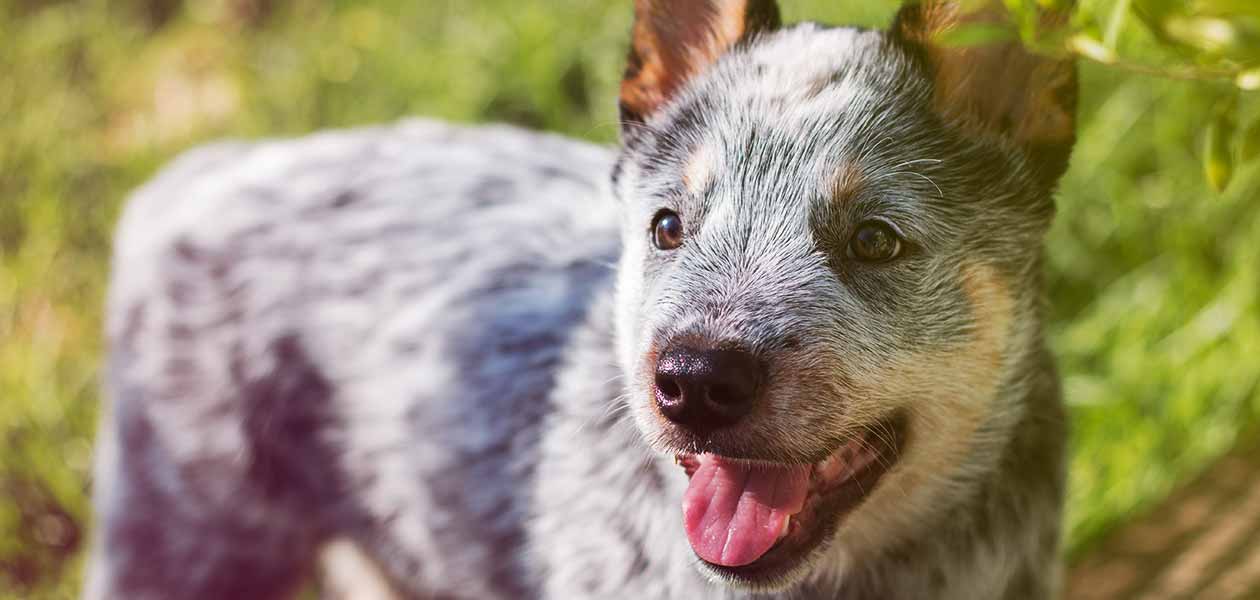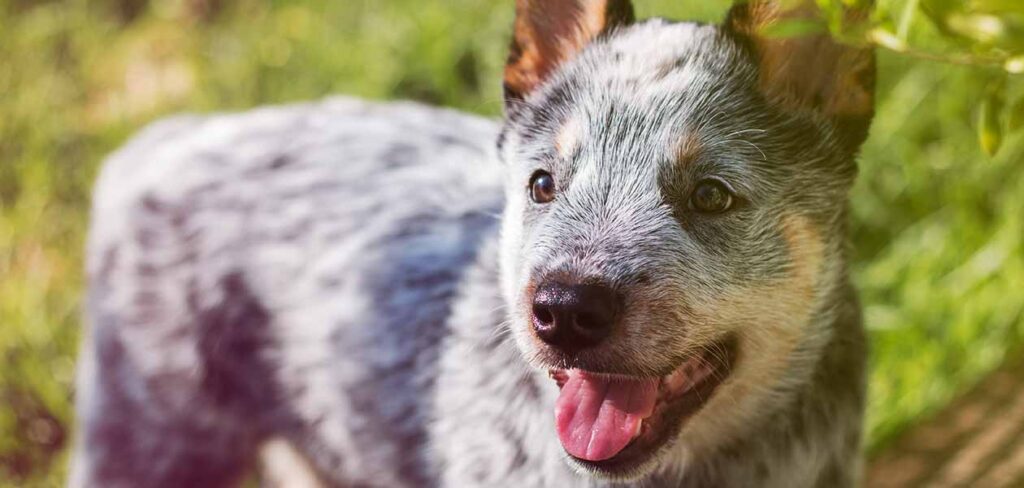 Blue dog breeds have a dilute version of a black coat. These dogs can be pretty unusual, as it takes two recessive genes to create this coat color, but there are some breeds where it is more common. And they come in all kinds of shapes and sizes. From tiny blue terriers to huge Great Danes. Today I'll take a look at the pros and cons of the most popular blue dogs. I'll share information about finding blue puppies, and help you to pick the right one for your family.
Contents
Australian Cattle Dog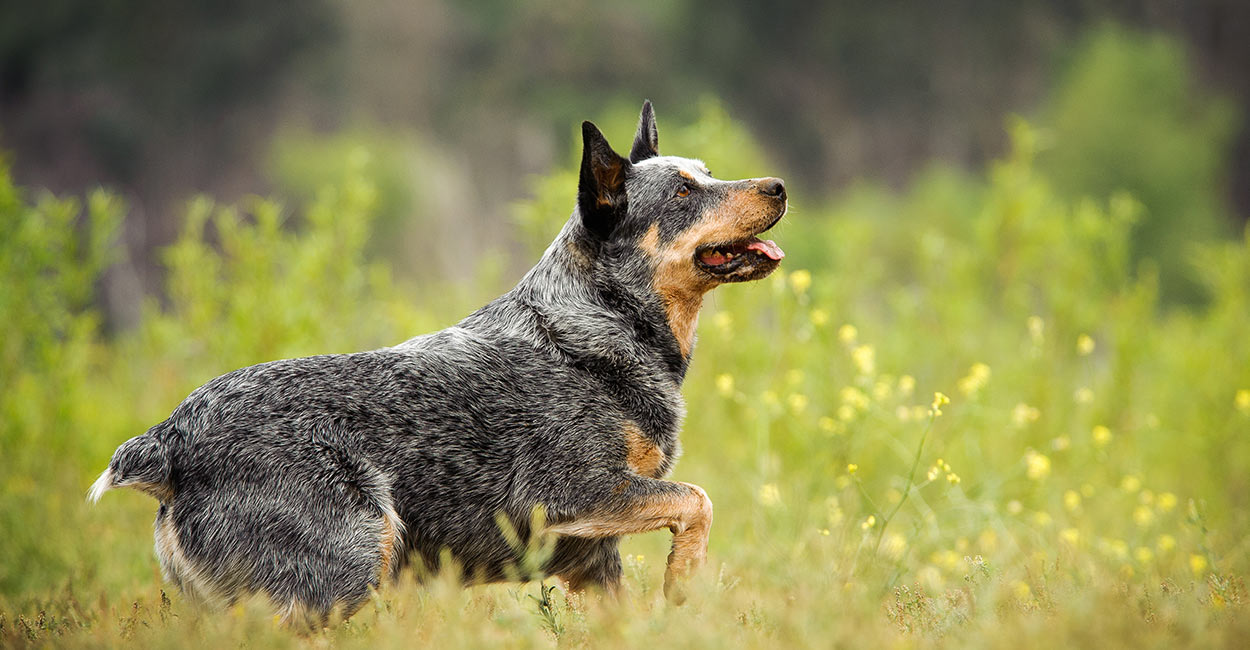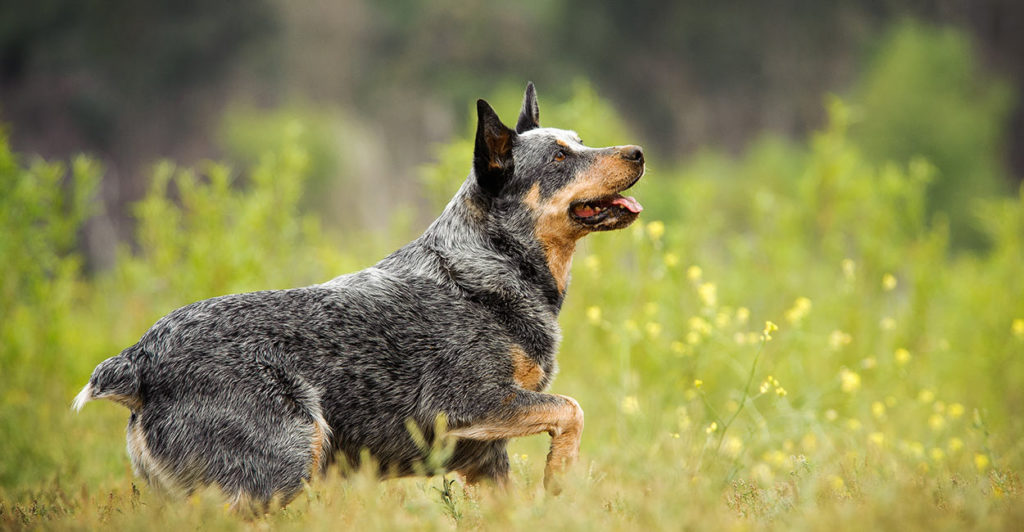 The Australian Cattle Dog is also known by the name Blue Heeler. This is an Australian breed that was originally used to herd cattle, as you can tell from its name! This blue dog breed's coat comes in some beautiful patterns, and can include colors like tan and white alongside the blue.
Blue Heelers are energetic, alert, and intelligent. They need owners who can dedicate plenty of time to exercising them, training them, and keeping them busy. Australian Cattle Dogs can also have natural herding instincts that lead to them nipping at the heels of other pets or family members.
Kerry Blue Terrier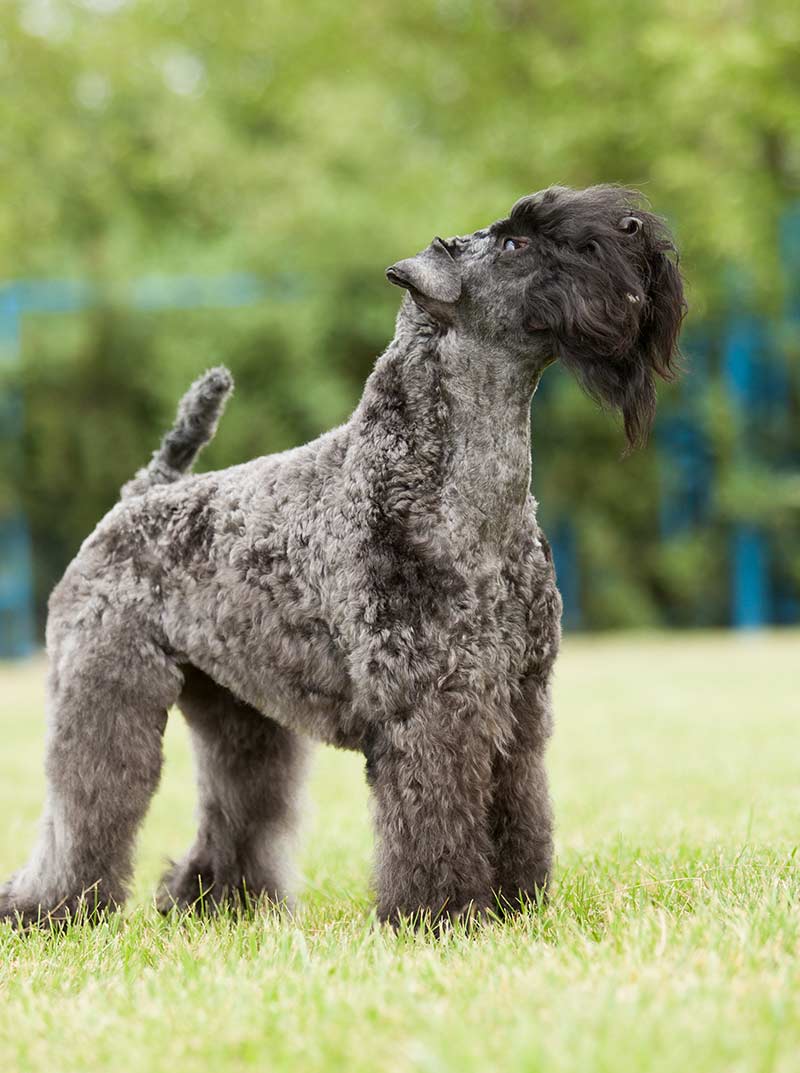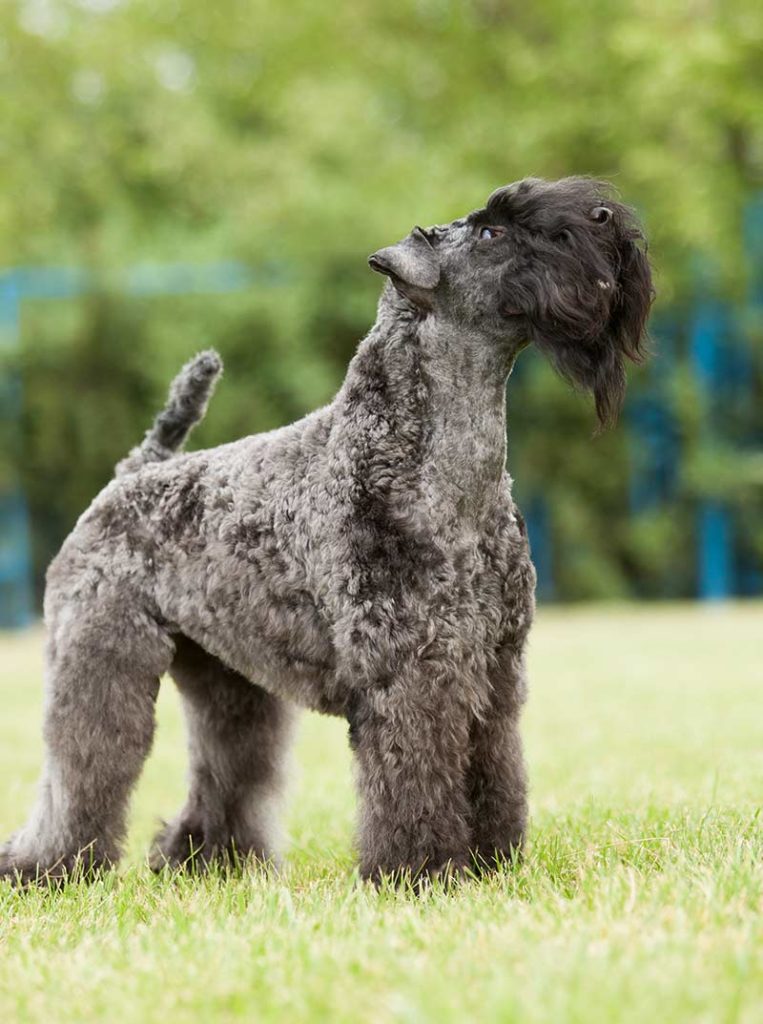 The Kerry Blue Terrier is one of our most distinctive blue dog breeds, thanks to its curly coat! It has soft waves and also rarely sheds, which is great if you have limited patience for vacuuming up pet fur. However these dogs do need regular grooming, and plenty of exercise. So, they aren't the right dog for someone who wants a low-maintenance companion.
This Irish terrier breed is known for being hardworking, intelligent, and people-oriented. Kerry Blue Terriers love spending time with their owners above all else. So, you can exercise with them and play lots of fun games, like tug or fetch. Thanks to their intelligence, these dogs will also love canine sports like agility and dock diving.
Bluetick Coonhound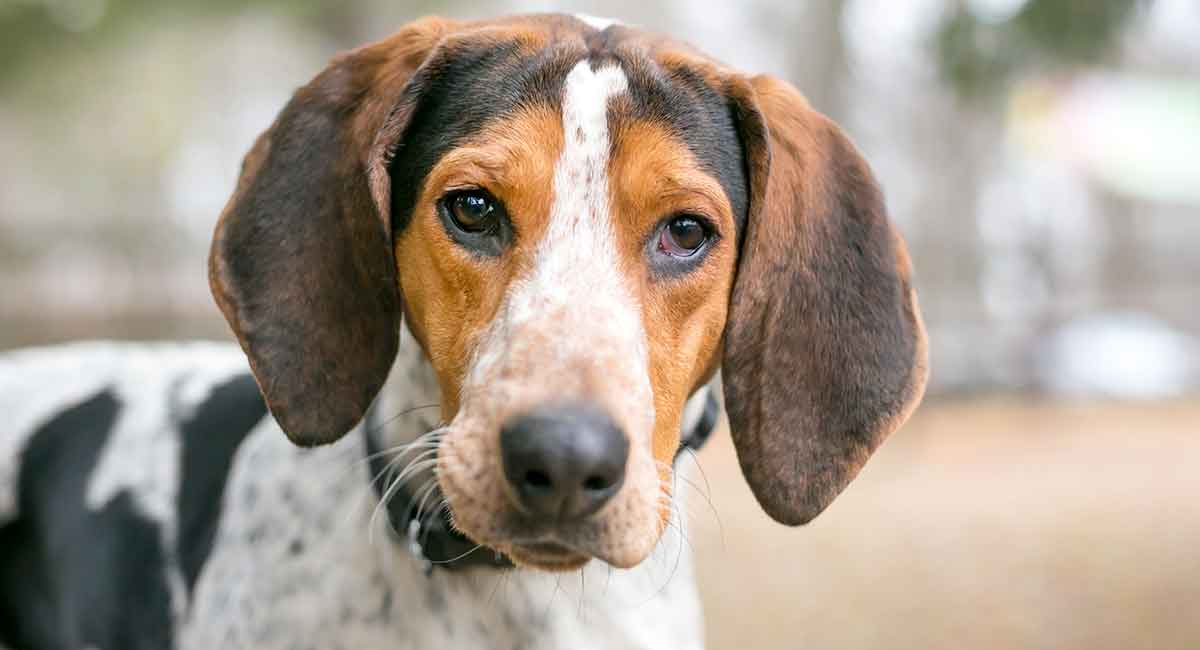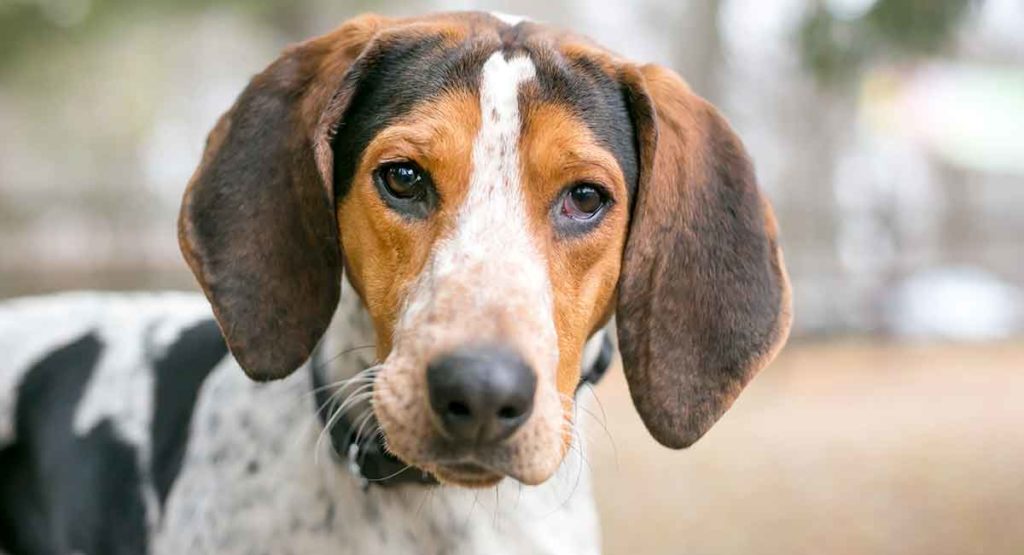 The Bluetick Coonhound has a coat color just like its name describes: blue, and ticked! Ticking is small spots or flecks on a base of white. These dogs can also have tan mixed in.
These blue colored dogs are devoted, affectionate, and intelligent. Their short glossy coat sheds moderately, and more during shedding seasons. So, you will need to groom them at least once a week.
Blueticks are energetic dogs that may have a strong prey drive. So, they will need plenty of exercise. You will also need to socialize them well and practice strong recall and obedience to minimise the chance of any aggression towards small animals.
Blue Lacy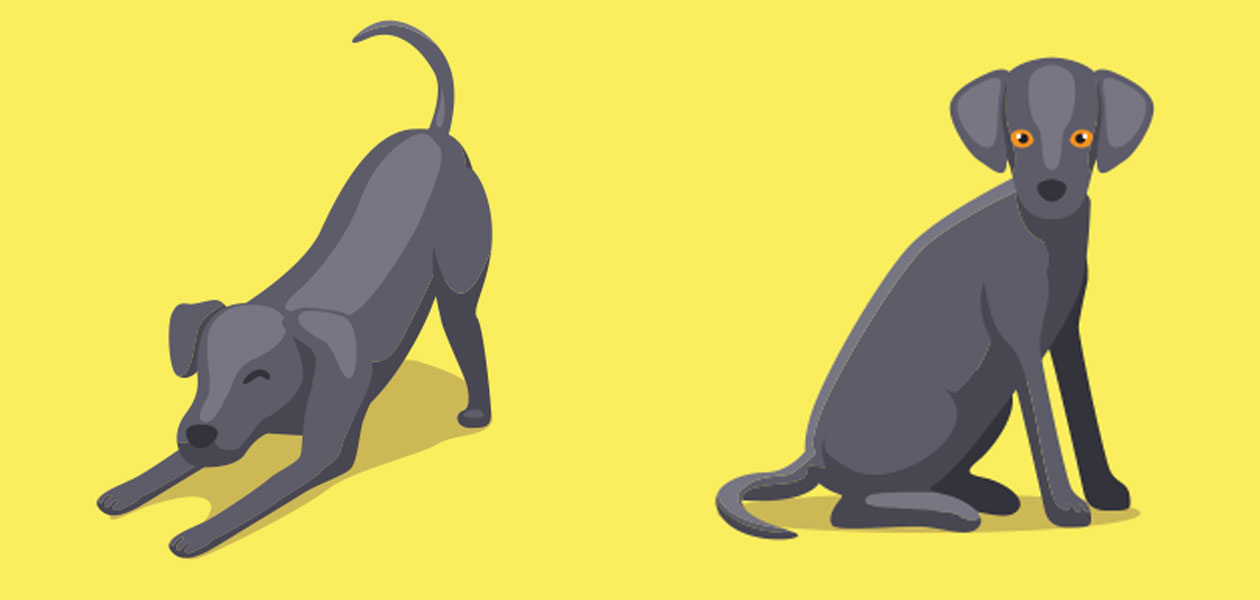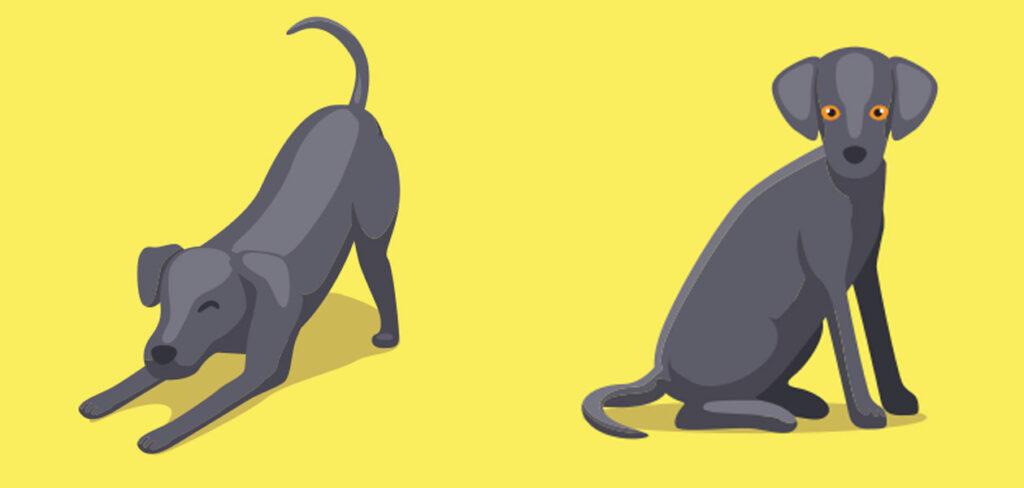 Blue Lacys are one of the American blue dog breeds. These hunting and herding dogs come from Texas, and are also known as Lacy Dogs.
Adorable Blue Lacy dogs are energetic, intelligent, and alert. They are happiest when they have a job to do, so will be very well suited to families who have active lives. Because they were originally used as hunting and herding dogs, your Blue Lacy may have natural chase instincts.
Only a perfectly practised recall will be enough to bring them back! But, on the plus side, these dogs take well to training. Stick with positive reward methods to ensure you get the very best results.
Thai Ridgeback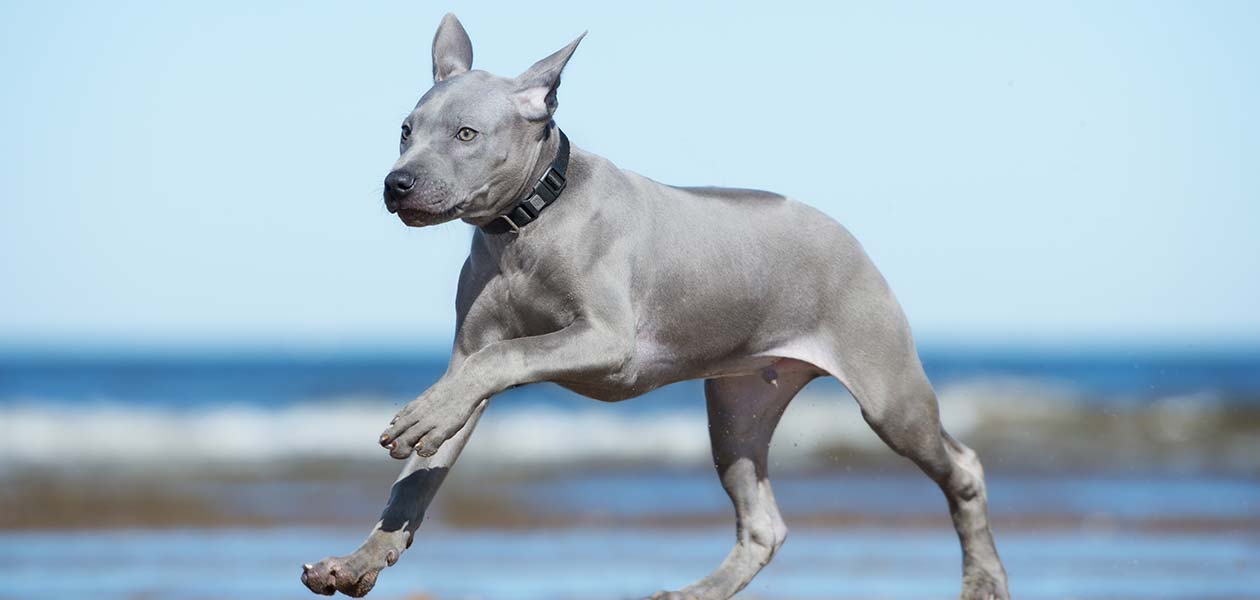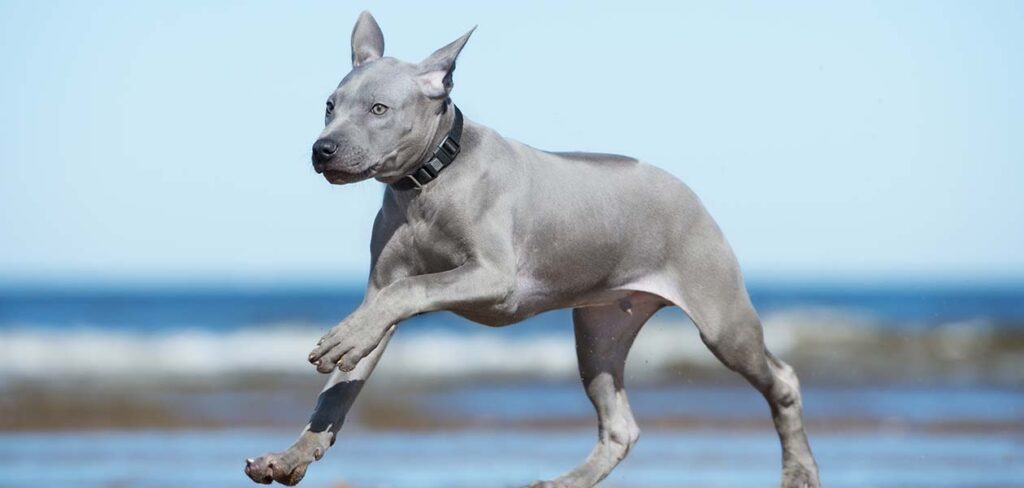 Thai Ridgebacks are loyal, athletic, and independent. They were originally bred to be watch dogs and guard dogs, so may be territorial around their owners. It is important to socialize your Thai Ridgeback blue colored dog well from a young age. This will help your puppy grow into a happy, friendly, and confident dog.
Thai Ridgebacks are best suited to homes where they can burn off their tireless energy. They are used to having plenty of time to run around, so need to be kept mentally and physically stimulated. This might not be the best blue dog breed if you have other small animals. Although, they may be fine if raised together.
Australian Shepherd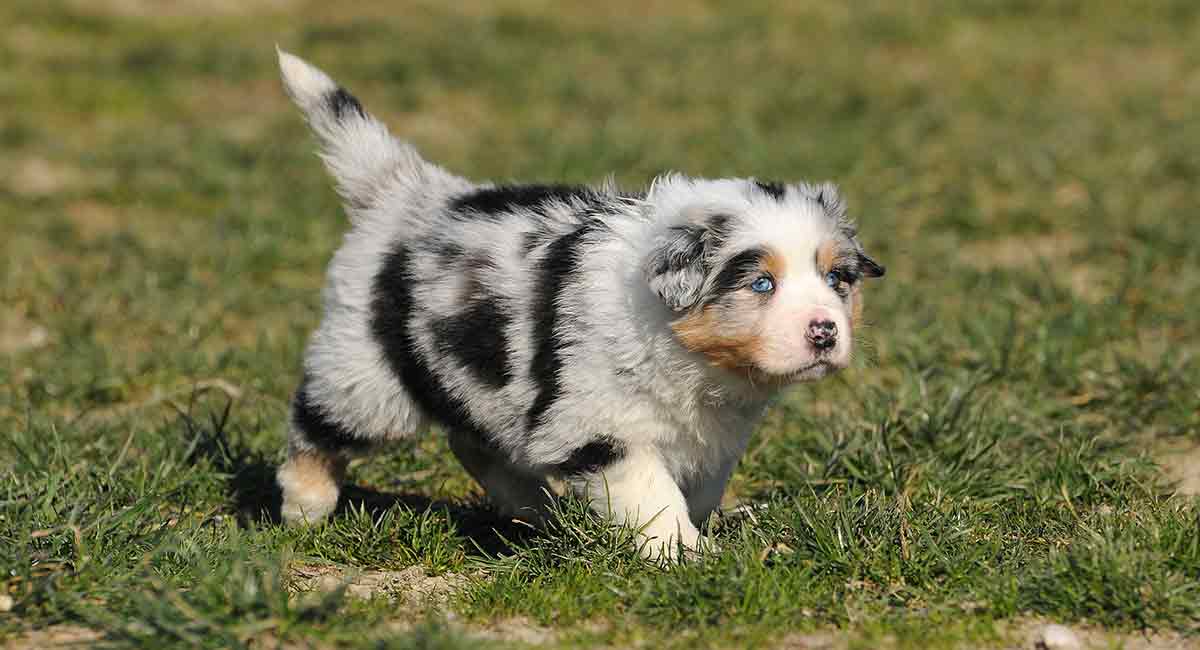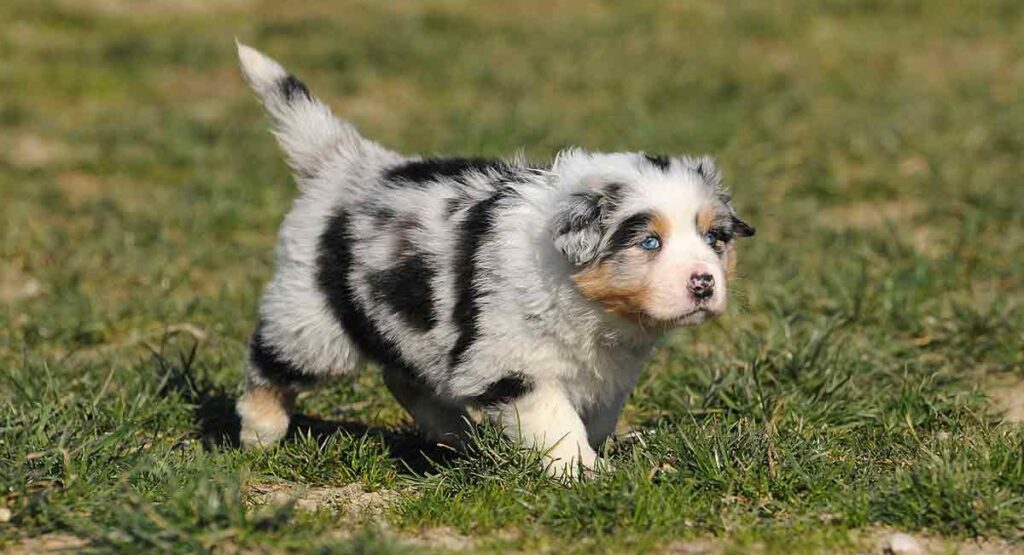 The Australian Shepherd is a herding breed often used on farms in America. Although it also makes a popular pet for active families. One of its most distinctie colors is the blue merle.
Australian Shepherds are very intelligent, energetic, and loving. They can get bored easily so need lots of exercise and mental stimulation. Aussies need families that can spend a lot of time with their dogs. Leaving them alone for too long can lead to separation anxiety.
Although they're affectionate and loving with families, Australian Shepherds can be wary with strangers and have herding instincts. So make sure to socialize your dog well if you are considering bringing this breed home.
Bearded Collie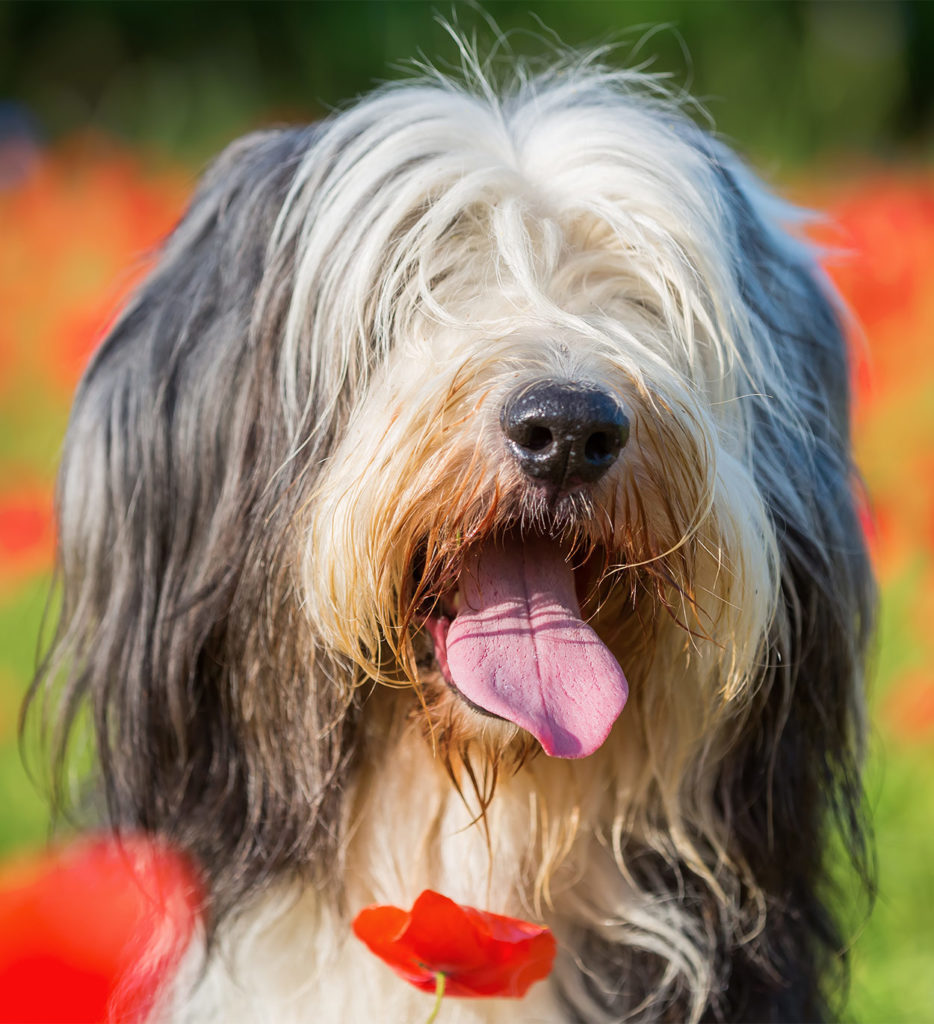 Bearded Collies are intelligent, independent, and friendly. These dogs need a good amount of exercise every day, whether that is an active game, or time to run off the leash. As a natural herding and droving breed, they may be independent and potentially aggressive towards other animals.
Chow Chow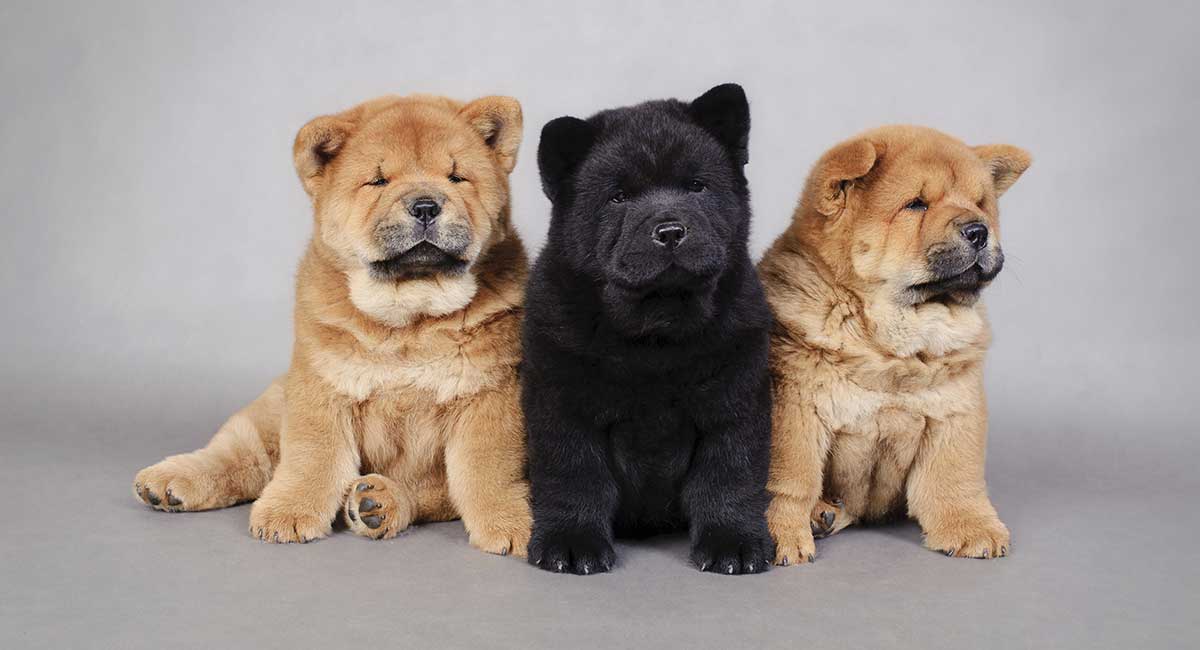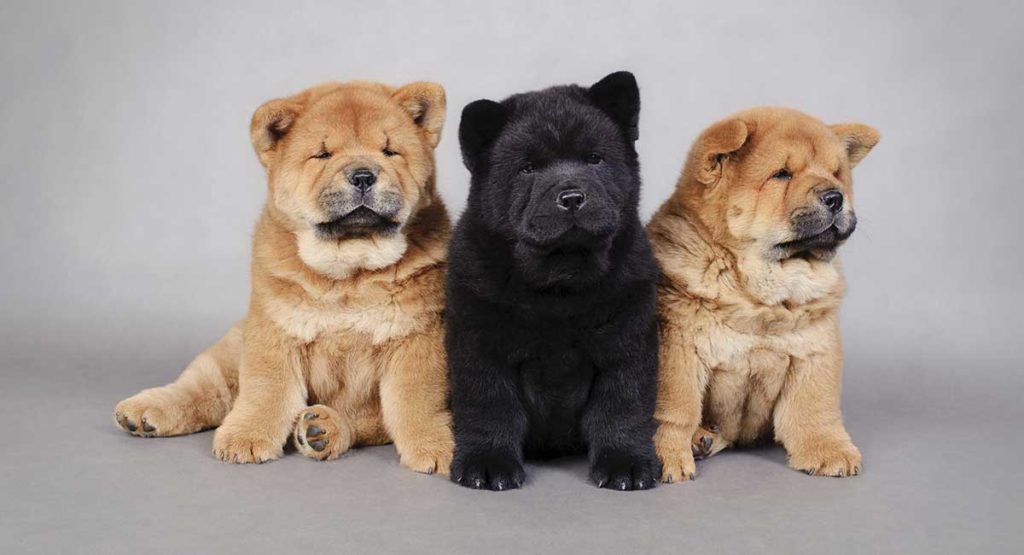 Chow have a fluffy blue coat, and they can even have a matching blue tongue! This breed is dignified, serious, but can be aloof. So, if you're looking for an affectionate dog, this isn't the one for you.
Irish Wolfhound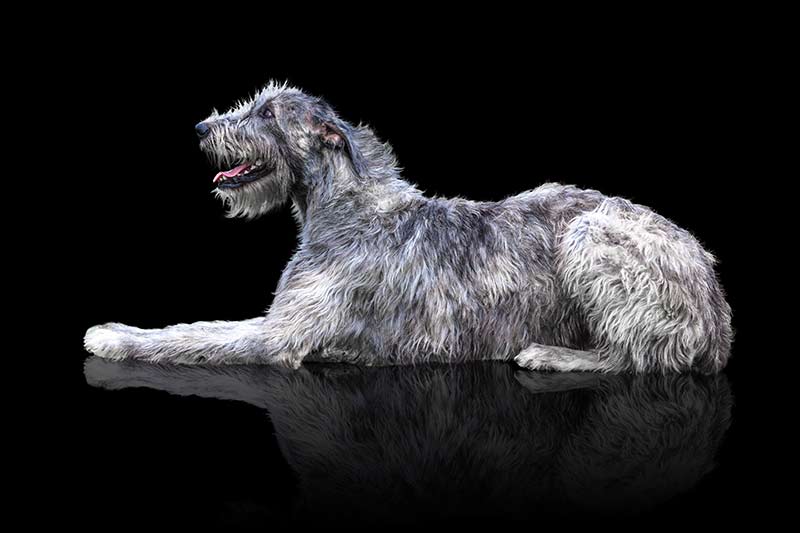 The Irish Wolfhound will be at least 30 inches tall at the shoulder. They can be as big as 7 foot tall standing on their hind legs! They are agile, gentle, and faithful. So, despite their huge size, they are great dogs for families with children. This dog needs moderate grooming, and less exercise than you'd think. He needs space to roam and regular exercise each day, but will happily laze around your home at other times.
Italian Greyhound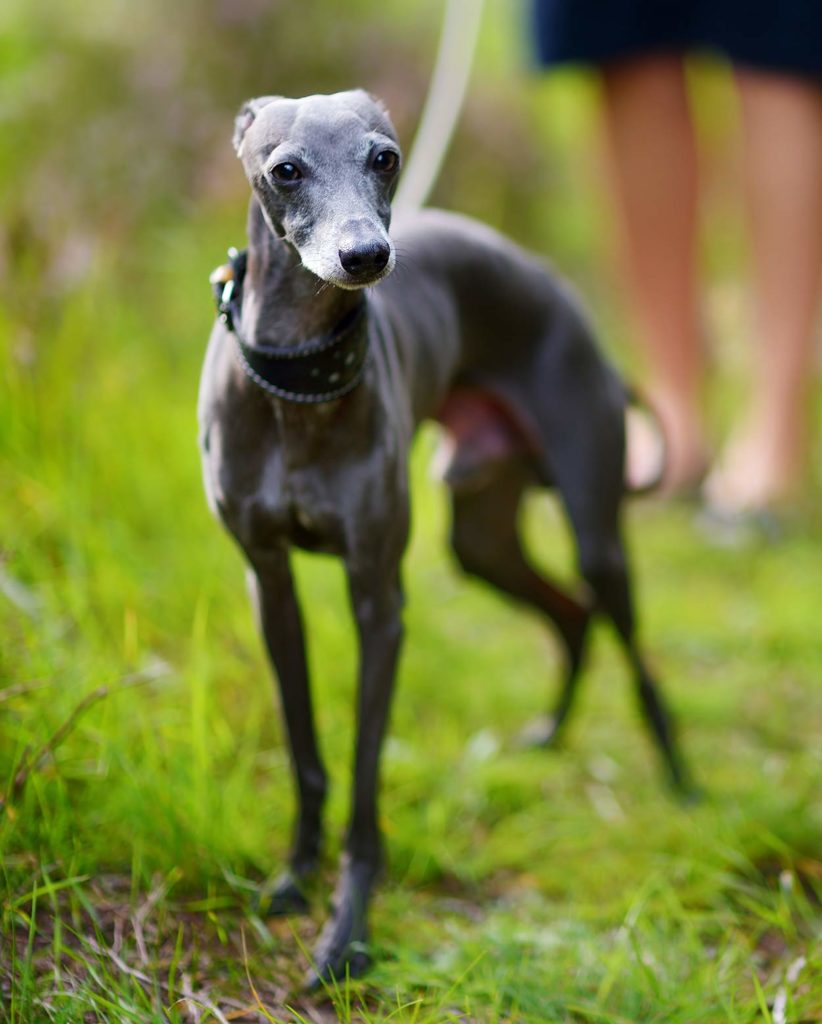 The Italian Greyhound has a short sleek coat requires very little maintenance and rarely sheds. They are amazing sprinters, but will also love cuddling up in your lap. These dogs can be mischievous, inquisitive, and affectionate. They also have a high prey drive so be wary of this breed if you already have other small animals.
Poodle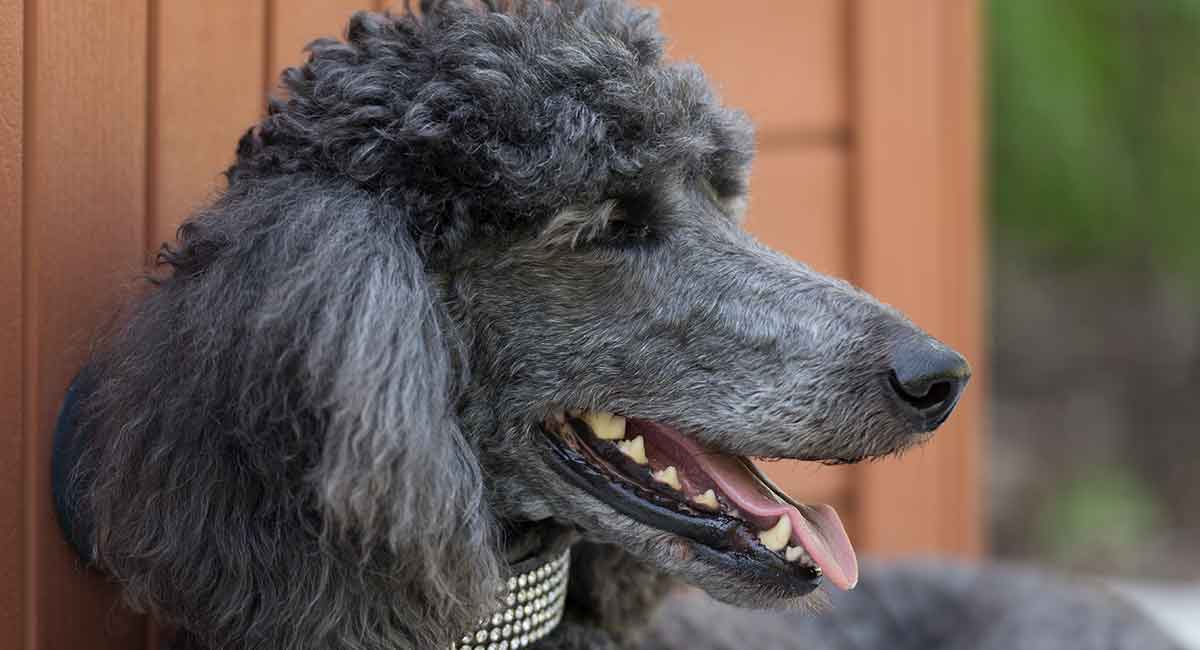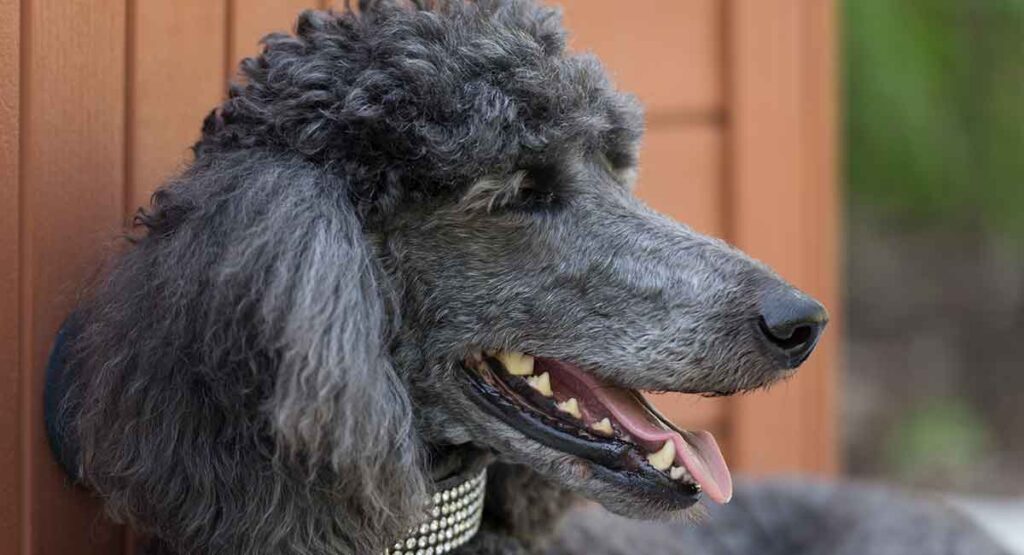 The Poodle blue dog breed comes in three sizes: standard, miniature, and toy. Poodles have curly fur that catches any shedding hair. This means it is often a better choice for people with allergies. But, no dog breed is truly hypoallergenic. So, you should always spend time with a dog before committing if you suffer from allergies.
Poodles are intelligent, energetic, and friendly dogs that love spending time with their families. They take well to training, and will love exercising both on land and in water! These dogs were originally hunting companions, so they need plenty of socialization to ensure they are happy and friendly with other animals.
Chinese Shar Pei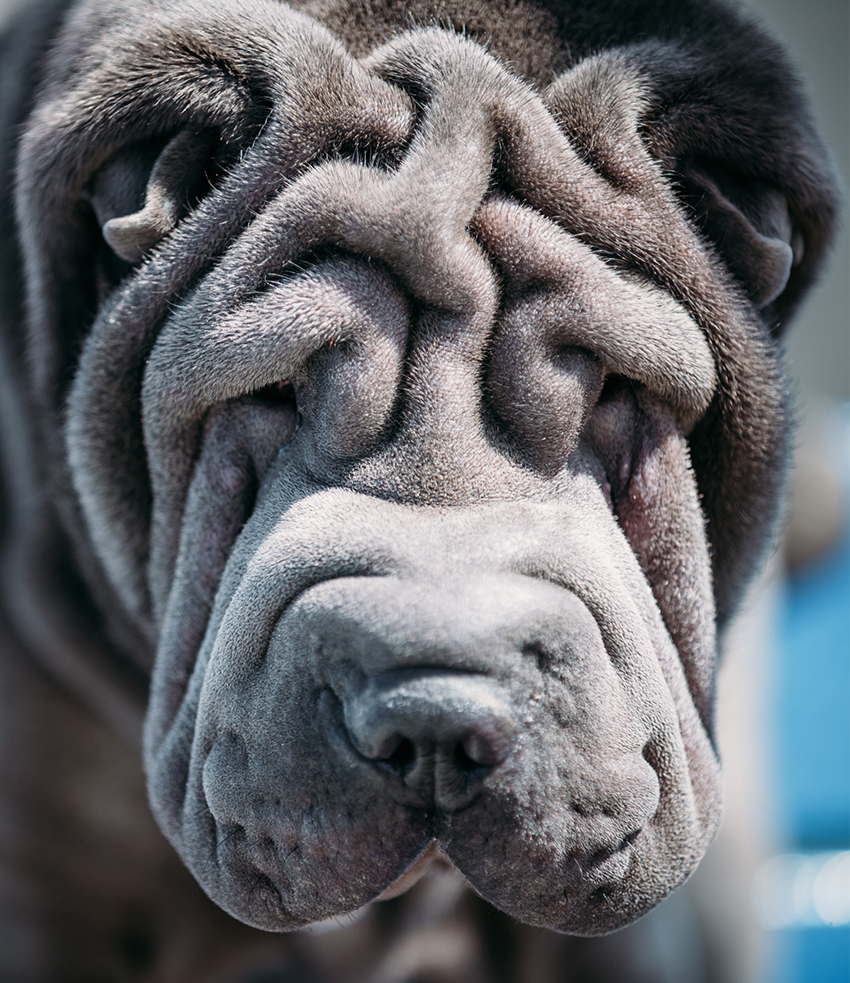 Shar Peis can be quite distinctive looking blue dog breeds thanks to their wrinkled skin. However, this unique feature brings with it plenty of extra care needs. These dogs are known for being loyal, confident, and often stubborn. So, be gentle and patient when training them. Positive reward methods work best.
Whippet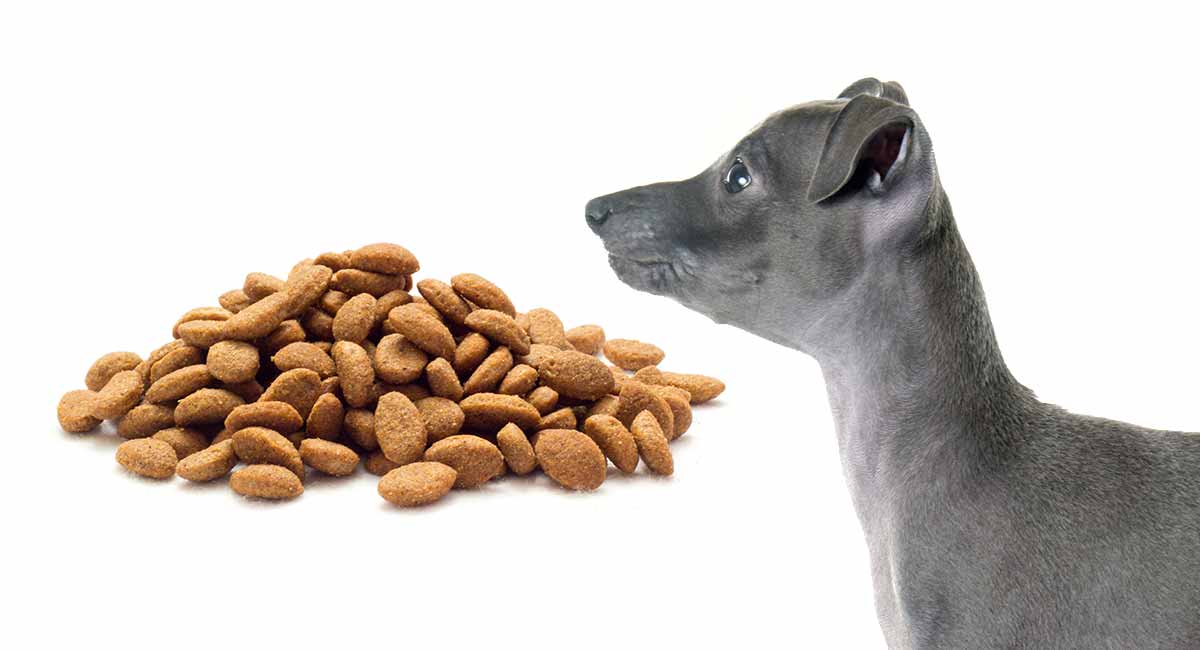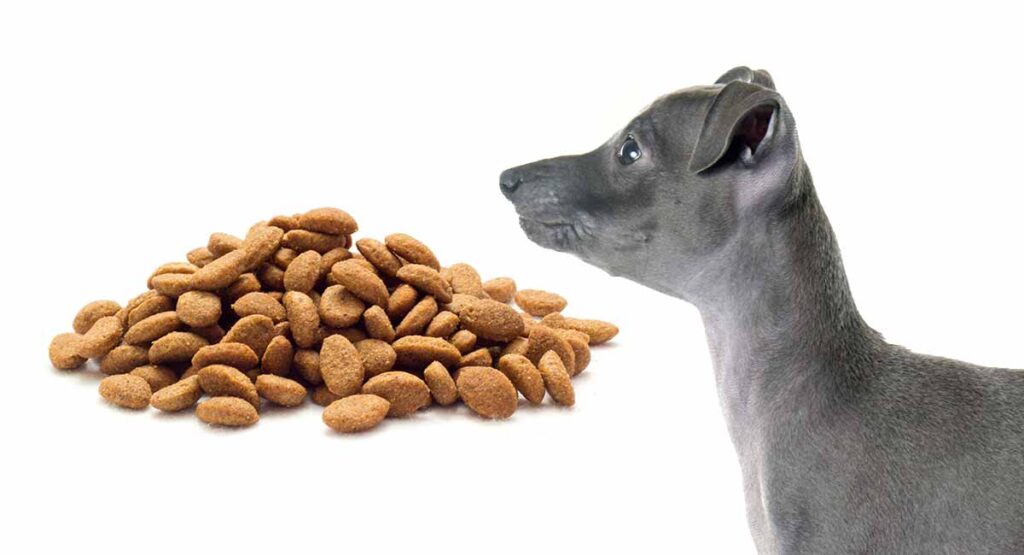 The Whippet is another one of our smaller blue dog breeds. They will spend just as muchtime cuddling up on the sofaas zooming around. This sight hound was originally bred to chase game. So, it won't be the best breed for homes that have small animals. Whippets need regular daily exercise and lots of social interaction. But, they require very little grooming.
Yorkshire Terrier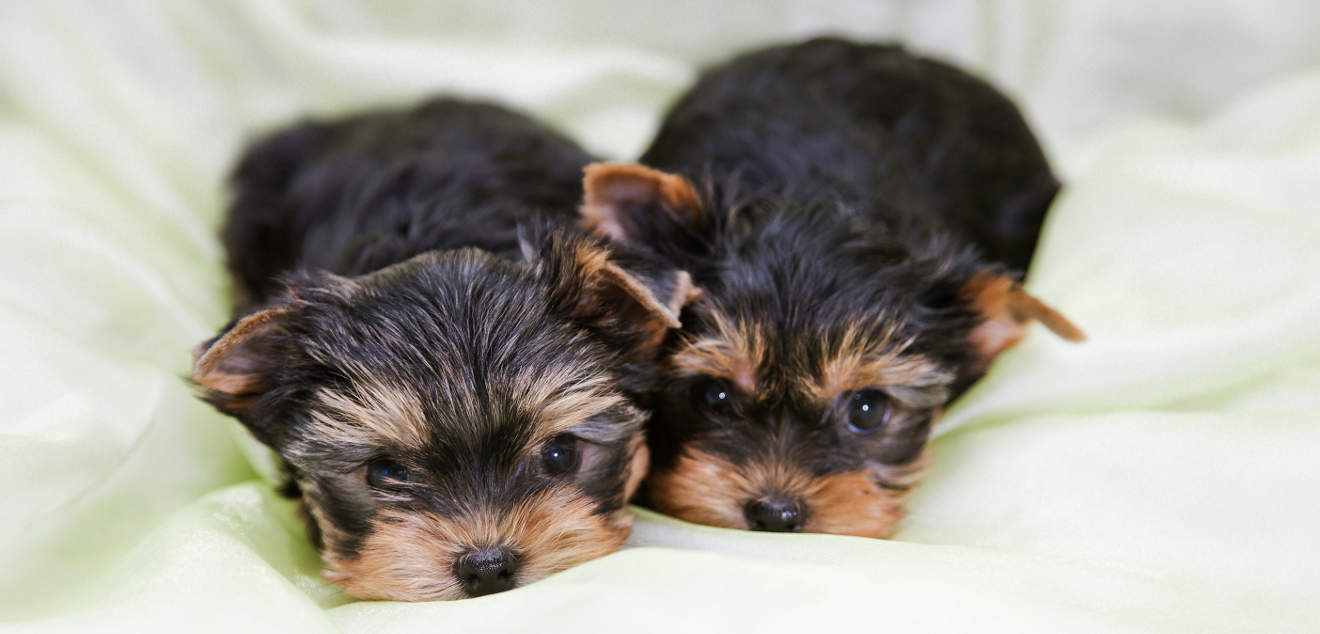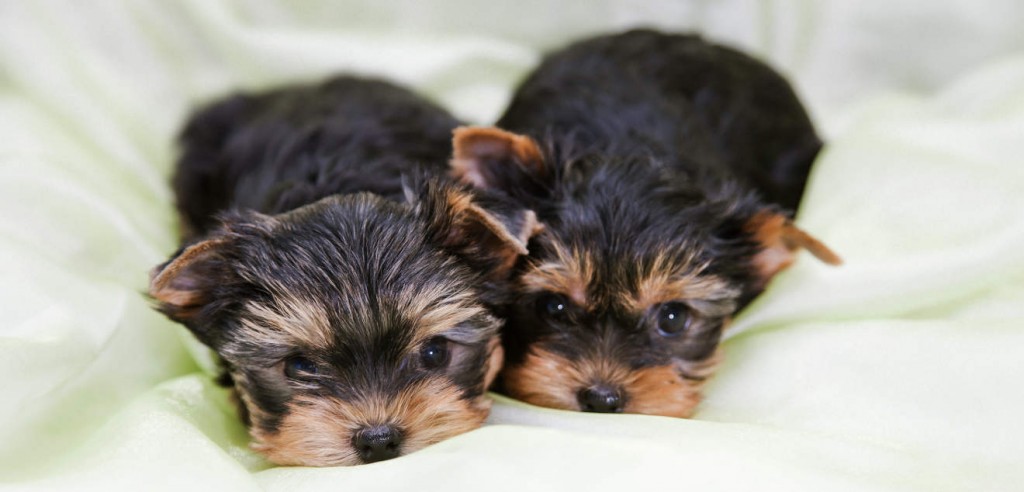 The Yorkie is another of our small blue dog breeds. This tiny terrier can reach up to 9 inches tall, weighing up to 7 pounds. These dogs are confident, lively, and affectionate. They are smaller, so can suit apartment life as long as they get enough exercise out of the home.
Yorkies were originally used as a pest exterminator, so may chase other small animals in your home. Socialize them well to minimise any aggression. They have a beautiful tan and deep navy coat that requires a lot of grooming. Their fur can easily get tangled, and needs brushing every day, just like human hair.
Beagle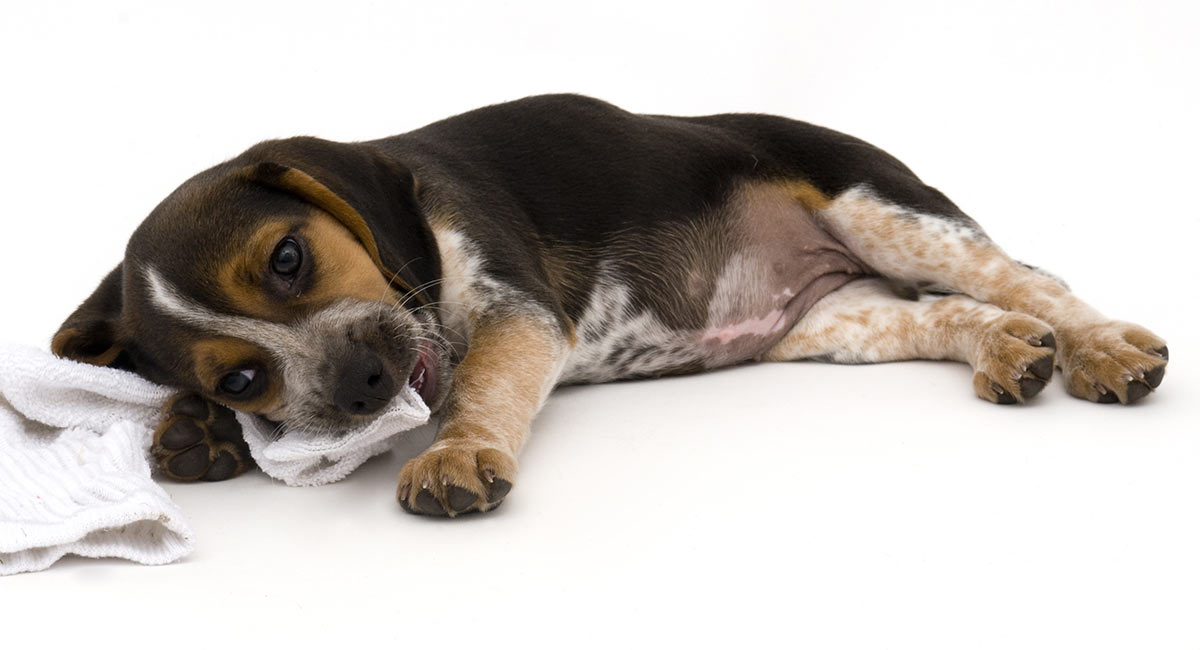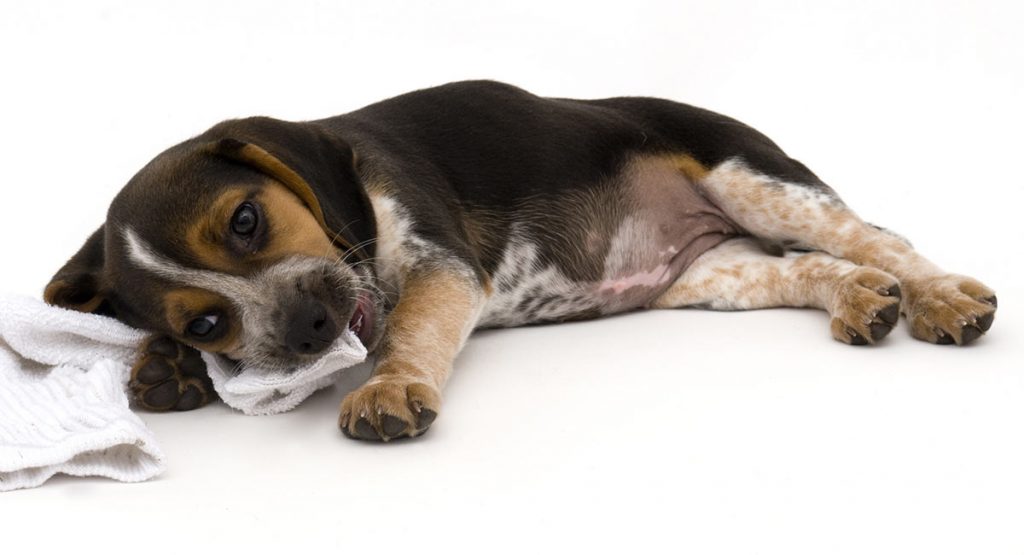 It might surprise you to see the Beagle on our blue dog breeds list, but blue is one of the colors you can see on this breed! You can even get beautiful blue tick Beagles. These are working dogs, bred to be friendly, intelligent, and social. They get along well with people and other dogs alike, but will still need socialization to encourage this.
Beagles love spending plenty of time with their families, and can suffer from separation anxiety if left alone too long. Thanks to their energy and intelligence, they can also get bored easily.
Staffordshire Bull Terrier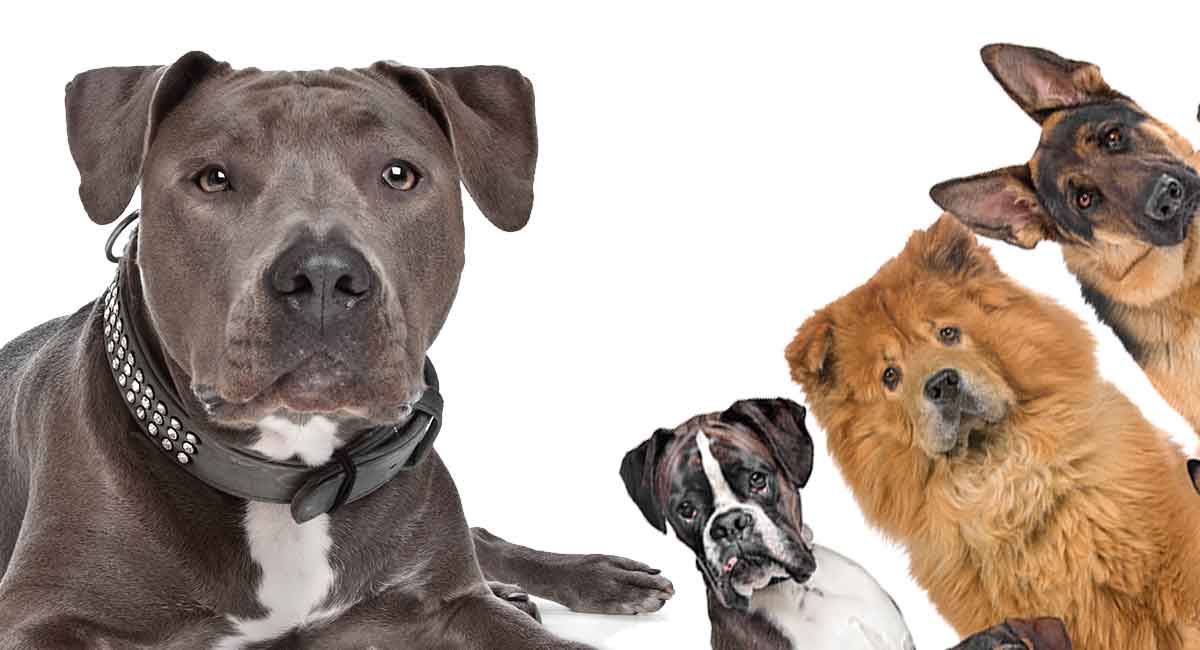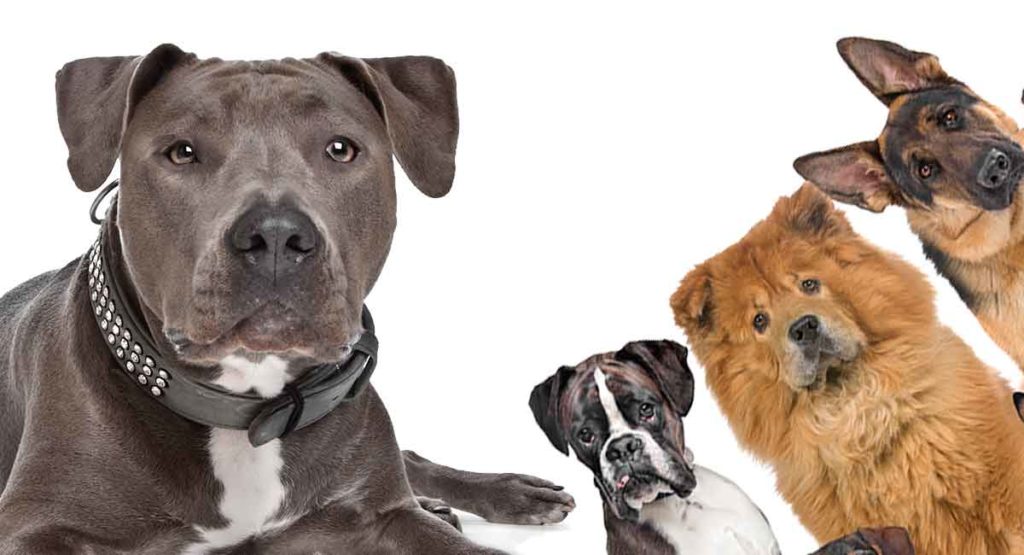 The Staffordshire Bull Terrier is a blue dog breed that is also affectionately known as the Staffie. These dogs are known for being brave, loyal, and gentle, especially with their families. However, they fall into the Pitbull, or bully, category. So, some people think they are aggressive, and they are even banned in some states.
Catahoula Leopard Dog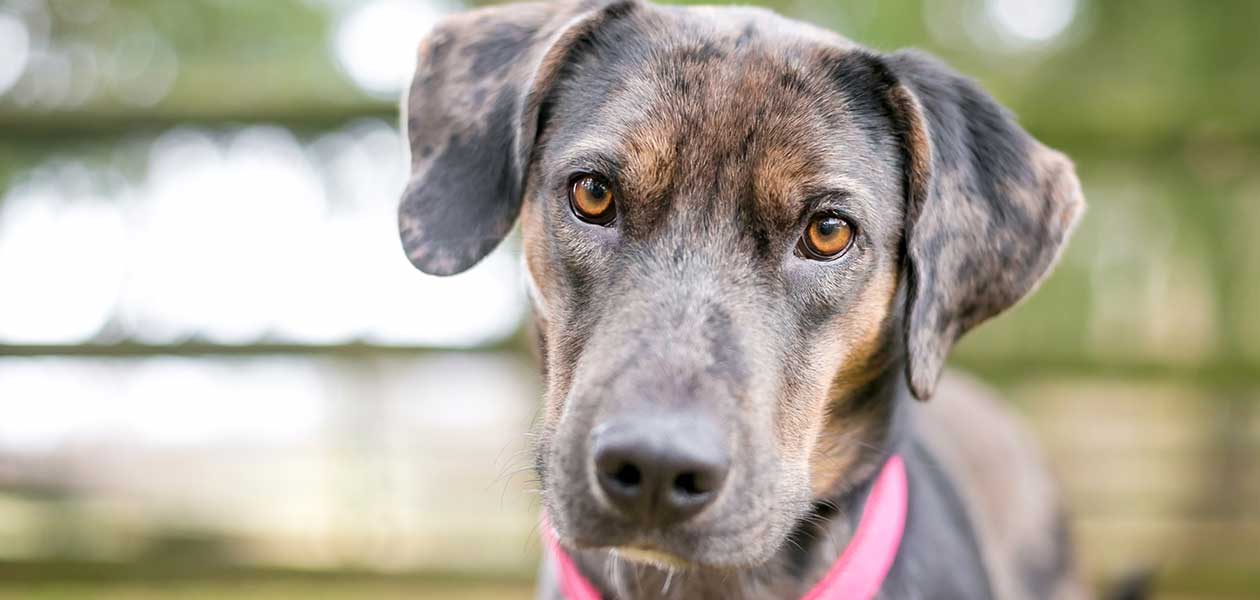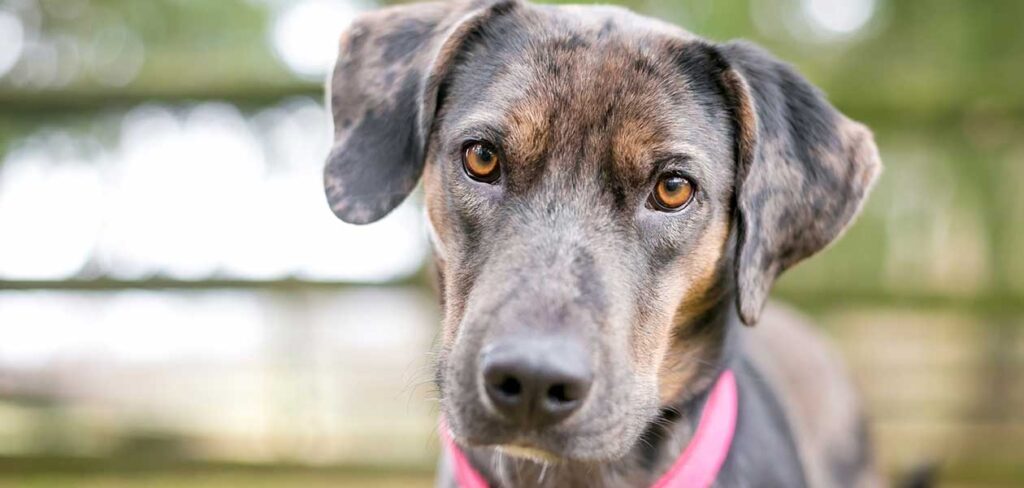 The Catahoula Leopard Dog can come in blue and blue merle coloring, among other shades! They are intelligent, energetic, and watchful. They can also be quite independent. These dogs will need weekly grooming and may need the occasional bath. But, more important than this is the amount of active time this dog needs.
Gorgeous Catahoulas are very athletic, and need a job to do. Boredom and inactivity can cause them to become unhappy and engage in destructive behaviors like digging and chewing. So, get creative with your dog's exercise! They're great candidates for dog sports like agility and obedience training.
Weimaraner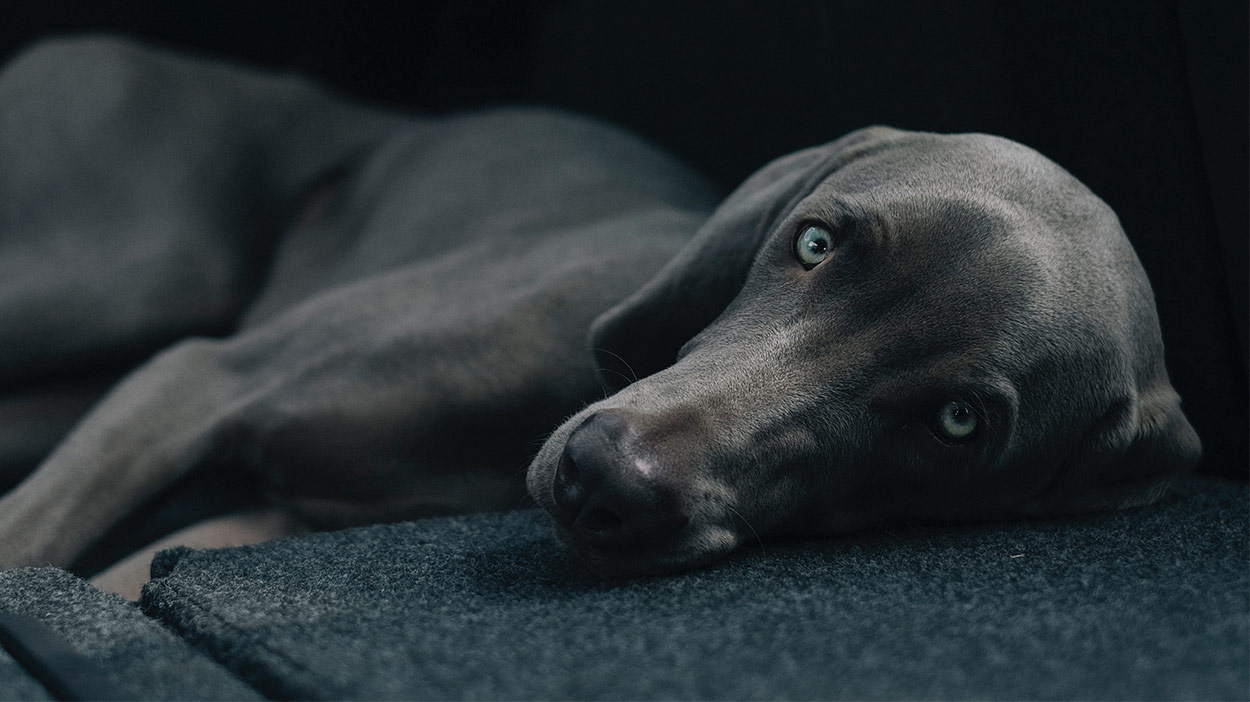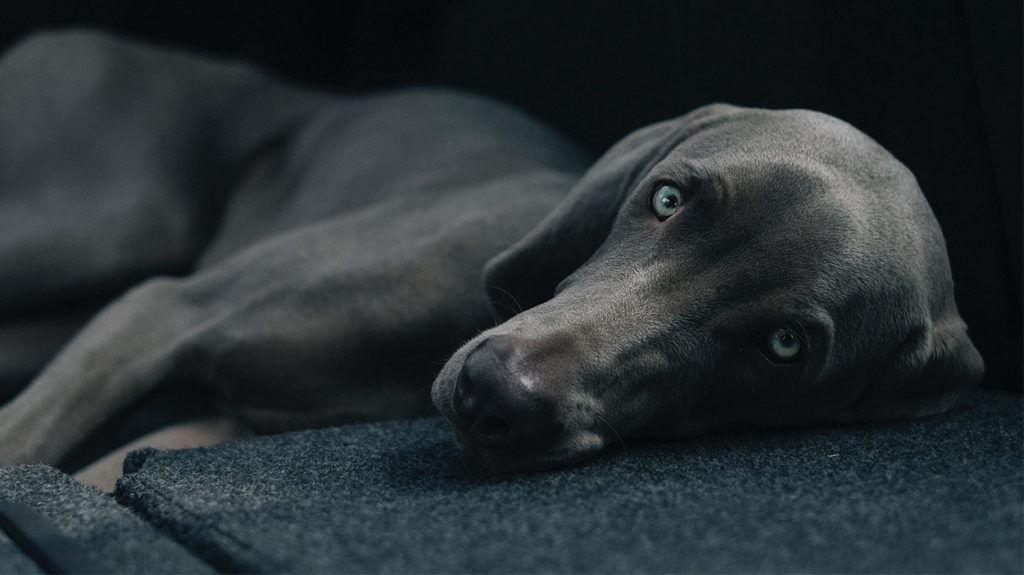 Weimaraners are most often seen in grey, but can also appear in a beautiful shade of blue. However, this is not an officially recognized color. Because of this, blue Weims are often seen as undesirable. And some breeders will try to sell them for an inflated price, marking them as 'rare'.
If you do find a blue Weimaraner from a reputable breeder, make sure you give them plenty of exercise each day and lots of attention. They need to be socialized well from a young age. Weims are very affectionate dogs, that can be seen by some as 'needy'. So, make sure you have plenty of time to spend with your dog if you're choosing this breed.
English Setter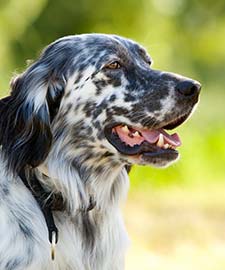 English Setters can come in a gorgeous blue belton, or tri color blue belton and tan. Blue belton patterns are a dark spotty, ticking pattern, over a white base. These dogs are friendly, happy, and athletic, especially when socialized well from a young age. You'll need to groom your Setter at least once a week to keep their fur from getting knotted.
You might also want to trim certain areas, such as around your dog's face. Especially if they spend a lot of time running or working outside.
Great Dane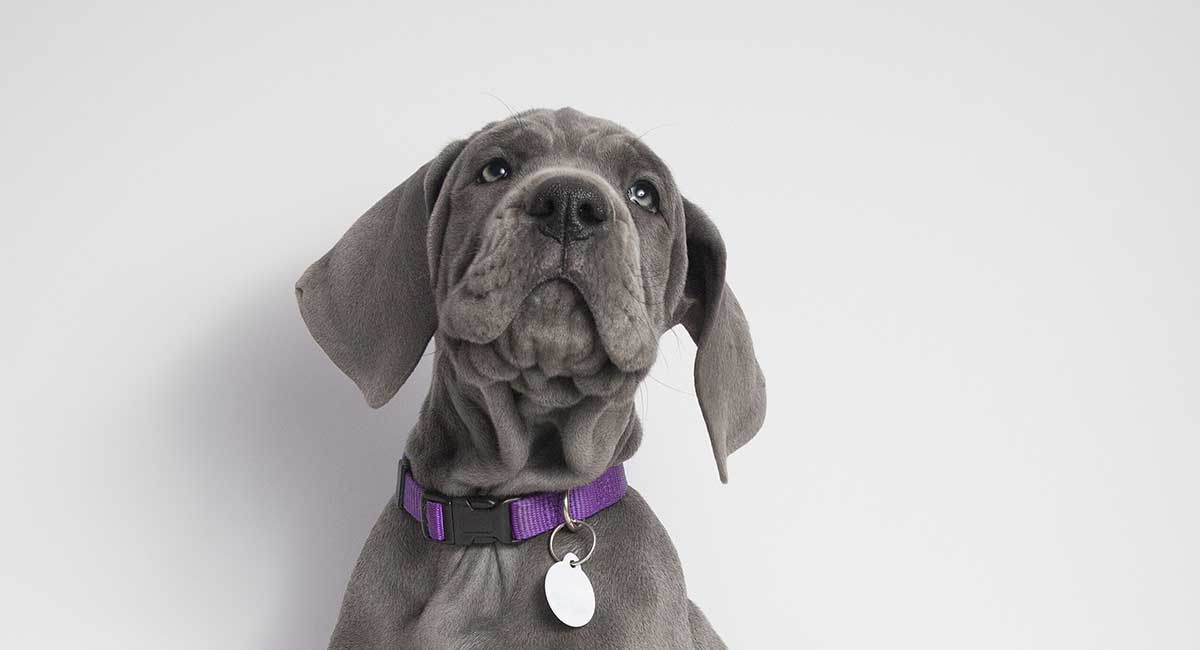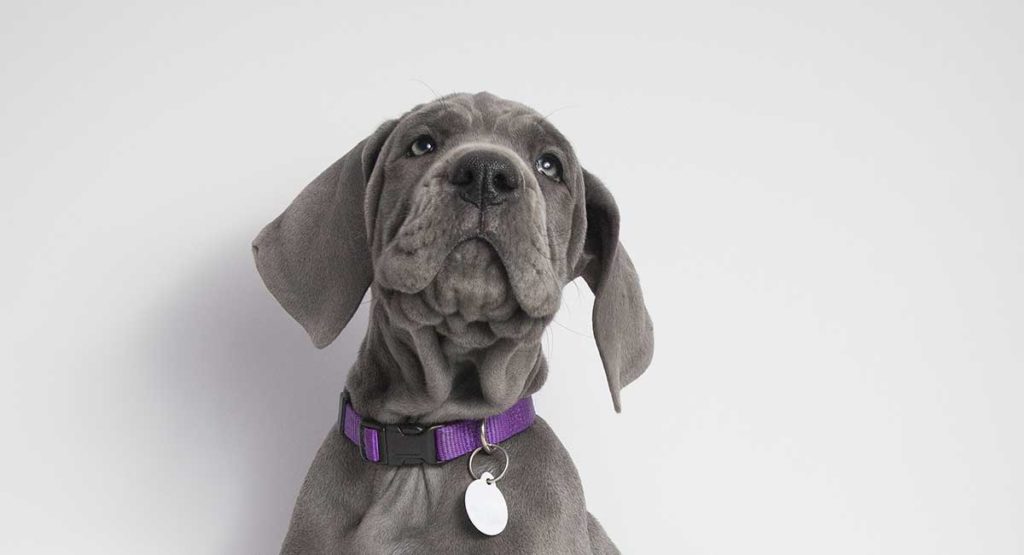 The Great Dane is the largest of the blue dog breeds! They can reach up to 34 inches tall at the shoulder! Great Danes need plenty of training and socialization, even though they're known for being gentle and calm dogs.
Their huge size means they can easily accidentally hurt someone or knock someone over. So, socialize and train them well. If you do this, they will make great companions for any family. Great Danes need a good amount of exercise every day, but shouldn't have too much, or it can affect their joints.
Blue Coat Color Genetics
So, how does the blue coat color happen in so many different dog breeds? It's all about genetics. Coat color in all dogs is the result of two pigments: pheomelanin and eumelanin. The default colors of these are red and black, respectively. Other coat colors are created when additional genes interact with the genes for these two pigments.
Blue coats occur when the recessive dilute gene (d) interacts with the production of eumelanin. If your puppy inherits two d genes, his fur is diluted from black to blue.
Of course he won't actually be blue like the sky – blue is simply a special doggy word for grey! For some dogs, diluted coats are also linked to health problems like hair loss and skin inflammation, known as color dilution alopecia.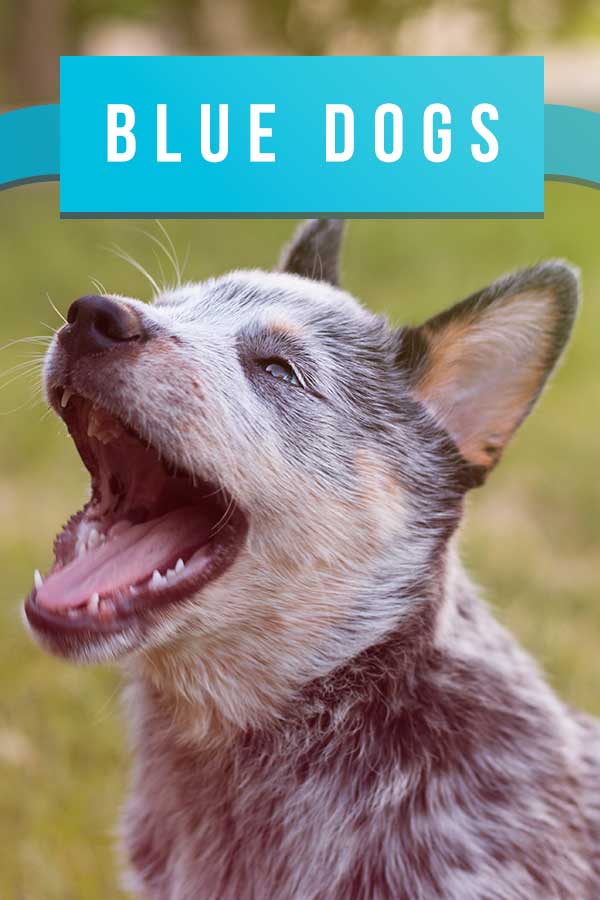 Blue Dog Breeds As Pets
Do you have your heart set on a blue dog breed? Blue dog breeds can look quite different from one another. The type that you choose should be based on which blue colored dog matches your time and care abilities best.
If you have a small home and aren't looking for a high maintenance dog, you will need a different type of blue coat dog breed to someone with lots of space and lots of time to dedicate to grooming and exercising their dog. You should learn about temperament, exercise needs, trainability, health, and general care before finalising your dog breed choice.
Finding Blue Puppies
Some breeds of dog will have always have litters of blue puppies, others will have mixed colors that are harder to predict. If you definitely want a blue puppy then picking a breed that is all blue is the quickest way to find one.
Once you've chosen your breed, then look for a breeder that cares about health and temperament above everything else. Even color! Good breeders only use health tested parent dogs and are happy to show you proof of these clear tests.
They will keep their dogs for a purpose beyond making puppies (and therefore money!) and have an obviously strong bond with the mother of the litter. You might have to go on a waiting list to get a puppy from the best breeder, but it will be worth the wait!