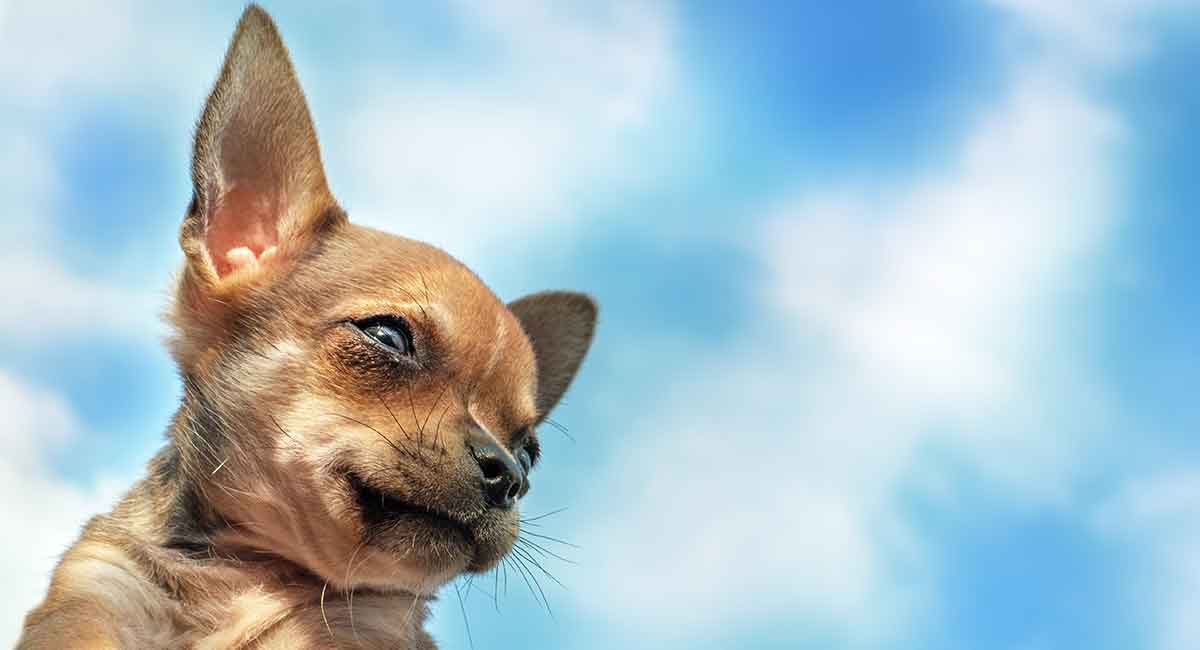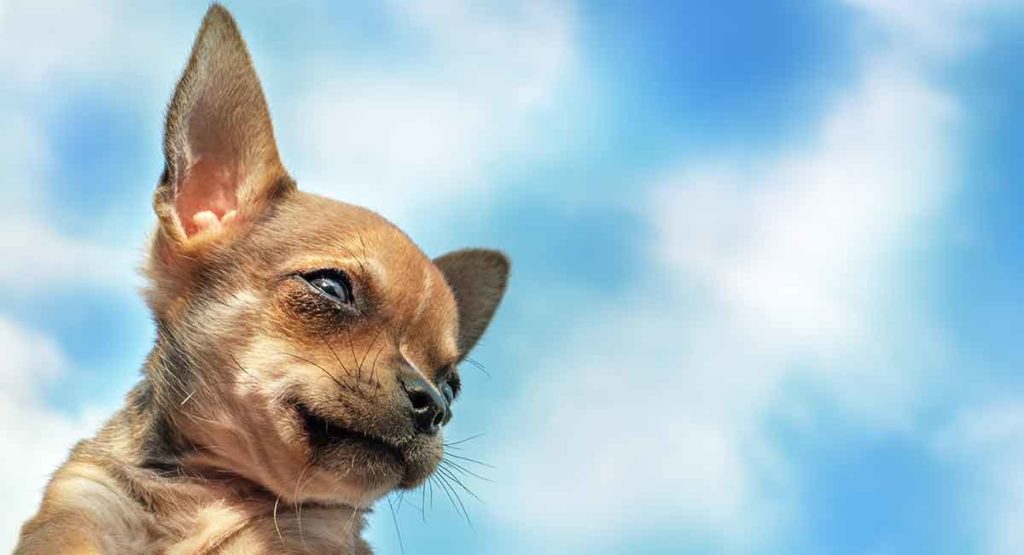 Apple Head Chihuahuas are confident, sassy and bold, affectionate with their families but very independent. They are one of two types of Chihuahua. The Apple Head Chihuahua has a round head with a 90 degree ridge where the nose meets the forehead. A Deer Head Chihuahua has a more oval, longer head with a more gentle 45 degree stop between the muzzle and brow. The shape of the Apple Head Chihuahua's cranium causes their eyes to appear wider and bulge out slightly, and can cause the soft spot on their head not to close.
Contents
Have you ever heard of the Apple Head Chihuahua or the Deer Head Chihuahua? Have you been wondering what the difference is between the two? The tiny Chihuahua is a famous toy breed, with a miniature stature superseded by a massive personality! But did you know that many traits of your Chihuahua could depend on whether or not he is an Apple Head or a Deer Head?
Apple Head Chihuahua vs Deer Head Chihuahua
Chihuahuas are divided into two unofficial types called the Apple Head Chihuahua and The Deer Head Chihuahua. The only two official Chihuahua types are the long coat and smooth coat varieties. Still, these clubs do mention that, by breed standard, the Chihuahua should have a dome shaped head and a 90 degree angle stop where the muzzle meets the forehead. Apple Head Chihuahuas are also known for their bulging eyes and shorter legs.
While still purebred and registered with the club in many instances, deer head Chihuahuas have much longer faces, bigger ears and a less sharp angle where the forehead meets the muzzle.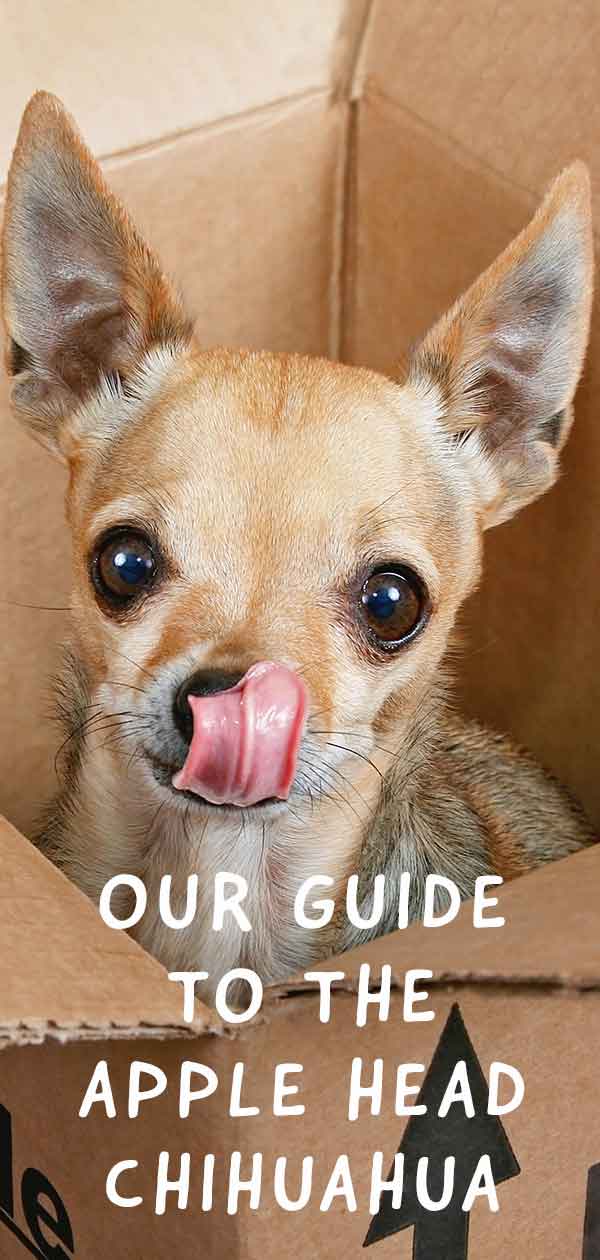 Chihuahua Breed Type Origins
The National dog of Mexico, the tiny Chihuahua is an ancient breed whose tale seems to be as old as time. Ancient artifices world-wide depict Chihuahua-type dogs, proving they have been a favorite amongst even the earliest aristocrats of human history. But how did the Chihuahua become associated with Mexico? Truth be told, no one knows. Likely descendants of the ancient Techichi, it was once thought that the tiny dog creations were eradicated during the conquest of Cortez.
Luckily, the resilient little breed managed to survive in isolated villages, where he was discovered by Americans in the 1800's. Most of these small dogs were discovered in Chihuahua, and thus the breed became known as the Chihuahua dog.
Distinctive Looks
While there are differences between the Apple Head Chihuahua and the Deer Head Chihuahua, there are also lot of similarities. For instance, these are both small Chihuahua dogs that weigh no more than six pounds and stand only 5 to 8 inches tall. So, even a fully grown Chihuahua is going to be quite small.
Both the Apple and the Deer Head Chihuahua can come with a smooth or long coat. And while fawn is the most common Chihuahua color, their coats can come in six color varieties, including black, white, fawn, chocolate, cream and gold.
Temperament Traits
The Apple Head Chihuahua temperament is relatively charming and adorable, just like the Deer Head. This a pleasant little dog who knows how to charm his way into just about anyone's heart. I've never met a Chihuahua that wasn't full of enthusiasm for fun, but also knew their own mind. They respond best to encouragement, and can be stubborn if you come into conflict with them.
And while the Chihuahua does well in family settings with older children, he is not recommended for very young children. This is particularly due to their small size and fragility.
Apple Head Chihuahua Lifespan
Chihuahuas are generally pretty long lived dogs, with a life expectancy of 14 to 16 years. However, the Apple Head does face a few more health concerns than his Deer Head counterpart.
Health Concerns
Still, both the Apple Head Chihuahua and the Deer Head Chihuahua can be prone to heart problems. These include patent ductus arteriosus and mitral valve disease. As well as eye disease, patellar luxation, and idiopathic epilepsy.
Due to his apple shaped head and that sharp, 90-degree angle, he is more prone to Brachycephalic Airway Syndrome. Brachycephalic Airway Syndrome can cause breathing issues such as discomfort, snoring, sleep apnea and more.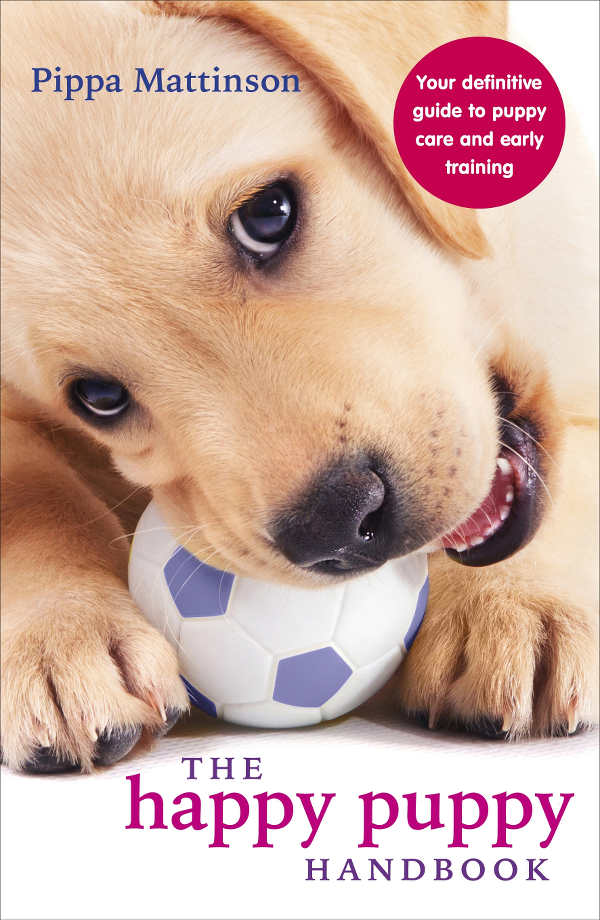 The Apple Head Chihuahua is also more susceptible to dental issues and ocular issues. Including eye injury and eye infection due to his skull shape and protruding eyes.
Apple Head Chihuahua Puppies
When going through a breeder, always make sure you do plenty of research. Keep in mind that reputable breeders will have previously health screened their litters. They will be able to offer you certificates proving their dogs are healthy and ready to be purchased.
Well, when going through a breeder, you can expect to pay anywhere from $500 to over $1000 on your puppy. Prices will be higher if the parent dogs are show quality.