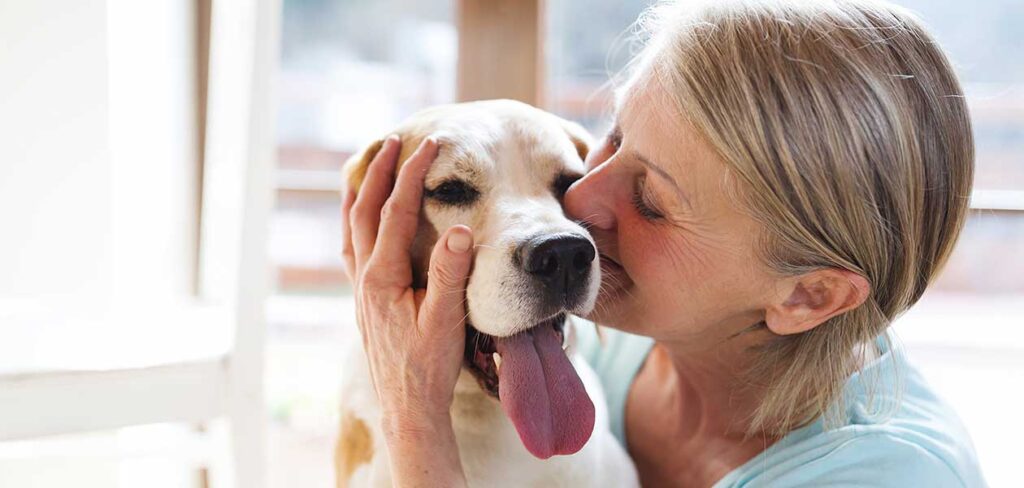 Therapy dogs work with their owners to offer emotional and psychological support to other people. This can be for in nursing homes, hospitals, schools, and more.
Therapy dogs can be used to combat loneliness or depression. They are also used to help people cope with emotional traumas.
The three general types of therapy dogs are: therapeutic visitation dogs, animal assisted therapy dogs, and facility therapy dogs. But, none of these types are considered service dogs.
Frequently Asked Questions
Many people are curious about the exact roles and responsibilities therapy dogs have. Take a look at some of the most common questions we get below:
Let's get started by taking a more detailed look at what a therapy dog is.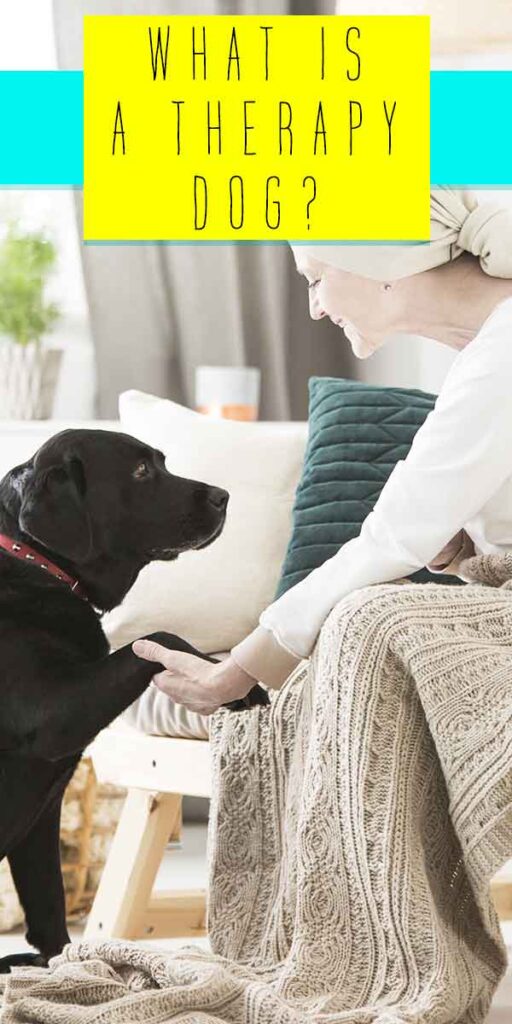 What is a Therapy Dog?
Many dogs meet the criteria required to become a therapy dog, but this doesn't mean they are certified therapy dogs.
According to the AVMA, therapy animals are used in goal-oriented interventions where the animal is vital. This can be for individuals or for groups of people.
Therapy animals are used in a variety of situations, for a huge number of different people. Here are some examples of therapy dog uses:
Certifications
There's actually no universally recognised qualification process for therapy animals.
But, official therapy dogs must be registered with official organisations online. Such as Therapy Dogs International and Service Dog Certifications.
You can also earn titles and qualifications for your therapy animal with organisations like the AKC and CGC.
Successfully qualified dogs are calm, friendly, social, and affectionate. They won't shed excessively, and are not overly energetic or boisterous.
They are also able to adapt quickly to different environments – so they must be socialized well as puppies.
Types of Therapy Dogs
It might surprise you that it's not just dogs that qualify as therapy animals! Cats, small pets like rabbits, and even horses can qualify!
Therapy animals typically fall into one of three categories.
Firstly, there are therapeutic visitation animals. These animals visit locations to provide support for people living away from home or suffering from illnesses.
Some of the most common places they visit are rehabilitation clinics, nursing homes, and hospitals.
Secondly, we have animal assisted therapy animals. These dogs work with therapists in rehabilitation environments to help patients meet goals for recovery.
Finally, there are facility therapy animals. These dogs are most common in assisted living facilities or nursing homes. They help people with mental illness, dementia, or Alzheimer's.
Are Therapy Dogs Service Dogs?
There are some important distinctions between therapy dogs and service dogs that owners should be aware of. Therapy animals do not qualify as a type of service animal.
Service dogs are specially trained to perform certain tasks for individuals who cannot do them alone or at all. Whereas therapy animals are most often only there to offer support and assist therapy.
Service dogs have full access to all public areas and most private facilities, as their owners often need them at all times.
However, this doesn't extend to therapy dogs. Some public and private places do not allow therapy animals.
Therapy animals are also not trained to perform tasks like reminding someone to take medication or detect the onset of a seizure.
Local laws will tell you exactly where your therapy dog can and can't go.
Best Therapy Dog Breeds
The best therapy dog breeds should have friendly, affectionate temperaments. They need to be social, but not overly energetic and boisterous.
Most therapy animal organisations will register any breed.
But, here are some common breeds that are popular as therapy animals:
Can you think of any great candidates to include in this list?
How to Get a Therapy Dog
If you are searching for a therapy dog to help yourself, you should think carefully about whether you mean a therapy dog or a type of service dog.
Many people who suffer from extreme anxiety attacks, or issues like Post Traumatic Stress Disorder actually need service dogs, not therapy animals.
Therapy dogs are not allowed in all environments. So they won't be able to help you in all public or private places if you suffer with problems like these.
Instead, therapy animals usually go to people or places where they can offer support, comfort, or companionship.
If you are part of a facility seeking the help of a therapy dog, the best place to start your search is to contact some official organisations where therapy dogs are registered.
Can I Make my Dog a Therapy Dog?
If your dog has all the characteristics that an ideal therapy animal needs, you might be keen to register them as one.
There are a huge number of organisations you can turn to in order to register your dog. So, you should research which one is best for you.
Assessment processes will differ depending on the organisation. The best way to find out what will be expected of your dog to pass this assessment is to look at the organisation's website.
Some organisations may only require basic obedience training. However, depending on the therapeutic activities you intend to use your dog for, you may need to complete further training.
Some organisations and kennel clubs may also offer additional titles for experienced therapy dogs. So, it's a great idea to research these and find out how to achieve them.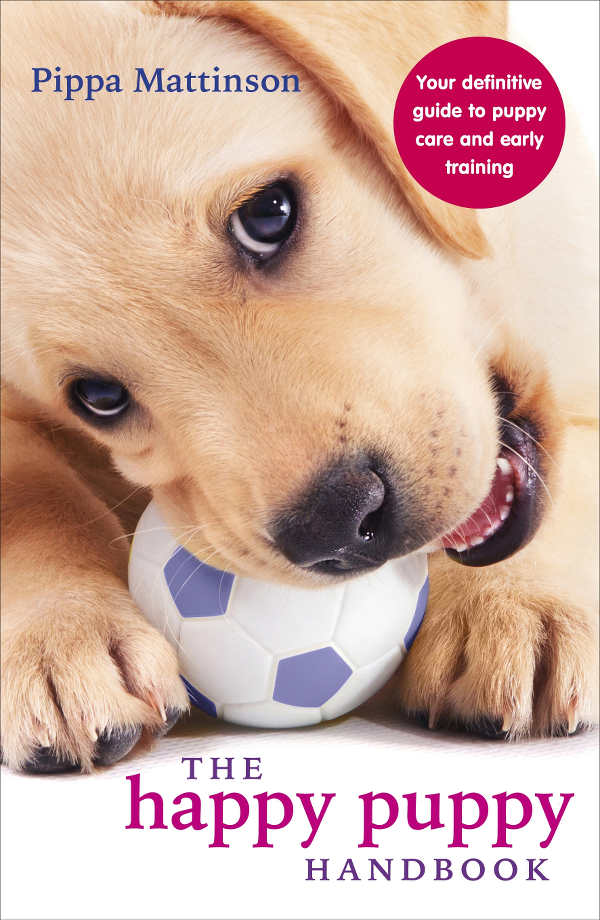 How to Train a Therapy Dog
As we've just seen, therapy dogs need different levels of training depending on the therapeutic activities they will participate in.
But, as a base minimum, you should train your dog with basic obedience. This will prevent your dog from jumping up at or accidentally hurting vulnerable people.
Proper socialization is vital for all therapy dogs. Well socialized puppies are happier and more confident in new or unfamiliar situations, which is vital for therapy dogs.
Socialization is also great for reducing fear based reactions and aggression.
So, before your puppy reaches 12 weeks old, introduce them to as many new people, animals, and environments as possible.
Particularly the places they will visit when they are a fully grown therapy dog.
Therapy Dogs – Summary
Do you have a therapy dog at home, or are you just keep to register your pup as one? We would love to hear about your experiences with therapy animals in the comments.
Which breed do you think is the best at this job?
Readers Also Liked
References and Resources