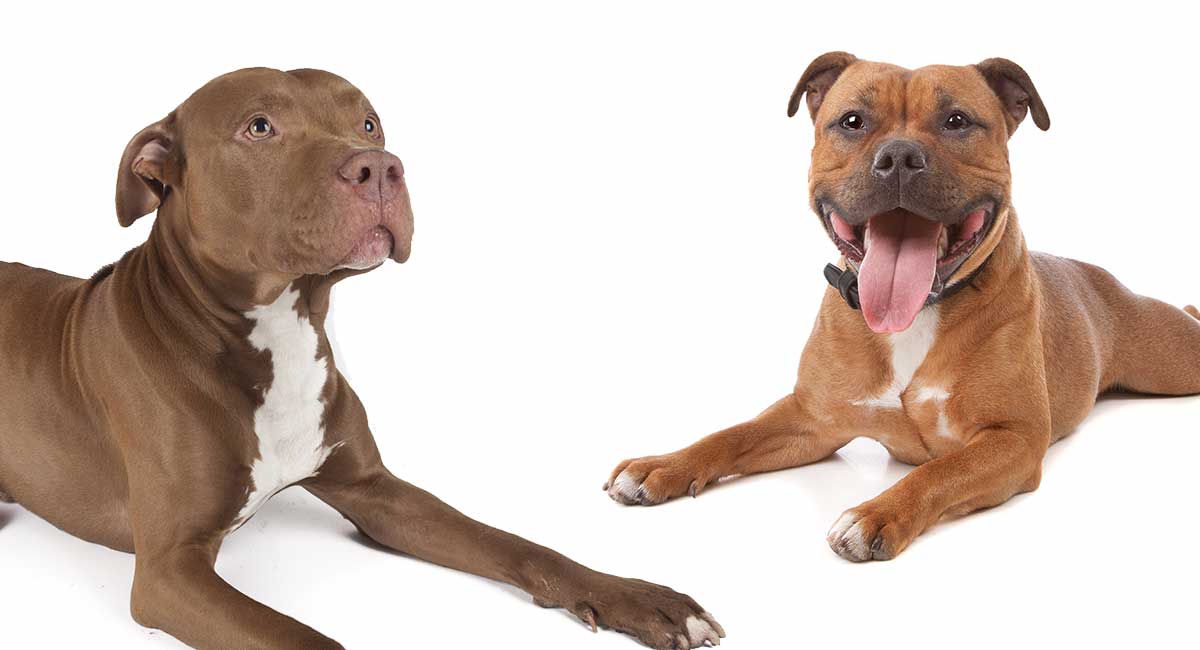 Welcome to Staffordshire Bull Terrier Vs Pitbull!
In this article, we will be covering how the Staffordshire Bull Terrier compares to other Pitbull breeds in terms of histories, temperaments, training and exercise needs, and health.
"Pitbull" is a rather vague term, but it is typically applied to the following breeds:
American Pitbull Terrier
American Staffordshire Terrier
Staffordshire Bull Terrier
American Bully
Because we are comparing Pitbull breeds, you will notice that they have a lot in common.
More about Pitbulls:
One such commonality is their history, which we will talk about next.
Staffordshire Bull Terrier Vs Pitbull History
The Staffordshire Bull Terrier hails from the Bulldog and the British Terrier. Bulldogs were used in bear and bull baiting sports, but once that was outlawed, dog fighting became popular.
The Bulldog was crossed with the British Terrier in order to take advantage of the Terrier's agility and the Bulldog's muscle.
This history is nearly the same for all Pitbull breeds, as they are descendants of Bulldogs crossed with some type of terrier for fighting purposes.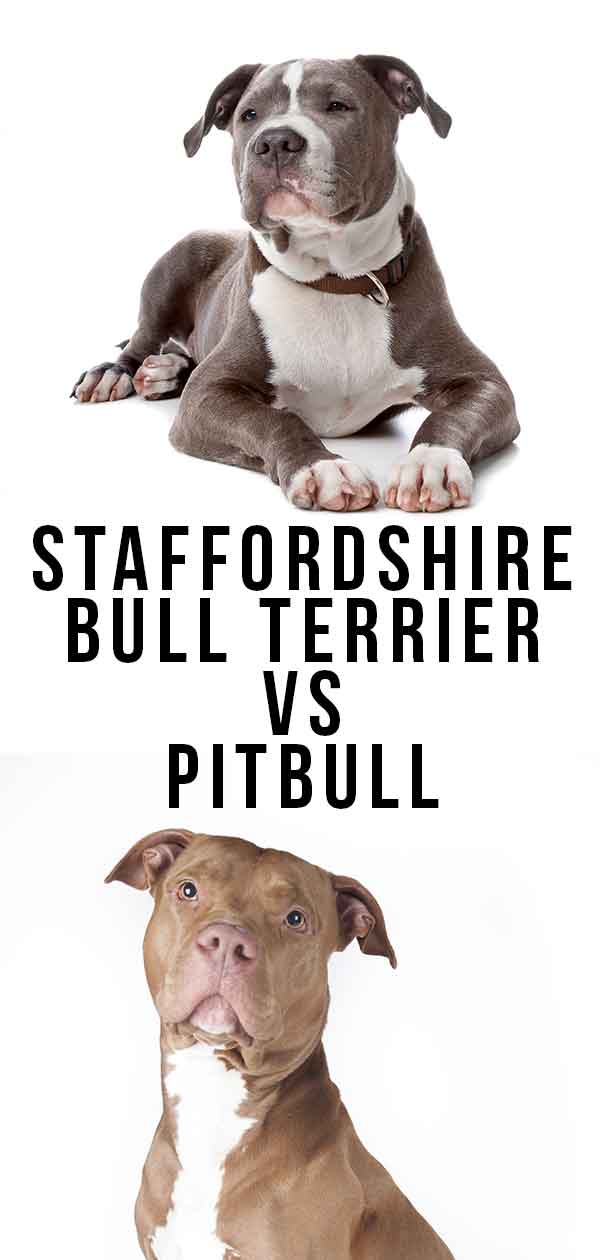 Staffordshire Bull Terrier Vs Pitbull Appearance
Staffordshire Bull Terriers are between 14 and 16 inches tall, and weigh between 24 and 38 pounds, making them small to medium-sized dogs.
They have a muscular, stocky build and a short, smooth coat. Their ears are relatively high on the head and can be half-pricked or rose.
Other Pitbulls are similarly muscular and stocky in build, but size varies. For instance, the American Staffordshire Terrier can weigh up to 70 pounds.
Some Pitbulls also have cropped ears,which is uncommon for Staffordshire Bull Terriers.
Pitbulls commonly have short coats that don't require frequent grooming.
The list of possible coat colors and markings for a Staffordshire Bull Terrier is extensive, and you can learn more about them on the AKC's website.
Pitbull breeds in general have a number of possible colorings. According to the UKC, only merle and albino are unacceptable.
Staffordshire Bull Terrier Vs Pitbull Temperament
The Staffordshire Bull Terrier can be a loving, affectionate companion animal, despite its fighting history.
These dogs are loyal members of the family, and are just as sweet as any other breed.
However, they are often considered stubborn and impulsive, potentially making them a bad choice for first time owners.
You may be wondering if the Staffordshire Bull Terrier is aggressive or not. Most Staffordshire Bull Terriers are not aggressive.
However, there are always "bad apples," as well as dogs that have been mistreated or lack socialization.
The Staffordshire Bull Terrier is often a confident dog who won't back down from a challenge, which could be a problem when interacting with other dogs.
Early socialization can help your dog get along with others.
Neutering a male Staffie can help avoid conflict between dogs due to sexual competition.
Some common terms used to describe Pitbull breeds (including Staffordshire Bulls) are confident, tenacious, stubborn, courageous, smart, and loyal.
Pitbull Commonalities
In general, Pitbull breeds have a similar temperament because they are dogs who share the same history.
As far as aggression goes, one study found that children were at higher risk of being bitten by a Pitbull than adults. This could be due to children's naivety and lack of knowledge of how to interact with dogs.
Just like the Staffordshire Bull Terrier, it is recommended that other Pitbull breeds be supervised around other dogs. Pitbulls have shown a higher rate of aggression toward other dogs than they do toward people.
It's important to consider the potential for aggression because of the history of these dogs.
Since they were bred to be fighters, dogs that showed "fight inhibition" would not have their bloodlines continued.
Fight Inhibition and Aggression
Fight inhibition can be described as a general unwillingness to fight.
Most dogs don't prefer to fight, but will under certain circumstances, such as for survival, disputes over territory, or sexual competition.
When dogs scuffle, fight inhibition is what keeps them from fighting to the death — instead, they only fight until one party surrenders.
However, fight inhibition wouldn't have made for very interesting dog fights.
This is why early Pitbull breeders only mated dogs that didn't display this quality. Instead, they selected dogs that showed what they called "gameness."
These dogs would attack without provocation, and would often fight until overcome by exhaustion. They were also not afraid to fight to the death.
Responsible breeders today have been making considerable efforts to rid Pitbulls of gameness. But it is impossible to know whether a dog has a genetic predisposition for the trait or not.
That is why it is important that Pitbull owners are diligent, always taking care to supervise their animals as well as use restraints such as leashes when necessary.
Pitbulls, including the Staffordshire Bull Terrier, are best suited to those who are dedicated to training and socialization.
These dogs absolutely must go to responsible owners who understand their dog's history and potential to exhibit the gameness trait.
First time owners who are interested in Pitbulls should be prepared to spend ample time and money on training.
You may need to hire a professional, private trainer as it is incredibly important that these dogs are obedient.
Staffordshire Bull Terrier Vs Pitbull Training
Staffordshire Bull Terriers should receive obedience training from a young age.
Enroll them in group classes so that they can be socialized and learn how to behave even when there are distractions such as other dogs.
Despite its size, a Staffordshire Bull Terrier may surprise you with its strength. Therefore, it's important to work on things like leash manners early on.
The same is true for bite inhibition. Working on this will prevent future accidents that can occur when a dog gets too excited during play.
Staffordshire Bull Terriers are smart dogs and can learn quickly, but they are impulsive. Owners should stay on their toes rather than wholeheartedly trusting in their dog's obedience.
Similarly, most Pitbull breeds, even the smaller ones, are muscular, strong dogs. This means that they, too, will need obedience training before they get strong enough to walk you instead of the other way around.
Just like the Staffordshire Bull Terrier, many Pitbulls are confident dogs that will face any challenge. They should never be left unsupervised around other dogs, even if they are well socialized and dog friendly.
Staffordshire Bull Terrier Vs Pitbull Exercise
Staffordshire Bull Terriers are athletic dogs that need a moderate amount of exercise. This could be a long, brisk walk or even a jog.
Because of their propensity to overheat, it is suggested that exercise during the summer months be done during the coolest time of day.
Unfortunately, swimming is not a good option for exercise, because many Staffordshire Bull Terriers can't swim well due to their muscular build.
Similarly, other Pitbull breeds have trouble swimming as well. However, you can purchase a life vest for your dog if you'd like to take it swimming.
Exercise in the winter can also be tough because many Pitbulls, including the Staffordshire Bull Terrier, do not do well when it is especially cold out.
Their short coats may not protect them against a cold winter, so you'll have to take precautions to keep them comfortable and warm.
The amount of exercise other Pitbull breeds need will depend on their size and individual energy levels.
If your dog is bored, it needs more mental or physical exercise.
Staffordshire Bull Terrier Vs Pitbull Health
Staffordshire Bull Terriers can suffer from:
skin allergies
hip and elbow dysplasia
cataracts
patellar luxation
Persistent Hyperplastic Primary Vitreous (PHPV)
Posterior Polar Subcapsular Cataracts (PPSC)
L-2-Hydroxyglutaric Aciduria (L-2-HG).
L-2-HG is a hereditary metabolic disorder that can lead to unfortunate symptoms, including seizures, ataxia, and psychomotor retardation.
Sadly, there is no cure, and while some Staffies are able receive treatment for their symptoms, others must be put to sleep.
Healthy Staffordshire Bull Terriers will live for 12 to 14 years.
Pitbull breeds are at risk for:
skin allergies
hip and elbow dysplasia
cataracts
cardiac issues
patellar luxation.
Most Pitbull breeds will live upwards of 10 years.
There is health testing available to ensure that you are getting your puppy from healthy parents. The breeder should be able to provide the results of the health tests.
Because of their short coats, Pitbulls don't need frequent grooming. However, their nails should be trimmed as needed and their teeth brushed often. Dogs with hanging ears should have them checked for infection regularly.
When it comes to food, the rules are pretty much the same for any breed. Choose high quality foods that match your dog's age. Determine how much to feed based on weight and activity level.
Which Breed Makes A Better Pet?
Because Pitbull breeds are so similar, it's up to you which you prefer.
With any Pitbull, you are looking at a confident dog who is loyal and often affectionate toward his owners.
However, a Pitbull will need dedicated training and extra supervision outdoors. Pitbulls are clever dogs who can even figure out how to escape a fenced-in yard.
Because of their affectionate nature, Pitbulls can be good family pets, but it's important that they're supervised around children.
Do you think a Pitbull could be a good fit for you?
Other Breed Comparisons
There are plenty of other breed comparisons around for you to enjoy!
Check out a few others here:
References and Resources
Abramson, Carley J., et al. "L-2-Hydroxyglutaric Aciduria in Staffordshire Bull Terriers." Journal of Veterinary Internal Medicine, vol. 17, no. 4, July 2003, pp. 551-556.
Duffy, Deborah L., et al. "Breed differences in canine aggression." Applied Animal Behavior Science, vol. 114, no. 3-4, 2008, pp. 441-460.
Golinko, Michael L., et al. "Characteristics of 1616 Consecutive Dog Bite Injuries at a Single Institution." Clinical Pediatrics, vol. 56, no. 4, July 2016.
Lockwood, Randall and Kate Rindy. "Are 'Pit Bulls' Different? An Analysis of the Pit Bull Terrier Controversy." Anthrozoos: A Multidisciplinary Journal of the Interactions of People and Animals, vol. 1, no. 1, Mar. 1987, pp. 2-8.