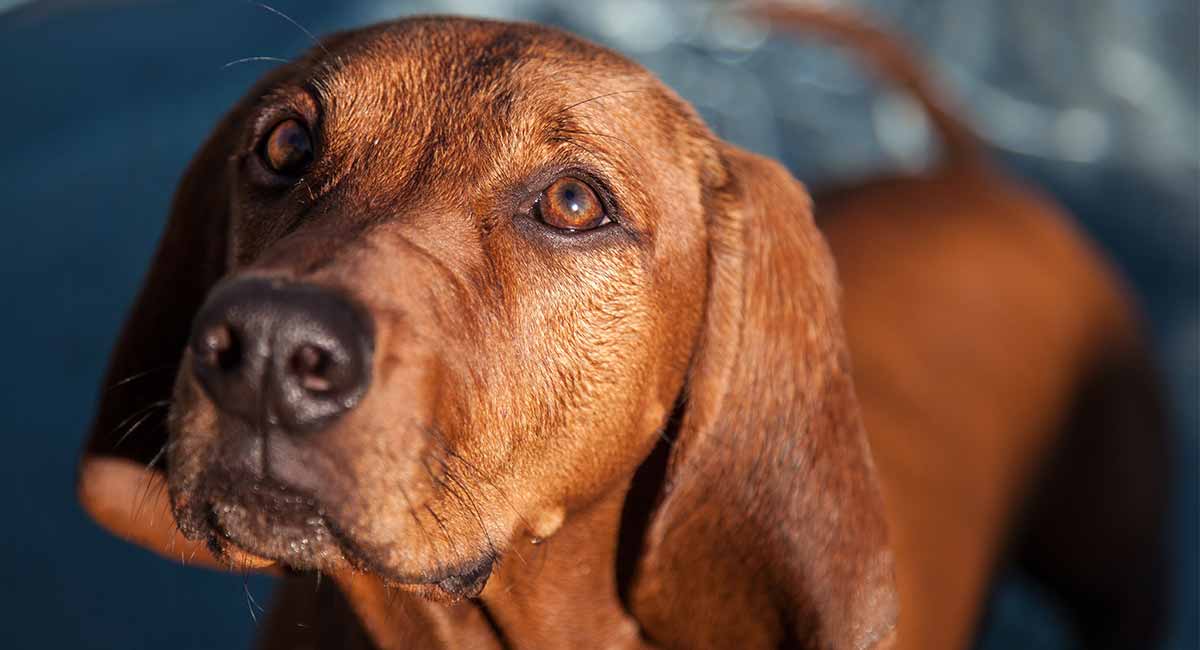 The Redbone Coonhound is a streamlined scenthound, recognizable for their sleek and stunning mahogany coat.
While this medium-sized dog is considered to be one of the most laidback of the Coonhound breeds, they're anything but easy going when hunting.
Swift and sure-footed, these dogs move with a determined gait over any terrain.
This versatile breed is amiable and affectionate with family and tireless and tenacious on the trail.
Could the Redbone Coonhound be the right dog for you? Read on to learn more about this all American breed.
Where Does the Redbone Coonhound Come From?
Like most of the Coonhound breeds, the Redbone is descended from Foxhounds, Bloodhounds, and possibly Irish Hounds.
Red Foxhounds brought to the US by Scottish immigrants in the late 1700s, formed the basis of the breed.
George Birdsong – a breeder and fox-hunter from Georgia – is credited with developing the breed into a fast hunter with a hot nose for treeing raccoons.
These early dogs were called 'Saddlebacks' because of the black saddle markings over their back.
Through selective breeding, this trait was bred out in favor of a solid red color.
Fun Facts About the Redbone Coonhound
In the young adult novel, Where the Red Fern Grows: The Story of Two Dogs and a Boy, the two dogs, Little Ann and Old Dan, are both Redbone Coonhounds.
You may think this dog gets his name from his flashy red coat but it's possible the breed was named for Tennessee breeder, Peter Redbone.
A Redbone Coonhound also appears in the 1976 Clint Eastwood film, The Outlaw Josey Wales.
Redbone Coonhound Appearance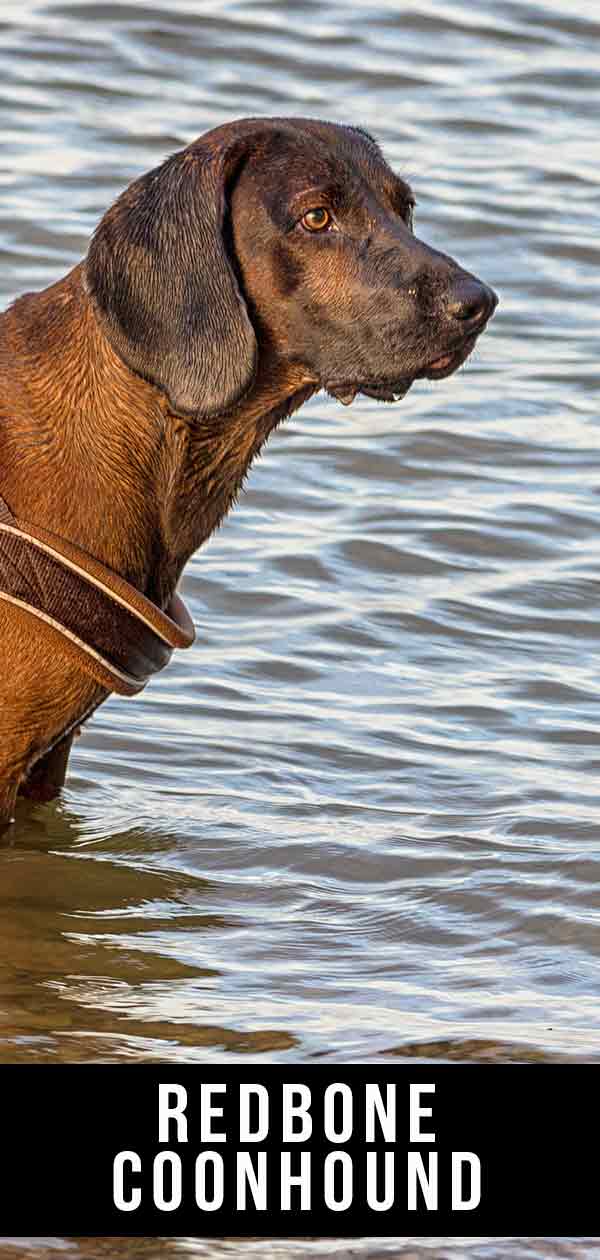 Male Redbones stand from 22 to 27 inches and females from 21 to 26 inches, while their weight ranges from 45 to 70 pounds.
Under that gorgeous mahogany coat is a muscular, well-balanced physique of square proportions, with a strong, straight back.
This handsome dog presents a confident air, with a deep, broad chest, and strong legs. In addition, their head is characterized by a long snout and is flanked by large, floppy ears.
Dreamy dark brown to hazel eyes give their face a pleading expression.
The short, glossy coat comes only in red, but there can also be white markings on the chest and feet.
Redbone Coonhound Temperament
Redbone Coonhounds are even-tempered, kind, friendly, gentle, affectionate, and eager to please.
They make great companions and love to be around people.
Redbones also get along well with children, but toddlers should always be supervised around them.
They also have a reputation for being mellower and more manageable than their Coonhound cousins.
But make no mistake, these dogs were bred to tree raccoons and can be relentless when in pursuit. They have a natural inclination to chase small, furry animals.
Temperament around other Animals
Like all scent hounds, they love nothing more than to get a good whiff of something and follow it wherever it goes. Redbones can be quite independent and stubborn under these circumstances.
Barking is another trait the breed is known for. Some describe it as howling or baying and it can be very loud.
Since they were bred to hunt in dog packs, they generally get along fine with other canines. Their proclivity to chase means that cats and small animals can be viewed as prey.
Some Redbones can get along with small pets if they've been brought up together, but these dogs need to be very well socialized.
So even if they are friends with your cat, the neighbor's feline may not fare so well.
Training Your Redbone Coonhound
Although Redbones are hyped as being easier to train than other Coonhounds, you're still going to need lots of patience with this breed.
It's tough to get these dogs to do something they don't want to.
Training and socialization should begin early before he or she becomes accustomed to doing things their own way.
This will make training much more difficult.
The instinct to track game is deeply ingrained in this breed. Once they catch a scent it can be extremely difficult to call them back. They'll need to be taught obedience such as walking on a lead.
These dogs can be headstrong and slow to mature. They also have a short attention span, so keep training sessions concise and fun.
Redbone Coonhounds will respond well to positive training methods that use treats as rewards, as they're very food motivated.
Exercising Your Redbone Coonhound
The Redbone Coonhound is a high-energy, athletic dog.
They enjoy vigorous activities like hunting and swimming and also excel in dog sports such as agility. As long as they get enough exercise, these dogs will be quite content to relax around the house.
They make excellent hiking companions as they're easily able to navigate over any type of landscape.
However, long daily walks and running around a fenced yard should suffice to keep them well-exercised.
But make sure the enclosure is secure. If they catch a whiff of an enticing scent, the Redbone will make a break for it.
Redbone Coonhound Health
Redbone Coonhounds are a healthy breed with a long lifespan of 12 to 15 years.
Like all purebred dogs, they have the potential to inherit genetic diseases such as:
Hip Dysplasia
Studies done by the Canine Orthopedic Foundation of America have found up to 16% of Coonhounds suffer from hip dysplasia.
This condition usually arises due to an abnormally developed hip joint, but an injury that sustains cartilage damage can also be the cause.
Joint laxity is typically followed by varying degrees of pain and degenerative joint disease.
Coonhound paralysis
Coonhound paralysis is a sudden inflammation of the nerves. This disorder may occur if the dog comes in contact with raccoon saliva.
However, not all dogs with symptoms have been anywhere near raccoons. The scientific name for this disorder is acute idiopathic polyradiculoneuritis (ACIP).
Although the exact cause of ACIP is unknown, some dogs show signs after being vaccinated or following a gastrointestinal or respiratory infection.
Symptoms typically appear within 7 to 14 days. Dogs present with a stiff-legged gait that quickly worsens to paralysis of all four legs.
Most dogs will recover, but depending on the individual, it can take days, weeks, or months.
Eye Diseases
Redbone Coonhounds are at risk for several eye diseases.
Progressive retinal atrophy is a group of inherited eye diseases that affect the retina and retinal cells.
Sudden acquired retinal degeneration (SARD) is a disease which results in sudden, permanent vision loss that typically affects middle‐aged to older female spayed dogs.
Entropion, cataracts, cherry eye, and glaucoma have also been found.
Bloat
Coonhound breeds are also at risk for the emergency condition commonly known as bloat.
Gastric Dilatation Volvulus (GDV) can occur in two stages in which the stomach first fills with air and then twists, cutting off blood supply to the organs.
Although the actual cause of this terrible condition is unknown, it usually affects large, deep, chested breeds and there appears to be a connection with activity.
For this reason, you should not exercise your dog for at least an hour before or after they eat.
Grooming and Feeding Your Redbone Coonhound
The Redbone's smooth, short coat requires a minimal amount of care.
Once a week use a grooming mitt to reduce shedding and keep natural oils distributed for a glossy coat.
Scenthounds like the Redbone can have an odor that's described as a 'houndy' or musty smell.
Bathing can minimize it, but won't eliminate this scent entirely.
Redbones have long ears which can be prone to infection. You need to check them on a weekly basis and remove excess wax and debris.
Like all breeds, their nails need to be trimmed and their teeth brushed regularly to ensure good dental health.
Feed your Redbone Coonhound a good quality, high protein dog food that's appropriate for his breed size and age.
They are susceptible to overeating, which can lead to weight gain and the many problems associated with being overweight.
Do Redbone Coonhounds Make Good Family Dogs?
Friendly, loyal, and even-tempered, the Redbone Coonhound makes an excellent family pet, provided they get enough exercise, attention, and training.
Ideally, they would do best in a rural lifestyle where they have room to roam and their loud bay won't drive the neighbors crazy.
However, this breed can be quite adaptable when he knows he's loved.
Other dogs in the family shouldn't be an issue, but cats and smaller pets may pose a problem.
Older children will get along great with the playful Redbone.
Rescuing a Redbone Coonhound
Despite not being a terribly common breed (they currently rank 142nd in breed popularity according to the AKC), you may get lucky and find a Redbone Coonhound in a shelter.
Adopting an older dog is an excellent option for those who don't want to put up with the rambunctious puppy stage.
Most importantly, when you get a dog from a shelter there's a very good chance that you're not only offering them a new home but saving their life.
Finding a Redbone Coonhound Puppy
If you're interested in a Redbone Coonhound puppy make sure to get one from a reputable breeder as pet stores are almost always supplied by puppy mills.
Although these dogs may be less expensive than purchasing from a breeder, they live in deplorable conditions with little money spent on food or veterinary care.
Kept in small cages, they're unlikely to get much exercise or socialization.
Good breeders are happy to let you visit where the puppies live so you can see the conditions puppies are brought up in.
They'll also have documented proof that their puppies have been health tested for genetic conditions.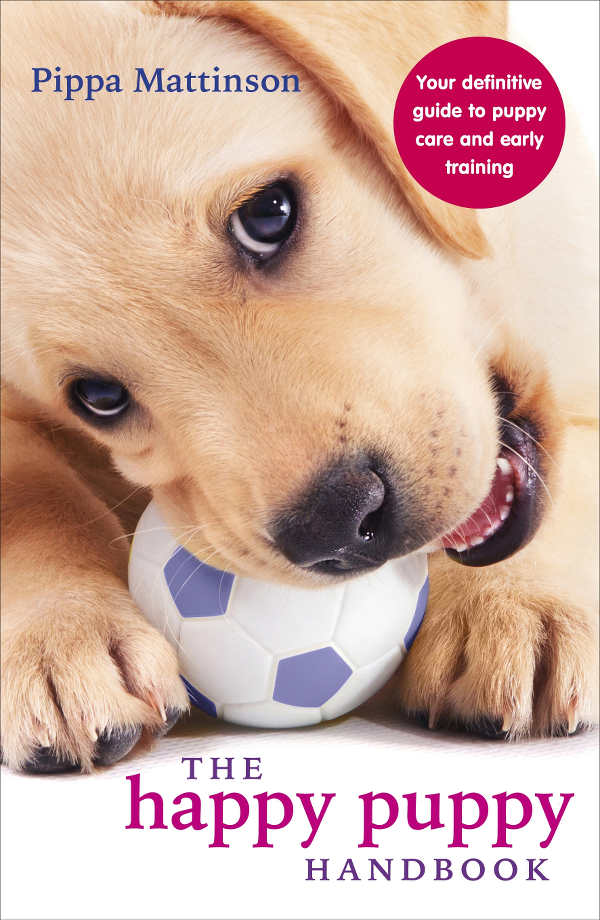 Our puppy search guide can give you a lot more information on the best way to find a puppy.
Raising a Redbone Coonhound Puppy
Bringing a Redbone Coonhound puppy into your life will require a lot of time spent on training and socialization.
Our puppy care and puppy training guides will lead you through all aspects of your puppy's development.
Redbone Coonhound Products and Accessories
Here are some items to help you care for your Redbone.
Best Dog Leashes
Top Pet Odor Eliminator
Pros and Cons of Getting a Redbone Coonhound
Whether you want a puppy or an adult Redbone Coonhound, here are some pros and cons to think about before bringing one into your home.
Cons:
Requires plenty of exercise
Loud baying
Strong instinct to chase small animals
Can be stubborn and difficult to train
Houndy odor
Pros:
Friendly with people and other dogs
Very healthy
Low maintenance grooming
Handsome and intelligent
Laid-back and adaptable as long as they get enough exercise
Similar Breeds
So, if you're still undecided or are having trouble finding a Redbone Coonhound, here are some similar Hound breeds to consider.
Redbone Coonhound Rescues
Looking for an older Redbone? Check these rescues that specialize in Hound dogs located in the US, UK, Canada, and Australia.
If you know of other shelters, please add them in the comments box.
Is a Redbone Coonhound Right For Me?
Active families who want a kind-hearted, affectionate family pet and are able to provide him with enough love and exercise should consider this breed.
Do you have room in your home and your heart for the Redbone Coonhound?
Let us know in the comments.
References and Resources
Canine Orthopedic Foundation of America
Bloat in Coonhounds, The Animal Guardian Society
Henry, GA, 'Radiographic Development of Canine Hip Dysplasia,' Veterinary Clinics of North America: Small Animal Practice, 1992
Cummings, JF, et al., 'Coonhound paralysis,' Journal of the Neurological Sciences, 1967
'Paralysis Arises from Close Encounters of the Dog-Raccoon Kind,' College of Veterinary Medicine, University of Illinois, 2017
Heller AR, et al., 'Sudden acquired retinal degeneration in dogs: breed distribution of 495 canines,' Veterinary Ophthalmology, 2016