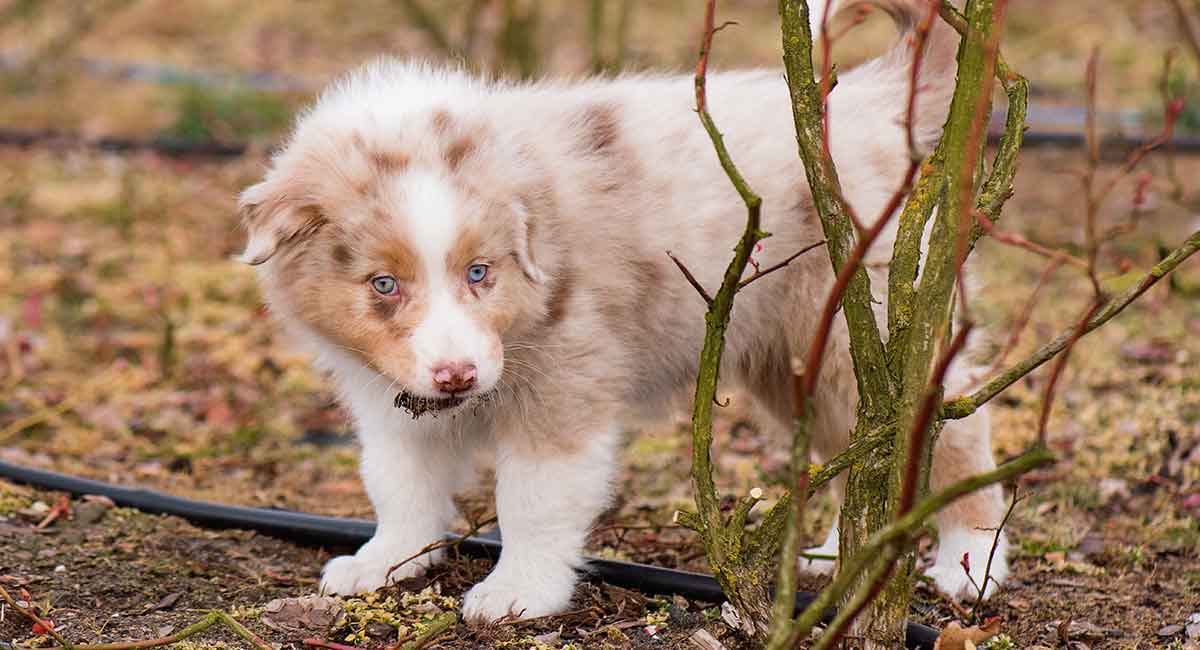 Red merle Australian Shepherd is a bit of a confusing and misleading name. The color red can mean a few things in dogs. It can refer to anything from a very light champagne or cinnamon color, to a strawberry blonde shade. It can even refer to what appears to be rust, copper, sienna, or other shades of brown-red or brown-black. This variety of shades is why breeders sometimes refer to the red color in Australian Shepherds as the red spectrum of colors instead of just saying red. It can be helpful to remember this as your puppy grows up, since Australian Shepherd coats often darken naturally as dogs grow older.
Contents
Today I'll share how the genes that create merle Aussie colors can be dangerous and what breeders do to make them safer. You'll learn how the fur on your red Aussie will change as your puppy grows, and why it is quite unlikely any two red merle Australian Shepherd dogs will ever look exactly the same!
Aussie Breed Standard Colors
The red merle Aussie is just one of for different recognized colors for the breed. The official Australian Shepherd dog breed standard specifies that these colors are solid black, solid red (also called liver), blue merle and red merle.
All four colors may also include white or tan (copper) markings (ticking or points). Black ticking is also possible.
Blue merle and black colored dogs typically have black lips, noses, and eye rims. Red and red merle colored dogs have liver (red) lips, noses, and eye rims. So as your red merle Australian Shepherd puppy grows up, you may see red (liver) spectrum, copper (tan) spectrum and white spectrum markings develop in the coat, as well as black markings on occasion. And your puppy will most likely also have a liver (red) spectrum nose, lips and eye rims.
Color Vs Pattern
Australian Shepherds can inherit two basic colors – red or blue. Merle is actually a pattern rather than a color and both those two colors can be solid or merle. So you can have a solid blue Australian Shepherd and a blue merle Australian Shepherd just as you can have both plain and sold in the red color.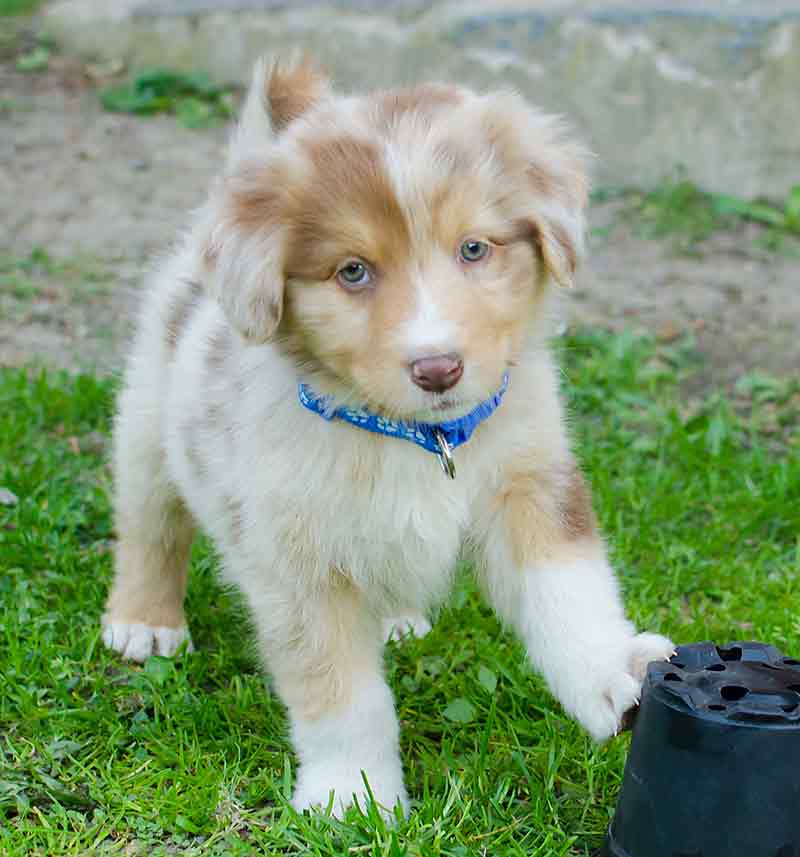 A self or solid coat color pattern will express (show up) as one single coat color throughout. A merle color pattern, on the other hand, can show up with incredible variety from puppy to puppy. This is even true within a single litter! The merle gene also acts as an influencer for paw pads color, eye color, nose color and lips color.
The Genes For Color
We tend to name genes with letters. The gene that causes the red coat color is written down using a lower case letter 'b' because it is a recessive gene. I'll explain that in a moment.
The gene that causes the blue coat color is written as an upper case B because it is a dominant gene. Dominant genes can switch off recessive genes effectively over-riding them.
Each puppy inherits a 'bee' gene from each of their parents. And to have a red coat the puppy must have two of the recessive 'bee' genes. Like this: bb. One from each parent. If it has a little b from Mom and a big B from dad (or vice versa) like this: Bb, the big B will over-ride the little b and the puppy will be blue.
This means that both parent dogs must contribute the recessive red coat color gene in order for your puppy to pop out with a red coat. This doesn't mean both parents must be red, because a blue merle Aussie or solid blue Aussie, can carry the red gene and pass it on.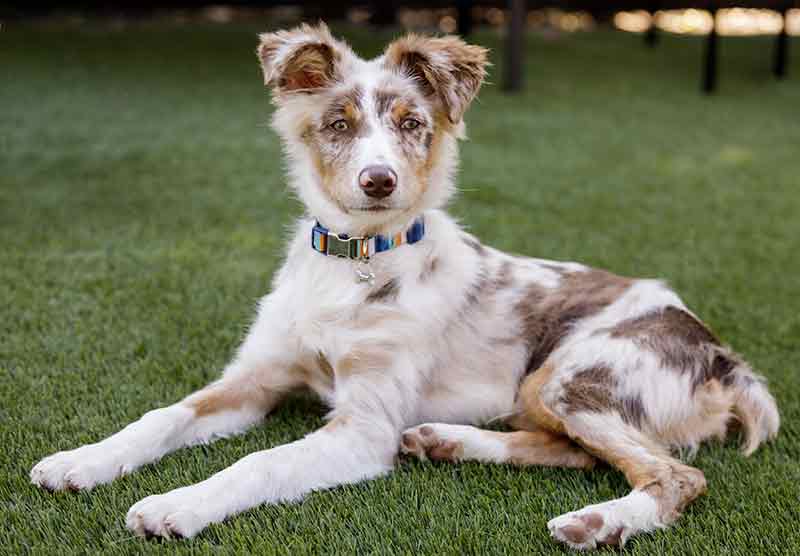 The Genes For Pattern
The gene that causes the merle coat color pattern has been named M. In this case the Merle gene M is the dominant one, so an uppercase M gene will over-ride the lowercase 'm' gene that gives a solid coat. A puppy needs only one M to have the beautiful Merle coat, but that's not the end of the story. Because if the puppy were to inherit two M genes, one from each parent, bad things can happen.
Dogs with two Merle genes like this: MM are known as Double Merle. And the double merle gene comes with some very serious health problems. That's because the M or Merle, gene does more than just influence the distribution of colored pigment throughout the coat. It also causes pigment changes in the dog's ear and eyes.
The Double Merle Aussie
Double merles are also known as 'lethal whites'! A white Australian Shepherd, or at least one with very little color is often the result of the double merle gene. And the merle gene can cause serious damage to a puppy's eyes and ears.
Double merle Aussie puppies are so likely to suffer from ear and eye problems, even total blindness and deafness, that responsible breeders will never breed two merle dogs together. That's because in a merle to merle mating there are always likely to be some cause double merle puppies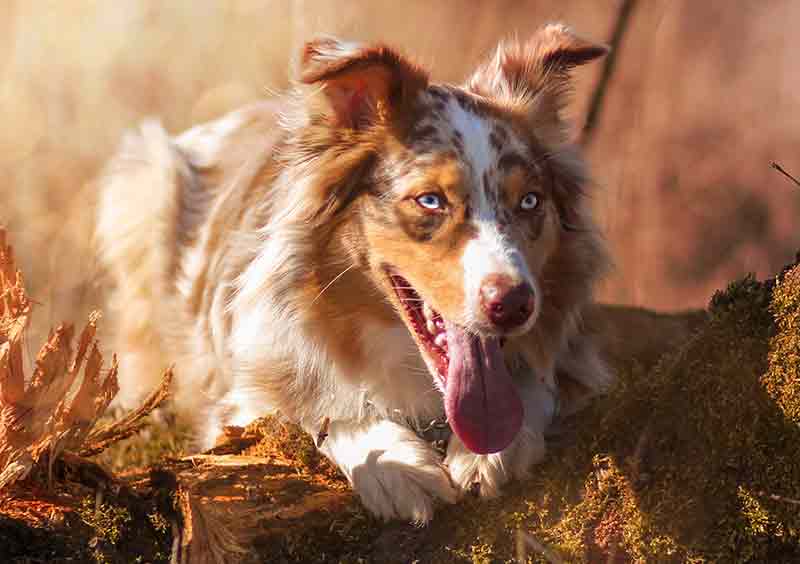 The Cryptic or "Phantom" Merle Gene
Along with full solid (self) coat colors and full merle coat color patterns, there is a phenomenon in dog breeding known as the cryptic or "phantom" merle coat pattern. This occurs when an Australian Shepherd dog has very faint merle markings that can easily be interpreted as a solid coat color.
A true cryptic merle Australian Shepherd has a different type of merle gene. They can safely be bred to a regular merle Aussie without risk of breeding double merle puppies.
But if a faint (phantom) regular merle dog that looks solid-colored is bred to a regular merle Aussie, this may result in double merle puppies.
Knowledgeable, health-focused dog breeders who carefully study canine genetics will be aware of potential heritable health issues and will carefully pair parent dogs to sidestep problems such as potentially breeding double merle puppies.
Eye Colors
To make things even more interesting, there are three solid eye colors. The solid black and red Australian Shepherd coat colors are typically paired with brown, amber or blue eyes. The eyes of dogs displaying the blue and red merle coat colors will often take on a flecked or "marbled" color pattern. A merle Aussie's eyes may even be two completely different colors or color patterns (called "Heterochromia").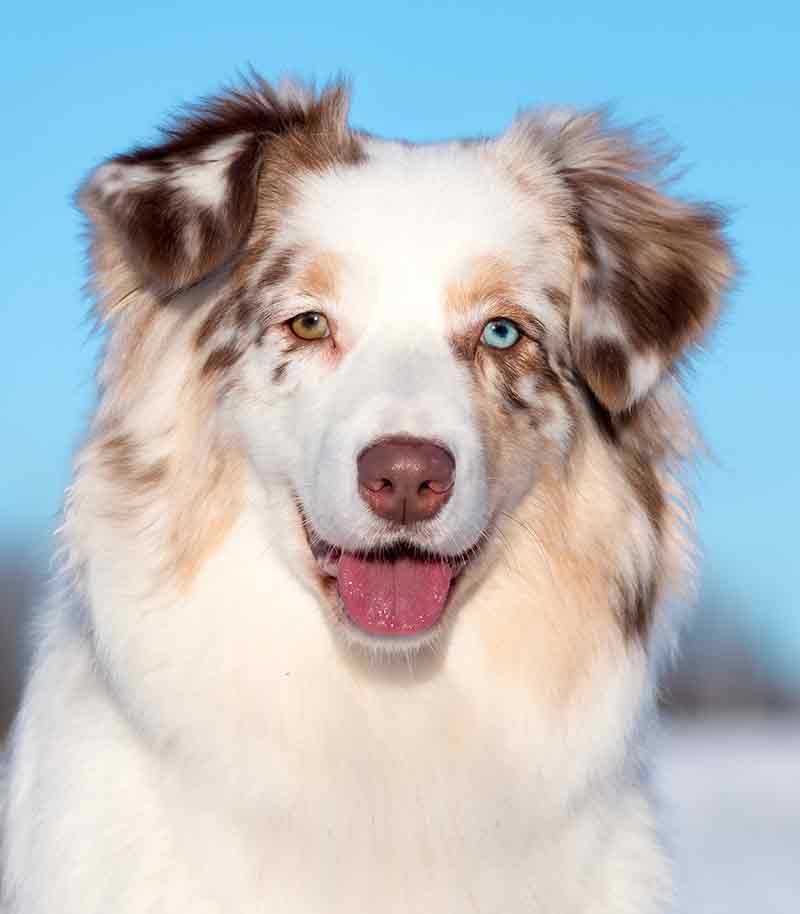 A red merle Australian Shepherd, for example, could inherit any of these eye color pairings:
Two solid brown eyes.
Two solid blue eyes.
One solid blue and one solid brown eye.
Two solid brown eyes marbled with blue.
Two solid blue eyes marbled with brown.
Two eyes each displaying a different brown/blue marbled pattern.
Your Merle Puppy's Changing Coat
Another area of canine coat color and coat pattern that can be confusing to newcomers is when breeders talk about the way a puppy looks now versus what coat colors and patterns you can expect to see as your puppy grows up.
For example, you may look at your adorable red merle Australian Shepherd puppy and not see what the breeder is talking about when they tell you your adult dog will probably have a darker base coat color, more colors in the coat, less white overall and even a different colored nose!

The reason knowledgeable Australian Shepherd dog breeders can predict these types of changes in advance boils down to the difference between your dog's phenotype (appearance) and genotype (genetics).
Here are some known genetic changes many (but not all) Aussie puppies go through when the puppy coat blows out and the adult coat starts to grow in:
Bi-color or merle-appearing puppies become tri-color.
Light puppy coat colors get darker and richer.
Markings and ticking begins to appear throughout the coat.
White markings in puppyhood shrink in size on the adult coat.
Puppy face mask colors and markings change in adulthood.
Eye color changes, lightens or darkens in adulthood.
Nose, lip, eyelid and paw pad colors change in adulthood.
Let's look at the genes that control color and pattern in your puppies coat. Because they are not the same thing.
Getting The Color You Want
It can take up to a year or longer for coat, nose, eye and other key colors to transition from puppy colors to adult dog colors. So you need to be able to trust your breeder's ability to predict how the puppies will turn out.
If you have your heart set on finding a litter of red merle Australian Shepherd puppies, the best approach is to find a breeder that specializes in the red merle coat color pattern to help you choose your pup based on parent genetics (genotype). And remember that you also need a breeder who understands the dangers of the merle gene, and who breeds dogs with the merle gene responsibly.
Origins Of The Red Merle Aussie
The "Australian" part of the Aussie's name is not precisely accurate. These dogs can actually trace their modern lineage all the way back to Europe. Over time, their European owners migrated to Australia and then on to America, making strategic breed crosses along the way.
Today's Australian Shepherd's coat colors still show traces of these influences inherited from the Pyrenean Shepherd and various Collie breeds. This includes the beloved Border Collie.
Red Merle Australian Shepherd Temperament
There is a reason the Australian Shepherd is so popular. It is the 16th most popular purebred pet dog in the United States (out of 193 purebred dog breeds). These dogs are smart, athletic, fun-loving, energetic and very hard-working. Owners often describe the Aussie as a "Velcro" dog. They are reserved towards strangers but incredibly loving and affectionate towards "their" people.
This does mean that you should be very diligent in socializing your new puppy. This means taking them out and about with you every day and making sure they meet many different people and are exposed to many different experiences before the critical period for socialization ends at about 12-14 weeks old. This will help to make sure your dog isn't too shy or reactive with strangers.
Are redheads more feisty?
One common question many prospective or new red merle Australian Shepherd owners have is whether coat can influence temperament.
The most accurate answer researchers have found to date is "probably not." Researchers studying mouse genetics discovered a match between a gene for red hair in mice and a gene for red hair in people that seems to predict what they call a "scrappy" temperament.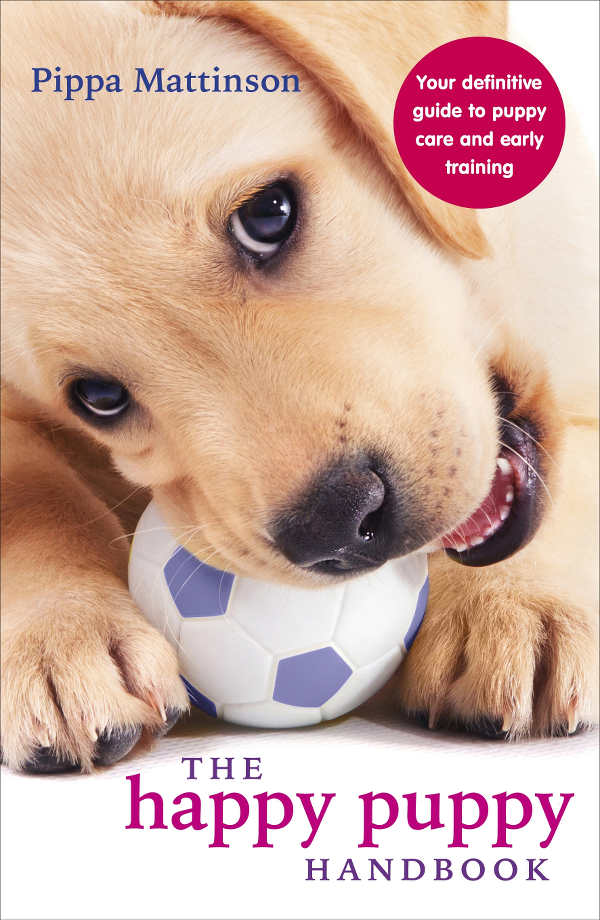 But the gene that causes the red coat color in Australian Shepherds is a different gene altogether and, thus far at least, has not been similarly associated with any temperament problems.
Meet the parents!
Rather, breeders and researchers point to the critical importance of selecting good breeding stock (parent dogs). These dogs will exhibit desirable temperament traits as well as appearance traits.
If you are still searching for your new red merle Australian Shepherd puppy, make sure the breeder you select permits you to meet and spend time with both parent dogs before you make a final commitment to a puppy.
The parent dog's temperament is still the best determinant of your puppy's temperament when fully grown.
Red Merle Australian Shepherd Grooming
The Australian Shepherd as a breed grows a thick, long, wavy, double layer coat in adulthood. True working Aussies really need this coat. It has a water-resistant outer layer and inner insulating layer, for protection against the elements.
The Australian Shepherd also needs this coat to be protective year-round. This means that when the seasons change twice a year, you can expect your dog to start shedding….and shedding….and shedding. These shed cycles replenish the coat layers so they can do their job well.
Otherwise, there is no real difference between black, blue merle, red or red merle Australian Shepherd grooming and coat care needs.
The one exception may be in Aussies with predominantly white coats. These may have more sensitive skin due to exposure to the elements. For these pups, you will want to be sure to use lots of de-tangling spray and be quite gentle when brushing out any tangles and mats.