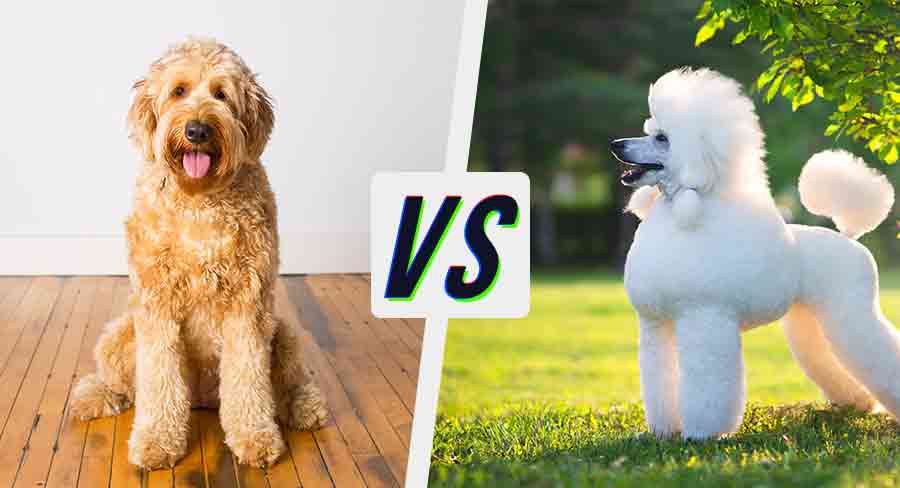 Choosing between a Poodle vs Goldendoodle is a dilemma lots of people would like to have! This in depth comparison of the Poodle and its Golden Retriever cross will help you decide which is the better match for you.
When comparing a Poodle vs Goldendoodle, there are more things they have in common than things which set them apart. Both dogs are intelligent, highly trainable, and very active. But there are subtle differences between them that can help you choose one over the other.
So let's find out more about them!
Poodle Vs Goldendoodle – Which is Best?
Which is the better pet – a pedigree Poodle, or a Golden Retriever Poodle cross? In fact, there's no right answer at all! But one may be more suitable for you than the other, depending on your lifestyle, and what you hope owning a dog will be like.
Here are the areas of comparison to think about:
You can use those links to navigate the article, or start here, at the beginning!
Poodle vs Goldendoodle History
Poodle and Goldendoodle history tells us more about how much these dogs have in common, than what separates them. But you might not realise quite how similar the Poodle and Golden Retriever actually are.
Poodle history
Show Poodles' extravagant bouffant hairstyles give the impression of a high maintenance dog who's designed for a life of leisure and pampering rather than work. But that couldn't be more wrong! Poodles were actually developed in Germany as working gundogs, to retrieve wildfowl from land and water during hunting parties. Their agility and trainability also earned them a long association with French circuses, as performing dogs. Such was the Poodle's success and appeal, that Miniature and Toy versions were created too, and all three sizes remain enduringly popular.
Golden Retriever history
Golden Retrievers were also originally bred as gundogs, to retrieve waterfowl and other game. Like Poodles, they were also prized for being quick and easy to train, and equally comfortable swimming in water as running on land. They have also had successful careers outside of their original retrieving role too, including working as service dogs, detection dogs, and search and rescue dogs. What's more, Goldens have been one of America's top 5 favorite companion breeds for decades.
The first Goldendoodles
Whilst Poodles and Goldens can trace their ancestry back hundreds of years, Goldendoodles are part of a thoroughly modern trend for creating designer dogs. Designer dogs are the first generation cross between two different pedigrees. They differ from other dog types because every dog is a new first generation cross. Whilst some Goldendoodles have been specifically bred with careers as service dogs or hunting dogs in mind, they are more likely to be owned as pets.
Poodle Vs Goldendoodle Appearance
Some of the most appreciable differences between Poodles and Goldendoodles relate to their appearance.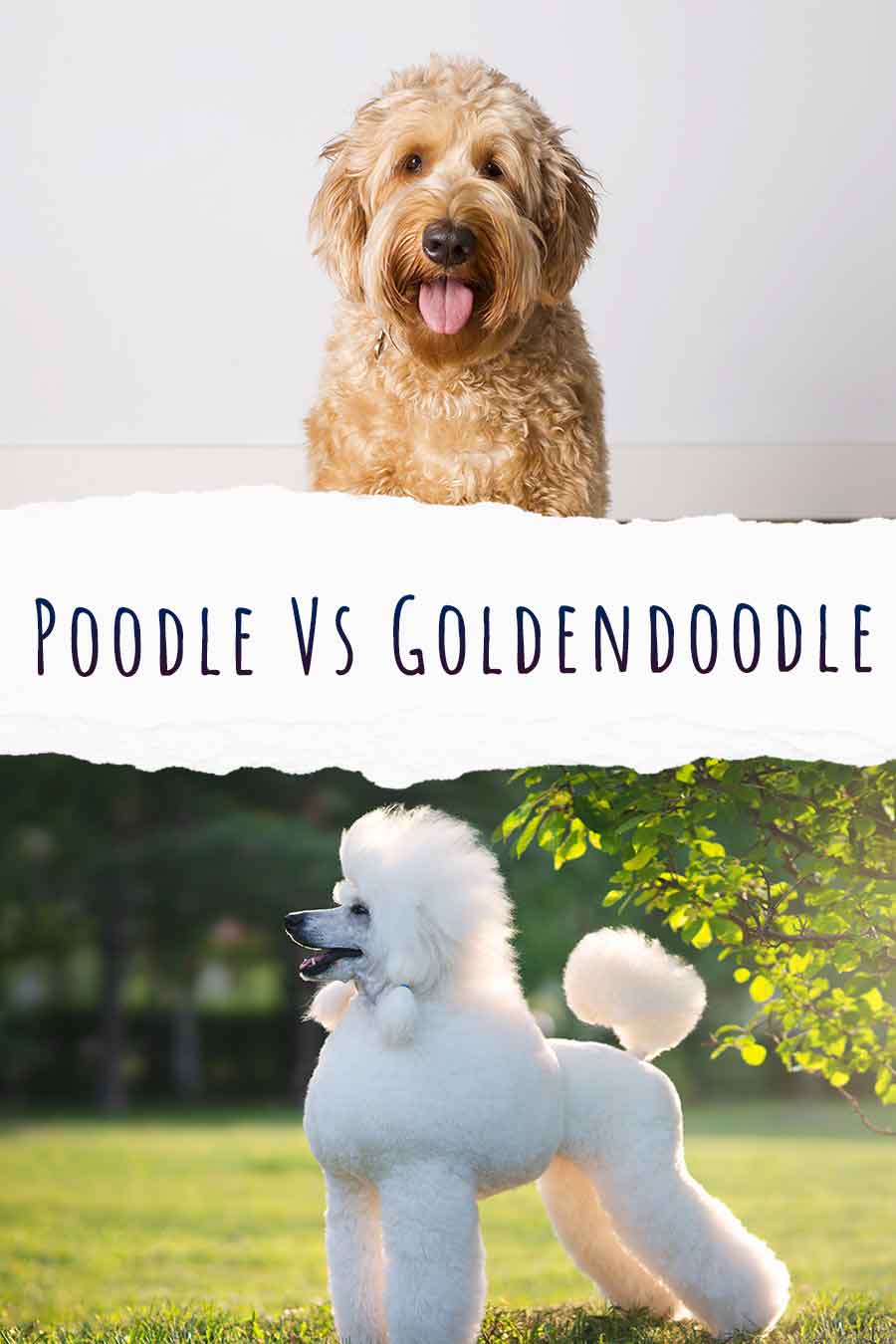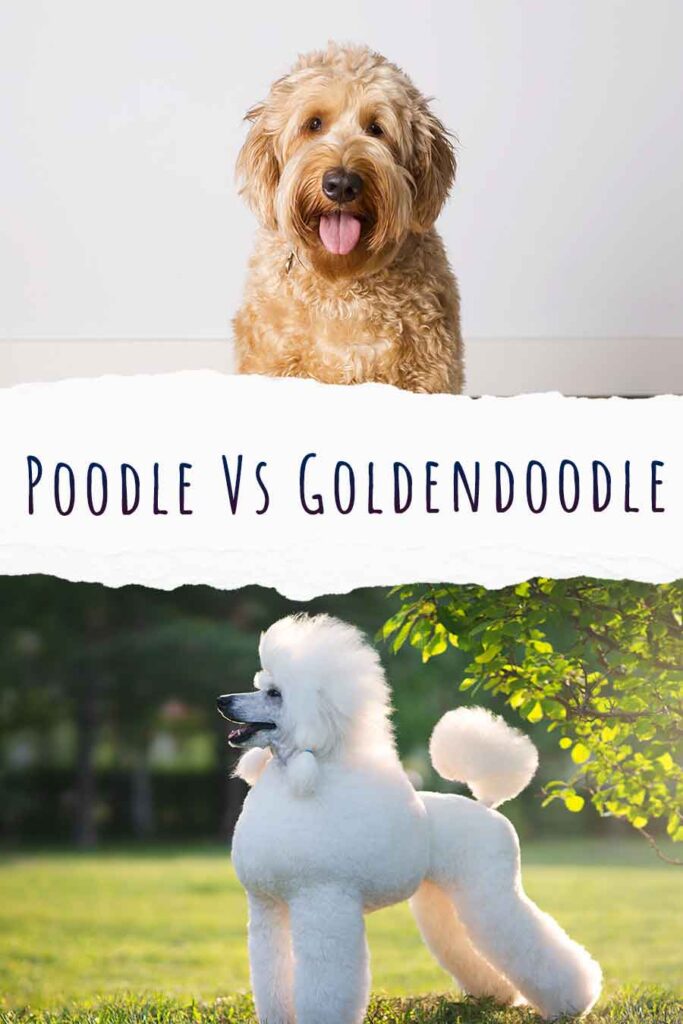 Different sizes
Female Standard Poodles typically weigh 40 to 50 pounds, and males weigh 60 to 70 pounds. There's a big difference between the sexes, but within each sex category the size range is pretty small.
Golden Retrievers are somewhat larger – females weigh 55 to 65 pounds, and males weigh 65 to 75 pounds. This means Goldendoodles from a Standard Poodle parent can vary much more than Poodles in size – especially the girls. Females can weigh anything from 40 to 65 pounds, and their brothers grow to between 60 and 75 pounds.
Whilst we're focussing on the Poodles vs standard sized Goldendoodles in this comparison, you might also be interested in the rise of Miniature Goldendoodles. Miniature Goldendoodles have a Golden Retriever mom, and a Miniature Poodle dad. Since Miniature Poodles weigh 10 to 15 pounds regardless of sex, Miniature Goldendoodles are usually much smaller than standard sized Goldendoodles, but their adult size is even more variable and difficult to predict.
Competing coats
Poodles have long, curly coats, which shed very little. The AKC accepts puppy registrations in 12 standard Poodle colors, and a further 18 non-standard colors. Meanwhile, Goldendoodles may inherit a straight, medium length, heavy shedding coat from their Golden Retriever parent instead. Or, their coat might have a length and texture which is somewhere in between that of a Poodle and a Golden Retriever. Since a puppy's adult coat doesn't grow through until they're about 6 months old, you're unlikely to know for sure which coat your Goldendoodle puppy has at the point when you bring them home.
Are Poodles and Goldendoodles Hypoallergenic?
A common reason people are interested in Poodles and their crosses is because they have been told that non-shedding dogs are hypoallergenic. Unfortunately, this is not the case. Dogs produce allergenic protein molecules in their saliva, sweat, and urine, not their hair or dander. So, even non-shedding breeds release allergens into the environment. This means a Goldendoodle is not simply a hypoallergenic Golden Retriever.
Poodle Vs Goldendoodle Temperament
Since Poodles and Golden Retrievers were originally bred to perform very similar roles, their early breeders also made breeding choices based on fixing and amplifying similar personality traits too. Which means that Poodle temperament isn't changed a great deal by crossing one with a Golden Retriever!
Poodles and Goldendoodles are both usually:
Affectionate with their family
Patient with children
Easily motivated in training
Intelligent and quick at problem solving
Playful
Energetic
Purebred Poodles are sometimes described as being a bit aloof. This means that they may take a little while to warm up to new people. But they should never be aggressive around unfamiliar people, just a little distant. And once they get to know you, they'll honor you with wall-to-wall affection every time you meet!
Goldendoodles might also inherit this quality. But, they might take after the Golden Retriever instead. Goldens famously love everyone, immediately on sight. Goldendoodles are also more variable than Poodles when it comes to noise. Poodles have a tendency to be quite vocal, whereas Goldens rarely bark at all, and a Goldendoodle could inherit either quality.
In all, if having a clear idea of your dog's personality in advance is important to you, Poodles have the edge over Goldendoodles. But that said, Goldendoodles can inherit some really great traits from their Golden Retriever parent. However, crossing a Poodle with a Golden Retriever doesn't automatically mean puppies with the 'best bits' of both dogs' temperaments. They might inherit some Golden traits you love, or they might not.
Poodle vs Goldendoodle Training
One thing you can rely on in both Poodles and Goldendoodles is that they will be clever, and highly responsive to positive reinforcement training.
For either mix, it's important to start training early, with diligent socialisation. Socialisation creates a pattern of positive new experiences for puppies under 12 weeks old. These early experiences go on to shape how they will feel about new experiences when they're grown up. For Poodles and their crosses, who are more naturally inclined to be reserved around strangers, successful socialisation at a young age increases their confidence around new people.
Since Poodles and Goldendoodles are both large dogs, you might also want to make greeting people calmly without jumping up a top training priority. Either dog can knock kids, elderly people, and unsteady people off their feet by jumping up at them.
Your clever Poodle or Goldendoodle is also likely to enjoy the mental stimulation from advanced training activities, such as agility or gundog training. Bear in mind that if you're interested in doing either of these things competitively, a purebred Poodle will be eligible to enter more competitions than the mixed breed Goldendoodle.
Poodle vs Goldendoodle Exercise
Poodles and Goldendoodles are both very athletic, active dogs, who need at least two hours of exercise a day. This could be hiking, running, or taking part in dog sports such as canicross. Of course, they will both love playing retrieving games and swimming too!
Since they are large dogs, many breeders and veterinarians recommend limiting how much leash walking on sidewalks Poodles and Goldendoodle puppies do before they are fully grown. Five minutes for each month old they are, per day, is widely accepted as a good rule of thumb. So, 20 minutes maximum for a 4 month old puppy, for example. Whilst the effects of exercising on a leash for longer than this haven't been studied closely, there is some evidence that it could increase the risk of hip dysplasia and other joint conditions. However, playing off leash at home and in your yard isn't included in the five minute rule, and your young dog will need lots of this to burn off all their energy!
Poodle and Goldendoodle Health
As for all pedigree dogs, there are some health problems Poodles are diagnosed with more frequently than the average dog population. And they can pass the increased risk of these conditions to both purebred puppies, and mixed breed puppies like the Goldendoodle:
Hip and elbow dysplasia. Joint dysplasia are malformations of the bone, which can cause painful arthritis and even lameness.
Thyroid disease.
Von Willebrands Disease (VWD). VWD is a genetic disease which prevents blood from clotting properly after an injury or planned surgery. About 1 in 25 Poodles carry the faulty gene, although individuals are only affected if they inherit it from both parents.
Sebaceous adenitis and Addison's Disease. These are hereditary conditions where the body's own immune system attacks the sebaceous glands in the skin (in sebaceous adenitis) and the adrenal glands by the kidneys (in Addison's Disease). The Poodle population has a high frequency of individuals carrying the faulty genes that cause these diseases, but puppies are only affected by them if they inherit the faulty genes from both parents.
Bloat. Bloat occurs when a dog's stomach twists, and becomes a sealed chamber. It is fatal without emergency surgery, and it is most often seen in deep chested breeds including Poodles.
Goldendoodle health
Poodle health interacts with Golden Retriever health in some interesting ways when they crossbreed. As a breed, Golden Retrievers are prone to:
Hip and shoulder dysplasia.
Eye problems.
Thyroid disease.
Ichthyosis. A dry, scaly skin condition caused by a single faulty gene. A quarter of Goldens carry the faulty gene, but only dogs with two copies (one from each parent) develop the disease.
Cancers.
Goldendoodles are particularly exposed to thyroid disease, and orthopedic problems such as hip dysplasia, through both sides of their family tree. For both Poodles and Goldendoodles, it's important to choose a puppy from health tested parents, certified clear of joint or thyroid disease.
Due to the way VWD, sebaceous adenitis, Addison's Disease and ichthyosis are inherited, Goldendoodles are actually very likely to be protected by their mixed breed status. Puppies are only affected if they inherit the same faulty gene from both parents, but the faulty genes tend to only occur in Poodles or Goldens.
Finally, Poodles have relatively low frequencies of cancer, which may balance the risk from a Goldendoodle's Golden Retriever parent. But this is not guaranteed.
Which dog lives longer?
Standard Poodles live for 12 years on average, and individuals reaching their mid-teens aren't uncommon. Golden Retrievers also live for 12 to 13 years on average. In fact, over three quarters of dogs from both breeds exceed their 10th birthday. Not bad considering the average age of dogs overall is 11 years! So whether you pick a Poodle or a Goldendoodle, you can expect them to enjoy a long life.
Poodle vs Goldendoodle Grooming
Another area in which Poodles and Goldendoodles tie is grooming. Despite the possibility for their coats to have very different lengths, textures, and shed-ability, all of the options demand a lot of maintenance! Your Poodle or Goldendoodle will need frequent brushing. And if their coat is long, you may want to take them for regular trips to the groomers too, to keep it in short and tidy condition. If their coat sheds, be prepared to do a lot of vacuuming – especially in spring and fall when their new season coat grows through.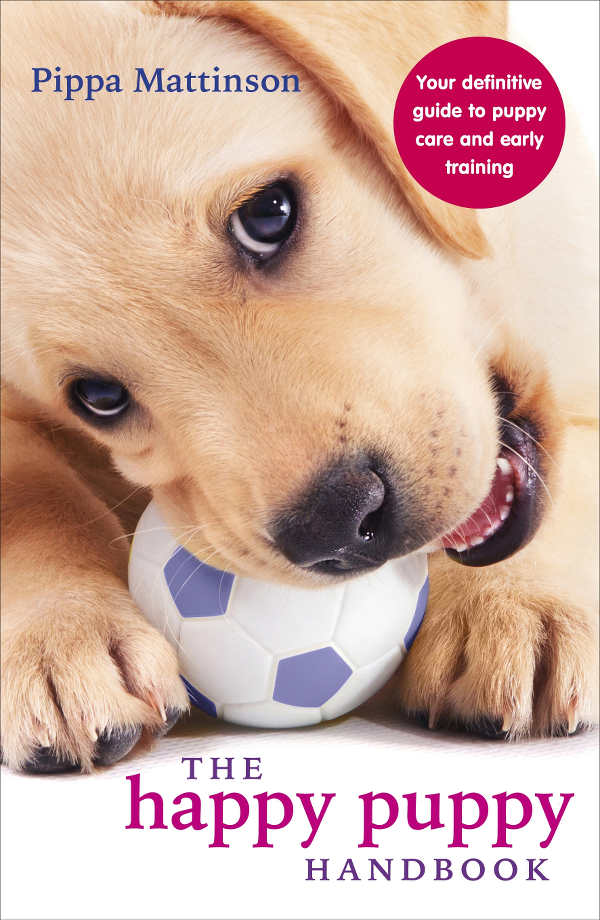 Which Breed Makes A Better Pet?
Poodles and Goldendoodles both need very active homes, who can provide them with lots of physical exercise and mental stimulation every day. These dogs are super bright, and frequently win rosettes at competitions. And if that's something that interests you, the purebred Poodle is eligible for more club-run trials. Likewise, if you'd like to take part in conformation shows, only the Poodle will qualify.
Neither breed is guaranteed to be suitable for people with allergies, but you definitely want to avoid a dog with a shedding coat, then the Poodle is a more reliable choice. If having a dog who's comfortable and confident around new people and dogs is important to you, then the Goldendoodle is most likely to have these traits. But it's not guaranteed, and a purebred Golden Retriever might be the better choice.
Do you have a Poodle or Goldendoodle?
Tell us about your reasons for choosing them in the comments! If you'd like to discover some more clever, active, family friendly dogs, take a look at these:
Good Family Dogs – A Complete Guide To Choosing Your Family Pet
References and Further Reading
Adams et al. Methods and mortality results of a health survey of purebred dogs in the UK. Journal of Small Animal Practice. 2010.
Egenvall et al. Mortality in over 350,000 Insured Swedish Dogs from 1995–2000: II. Breed-Specific Age and Survival Patterns and Relative Risk for Causes of Death. Acta Veterinaria Scandinavica. 2005.
Evans & Adams. Mortality and morbidity due to gastric dilatation-volvulus syndrome in pedigree dogs in the UK. Journal of Small Animal Practice. 2010.
Kent et al. Association of cancer-related mortality, age and gonadectomy in golden retriever dogs at a veterinary academic center (1989-2016). PLoS ONE. 2018.
Pedersen et al. The effect of genetic bottlenecks and inbreeding on the incidence of two major autoimmune diseases in standard poodles, sebaceous adenitis and Addison's disease. Canine Genetics and Epidemiology. 2015.