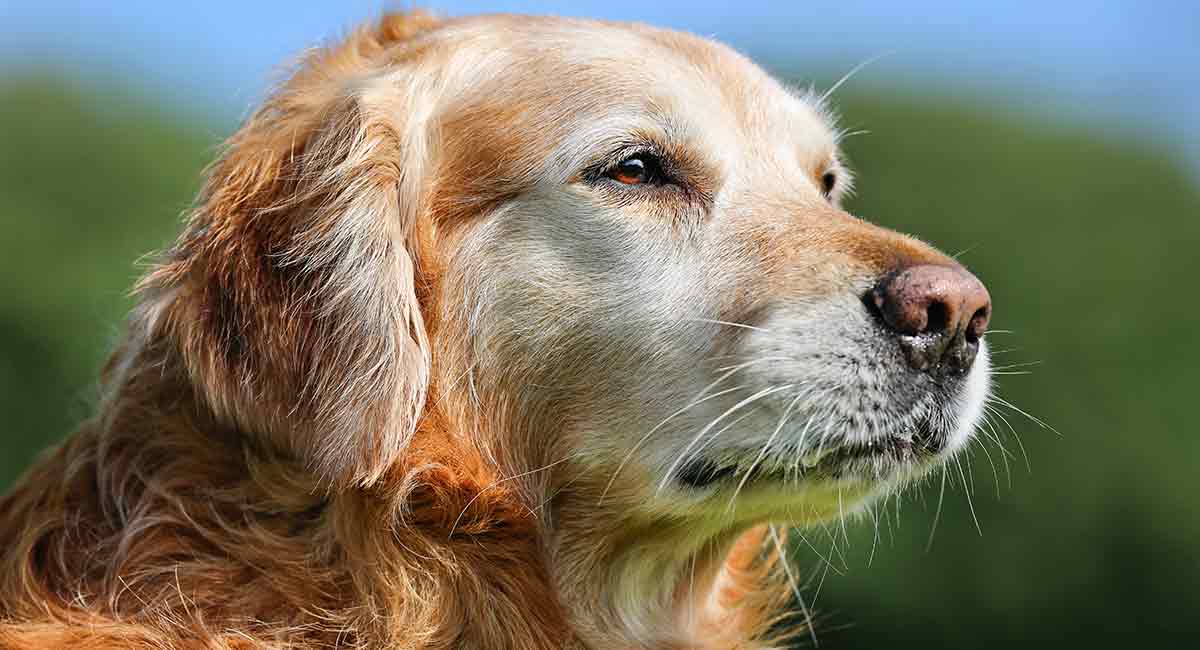 Do you have an old Golden Retriever? Is your loyal companion starting to slow down?
Watching your dog age is difficult for any owner. Unfortunately, it is an unavoidable part of life.
Older dogs have very different care needs from younger dogs.
They face many challenges. Like us, they start to have less energy, more aches and pains, and become more vulnerable to diseases and infections.
In this article, we look at the aging process in Golden Retrievers and what to expect, providing information on how to care for your elderly dog.
Let's look further as to how to you can make your pet's golden years more comfortable.
When is a Golden Retriever Officially Elderly?
Larger dogs age quicker than smaller dogs, so they have a shorter lifespan.
A few decades ago, Golden Retrievers lived to approximately 16 to 17 years old.
These days, their average lifespan has significantly reduced to between 10 and 12 years. This is believed to be because they are more susceptible to cancer than any other breed.
A Golden Retriever is considered officially old at about 8 to 9 years old, which is the equivalent to 61 to 68 years in humans.
Signs your dog is aging include:
• Increased fatigue
• Slowing down
• Difficulty getting around
• Stiff joints and arthritis
• Cloudy eyes
• Incontinence
• Lumps or other skin issues
• Hearing loss
• Sight loss
• Gaining weight
• Coat losing condition
• Bad breath
• Drooling
• Graying around face and muzzle
• Anxiety
• Muscle atrophy
• Cognitive dysfunction
• Less tolerant
Many of these changes are normal in an aging dog. However, be careful not to write them off, as some may be symptoms of a health condition requiring veterinary treatment.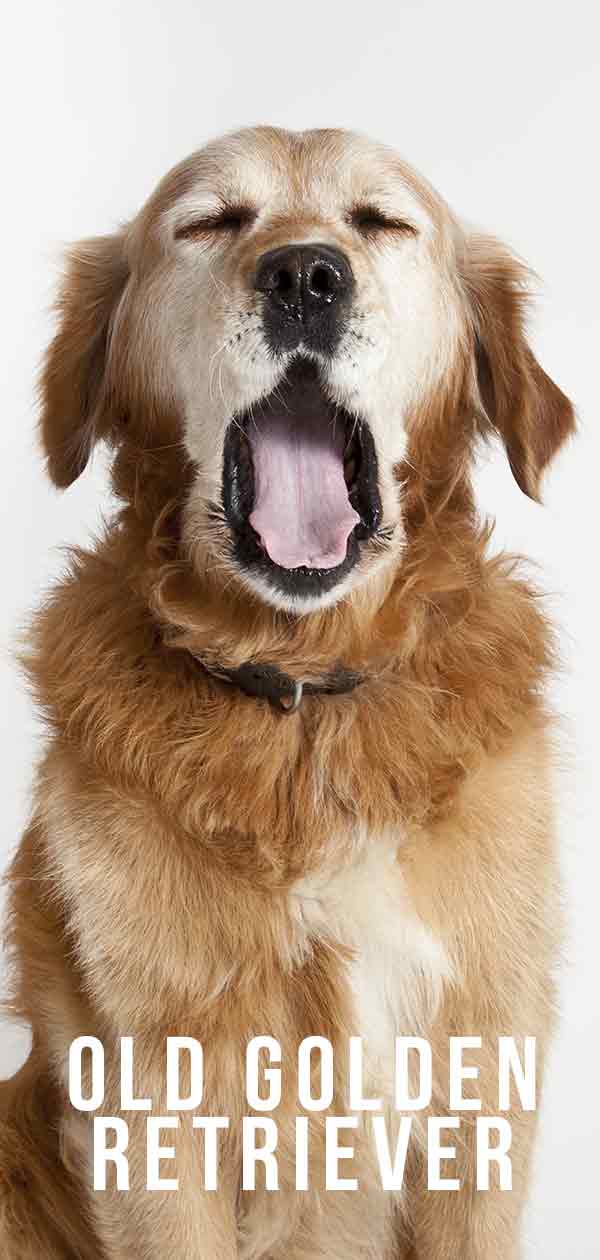 Caring for an Old Golden Retriever
Your elderly Golden Retriever will require certain lifestyle changes as he follows the path into old age.
As a caring pet parent, it is up to you enhance your senior dog's well-being through specialized care, making lifestyle adjustments as necessary.
Veterinary Care
It is advisable that once your dog becomes a senior, you should visit the vet twice a year for a check-up.
The veterinarian will carry out a thorough physical examination of your Goldie that includes a dental check, discussing any changes you may have noticed.
Tests include a blood count, urinalysis, fecal flotation and chemistry screening for the kidneys and liver, identifying and treating any health problems.
Many diseases are often only seen in older dogs. These include:
cancer
diabetes
arthritis
heart, liver and kidney diseases
In between your twice-yearly check-ups, stay alert for any changes in your Goldie such as weight loss or gain, loss of appetite, increased thirst, or difficulty moving around.
How to Keep your Old Golden Retriever Healthy
There are many ways to help maintain good health in your aging Golden Retriever.
Grooming
Older dogs find it hard to groom themselves as their mobility decreases.
Brushing your geriatric Goldie promotes a healthy coat and skin as well as acting as a massage, relieving pressure. It also allows you to monitor any unusual lumps or bumps.
Make sure you brush gently as skin is more sensitive on an older dog.
Bathing your Golden Retriever keeps them clean and healthy. However, if they have mobility issues, take your pet to a groomer where they won't have to deal with a bathtub.
Trim nails once or twice a month to prevent possible injuries.
Check the toe pads for excess fur as this can cause your Goldie to slip. If you have slippery floors, place rubber matting or use non-slip dog boots or socks if your dog will wear them!
Dental Care
Practicing good dental hygiene is vital, especially with an older Golden Retriever.
Brush your dog's teeth regularly, checking for bad odor, bleeding gums or broken dentures. Give him safe toys to chew.
Your vet will check the teeth as part of your Goldie's regular check-ups.
Exercise
Dogs of all ages need to exercise. Elderly Golden Retrievers are prone to obesity which can lead to more serious medical conditions.
Whereas a younger dog can easily walk for 30 to 40 minutes in one go, consider breaking down your Goldie's walks to two 15 to 20 minute periods of exercise per day.
Observe any changes in your dog such as becoming tired more often, having trouble breathing, or coughing.
Swimming is excellent exercise for older Golden Retrievers, especially those with joint conditions or arthritis.
Discuss your dog's exercise program with your vet. She may recommend pain medications or hydrotherapy if walking is painful.
Older dogs feel the cold more keenly. During winter, give your old Golden Retriever a coat when you go out walking to keep him warm.
In summer, watch that your aging pet doesn't become overheated. Exercise during the coolest parts of the day.
Playing
Food puzzle toys are excellent for helping your old Golden Retriever move around and make him work for his food, as well as keeping him stimulated mentally.
Modify any games you play with your dog, such as fetch or tug-of-war, so that he doesn't overexert but still has fun.
Loss of Hearing
Loss of hearing is common in older dogs, but many successfully adapt to it by relying on their sense of smell and touch.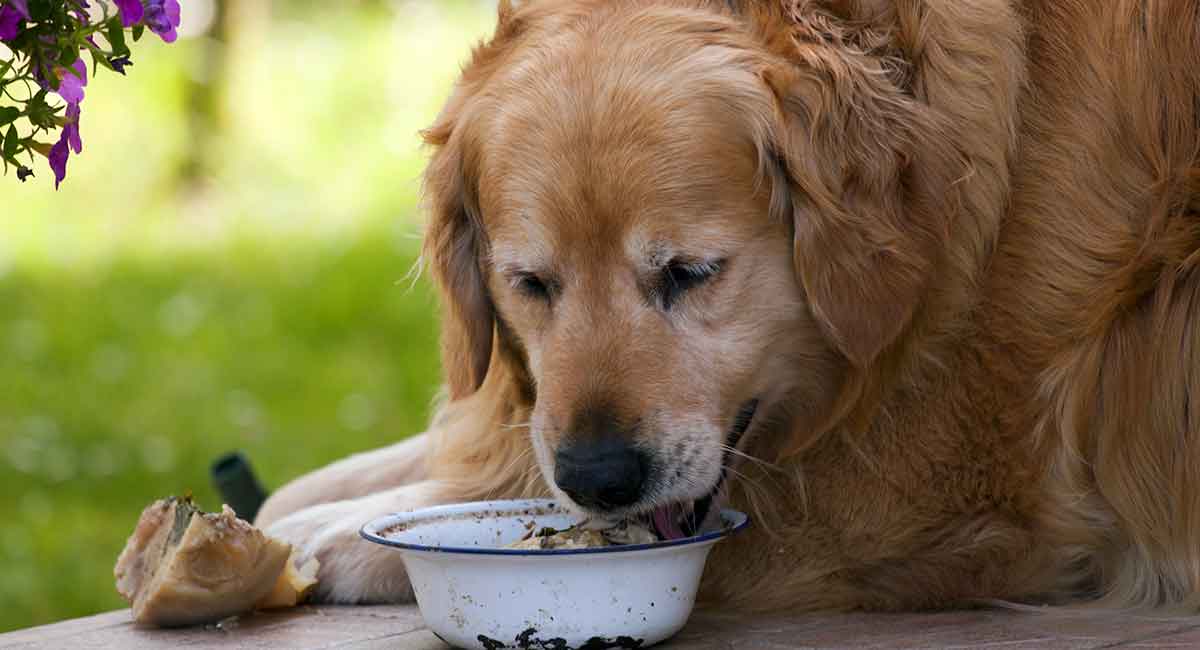 If your aging Golden Retriever responds well to voice commands, he can also learn hand signals with the correct training, although it is a challenge and requires lots of patience.
When he is outdoors, make sure you keep him on a leash and close to you.
Loss of Sight
If your geriatric Goldie is losing or has lost his sight, keep your furniture, his feed and drinking bowls and his bed in the same familiar places so he doesn't become disoriented.
A fountain style dog bowl is a good idea as it makes a sound, enabling your dog to find it.
Look for anything dangerous around your home that your elderly pet could bump into.
Cover sharp corners and any other areas that might cause possible injury.
Make a path using floor mats and rugs made from various textures to help him find his way around.
Circular halos are now available for blind dogs, worn on a harness or vest.
The halo provides protection and gives confidence to a pet when moving around the home.
Incontinence
Your Golden Retriever may become incontinent as he ages. This is something he cannot help.
To avoid a mess around the house, you can use diapers specially made for dogs or disposable puppy pads.
Trim any hair in the areas which are likely to be soiled and consult your vet about treatment options.
Ramps
As he ages, your dog may find it hard to climb up steps and stairs or into the car.
Golden Retrievers are big, heavy dogs, so it is difficult to lift them.
Invest in some ramps for the home and car to make life easier for your pet.
Bed
Golden Retrievers are susceptible to hip and joint problems and arthritis. It is essential you provide a good quality bed to keep him comfortable in his twilight years.
An orthopedic bed with memory foam is an ideal choice for your aging pet.
Elevated Feed Bowls
Older dogs, especially those with stiff joints or arthritis, may feel pain when eating or drinking from a regular bowl as they must lean forward and down.
Use elevated bowls for food and water to let your aging Golden Retriever have a more comfortable feeding position. This reduces the stress on his back and forelimbs and encourages him to eat and drink as necessary.
Old Golden Retriever Diet
As your Golden Retriever starts to slow down, their nutritional requirements change.
Your elderly Golden Retriever requires a balanced diet that is low in calories due to their declining metabolic rate and lower exercise requirements, but with an adequate amount of protein and fat, and which is high in fiber.
You may continue to give their regular food in smaller quantities, or choose a specially formulated senior dog food.
Many good commercial brands contain low amounts of calories and carefully balance the nutritional requirements needed for your old friend.
The addition of glucosamine and chondroitin sulphate is good for the joints.
When switching to a different food, introduce it gradually by adding it over a period of seven to ten days to avoid causing your Goldie an upset stomach. Always follow the feeding guidelines.
Many dogs have two meals a day, but it is a good idea to feed your dog smaller amounts more often.
Speak to your vet about the right diet for your Golden Retriever, especially if he has other conditions such as obesity or joint issues.
Your Aging Golden Retriever
Just like humans, some Golden Retrievers age quicker than others.
Let's look at how the aging process progresses in Golden Retrievers and what you can expect.
10-Year-Old Golden Retriever
The equivalent age of a 75-year-old human, a 10-year-old Goldie will have graying around the face and muzzle, and the coat will either be lighter or darker depending on his coloring.
Although he may still enjoy long walks, he is not as energetic as he once was and may start to sleep more.
11-Year-Old Golden Retriever
An 11-year-old Goldie is comparable to an 82-year-old human and shows signs of slowing down.
He will no longer jump around, and stairs will be a challenge due to stiffness in the joints.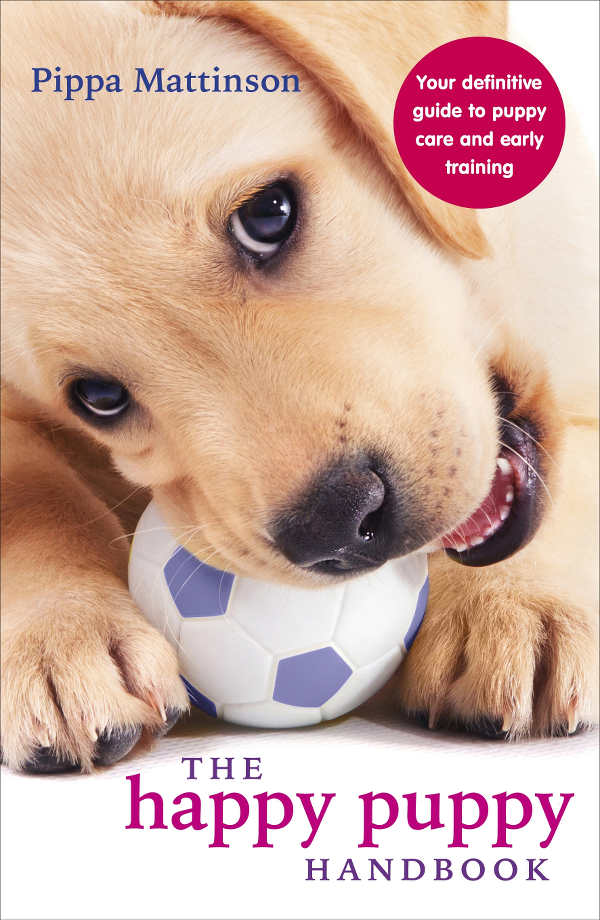 Reduction of exercise is now necessary.
12-Year-Old Golden Retriever
A 12-year-old Goldie is the equivalent of an 89-year-old human.
Once a mild-mannered dog, he may become less tolerant when around children and anxious when he is left alone or hears loud noises. Alternately, he may not respond due to vision or hearing loss or the start of dementia.
The vet will carry out a full range of tests, including for Cushing's disease and hypothyroidism, during health checks.
13-Year-Old Golden Retriever
A 13-year-old Goldie is equivalent to a 96-year-old and will now find it painful and difficult to move around.
He may require medications to help him stay mobile and remain comfortable.
He will sleep more and take longer to rouse.
Behavior changes are likely such as barking or growling for no apparent reason which may be due to anxiety or Cognitive Dysfunction Syndrome, which resembles Alzheimer's disease in humans.
14-Year-old Golden Retriever
Now the equivalent of a 103-year-old, a 14-year-old Goldie will sleep most of the time and may become incontinent and less interested in food.
Watch for signs of excessive panting and reclusive or aggressive behavior which indicate pain.
He may have digestive issues or kidney problems requiring a diet change as advised by the vet. During health checks, the vet carries out other tests, evaluating the organs and heart.
15 + Golden Retriever
A 15-year-old Golden Retriever is now the equivalent of a 110-year-old and reaching the end of his life.
Signs that your dog is dying include extreme fatigue, loss of appetite, incontinence, vomiting, twitching and loss of interest in his surroundings.
Depending on his symptoms, you may need to decide to have him humanely euthanized.
Your Old Golden Retriever
Golden Retrievers make loving pets that are a wonderful addition to any family, bringing much happiness, companionship and joy.
However, these beautiful dogs are predisposed to a variety of health issues as they become older which affect their quality of life.
As a caring pet parent, it is vital to do all you can to make your aging Goldie's twilight years as comfortable as possible by regular vet checks and adapting his living arrangements to provide the best care possible.
Make his final days as happy as you can, giving him plenty of love.
References and Resources