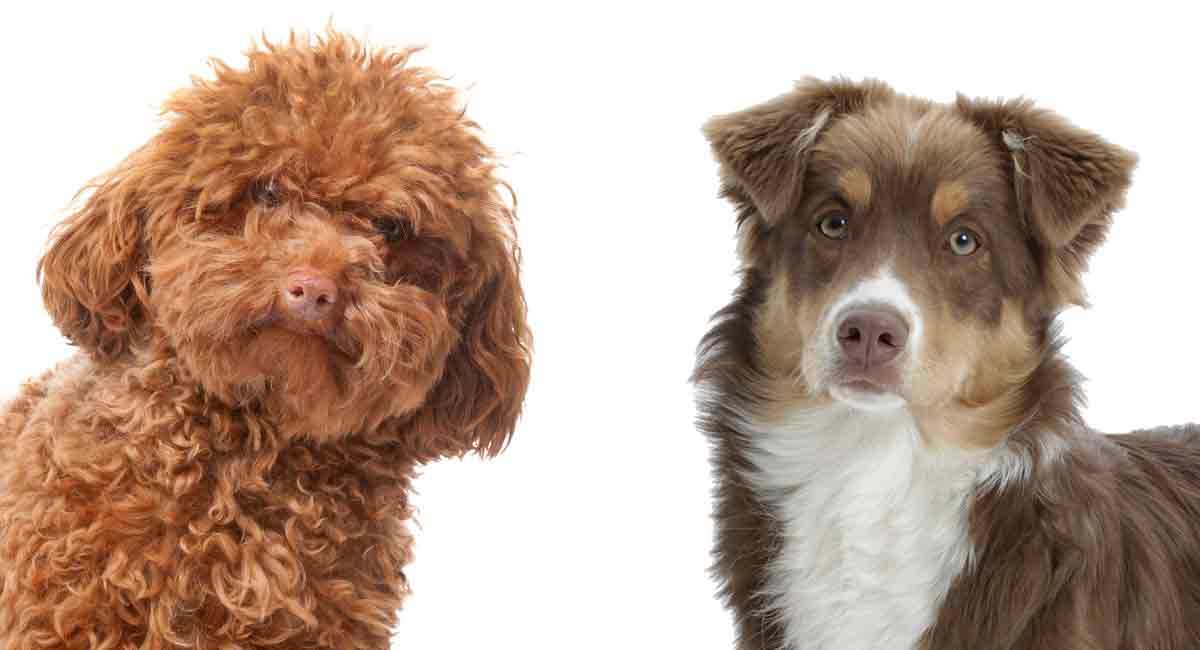 The Mini Aussiedoodle is the result of crossing two popular breeds, the Miniature Australian Shepherd and the Poodle.
Using a Miniature or Toy Poodle is what makes it a Mini Aussiedoodle rather than just an Aussiedoodle!
Mini Aussiedoodle Origins
Despite being France's national dog, Poodles originated in Germany, where they were used primarily as hunting dogs.
Over time, a miniature version was bred down from the standard size. The even smaller Toy Poodle appeared at the start of the 20th century.
The Miniature Australian Shepherd originated in the 1960s on the US rodeo circuit, a result of the same selective breeding process used to produce the Miniature Poodle.
The Mini Aussiedoodle combines physical traits from both parent breeds, standing anywhere between 12 and 18 inches tall and weighing between 10 and 35 lbs.
Coat Traits of a Mini Aussiedoodle
Based on its parents, your Mini Aussiedoodle may inherit the thick double coat of the Australian Shepherd or the curly coat of the Poodle. These come in a variety of colors, including the blue or red merle of the Australian Shepherd.
Both coats require a good deal of maintenance to prevent matting, and some owners may prefer to seek out specialist grooming services to keep their pup's coat in top condition.
Mini Aussidoodle Health Conditions
Miniature Australian Shepherds and Miniature Poodles are at risk of developing certain health conditions which they may pass on to their offspring.
These conditions include canine hip dysplasia (common to both breeds) and eye disorders such as progressive rod-cone degeneration (PRCD), which causes eventual blindness and is common in the Poodle.
Furthermore, breeding for miniaturization can cause additional health problems on top of breed-specific conditions.
For example, miniature and toy Poodles are prone to Legg-Calves-Perthes disease, which can lead to hip collapse and painful arthritis. In addition, they can experience patella luxation (kneecap dislocation).
Miniature breeds may also suffer from tracheal collapse, intervertebral disk disease (IVDD) and pancreatitis, all of which can be extremely serious.
Crossing two miniature breeds, therefore, is not without risk. There is a high likelihood of these dogs exhibiting health issues related to conformational breeding.
The Appeal of the Mini Aussiedoodle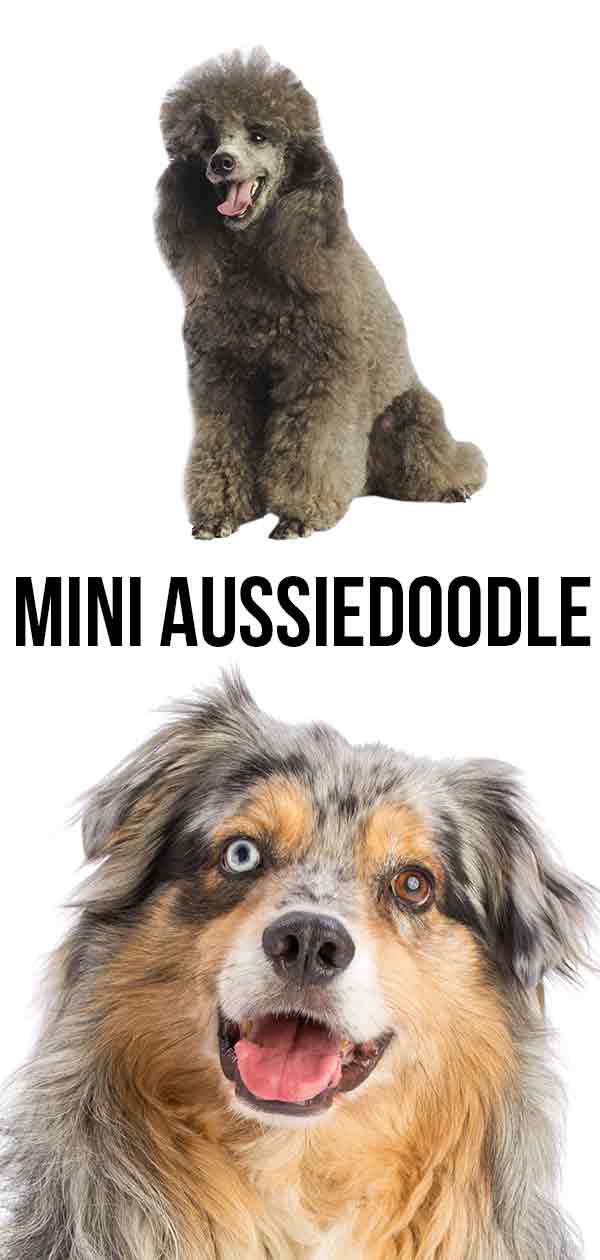 Given the potential health issues of miniature breeds, what makes them so popular?
There's no doubt that miniature pups are cute, but for many owners, their appeal goes beyond appearance.
Miniature dogs require less space, making them an attractive choice for those with limited room. Also, short walks are usually sufficient, making them a good fit for owners with limited mobility.
Miniature breeds also eat less than their larger counterparts, meaning food costs will be lower.
In addition, many families with young children prefer miniatures as their small size and weight make them more manageable for kids to care for and interact with.
Where do Mini Aussiedoodles Come From?
Miniature versions of larger breeds are produced in three ways.
First, a larger breed can be crossed with a smaller breed to reduce size. Alternatively, the dwarfism gene can be introduced.
Breeders may also select the runts of the litter and breed them together to produce smaller dogs. Let's take a closer look at each of these methods.
Mixing with a Smaller Breed
Cross-breeding has become increasingly popular in recent years.
Essentially, cross-breeding creates a 'designer dog' exhibiting desirable qualities from both parent breeds.
In the case of miniature breeds, the aim is to produce offspring of reduced size and stature by selecting one smaller-breed parent, or, as in the case of the Mini Aussiedoodle, breeding two miniature versions of larger breeds.
A drawback to cross-breeding is that it's impossible to accurately predict physical characteristics and appearance. Experts argue that purebred dogs are more predictable in this regard.
However, there's evidence that purebred dogs still face a greater risk of hereditary health conditions than mixes, because of limited gene-pools and inbreeding leading to a prevalence of homozygous (similar) genetic material.
That being said, it's important to remember that crossing two breeds does not eliminate the potential for hereditary health conditions.
In addition, the growing trend for miniaturized dogs has, unfortunately, led to irresponsible breeding practices.
Breeding two smaller or miniature parents, with the aim of producing smaller, longer or 'lower' animals, can result in pups developing unpleasant health issues.
Such health problems can cause pain, suffering, and even premature death.
Indeed, so-called 'teacup puppies' have been widely condemned. You can find out more about the problems of extreme miniaturization here.
While a mix the size of the Mini Aussiedoodle might not be at this extreme end of this miniature trend, it is important to consider the risks for health problems.
You may feel buying a miniature cross adds to demand which can encourage irresponsible breeding. In this case, remember there are many small and miniature breed dogs awaiting rescue.
Popular Miniature Mixes
There are some other great miniature Poodle mixed breeds that are also very popular, like the Cavapoo and Cockapoo. Or you could go for something a bit more unusual!
The Mini Labradoodle
The Mini Labradoodle is a cross between the ever-popular Labrador Retriever and a Miniature or Toy Poodle.
Gentle, intelligent and playful, Mini Labradoodles have the potential to be great family pets, provided they have sufficient training, socialization, and interaction.
Both parent breeds, however, are at risk of canine hip and/or elbow dysplasia. In addition, Poodles can develop progressive rod-cone degradation, a condition which leads to blindness.
Mini Labradoodles can also develop these conditions.
Also, Mini Labradoodles might not end up so 'mini'! Their size can vary. Consequently, your Mini Labradoodle could end up the size of his Labrador parent. This is important to consider if space is limited.
Read more about the Mini Labradoodle here.
The Mauzer
The Mauzer is a mix between a Maltese and a Miniature Schnauzer, resulting in a pup standing around 8- 14 inches tall and weighing between 10-15 lbs.
Mauzers are friendly, playful and affectionate, and bond closely with their owners. They don't require much space, and so can be a good choice for apartment-dwellers.
However, they also have a tendency to nip when annoyed or overly excited, and so are not a good choice for families with young children. Instead, they make good companions for older
and/or retired owners.
In addition, Mauzers tend to bark frequently, which can be problematic for owners with close neighbors!
Although generally healthy, Mauzers can inherit certain disorders.
Health issues to look out for include eye conditions, including cataracts; bleeding disorder Von Willebrand's disease; heart and liver problems, and kidney stones. Toy breeds can also experience dental problems, and so Mauzers need regular oral check-ups.
If you want to take a look at more Poodle mixes, be sure to check out this article.
Introducing the Dwarfism Gene
Osteochondrodysplasia (OCD) is a developmental disorder caused by a genetic mutation. It results in bone deformities and/or abnormal bone growth.
Achondrodysplasia is one form which results in short limbs, and so is also referred to as dwarfism.
Other markers of the condition include an enlarged head, bowed legs, spinal abnormalities and enlarged joints.
Selective breeding over time means achondrodysplasia is now breed-typical in certain dogs, such as the Corgi and Dachshund.
More recently, unscrupulous breeders have deliberately bred for dwarfism in order to profit from the miniature pup trend.
Dogs with the condition have an increased risk of Intervertebrate Disc Disease (IVDD), which can lead to arthritis, paralysis, and death.
In addition, there is an increased chance of developing canine hip dysplasia or elbow dysplasia, both of which can cause lameness.
Breeding From Runts
Runts are puppies born considerably smaller and weaker than others in a litter. They can grow into healthy, normal-sized dogs.
However, after birth, runts can struggle to push their way through larger littermates to access their mother's milk.
Missing out on vital antibodies in this milk hinders the development of the immune system and can cause continuing medical issues.
Breeders may try to produce miniature dogs by breeding two runts to reduce size.
This can be problematic because of the potential for runts to experience health issues. Where two runts are bred together, there is the risk that any problems will be inherited by their offspring.
Is A Mini Aussiedoodle Right For Me?
Mini Aussiedoodles are likely to display the intelligence and affectionate nature of their parent breeds, and so can be good family pets.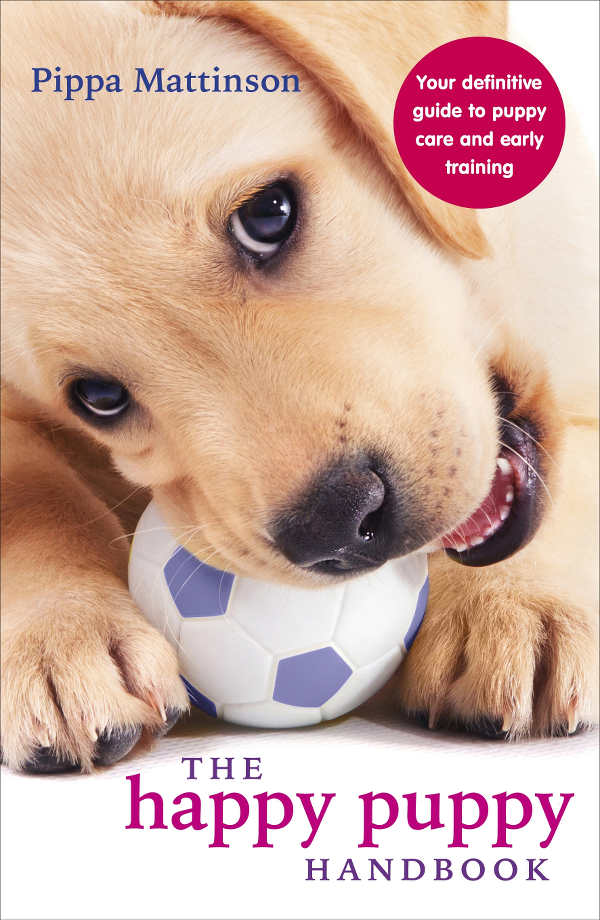 Their smaller size means they can potentially thrive with owners living in smaller spaces. However, they require opportunities for exercise and interaction, as Mini Aussiedoodles can be energetic and easily bored.
Ultimately, it's important to consider the health problems prevalent in miniatures crosses like the Mini Aussiedoodle.
Lifelong and potentially serious medical conditions are painful for both pup and owner and can result in high vet bills.
Finding A Mini Aussiedoodle
Given the health issues miniature crosses face, you might consider rescuing a Mini Aussiedoodle or similar breed rather than buying from a breeder.
There are many fantastic small and miniature breed dogs awaiting rescue in shelters. The following links are a good place to begin your search:
Are you the proud owner of a Mini Aussiedoodle? Join the conversation by commenting below!
Perhaps you want to learn about other mini breeds, such as the mini Labradoodle! 
References and Resources
Beuchat, C. 'Health of Purebred dogs vs. Mixed Breed dogs: the actual data', Institute of Canine Biology, 2015
Beuchat, C. 'The myth of hybrid vigor in dogs…is a myth', Institute of Canine Biology, 2014
Brown, E. et. al. 'FGF4 retrogene on CFA12 is responsible for chondrodystrophy and intervertebral disc disease in dogs', Proceedings of the National Academy of Sciences of the United States of America, 2017
Everts, R.E. et. al. 'Bone disorders in the dog: A review of modern genetic strategies to find the underlying causes', Veterinary Quarterly, 2000
LaFond, E. et. al., 'Breed Susceptibility for Developmental Orthopedic Diseases in Dogs', Journal of the American Animal Hospital Association, 2002
Martinez, S. , 'Congenital Conditions that Lead to Osteoarthritis in the Dog', Veterinary Clinics: Small Animal Practice, 1997
O' Neil, D., 'Report on a Discussion about 'Animal Health and Welfare: Breeding for Extreme Conformations in Dogs and Cats' at the European Parliament in Brussels, 2018
Parvizi, J. et. al. , 'Osteochondrodysplasia/Dwarfing Conditions', High Yield Orthopedics, 2010