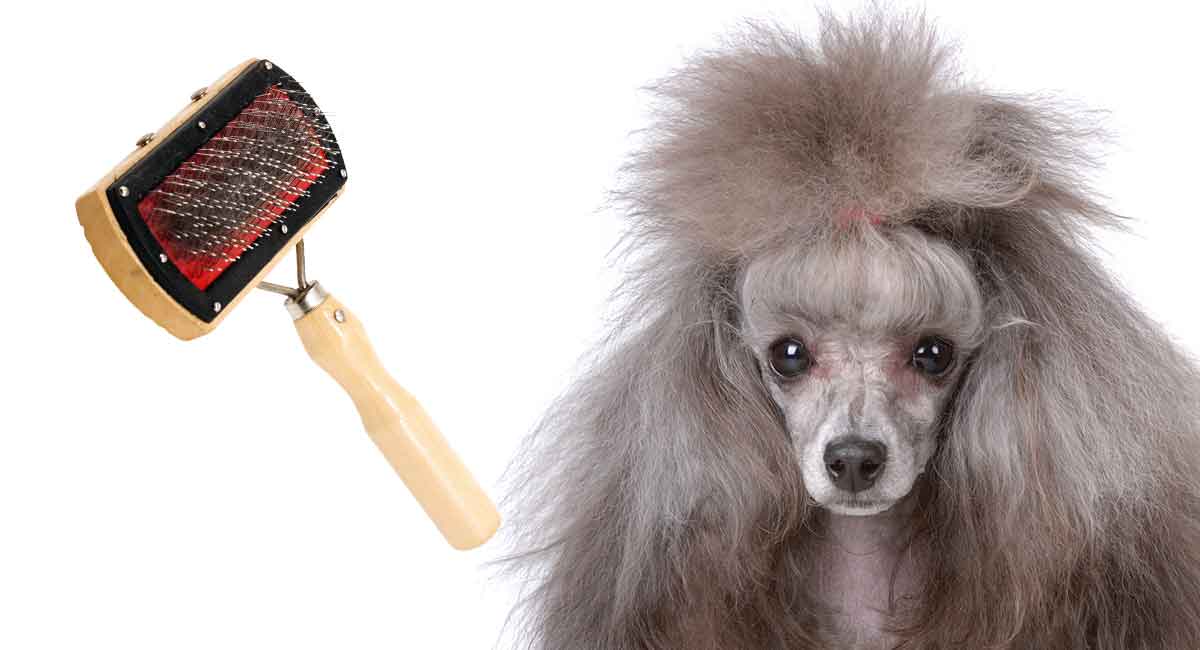 The best brush for Poodles is designed to keep their curly coats tangle free, without damaging their delicate fur. The brush you choose can make grooming your Poodle a lot easier, faster, and much more enjoyable for both you and your pup. You'll need the same style brushes for Toy, Miniature or standard Poodles, but you might find smaller versions easier for the Toys, and larger a better fit for the Standards.
Contents
You can brush your Poodle as frequently as daily, but two to three times per week is more common. This will keep mats and tangles to a minimum. Brushing also stimulates the circulation and helps to distribute natural skin oils to keep your Poodle's skin healthy.
Grooming Changes As They Develop
Poodle puppies coats are softer and thinner than adults. This soft, wavy fur can be handled with a comb or pin and bristle brush just fine. But as they reach somewhere between 9 and 18 months you'll find it changes.
Longer, thicker adult coats are more challenging. From here, you'll need the comb and bristle brush for detailed work, and a slicker as your main staple brush.
Poodle cuts (especially show ring cuts) can be complicated to learn and master, but it certainly is possible! If you plan to also do your Poodle's grooming clips at home, some additional tools to consider investing in include a clipper set, grooming shears, a grooming table and nail clippers.

Best Combs for Poodles
Sometimes the best brush for Poodles isn't actually a brush at all, but a comb! Combs should always be made of stainless steel or some other anti-bacterial, durable material with seamless construction. This will avoid pulling or tugging on your dog's hair. ALWAYS look for combs with rounded-tips (tines) for safety!
Andis Pet Steel
The Andis Pet Steel Grooming Comb*(paid link) is a high quality, durable, seamless stainless steel round-tip grooming comb comes in two sizes. The comb itself is light in weight so you won't get hand fatigue, and it leaves your Poodle's coat looking light and fluffy.
Hertzko
The Hertzko 2 Pack Pet Combs*(paid link) is a set of two combs and may be ideal if you are caring for a Poodle puppy. You can use the small comb first and then transition to the large comb as your puppy grows. Plus, the round-tip tines are gentle on your dog's skin and the handle features a rubber anti-slip grip for you.
Double sided
Another good option is the Poodle Pet Double-Sided Pet Comb*(paid link). The unique comb made just for Poodle grooming features wider tines on one side and narrower tines on the opposite side of the handle.
Best Slicker Brush for Standard Poodles
For most Poodle owners, the best slicker brush for Poodles will always be one that has a self-cleaning feature. These types of slicker brushes for Poodles feature a button that you can push to either eject the hair out, or retract the bristles so you can quickly collect the shed hair.
Hertzko
The Hertzko Self Cleaning Slicker Brush*(paid link) is an excellent choice. Not only does this slicker brush provide a pain-free way to work out tangles and mats, but you can clean it with the simple push of a button.
GoPets
GoPets Professional Slicker Brush for Dogs*(paid link) features a soft silicone handle that conforms to your grip for comfort while brushing your Poodle. The brush boasts a one-push self-cleaning button that makes cleanup fast and easy and the manufacturer offers a satisfaction guarantee.
Pet Portal
The Pet Portal Pro Quality Self Cleaning Slicker Brush for Dogs*(paid link) has a push-button self-cleaning option that I love. The brush comes in various sizes and colors too.
Best Slicker Brush for Miniature Poodles
Adult Miniature Poodles typically weigh 10 to 15 lbs and fully-grownToy Poodles may weigh just 4 to 6 lbs. You may find your smaller Poodle will benefit from these smaller-sized slicker brushes that make it easier to groom and brush out tangles and mats!
LilPals
The extra small LilPals Slicker Brush*(paid link) may just end up being your top choice if you're caring for a miniature or toy Poodle. While it doesn't have a self-cleaning button, the small size of the brush more than compensates. This tiny slicker give you more control over brushing out tangles and mats on your smaller pooch!
Four Paws
Four Paws Magic Coat Instant Dog Mat Remover*(paid link) is a specialty slicker brush specifically designed for dogs with long or curly coats. Its' petite size may be the perfect fit for a mini or toy Poodle!
Pet Paw
The Pet Paw Joy Slicker Brush*(paid link) is a small slicker brush featuring a square brush head that rotates so you can easily reach different areas of your mini or toy Poodle's body. The rotation also changes the direction of the pins for different brushing and grooming needs.
Best Pin Brush for Poodles
A pin and bristle brush can sometimes be the best brush for Poodles because you basically get two brushes in one. There are two styles of the pin and bristle brush. The most common one has the pins on one side and the bristles on the other side. So all you have to do is flip the brush over when you need one or the other.
The pins should always have rounded tips for safety. The pin side is ideal for gently working out tangles and mats. The bristle brush side will give your Poodle's coat a soft, lovely shine.
GoPets
The GoPets Professional Double-Sided Pin & Bristle Brush*(paid link) is two brushes in one. The round-tipped pin brush is on one side and the bristle brush is on the other. The handle is a soft silicone gel to mold to your grip.
AtEase Accents
AtEase Accents Natural Bamboo Eco-Friendly Pet Grooming Brush*(paid link) is a lovely natural bamboo-handle pin and bristle brush is also a two-sided brush. The pins are rounded at the tips for safety and the bristles are evenly spaced in small groups to help fluff and smooth your dog's coat.
Poodle Pet
Poodle Pet Double-Sided Pet Brush for Grooming and Massaging Dogs*(paid link) is another pin and bristle brush. It features rounded pins on one side and soft bristles on the other side. The square brush shape may make for easier brushing and grooming for large Poodles. And this brush has a special anti-static padded back.
Best Poodle Detangling Sprays
You may not face too many tangles and mats when your Poodle is a puppy. But Poodles are active, athletic dogs at heart. So as your Poodle grows up, you are likely to encounter more dirt, debris and general disarray after your dog is finished playing, running, and jumping like Poodles love to do!
For this reason, one staple in every professional Poodle groomer's accessories box is a detangling spray. You can simply spritz some on before you brush your Poodle to ease out mats and tangles.
BioSilk
BioSilk for Dogs Detangling Plus Shine Protecting Mist*(paid link) is safe to use on puppies 8 weeks or older and is made in the USA. It contains only human-grade ingredients.
Pet Head
The USA-made Pet Head Fur Ball Detangling Spray for Pets Strawberry Yogurt*(paid link) is a human-grade detangling spray that is pH balanced for your dog's skin. And it smells like strawberry yogurt!
FURminator
Another USA-made product is the FURminator deTangling Waterless Spray.*(paid link) This excellent detangler is free of parabens and chemical dyes and is designed to be used on long-coated dogs.
Affiliate link disclosure: Links in this article marked with an * are affiliate links, and we may receive a small commission if you purchase these products. However, we selected them for inclusion independently, and all of the views expressed in this article are our own.