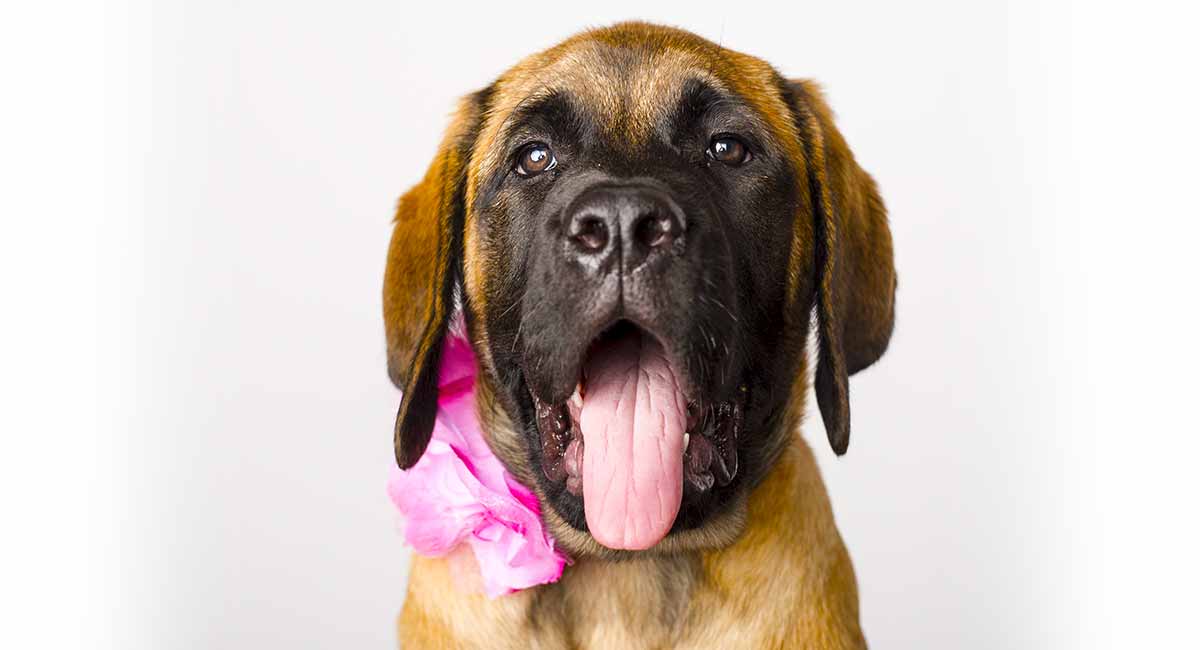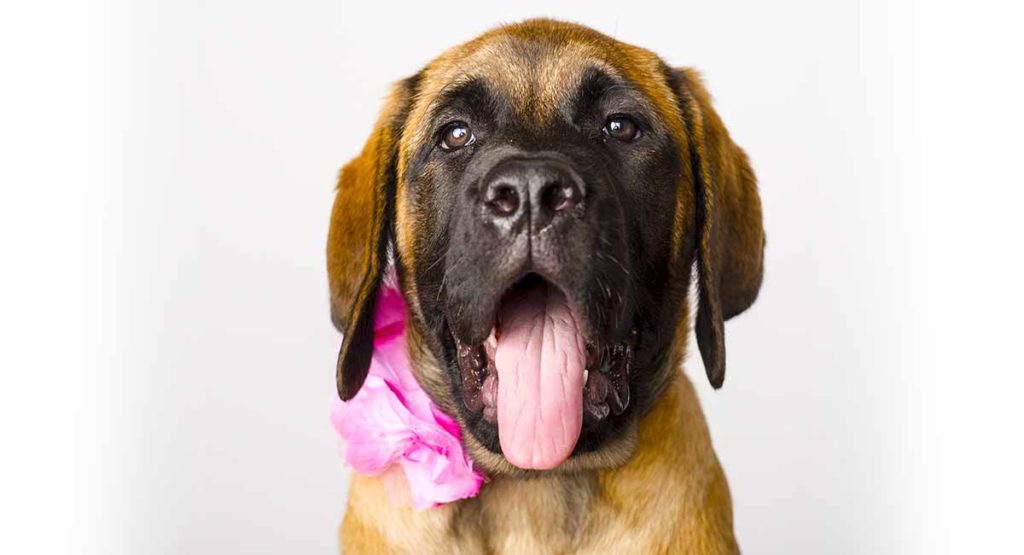 The Mastiff, or English Mastiff, is a very large and powerful breed.
Their big stocky frames and loyal, protective temperaments make for great guard dogs.
To those they hold dear they are devoted companions if they have been raised well.
The Old English Mastiff's protectiveness and loyalty makes them a popular breed choice.
However, they can be problematic if not socialized and trained properly.
And there are several potential health risks to be aware of before selecting this breed as a pet.
Many other mastiffs
This article focuses on the English Mastiff specifically, however there is an entire family of mastiff breeds.
Follow our links to more information about the mastiff cousins:
Those are also large, muscular breeds but all types of mastiffs have their individual characteristics that set them apart from one another.
Origins of the Mastiff
The mastiff family of dog breeds has been around for thousands of years.
Many civilizations have made use use of their athleticism for tasks such as hunting, guarding, and even war.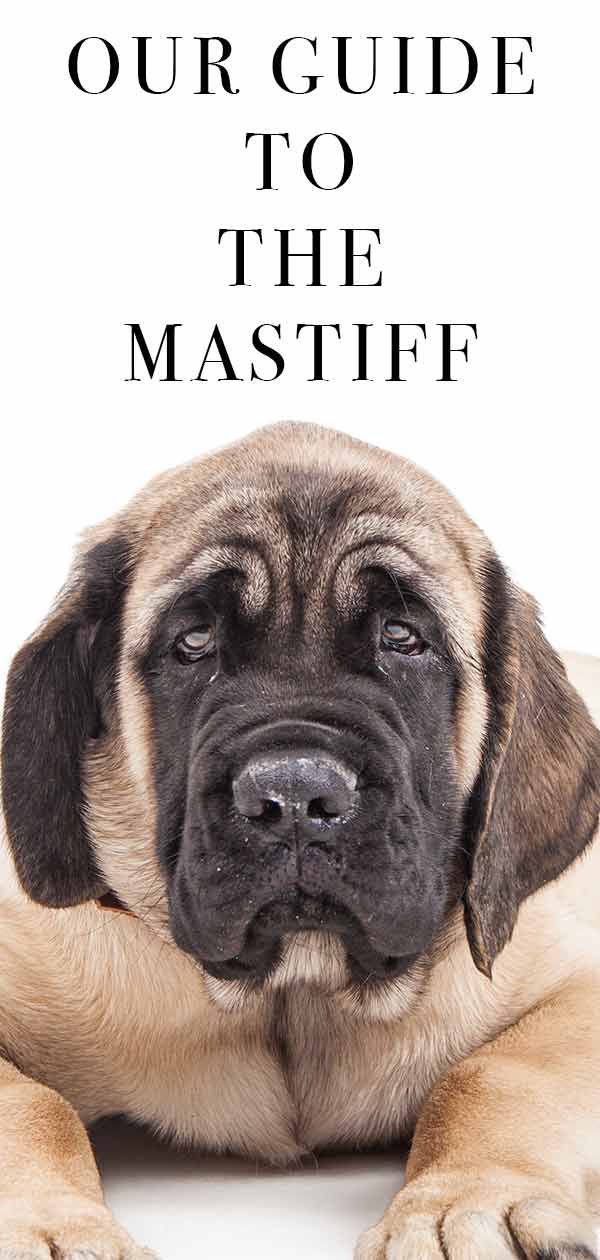 Records of English Mastiffs date back to 55 BC, when Julius Caesar invaded England.
Mastiffs helped defend the country from his army, impressing Caesar who then brought them back to Rome.
The English Mastiff as we know it today came into popularity during medieval times.
Then they were used as big-game hunters, protectors, and war dogs.
Today's English Mastiff is markedly more docile.
But they still have the courage and athletic ability they were known for throughout history.
Size, Height, and Weight of the Mastiff
Mastiffs are giant dog breeds.
Males reach heights of 30 inches and up, and females hit 27.5 inches or higher.
They are also stocky and heavyset.
Males weigh between 160-230lb, and females come in at 120-170lb.
Many male mastiffs outweigh a fully-grown man.
Therefore it's important they are trained from an early age to be obedient and well-behaved.
Characteristics of a Mastiff
The Mastiff has a short double coat.
The overcoat is straight and coarse, and the undercoat is short and dense.
Their coat is fawn, apricot, or brindle striped.
Their face is black and deeply wrinkled, and their expression conveys an alert but kindly aura.
They have a short muzzle, and tend to drool.
Their ears are V-shaped, and are short and floppy.
Their body is muscular and powerful, with a significant amount of depth.
Temperament of the Mastiff Dog
The Mastiff's enormous size intimidates many people.
But in actuality, they are docile and good-natured dogs as long as they have been raised correctly.
A well-trained Mastiff is a courageous, loyal dog who will serve as a protector and companion for a family.
They tend to be wary of strangers as a guard dog should, which is why early socialization and training is a must.
A well socialized guard dog will be polite, calm and confident around strangers.
Caring for a Mastiff
Providing a good diet for your Mastiff is incredibly important, especially during their time as a puppy.
Mastiffs grow rapidly and need proper nutrition to support strong bone and tissue development throughout this time.
Expert breeders and rescue organizations recommend feeding English Mastiff puppies an adult dog food.
One that contains a no more than 26% protein, and a calcium:phosphorus ratio of around 1.2:1.
Feed your mastiff to a schedule rather than free-feeding, to prevent obesity.
A Grooming Regime for your Mastiff
A Mastiff's short coat is easy to groom, only requiring a quick brush every few days.
Mastiffs go through a shedding season once or twice a year.
During this time their coat may need more frequent brushing to remove dead hairs.
Check and clean your mastiff's deep-set wrinkles and ears regularly to prevent infections or irritation.
Finally, trim their nails need regularly to prevent them getting too long and causing discomfort.
Regular teeth-brushing also helps keep their teeth in top shape.
Health Issues of the Mastiff
The Mastiff sadly has the potential to suffer from a variety of health issues, some of which can be severe or life-threatening.
Therefore, it is important to understand these potential problems before you bring home a puppy or young dog.
Hip and elbow dysplasia
Hip dysplasia and elbow dysplasia are prevalent in the English Mastiff.
They affect around 20% and 15% of Mastiffs, respectively.
They occur when the hip or elbow joint doesn't form correctly as the Mastiff grows.
This can sadly lead to painful arthritis at an early age.
A smaller number of Mastiffs (about 5%) also develop joint problems in their shoulders.
To protect future generations of Mastiffs, breeding dogs should receive a full health check by a vet.
And only animals with health joints should be used for breeding.
Bloat
Bloat is a very serious rapid onset condition, that can quickly lead to death within hours without veterinary intervention.
It happens when the stomach fills with gas and then twists, usually during eating.
This blocks blood supply to the digestive system and impedes the return of blood to the heart.
This quickly causes tissue death, releasing toxins into the bloodstream that can lead to death.
Unfortunately, the Mastiff is at a greater risk of developing bloat than other dog breeds.
It is very important to be aware of the early signs and transport them quickly to a vet if they are experiencing them.
Eye problems in Mastiffs
The Mastiff is also prone to eye conditions, one of which is Progressive Retinal Atrophy.
This is a serious heritable condition where the eyesight of a dog progressively worsens, until eventually they are blind.
Mastiffs have a distinct type of Progressive Retinal Atrophy.
One that originated within the breed known as Autosomal Dominant Progressive Retinal Atrophy.
This is unique to other types of Progressive Retinal Atrophy.
Only one parent of a litter needs to be a carrier for the puppies to inherit the condition.
Luckily, there is a screening test for carriers, and good breeders will show you that they have had their dogs screened.
Mastiffs are also known to potentially suffer from another inheritable eye condition, Canine Multifocal Retinopathy.
This causes raised lesions to appear on the eye, but generally they do not seem to affect sight and will heal given time.
Heart problems
Mastiff dogs have a higher risk of developing the congenital cardiac disease Pulmonic Stenosis.
This is where one of the heart's valves is much narrower than it should be, restricting proper blood flow.
Severity can vary from showing no symptoms, to congestive heart failure.
Mastiffs are also predisposed to Mitral Valve Dysplasia.
This is another issue with the blood flow in the heart that can lead to congestive heart failure in severe cases.
Responsible breeders enter their dogs for a cardiac exam before they use for breeding.
This is to reduce the chance of these conditions being passed to the next generation.
Exercising the Mastiff
Mastiffs have relatively low exercise requirements.
Many only require a moderate length walk of 1-2 miles a day.
However, it is very important to not overexert a Mastiff puppy while they are still growing.
This is to protect their soft, growing bones.
Do not allow them to run up and down stairs, or jump on and off furniture.
Only take them on short walks until they reach adulthood.
Training a Mastiff
Training the Mastiff correctly is incredibly important.
As they are so large and powerful, you must be able to control them, or you may end up being controlled by them!
They are intelligent dogs who take well to positive training, but they can become easily disinterested or bored.
To keep their attention, do multiple short training sessions throughout the day.
Use a mixture of games to keep it interesting and fun for the dog.
Ideal Home for a Mastiff
As Mastiffs are large and bulky dogs.
Spacious homes with a yard that allows them to stretch their legs are ideal.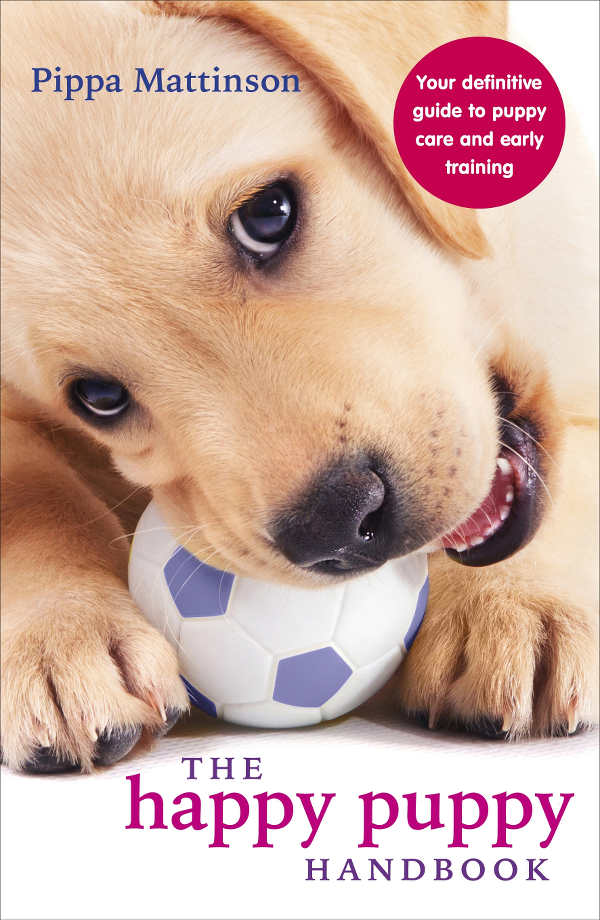 Mastiffs do well with a core, static family within the house to bond with and protect.
They are guarded around strangers and will protect those they trust.
Provided they have been socialized well, Mastiffs are kind with children and pets smaller than them.
However, their large size can still be a problem and can cause accidents with particularly young children such as toddlers.
Therefore, it may be best to not house a Mastiff in a family with toddlers just in case.
And to not leave older children unsupervised with a Mastiff.
Finding and Purchasing a Mastiff Puppy
If you decide to purchase a Mastiff puppy, there are multiple precautions you must take to ensure you receive a healthy one.
As the Mastiff is a popular purebred breed, finding a breeder should be no issue.
Look for a breeder who is reputable and has had happy customers who received healthy puppies.
Find breeders who are trusted by breed societies and organizations, and have positive feedback.
It is very important to inquire about the health of the puppy itself as well as its parents.
Choosing a Healthy Mastiff Puppy
Healthy parents can promote good health in their puppies, and ensure they are free of any inheritable conditions.
A good breeder will be forthcoming with this information and should be able to provide proof of health.
For the Mastiff breed, ask your breeder for proof that the following evaluations were passed recently:
Hip Evaluation
Elbow Evaluation
Ophthalmologist Evaluation
Cardiac Exam
It's important to actually see the parent dogs as well.
Check that they can move well without any discomfort or pain, have good vision, and have an alert but gentle temperament.
They may be wary of you but that is normal for this breed!
Is a Mastiff Right for Me?
Well trained and socialized Mastiffs make good family dogs, but their large, powerful stature sometimes means they aren't a good fit for every family.
While they have low exercise and grooming requirements, training them can be tough for inexperienced dog owners.
If you are not an experienced trainer, enrol in obedience classes to make the best start.
They also have special dietary needs during their first few years of life.
And require some extra care to ensure they develop correctly and do not injure themselves.
If an owner can provide these things, the Mastiff can prove to be a gentle giant, and a protector of the family.
References
Fries, CL, et al. The pathogenesis and diagnosis of canine hip dysplasia: a review .The Canadian Veterinary Journal, 1995.
Narojek, T, et al. Canine Elbow Dysplasia In Different Breeds. Bulletin – Veterinary Institute in Pulawy, 2008.
Battaglia, CL. Bloat and the Risk Factors. Breeding Better Dogs.
Kijas, JW, et al. Canine Models of Ocular Disease: Outcross Breedings Define a Dominant Disorder Present in the English Mastiff and Bull Mastiff Dog Breeds. Journal of Heredity, 2003.
Mellersh, CS. The genetics of eye disorders in the dog. Canine Genetics and Epidemiology, 2014.
Francis, AJ, et al. Outcome in 55 dogs with pulmonic stenosis that did not undergo balloon valvuloplasty or surgery. Journal of Small Animal Practice, 2011.
Pikula, J, et al. Subaortic stenosis and mitral dysplasia in three Black Russian Terrier puppies. Veterinární medicína, 2005.